We have curated a list of the best places to buy a Christmas trees in Abu Dhabi. With the festive season fast approaching, finding a Christmas tree is at the top of the 'to do' list for those celebrating.
Throughout the world, Christians celebrate Christmas, and since UAE has attracted many expats of diverse cultures, every festival is celebrated on a broad scale, especially in Abu Dhabi.
The task of finding Christmas trees in Abu Dhabi is not stressful since there are a wide variety of artificial and fresh trees available in the city. There are plenty of options for every budget!
Check out this complete list of where to buy a Christmas tree in Abu Dhabi. From supermarket chains, to small businesses, we have all the basis covered to find both fresh and artificial trees!
Don't forget to check out our Christmas events in Abu Dhabi, places to pick up a festive takeaway dinner and New Years Eve events.
Christmas Tree Abu Dhabi
1. Christmas Trees UAE
Christmas Trees UAE have been importing fresh fir trees for 13 years in Abu Dhabi. Over the years, they have perfected the type of tree which is ideal for Abu Dhabi and maintains its freshness.
Imported from Canada, there is limited stock each year, the fresh Christmas trees are available to pre-order so it is best to secure an order in advance.
Customers can visit the nursery once the shipment arrives at the beginning of December to pick their tree. Alternatively, there is a delivery option available.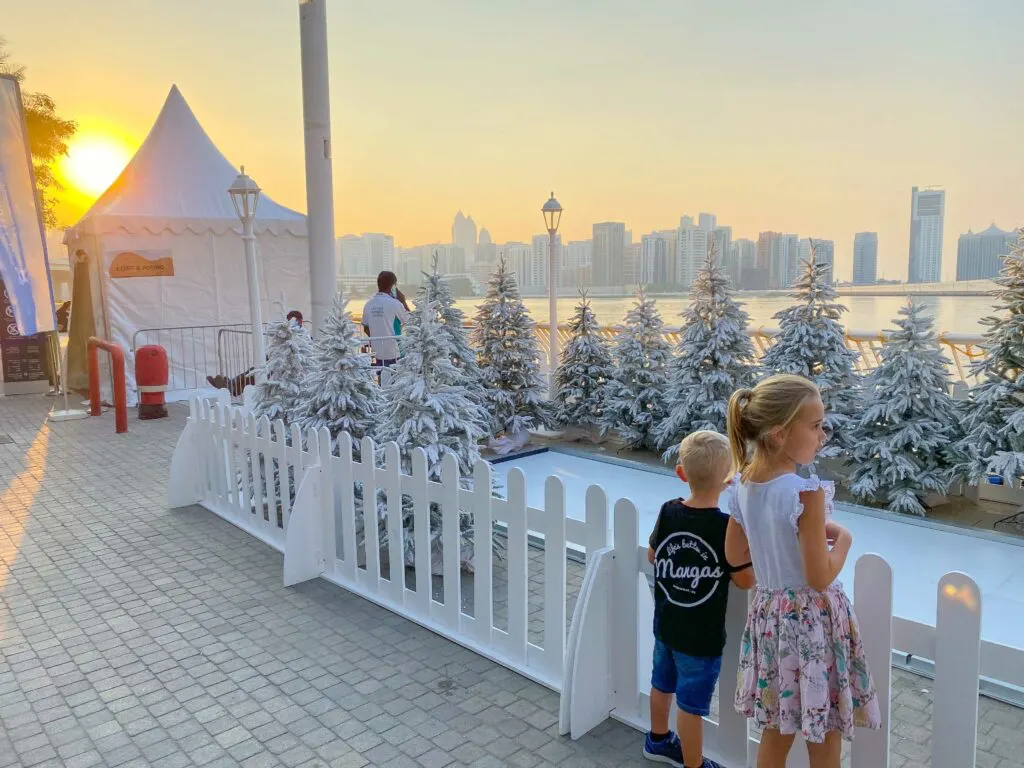 This is our top pick for a fresh Christmas tree in Abu Dhabi! It is a much more authentic experience than picking one up from the local supermarket since the small business share all of the information on their Facebook page throughout the festive season.
Ranging from 5 foot to 9 foot trees, they also stock fresh wreaths that come decorated or undecorated.
Fresh Christmas Abu Dhabi pre order.
Christmas Tree Price Range: AED 515 to AED 850
Contact information: balsamfirtrees@hotmail.com
2. Fern N Petals
Fern N Petals are an online store which sell fresh Christmas trees and artificial trees. Ranging from 5 foot to 10 foot, they sell some of the largest fresh trees in the capital. There same day delivery and pre-order options with a discount of up to 40%.
Some of the fresh tree options comes with decorations and a stand. There are artificial options with decoration as well.
Aside from Christmas trees, Fern N Petals, also stock festive plants, wreaths and candle arrangements.
Price range 379 AED to 2500 AED.
3. ACE Hardware
Another place to shop for a fresh Christmas tree in Abu Dhabi is ACE Hardware store. They have a variety of artificial trees as well.
Available in various sizes from a mere 17 centimetres to over 9 feet tall, there are plenty of options.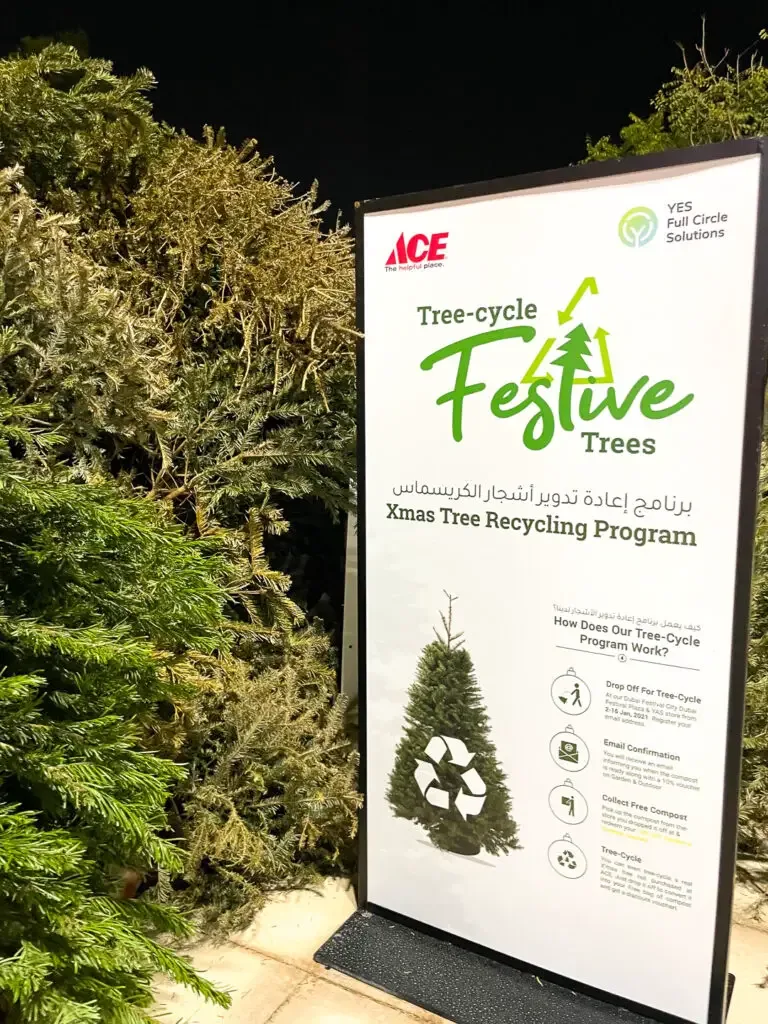 Christmas Tree Price Range: AED 21 to AED 1500
Store Location: Marsa Mina l Yas Island l
ACE Marsa Mina Store Timings: 9 AM to 10 PM (Monday to Sunday)
ACE Yas Island Store Timings: 9 AM to 10 PM (Sunday to Thursday)
9 AM to 12 AM (Friday and Saturday)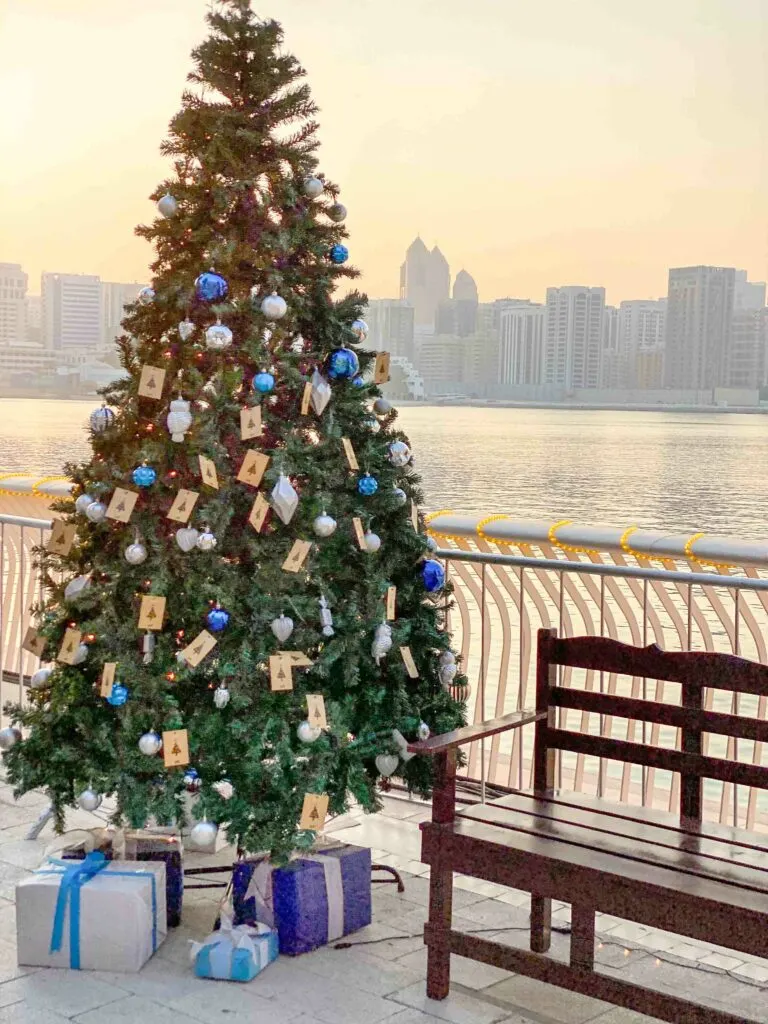 4. Daiso
It is not hard to find a wide selection of Christmas tree decorations, festive figurines, and outdoor decor for the backyard at Daiso. The prices at the store are low and affordable, starting at only AED 7.50.
The DAISO Christmas tree collection is diverse, from tabletop trees to 7-foot trees, complete with baubles and acorns. There are also plain and simple trees, all of which are budget-friendly.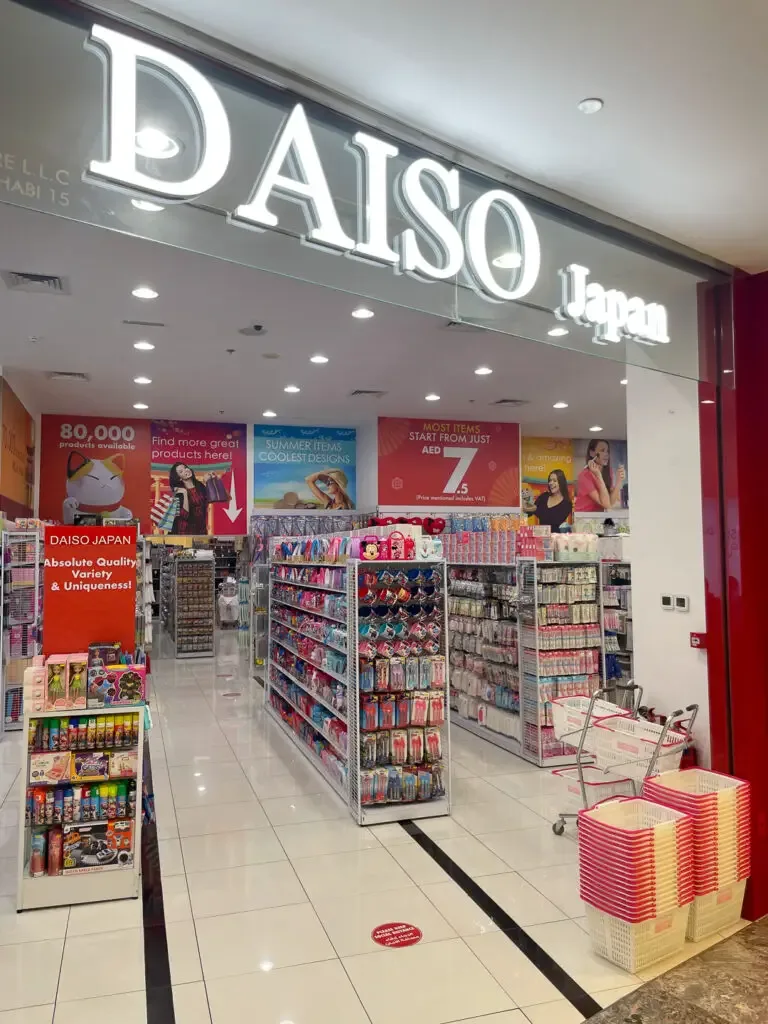 Christmas tree Price Range: AED 25 to AED 400
Store Location: Multiple locations across Abu Dhabi
Prominent Store Locations: Abu Dhabi Mall l Al Wahda Mall l Madinat Zayed Shopping Centre l Yas Mall l Mushrif Mall l Khalidiyah Mall l
Store Timings: 10 AM to 10 PM (Sunday to Wednesday) and 10 AM to 12 AM (Thursday to Saturday)
5. Crates & Barrel
Crates & Barrel deliver Christmas trees to Abu Dhabi despite being located in Dubai. We probably have never heard of the names of some of the trees however, they include a wide variety:
Bolton X-Mas Tree
Maclura X-Mas Tree
Frosted Stelton
Jolly Emerald Pine Tree
Abies Nordmann
Scandia Half Arc
Sherwood
Hackberry
Store Location: Level 1, Dubai Mall, Dubai
6. Carrefour Abu Dhabi
With over 15+ stores and markets across the Emirate of Abu Dhabi, Carrefour is one of the most accessible places to pick up artificial Christmas trees in Abu Dhabi.
The quality of the trees depends on the price. The smaller price tag the less full the tree appears to be!
Christmas Tree Price Range: AED 29 to AED 299
Prominent Store Locations: Carrefour Airport Road l Carrefour Dalma Mall l Carrefour Marina Mall l Carrefour Yas Mall l Carrefour Reem Mall l Carrefour Bawabat Al Sharq Mall l
7. IKEA Abu Dhabi
IKEA Abu Dhabi have plenty of Christmas decorations leading up to the festive season. From wreaths, to lights and greeting cards. Not to mention Christmas trees as well as festive ornaments.
Some of the Christmas trees available are so realistic they are hard to tell them apart from a real tree!
If space is a problem, IKEA have a choice of Christmas tree alternatives, such as:
Super tiny Pine tree
Personalised DIY pine for the wall
Pine tree in a display box
For more information on Christmas tree alternatives at IKEA
Christmas Tree Price Range: AED 15 to AED 355
Store Location: Yas Island l Al Wahda Mall l
IKEA Yas Island Store Timings: 10 AM to 10 PM (Monday to Thursday)
10 AM to 12 AM (Friday and Saturday)
10 AM to 11 PM (Sunday)
IKEA Al Wahda Store Timings: 9 AM to 11 PM (Monday to Thursday)
9 AM to 12 AM (Friday to Sunday)
8. Lulu Hypermarkets
Lulus offer a wide range of festive decorations, ornaments and trees in a variety of sizes for every budget.
In some of the larger Lulu stores such as Madinat Zayed, Al Wahda Mall, and Mushrif Mall, they stock holiday trees. Ranging in height from small table trees to 8 foot-tall. Some are pre-decorated whilst others are plain.
Christmas tree price range: AED 23 to AED 650
Store Location: Multiple store locations across Abu Dhabi.
Prominent Store Locations: Al Wahda Mall or Mushrif Mall or Madinat Zayed Shopping Centre l
Lulu Hypermarket Store Timings: 8 AM to 12 AM
9. Amazon
Amazon is one of the easiest online shopping experiences. There are plenty of Christmas decorations on Amazon as well as artificial trees ranging in sizes.
In some cases, the stock is imported and may take up to a week to arrive, whilst some is delivered next day on Amazon prime.
Check out Amazon Christmas trees.
For deals and offers on Christmas trees
Choosing Fresh Christmas Trees In Abu Dhabi
Douglas Fir
Its bluish-green colour, pyramidal shape, and long-lasting needles make Douglas fir a popular cut tree.
Most regions have access to this type of Christmas tree, making it one of the most popular. Its compact branches and strong evergreen scent make it lush and full.
Fraser Fir
Fraser firs are aromatic evergreen trees with bicolour needles, deep green on top and silvery-white below.
It fits nicely in small rooms or tucked in tight corners since it is more cone-shaped than pyramidal. The Fraser is an excellent choice to hang heavy ornaments or tinsels because of its sturdy branches.
Grand Fir
The grand fir makes a beautiful Christmas light backdrop with its shiny, bicolour needles-bright green on top and white-stripe underneath.
Its needles are softer to touch in comparison to some other popular firs, giving the tree a fine texture. It is one of the most fragrant firs, as it has a strong spicy scent creating a true Christmas vibe.
Eastern White Pine
Eastern white pine's fresh, green colour and tiered branching structure make it worthy of consideration during the holiday season.
As a result of its long, thin needles, its a more texturised Christmas tree. It's an attractive choice for wreaths.
Scotch Pine
Scotch pines are popular cut trees during the holiday season due to their conical shape, piney scent, and good needle retention.
No matter how dry the tree gets, the soft, green needles will stay on the branches, so there will be no mess if you forget to water it. Typically, their trunks are slightly crooked, which can be a plus if you like trees with character.
Christmas Trees In Abu Dhabi Frequently Asked Questions
What is the best way to take care of a fresh Christmas tree?
Be sure to place the Christmas tree in a shaded, unheated area like a garage until you are ready to bring it indoors so it does not get damaged by the wind and sun.
To prevent sap from forming over the cut stump, immerse the tree's trunk in water.
Can we leave the Christmas tree lights on all night?
Leaving Christmas tree lights on overnight or when you are not at home could prove to be a fire hazard.
Is it possible to keep a real Christmas tree for four weeks?
It is possible to keep most real Christmas trees for at least five weeks or more if they are adequately cared for.
In other words, if you decorate for Christmas in late November, your tree should easily survive the holiday season.
What are the best fresh Christmas trees in Abu Dhabi?
Fir trees are the preferred type of Christmas tree since they shed fewer needles when they dry while maintaining their scent and colour.
In Abu Dhabi, the best-selling Christmas trees are the Fraser, Douglas and Balsam Fir variety.
Can we wash artificial Christmas trees?
It is possible to clean an artificial Christmas tree before displaying it. The branches of the plastic greenery can be gently vacuumed or cleaned with a microfibre cloth.
To Sum Up Christmas Trees In Abu Dhabi
As you can see, finding the perfect Christmas tree in Abu Dhabi is not difficult. There is something to fit all budget and style.
However, a pointer to keep in mind when ordering a fresh Christmas tree is to place the order well in advance. Abu Dhabi is a central hub for expats, so Christmas celebrations are widespread.
As part of preparations for the festive season, shopping malls, hotels, and restaurants across the Emirate adorn the festive decor.
For information on Christmas Tree Lighting in Abu Dhabi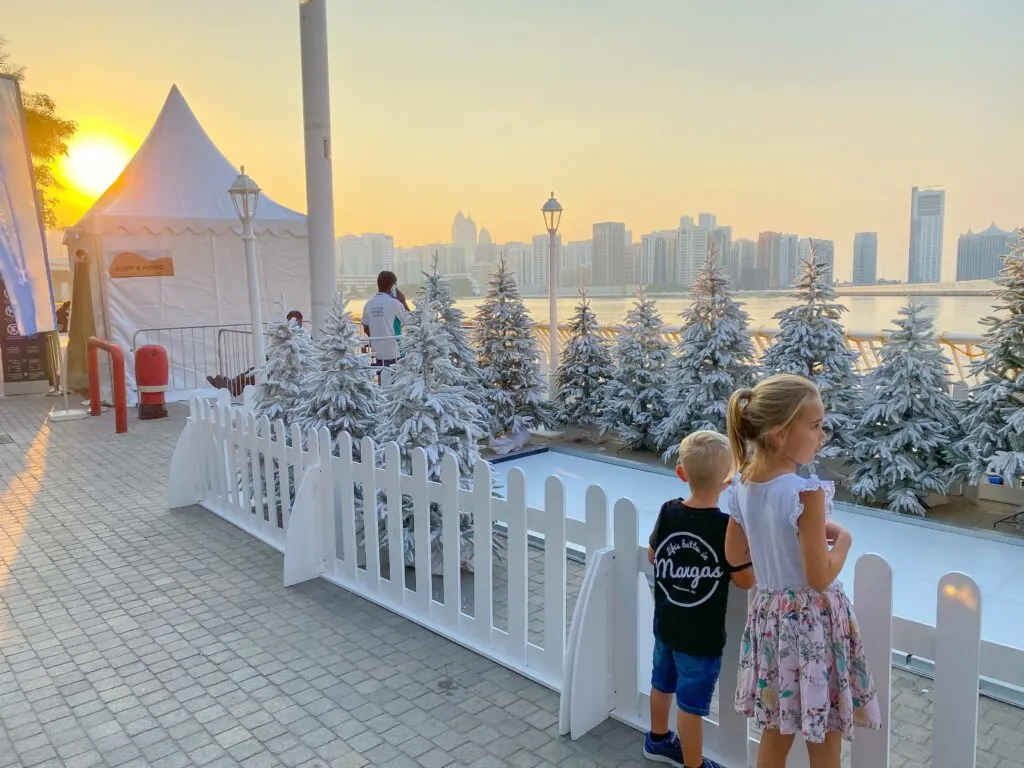 To see one of the most impressive Christmas trees in the city head to Emirates Palace foyer. It has to be one of the biggest, adorned in real gold ornaments and pretty decoration, it is famous around the city as being one of the most expensive Christmas tree Abu Dhabi.
Another popular one is Abu Dhabi Mall Christmas tree.
We hope this post about where to find Christmas trees in Abu Dhabi has been helpful. Did you buy a tree from one of the stores or vendors we mentioned? Leave a comment below we love to hear from our readers.
You may also like:
10+ Festive Places To Celebrate Christmas In Abu Dhabi
35+ Best Ladies' Night In Abu Dhabi
Chinese New Year Celebrations In Abu Dhabi
Disclaimer: You may find affiliate links in this post, using them won't cost you anything, but we may receive a small percentage if you purchase to keep us writing!