There are some incredible Turkish restaurants in Abu Dhabi with authentic food. Some are quite homely and others are quite fancy!
In more recent years, Turkish fine dining restaurants have become increasingly popular. The infamous 'Salt Bae' set a trend of high-end Turkish establishments opening up across the world and it is no surprise Abu Dhabi is home to a few.
Overall, the cuisine is characterized by rich and aromatic flavours. It has continued to evolve as recipe makers and restaurants continue to explore and experiment with new techniques.
Get ready to feel hungry as we dive into the most delicious Turkish restaurants in Abu Dhabi. Be it fine dining or something quite simple and delicious, we have all the bases covered for a Turkish feast!
Turkish Restaurant In Abu Dhabi
1. Nusr-Et Steakhouse
Nusr Gökçe became an internet sensation with a specific meat seasoning technique using salt. His rise to fame has been meteoric with the nickname 'Salt Bae'.
There are branches in many major cities across the world and they are often visited by A-list celebrities.
Salt Bae reinvented fine dining by stimulating all the senses with an exquisite menu and experience.
The Abu Dhabi branch has an upmarket contemporary interior with an outdoor terrace for al fresco dining. Many would argue it is the best Turkish restaurant in Abu Dhabi.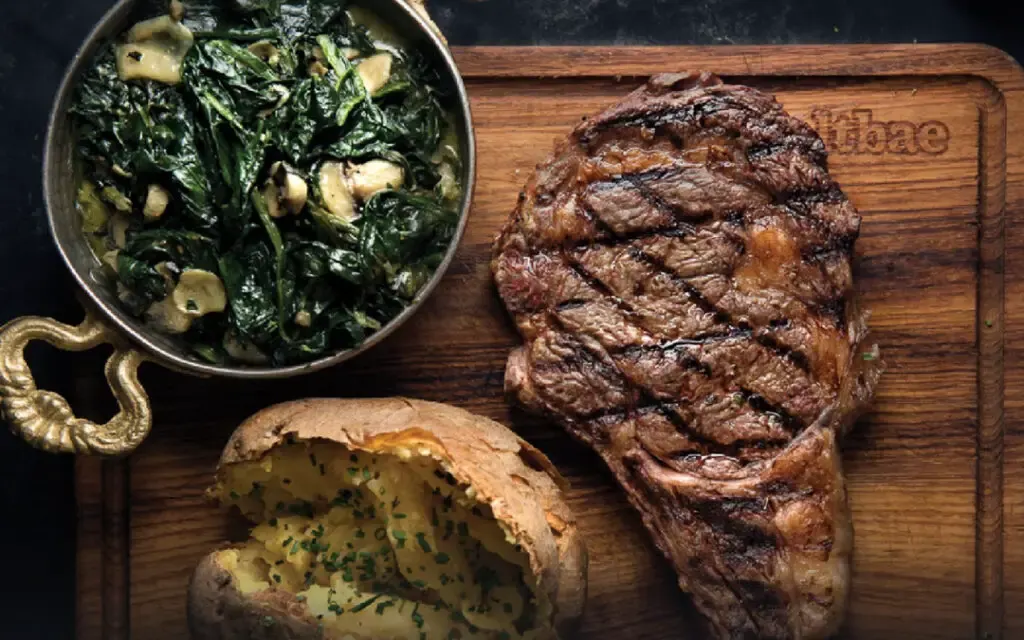 The menu has some unique and quirky dishes on it, some of which have insane price tags. There have been a few posts circulating on social media with eye-watering bills from this particular restaurant.
However, it is possible to eat at it without breaking the bank.

Golden steak and golden tomahawk are brought out by a team of staff in a theatrical fashion. Not to mention, smoke machines and large weaponry are used to cut the meat making it an experience to remember.
If Salt Bae is present, it may turn into a once-in-a-lifetime event where he will personally feed the guest directly off the tip of the knife. Be aware, the steak can cost thousands of dollars!
With meaty starters, various Nusret special salads and crispy squid, there is a wide variety of choice. There are many cuts of steak, traditional Turkish lamb and Salt Bae's sandwiches to choose from.
The golden meat and burger options are available at this branch too.
Affordable Options
It is worth mentioning, the nusret burger, grilled salmon and roasted organic chicken are on the more affordable side. Although it is a Turkish restaurant, there is sushi on the menu. Salmon avocado maki, beef tataki roll and tempura roll are delicious.
A whole rack of Turkish lamb called kafes and Saslik meat brings authenticity to the modern fine dining experience.
All dishes pair well with truffle croquettes, truffle fries and onion flower. Baklava with ice cream is the standout Turkish dessert choice. Of course, Salt Bae serves golden baklava for the big spenders!
Location: The Galleria Al Maryah Island
Timings: Monday to Sunday 12:00 pm to 12:00 am
Phone: 97126799949
2. Gungor Chef Restaurant
Gungor chef brought a much-needed lease of life to Al Reem island with his steakhouse and Sushi bar.
He is somewhat of an Abu Dhabi insta celebrity, and he often posts videos of his excellent culinary skills.
Although, the restaurant is classified as a steakhouse, it does serve many Turkish dishes and even sushi.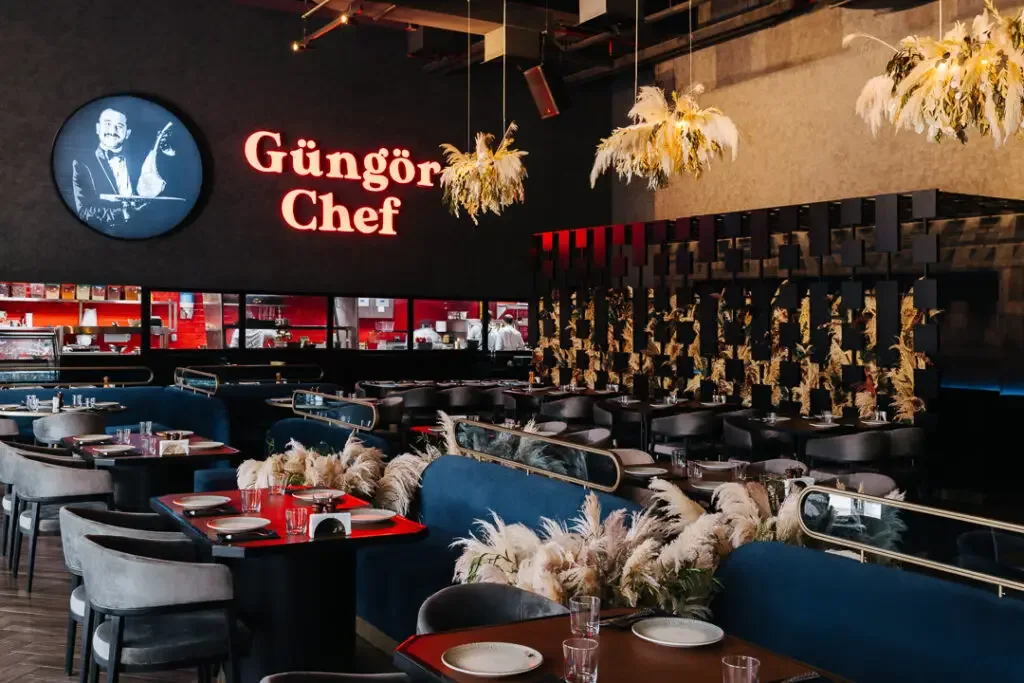 Gungor offers a business lunch during the week, an evening brunch every day and a Saturday and Sunday brunch with unlimited house drinks. The brunch is table service, unlike many other buffet options.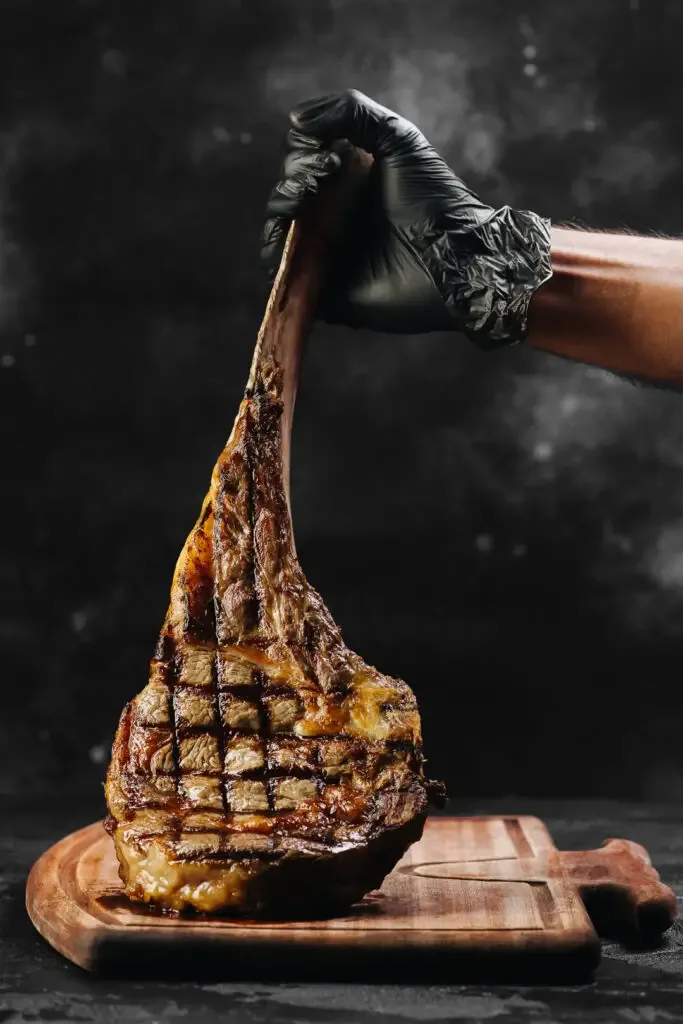 The business lunch is Monday to Friday between 12:30 to 16:00 and it costs a very reasonable 125 AED.

Starters include Gungor chef salad, California roll and kofta with cheese. The main course options are Gungor chef burger or chicken karaage or spicy beef.
The lunch is accompanied by a soft drink and Turkish sweet.

Brunch
Weekend brunch is on both days and is between 13:00 to 17:00 for 270 AED with unlimited house drinks and soft packages are 235AED.
The daily evening brunch is 330 AED per person for unlimited house beverages and 290 AED for soft drinks packages.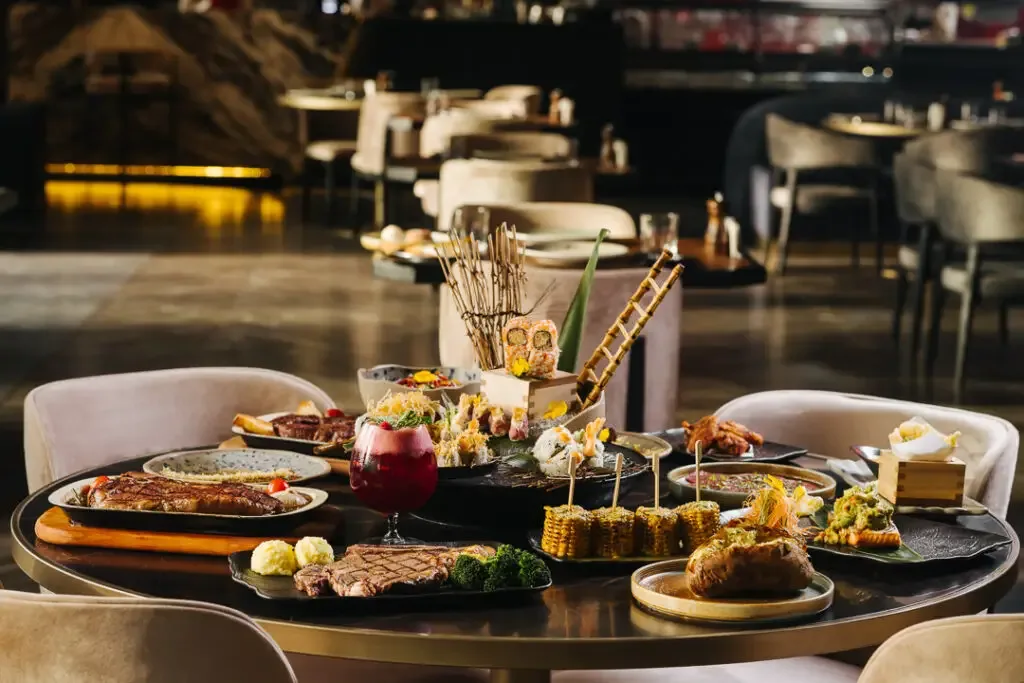 Throughout all brunches the dishes are the same. Kids below six years of age dine for free and seven-to-eleven-year old's cost 99 AED.
The brunch at one of the best Turkish restaurants in Abu Dhabi starts with Gungor chef salad, California sushi roll, prawn sushi roll, beef carpaccio, kofta with cheese and dynamite shrimp tempura.
Choose one main course from lokum tenderloin, spicy beef, Gungor chef burger, grilled chicken, and salmon teriyaki. The brunch finishes off with a Turkish sweet.
An exciting A la carte menu makes Gungor a strong contender for the best Turkish restaurant in Abu Dhabi. As far as Turkish food goes, the grilled kofta meat with cheese is an amazing starter.
The restaurant has an extensive grilled meat section, which has some of the best dishes. Turkish whole lamb ribs to gold tomahawks and wagyu suggest Gungor knows how to put on a meat feast.
A Turkish ice cream is a delicious way to round things off. However Turkish baklava is always a must!
Gungor is one of a few places serving alcohol on Al Reem with a full bar service.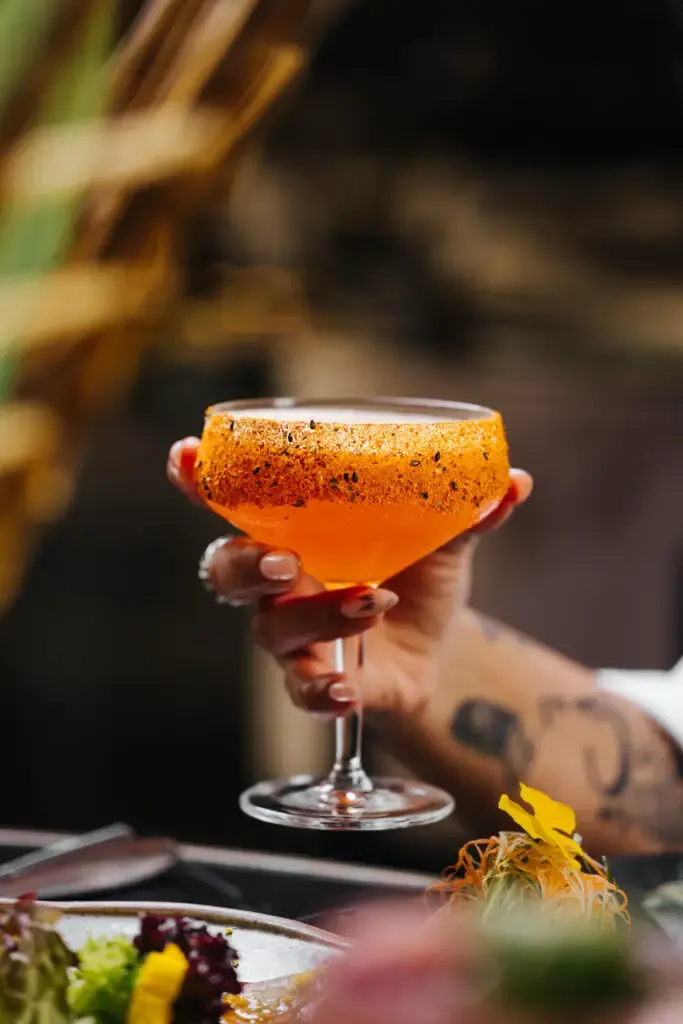 Location: Leaf Tower Al Reem Island Abu Dhabi
Call: 971568899987
Timings: Sunday to Thursday 18:00 to 02:00
Friday & Saturdays 18:00pm to 02:30am.
3. Gunaydin Gourmet Café & Bakery
Gunaydain has got an authentic and homely interior. The upper floor is particularly cozy and secluded with Arabic seating arrangements. It has many decorations reflective of an Istanbul bazaar.
Vine leaves, mohamara , hummus, motabal, olives and some other dishes make up a divine mezze to start. Turkish style kibbeh was another memorable dish.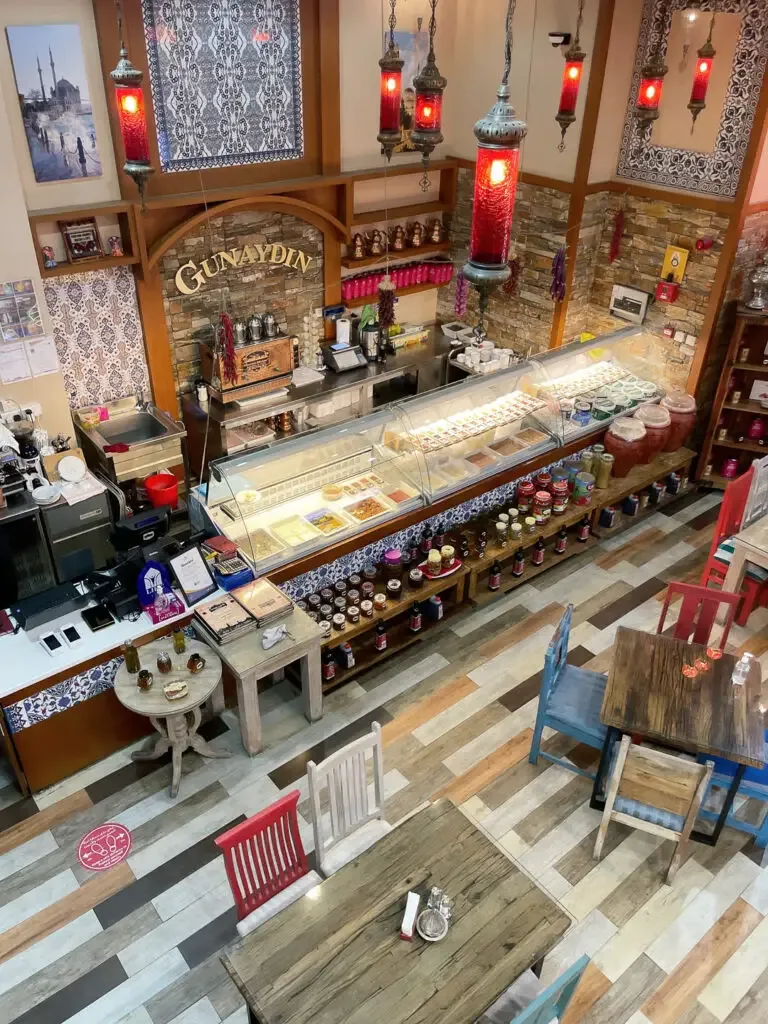 The Saj kavuma beef is sizzled to perfection and the beef with onion is infused with flavours of hot pepper sauce.
The juices of all the ingredients can be mopped up with fresh Turkish bread.
The beef kofta is succulent and delicious. There is a perfect amount of high quality cheese inside the kofta.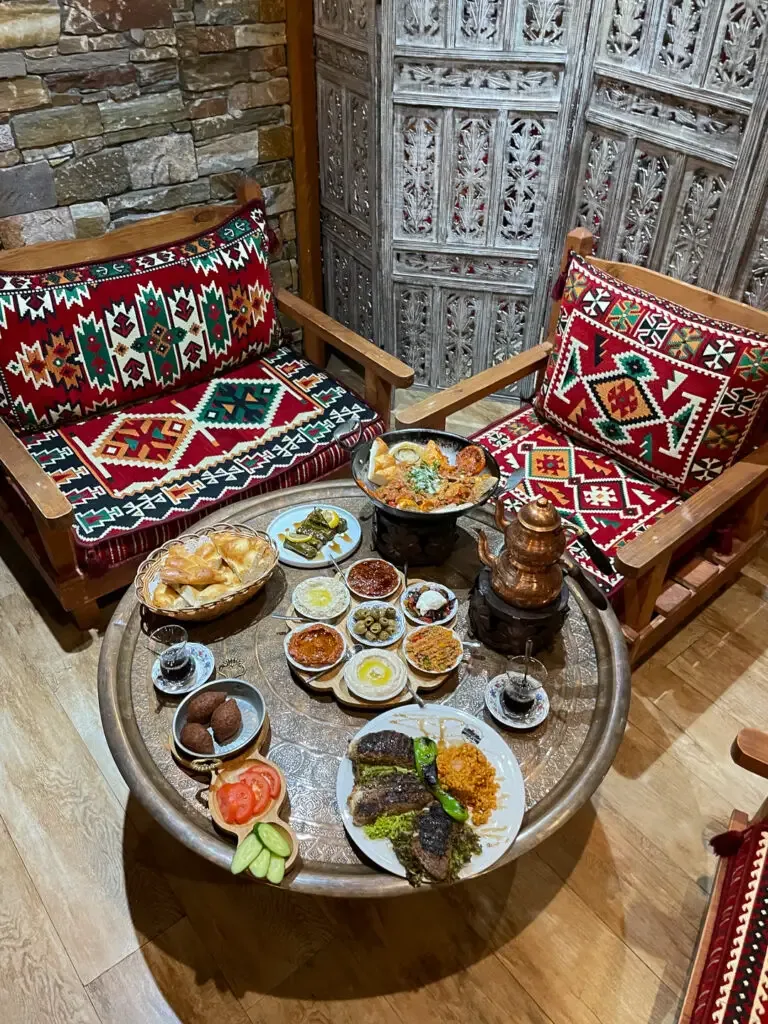 This was our favourite dish of all, it must be ordered when eating at Gunaydian.
Oven baked Turkish kunefe with ice cream, stuffed cheese and sugar syrup is the perfect end to a feast at one of the best Turkish restaurants in Abu Dhabi.
Gunaydian are well known for been one of the best breakfast spots in Abu Dhabi. They serve many authentic dishes and are always freshly prepared.
Location: Al Meena Street-Al Zahiyah-Abu Dhabi
Timings: Monday to Sunday 09:00am to 23:00
Call: 97126666399
4. Café Otantik
Café Otanik teleports guests to the Mediterranean villages of Turkey. They pride themselves on using traditional cooking methods.
The design of the café stems from the inspiration of other Mediterranean restaurants known to the owners.
All of the ingredients are hand selected and carefully prepared by the Turkish chef.
The Turkish restaurant in Abu Dhabi has curated a menu with delicious food.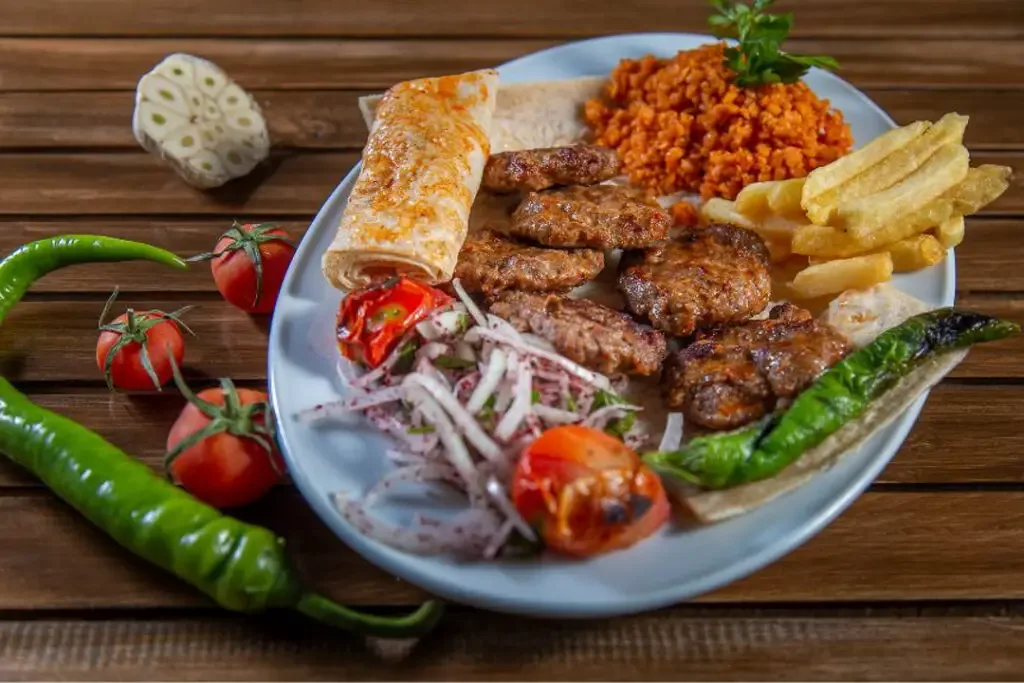 Otaniks breakfast alone gives it a place on the best Turkish restaurants in Abu Dhabi. A whole array of breakfast dishes come out on a big metal tray.
The breakfast for two people is the perfect breakfast sharing experience. Choose eggs to your liking, freshly baked bread, grilled halloumi, pastrami, olives, cheese, sujuk and jam spread. The honeycomb was an absolute favourite!
Batta harra, fried kibbeh, Otanik aubergine and many hummus variations come in large portions for starters.
Mixed mezze is a great option for sharing or for those who are indecisive.
The yayla soup and creamy soup with spiced minced meat is delicious and warming!
Otanik has an impressive grill section with an array of kebabs, lamb shanks, shawarmas, and meat iskander.
Lahmajon, and various pide's are baked to perfection in the oven.
Main courses include signature otanik chicken, chicken casserole, steaks and much more.
Turkish mistika ice cream, kazan dibi and baklava with ice cream is the perfect Turkish dessert to finish a meal.
Location: 10th St – Al Zahiyah – E16-01 – Abu Dhabi
Call: 97126812294
Timings: Open 24/7
5. Sofra Istanbul Restaurant
Don't be fooled by Sofra Istanbuls simplistic interior as they serve delicious Turkish food.
A number of traditional Turkish breakfasts are on offer. Start the day with fried eggs and Turkish soujuk, fried eggs with cheese, fried eggs with vegetables or sofra Istanbul breakfast.
The menu has classic, Arabic & Mediterranean salads to choose from. Various dips and hummuses make great starters or side dishes.
Lahmacun and pides are wholesome dishes. Types of pide include zaatar, spinach, tikka, Turkish soujuk, doner meat, mozzarella and kavurmali.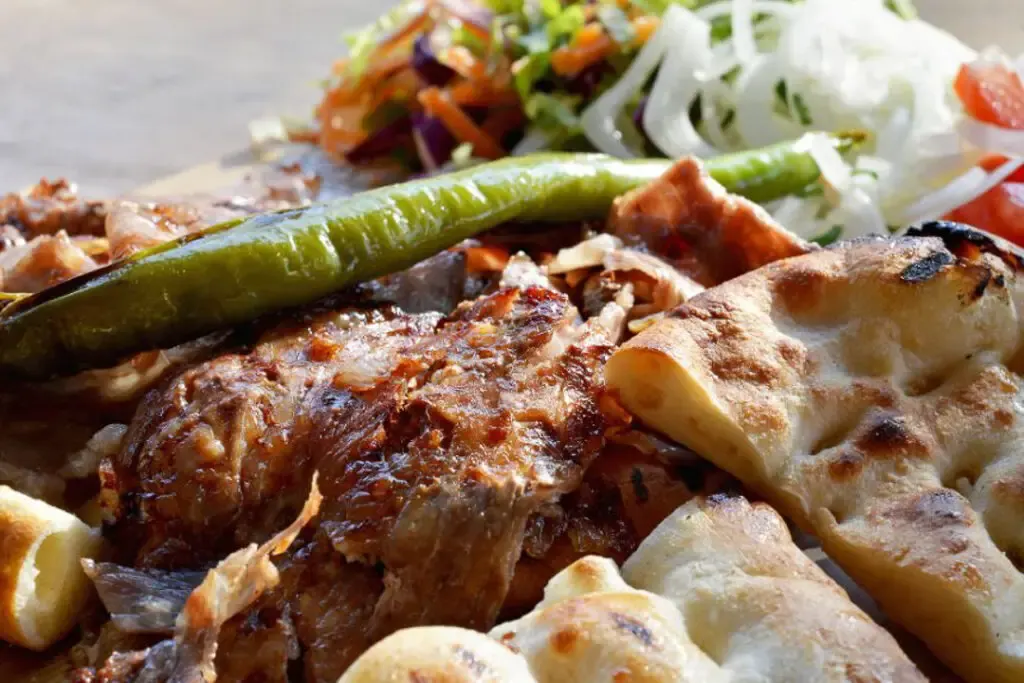 The sofra kebab is a metre long so it's ideal for a group of friends or a family to share.
Ranging from 1 to 2 metres, the chicken or lamb meat feast can feed up to eight people.
The grill section offers various other kebabs, lamb chops, mixed grills and shish taowk. There is a specific doner section with chicken, meat and Iskandar.
Delicious kunefe and various types of baklavas are also on the menu!
Location: Near Habib Bank – Muroor Rd – Al Dhafrah – Zone 1 – Abu Dhabi
Timings: 08:30am to 12:30pm
Call: 97126777767
6. Pasha Turkish Restaurant
Pasha Restaurant has been bringing authentic Turkish cuisine to the heart of Abu Dhabi for three decades.
All food is prepared fresh daily and many of the ingredients are sourced from Turkey.
This authentic restaurant is reasonably priced. Pashas breakfast can be enjoyed solo or shared with others as there is options for one, two or three people.
The most important meal of the day comes with kayamak in honey, labneh, Turkish cheese, cheese spring rolls, jams, olives, eggs and Turkish tea.
Grab some starters or share cold mezzes, hot mezzes and fresh salads. Vine leaves, hummus, kibbeh or mixed sambosek are other top starters.
Check out pide, borek, simkit and pizzas from the Turkish oven. Be enticed by a meatier affair with shawarma sandwiches and platters.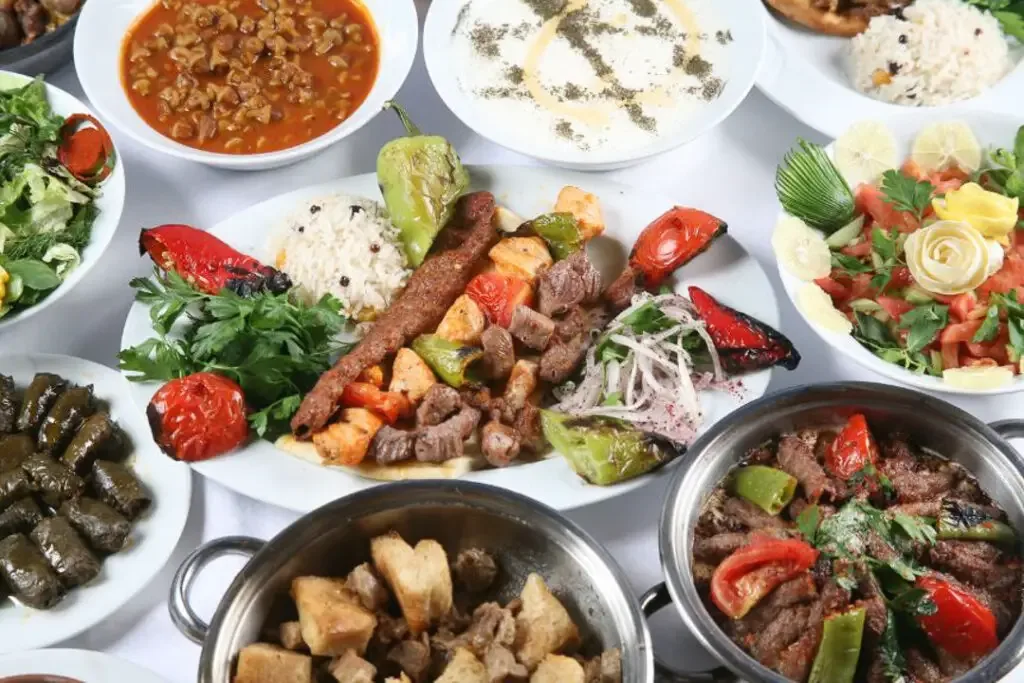 Specialty dishes such as Ali Nazik, iskander meat kebabs and pistachio meat kebabs bring all the Istanbul feels. Mixed grills, chicken wings and kebab adana add to this impressive grill selection.

Feast on a one metre kebab with friends or family. Options include tikka, shish tawouk, kebab meat and lamb chop.
Satisfy a sweet tooth with kunafa, baklava or Turkish ice cream. Baklava can be ordered in half kilo or one kilo servings for bigger gatherings.
Location: Behind Shining Towers – Mubarak Bin Mohammed St – Al Khalidiyah – W9 – Abu Dhabi
Call: 97126666601
Timings: Monday to Sunday 08:00am to 01:00am
History of Turkish Cuisine
Turkish cuisine has a deep history. The nomadic tribes of Asia migrated to Anatolia (Now Turkey) and brought their cuisine along.
Thereafter, a multitude of empires reigned in the region such as the Greeks, Romans, Byzantines, and Ottomans.
Through experimentation of cooking techniques with ingredients, many dishes were developed. Dishes like baklava, Turkish delight and kebabs were brought to life.
We previously talked about how Ottoman soldiers would roast shawarma meat over an open fire. The sultans would feast on stuffed lamb and roasted quail dishes.

The Ottoman collapsed and western influences brought a new chapter to the cuisine in the early 20th century. An influx of rich and diverse culinary traditions from Europe and the Middle East emerged.

This resulted in Turkey fusing many cuisines to develop the food we see today.
Turkish Street food is enjoyed worldwide and in the 20th century, doner kebabs, simit and roasted chestnuts rose to fame.

Instagram feeds are full of Turkish ice cream vendors playing pranks and doing magic tricks with ice cream.
We hope you enjoyed reading about the best Turkish restaurants in Abu Dhabi. Did we miss any? Did you try any of the listed restaurants? We love to hear from you, leave a comment.
You may also like: