Every family going on holiday love it when there is something to keep the kids entertained. Pretty much all kids love a waterslide & the great news is there are tonnes of Abu Dhabi hotels with waterpark attractions on site.
Abu Dhabi is known for incredible architecture, cafes, unique hotels and stunning beaches, it is a family-friendly destination with plenty for kids.
There are so many things to do in Abu Dhabi and having a hotel with a waterpark can make it extra fun for the little ones. Whether you are looking for hotels with a private pool, desert resorts or an opulent palace, the choices are endless.
Aside from family-friendly hotels in Abu Dhabi, there are tonnes of theme parks, trampolining, beautiful spaces with playgrounds, shallow tropical beaches and adventure activities for kids. Browse our family section for more information.
There are hotels with a waterpark dotted right across the Emirate. From the Corniche to Al Raha close to the airport, all the way to the garden city of Al Ain!
No matter if you are on a 24-hour layover or staying for longer, check out this complete list of fantastic Abu Dhabi Hotels with Waterparks.
Abu Dhabi Hotels With Water Park
1. West Bay At Radisson Blu Hotel & Resort
In the heart of Abu Dhabi Corniche, Radisson Blu Hotel & Resort is another popular hotel for families. Guests have free access to the West Bay Beach Club.
West Bay deserves a place on the list of best Abu Dhabi hotels with waterparks as it has so many facilities and activities to choose from.
Featuring four temperature-controlled swimming pools, and a private beach with watersports, West Bay Beach Club also features an adventure park, lazy river, wave pool and a zipline.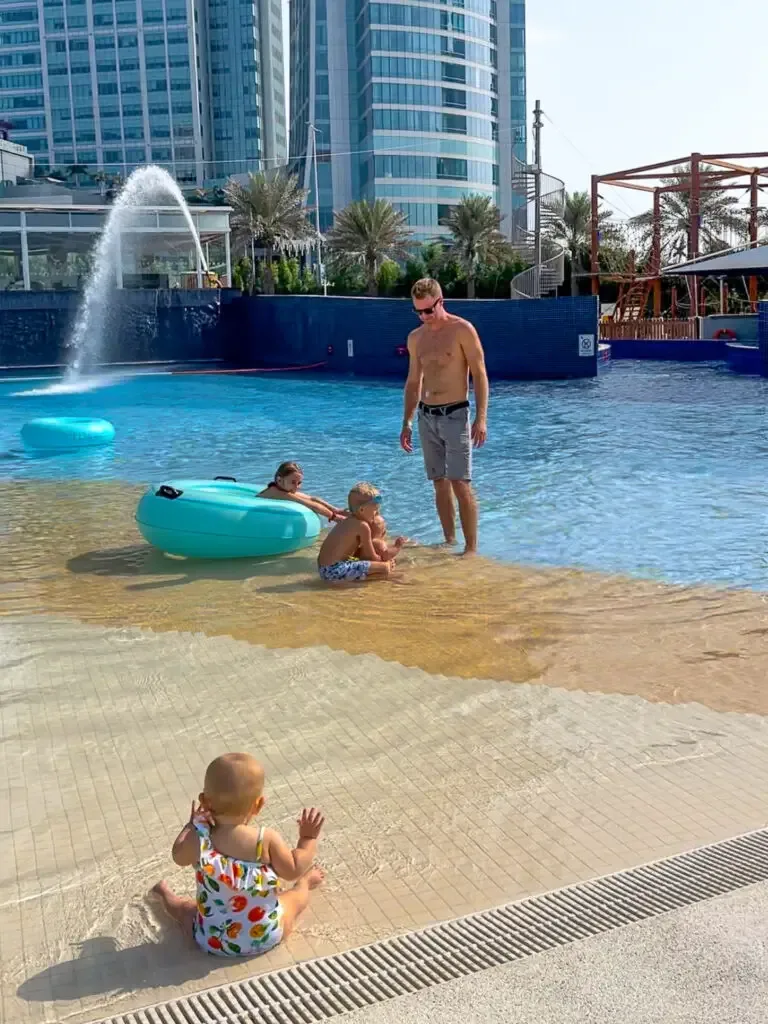 Wave Pool & Lazy River
Floating rings are available for adults and children (120 cm and up), so they enjoy the lazy river or ride the wave pool. Each pool has a lifeguard on duty, however parents of younger kids are expected to accompany little ones on the lazy river.
Timings: 10 AM to 6 PM (Daily)
Adventure park
There is an adventure park designed for children, those 120 cm and up can participate in the obstacle courses and rope climbs under supervision.
Climbing low ropes require a minimum height of 120 cm, and climbing high ropes requires a minimum height of 155 cm.
Timings: 11:30 AM to 6 PM (Daily)
Zipline
Kids and adults alike can zip above the wave pool! Weight and height are important and zippers must be between 55 and 90 kg of weight and a height between 155 and 190 cm to ride.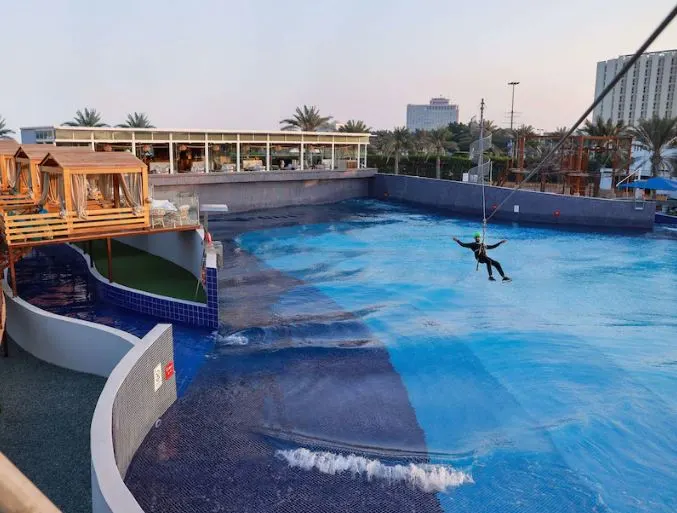 Timings: 10:30 AM to 4:30 PM (Daily)
A day pass for access to the pool and beach is available, and the price varies.
Book a stay at Radisson Blu Hotel & Resort
Weekday Day Passes: AED 150 for women and men (AED 100 redeemable on F&B)
Weekend Day Passes: AED 150 for women and AED 200 for men (AED 100 redeemable on F&B)
Location: Radisson Blu – Corniche Rd – Al Bateen – Abu Dhabi – United Arab Emirates
2. Emirates Palace Adventure Pool
Luxury is synonymous with the Emirates Palace in Abu Dhabi. It's no surprise the facilities are of a high standard.
Offering an array of watersports at its 1.3-kilometre private beach and two pools in the activities area, there is also an adventure pool!
The adventure park pool area at the West Wing Beach Club offers a tranquil lazy river, a dramatic waterfall and two massive twisting waterslides requiring a minimum age of 5 years.
The Sarab Land is another favourite at Emirates Palace, where specially trained staff guide the little ones through age-appropriate activities and games.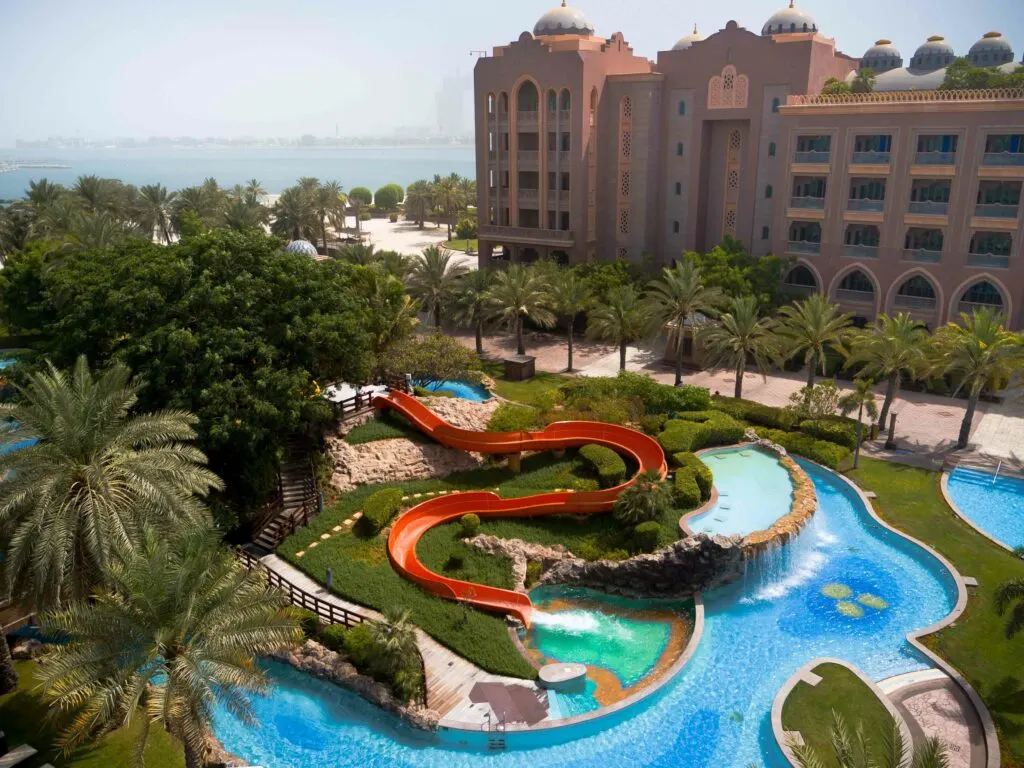 There is a beautiful outdoor play area for kids to enjoy. Guests residing at Emirates Palace as well as day pass holders have access to the fantastic facilities.
There is quite a few day pass options:
Adult Weekday passes: AED 320, AED 100 redeemable on food and drink
Children Weekday Pass: AED 160, AED 50 redeemable (Ages 4 to 17)
Adult Weekend Pass: AED 425
Children Weekend Pass: AED 210 (Ages 4 to 17)
Book your stay at Emirates Palace
Adventure Pool Timings: 7 AM to 9 PM
Location: West Corniche Road – Al Ras Al Akhdar – Abu Dhabi – United Arab Emirates
3. Aladdin's Cave At Saadiyat Rotana
Saadiyat Rotana Resort & Villas features a 9km stretch of pristine white beach overlooking the Arabian Gulf.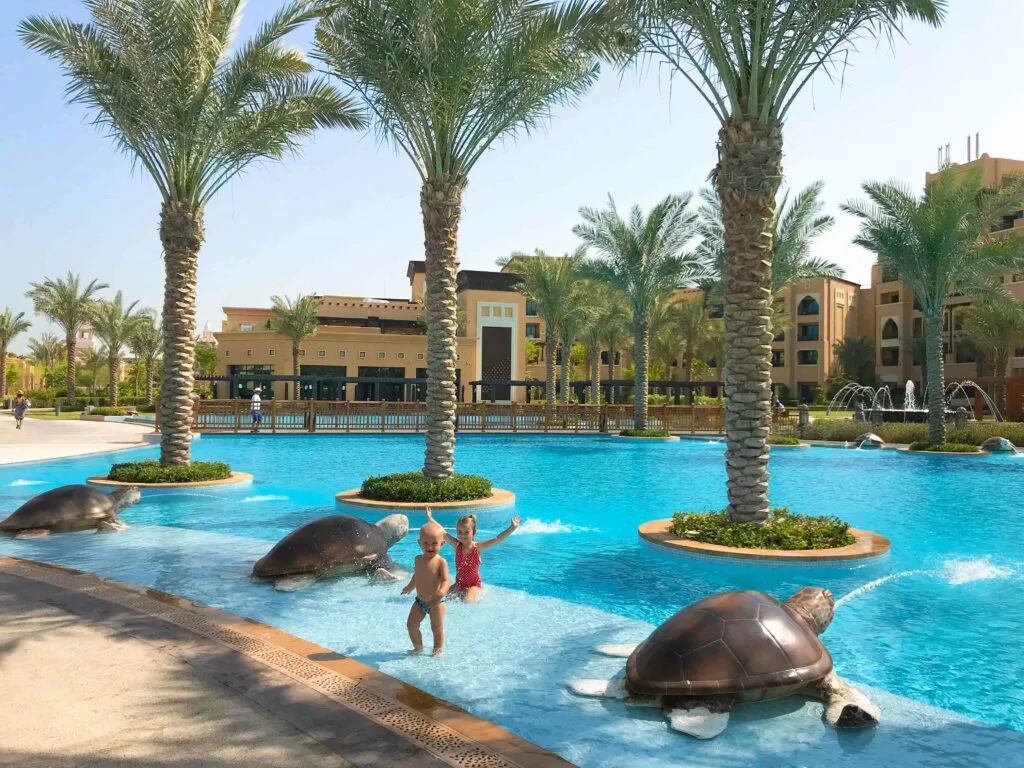 With striking modern Arabic architecture, Saadiyat Rotana offers a luxurious five-star experience.
Kids can find a splash area and water slide at Aladdins Cave Kids Club. At the club, kids can also enjoy cinema evenings and plenty of supervised activities throughout the day.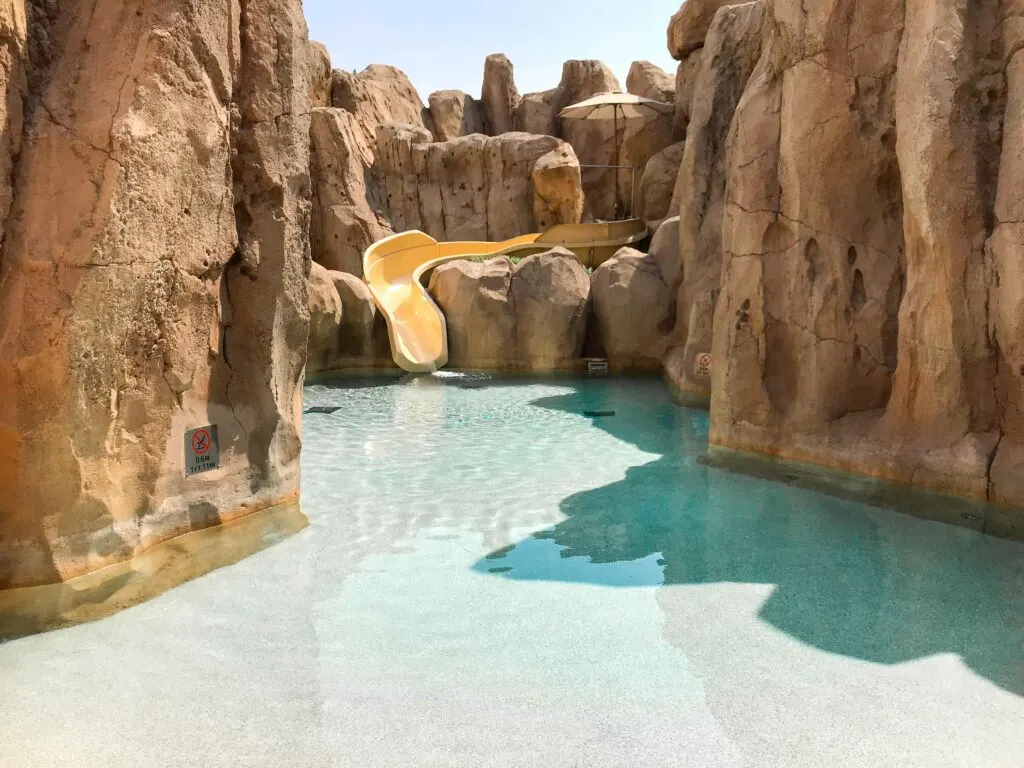 There are some outstanding leisure facilities at the resort, perfect for families. Enjoy the fitness centre, spa, padel courts, mini golf or beach club.
Book a stay at Saadiyat Rotana Resort & Villas
Location: Al Saadiyat Island – Abu Dhabi – United Arab Emirates
4. Waterpark At Rixos Premium Saadiyat Island
Rixos Premium is a luxurious and unique resort tucked away on the pristine white sand beach of Saadiyat Island. The water along this part of the Arabian Gulf is turquoise blue.
It's in a fantastic location, close to Yas Island and downtown Abu Dhabi. The resort connects centuries-old traditional Arab culture with its oriental court gardens and extensive water features.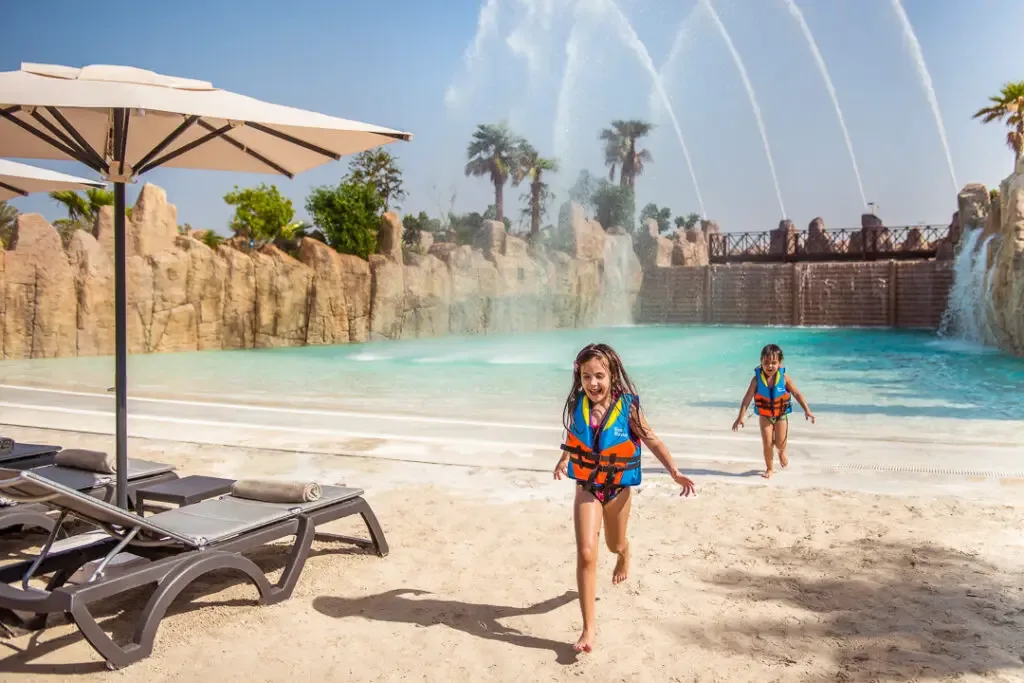 Rixos, Saadiyat Island has an all-inclusive option, not to mention a mini waterpark making it perfect for families. The Rixy Kids Club offers water activities for children between 4 & 12, inclusive of a wave pool!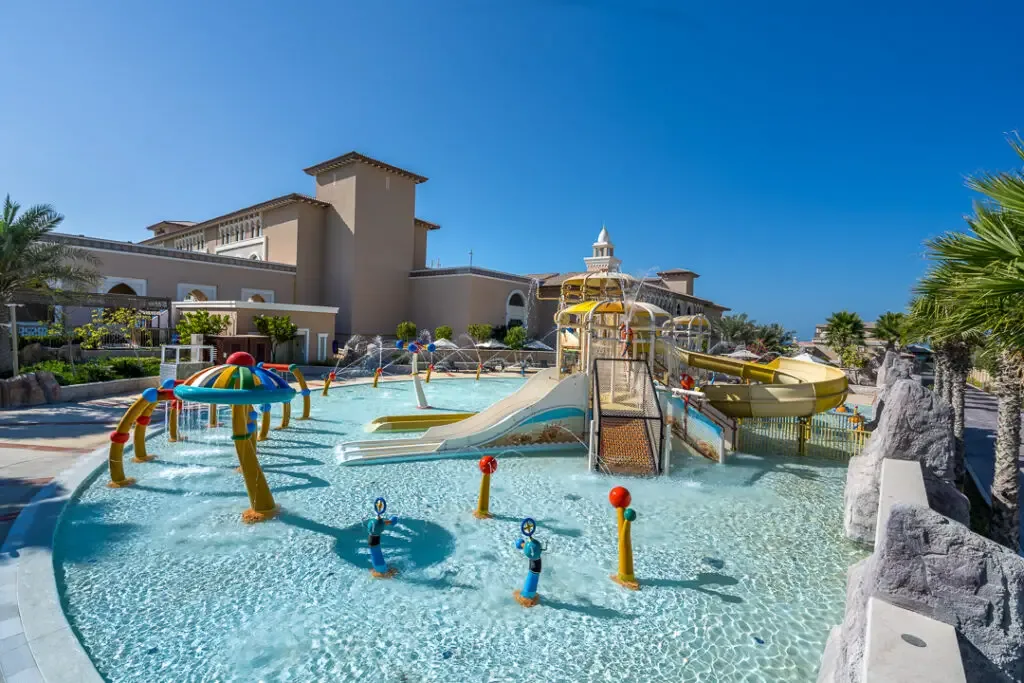 Featuring water slides, indoor and outdoor pools, a children's cinema, a Rixi disco, colourful playgrounds, and painting and baking classes. The kiids are in for a memorable and entertaining holiday.
Day passes are available.
Book a stay at Rixos Premium Saadiyat Island
Location: Al Saadiyat Island – Abu Dhabi – United Arab Emirates
5. Al Raha Beach Hotel, Abu Dhabi
A hidden gem for families with young children, Al Raha Beach Hotel is a 25-minute drive from downtown Abu Dhabi.
It's in an idyllic location with a breathtaking 900-metre private sandy beach. Featuring an outdoor and indoor swimming pool, a kid's pool and water playground, an array of adventurous water sports, and two squash courts.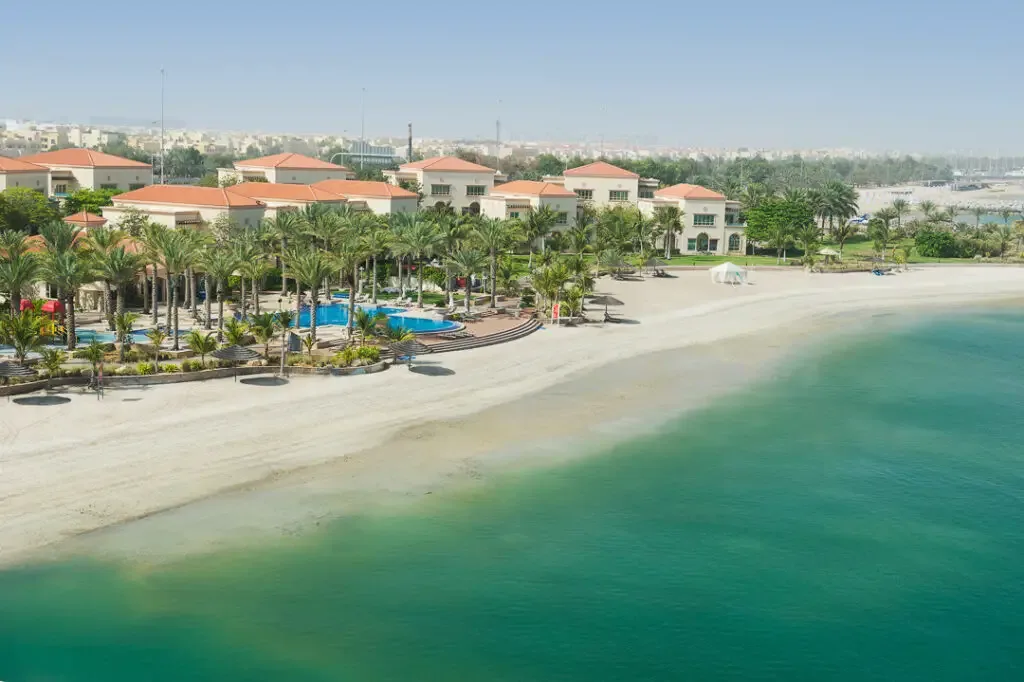 The kid's playground features water slides, overhead hanging bars and plenty more to keep the little ones busy.
Among Abu Dhabi hotels with waterslides, Al Raha Beach Hotel is toddler-friendly, making it perfect for young families. The spa is a nice escape for parents with a jacuzzi, sauna, steam bath and a selection of treatments.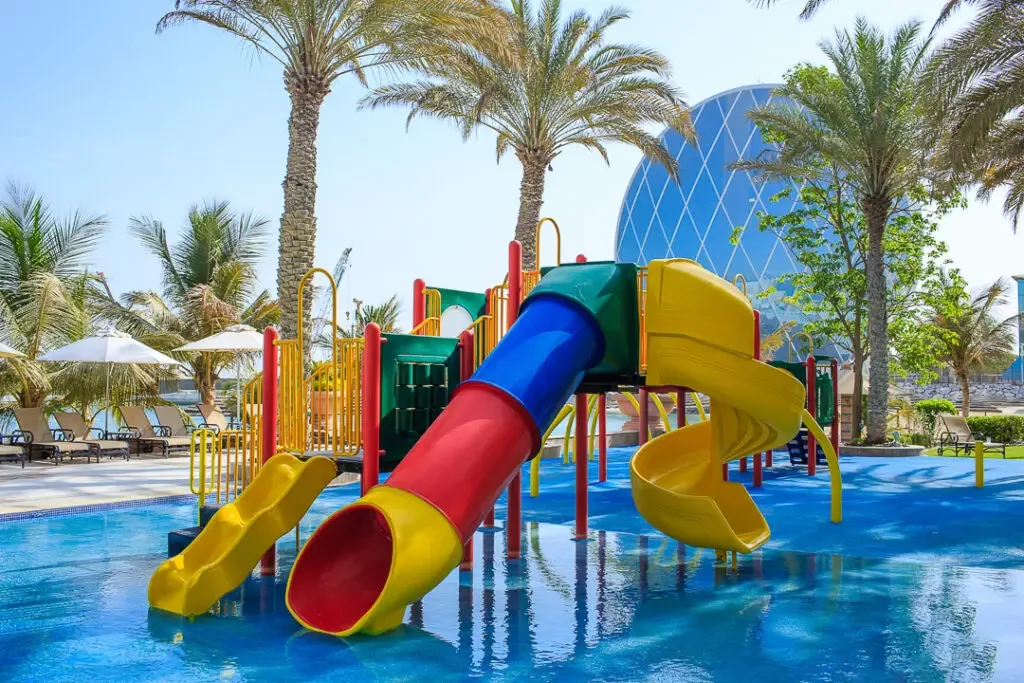 The hotel shuttle bus provides easy access to the city centre and several shopping malls in the area. Perfect for those who are not keen on driving a rental car or taking a taxi!
Al Raha is a good stopover hotel since it is so close to the airport.
Book a stay with Al Raha Beach Hotel
Location: Channel Street, Near Al Raha Mall – Al Raha Creek – Abu Dhabi – United Arab Emirates
5. Nation Riviera At St. Regis Abu Dhabi
The St. Regis Abu Dhabi is well known for its recreation activities and attentive service. Guests of the hotel can access the Nation Riviera Beach Club which offers a range of activities for families.
Often regarded as one of Abu Dhabi's best beach clubs, Nation Riviera boasts a 200-meter private beach which is accessible from the hotel via an air-conditioned private tunnel underneath the Corniche.
Apart from beach and pool facilities, the club offers two gyms. Not to mention the kid's pool with water slides and Treasure Island Children's Club.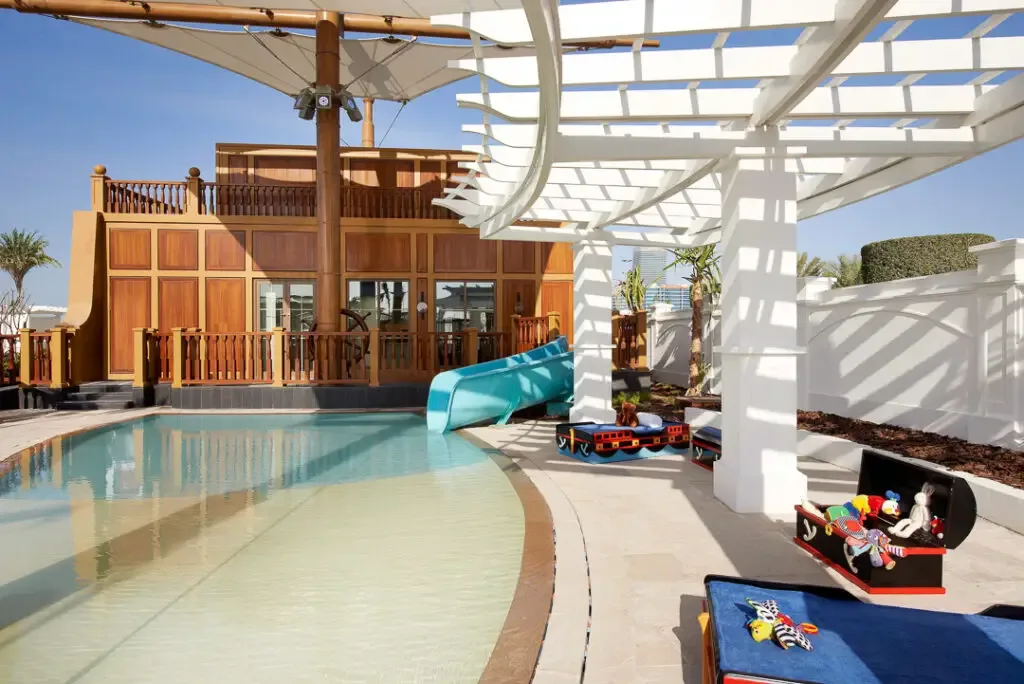 The water feature pirate boat ship is always a huge hit with little ones. The play areas are supervised and cater for children ages 4 to 10.
Arts and crafts such as face painting, origami, colouring and other activities are run daily. Not to mention Nintendo game consoles, volleyball and football on the beach are also available.
Book a stay at The St. Regis Abu Dhabi
Nation Riviera Beach Club Timings: 6 AM to 10 PM
Kids Waterpark Timings: 9 AM to 6 PM
Location: Corniche, Nation Towers – 1st St – Al Bateen – Abu Dhabi – United Arab Emirates
6. Bayshore Beach Club InterContinental
InterContinental Bayshore Beach Club has been welcoming guests for years being one of the oldest in the city. It lives up to its description of an urban oasis of tranquillity!
A private beach, infinity pool, and watersports such as kayaking and wakeboarding, badminton, tennis, basketball, croquet, foosball, and beach tennis are among the activities available at the club. And of course, there is a children's play area with a water slide!
As well as offering separate pools for couples and families, the venue offers different areas for children.
Day passes are available and are quite popular with local residents.
Prices start from AED 180 per session, Bayshore Beach Club is an excellent choice for those looking to enrol their child in swimming classes.
Book your stay at the InterContinental Abu Dhabi
Location: King Abdullah Bin Abdulaziz Al Saud St – Al Bateen – Abu Dhabi – United Arab Emirates
8. The St. Regis Saadiyat Island Resort
The St. Regis Saadiyat Island Resort overlooks the pristine beach and famous Saadiyat Beach Golf Course. There is a children's splash area, waterfalls, and a water slide.
The splash park is bright and colourful, perfect for kids to cool off in Abu Dhabi's warm weather. Whilst the kids club AKA Sandcastle Club has an array of activities, games and toys specific for different age groups.
The shelves are well stocked with lots of fun building blocks, cards, crafts and so on. Not to mention a daily schedule of activities including everything from water relay, to beach sand castle building and origami to tug of war.
The resort also has tonnes of great dining options for families, a luxurious spa, a fitness centre with a 25-metre lap pool, and tennis and squash courts. Pool side food is quite popular with familes.
Book your stay at The St. Regis Saadiyat Island Resort
Location: Al Saadiyat Island – Abu Dhabi – United Arab Emirates
9. The WB Abu Dhabi
The Warner Bros-themed hotel is the ultimate place to stay on Yas Island for a family vacation. It is the first hotel of its kind in Abu Dhabi, offering a world of colour and creativity.
So many parents love this hotel as much as their kids since they reminisce over childhood favourite cartoons.
With its cinematic artwork, playful dining options, full-service spa, modern fitness centre, and fun pools for the whole family, the hotel offers an unforgettable stay for kids and parents.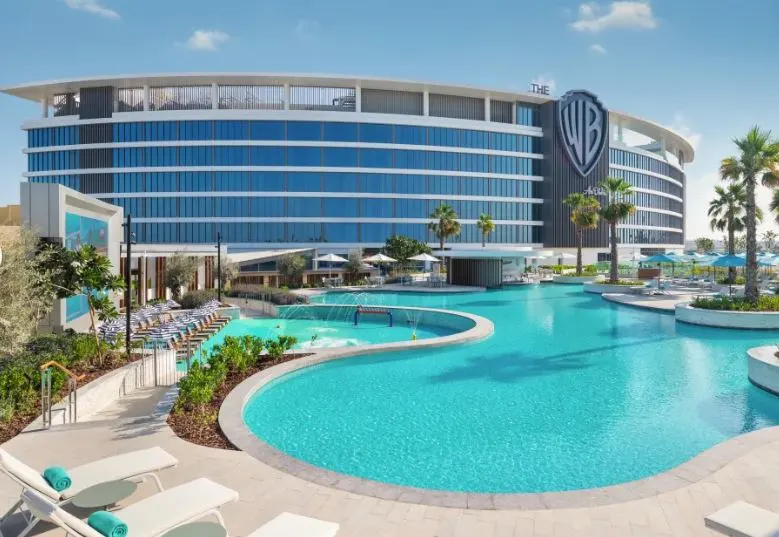 The WB Abu Dhabi Matinee Pool is a hit with kids. Enjoy movies and cartoons in the outdoor cinema while floating on a water bean bag.
Guests at the WB-themed hotel will receive free access to the three world-famous theme parks on Yas Island every day. The world's largest indoor theme park-Ferrari World, Yas Waterworld, and Warner Bros. World Abu Dhabi.
The waterpark is just a few minutes away.
Book a stay at The WB Abu Dhabi, Curio Collection by Hilton
Location: Yas Bay – Yas Island – Abu Dhabi – United Arab Emirates
Yas Waterworld Abu Dhabi
WB Hotel guests can use Yas Waterworld throughout their stay at no additional cost. With countless slides and activities, Yas Water World is one of the most prominent visitor attractions in the region.
Each slide offers something different. Whether it's speed, bumps, turns, spins, lights, or flashing lights.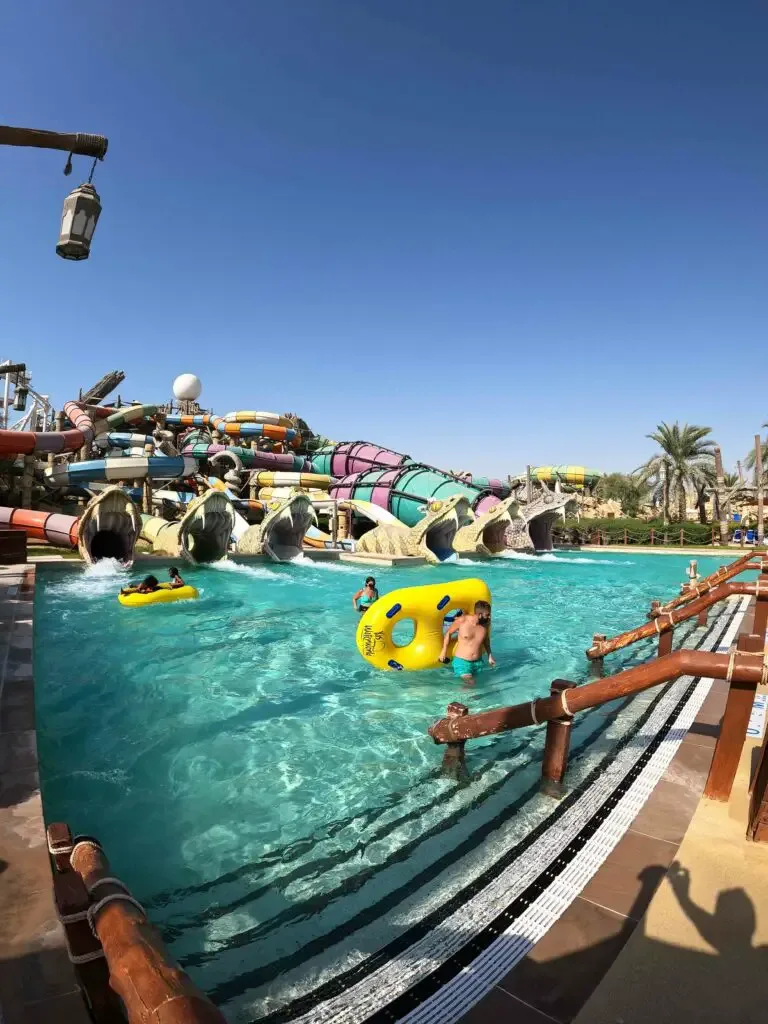 Each tunnel ends with a ring propelled out of one of the snakeheads and into the pool below. The famous Abu Dhabi Waterpark has a lazy river to relax after conquering the slides or wave pool.
Book a Day Pass to Yas Waterworld
Yas Waterworld Timings: 10 AM to 6 PM (Monday to Sunday)
Location: Yas Island – Abu Dhabi – United Arab Emirates
Al Ain Hotels With Waterpark
Al Ain is around an hour and a half drive from downtown Abu Dhabi and is officially part of the Emirate.
Some family tourists love to visit Al Ain as it has stunning palm tree gardens and a safari option within the local zoo. Known for world heritage sites, the picturesque city is home to several waterparks.
10. Radisson Blu Hotel & Resort, Al Ain
At the very centre of the garden city of UAE, Al Ain, Radisson Blu Hotel & Resort, offers a sense of calm and solitude.
It features three spacious swimming pools, extensive fitness facilities, tennis courts, saunas and a playground for children which includes a waterslide suitable for all ages.

Set against the backdrop of Jebel Hafeet, the second-highest mountain peak in the United Arab Emirates, the location is stunning!
No matter if it's a day trip or an overnight stay with family, the hotel is a hit with little ones.
Book your stay at Radisson Blu Hotel & Resort, Al Ain
Location: Al Sarouj – Abu Dhabi – United Arab Emirates
11. Mercure Grand Jebel Hafeet
The Mercure Grand Hotel in Al Ain stands out since it is on top of the second-highest peak in the United Arab Emirates. In fact, the water slides feel like it goes off the edge of the mountain!
Featuring a gym, free Wi-Fi in public areas, a coworking station and express check-in, it also has a pool area for all ages alongside the three water slides.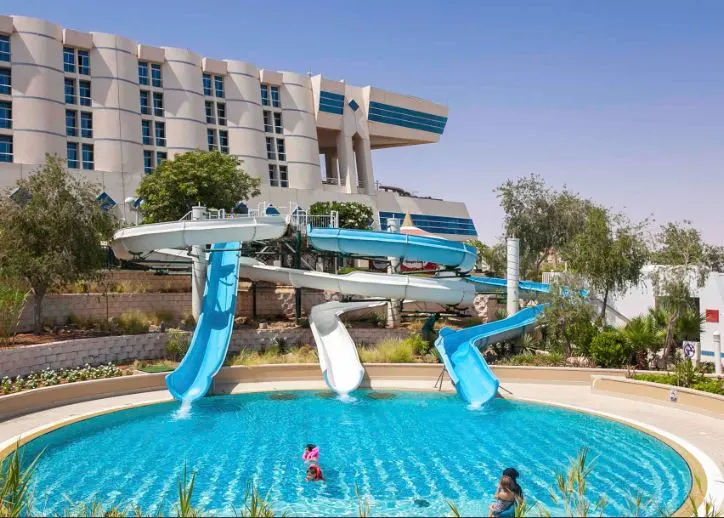 Enjoy breathtaking views of the city below and the sunset is incredible while dining at one of the many cafes.
Book a stay at Mercure Grand Jebel Hafeet, Al Ain
Location: Jebel Hafeet – Abu Dhabi – United Arab Emirates
What To Wear At Abu Dhabi Hotels With Waterpark
Abu Dhabi's prime location in the Arabian Gulf provides beautiful beaches and clubs to explore.
Visitors can buy a membership or a day pass to use the facilities at Abu Dhabi's many hotels which have waterpark facilites.
Generally, all types of swimwear are acceptable. For women, thong-shaped swimmers are not advised in places like Yas Waterworld.
Although many guests wear them, we've seen staff suggest they are not appropriate.
However, in the hotels, women typically wear swimsuits or bikinis with no issues with thong-shaped swimwear, while men tend to wear shorts or trunks.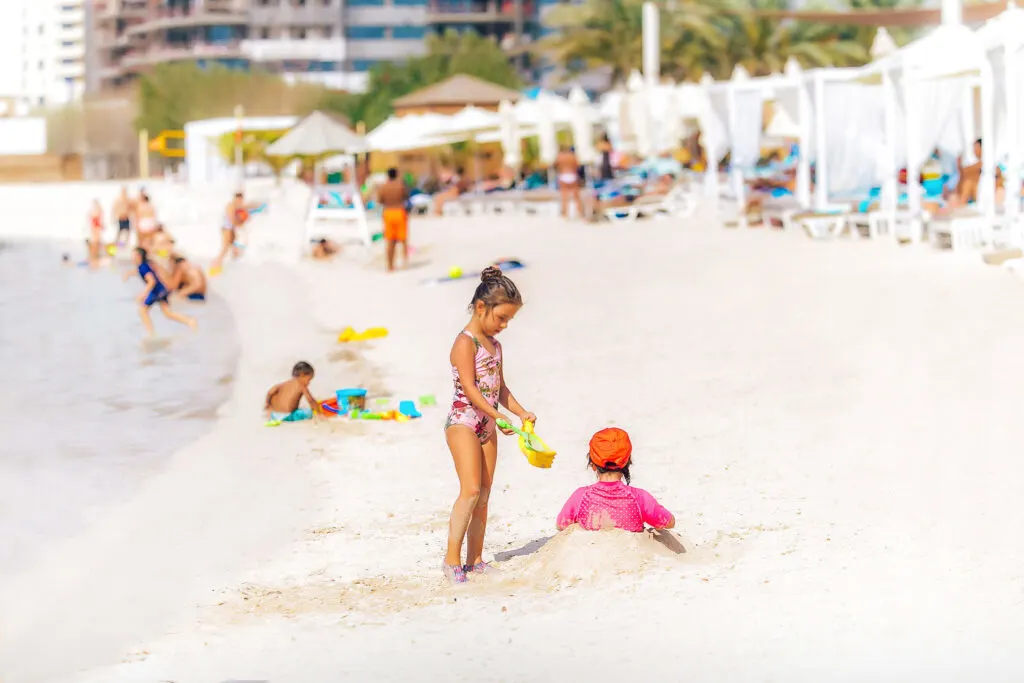 Beach cover-up dresses and skirts can be handy for throwing over swimwear away from the water, especially when grabbing a bite to eat.
Check out our detailed guide on what to wear when visiting the capital, Abu Dhabi.
Abu Dhabi Beaches
There are many public beaches in Abu Dhabi as an alternative to the waterpark. It is usually free or reasonably priced to access public beaches compared to private ones.
The public beach facilities in Abu Dhabi are excellent with changing areas and showers being clean and modern.
Beaches in the UAE may consist of sections such as family areas, couples areas, and female areas.
Some are open to the public and may have stricter dress codes. The rules vary from one beach to another, so it is best to check and do some research before.
Abu Dhabi Hotels With Waterpark Frequently Asked Questions
Is it possible to bring guests into the hotel pool?
Hotel guests are often permitted to invite visitors to use the pool and other facilities by purchasing a day pass, which may vary from hotel to hotel.
What should I wear to a hotel pool?
If you plan on venturing around the hotel or dining at its restaurant, it is a good idea to wear a cover-up over your swimsuit. For more details, check out our blog on what to wear.
When is the most convenient time to make a trip to Abu Dhabi?
Abu Dhabi is a fascinating city to visit at any time of the year. However, the most popular time to visit is usually during winter, when temperatures are pleasant, and humidity levels are low.
In case you are on a budget and looking to embrace the UAE's authentic culture, we suggest visiting during the holy month of Ramadan.
The perks of flying during Ramadan are cheaper flights and more late nights, as most shops and malls stay open late. Not to mention iftar and suhoor which are traditional meals only available during Ramadan.
What is the maximum duration of days to spend in Abu Dhabi?
Realistically, we would suggest spending two weeks in Abu Dhabi to see everything.
If you live in Dubai or Al Ain and are looking to spend a day or two during the public holidays, four days is an ideal time to see the main attractions of Abu Dhabi.
The Best Time To Visit Abu Dhabi
The tourism season kicks off around October or November when there are lots of events such as F1. December is equally as busy with events, in particular National Day.
January and February are the coolest quieter months after New Year. In March and April, the weather is still pleasant to visit.
The hotter summer months start in May when most events move inside. It is a good month to visitfor those who enjoy the arts.
Whilst June through July and August attract budget travellers as many resorts and attractions offer great deals.
September is considered a shoulder month, it is still quite hot but tolerable early morning and in the evenings.
To Sum Up Abu Dhabi Hotels With Waterpark
Even though Abu Dhabi is known for its luxurious staycations and desert getaways, there is plenty to do for families.
There are plenty of budget-friendly options within the city limits offering adventure parks or miniature waterparks right in the heart of Abu Dhabi.
To ensure you are taking advantage of the hotel deals, we suggest calling ahead based on when you plan to visit. Factors such as public holidays, Eid breaks, or the season could change the experience.
Give the hotel page a follow on Instagram to see the latest updates.
We hope you found this post about Abu Dhabi hotels with waterparks helpful.
Have you visited any of the above hotels, or are you planning to see one in the near future?
Tell us about your experiences and which hotel you'd like to visit by dropping us a comment below. We particularly would love to hear about the waterpark.
You may also like:
24+ New Years' Eve Abu Dhabi Events
Long Salt Lake Abu Dhabi- Everything You Need To Know
Disclaimer: This post may contain affiliate links, by using them it will not cost you any extra, we will receive a small proportion of the sale to keep us writing!