While Diwali traditions may vary from community to community, the celebration is widespread throughout the UAE with so many Hindu expats amongst the population.
Diwali in Abu Dhabi celebrations are similar to those around the world. The Festival of Light is also celebrated by Jains, Sikhs and some Buddhists.
Each year, Abu Dhabi, Dubai and other cities put on celebrations in the form of fireworks and candles.
Millions of colourful lights illuminate apartment balconies and shopping malls during the celebrations of Diwali in Abu Dhabi.
Diwali is celebrated by decorating houses with colourful Rangolis and flowers. There are a variety of Rangoli designs, the most common are circles and flowers.
The date of the festival varies according to the Lunar calendar. This year, Diwali is being celebrated on 24 October.
Diwali in Abu Dhabi is the most significant Hindu festival which celebrates the triumph of Good over Evil. This festival is known as the Festival of Light where 'light' symbolizes knowledge.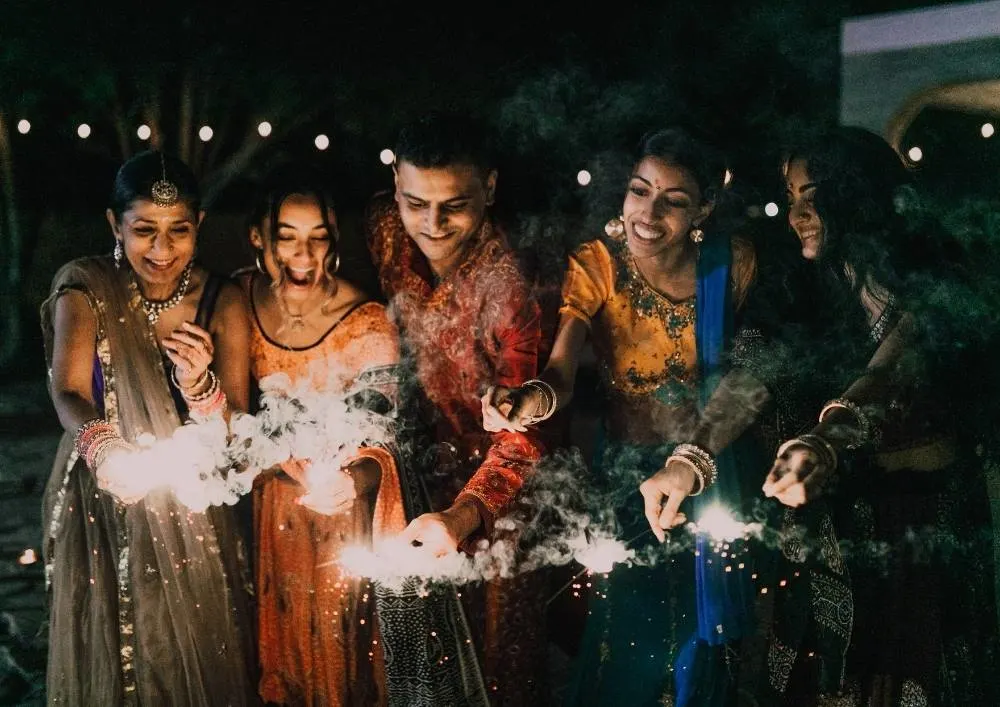 Although Diwali in Abu Dhabi is not an official holiday, the celebrations are scheduled for the weekend across the capital in selected venues.
Discover where to see fireworks this Diwali in Abu Dhabi, specific places to celebrate, Hindu temples and of course the all important Indian sweet shops and places to pick up festive gifts in the city.
Diwali Celebration In Abu Dhabi
Visit the Holy Temple BAPS Hindu Mandir
The BAPS Swaminarayan Sanstha is building the temple of Abu Dhabi in UAE as a traditional Hindu place of worship.
Even though the temple is currently under construction, you can visit the temple to pray to commence the celebration of Diwali in Abu Dhabi.
The Holy Temple is located at Abu Mureikhah, which is near Al Rahba off the Dubai to Abu Dhabi, Sheikh Zayed Highway. The temple will be the first traditional Hindu stone temple in the Middle East.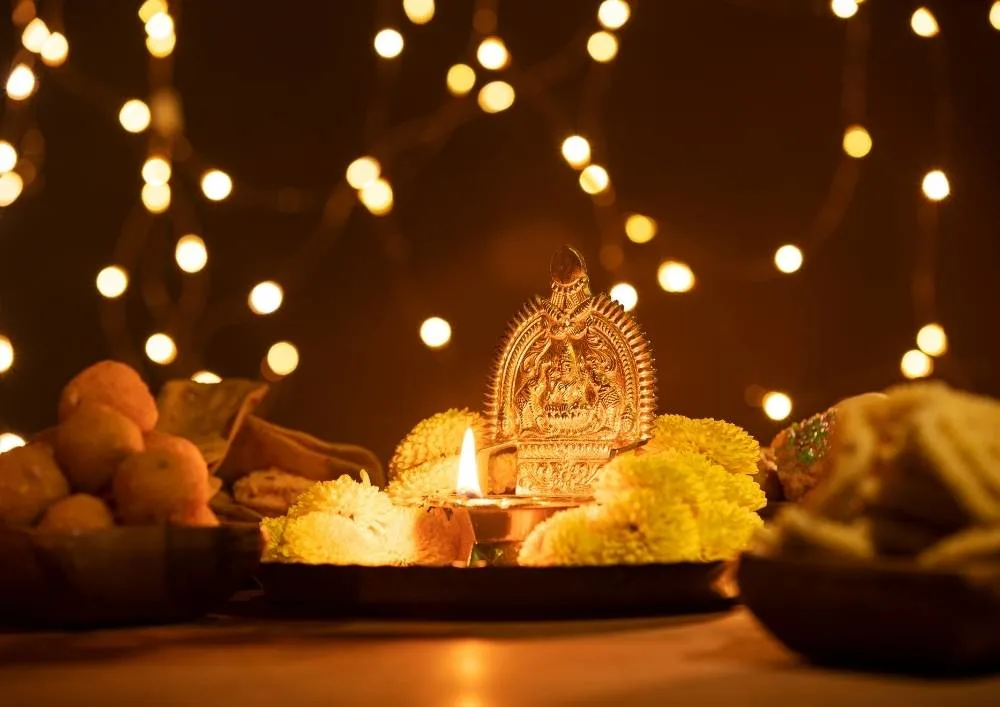 Once constructed, it will incorporate all aspects and features of a traditional Hindu Mandir as part of a fully functional, social, cultural and spiritual place of worship.
There will be a visitor centre, prayer halls, exhibitions, learning areas, sports area for children, water features, food court and a bookstore.
Location: Abu Mureikhah, near Al Rahba, Abu Dhabi
Hindu Temple
There is nothing better than visiting the 70,000 square feet Hindu Temple in Dubai to commence the celebration of Diwali. The temple is officially open to public of all faiths at the worship village in Dubai.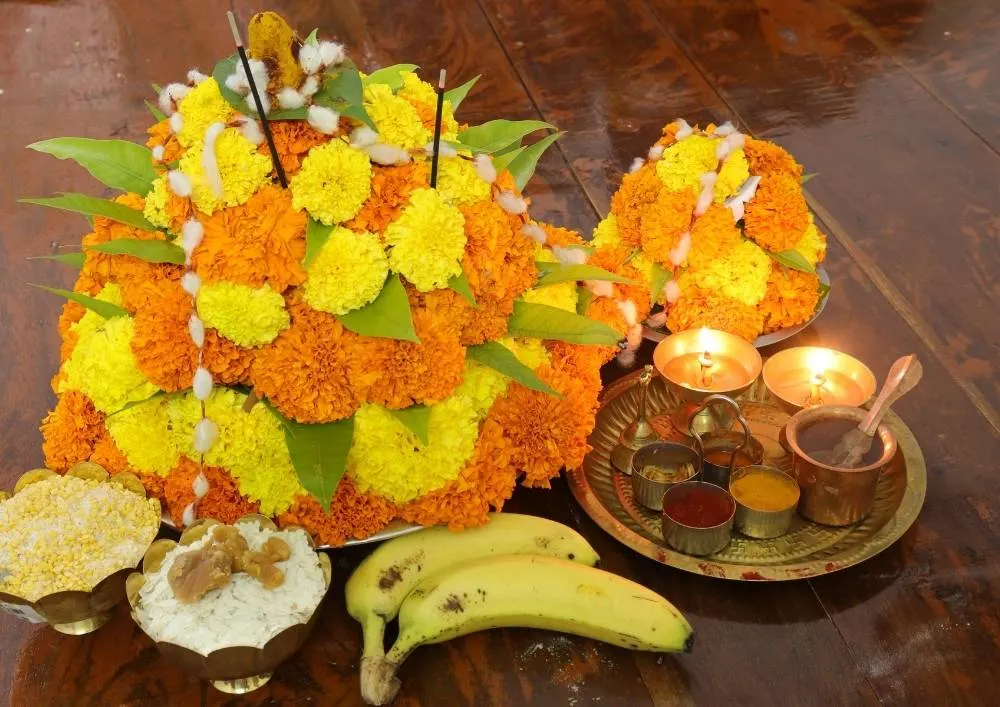 Once entering the temple, the fusion of Indian and Arabic architecture is striking. Strolling through the Temple listening to the Hindu priests chant in the background is incredible.
Since there is a huge crowd expected during the occasion of Diwali, it is important to book a spot through the booking system.
Timings: 6am to 8:30pm daily, special prayers at 7:30pm
Location: Jebel Ali, Dubai
Bollywood Parks
If you are celebrating Diwali in Abu Dhabi, Bollywood Park is not too far from the Dubai border. In fact it is one of the first stops between Abu Dhabi and Dubai.
It is the world's first Bollywood-themed park located just 56 minutes away from Abu Dhabi city centre.
The best part is the traditional Indian street dancers, not to mention the theatre show which takes place at mulitple intervals throughout the evening.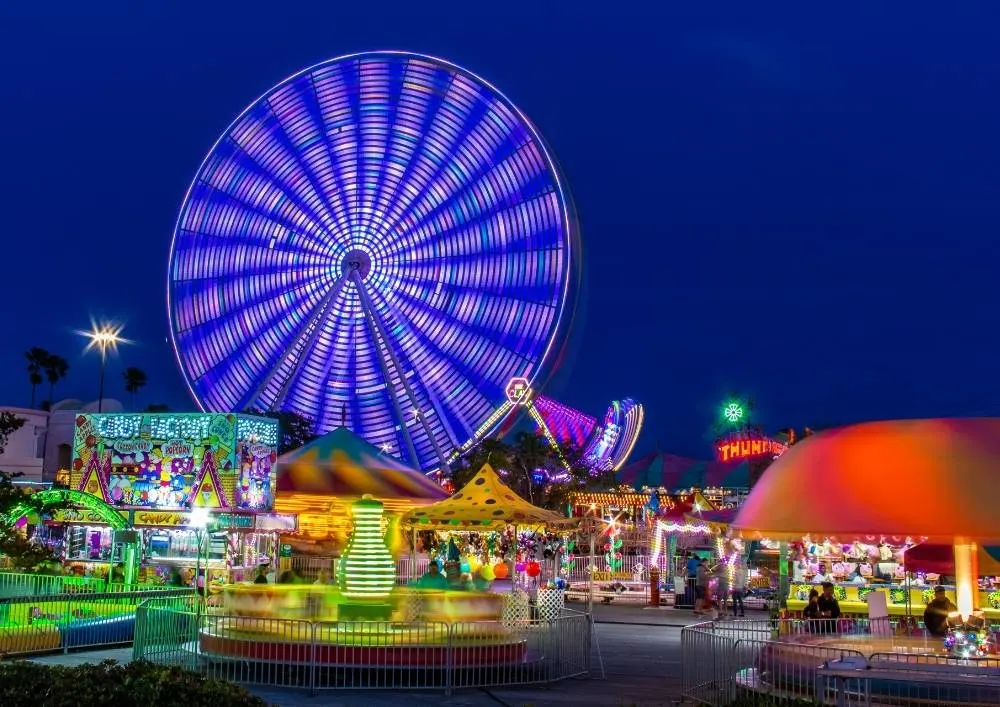 Aside from the traditional performances, there is so much to do! From the rocket-shaped gravity ride to carousels, colourful hang gliders and the Bollywood Sky Flyer, which holds the record for the tallest swing ride in the world.
It is guaranteed to get your heart racing or festive if you prefer to avoid the rides. Book your tickets to celebrate Diwali at Bollywood Here.
Timings: 12pm to 9pm (Sunday to Thursday) and 12pm to 10pm (Friday and Saturday)
Location: Bollywood Parks™ Dubai, Sheikh Zayed Rd, Dubai
India Palace Restaurant
With multiple locations scattered across the Capital, celebrating Diwali in Abu Dhabi at one of the many India Palace Restaurants is quite popular.
The culture-rich Indian restaurant is well-known among the Indian expats and other residents in Abu Dhabi for their authentic Indian dishes. It is also a perfect venue to spend the festival of Diwali with your family and friends.
India Palace has a traditional touch to its interiors and the hospitality of the staff is notable.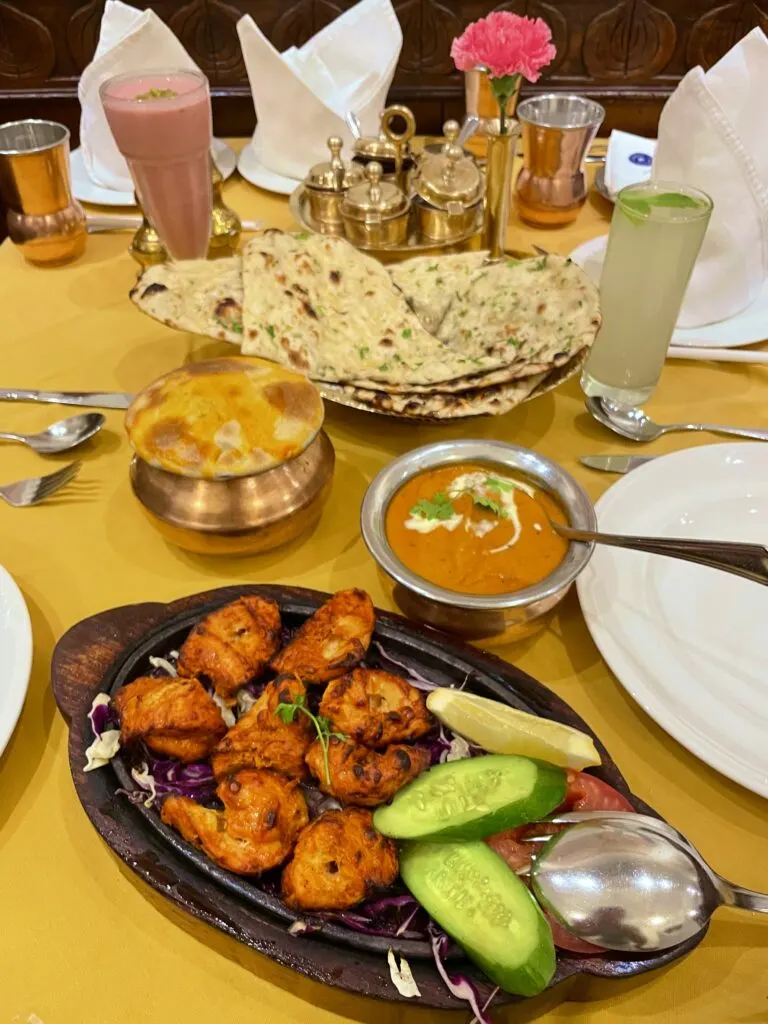 With plenty of private dining room options available on the first floor including an exclusive 10+ person area, an intimate dining experience is assured.
The chefs have curated a special Diwali dining menu for guests, including everything from succulent curries, tandoori, biryanis and plenty of other vegan, vegetarian and non-vegetarian food options.
The rasmalai and gulab jamun cake are the top recommendations for desert when dining at India Palace Restaurant.
If you are looking to treat your friends and loved ones, India Palace offers an elegant gold textured gift box of sweets during the festive season. There is also a Royal Blue option for a touch of luxury.
Location: Al Salam Street, Opposite Adnoc Distribution Head Office, TCA , Abu Dhabi
Capila Restaurant and Yas Fireworks
Capila are celebrating Diwali in Abu Dhabi, based at Hilton Abu Dhabi Yas Island there will be a beautiful light show, cultural entertainment and great food.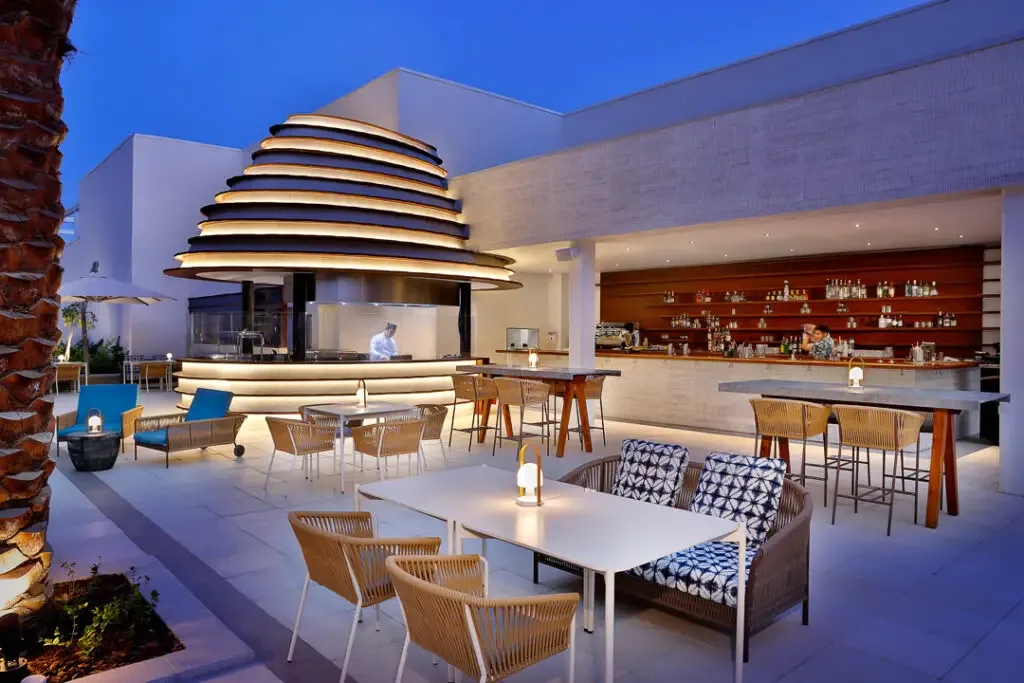 There will be a spice market with a variety of aromatic ingredients so guests can make their own delicious chaat.
Dishes will be served on the Indian-inspired spice bike, while succulent tikka will be served on the tandoori BBQ.
Dessert is an essential part of every Hindu Festive celebration, there will be plenty of indian sweets for guests at Capila.
It is worth mentioning there will be fireworks at Yas Bay waterfront.
Date: October 29
Time: 6pm to 11pm
Price: À La Carte
Location: Hilton, Yas Bay, Yas Island, Abu Dhabi
Osmo Lounge and Bar
To celebrate, Osmo has decorated the venue with traditional Diwali decor, hanging lights and Rangoli on the breezy terrace where the breathtaking views of Yas Bay can be enjoyed.
Besides healthy street snacks, there will also be nibbles, sweets stations, pani puri, chaat, tikka skewers, assorted samosas and a signature chai menu.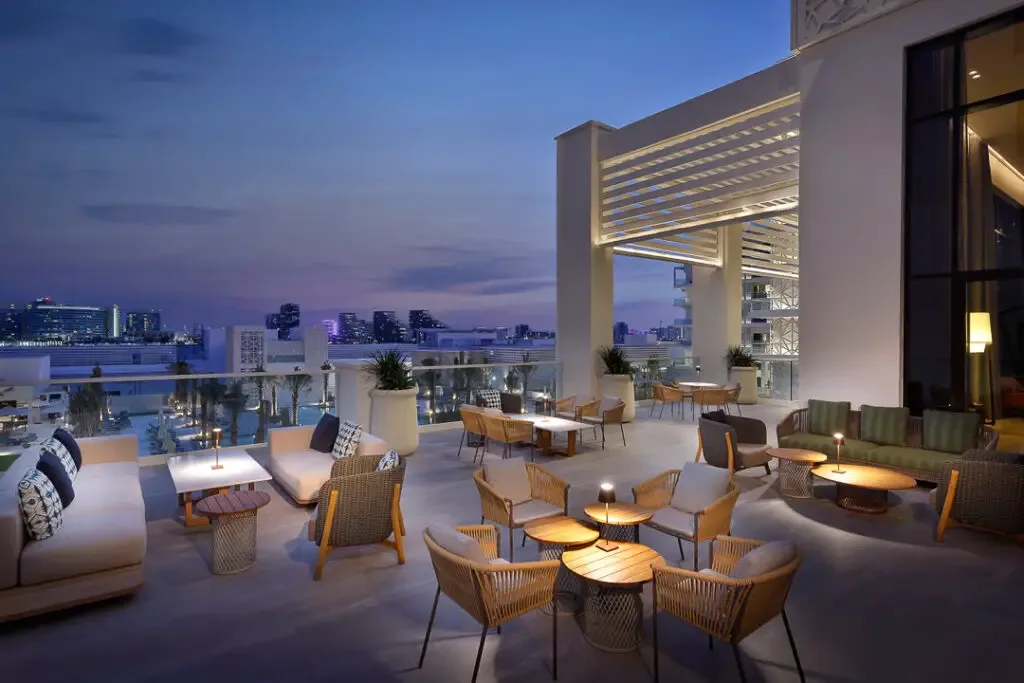 At the Osmo Lounge & Bar, guests can enjoy everything from morning coffee to evening cocktails.
A European-fusion menu is available for your grab-and-go convenience as well as Middle Eastern-inspired dishes on the lobby level of the Hilton Abu Dhabi Yas Island.
Date: October 24
Time: 7pm to 10pm
Price: AED 200 per person for unlimited food and soft beverages or À La Carte.
Location: Hilton, Yas Bay, Yas Island, Abu Dhabi
Diwali Gifts & Decorations
With Abu Dhabi being home to some of the best shopping malls, many put on celebrations for all festivities whether it's Halloween or Christmas, not to mention Ramadan or Diwali!
This year, Halloween and Diwali festivities fall at the same time so it will be interesting to see the city incorporate both celebrations.
Some of the best Diwali offers in Abu Dhabi are found in the malls! Watch out for the colourful Rangoli displays.
If you need to stock up on Diwali decorations and gifts there is plenty available online. Check out everything from Rangolis, Home Decor to Gift Boxes for Diwali in Abu Dhabi.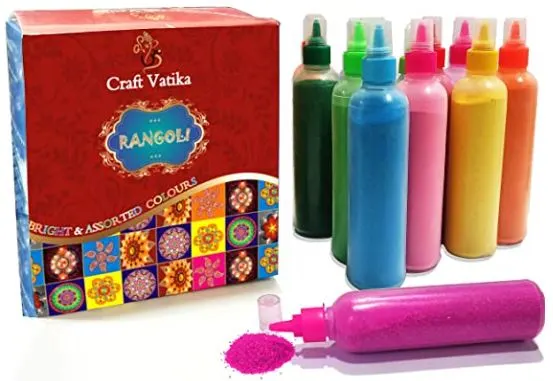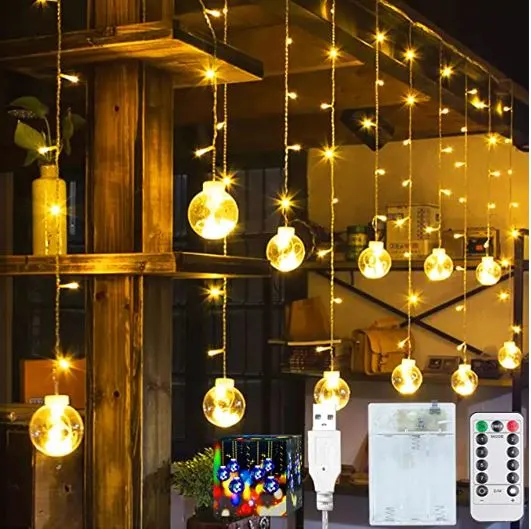 Click here to buy Diwali Lights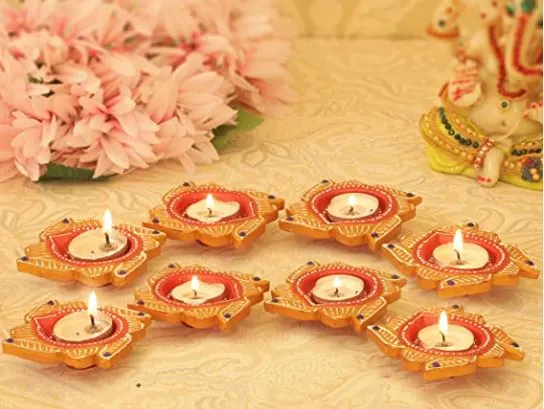 Click here to buy Diwali Clay Diyas
Indian Confectionery Shops In Abu Dhabi
Sharing traditional sweets and other confectioneries is a noble gesture when greeting friends and family during Diwali.
Sweet shops in Abu Dhabi stock up on a variety of special treats for Diwali. "Mithai" is the traditional name for Indian sweets.
Mithaiwaalas
Mithaiwaalas is a popular mithai shop in Abu Dhabi. Featuring everything from cakes to pastries and street snacks such as namkeen. They have an array of special treats and gifts during Diwali.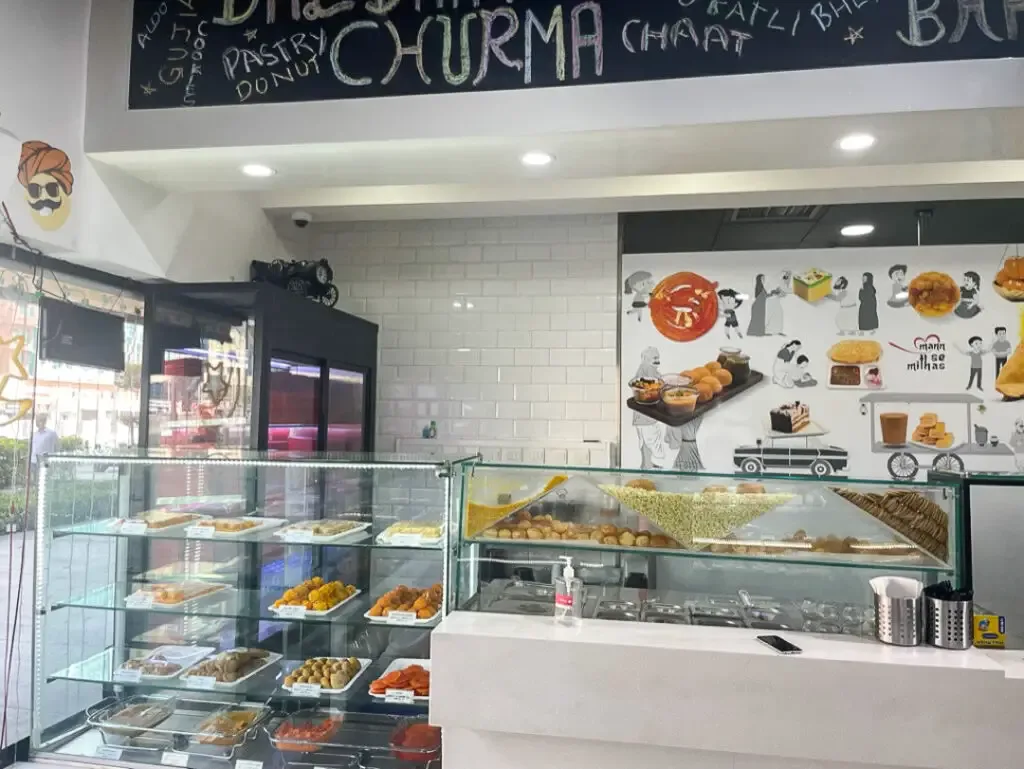 Location: Salam Street, Sheikh Zayed Bin Sultan St, Abu Dhabi
Sri Krishna Sweets
Sri Krishna Sweets is based in the heart of Abu Dhabi. It's known for high quality pure ghee based Indian sweets and savouries.
Self proclaimed King of Mysurpa, the shop has traditional melt in the mouth delights famous in the Indian subcontinent.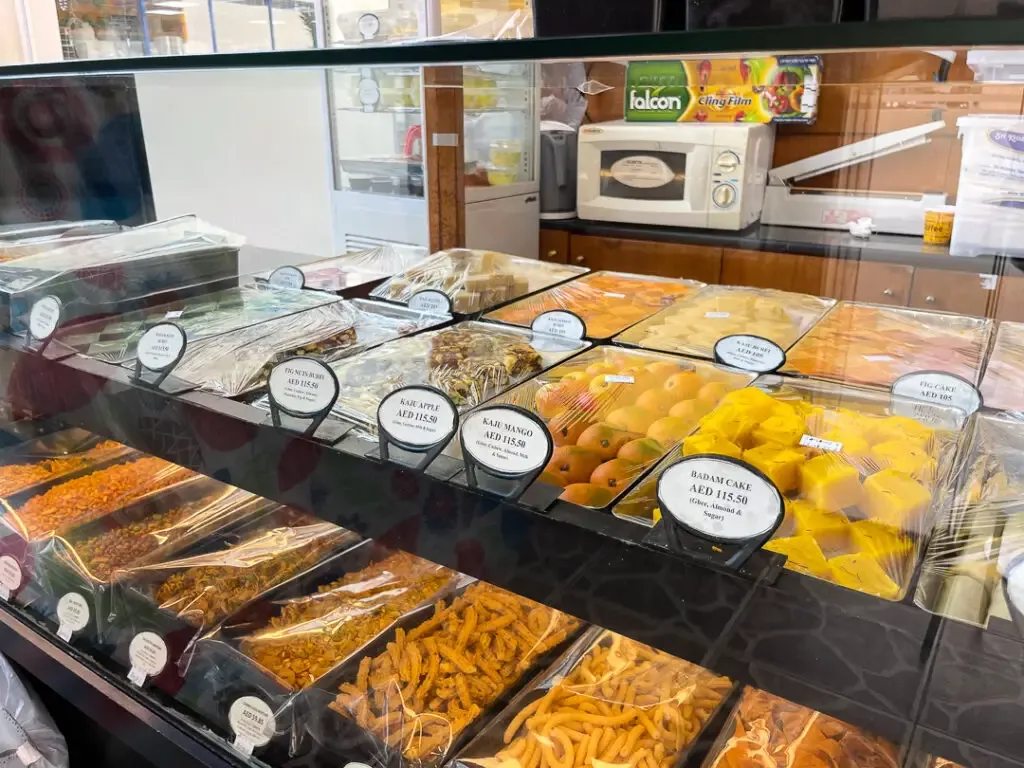 When it comes to mithai, it's a one-stop shop to satisfy all sweet cravings and also perfect to pick up a gift for your loved ones when celebrating Diwali in Abu Dhabi.
Location: Hamdan Bin Mohammed St, behind Al Mariah Cinema, Abu Dhabi
Chhappan Bhog
Chhapan Bhog is a premium name when it comes to Indian sweets and savouries. Every Indian expat in Abu Dhabi will be familiar with the name due to its popularity.
The variety of delicacies range from bites and berries, to delightful dry fruits and premium sweets.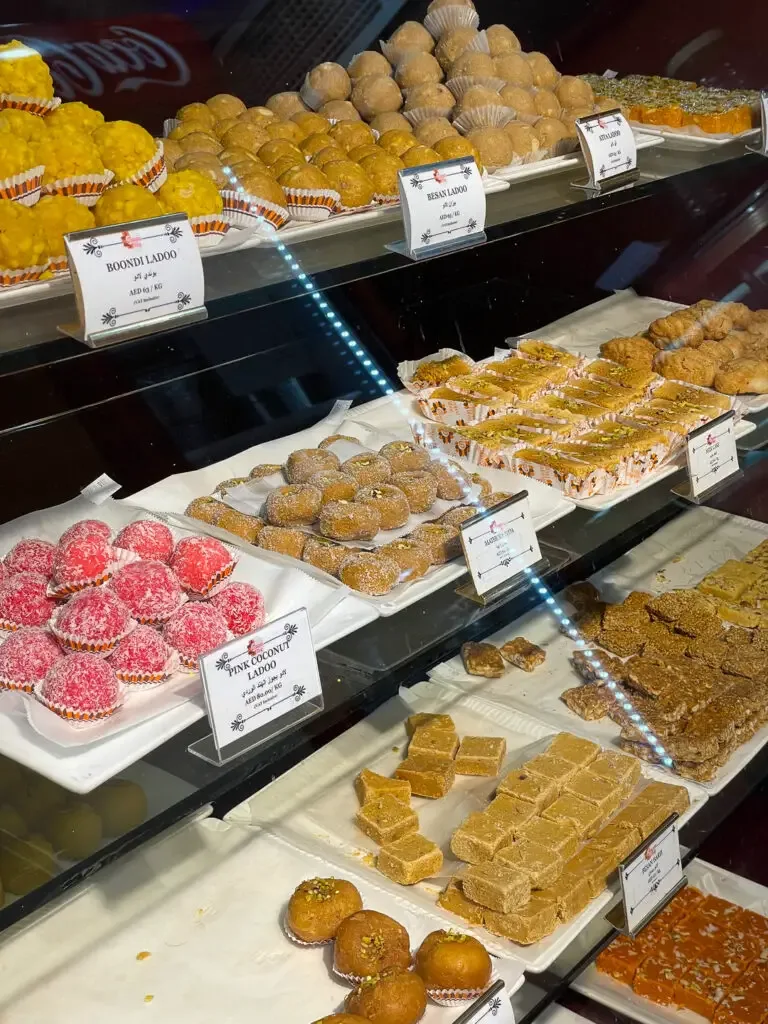 At Chaapan Bhog you can buy sweets by weight allowing customers to customize an assorted box!
Location: Behind ADCB Bank, Al Salam St, Zone 1, Abu Dhabi
Gold Souks
The tradition of buying and gifting gold during Diwali is not a new practice. Some Gold merchants offer up to 60 percent discount during Diwali.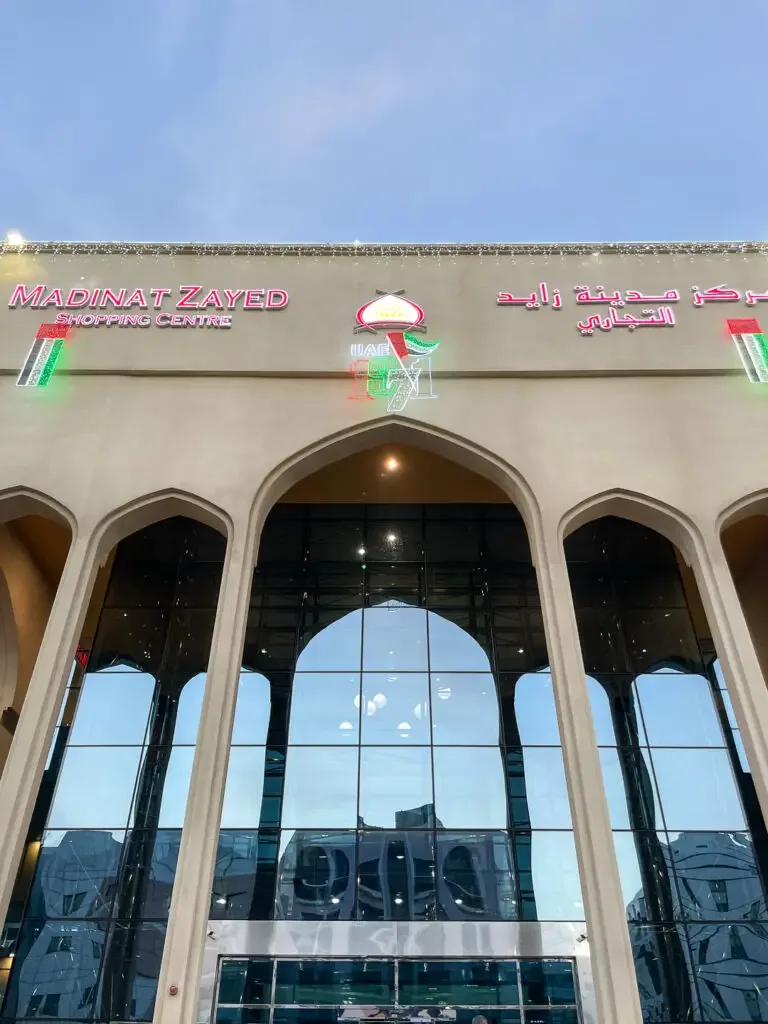 Madinat Al Zayed Shopping Centre has a good variety with whole sale rates and negotiable prices.
Parks and Entertainment
If you are looking for a place for family and friends to gather and celebrate, there are plenty of parks and green spaces to spend Diwali Abu Dhabi. Several parks within Abu Dhabi are free to enter and offer a lot of amenities.
Reem Central Park
Located on Al Reem Island, Reem Central Park is one of the nicest parks the capital city has to offer.
The centre of the park consists of a large water feature, food trucks, coffee shops and restaurants.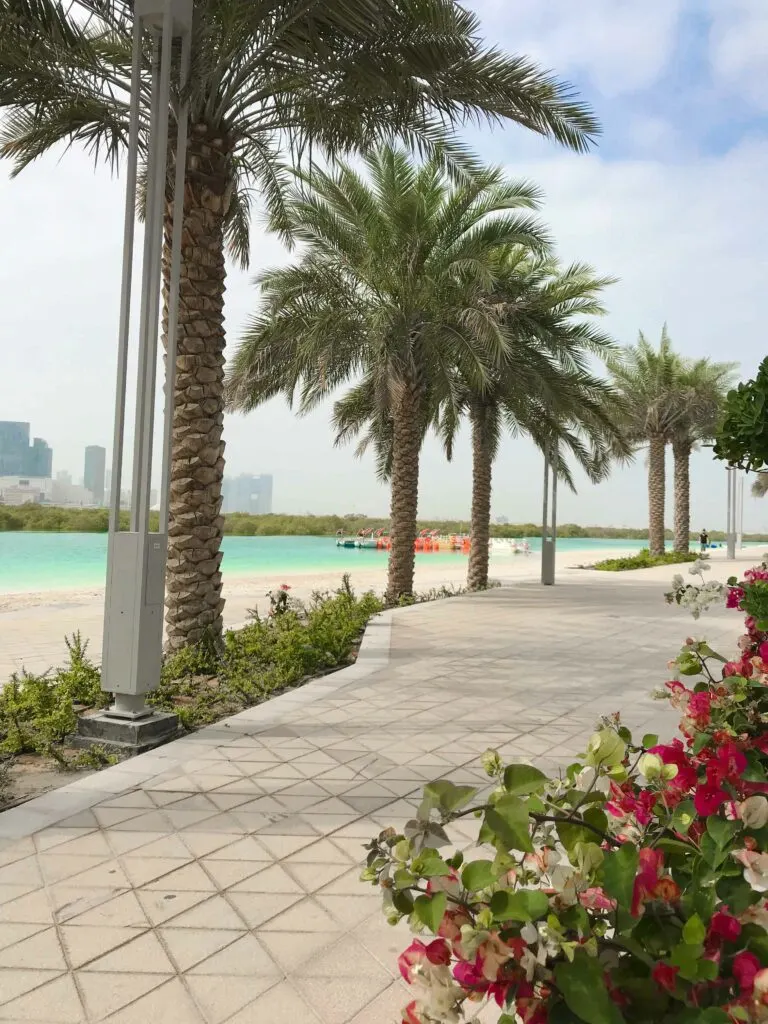 Kids love the projector onto the water fountain at night. It comes alove with lights, music and smoke, in which a mesmerising story is told.
Enjoy a walk along the water, watch the skaters do tricks in the park, let the children enjoy the fountain at one of the many playgrounds.
Location: Reem Island, Abu Dhabi
Abu Dhabi Corniche Park
Pack a picnic basket or a barbecue and head over to the Abu Dhabi Corniche Park to celebrate Diwali with your family.
There are plenty of Barbeque pits located throughout the park which also include essential amenities free to use.
Take a walk along the famous Abu Dhabi Corniche. Possibly one of the most well-known areas within the capital, the Abu Dhabi Corniche stretches over 8km along the well manicured waterfront.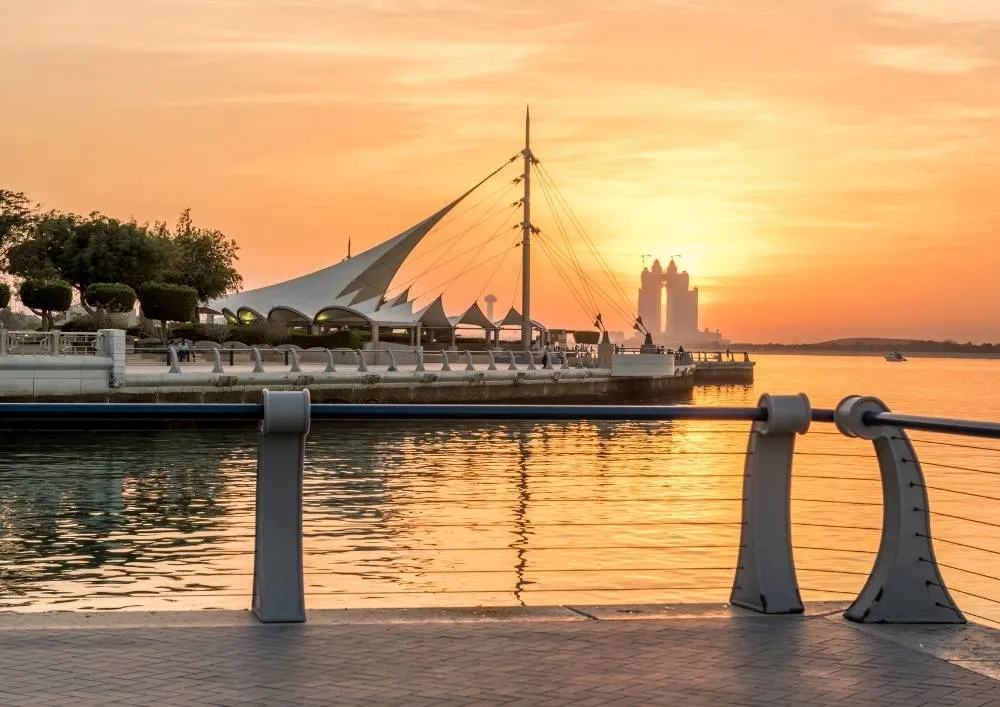 The coastal walkway has many restaurants, food trucks and shaded areas. Walkers can keep cool with water mist sprayed to keep walkers, runners and cyclists cool in the heat.
Location: Corniche Rd, Al Markaziyah West, Abu Dhabi
Mamsha
While technically not a park, Mamsha located on Saadiyat Island is one of the most beautiful spots to visit in Abu Dhabi for free.
Saadiyat is home to the most pristine white-sand beaches with turquoise waters and is the only place to enjoy perfect natural sea waves in Abu Dhabi.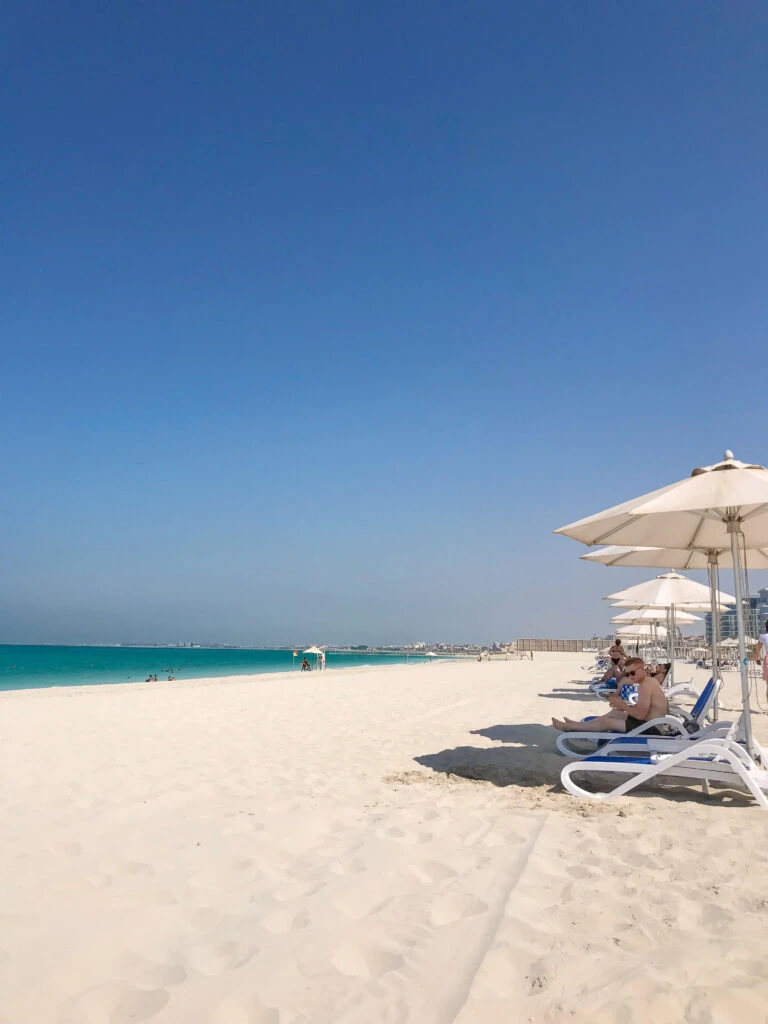 While the strip is relatively short in distance (approximately 1km), many residents walk up and down the area multiple times to get a decent walk in.
The view, the restaurants, the palm trees with twinkling lights and the soft music playing from hidden speakers makes for a very enjoyable experience and a nice way to celebrate a relaxing Diwali in Abu Dhabi with family and friends.
Meaning of Diwali
Observed every year after the summer harvest, the five-day celebration occurs on the night of the new moon (amvasy). It is considered the darkest of all the nights on the Hindu lunisolar calendar.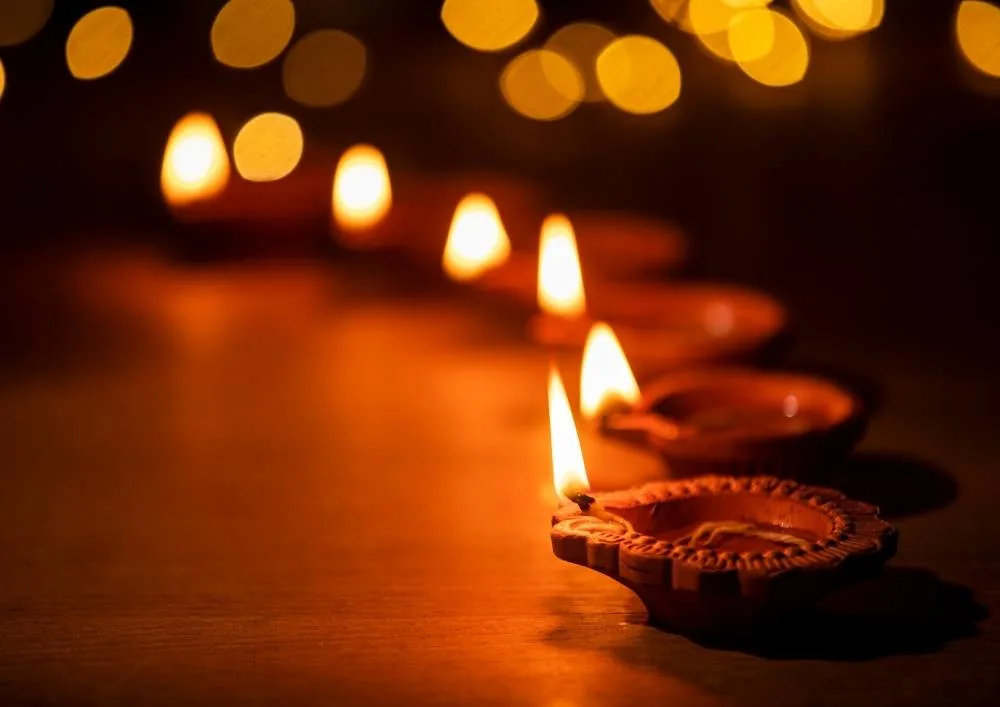 The Hindus, Jains, Sikhs and Newar Buddhists celebrate Diwali. Each faith celebrates different historical events and stories.
The Diwali festival originated in ancient India as a fusion of harvest festivals. It is mentioned in Sanskrit texts such as the Padma Purana and the Skanda Purana, both of which were written in the second half of the 1st millennium CE.
Skanda Kishore Purana describes diyas (lamps) as symbols of the sun, the cosmic source of light and energy for all life that transitions each season in the Hindu calendar month of Kartik.
In addition to the local interpretation of Diwali, many other countries observe the festival in a similar way.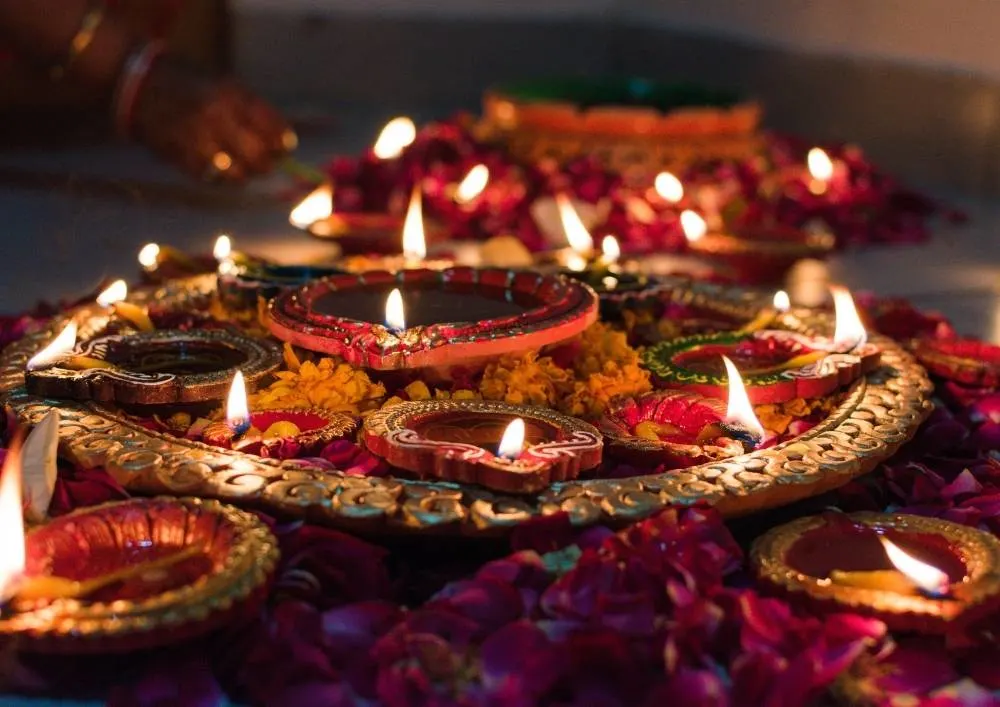 In the British colonial era, Diwali was mentioned in notes on Hindu festivals, such as those by Sir William Jones in 1799, a philologist who first observed Sanskrit and Indo-European languages.
A paper Jones wrote in Bengal about the Lunar Year of the Hindus notes that four of the five days of Diwali occur in Aswina-Cartica.
Summary of Diwali
Diwali is a five-day festival that reaches its peak on the darkest night of the lunar month. It coincides with the third day of the festival.
Hindus, Jains and Sikhs light their homes, temples and workplaces with diyas, candles and lanterns.
During the festival, Hindus, in particular, perform a ritual oil bath each morning. Traditionally, Diwali is celebrated with fireworks, rangoli designs on floors and jhalars (A long thin strip of colorful fabric used for decoration in the Indian sub-continent) on other parts of the house.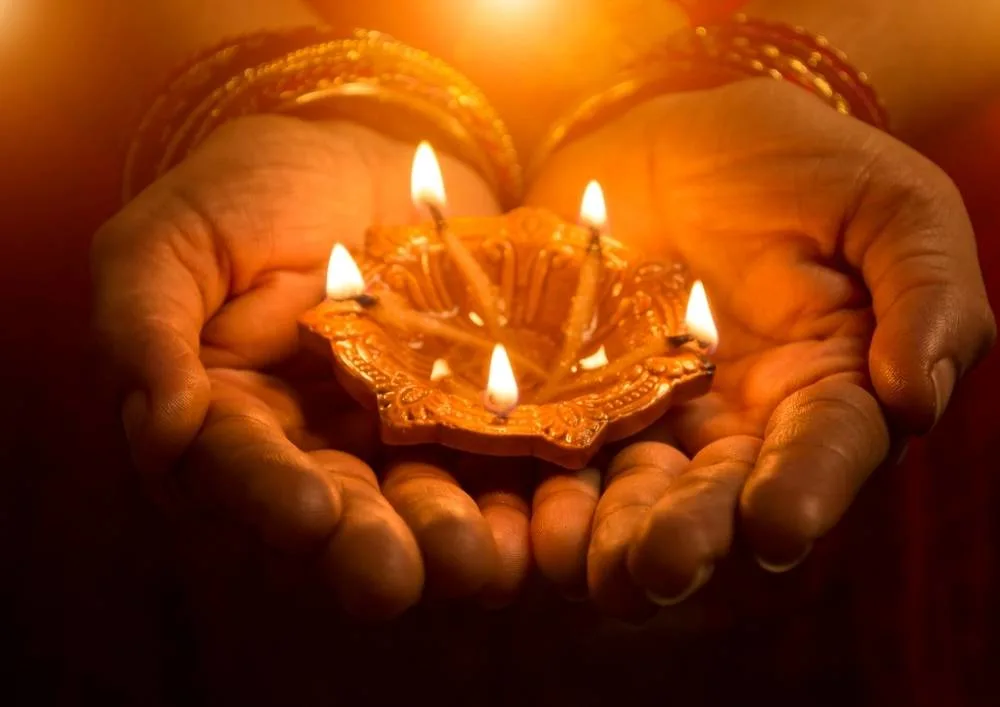 The festival is a major celebration of food with families sharing traditional sweets and feasting. It is a time of bonding and homecoming for families.
It's equally a time for communities and associations, particularly those in urban areas which organise events, activities and gatherings.
Parades of music and dance performances in parks are often part of community get togethers.
It is customary for Hindus,Jains and Sikhs to send Diwali greetings to family near and far during the festive season, sometimes accompanied by boxes of Indian confectionery.
Diwali In Abu Dhabi Frequently Asked Questions
Are there any holidays in UAE during Diwali?
In spite of the fact Diwali is not an official holiday in the Emirates, the celebration is very popular among residents.
During Diwali celebrations, fireworks are displayed at many locations, such as the Abu Dhabi Corniche and Yas Bay, while shopping malls offer major discounts and display Rangoli designs.
Do we need to do anything special on Diwali?
Here are four ways people celebrate Diwali:
Enjoying time together. Families often spend time with their loved ones during Diwali, celebrating the holiday.
Preparing a feast.
Creating a festive atmosphere.
Giving back to the community.
Where can I find the Diwali Calendar?
The details on celebrating Diwali can be found on this Diwali-Puja Calendar.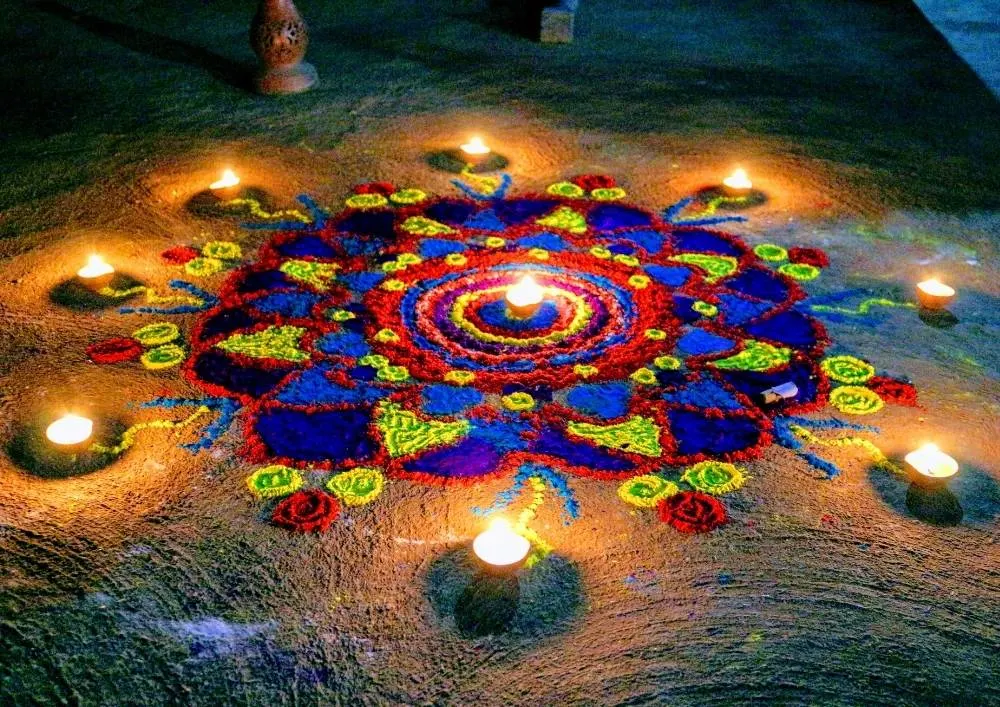 Thank you for taking the time to read our article on celebrating Diwali in Abu Dhabi. Do let us know if you know of more places to add to our list.
You may also like:
10+ Monthly Car Rentals In Abu Dhabi
Disclaimer: This post may include affiliate links, by using them you will not be charged extra, and we will receive a small percentage to keep our blog going!