Abu Dhabi pulls out all the stops when it comes to international celebrations. Be it Diwali, Halloween, Christmas, New Years or Thanksgiving in Abu Dhabi, everything is celebrated.
With so many Americans and Canadians in the Emirate, there are plenty of brunches, and dinners, not to mention take-away turkeys to get into the festive spirit.
Thanksgiving falls on the 4th Thursday of every year. It usually falls between the 22nd and the 28th of the month. This year it's on the 24th of November!
However, Canadian Thanksgiving falls earlier in the month of October. It is celebrated on the 2nd Monday of October each year.
On the whole, businesses can be a little on the slow side with releasing information about events.
However, we are constantly updating this post when we get the information through. We suggest bookmarking this page to continuously come back to get up-to-date information.
If you are specifically looking for a turkey takeaway in Abu Dhabi, we have all the basis covered here.
Here is a list of everything we know so far for Thanksgiving in Abu Dhabi this year.
Thanksgiving Abu Dhabi
1. The Falcon Terrace -Thanksgiving In Abu Dhabi Dinner
The Falcon Terrace-based inside The Abu Dhabi Golf Club will be hosting a traditional evening with American classics, a delicious buffet and live barbeque cooking.
It is a fantastic culinary experience overlooking the golf course beneath the Arabian Sky.
On offer will be a selection of prime grilled meat cuts including rosemary mustard striploin steaks, barbecue marinated chicken thigh, lime & garlic prawn skewers and lamb kofta.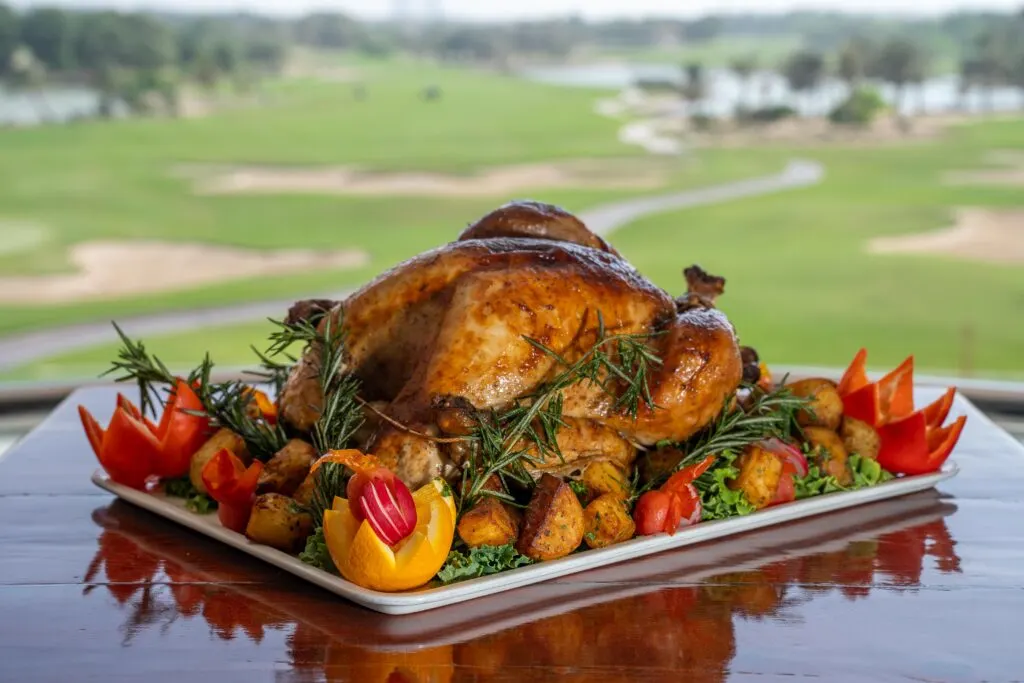 The team will be showcasing their excellent carving skills at the live station, serving up roast turkey with stuffing and all the trimmings. There are a number of packages available, including soft, house or premium beverages.
Date: 24th of November, 7PM until 11PM
Prices:
AED 160 inclusive of soft beverage
AED 260 inclusive of house beverage
AED 360 inclusive of premium beverage
For reservations and more information, please call +971 56 536 2230
Abu Dhabi Golf Club Takeaway Thanksgiving Turkey Abu Dhabi
Abu Dhabi Golf Club are also doing a Takeaway service for the entire festive season from Thanksgiving to Christmas and New Year in Abu Dhabi. The service is available from the 20th of November until the 2nd of January.
Having a takeaway turkey is the perfect opportunity to make a Thanksgiving or Christmas meal at home with the family without it being too stressful and time-consuming. It is particularly helpful if you are entertaining, Shussshhh, your guests will never know!
The culinary team at ADGC source, cook and prepare the turkey. it comes with all trimmings freeing up lots of time to enjoy the festivites.
The turkey takeaway is marinated overnight with a special sauce by the talented chef and stuffed with chestnuts as well as dried fruits, assuring a juicy turkey full of aroma in every bite.
The delectable dish comes with a variety of trimmings such as rosemary roasted potatoes, braised red cabbage, roasted seasonal vegetables, and freshly prepared bread rolls, with traditional cranberry sauce and gravy enhancing the exquisite flavours.
Prices:
AED 680 for 6kg turkey (serves 6 to 8 people)
AED 780 for 8kg turkey (serves 8 to 10 people) AED 160 for roasted chicken (serves for 2 people)
Please call +971 56 536 2230 to book.
2. Sahha, Grand Hyatt
This year, Sahha at The Grand Hyatt is doing an incredible deal with a 2 for 1 Thanksgiving Buffet.
Be ready to savour delectable flavours, with root vegetables, roasted potato, beef pancetta, bread pudding and more accompanying the traditional herb-roasted turkey.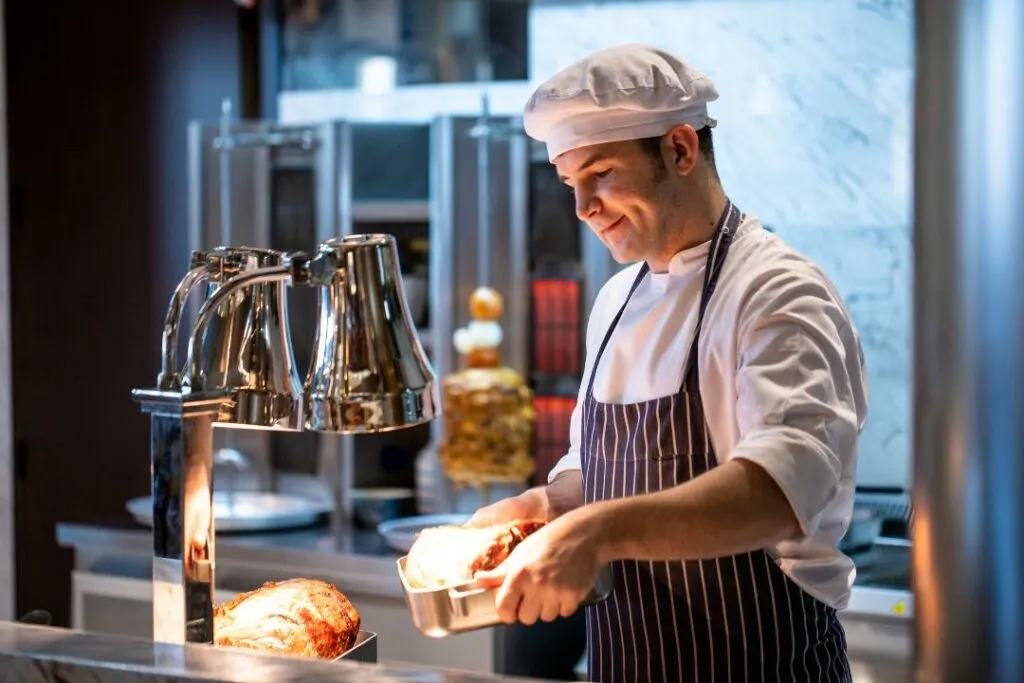 The flavoursome buffet will feature an array of international cuisine, with a slow-roasted Beef Chuck Roll at the carving station, a selection of mixed seafood grilled to perfection and to end the evening on a sweet note, a caramelized apple trifle.
Price: AED 240 for 2 – Soft Beverage Package. Additional AED 100 per person to upgrade to the House Beverage Package.
Date: 24 November | 6:30 pm to 10:30 pm
To book call 050 106 4738
3. The Sportsmans Arms This Thanksgiving in Abu Dhabi
Based inside Zayed Sports City, The Sportsman's Arms will be holding Thanksgiving in Abu Dhabi brunch this year. The event will take place on November 24th and November 25th.
The venue will have a live band in the evening and of course there will be a turkey!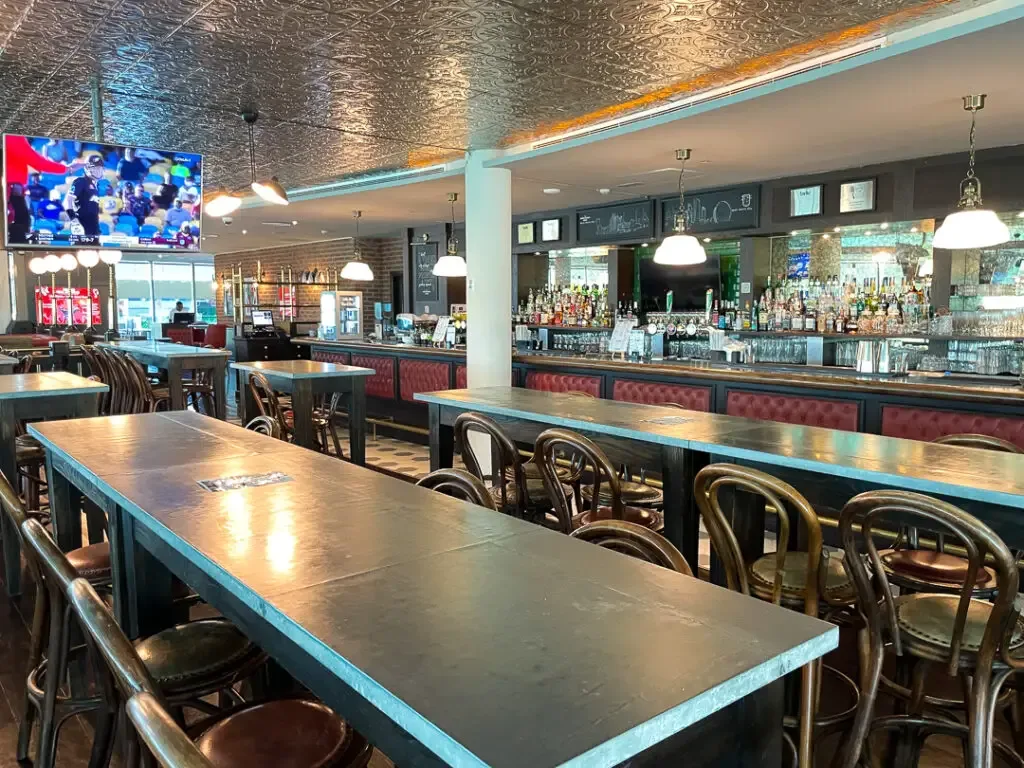 Prices:
AED 299 Unlimited House Beverages
AED 199 Unlimited Soft Beverages
AED 89 Under 16, Below 3 years kids eat free.
4. The Westin Abu Dhabi
The Westin Abu Dhabi will be hosting two separate events for Thanksgiving in Abu Dhabi this year. One will take place on the day. Fairways Restaurant inside the hotel will be hosting a Thanksgiving dinner buffet.
Featuring traditional dishes and roast turkey with all the trimmings. while drinking with some of the best golf course views in Abu Dhabi.
24th of November, 7pm to 11pm
Prices for The Westin Abu Dhabi Thanksgiving Dinner
AED 195 per person Soft Package
AED 255 per person House Package
AED 125 kids
The second event is on Saturday 26th of November, perfect for those working during the week and unable to celebrate.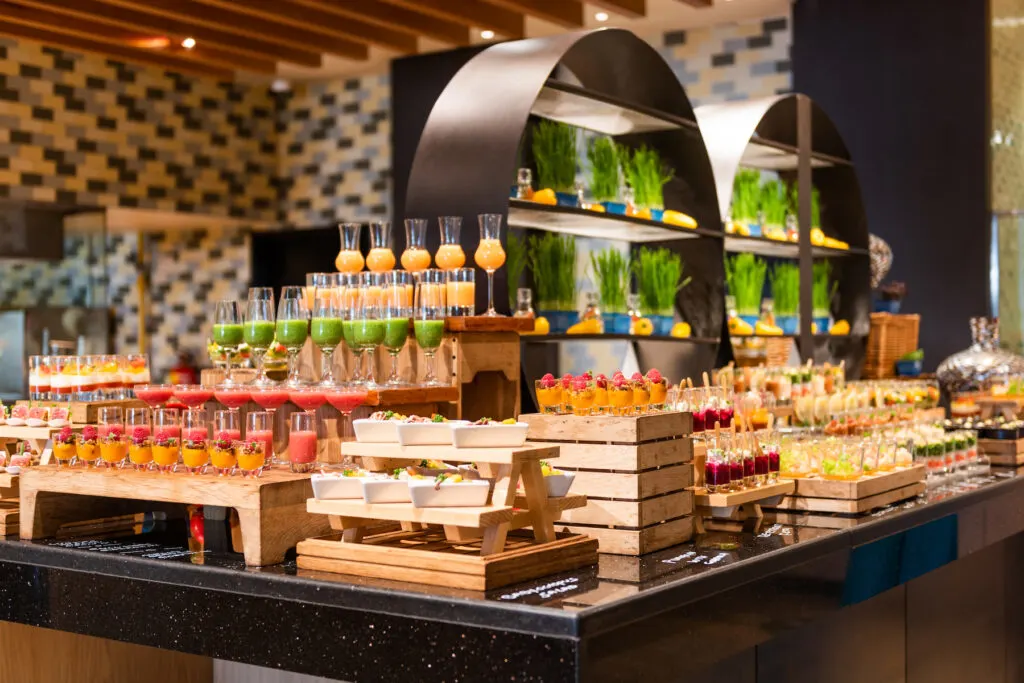 Thanksgiving Brunch Abu Dhabi at The Westin
There will be a Thanksgiving edition of the Bubbalicious Brunch. Feast on a delicious selection of Festive favourites, live-cooking delicacies, spectacular desserts and signature beverages.
Saturday, 26th of November, 1pm – 4:30pm
AED 225 per person Soft Package
AED 395 per person House Package
AED 625 per person Bubbly Package
T: 02 616 9999
E: FBreservations.auh@westin.com
5. Rosewood Abu Dhabi
The Rosewood Abu Dhabi are holding two events this Thanksgiving. The first is Thanksgiving dinner at Aqua.
The delectable sharing menu will be featuring traditional holiday dishes and the chef's favourites such as turkey, salmon and chocolate tea cake.
Location and Date: Aqua Restaurant, 24th November
Price: From AED 255 per person
There will also be celebrations at La Cava from Thanksgiving into the weekend at La Cava restaurant.
Featuring a cheese buffet, cold cuts and a succulent turkey carving station to be paired with fine grapes, the event will be full of festivities.
Location and Date: La Cava, 24th to 26th November
Prices: from AED 289 per person with grapes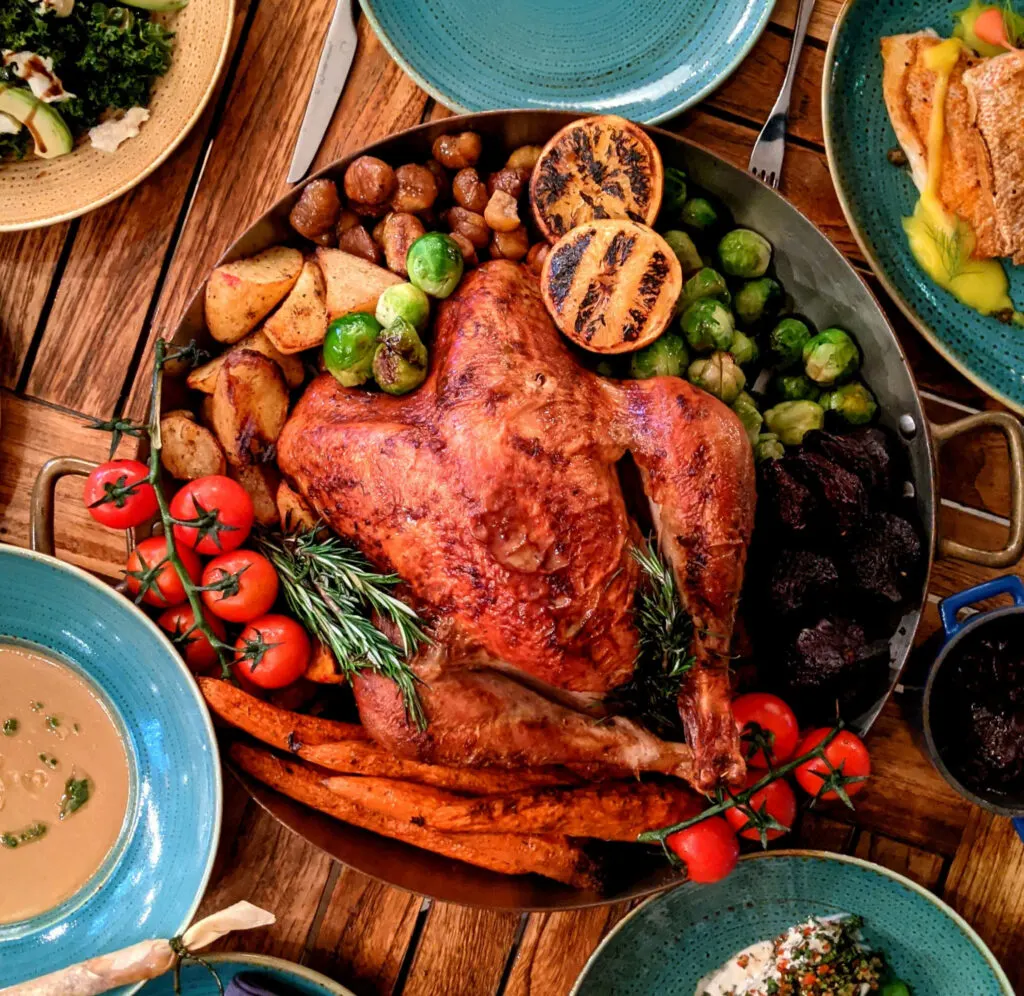 Rosewood Takeaway Turkey
In addition to the festivities within restaurants at The Rosewood, they are also doing a Turkey Takeaway service this year. Running from Thanksgiving through to just after Christmas is a dining centrepiece to take home.
The turkey comes with a wide range of tantalizing ingredients.
Location and date: Pick up from Majlis Lobby Lounge – 24th November to 28th December
Price: 625 AED per box, additional sides & sauces AED 55 per serving
Booking is required 24 hours in advance, perfect for those who haven't had time to make arrangments for the festive period.
6.Market Kitchen, Le Meridian
The Market Kitchen will be hosting a classic Thanksgiving brunch this year. The event will be complemented with autumnal cocktails in a contemporary setting this Thanksgiving in Abu Dhabi .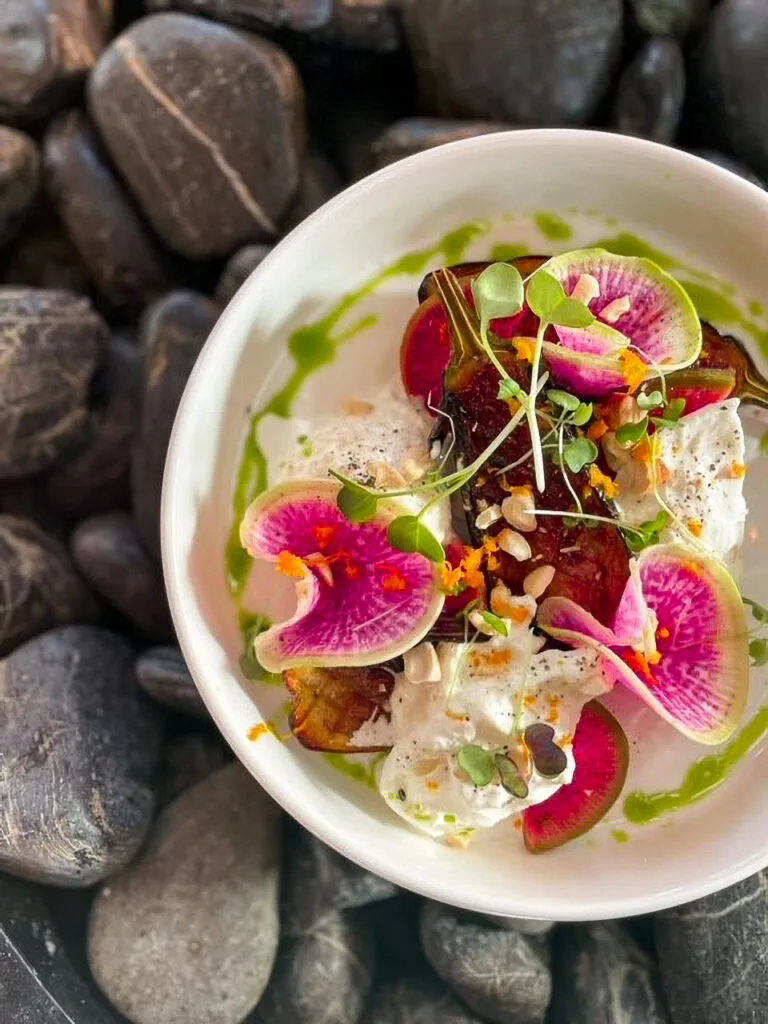 Thanksgiving brunch will be on the weekend with the first event taking place on Friday, November 25th in the evening starting at 7 pm.
On Saturday from 1230pm, the second brunch will take place.
Saturday, November 26 | 12:30 PM
Price: Starting from AED 250
It is important to book ahead by calling 800 101 101 or emailing rmad@lemeriden.com
All prices are in UAE dirhams and are inclusive of all applicable service charges, local fees and taxes.
6. Rays Grill, Conrad Towers
As one of the most majestic and impressive places in Abu Dhabi to celebrate the important occasion of Thanksgiving, Ray's Grill has prepared a carefully curated three-course menu just for the special day.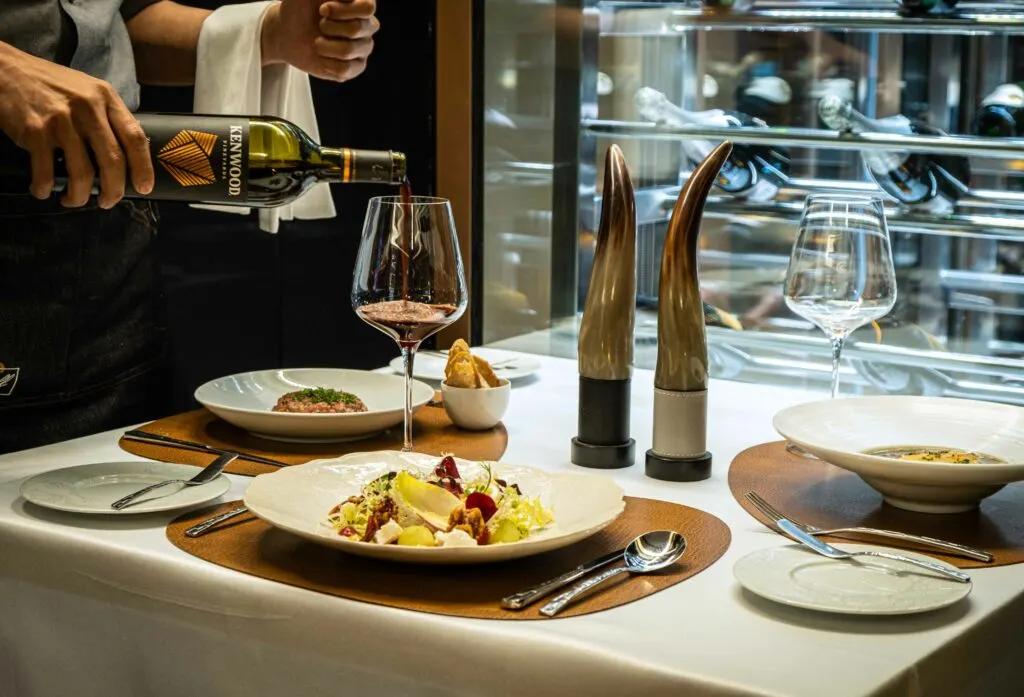 Situated hundreds of metres in the air on the 63rd floor of Conrad Abu Dhabi Etihad Towers, the sophisticated steakhouse immediately elevates the mood with its awe-inspiring 360-degree views of the city skyline and sparkling Arabian Gulf.
Dhs350. Nov 24, Ray's Grill, Conrad Abu Dhabi Etihad Towers West Corniche, @conradetihadtowers (02 811 5555)
Thanksgiving Turkey to Go
Conrad Abu Dhabi Etihad Towers is offering families and friends the exclusive opportunity to celebrate the special holiday of Thanksgiving with a decadent, ready-prepared feast, all available to enjoy from the comfort of their own homes.
Inviting everyone to take the sumptuous tastes and culinary excellence of the Forbes five-star hotel home with them, the majestic Thanksgiving Turkey Takeaway hamper comes overflowing with everyone's favourite seasonal comfort foods.
With a traditional roast turkey taking centre stage, the perfectly prepared meat is served with colourful and tasty trimmings such as golden herb-roasted potatoes, fresh parsnips and carrots, aromatic turkey gravy, and more delectable delicacies.
Big enough to feed large families and hungry groups of friends, the Turkey Takeaway hamper takes all the stress and hassle out of preparing a spectacular Thanksgiving feast.
Dhs900 inclusive of trimmings. Nov 24, Conrad Abu Dhabi Etihad Towers West Corniche, @conradetihadtowers (02 811 5555)
7. Stratos Revolving Bar and Grill Lounge
This year Stratos is hosting a traditional Thanksgiving dinner. Enjoy three hours of unlimited starters & desserts with a main course from the Josper grill this Thanksgiving in Abu Dhabi.
Dates: Thursday, November 24 & Friday, November 25 | 6 – 11 PM
Price: AED 395 per person
It is important to book ahead on 800 101 101 or email restaurants.Irmad@lemeridien.com
All prices are in UAE dirhams and are inclusive of all applicable service charges and local taxes.
8. KHAYAL
Celebrate a traditional Thanksgiving dinner buffet with International favourites at Khayal.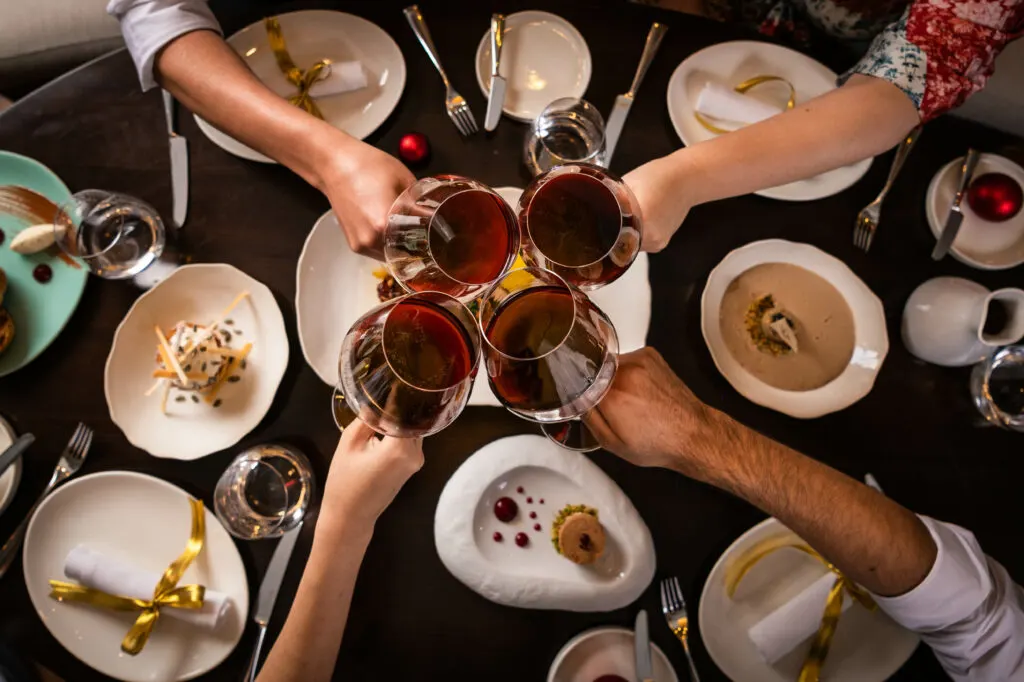 AED 195 per adult – Soft package
AED 325 per adult – House package
Khayal, Marriott Hotel Al Forsan
24th November
6:30 pm to 10:30 pm
Call 02 201 4131
9. Olea, St Regis Saadiyat
Olea are putting on a lavish Thanksgiving buffet filled with endless delicacies. With countless options to the tempting spread includes starters, mains, desserts and a skilfully prepared festive turkey, all joined by colourful sides and homemade sauces.
Guests can amplify their feast down with a choice of soft drinks, fresh juices, coffee and milkshakes, or refreshing mixed drinks and quality hops and grapes.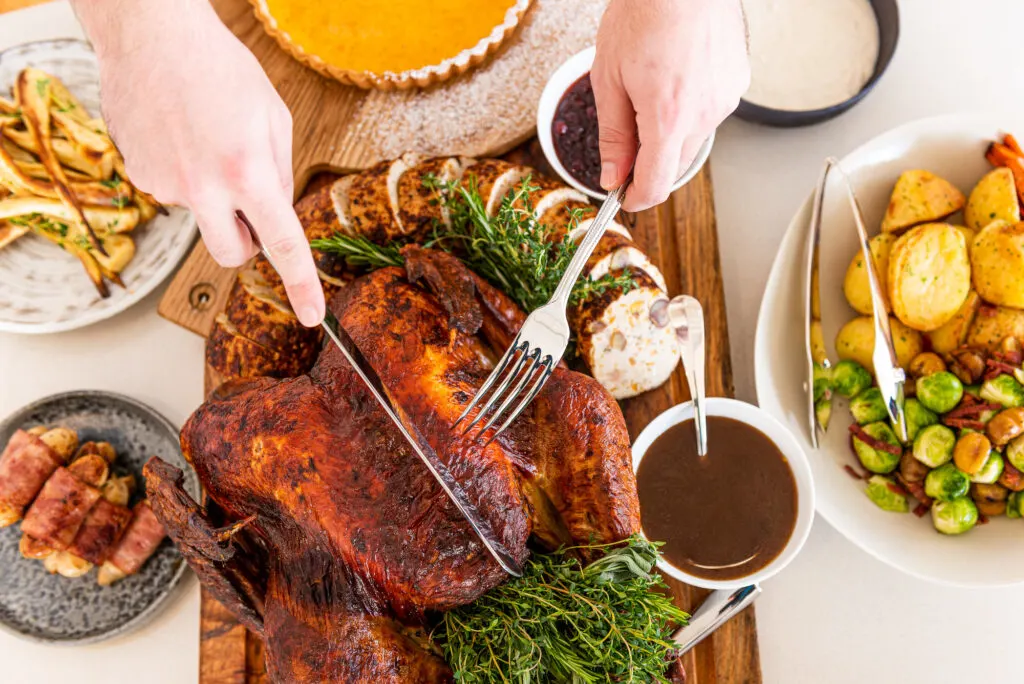 The Thanksgiving Celebration Dinner is available to enjoy on Thursday, November 24 from 7pm to 11pm.
Packages are priced per person from AED 250 with soft drinks, AED 395 with house beverages, and AED 120 for children aged 6 to 12. For more information, kindly contact the resort at restaurant.saadiyat@stregis.com or +971 2 498 8443.
What Is Thanksgiving?
Thanksgiving is a national holiday in the USA, Canada, Grenada, Australia Philippines, Rwanda, Netherlands, Brazil and also Liberia.
The dates vary from country to country. The celebration dates back to the 15 and 1600's. The idea behind the celebration is to give thanks for the harvest of the year.
It is usually celebrated with a family meal, in particular a turkey is at the centrepiece of the table, similar to Christmas.
The celebration has roots in pre-Christianity when Saxons would offer harvest to the gods. When the harvest was collected, communities came together to eat and enjoy the food.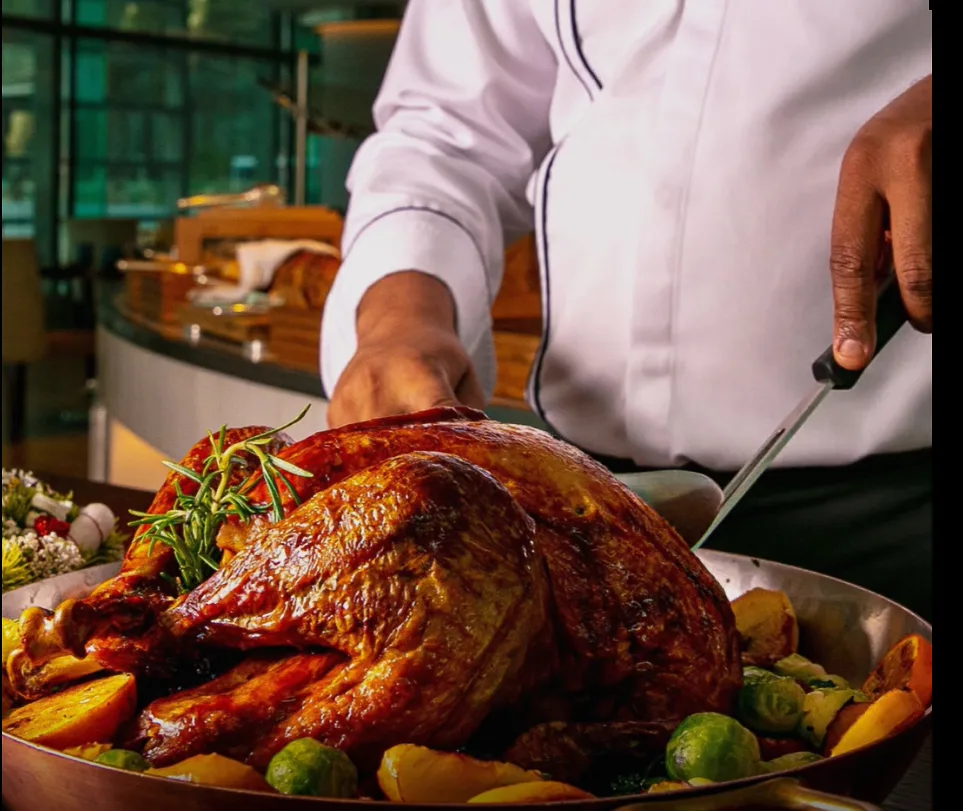 Shopping bonanzas such as Black Friday and Cyber Monday are linked to Thanksgiving.
Black Friday falls on the first Friday after Thanksgiving and marks the start of the Christmas season.
Similar to everywhere else, after Thanksgiving in Abu Dhabi many stores and outlets provide heavy discounts which is a fantastic opportunity to pick up Christmas gifts.
Cyber Monday, just after Thanksgiving is essentially the online version of discounted items, which is also used by many eCommerce sites in the UAE to boost sales.
FAQ About Thanksgiving in Abu Dhabi
Do they celebrate Thanksgiving in Abu Dhabi? Yes Thanksgiving is celebrated on the day as well as the weekend if it falls mid-week. It is not an official holiday in Abu Dhabi but like all international celebrations the Emirate lays it on!
Does UAE celebrate Thanksgiving? Abu Dhabi is not the only city in the UAE to celebrate. All of the Emirates mark the occasion in the international hotel chains.
Does Dubai do Thanksgiving? Dubai most certainly does Thanksgiving, being a larger city there is a few additional options.
Have you found this post about Thanksgiving In Abu Dhabi helpful? Please leave a comment we love to hear from our readers.
You may also like:
Disclaimer: This post about Thanksgiving in Abu Dhabi may contain affiliate links. If you use them, we will receive a small percentage of the sale to help us continue to write!