Looking for the best shawarma in Abu Dhabi? We have you covered! Shawarma is a Middle Eastern comfort food loved by pretty much everyone from the region.
When it comes to street food in Abu Dhabi, shawarma is something the Emirate does best!
Back in the 18th century, shawarma was prepared by soldiers over an open fire. Nowadays, the most loved food in the city can be found on every street corner!
Shawarma restaurants in Abu Dhabi tend to be Lebanese, Syrian or Egyptian-run since the dish is so popular in those countries.
Shawarma has become a global sensation on other continents. However, UAE is in the heart of the Middle East, making it the epicentre of amazing shawarmas.
Typically, chicken, beef or lamb is marinated in olive oil, lemon juice, cardamon, paprika, cumin, garlic, salt, red pepper and cinnamon. It then rotates on a vertical skewer and is cooked to perfection.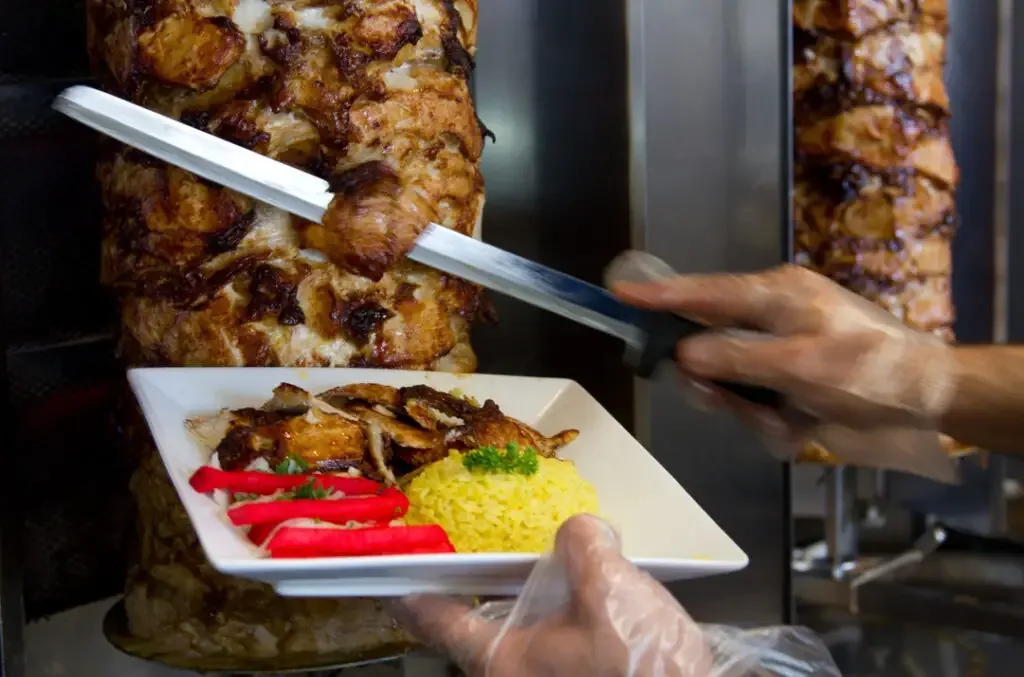 The meat is thinly sliced into saj or pitta bread and topped with pickled vegetables, lettuce, tomato, and onion.
Many restaurants offer the choice of tahini, hummus or garlic paste to finish off the wraps of Middle Eastern goodness.
The good news is there are plenty of options for vegans and vegetarians available too! Let's dive into a roundup of the best shawarma in Abu Dhabi.
Psssst foodies, don't forget to check out our other food guides to the best sushi, best Italian, best Mexican, best burgers and fine dining in Abu Dhabi guide.
Best Shawarma Abu Dhabi
1. Bait El Kketyar
Bait El Kketyar cafeteria restaurant is situated on Hamdan Bin Mohammed Street, right in the heart of the capital. There is another branch in Najdah which is also in downtown Abu Dhabi.
Bait El Khetyar is the go-to spot for many Arabic residents of Abu Dhabi, it's a super popular restaurant.
The fast and friendly service whips up shawarmas in a special spicy sauce called shawarma mexicy. There is an option to have a non-spicy shawarma called alkhtyar.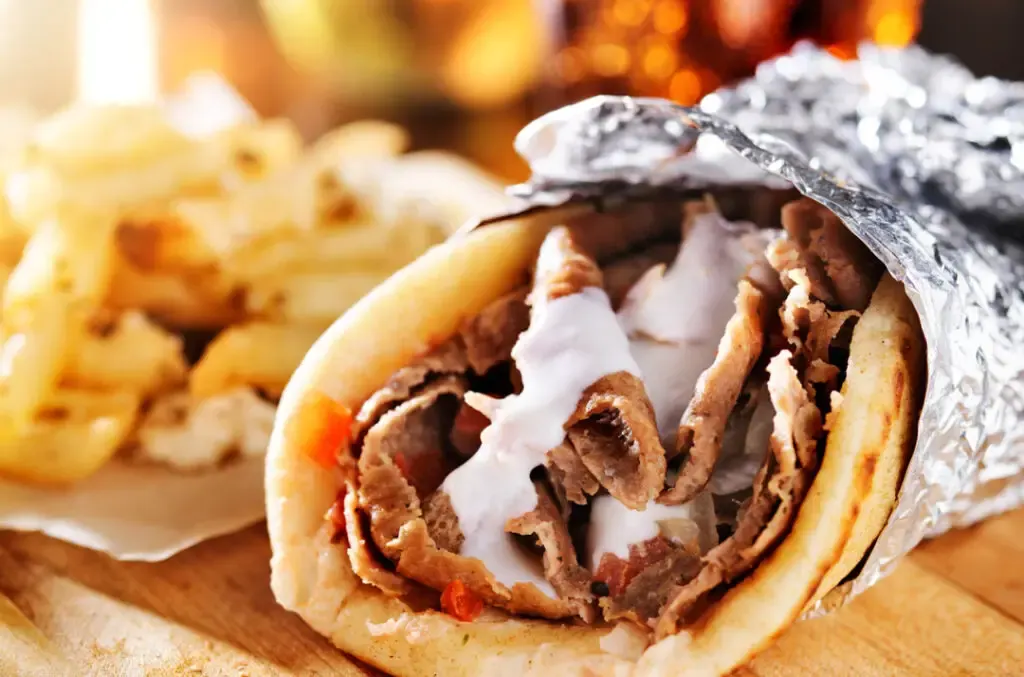 Bait El Kketyar is known for flatbread which holds all the ingredients together perfectly allowing the shawarma to be devoured with ease. The shawarma cafe in Abu Dhabi charges 9 AED and upwards for a wrap.
Timings: Najdah Branch Monday to Sunday 07:00 am to 12:00 am.
Hamdan Street Branch 07:00am to 01:00am
Call: 971-633 3200 (Najdah Branch)
97124499916(Hamdan Street)
Location: Najdah Al Danah Zone one & Hamdan Bin Mohammed Street Al Danah Zone One- Abu Dhabi
2. Shawarma Time
Next up, Shawarma Time Abu Dhabi! The Lebanese restaurant is very popular with residents throughout the city.
Shawarma Time knows how to pack bread with a perfect combination of meat, vegetables, and sauce.
The classic shawarma starts at 8 AED and can be upgraded to a meal with fries plus a soft drink for 17 AED.
Jumbo chicken shawarmas start at 12 AED and the meal deal costs 20 AED with fries plus a soft drink.
A healthy meal option costs 24AED and the soft drink and fries are replaced with a grain salad and juice. Other healthy options include brown bread, chicken, and vegetables in the lite jumbo sandwich.
The lite plate shawarma is an option with chicken or meat slices stacked onto a plate with brown bread, vegetables, sauce and mixed pickles. It's ideal for lunch!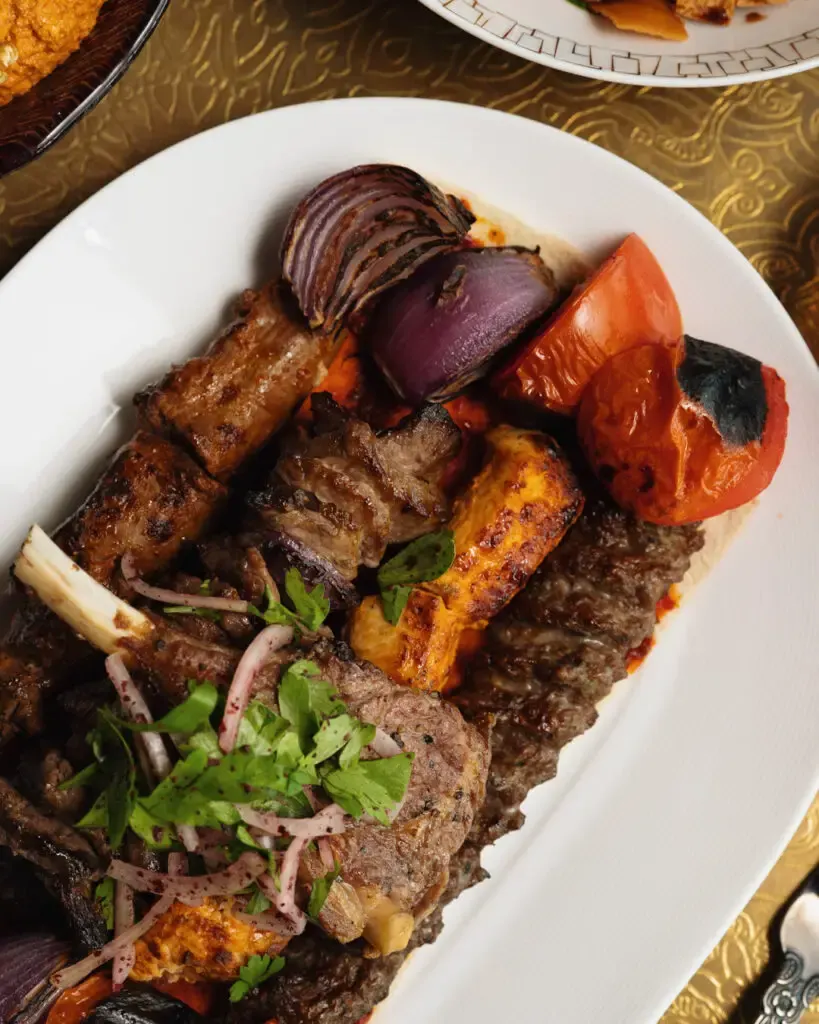 Saj shawarma costs 15 AED and the meal deal costs 25 AED with fries plus a soft drink.
Check out the 'cackie' or 'maria' option for cheesy goodness with a generous serving of meat.
The restaurant has platters and boxes, perfect for sharing with family or friends!
It costs 2 AED for beef instead of chicken.
Timings: Monday to Sunday, 11:00 am to 01:00 am
Call: 97126336633
Location: 521 شارع فاطمة بنت مبارك – Al Danah – Zone 1 – Abu Dhabi – United Arab Emirates
3. Zahrat Lebnan
Zahrat Lebnan has been serving shawarma to the local population for decades. It was previously known as the Lebanese flower.
They have seven outlets leaving no patch uncovered in the Emirate. The shop is a hotspot throughout the week due to its delicious shawarmas!
A menu could not possibly have more extensive options for shawarma than Zahrat Lebnan, from solo wraps to sharing feasts, and everything in between.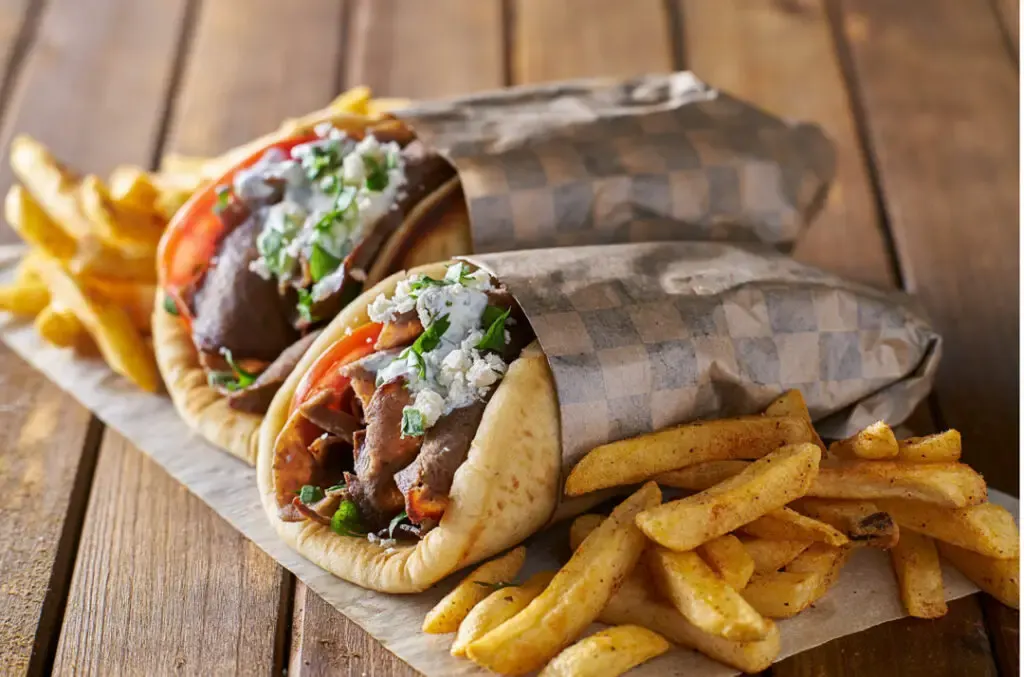 Shawarmas start from 8.5 AED with a choice of beef, chicken or Mexican options. The thinly sliced meat is stuffed into Arabic bread with pickles, French fries and tahini or garlic sauce.
Vegan Option
The vegan option is mixed makali! Arabic bread is stuffed with cauliflower, eggplant, French fries, cucumber, turnip pickles, tahini, parsley and sliced tomato.
The falafel option is wrapped in Saj bread along with fava beans, parsley and spices with French fries and salad on the side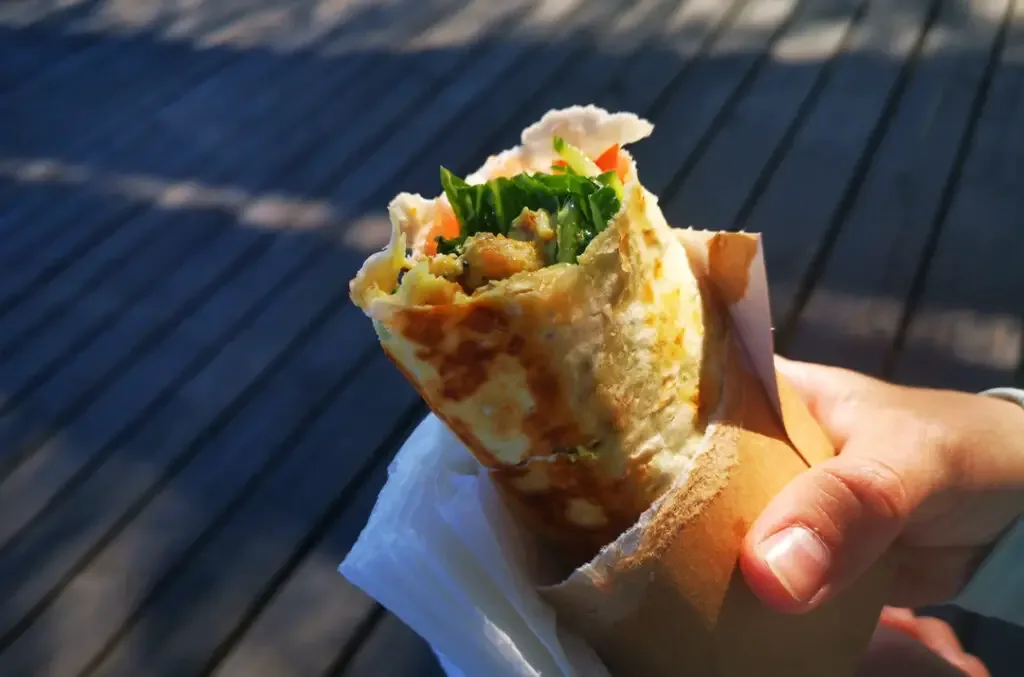 There is an extra 2 AED charge for the beef option.
Most shawarmas are served in Saj bread. However, they do serve shawarma pita for a more bread-dense meal.
Shish Shawarma
Good shish shawarma wraps can be found throughout the city. However, our top recommendation is the grilled shish taouk at Zahrat Lebnan.
The chicken is marinated in a perfect blend of spices and the tender cubes are cooked to perfection.
Shawarmas are not always served in a wrap. Zahrat offers thinly sliced meat or chicken on top of a spread of hummus.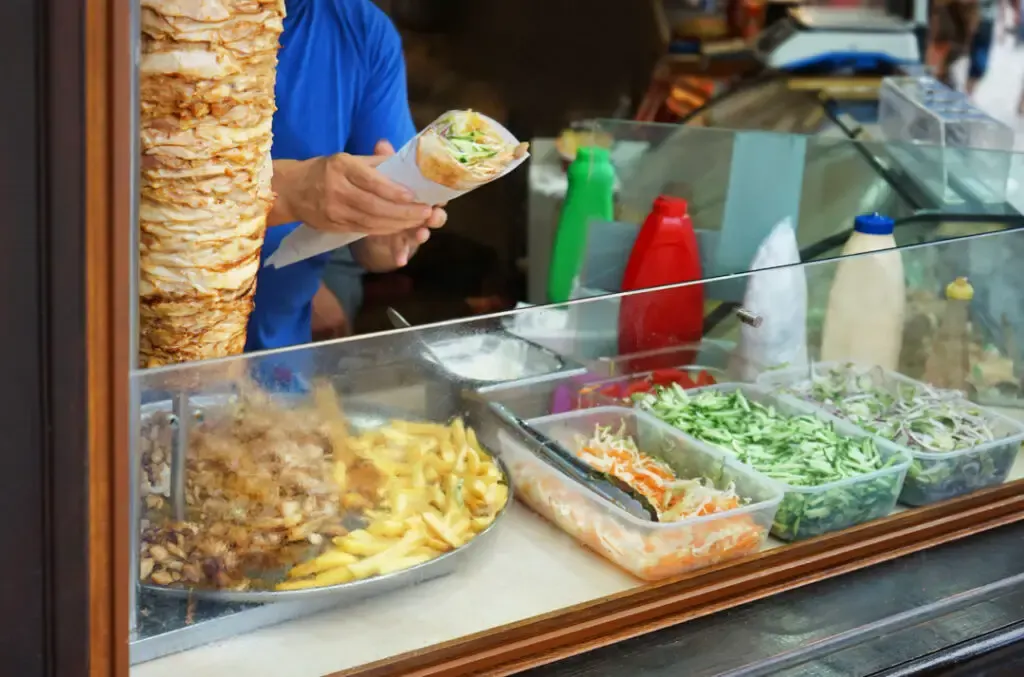 Other platters consist of thinly sliced meat, chicken, Mexican or mixed shawarma. Platters also come with fries and sauce as well as different sizes making it a perfect sharing experience.
Call: 971-600500502
Timings: Monday to Sunday, 10 am to 04:00 am
Location: Hazza ' Bin Zayed The First St – Al Danah – E18-02 – Abu Dhabi – United Arab Emirates
+ other locations.
4. Shawarma Café
Shawarma Cafe is a backstreet hidden restaurant. Tucked away in Al Zaniyah, downtown Abu Dhabi this no-nonsense chain gets straight to the point!
It is the perfect grab-and-go spot with some of the best shawarma in Abu Dhabi. Most customers use the takeaway service. Needless to say, Shawarma Cafe can be found on all of the delivery apps.
The choices are some of the most affordable in the city with a starting point of 5 AED for a baby shawarma!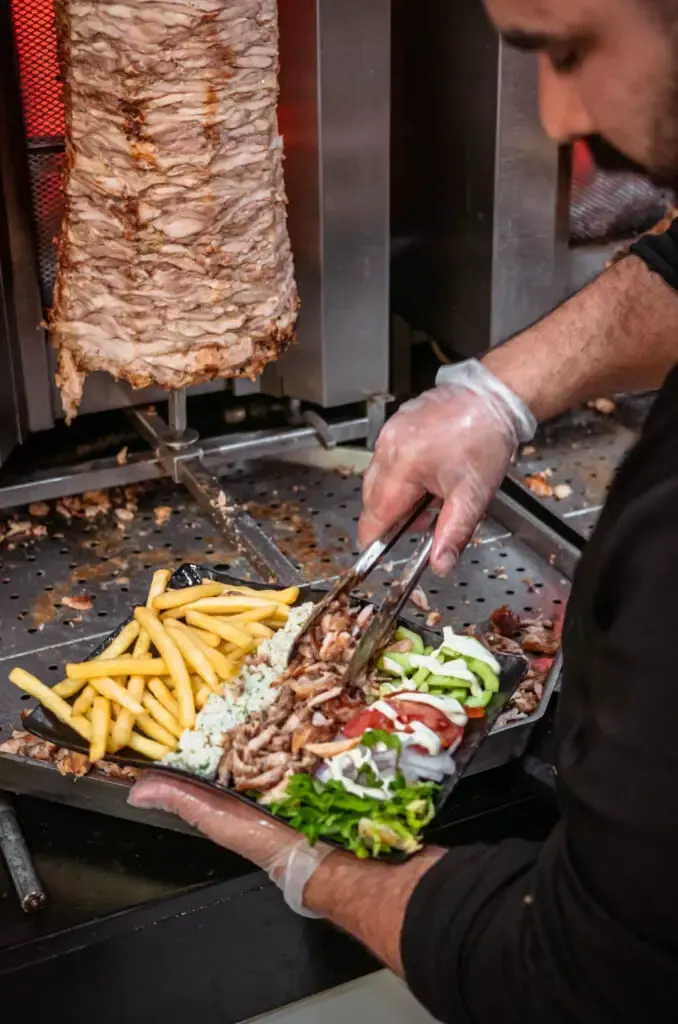 Other options include shawarma paratha, Malabar shawarma, falafel shawarma, vitamin shawarma and the speciality charcoal shawarma with the perfect smoky taste. Not to mention, shawarma plates are also available.
Timings: Monday to Sunday, 11:30 am to 03:00 am
Call: 9715613320233-(Al Falah Branch)
971506656143(Annahfah Street)
Branches: Al Falah Street-Al Zahiyah.
Annafah Street- Al Zahiyah.
5. Mosaic
Mosaic is an upmarket Lebanese restaurant that prides itself on serving authentic food prepared by Lebanese chefs.
A lot of the spices and produce are imported from Lebanon, giving the food authentic flavour.
Mosaic has an enormous menu, and all of the Lebanese food is really good since the head chef incorporates home cooking methods.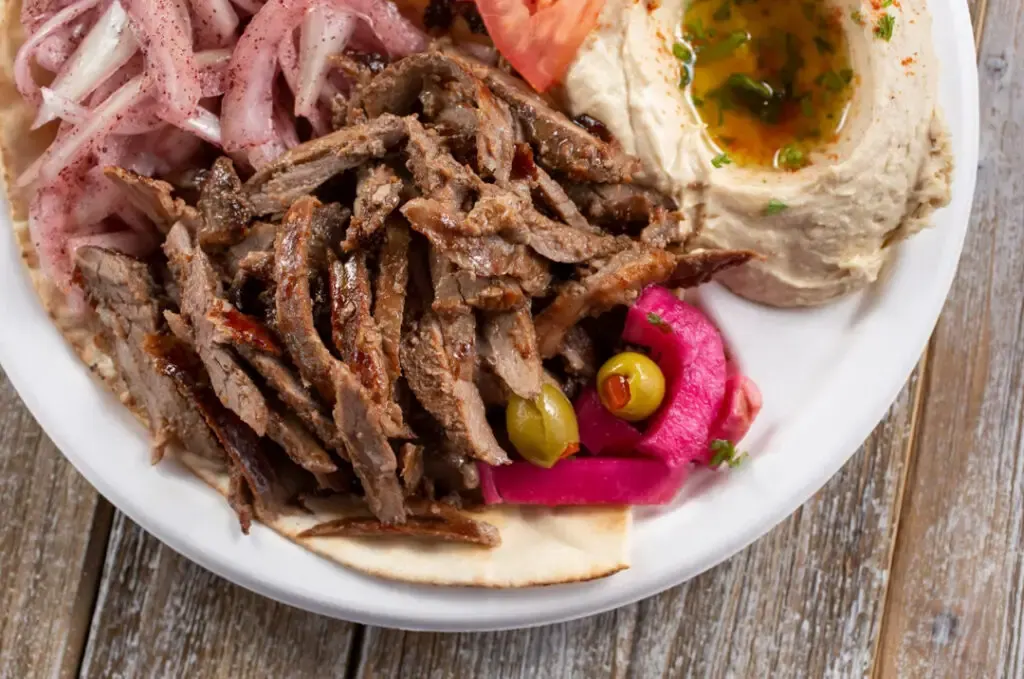 When it comes to shawarma, there is the classic Lebanese sandwich, mosaic bread sandwich and Saj sandwich. Chicken and meat options are available and prices range from 11AED to 22AED.
There are also shawarma plates in Saj bread and French fries are topped with Lebanese spiced meat. Not to mention, the hummus, topped with shawarma meat, is another interesting and delicious option.
The large shawarma platters are perfect for a group of friends or family.
Shawarma lovers can enjoy beef or chicken shawarma with hummus or garlic paste, parsley, onions, pickles and French fries with prices ranging from 165AED upwards.
Timings: Saturday to Thursday, 08:00 am to 23:30 pm
Friday 13:30 pm to 23:30 pm
Call: 97122340202-(Muroor Branch)
97126336376-( Najda Branch)
Branches: Guardian Towers-Al-Muroor Road-31 Street, Al-Aman.
Vision Towers-Al-Najda Street Facing Al Sultan Bakery, Al Najda.
6. Man'oushe Street
Man'oushe street never sleeps and is open 24 hours a day. This restaurant is certainly more on the pricey side as the wraps are a little more gourmet than other options around the city.
The chicken shawarma comes with a simplistic but perfect combination of lettuce, and pickles topped with garlic sauce.
Whereas beef shawarma has fillings such as onions, tomatoes, parsley, and sumac topped with tahini sauce.
Timings: 24 Hours, seven days a week
Call: 971-26733360-(Al Danah Branch)
97124450150(Al Bandar Branch)
Branches: Al Mawkib Street-Al Danah
Al Rahah-Al Bandar.
7. The Cheese Shawarma Abu Dhabi
The Cheese Shawarma Abu Dhabi is an epic venue serving the classic dish with a twist. The restaurant has a signature menu with some uniquely brilliant shawarmas.
One of the most unique dishes has to be the shawarma bun. It's oven baked and smothered in the special cheesy shawarma sauce with the option of chicken or beef. Prices start at 40 AED
Grenadine molasses and French fries are another oven-baked shawarma option with mixed cheese. The price range from 40 AED and above.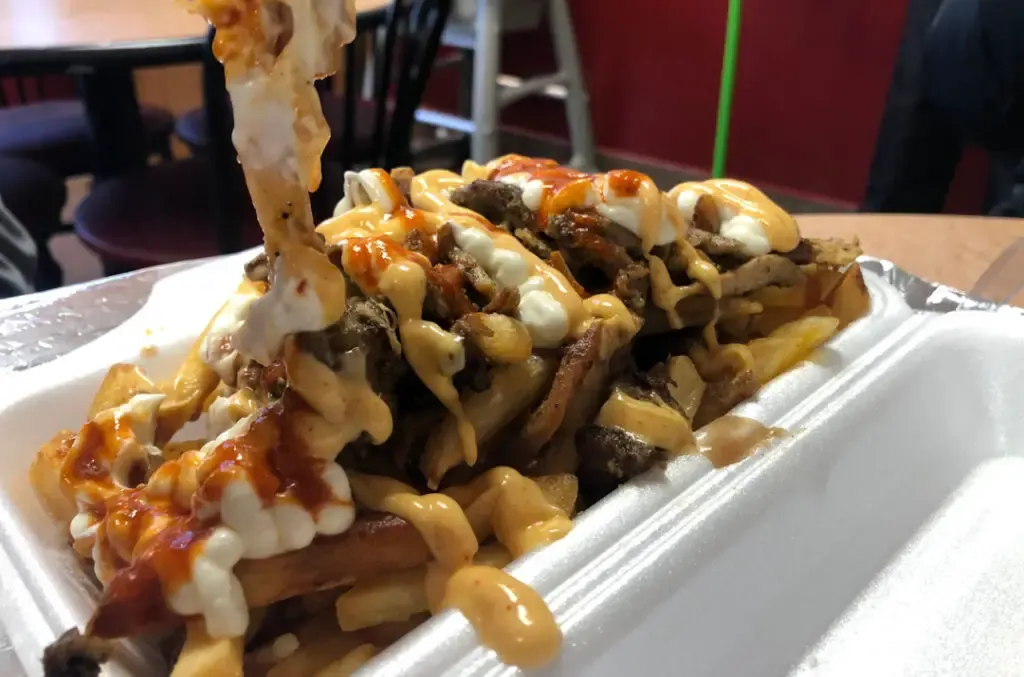 Perfectly made saj bread wraps around shawarma, cheese, and cheesy homemade sauce with a side of French fries. Price ranges from 40AED to 42AED.
Cheese shawarma has created its very own shawarma saffron. The tortilla bread is yellow and crisp as it is prepared with rich saffron spices.
The golden wraps are filled with tender chicken or meat with cheese and a side of fries. Prices range from 40 AED.
Healthy Option
If you are watching your calories there is an option without cheese served in brown tortilla bread. Lets face it, why would you go to Cheese Shawarma and not have cheese, right?
The Greek shawarma is an interesting choice with a long open pita served with shawarma chicken or beef, onion, tomatoes, and lettuce. It's topped with a Greek sauce and served with French fries.
The price range is 40AED to 42 AED.
Another unique option is the quesadilla shawarma. Yes, this is shawarma chicken or beef served in quesadilla tortilla bread with cheese and a side of French fries. The price range is 48AED to 50AED.
How about a cheese shawarma platter? Chicken or meat is baked in mixed cheese, jalapeños, and a special sauce.
Shawarma bite is a soft cake bun with its own logo on the bread making it one of the most quirky options.
Classic Options
Cheese Shawarma have classic pita shawarmas, saj shawarmas, Lebanese bread shawarmas, mini pita pocket shawarmas, falafel shawarmas, rice shawarmas and hummus shawarmas.
Price range 11AED to 42 AED
Shawarma platters and family boxes of shawarma are the perfect options, especially for Iftar. The price range is 42AED to 118AED.
Timings: 11:00am to 03:00am
Phone: 97126677767
Location: Al Aryaf Building-Tunb Al Kubra Street- Al Rawdah-Al Ma'arid-Abu Dhabi
8. Shawarma Street Abu Dhabi
Shawarma Street is another downtown Abu Dhabi establishment that has delicious food. Chicken, beef or mixed shawarmas are available.
Shawarma street Abu Dhabi has the option to choose from pita bread, saj or samoun bread.
For a more filling meal, the saj ox meal is the one to try. It is a 200-gram shawarma platter of chicken or beef which is pretty impressive.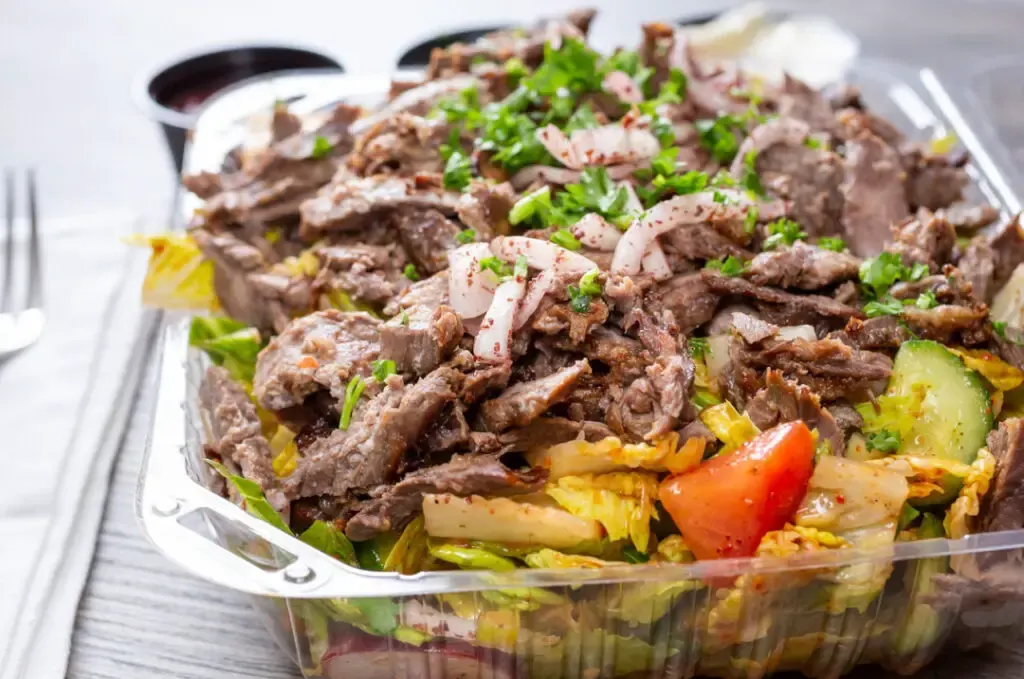 This particular restaurant does not have much seating so it is best to have it delivered or pick up.
Timings: Various opening hours across different branches
We hope you found this post with the 8 best shawarma in Abu Dhabi helpful. Have you tried any? Which is your favourite? If we missed your favourite, let us know and we can give it a try!
You may also like: