Burgers are one of the most popular foods in the world. Something so loved that vegetarians, vegans and other non-meat eaters have felt the need to create a version for themselves.
Dating all the way back to the First Century in Rome, the burger has existed for some time and has transformed over the years into the well-loved dish we enjoy today.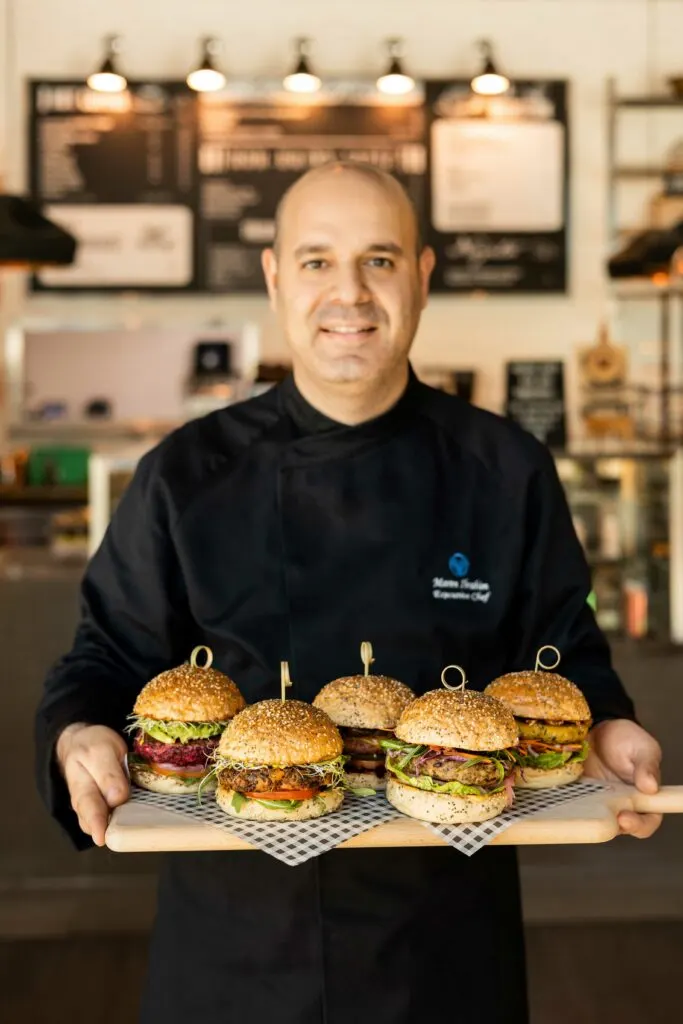 As a result of its popularity, there are endless options of burgers to choose from. This guide will help you to discover some of the best burgers in Abu Dhabi, that you should try.
The Best Burgers, Abu Dhabi
Vegetarian & Vegan Burgers
Luckily, there are also plenty of tasty options for non-meat eaters in Abu Dhabi.
The impossible burger from The Black Tap is created with a plant-based patty, American cheese and a special sauce. One of the best burgers in Abu Dhabi for vegans, vegetarians or even meat-eaters.
The Greek monster burger from Central is a delicious vegan burger consisting of a falafel patty, Greek salad and feta cheese. This burger tastes so good it almost makes it onto the best burgers in Abu Dhabi list.
The Beyond burger at Stars 'n Bars is a great vegan option with a plant-based patty, mushrooms, LTO, pickles, vegan cheese and vegan mayo.
Cafe 302 at Al Maha Arjaan by Rotana, offers a full menu of vegan burgers.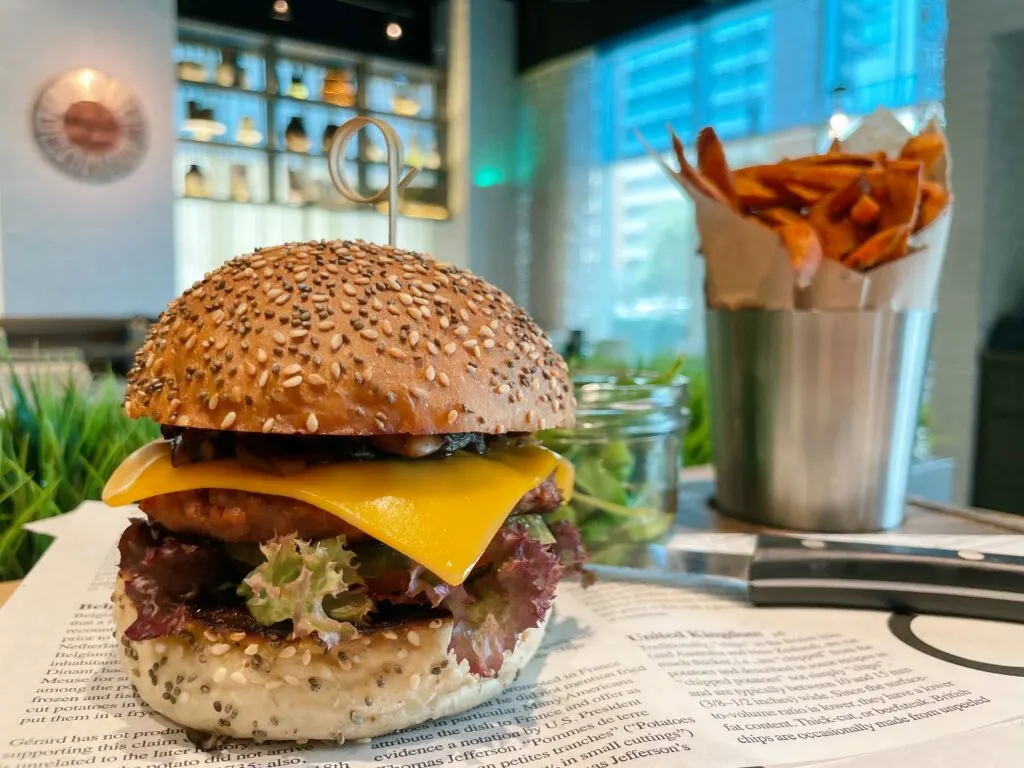 These vegan options are some of the tastiest, most flavourful burgers in the city and without a doubt, a number are delicious enough to be considered some of the best burgers in Abu Dhabi.
The sweet potato and black bean burger are created using sweet potato and black bean patty with the addition of guac, rocket and tomato relish.
The chunky portabello and black bean consist of a mushroom and black bean patty, with red cabbage slaw and pickled onions.
The quinoa beet and white bean have a quinoa and beetroot burger with avocado, rocket and alfalfa sprouts.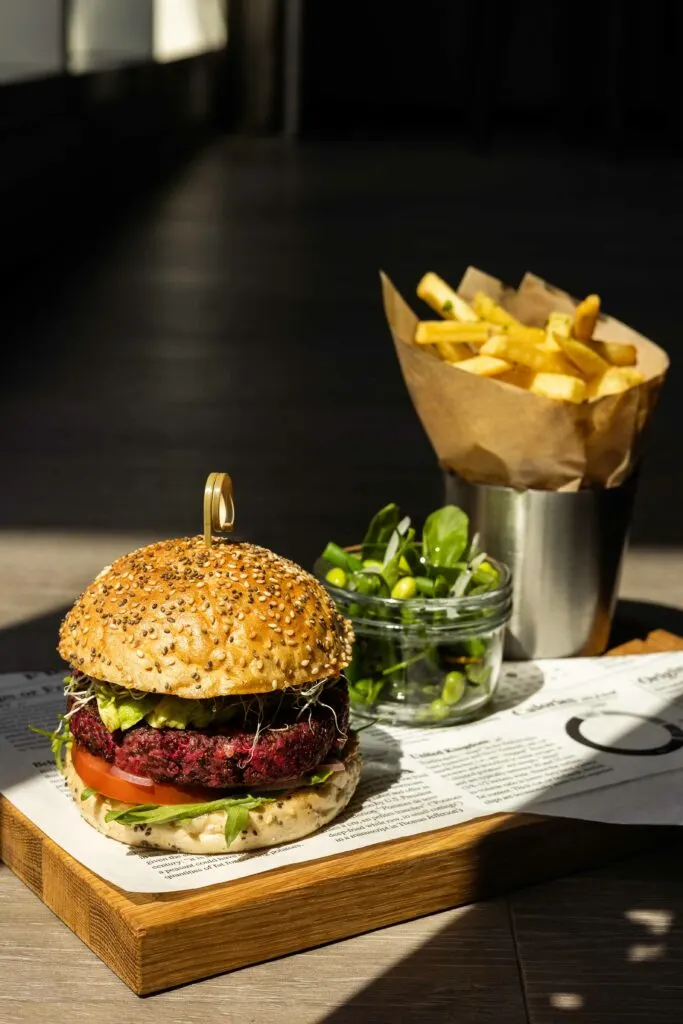 This menu also offers a slider option of two types of sliders and fries. The slider options are the chickpea and corn burger and the spiced tofu and oats burger
Jones the Grocer is a very popular franchise in the UAE and further afield. With 6 locations scattered around Abu Dhabi, there is usually a restaurant convenient to all.
From this eatery, three exciting burgers have made it onto our best burgers in Abu Dhabi list.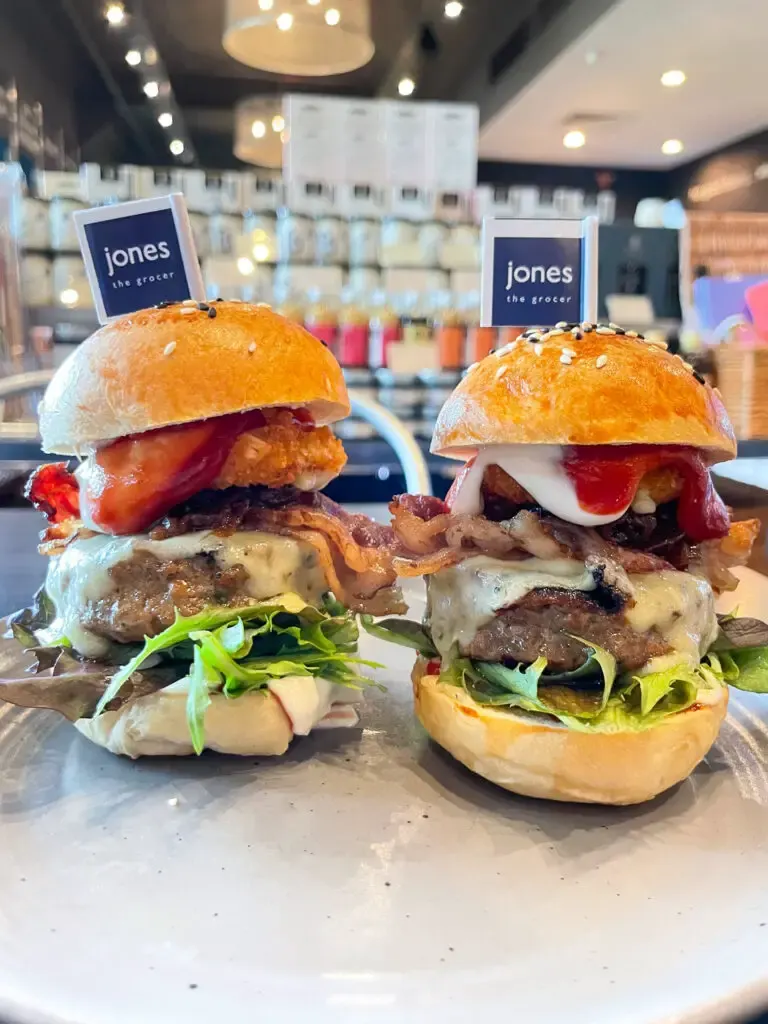 First up, the Sydney sliders. These mini burgers contain anything but mini flavours!
Created using wagyu beef, crispy coated brie, beef bacon, cheddar and caramelised onions in a soft brioche bun.
Next, the crispy chicken sliders. Again, these small burgers are big in taste. This flavourful favourite contains crispy chicken, smoky mayo, onion ring (yum) and cheddar all on a brioche bun.
The final slider option in Jones the Grocer is an interesting one, and definitely one to include on our list of the best burgers in Abu Dhabi!
Where are the Best Burgers in Abu Dhabi?
The soft shell crab sliders, containing mango salsa, togarashi, smoked paprika, sriracha and lime mayo. These sliders are a bit pricier than the other two options but they certainly won't disappoint!
Bentley Kitchen is a favourite for Reem Island residents. This eatery creates dishes with its own take on European fusion cuisine.
Home to the 'famous Bentley burger', Bentley Kitchen announces itself as having a dish for our best burgers in Abu Dhabi list!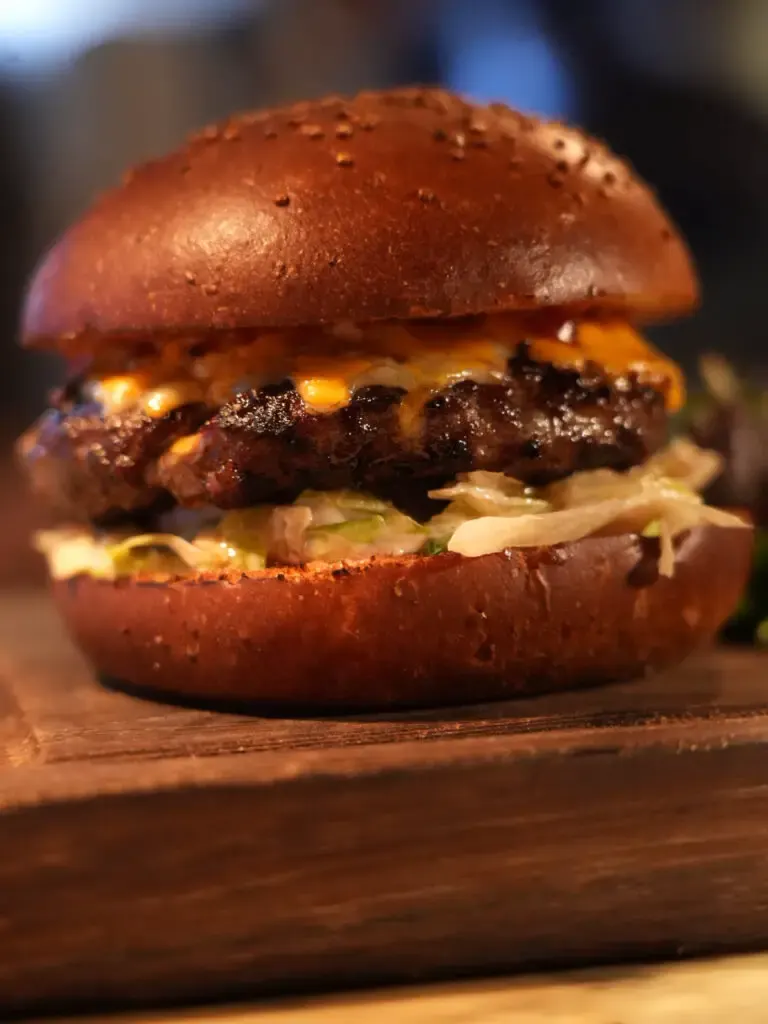 This 'famous' burger consists of an Angus beef patty, applewood cheddar and homemade smoked tomato ketchup – simple yet brilliant.
In addition to the famous Bently burger, this restaurant also offers four options of sliders that have also earned a spot as some of the best burgers in Abu Dhabi!
First in the slider selection; the beef sliders, with caramelised onion and gruyere. The chicken sliders include Marie rose sauce, cheddar and coleslaw.
Next, the cajun salmon sliders with avocado and fennel and slaw, and finally, the fried halloumi sliders with tomato jam and iceberg lettuce.
Butcher & Still, located in the luxurious Four Seasons on Al Maryah Island is an interpretation of a 1920s Chicago steakhouse.
The restaurant is well acclaimed for it's meat cuts and meat preparation. In addition to a wide array of steaks, Butcher and Still offer the Double Double Cheeseburger.
Containing some of the best meat available, this burger is made with duck fat house-ground beef with lettuce, onion, tomato and aioli.
Another popular restaurant on Al Maryah Island is Glo in the Rosewood hotel.
A cool, relaxed yet refined outdoor pool restaurant known for their brunches, valentines day celebrations, New Years Eve parties and ladies nights.
Glo offers two additions to the best burgers in Abu Dhabi.
First up, the Wagu burger, a handcrafted wagyu patty, aged cheddar cheese, caramelised onion, tomatoes and BBQ sauce on a house-made bun. The BBQ sauce really makes this burger.
Next, the assorted sliders which consist of the Wagu, chicken and beef brisket burgers – an excellent opportunity to try a few delicious burgers in one dish.
Book a stay in the Rosewood hotel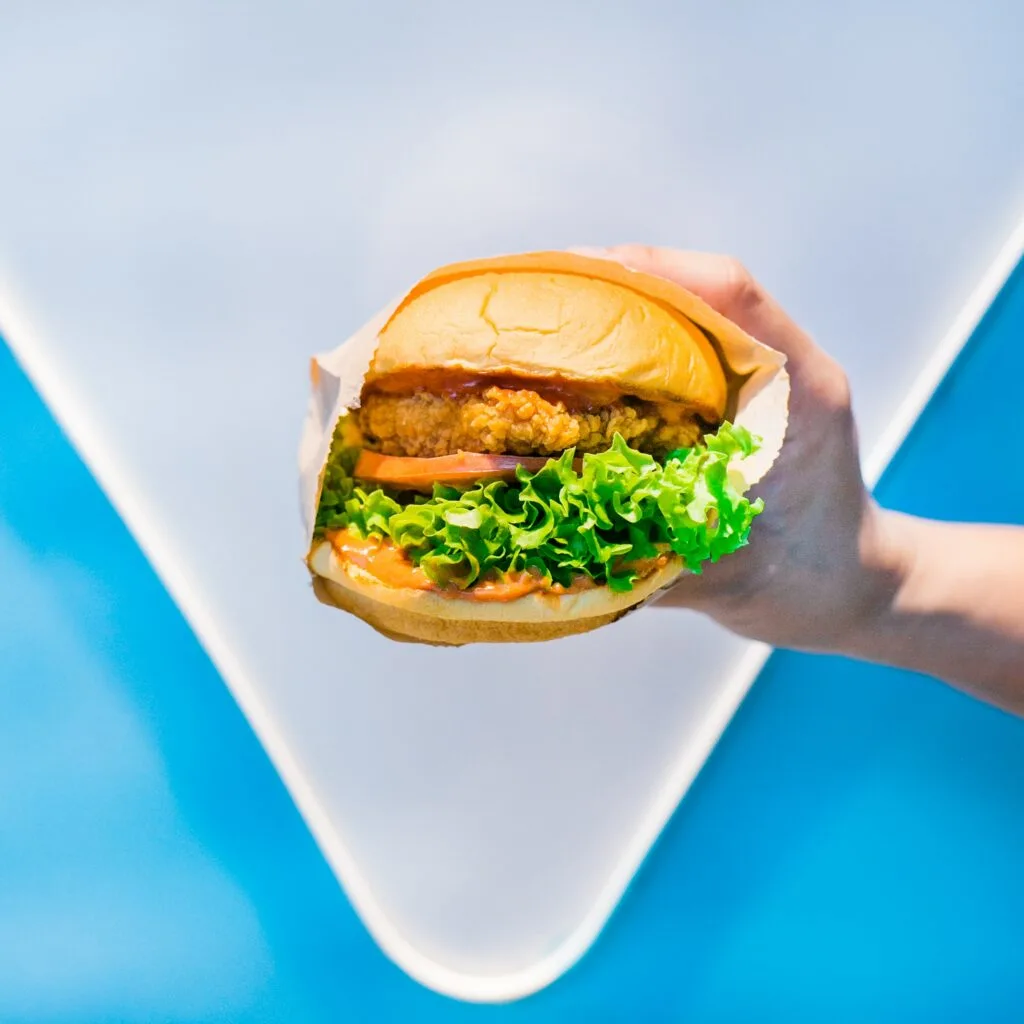 If there is one restaurant that has created 14 burgers alone that could be deemed as the best burgers in Abu Dhabi it's The Black Tap.
This restaurant chain is growing rapidly with locations in Abu Dhabi, Dubai, Bahrain and Iraq.
The popular eatery is located on Saadiyat Island in Mamsha, a stunning location along the Saadiyat coastline.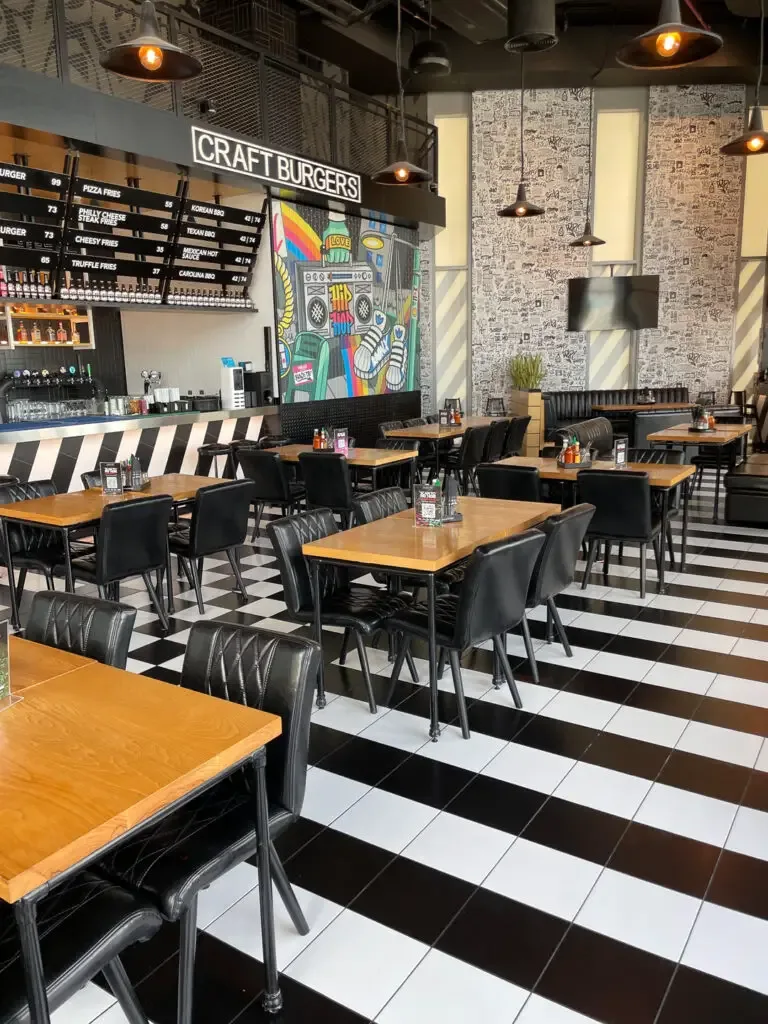 The Black Tap is renowned for its craft burgers and crazy milkshakes.
While there are over ten Black Tap burgers that could be considered the best burgers in Abu Dhabi, we have narrowed it down to five.
First up, the Philly cheesesteak burger. Created with a prime burger, sliced steak, peppers, onions and American cheese.
Next, the smokehouse turkey burger: all-natural ground turkey, house spices, smoked cheese, kale coleslaw, crispy onions and white Alabama BBQ. This healthier option is delicious!
The pear bacon jam burger is one of the most unique dishes to make it onto the best burgers in Abu Dhabi list. Consisting of a prime burger, blue cheese, pear & bacon jam, crispy kale and truffle aioli, if you like blue cheese, this is the one for you.
The Mexico City burger is popular among the masses, consisting of a prime burger, pepper jack cheese, crispy onion ring, pickled jalapenos and chipotle mayo – yum!
Finally, although as mentioned, there are many other list-worthy burgers within this establishment, the Mulberry Street burger. This award-winning burger (literally) is created with a prime burger, provolone, hot cherry peppers, beef bresaola, beef salami and fresh parmesan.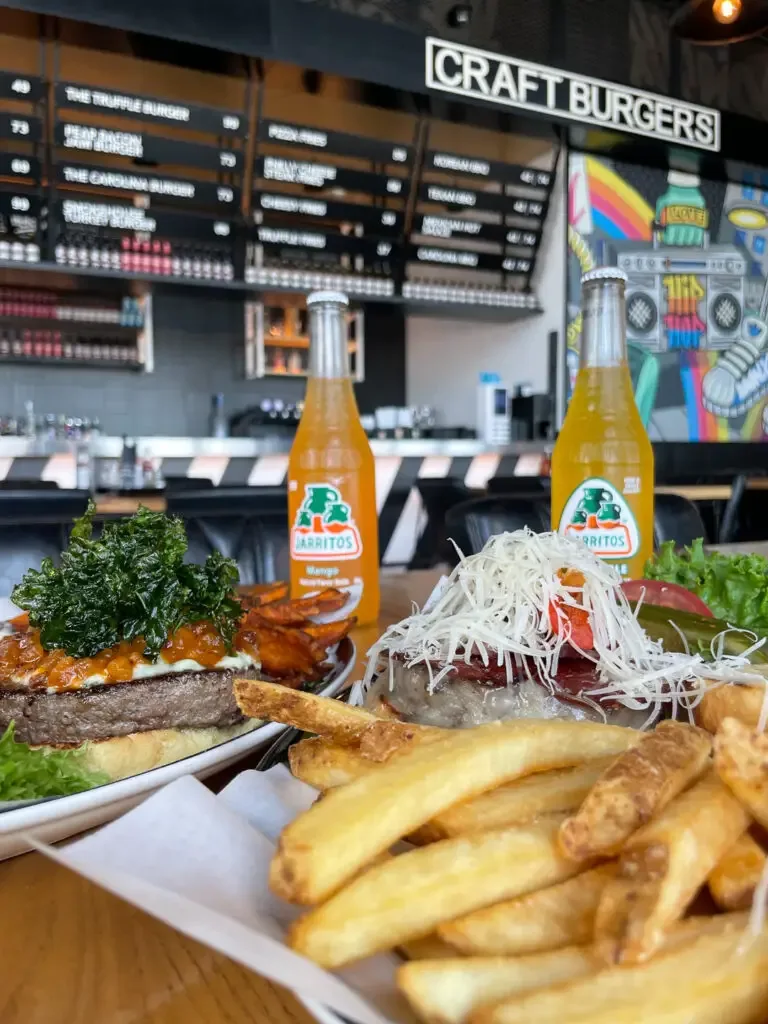 This gem was the Judges choice award winner at the NYC wine & food festival, burger bash!
While we did say we would narrow it down to 5 burgers in the Black Tap, there are a few special mentions that although they don't make it onto the best burgers in Abu Dhabi list (due to technicality reasons), they can not be ignored.
In addition to rustling up some of the best burgers in Abu Dhabi, The Black Tap also serve craft burger salads.
These tasty dishes consist of fresh salads with the addition of a burger patty, simple yet genius!
Some of the craft burger salad options include; Korean BBQ chopped salad, kale superfood salad and the impossible Greek salad.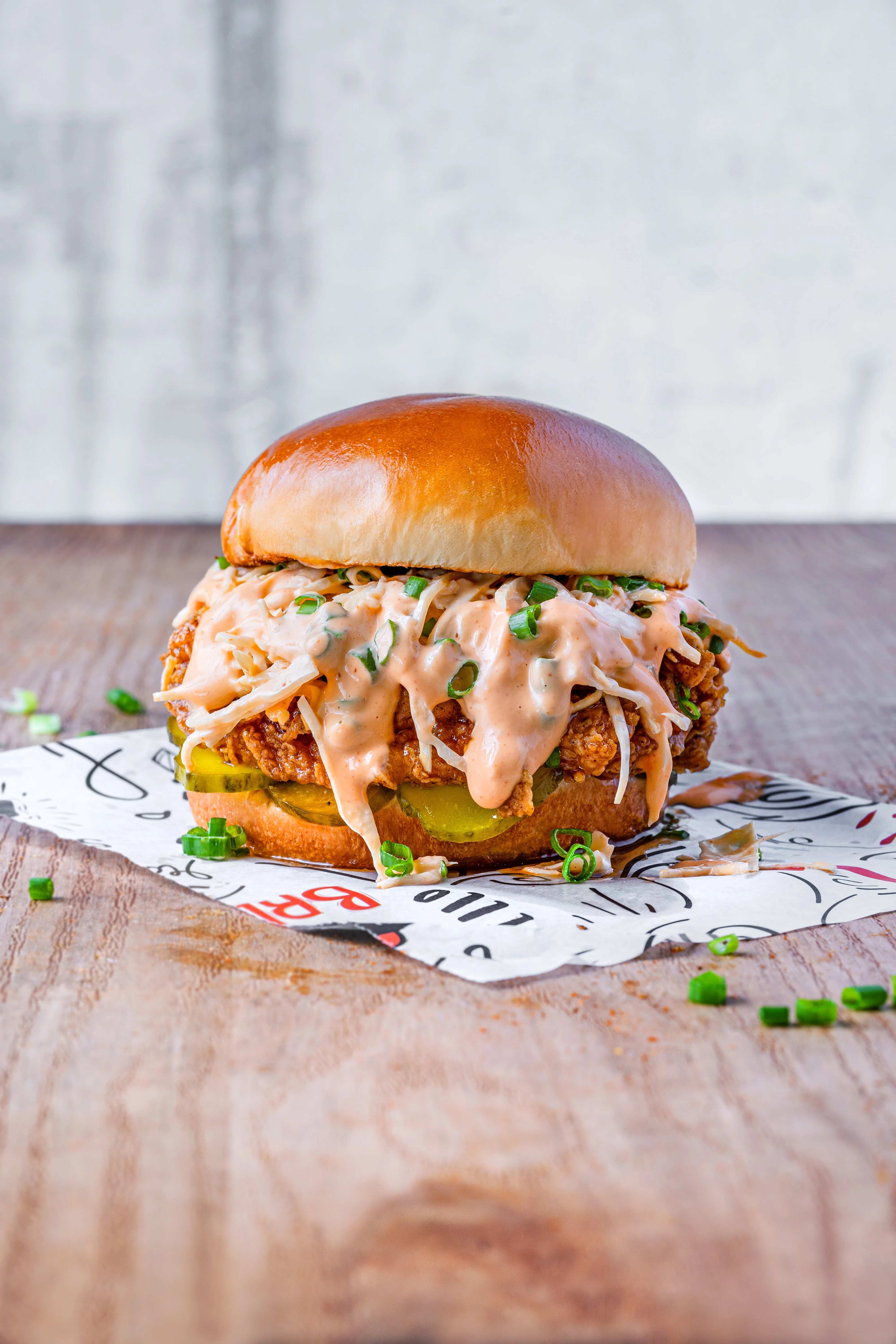 Another eatery consisting of a number of the best burgers in Abu Dhabi is Central, located in Yas Bay.
This fun restaurant is known as the ultimate food-meets-fun spot, offering burgers, beats and bowling.
There are two menu options for burgers here; burgers and monster burgers.
Two of the regular burgers have earned a place on the best burgers in Abu Dhabi list.
First up, the fish & co burger; a cod burger with baby gem and tartare sauce. A classic with a twist.
Secondly, the grilled chicken burger. This consists of a chicken burger, red cabbage, avocado, mango and sweet chilli chutney. This is one for the chicken lovers, packed with flavour.
Moving onto the monster burger menu, three burgers have made the cut.
The pepperoni pizza burger, this burger contains a burger, marinara sauce, peperoni, mozzarella, parmesan and oregano. This creative dish does not disappoint.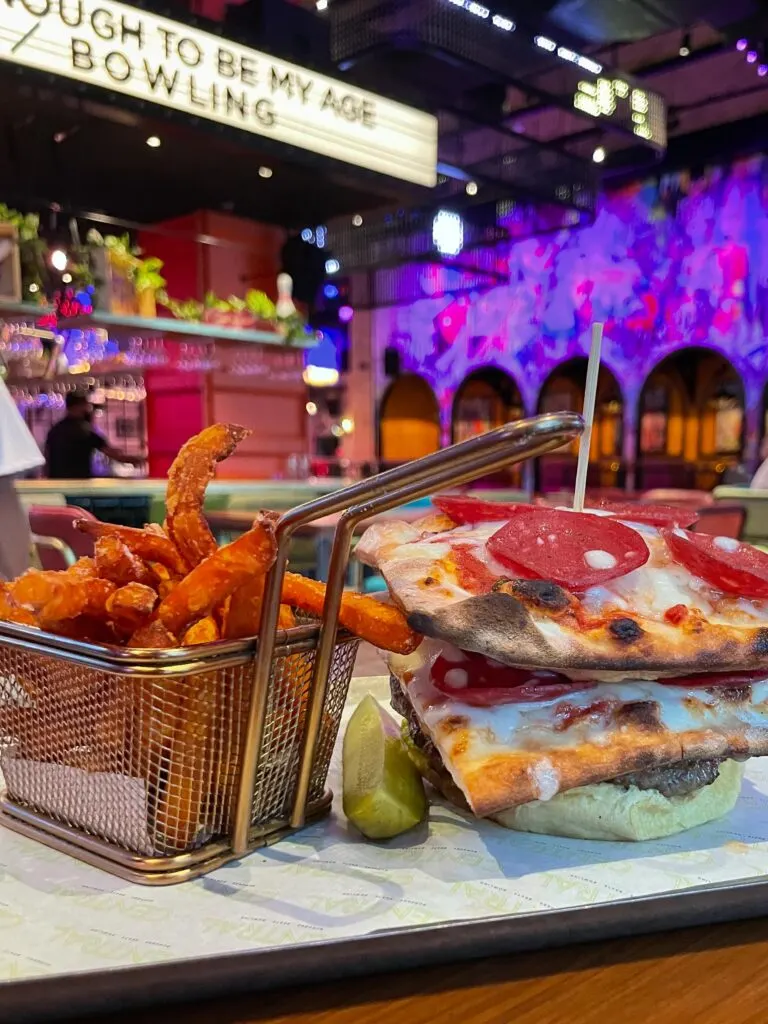 The fajita burger, consisting of a chicken burger, medical spiced onion, pepper, mushroom, American cheese, guac, salsa and sour cream. Another creative dish that has earned a name as one of the best burgers in Abu Dhabi.
Finally, the Caribbean burger, a jerk spiced chicken burger, Caribbean jerk BBQ sauce, onion, pepper and grilled pineapple. Pineapple on a burger? That alone earns this burger a name as one of the best burgers in Abu Dhabi!
You can find out more about Central in our things to do on Yas Island guide.
As Abu Dhabi's only revolving restaurant, Stratos in Le Royal Meridien is a very popular restaurant for residents and tourists visiting the city.
In addition to a great changing view, Stratos also serves some of the highest quality food in Abu Dhabi.
It is no surprise then that they have created a burger that has made its way onto the list of the best burgers in Abu Dhabi.
The Stratos Josper burger is carefully created with grilled Wagyu beef, smoked cheddar, turkey bacon, caramelised onion, gherkins and truffle mayo – delish!
Book a stay in Le Royal Meridien
L'ETO, a popular French cuisine restaurant has created a Heritage beef burger that some consider one of the best burgers in Abu Dhabi.
This dish is created with a prime beef patty, mature cheddar cheese, pepper relish and chipotle mayo.
The Sportsman's Arms has been a much-loved establishment for some time. The Yas Island gastropub offers a casual family-friendly atmosphere with great food.
The Sportsman's Arms slider meal is one that cannot be forgotten when considering the best burgers in Abu Dhabi.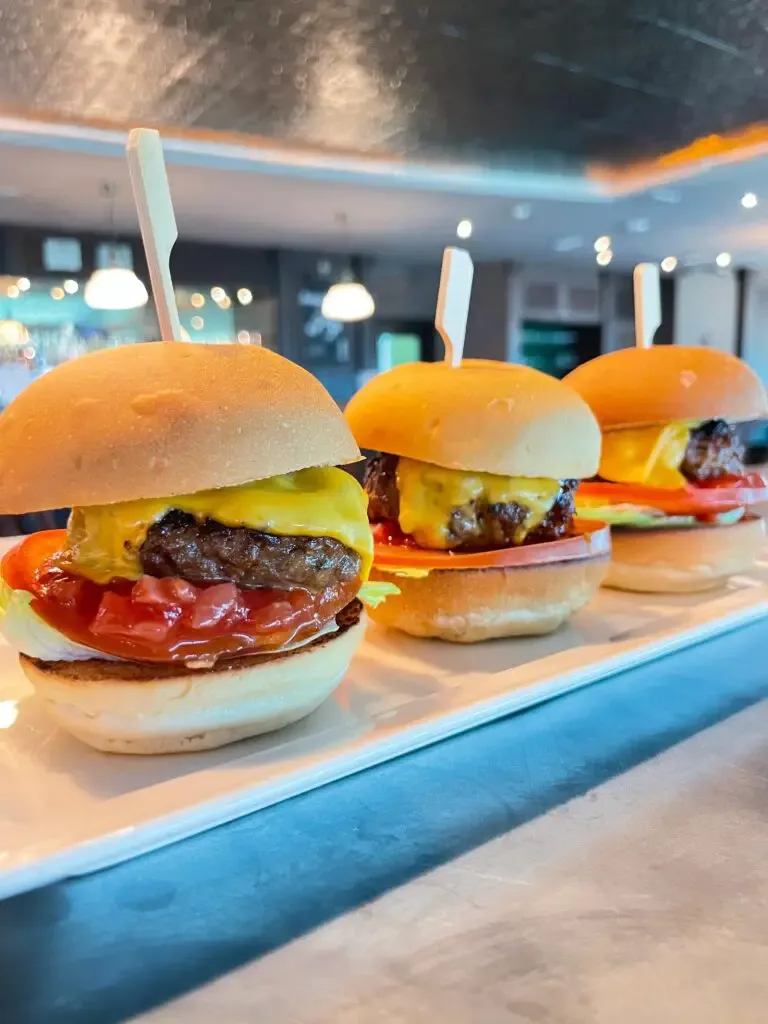 For this dish, guests choose three out of the four slider options, it's a tough decision as all four options are delicious.
The first option, sloppy joes sliders – classic Sportsman beef chilli topped with jalapenos and sour cream.
Next, black Angus – classic beef patty, cheddar cheese, lettuce and tomato relish.
The cajun shrimp is created with breaded fried shrimp, slaw and creole mayo.
The final option, pulled short rib – slow-cooked beef short rib, crispy onion and house glaze sauce.
Cheap and Cheerful Burgers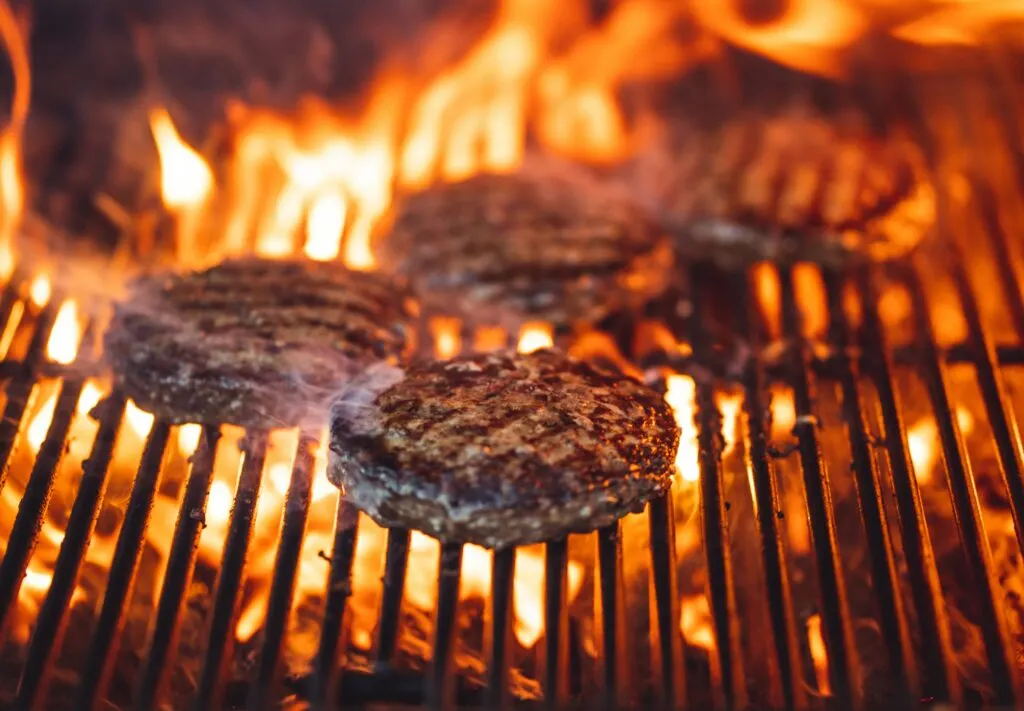 As many dishes on our list of the best burgers in Abu Dhabi may be on the higher end of the price scale, there are a few burgers that deserve a mention in terms of value for money.
The Smokey BBQ burger from Mcdonald's consists of halal beef topped with crispy chicken strips, crispy onion, fresh lettuce, melty Emmental cheese, and a smoky barbeque sauce.
This cheaper option packs a flavourful punch.
The Chippy, a well-loved chip shop (particularly among the British and Irish community), make a spicy chicken fillet burger with spicy sauce, cheese, tomato, onion, lettuce and mayo with chips, yum!
Finally, Five Guys offer no-nonsense, freshly made beef burgers with a variety of toppings to choose from. These burger combinations are both delicious and wallet-friendly, a win-win for everyone!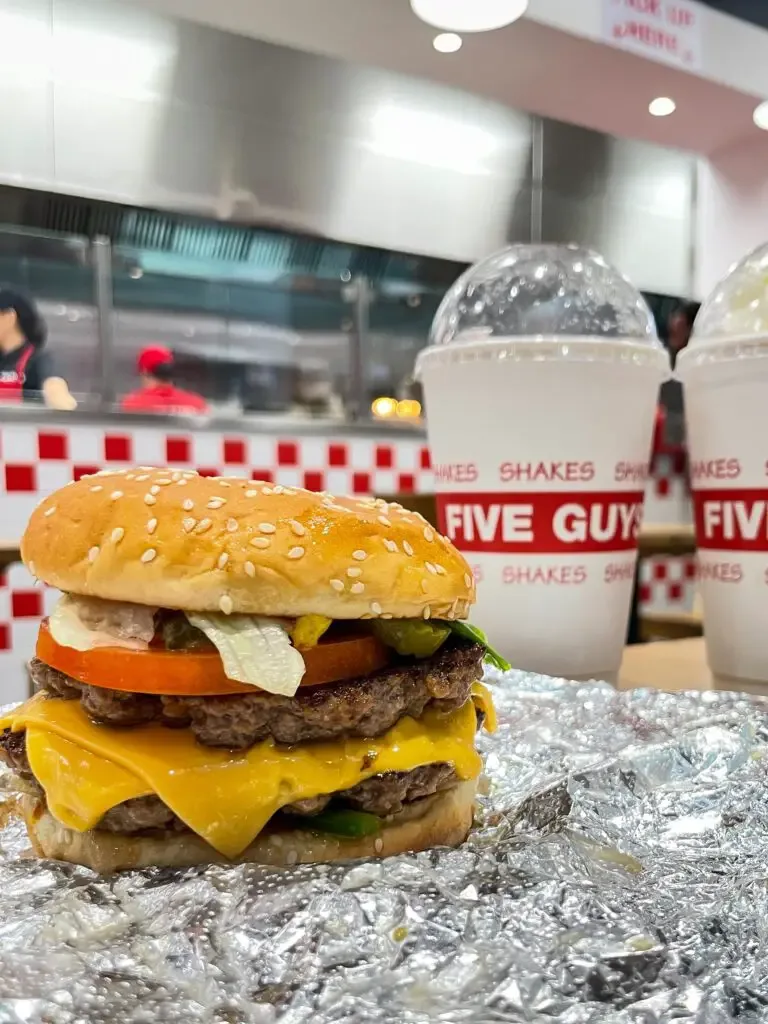 One thing is certainly clear from compiling the best burgers in Abu Dhabi; burgers are a popular dish that are going nowhere.
There are many different takes on burgers and sliders across different eateries in the UAE.
Restaurants will continue to experiment with flavours and ingredients in order to stay current and relevant to customers seeking new burger experiences.
The number of vegan and vegetarian options will continue to increase as demand grows and restaurants aim to cater to the masses.
You may also be interested in,
20+ Best Places To Visit In Abu Dhabi For Free
Best Desert Hotels In Abu Dhabi
Top Beach Clubs In The Capital
Popular Insta Spots Across Abu Dhabi
Disclosure: We only recommend experiences or products that we have personally used or that have been highly recommended by others. If you get anything we have mentioned through the referral links, we may get a small commission with no extra cost for you.