If you are looking for the best barbers In Abu Dhabi we've got all the basis covered! The blue, red and white poll outside barber shops stems from medieval times when shops were used as medical practices signifying blood and bandages.
Thankfully in more contemporary times, barbers have stuck to what they are good at, and that is cutting hair!
Barbers also have a growing popularity in providing extra services such as pedicures, manicures, massages, facials, waxing and other grooming services for men.
Best Gents Salon In Abu Dhabi
ln Arab culture men are always well groomed with manicured nails, well-shaped beards and smart haircuts. With that in mind, there is no shortage of barbers around Abu Dhabi.
Whether you have an important interview, a romantic date, an upcoming event, or just weekly maintenance there are some great salons for gents across the capital.
Abu Dhabi is a melting pot of cultures, resulting in local and international barbers from all over the world, each with a different approach. For that reason, we have created this listing as a one-stop for all the best barbers in Abu Dhabi.
Some of the salons below specialise in fades, undercuts, and even braids amongst many other treatment and services.
1. Mantis Gents Salon
Haircuts in Abu Dhabi were in need of an uplift, so Etihad pilot Hamad Almarri took the initiative to elevate to new heights (literally).
Mantis Gents Salon & Barbershop prides itself on providing high-quality customer service by internationally skilled artists.
With the slogan 'great haircuts don't happen by chance', gentlemen can expect luxurious products to smooth their hair and skin.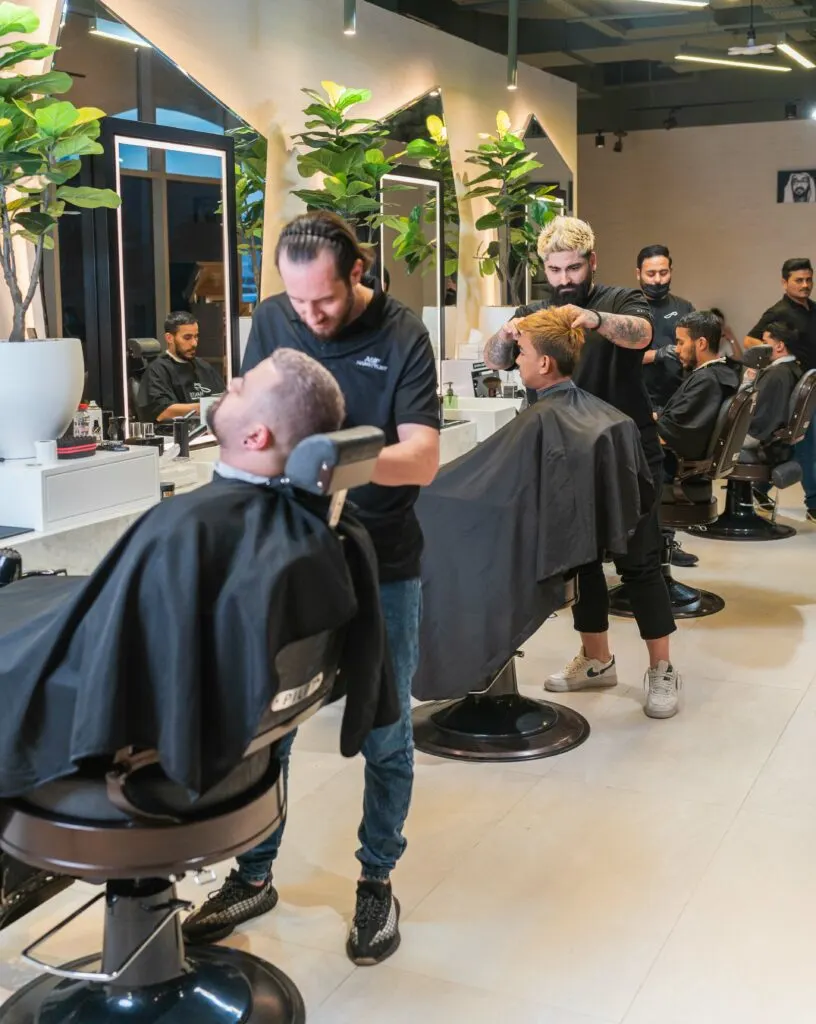 A wide range of other services is available, including manicures, pedicures, massages, beard trimming, waxing, and grooming packages.
On Tuesdays, they offer a special grooming package called the golden package for 480AED, which includes a haircut, beard trim, manicure, pedicure, foot scrub, and deep facial clean.
In addition, Secret Abu Dhabi readers are eligible to take advantage of a 15% discount when they show this article at the store.
For more information, get in touch with Mantis Gents Salon and Barbershop by calling +971 50 835 3530 or email them at info@mantisgentssalon.com.
Opening Hours: 10 AM to 12 AM (Monday to Sunday)
Location: Khalifa City A, SE45 Building 61C – Abu Dhabi – United Arab Emirates
2.Tonic Legends Barbershop
Hailed as one of the best barbers in Abu Dhabi due to its legendary services. The sophisticated man cave overlooks Sheika Fatima Park. They pride themselves on being in the heart of the capital and bringing out the legend in each gentleman.
The premium decor is lit up by a giant legend's light which is something reminiscent of a Hollywood set.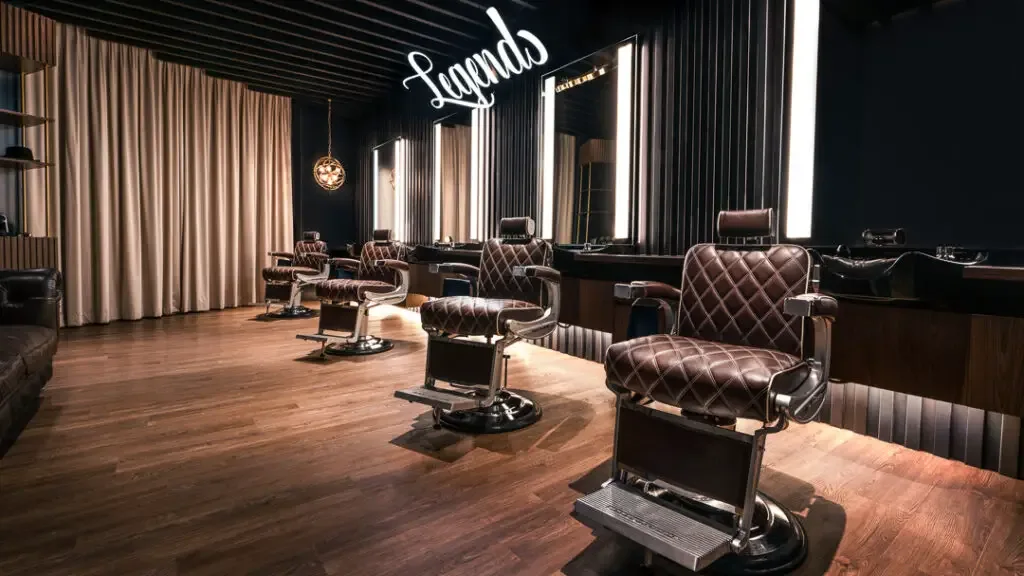 The legendary haircut and beard trim combo is the recommended service. Once gents have their haircut they can have one most relaxing beard trims in a reclining barber chair.
When it comes to the hair wash the chair will rotate 360 degrees and the hair will be lathered in luxury products.
For a fully rejuvenated feeling gents can opt for other services such as hair colouring, beard colouring facials, manicures and pedicures
Contact Tonics Legend Barbershop by calling +971 26752732
Opening Hours: Monday to Sunday 10 am to 10 pm
Location Sheika Fatema Bint Mubarak Park, 124 Al Bateen St – Al Bateen- W12- Abu Dhabi- United Arab Emirates
3. Chaps and Co. Abu Dhabi
There was a gap in the market, hence a need for a barber to add even more class and elegance to the hair-cutting industry, according to the Chaps and Co. founder, Jordan Davies, back in 2015.
This barbershop further extended its services to Abu Dhabi and soon after winning awards with Fact Magazine for two years, back to back, 2021 and 2022.
Bringing a different dynamic to haircuts, their hand-selected barbers are masters of their guild.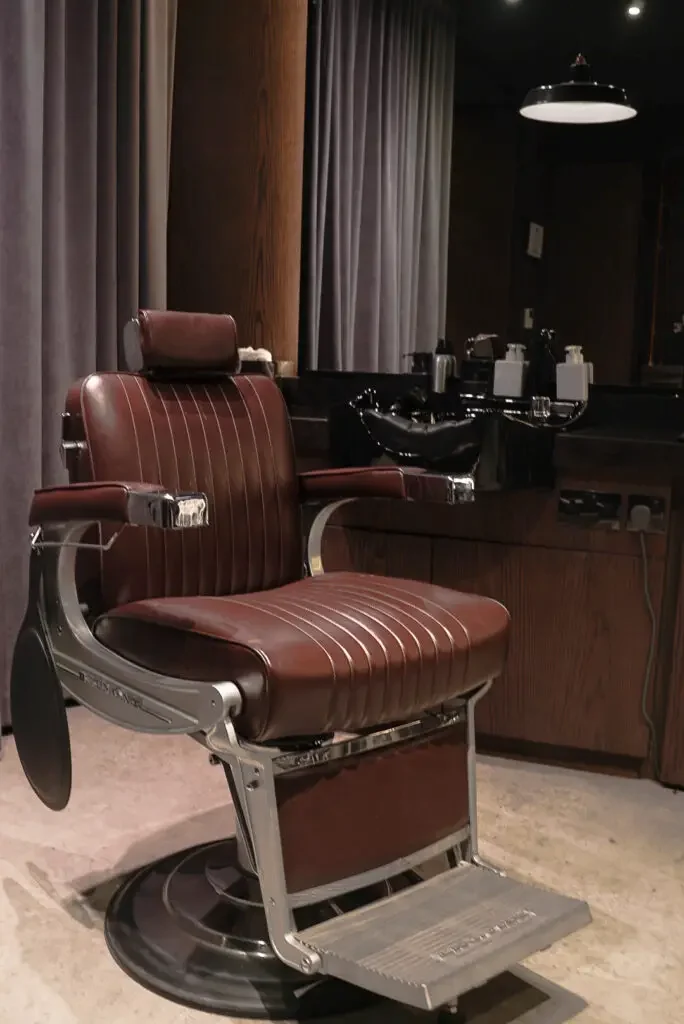 They pride themselves on being a movement within the men's grooming industry. It is evident the barbers are professional in how they care for customers.
Some of the services include haircuts, beard trims, hair tattoos, manicures, pedicures, massage, body scrubs, hair colouring, keratin treatment, scalp treatments, eye treatments, facials and waxing. Easily making one of the best barbers in Abu Dhabi.
There will soon be a branch opening on Yas Island, so keep an eye out for more shaves and fades.
For more information on Chaps and Co., get in touch by calling +971 2 208 0500.
Opening Hours: 9 AM to 10 PM (Monday to Sunday)
Location: The EDITION Hotel 1st Floor Al Bateen Marina – Abu Dhabi – United Arab Emirates
4. Urban Male Lounge Barbershop
With its initial launch in 2006, there has been no turning back for Urban Male Lounge in Abu Dhabi, this is not an average barbershop.
As a barber lounge offering a range of services, it provides a variety of options to its male customers. Its tranquil atmosphere and extensive services set the scene for a sense of tranquillity as soon as customers enter its doors.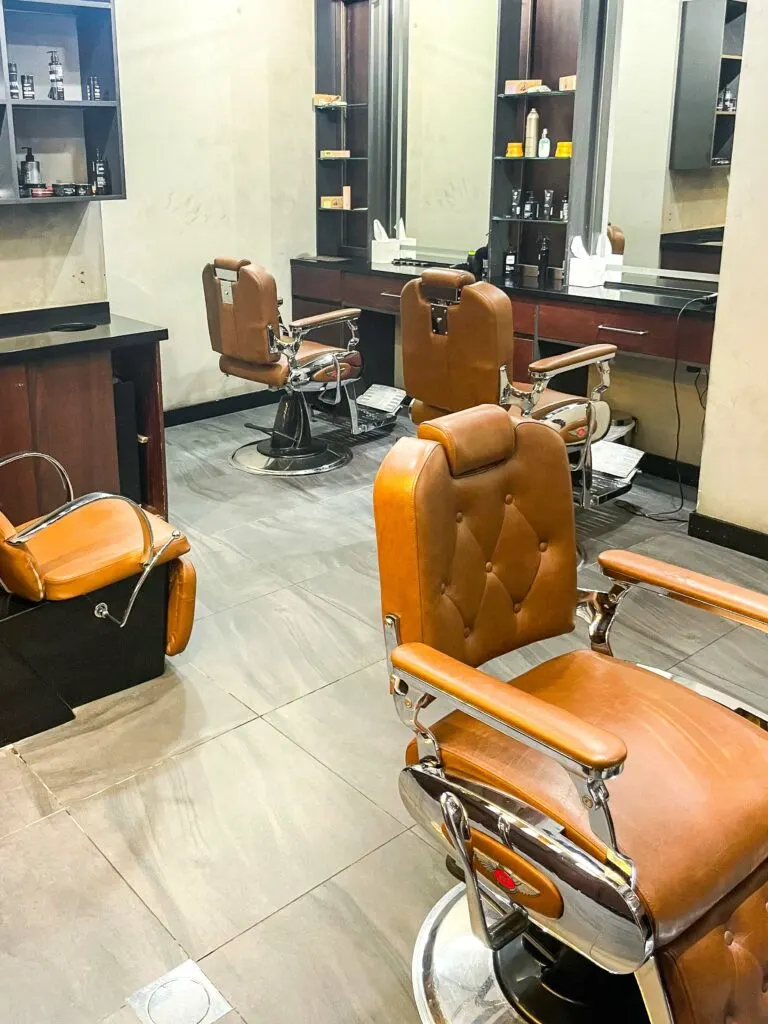 Getting a haircut here is definitely worth your time and experience! Aside from haircuts and beard trims, the salon offers award-winning skin treatments, massages, foot treatments, hair removal, and facials.
Contact Urban Male Lounge Abu Dhabi at +971 2 671 4388.
Opening Hours: 10 AM to 10 PM (Monday to Sunday)
Location: The Galleria Mall Al Maryah Island – Abu Dhabi – United Arab Emirates
5. 1847 Barbers Abu Dhabi
The 1847 barbershop is another premier barbershop in Abu Dhabi.
1847 shot up the ranks by winning two prestigious awards, "The best luxury men's spa in 2022" by the Luxury Spa Awards and "World's best male grooming salon" by the World's Spa Awards.
The 1847 barbershop extends its world-class services to a vast constituency of male customers in Abu Dhabi in two locations, Saadiyat beach club and The Galleria Al Maryah Island.
The prime locations serve clients from Downtown Abu Dhabi to Yas Island.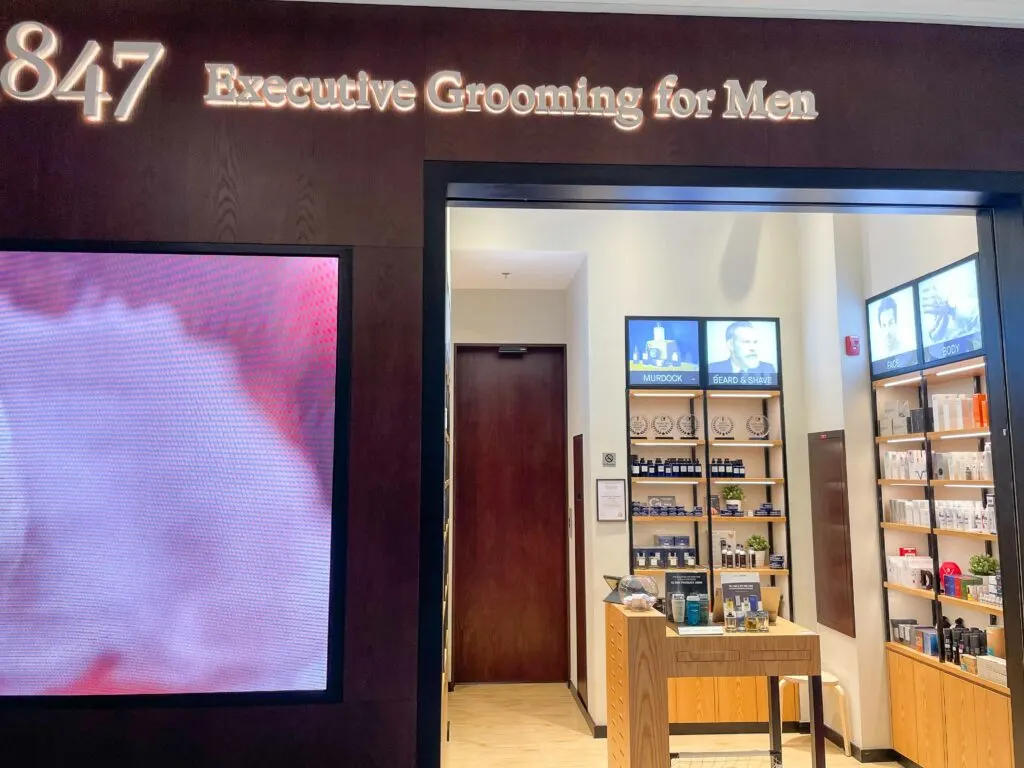 Take advantage of their multi-award-winning services, including haircuts, beard trims, body massages, hand and foot treatments, facials, and waxing.
To find out more about 1847 Barbershop Abu Dhabi, call +971 800 1847.
Saadiyat Island Location: Saadiyat Beach Club – Abu Dhabi – United Arab Emirates
Opening Hours: 10 AM to 10 PM (Monday to Sunday)
Al Maryah Island Location: The Galleria Al Maryah Island – Ground Level Southwest Entrance – Abu Dhabi – United Arab Emirates
Opening Hours: 9 AM to 9 PM (Monday to Sunday)
6. House of Barber Abu Dhabi
There are many reputable barber shops in the capital. The House of Barber Abu Dhabi is well known for providing budget-friendly services without compromising elegance and style.
The moment clients step in, they are teleported to the 1920s. It feels like a time capsule whilst receiving modern-day hair care.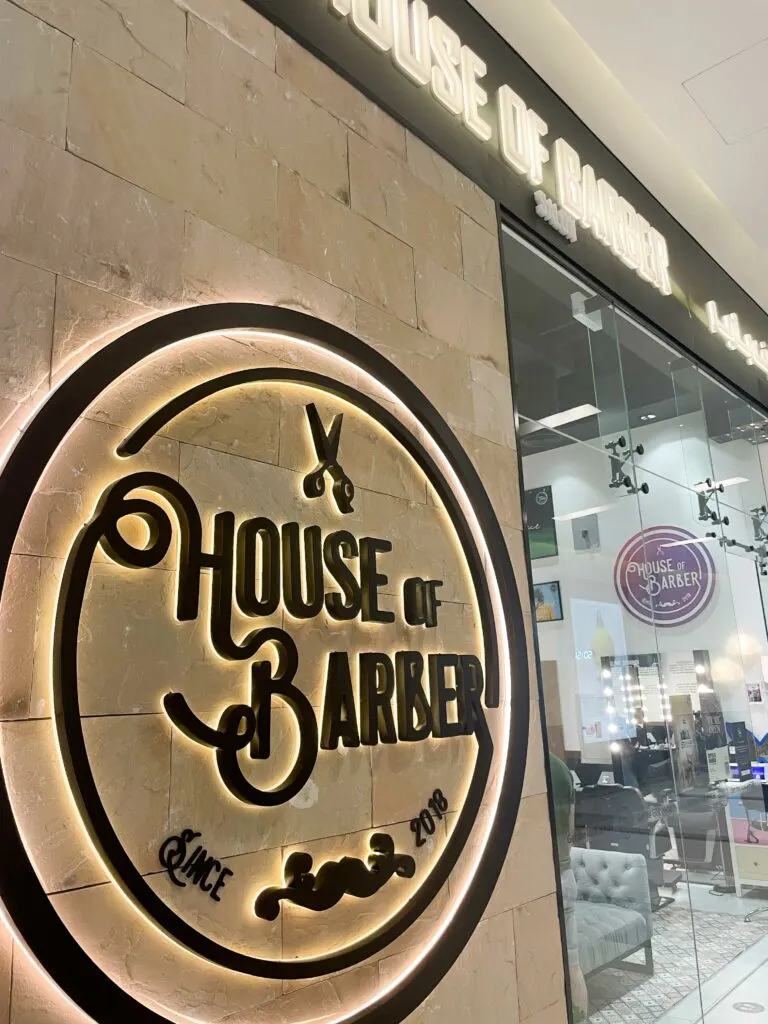 Its flagship branch stands along the corridor connecting the Gate Towers to the Boutik Mall on Reem Island.
With a primary focus on haircuts and beard trims, other treatment packages are also available at House Of Barber, including an exclusive coffee and barber shop at World Trade Centre, Abu Dhabi.
Furthermore, their services are outstanding, with most of their clients coming back week after week.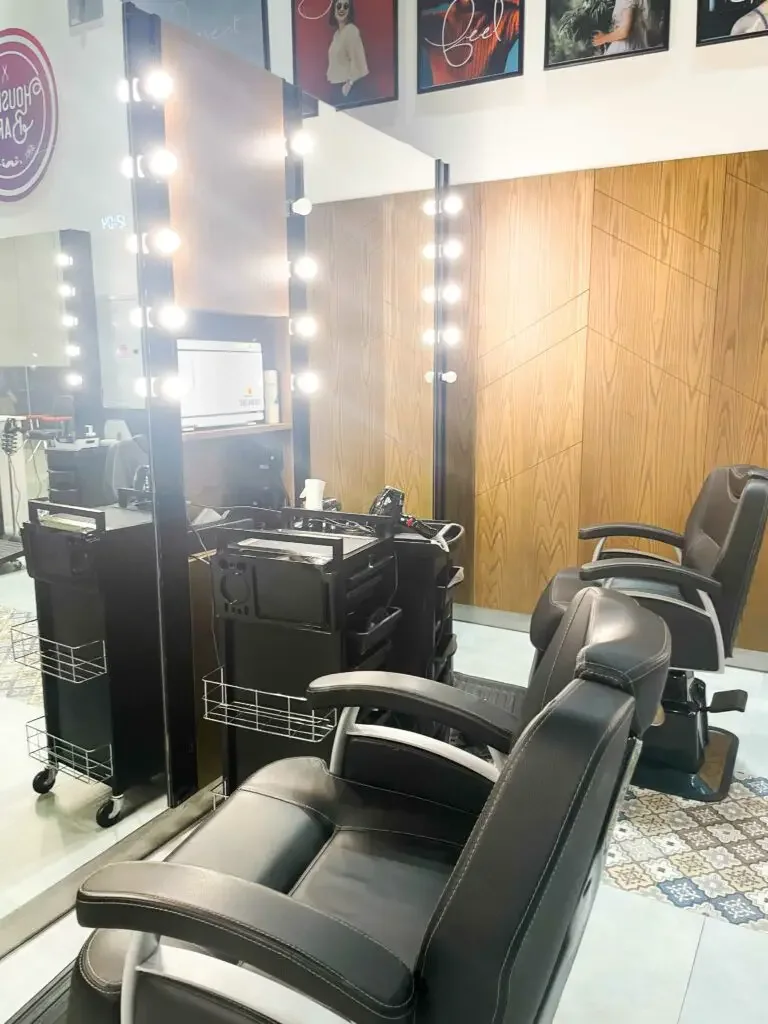 For more information, contact House Of Barber by calling the below numbers or emailing admin@houseofbarber.com.
Make a reservation on the House Of Barber mobile app.
Location: Multiple locations across Abu Dhabi
Reem Island: Al Reem St – Al Reem Island – The Gate District – Abu Dhabi – United Arab Emirates
Opening Hours: 10 AM to 10 PM (Monday to Sunday)
Contact info: +971 2 644 4121
Downtown Abu Dhabi: 843 Al Falah St – near Citi Bank – Al Danah – Abu Dhabi – United Arab Emirates
Opening Hours: 9:30 AM to 11 PM (Monday to Sunday)
Friday Timings : 9:30 AM to 11 PM (closed between 12 PM and 2:30 PM)
Contact Info: +971 50 112 4229
World Trade Centre : World Trade Center (next to Rolex) – Abu Dhabi – United Arab Emirates
Opening Hours: 10 AM to 10 PM (Sunday to Thursday)
10 AM to 12 AM (Friday and Saturday)
7. Gentlemen's Tonic, Emirates Palace
Introducing Abu Dhabi's luxury grooming brand for men, Gentlemens Tonic raises the bar for haircuts.
As a testament to its prestige, the barbershop has its address at the ultra-luxe Emirates Palace Spa, an appropriate location for its crème de la crème clientele.
Irrespective, the barbershop is pleasant and welcoming to all. On entering, one will notice only two classic barber chairs with original black leather and steel elements. Hence, it is necessary to make an appointment before visiting.
Gentlemen's Tonic Exclusive Club sets it apart from all other barbers in Abu Dhabi. Their six- or 12-month membership offers clients access to a personal locker with a grooming kit reserved exclusively for them whenever they visit.
Throughout the membership period, members will also have access to barber services, spa treatments, and invitations to special events.
To learn more, please call Gentlemen's Tonic on +971 2 690 7978 or email spa@emiratespalace.ae.
Opening Hours: 10 AM to 9 PM (Monday to Sunday)
Location: West Corniche Road – Al Ras Al Akhdar – Abu Dhabi – United Arab Emirates
8. Lashbona Filipino Barbershop
We consider Lashbona to be a hidden gem among the best gents salons in Abu Dhabi. The Filipino barber shop has a huge fan following, especially amongst the Arabs and Filipinos in the region.
Lashbona is a popular choice among people living in Downtown Abu Dhabi. Two out of seven people with a clean fade have been to the salon!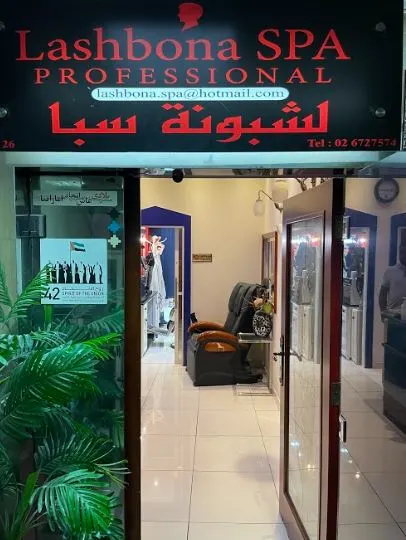 In addition to haircuts, the salon offers hair colouring, Brazilian keratin hair treatment, manicures, pedicures, massages, Moroccan baths, facials, and waxing.
To make an appointment or to learn more, please get in touch by calling +971 2 672 7574.
Opening Hours: 11 AM to 10 PM (Monday to Friday)
11 AM to 11 PM (Saturday and Sunday)
Location: Salam Street, On the mezzanine floor above the Southern Fried Chicken.
9. Garmesh Saloon
A lowkey barbershop in the heart of Abu Dhabi, within the vicinity of the World Trade Centre, lies Garmesh Saloon, aka Gyan Celebrity Barber.
It's undoubtedly the top African Barber in Abu Dhabi. Gyan is a celebrity among celebrities as he has and still does cut hair for a number of elite football players hair who compete in the FIFA world cup.
Remember, customers are always flocking the doors irrespective of the time of day, be sure to make a reservation well in advance or at least a day prior.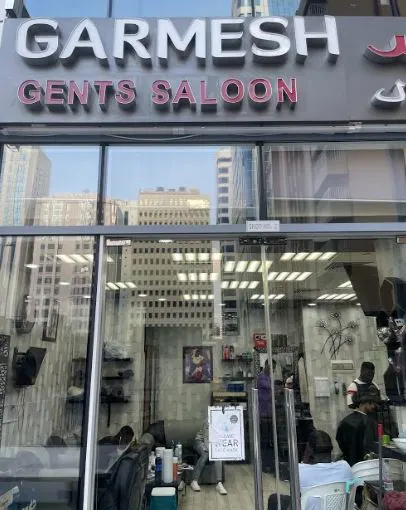 Known as the king of fades, the celebrity barber who oversees the show takes his time with each customer's hair.
Among the other services are various treatments for all hair types, including dreadlocks and braiding. It is necessary to make braiding appointments at least 24 hours in advance.
Feel free to reach out to Garmesh Saloon by calling +971 52 737 6653 for more information.
Opening Hours: 10 AM to 11 PM (Saturday to Thursday)
2 PM to 11 PM (Friday)
Location: 4 Al Gheel St – Al Danah – Zone 1 – Abu Dhabi – United Arab Emirates
10. LOCAL
LOCAL barber shop in Abu Dhabi is a favourite in the city. Starting with a chair and mirror in a gym corner to owning two branches in Al Saadiyat Mamsha and Al Zeina, LOCAL's rise in Abu Dhabi has been meteoric.
This story speaks for itself, as their premium haircuts attract a lot of attention. The barbershop offers western-themed services and products.
It's no surprise men can expect to stand out with their hair and beard cuts at one the best barbers in Abu Dhabi.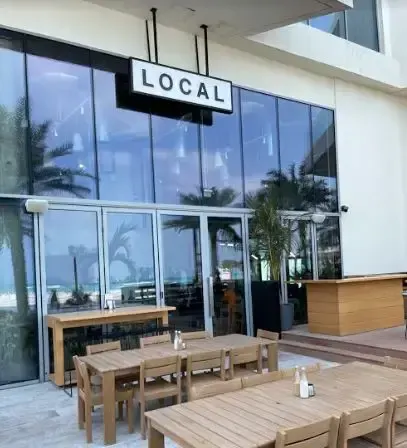 Prior to getting a haircut, customers have access to the salon's coffee shop, which serves some of the best coffees and beverages in town.
The Saadiyat branch displays an array of clothing that looks similar to what hipsters wear in Shoreditch, London.
Sneakerheads will be glad to hear LOCAL offers a sneaker laundry service at the Al Zeina branch. Hence giving customers a fresh look from head to toe.
The amenities do not intend to distract from what LOCAL stands for, rather, enhance the waiting experience while sipping coffee before getting the perfect haircut.
For more information, please call +971 2 555 3339.
Opening Hours: 7 AM to 10 PM (Monday to Sunday)
Al Saadiyat Location: Mamsha Al Saadiyat – Al Saadiyat Island – Abu Dhabi – United Arab Emirates
Al Zeina Location: Al Zeina Complex, Block C – Abu Dhabi – United Arab Emirates
Best Barbers Abu Dhabi Frequently Asked Questions
What is the cost of a haircut in Abu Dhabi?
There is no set price for standard men's haircuts in Abu Dhabi, as it varies from one place to another. On average, the price ranges from AED 20 upwards. Pretty budget-friendly!
Can men benefit from hair spa treatments?
A hair spa uses products that have direct effects on the scalp and roots. Their purpose is to nourish and revitalize the scalp and reinforce the hair strands.
As a result, you're likely to see faster and healthier growth of your hair if you do it regularly. A proper hair massage can also reduce stress.
Is it common for men to get keratin treatments?
Keratin treatments are beneficial for men and women alike, including guys with straight hair and minimal frizz. However, for those with tangled or damaged hair, this treatment is recommended at least once every six months, depending on the length and nature of your hair.
To Sum Up Best Barbers Abu Dhabi
Abu Dhabi is a city that has tons of barbershops scattered throughout the city. So whether a complete overhaul is on your agenda or just a trim, rest assured of receiving excellent service at any of the gents' salons mentioned above.
With the concept of barbershops and coffee merging into one, plenty of new spots are opening across the city.
Once you have received a fresh head of hair, why not take a trip and explore what Abu Dhabi has to offer?
The city offers tons of Instagram-worthy places, quirky coffee shops, beaches, and even swanky gyms for those who wish to exercise afterwards.
We hope this post about where to find the best barbershops in Abu Dhabi has been helpful. Have you ever been to any of these places? Leave a comment below. We would love to hear from you.
You may also like:
Saturday Brunch Spots In The Capital
Top Desert Driving Courses In Abu Dhabi
Disclaimer: This post on best barbers in Abu Dhabi may contain affiliate links. By using them, it does not cost you any extra, we get a teeny commission to keep us writing. Thank you in advance for your support.