If you are considering making the most of the upcoming Eid Al Fitr break, we have six perfect destination holidays from Abu Dhabi lined up.
Since the holiday is likely to be spread across 4 days, from the 20th until the 24th of April, you may not want to travel too far. Even better if you booked annual leave for the first few days of the week to maximise the time.
We've only selected destinations which are no more than 4.5 hours and on a direct route out of Abu Dhabi.
There are plenty of destinations to explore nearby with cooler weather as it's really starting to heat up in the UAE! If you prefer to stay in the Emirates, check out the Eid Staycation ideas.
Don't forget, if you are passing through Abu Dhabi airport this Eid, you may be entitled to enter the airport lounge for free.
If all else fails, and you intend to stay in the Emirate, check out our 50 best things to do in Abu Dhabi.
Fantastic Getaways From Abu Dhabi
1. Salalah, Oman
In first place on our list of direct destination holidays from Abu Dhabi, this Eid is, Salalah, Oman.
Salalah is a magical destination featuring waterfalls, stunning snorkelling and diving opportunities. Not to mention lush green vegetation which is generally unheard of in the Middle East.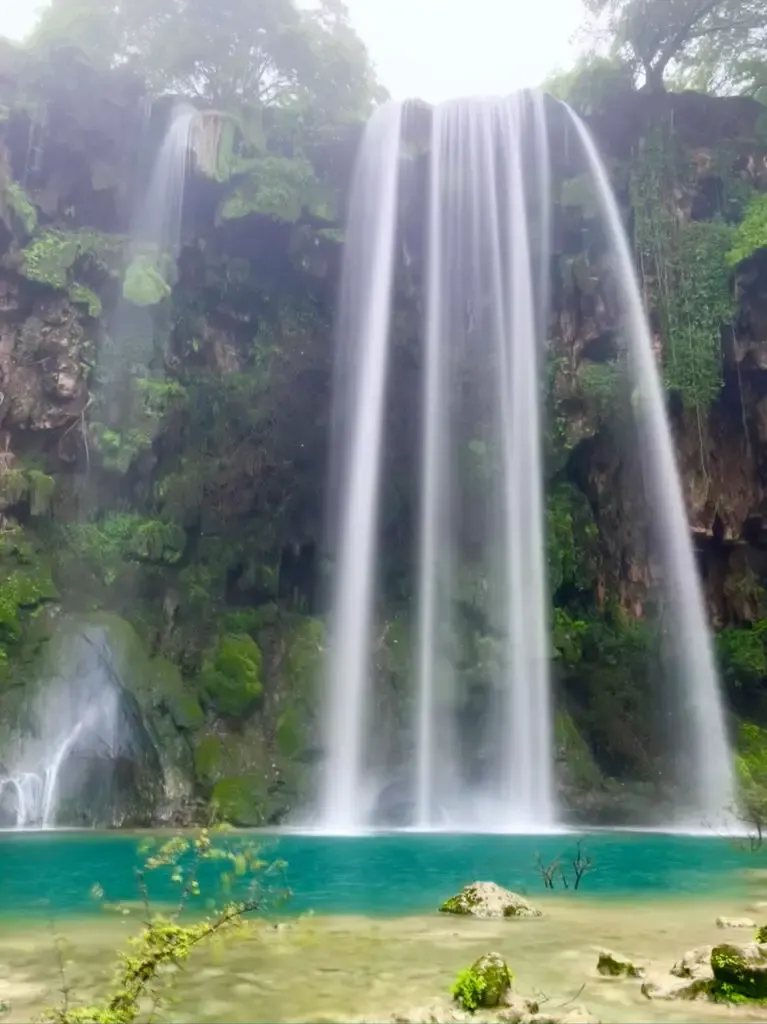 Hike alongside aqua blue wadis, zip line across a river, visit the Museum of Frankincense or enjoy Mugshail Beach. There are tonnes of things to see and do!
In fact, it is best to hire a guide for a few days. We have personal experience of a tour guide Mohammad on this Viator tour. He was super flexible and made lots of suggestions for our itinerary.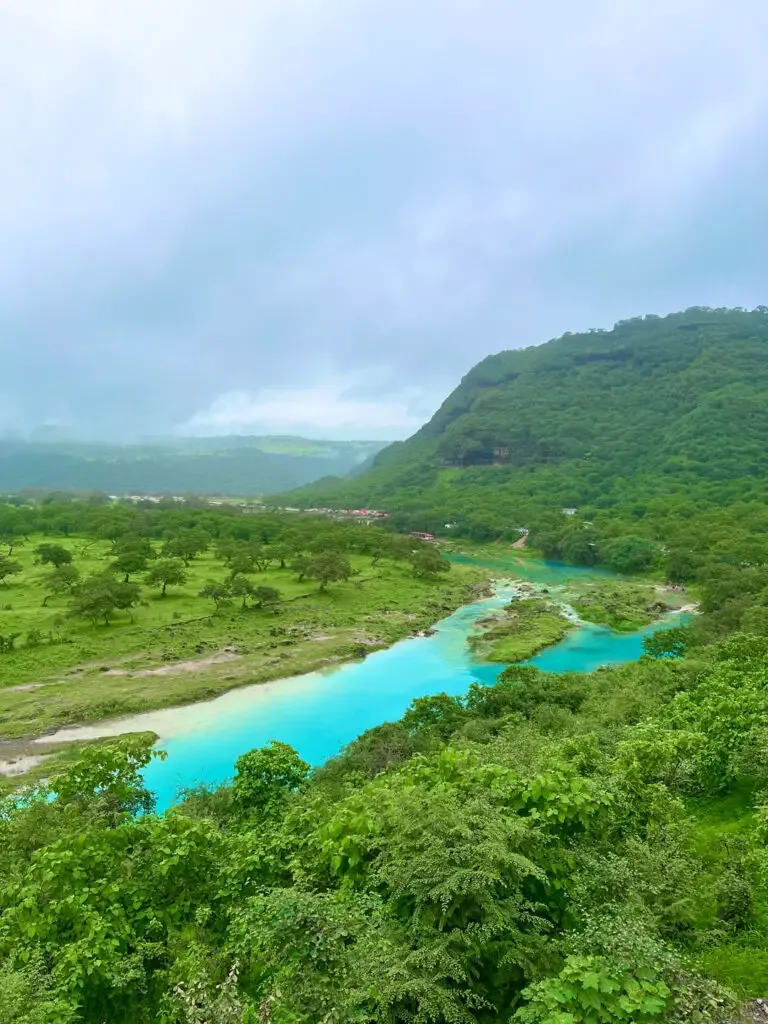 The best hotel to stay at is most certainly the Al Baleed Resort By Anantara which is in a prime location and has stunning facilities and probably the best selection of great food in town.
Make sure to stop at one of the coconut kiosks whilst in Salalah. They are super cute and have a great selection of fresh fruits, perfect for a snack.
Salalah is truly magical, so why not book your flight here for this Eid break?
Flight time: 1hr 45-minute direct flight
2. Bentota, Sri Lanka
Sri Lanka is another naturally beautiful destination with coconut tree-lined tropical beaches, stunning temples, fantastic food and impressive wildlife.
At just four and a half hours from Abu Dhabi, it is such a different world from the busy metropolis. Flights are direct and there are some great locations to spend a few days not too far from Colombo.
Only 1.5 hours from the airport is Bentota ideal for shorter trips. It has some incredible beaches with leaning palm trees and some of the best sunsets.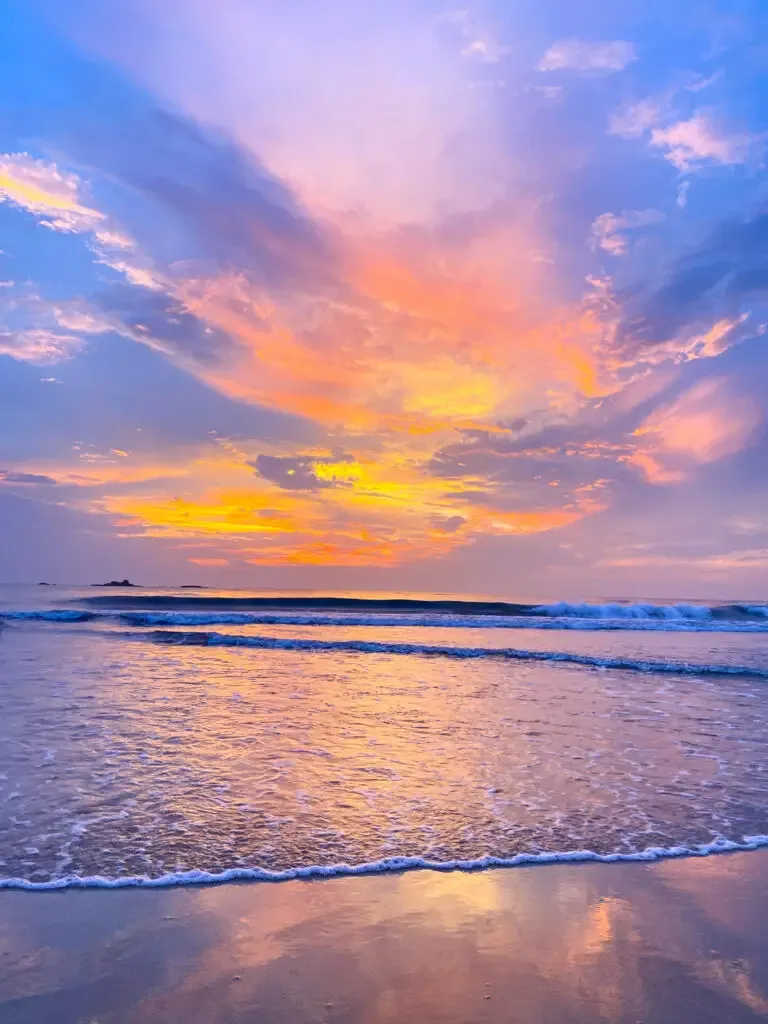 The Sri Lankan people are so friendly and if you like curry, you are in for a treat! It is a little similar to thali as it comes in multiple small plates with lots of different dishes. However, the cuisine and flavour are quite different from Indian food.
When in Bentota, make sure to visit the Kande Viharya Temple. The centre point is the giant pink buddha in the temple. It's very much alive on weekends with Buddhist worshippers who are very welcoming and willing to show tourists their customs and traditions.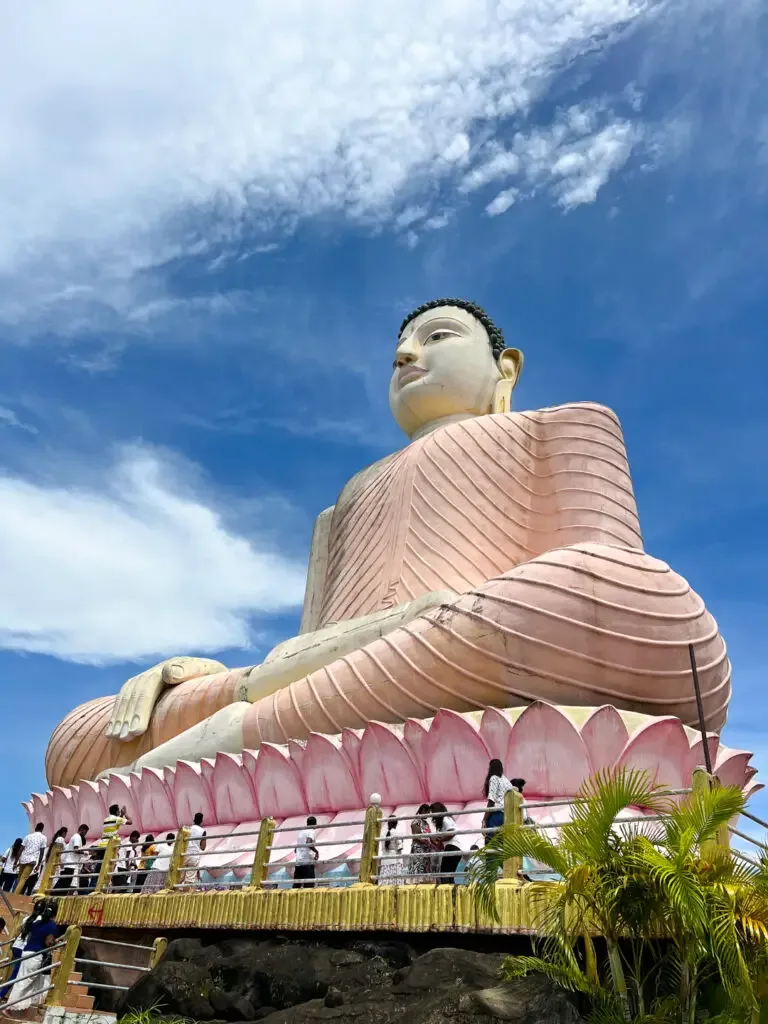 Bentota lake also has tonnes of watersports such as jet skiing, boat trips, kayaking and wakeboarding.
Not to mention the nearby Lunganga Geoffrey Bawa Estate. Bawa was an incredibly influential architect of his time in the region, not just Sri Lanka. The estate is the grounds of his home.
It was where he trialled different concepts and took a lot of inspiration. Today, it is a hotel so it's possible to stay there. It's also possible to visit for a tour of the very beautiful gardens.
Where To Stay In Bentota
Our top recommendation for a hotel is Cinnamon Bentota Beach which features historical architectural buildings, a network of beautiful swimming pools, frangipani strewn lawns, not to mention the beachfront location.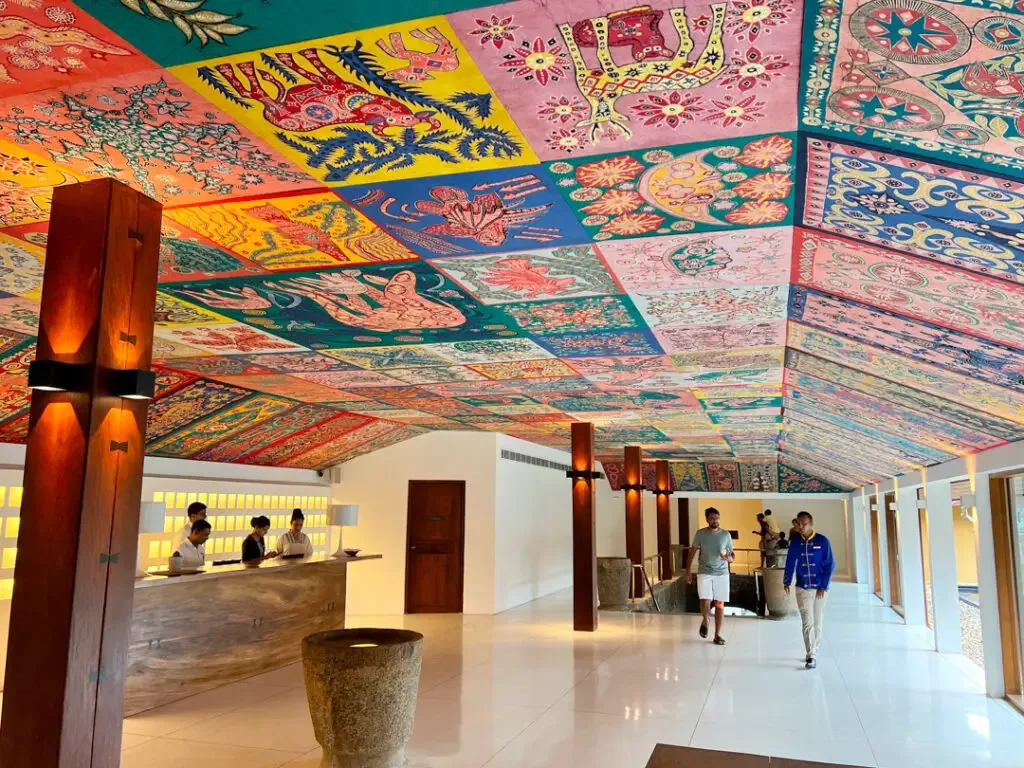 The hotel has one of the best kids' clubs in the country and the spa is highly rated. Buffet breakfast, lunch and dinner are available daily and the cuisine is a mix of international and local food – it is really good!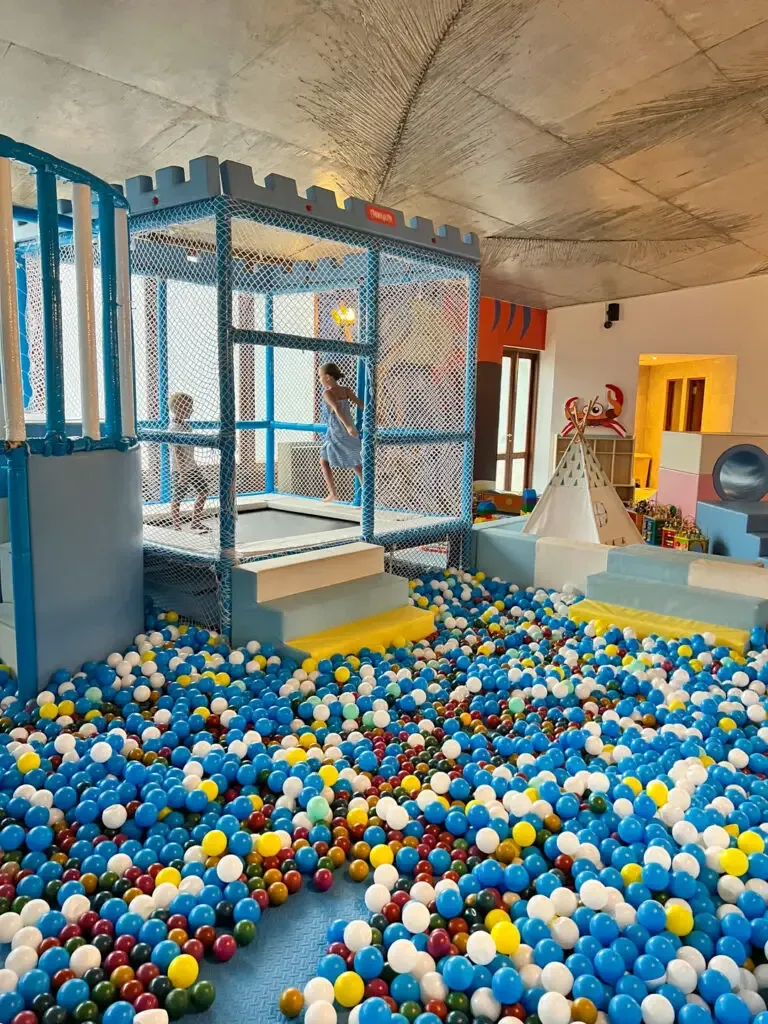 All of the above activities are within easy reach of the hotel, providing a mix of history, culture and relaxation. It is super easy to book a tour guide to see all of the top sites nearby.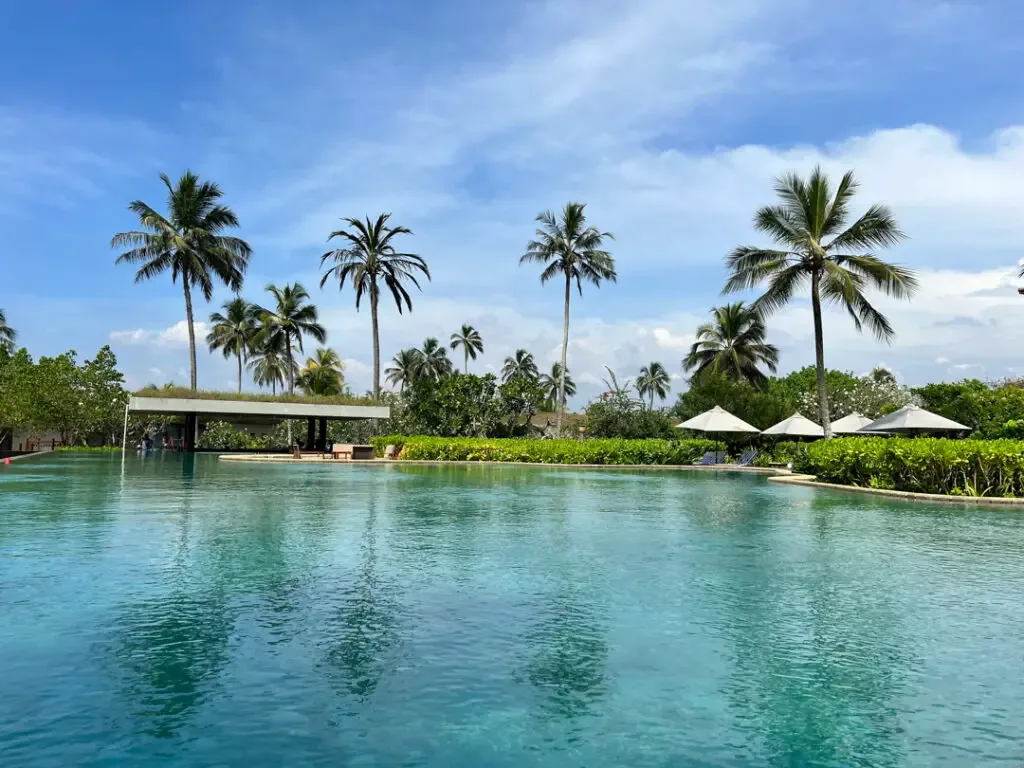 Book flights to Sri Lanka here for an incredible Eid getaway.
Flight time: 4.5 hours
3. Maldives
The best time to visit the Maldives in the whole year is April! We are so lucky Eid falls in April this year, so we may as well make the most of it, right?
Maldives is the ultimate choice when it comes to sun, sea and relaxation. It can be a minefield navigating the multiple island options, seaplanes and so much more.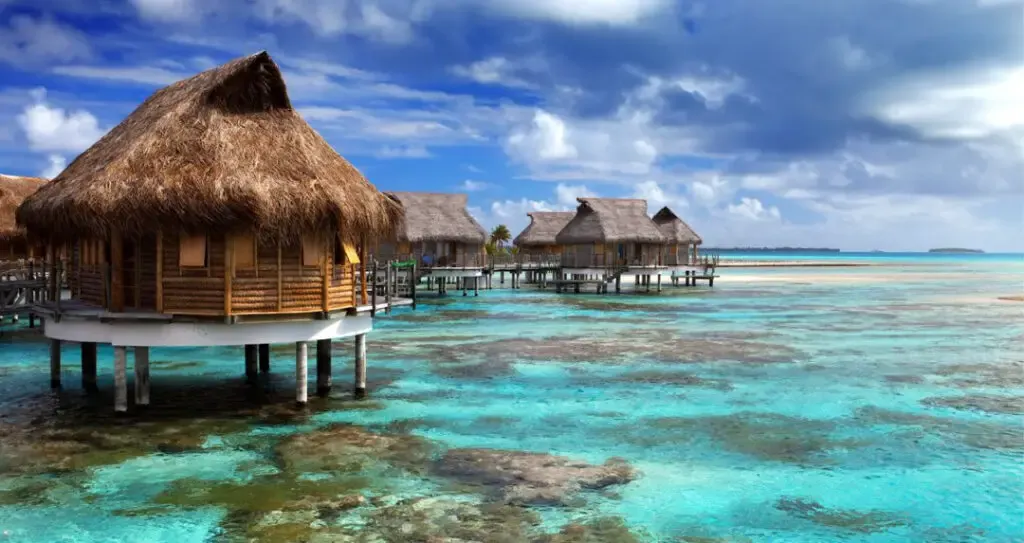 We are big fans of staying within easy reach of the airport on a very quick (free) speed boat transfer that only takes a few minutes.
Kurumba, Maldives is a fantastic option as it is only ten minutes from Male airport, in North Male Atol.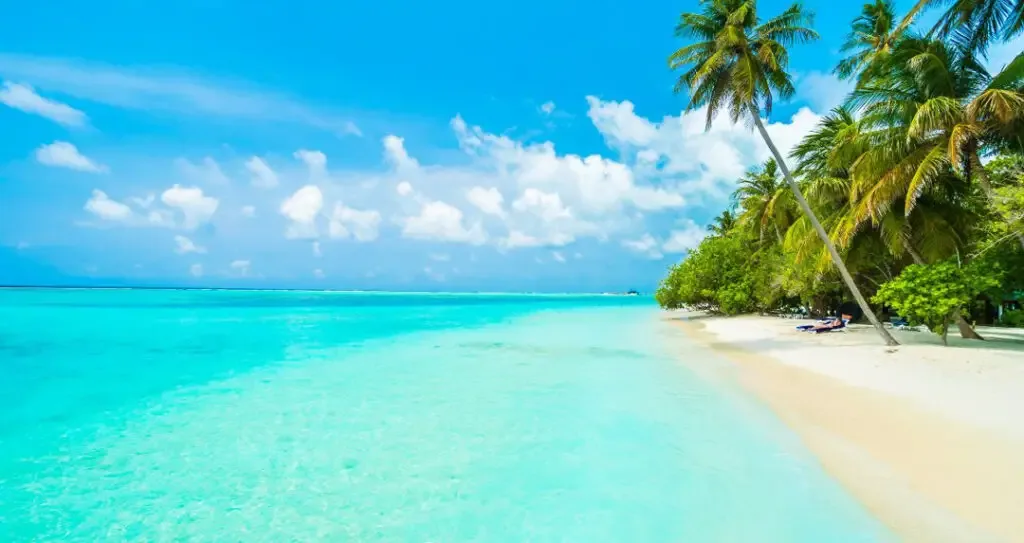 It is probably mid-range in terms of price when it comes to Maldives, however it is a super luxury resort, hence it has amazing reviews.
The resort has a range of accommodation options from garden villas to beachfront family villas. The beach is what you'd expect, white sand with tropical blue water, plenty of watersports and snorkelling to enjoy.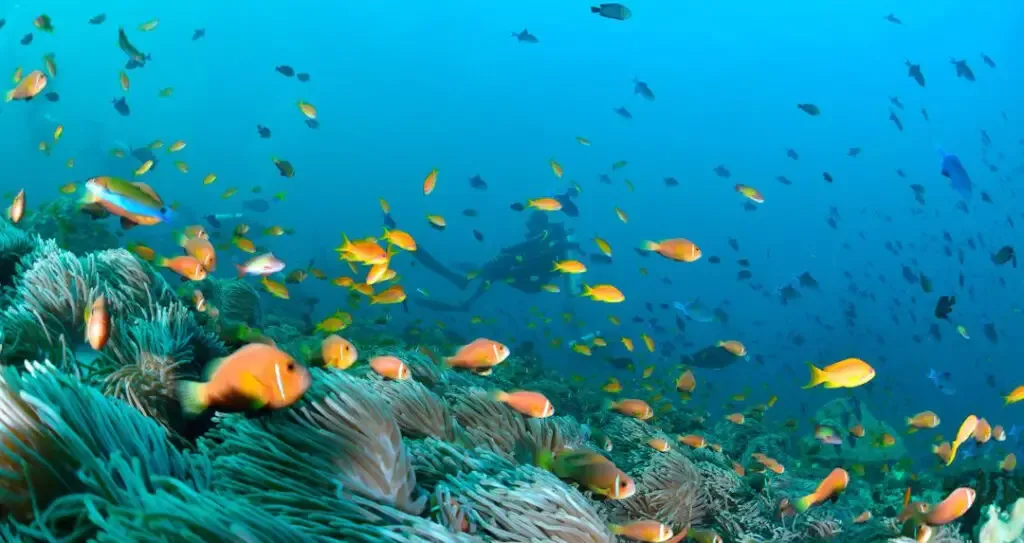 There is a children's playground, tennis courts, a fitness and spa centre and two beautiful swimming pools. The resort is particularly popular with families.
Book a stay at Kurumba Maldives and grab some flights here this Eid.
Flight time: 4hours 15 minutes
4. Cairo, Egypt
The weather in Cairo in April averages between 16- 29 degree celsius which makes it fairly comfortable and tolerable to sightsee.
Cairo is not just about the pyramids, although they are a must-see! There are tonnes of interesting museums, stunning mosques, not to mention lovely souks to pick up a souvenir.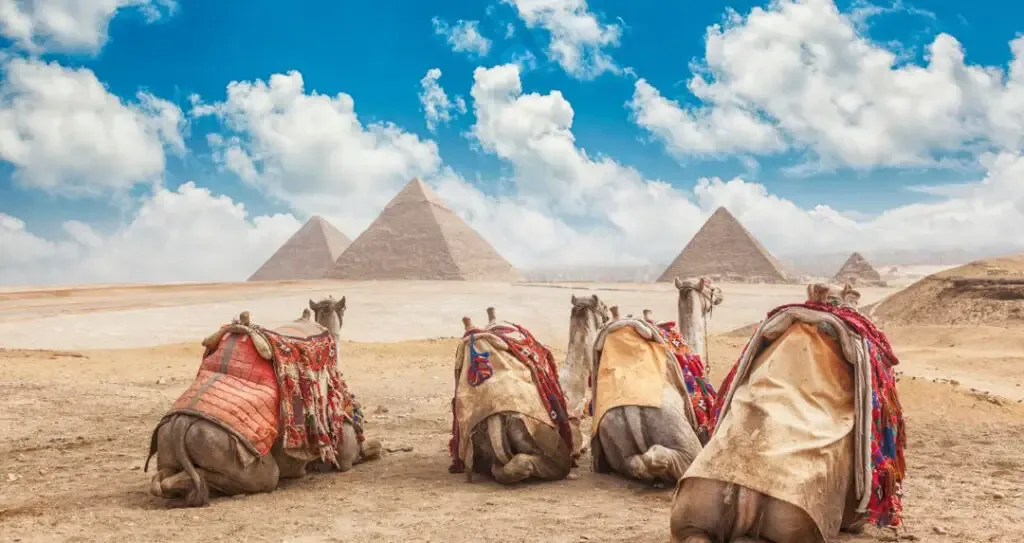 The Nile Island of Gezira is a stunning place to spend a morning wandering the streets checking out the hipster cafes, restaurants and many museums.
St Regis Cairo is one of the best places to stay in the city. Featuring accommodations ranging from deluxe rooms to apartments with a view of the Nile, it is an ideal location to explore. The hotel also has three pools and a fitness and spa centre.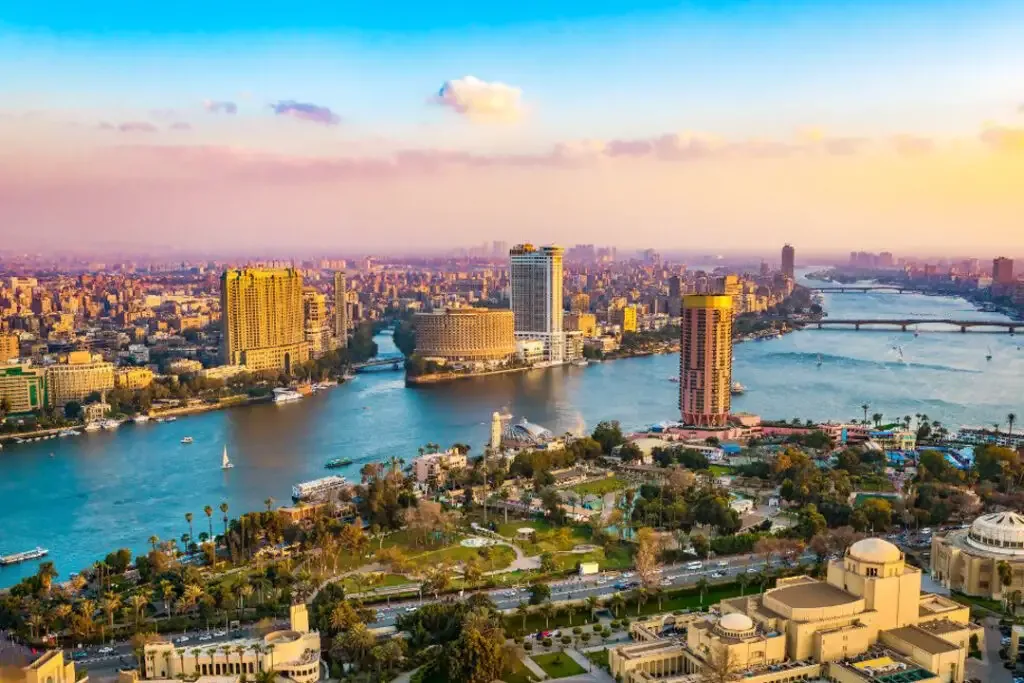 Food in Egypt can be a little hit or miss so it's amazing St Regis has five restaurants to choose from. Book a tour of Cairo to see all the top sites with ease such as the Sphynx, The Pyramids, The Egyptian Museum and the Bazar.
Flight time: 3 hours 55 minutes
5. Kutaisi Georgia
For slightly cooler destination holidays from Abu Dhabi Kutaisi in Georgia is the perfect option. Living in the Middle East, it is often refreshing to feel cooler weather.
The temperature in Kutaisi ranges from 9 to 18 degrees Celsius. Kutaisi is a beautiful medieval city in western Georgia with many ancient buildings, it feels like a European city break even though it is only a 3-hour 50-minute journey from Abu Dhabi.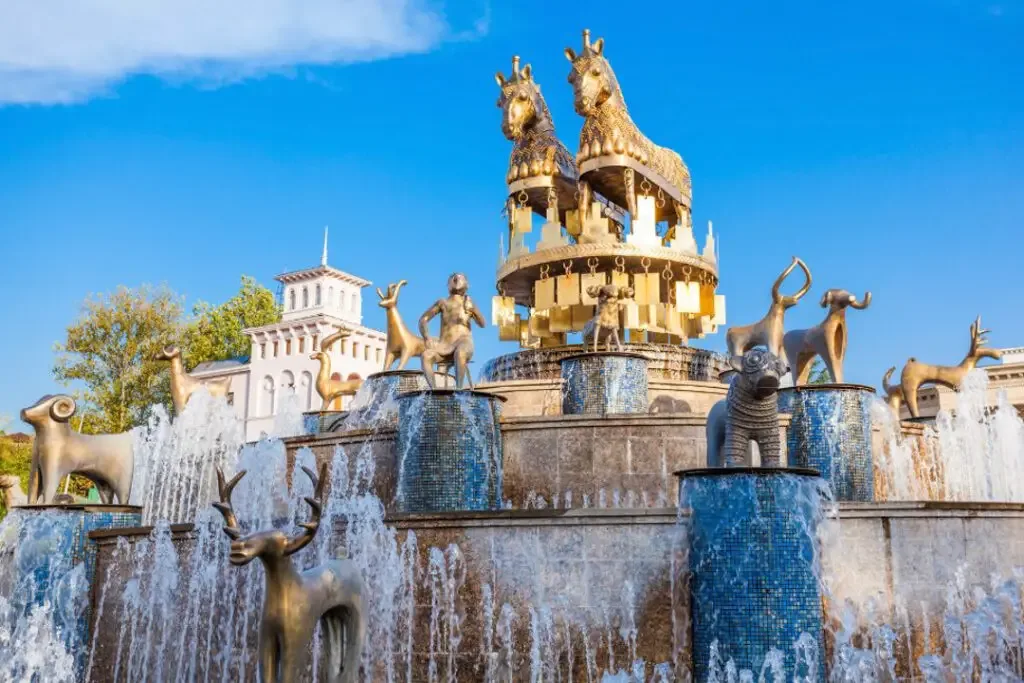 Bagrati Cathedral, Gelati Monastery and Prometheus Cave Monument are among the top sites to see. Rafting the Kutaisi river has become increasingly popular. There are also a series of canyons and caves best explored on a kayak.
With temperatures ranging from 9-18 Celsius, it's best to pick a warm afternoon for water activities and make sure to bring your woollies.
Newport Hotel Kutaisi is in a fantastic central location, ideal for exploring the city on foot and wandering the streets. Accommodation is super affordable and there are quite a few restaurants and bars just footsteps away.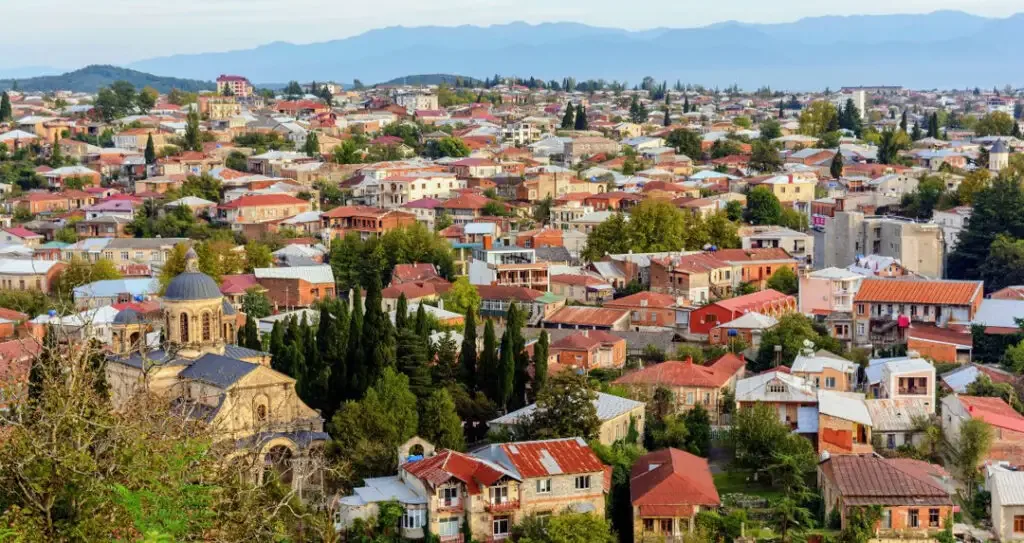 Overall, Kutaisi is a super affordable option since it is a budget airline and the cost on arrival is pretty good making it one of the cheap holidays from Abu Dhabi.
Book flights to Kutaisi here for this Eid break.
Flight time: 3 hours 50 minutes
6. Tashskent, Uzbekistan
For one of the most unique holidays from Abu Dhabi, Tashkent in Uzbekistan ticks a lot of boxes. At only 3 hours and 15 minutes direct flight, it is one of the shorter journeys.
It's the capital city of Uzbekistan and has tonnes of museums including ancient Buddhist artefacts. The city has Soviet influences in its architecture. However, there are quite a few stunning landmarks.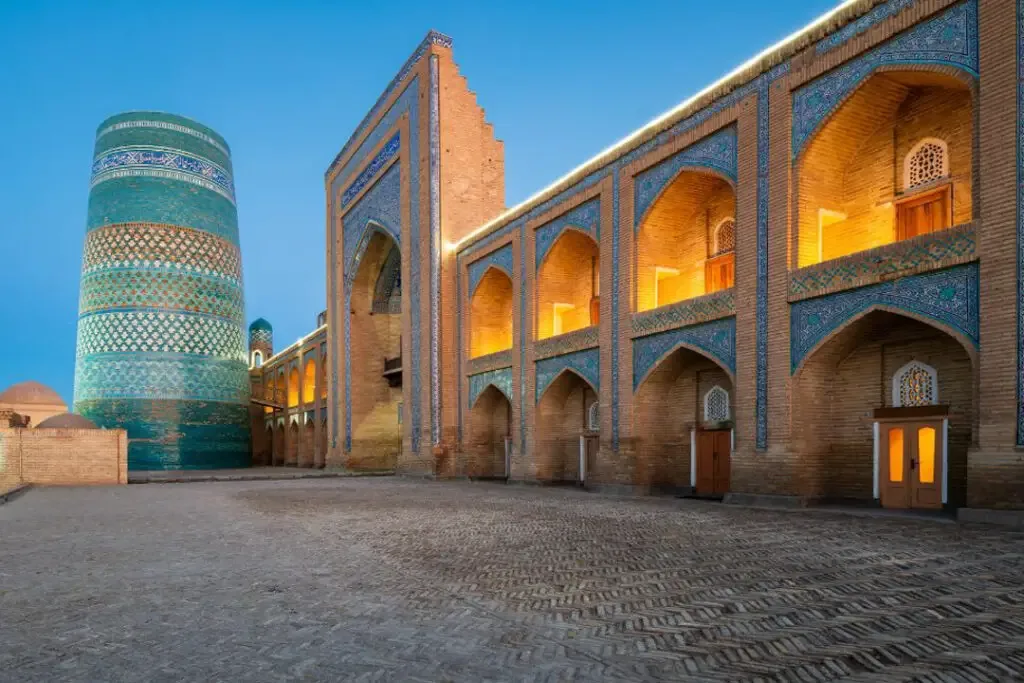 Some of the most beautiful include the Chorsu Bazar market square, the Hazrati Imam Complex and the Minor Mosque.
The Tashkent Tower is another popular building and it is the 11th tallest tower in the world. The observation deck sits 328 feet tall and has a restaurant with some great food and beverage options which are not too expensive.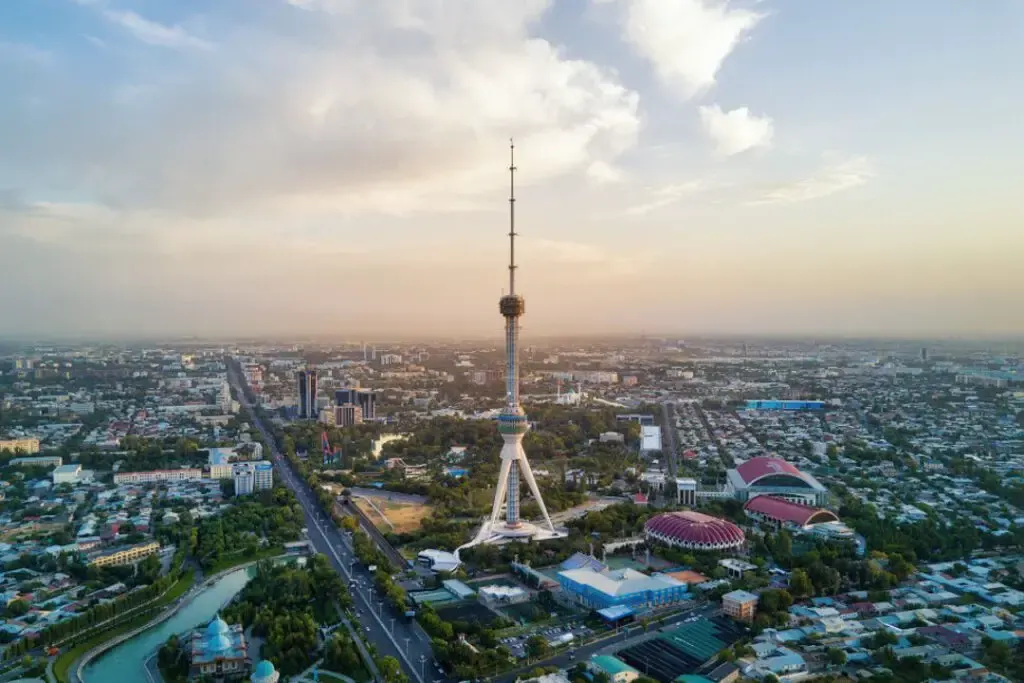 It is best to see the tower at night, it is like the Uzkecki version of the Eiffel Tower adorned in twinkling lights.
Tashkent has some very unique train stations with stunning ancient design and architecture. it makes riding the metro worth it.
Where To Stay In Tashkent
In terms of places to stay, The Hyatt Regency Tashkent is one of the nicest of all. The hotel is in a prime location just 2.4 km from the centre. It features a swimming pool, fitness centre and a spa. Not to mention there are 3 restaurants on site.
Temperatures range from 10 to 22 degrees celsius in April so pack some layers.
The easiest way to see the city is by booking a tour guide to see all of the best sites in Tashkent.
Many tours cover all of the key landmarks. One of the most popular day trips is to Samarkand, home to famous spots such as Registan and Bibi Khanum Mosque.
It is a full-day tour but very much worth it to see the most beautiful parts of Uzbekistan.
Book flights to Tashkent here.
Flight time: 3 hours 15 minutes
We hope you found this post about holidays from Abu Dhabi this Eid useful. Did you visit any places? Leave a comment we love to hear about your experiences.
Disclaimer: This post about holidays from Abu Dhabi contains affiliate links, by using them it will not cost you any extra. We may receive a small commission to keep us writing.