Flag Day UAE is widely celebrated across the country, although it is not a public holiday. Emirati's come together in the workplace, schools and public places to celebrate.
The founding father of the UAE His Highness Sheikh Zayed Bin Sultan Al Nahyan sadly passed away in 2004. He was the first president to raise the flag back in 1971 when the country was founded.
2004 marks the first year the responsibility was handed over to his son Sheikh Khalifa Bin Zayed Al Nahyan who was inaugurated as President of the United Arab Emirates.
It was not until 2013, the UAE began to mark flag day. Flag day marks the change over of power in 2004.
Sadly 2022 was the first year of UAE Flag Day since the passing of His Highness Sheikh Khalifa Bin Zayed Al Nahyan who commenced the celebration.
The day is an opportunity for Emiratis and expatriates who call the country home to reflect on the achievements of the founding fathers of the UAE and the incredible country it has become.
Essentially flag day is about Emiratis reaffirming their allegiance to the country. UAE is a multicultural hub rich in Arabic culture with a diverse landscape and a place of opportunity for many. So, it is no surprise that non-local residents are very happy to partake.
It will be interesting to see how the day will continue in the future since it is Sheikh Khalifa's brother who is now in position as the president of the UAE.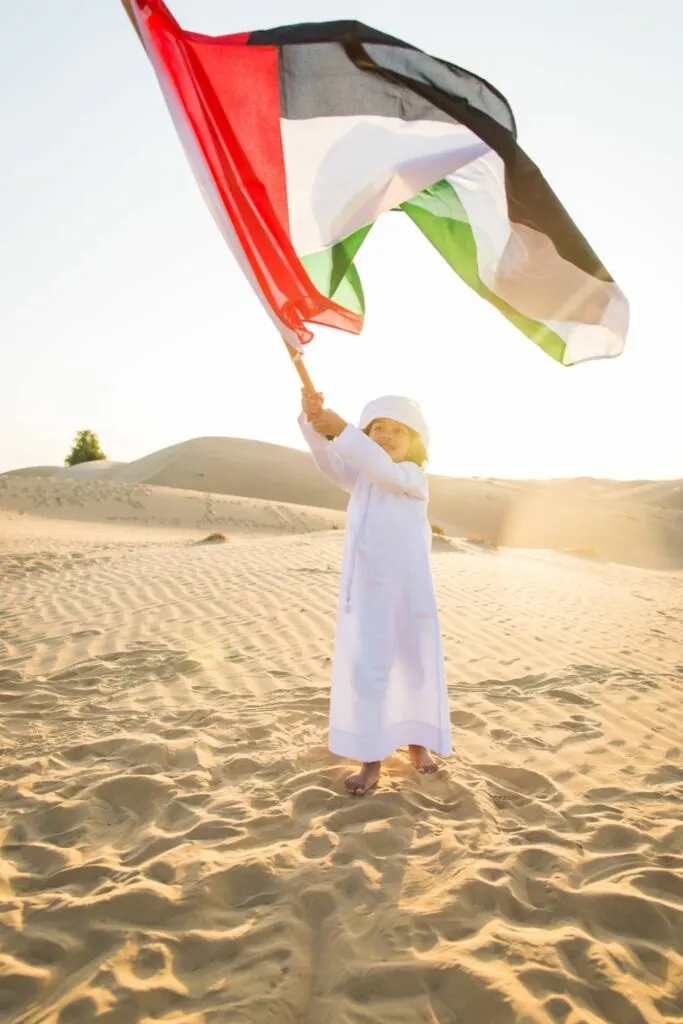 How Is The UAE Flag Day Celebrated?
Hospitals, schools, government agencies and some private businesses take part. At 11 am on the 3rd of November 2022, a flag ceremony will take place.
The flag is hoisted to full mast simultaneously in all places celebrating. Whilst the flag is being hoisted, those gathering will sing the national anthem on flag day in UAE.
Celebrators waive mini UAE flags during the ceremony. They may also wear a small Emirati badge on their abaya or kandura. Some expatriates may wear local attire to their workplace as a sign of respect, unity and integration into the local community.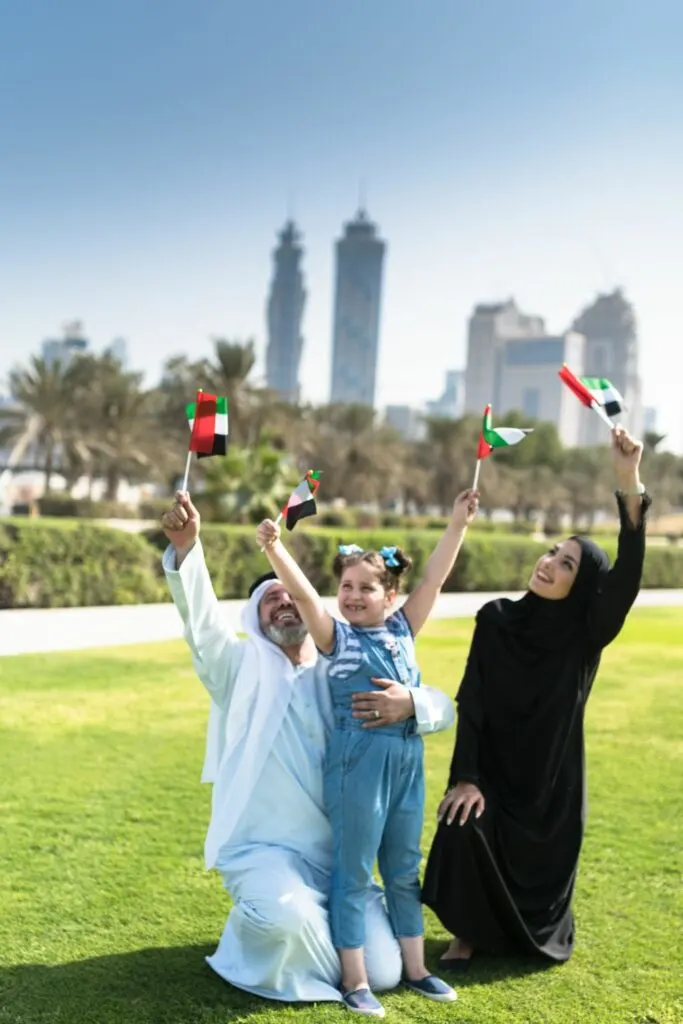 Children wear flag colours to school and will celebrate in a similar way. Most schools in the UAE teach children the national anthem. Schools decorate with crafts made by the kids with the colours of the flag.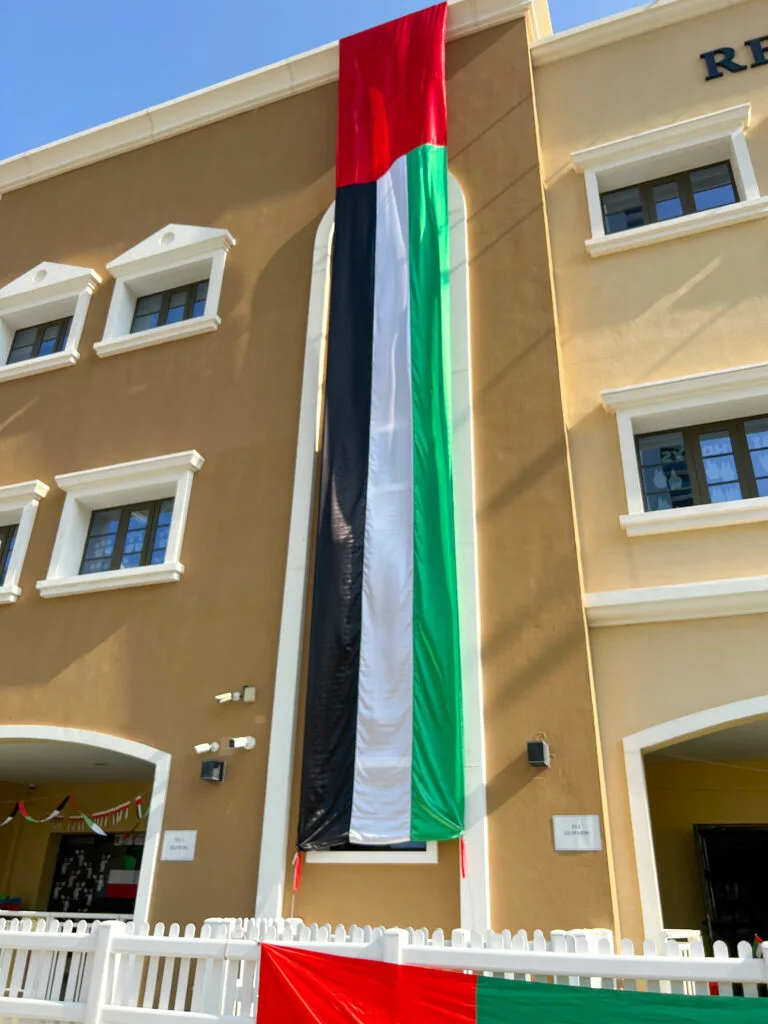 After the ceremony, many workplaces and government agencies will continue to celebrate by eating traditional Emirati food together. The traditional food often enjoyed on flag day may include:
Ghuzi also often called Khuzi is a slow-cooked meat and rice dish. It is considered to be a national dish.
Luqaimat is a sweet dumpling often enjoyed by Emiratis, especially during Ramadan but also on Flag Day of UAE.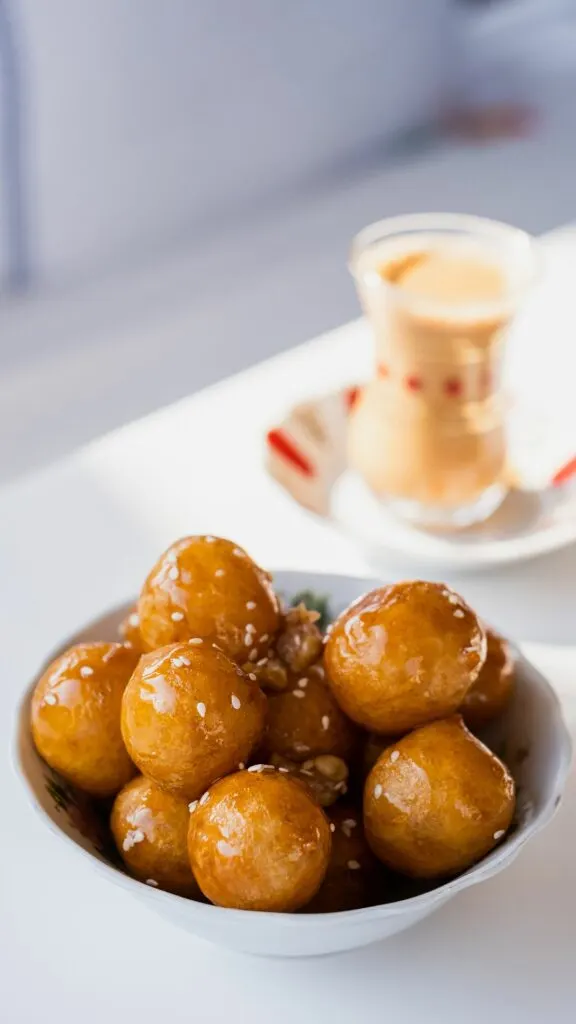 Kunafa is another dessert-type dish. It is a spun pastry dish, soaked in a syrup called attar.
Gahwa or Arabic coffee is always enjoyed during any Emirati celebration, especially the flag day in UAE. Coffee is always enjoyed with dates.
There are many other dishes important to Emirati heritage which may be served on UAE Flag Day.
UAE Flag Day Wear
Most people wear a scarf with red, white, green, black and white colours on UAE flag day. It works well with the local attire as it is simply draped over the shoulders. Both locals and residents tend to wear the scarf on UAE flag day.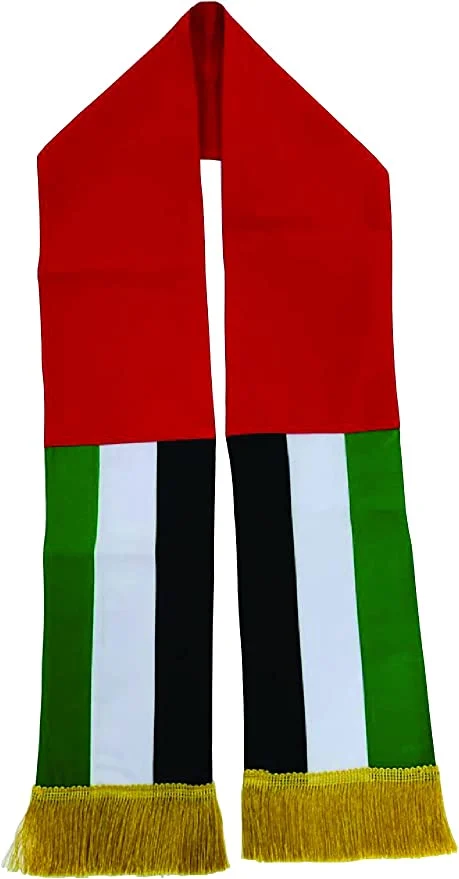 Purchase a Flag Day UAE Scarf here.
If you plan to celebrate in your school or workplace with a number of people, having some mini flags is essential to get into the spirit!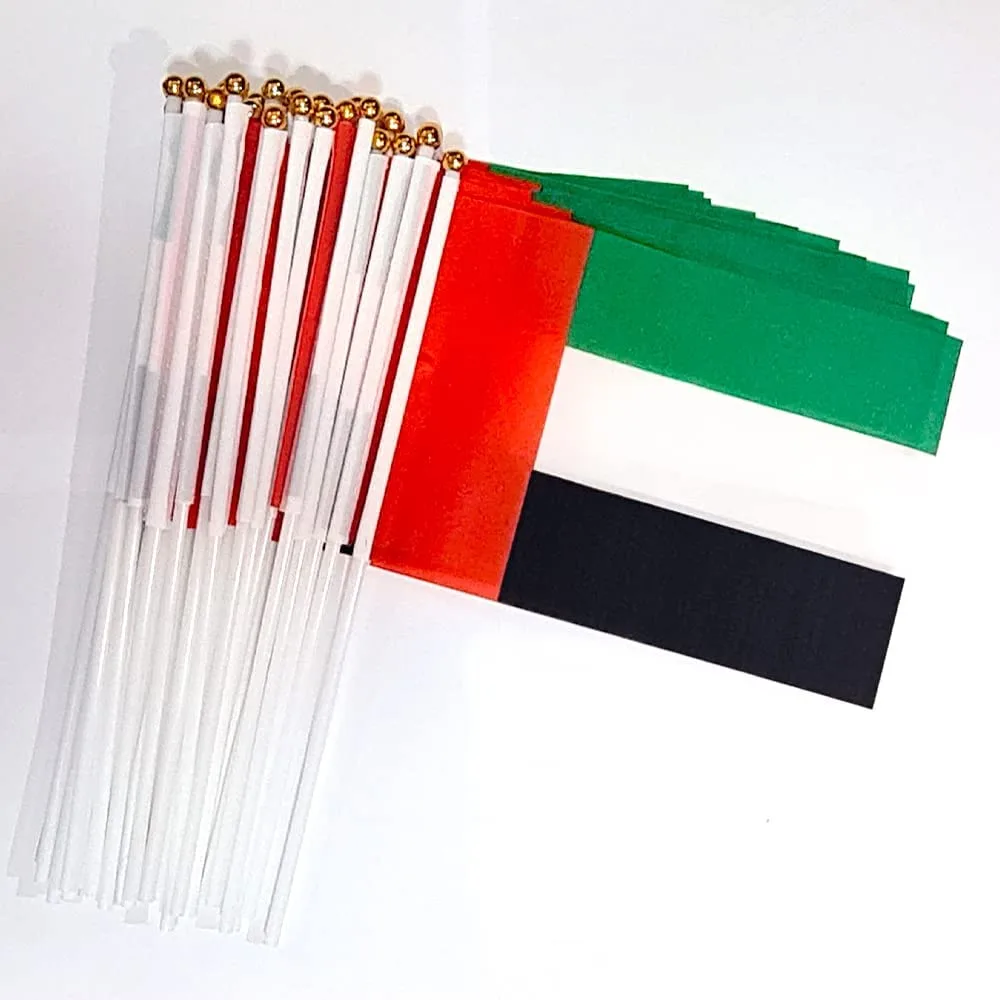 Children are often encouraged to wear the colours on flag day UAE to school. There are some perfect T-shirts for the occasion in all sizes which can be reused for National Day.

Purchase Flag Day UAE T-shirts here.
For a more subtle tribute to the flag, especially for those who may be wearing a suit, a small metal badge is the perfect option. Most come with a magnetic backing to avoid any damage to the material.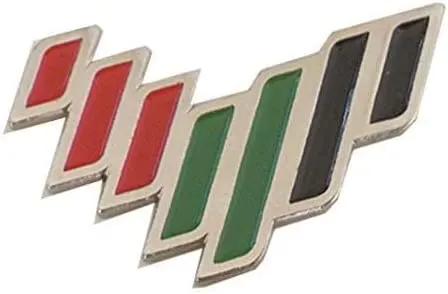 To purchase a UAE magnetic metal badge click here.
Flag Day Activities UAE
If you are looking for Flag Day UAE events, it is not as big of a celebration as National Day. It is mostly celebrated in the workplaces of the public sector.
However, some restaurants offer deals and there are some great places that come to light in the colours of the flag when dark falls.
UAE Flag Day Abu Dhabi
Qasar Al Watan is the presidential palace of the United Arab Emirates. The palace is an incredible piece of architecture both inside and out. It is considered one of the most beautiful things to see in Abu Dhabi by tourists.
The architectural wonder comes alive at night with a light show. On flag day, the colours of the UAE are celebrated in the display. It is best to book tickets to the light show in advance.
Book tickets to Qasr Al Watan here.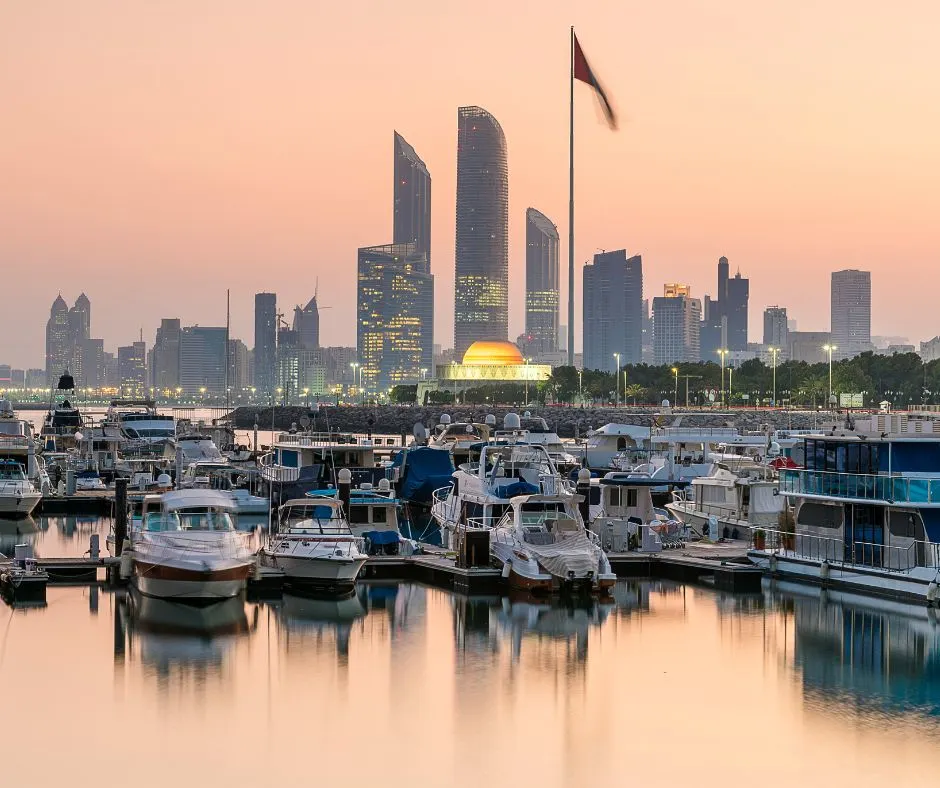 Keep an eye out for other buildings such as Gate Tower, an iconic building on Al Reem Island which will light up in the traditional colours on UAE flag day in the evening.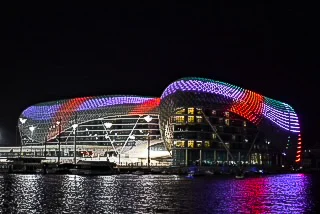 On the infamous Yas island, W Hotel is also known to light up in festive colours for all local and international celebrations.
Al Fanar Restaurant & Cafe on Flag Day
Al Fanar Restaurant at The Fountains of Yas Mall is an authentic Emirati establishment with great local food.
The restaurant aims to recreate the ambience of the 1960s in the region with the menu and the setting. It is the perfect place to book a table and eat traditional food on UAE flag day.
UAE Flag Day Facts
In 1971, the UAE hosted a competition for the design of the flag. Interestingly, the competition came to a young Emirati's attention and his design was the chosen one that we see today.
It was designed by Mr Abdulla Mohammed Al Ma'enah, an important piece of information when it comes to the history of UAE flag.
He read an ad about the competition to design the UAE flag in the Al Ittihad newspaper in Abu Dhabi just two months before the country was declared its own nation. Mr Abdulla went on to become the Minister Of Foreign Affairs.
Colour Of UAE Flag
Red symbolises strength, courage & sacrifice.
Green symbolises hope, joy & prosperity.
White is a symbol of generosity, peace & honesty.
Black is a symbol of solidarity and the defeat of enemies.
Do you know of any other events in Abu Dhabi for UAE Flag Day that we may have missed? Do let us know.
Important Considerations For Flag Day UAE
It is important to note the UAE stipulates rules around flying the UAE flag.
The flag must be rectangular in shape
The flag must be made of nylon
It should be checked every 45 days for any damage if it is on show consistently. For example, if the flag is permanently outside a government building.
The UAE flag should never be publically insulted.
In summary, Flag day UAE is a fantastic time for the nation to come together and remember the great achievements of the country. It is the perfect time to celebrate Emirati patriotism, heritage and culture.
If you have any Flag Day UAE information about your business we would love to know to include in this article. Please get in touch via our 'contact' page.
You may also like:
New Years Eve Celebrations In The Capital
10+ Festive Places To Celebrate Christmas In Abu Dhabi
Things To Do In Abu Dhabi For Free
Disclaimer: This post about Flag Day UAE may contain affiliate links, by using them it will not cost you any extra. We will receive a small proportion of the sale to keep us writing!