Abu Dhabi is renowned for its delicious international food, and sushi is no exception. Being a multicultural city pretty much all residents and tourists love trying different cuisines.
We have been on a quest to find the best Sushi in Abu Dhabi and this guide does not disappoint! From fine dining to casual restaurants, we've found some of the most exquisite sushi in the Emirate.
From authentic nigiri and maki to artistic rolls, not to mention unique takes on the Japanese favourite. We found buffet sushi, vegan sushi, traditional sushi, fast food sushi and unique Asian fusion, rolled up to perfection.
Whether it is a quick lunch or a date night, we have all the bases covered. Read on to discover the best sushi restaurants in Abu Dhabi.
Best Sushi Restaurant in Abu Dhabi
1.Tori No Su
Based inside the landmark Etihad Conrad is Tori no Su Abu Dhabi. It's a modern authentic Japanese restaurant with a serene interior design. The spacious environment, marble stone and bamboo lighting creates a relaxing experience.
The architecture is inspired by traditional Japanese designs, featuring a main dining area and sushi bar.
Tori No Su is renowned for delicious sushi rolls served by a highly skilled chef. For one of the best Sushi Abu Dhabi experiences, check out the Sushi N Roll section of the menu. The nigiri, sashimi and maki roll are exquisite!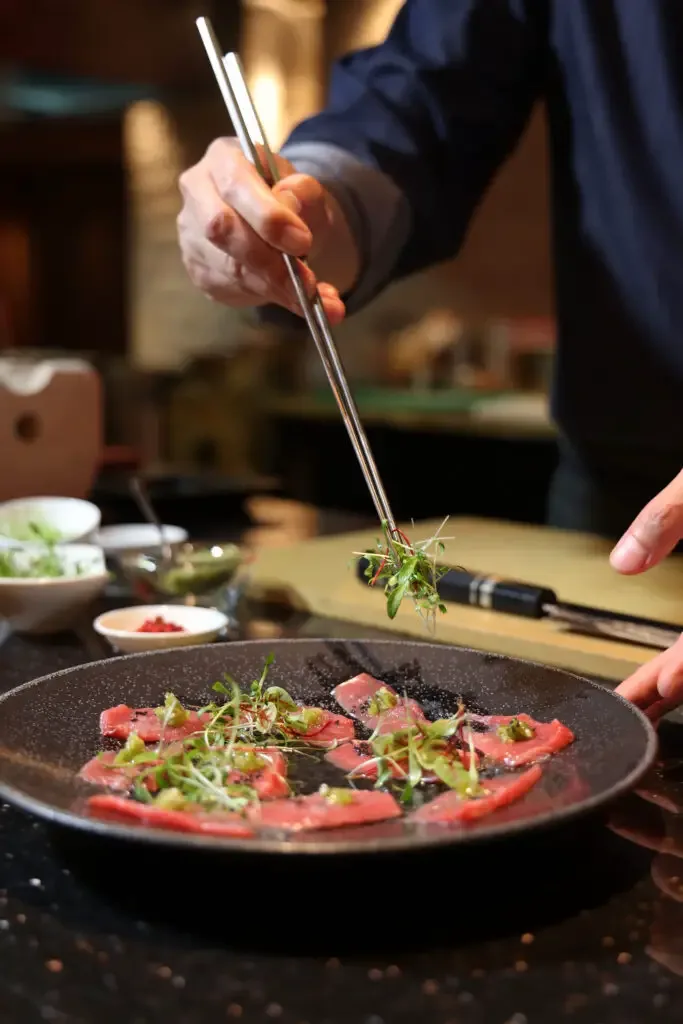 With a set menu, guests can expect a feast at this sushi restaurant in Abu Dhabi. The California roll, blazing tuna toro and aburi sake create are must-try dishes.
Unlimited sushi deals don't come much better than Tori No Su's Sushi Sundays. On offer is unlimited Maki rolls for 140 AED between 18:30-22:30.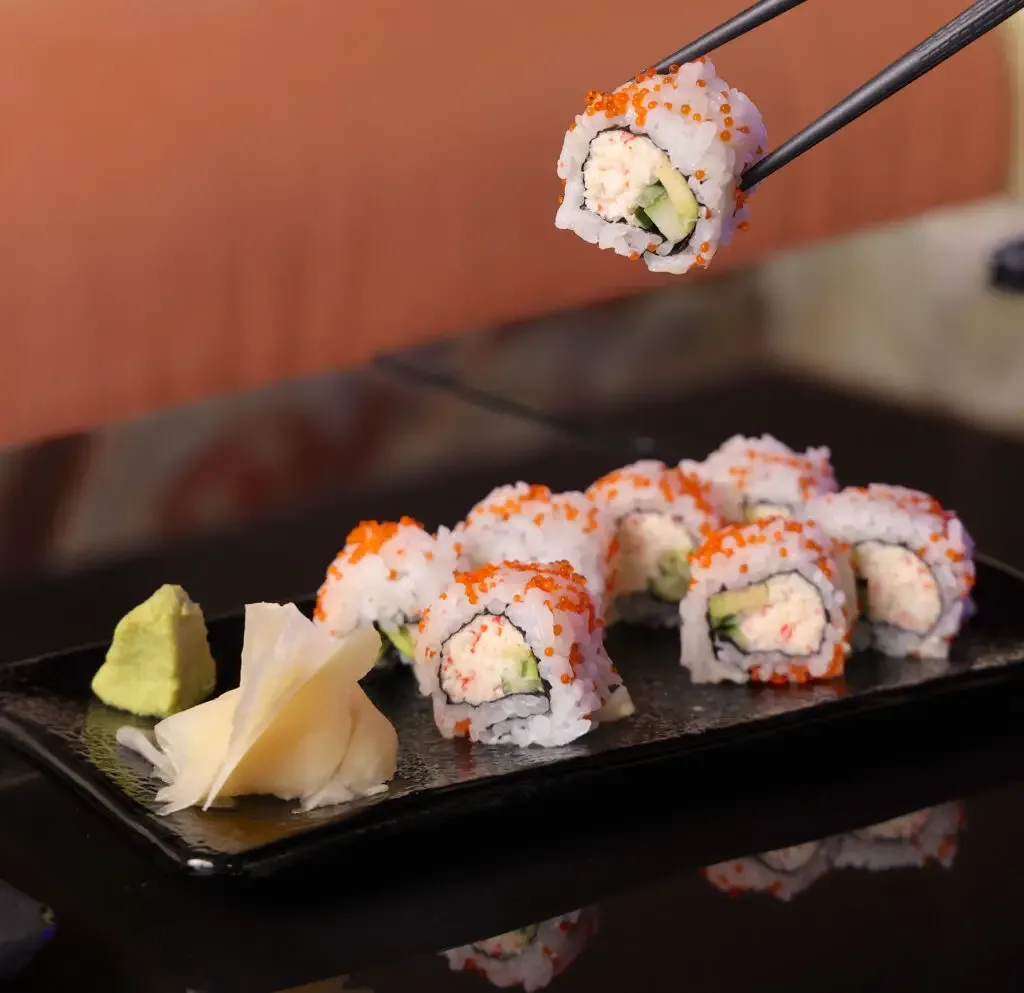 Ladies can enjoy the 'Su-she' and bubbles every Wednesday between 18:30-20:30 (129AED) or 20:30 to 22:30 (199AED). On offer are unlimited Italian bubbles, sushi rolls and crafted beverages.
Call: 028115666
Location: Conrad Abu Dhabi Etihad Towers
Timings: Monday 18:30pm-11pm, closed Tuesday, Wednesday to Sunday 18:30pm to 11pm
2.Zuma Abu Dhabi
Based inside Four Seasons, Zuma is a popular choice when it comes to the best sushi in Abu Dhabi.
Granite stone, carved wood and sake wall cellars encased in glass give the restaurant a contemporary interior.
When Michelin visited Abu Dhabi, Zuma was added to the list of commended restaurants for the excellent sushi.
Many tasting menus, business lunches and brunches are available, which include a wide variety of Japanese dishes and some with sushi.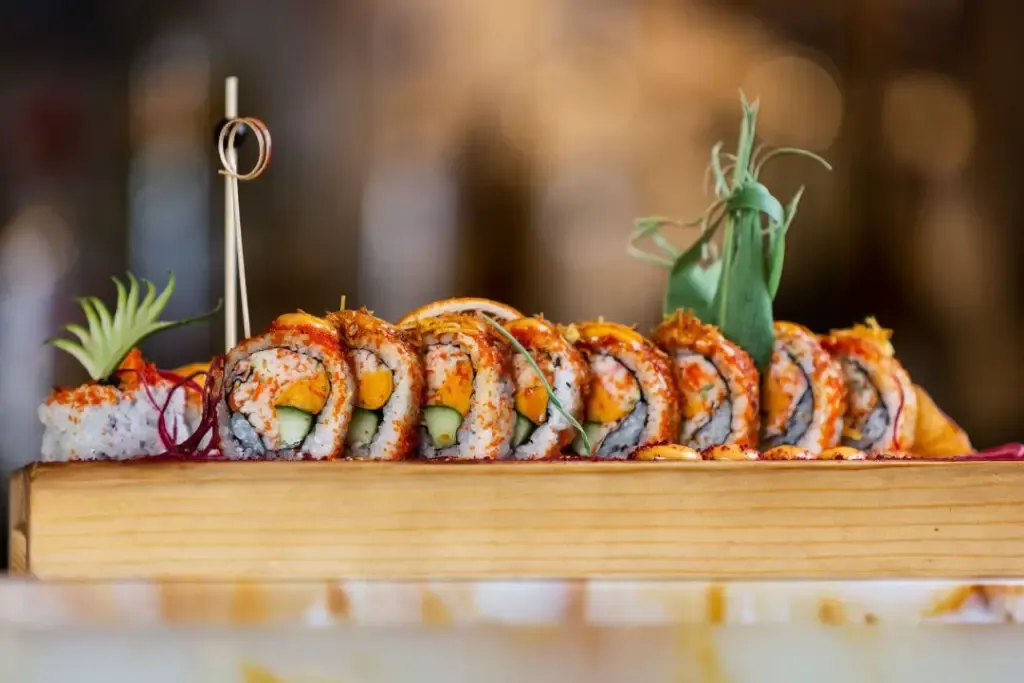 Offering a modern twist on some of the best sushi in Abu Dhabi, Zuma is a fantastic spot. Every sushi dish is prepared with fresh produce and true Japanese finesse.
From classic maki rolls and sashimi to spicy dynamite rolls and innovative fusion sushi, there's something to suit every sushi lover's taste.
This restaurant which serves up delicious sushi in Abu Dhabi has vegan and gluten-free options, making it an inclusive dining experience.
The menu at Zuma Abu Dhabi is constantly changing, so there's always something new to try!
Call: 0204015900
Location: The Galleria Mall, Al Maryah Island-Abu Dhabi
Timings: Monday to Friday 12 pm to 15:30 pm, 7 pm to 12 am.
Saturdays 12:30 pm to 4 pm, 7pm to 1am.
Sundays 12 pm to 4 pm, 7 pm to 1 am.
3.99 Sushi Bar & Restaurant Abu Dhabi
Sushi 99 Abu Dhabi most certainly owns a spot on the list of best sushi restaurants.
The brand originated in Spain and has made a significant impact since Michelin Abu Dhabi awarded the restaurant one star. Each sushi roll and dish is crafted to perfection!
For an authentic experience, it is best to sit at the sushi counter to witness the skill that goes into preparing the food.
The popular sushi restaurant in Abu Dhabi can please any palate with fresh ingredients and a variety of options.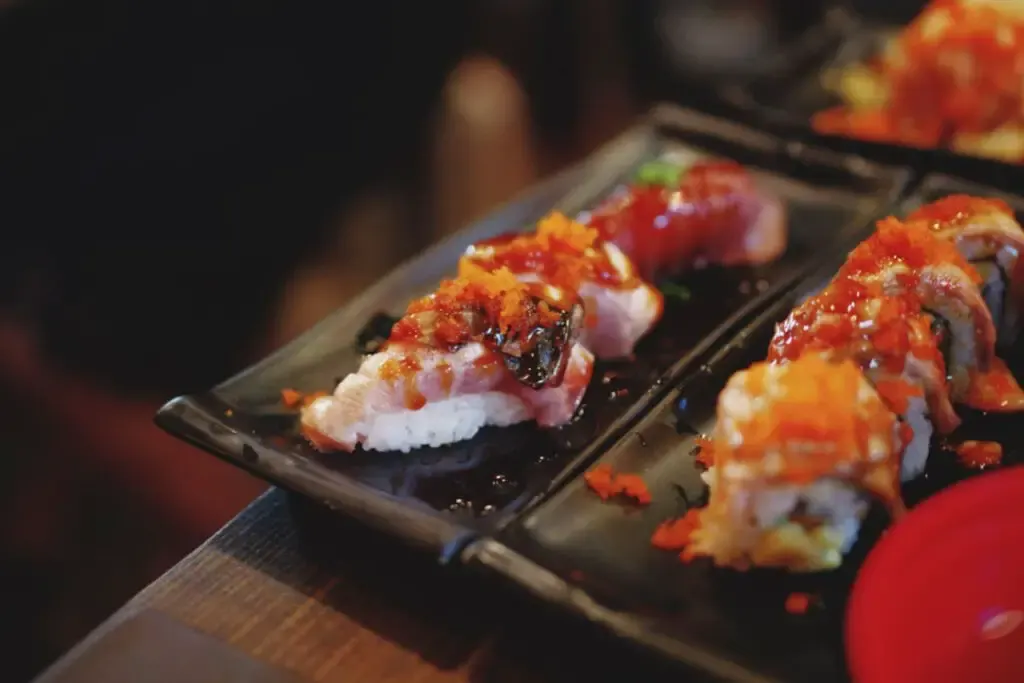 Any dish with 99 in front of it, like the 99 Wagyu Maki, signifies that it's a signature dish. From lobster maki to spicy tuna in jalapeno sauce rolled in crispy rice and wagyu Kobe rolls, expect one of the most exquisite dining experiences.
The most expensive dish is the 99 Jewel topped with black truffle, golden leaves, toro, akami and kaluga or beluga caviar.
With its wide range of options, Sushi 99 Abu Dhabi is sure to satisfy any appetite. Whether you're looking for a classic sushi experience or a creative twist, the restaurant most certainly owns a spot on the list of the best sushi in the Emirate.
Call: 026723333
Location: The Galleria Al Maryah Island-Abu Dhabi
Timings: Monday to Sunday 12pm to 15:30pm, 19:00pm to 11:30pm
4. Buddha Bar
Buddha Bar is a swanky beach bar boasting some of the very best sushi in Abu Dhabi. From classic sushi rolls to unique creations, there are plenty of dishes to try.
The sushi platter is a great way to sample multiple dishes. Starting from 465 AED the platter includes an an array of premium sushi, sashimi and nigiri.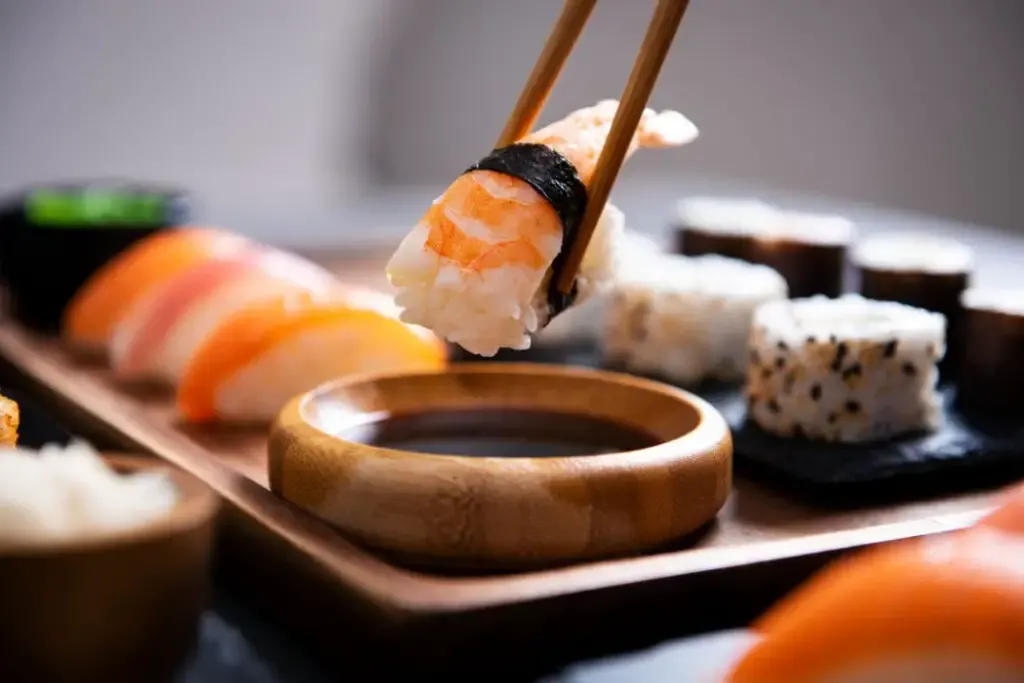 Otoro tuna belly, bluefin tuna ahi cracker, and grilled shrimp volcano roll drizzled in Japanese mayo are among the favourites.
The Saturday brunch is a great opportunity to indulge in one of the best sushi restaurants in Abu Dhabi. There is plenty of other Asian dishes if sushi does not suit all members of the group.
Call: 024988888
Location: The St Regis Saadiyat Island Resort– Abu Dhabi
Timings: Monday to Thursday 17:00 pm to 12:00 am
Saturday 13:00pm to 01:00am
Sundays 13:00pm to 12:00am
5.Cafe Sushi Abu Dhabi
A top contender for the best sushi in Abu Dhabi has to be Cafe Sushi at the Fairmont. The popular eatery is located in Khor Al Maqta and is well-known for its conveyor belt serving guests on the fly!
There is an unlimited sushi deal available between 12 pm to 3 pm and 7 pm to 10 pm for 179 AED with the option to add a house beverage package for 125 AED.
The deal includes Miso soup, edamame beans, Maki rolls, sashimi, and signature sushi rolls.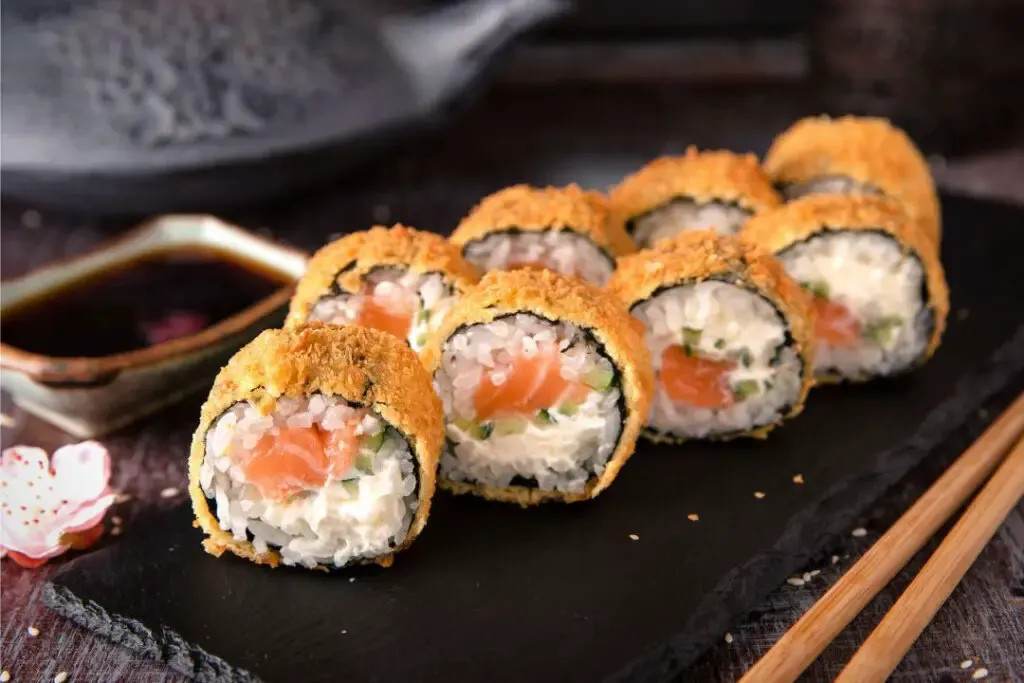 A favourite amongst Abu Dhabi residents is the blow-torched salmon belly rolls, dynamite rolls, and volcano maki sushi.
The conveyor belt is such a novelty since it's possible to see the food before deciding what to try!
Call: 026543238
Location: Hotel Fairmont Bab Al Bahr-Abu Dhabi
Timings: Monday to Sunday 12 pm to 16:00 pm and 19:00 pm to 23:00 pm
6. Kishi Thai and Japanese
Kishi Thai and Japanese is a deserving owner of a spot on the list of the best sushi in Abu Dhabi.
Located in the clubhouse of Al Forsan, Kishi makes the perfect spot to grab a bite to eat after an activity like wake boarding, paint balling or go-karting.
The restaurant overlooks the racetrack, whilst the interior boasts authentic Japanese design, six teppan grills and a giant sushi conveyor belt.
A main selling point is the daily unlimited sushi deal. Between 6 pm to 9 pm, customers can feast on unlimited miso soup, kaiso salad, sushi and sashimi. The deal comes with two complimentary drinks.
A sushi buffet in Abu Dhabi can be hard to find. However, Kishi is known for its sushi buffet serving up top-class sashimi and sushi rolls.
On Saturday, between 1 pm to 4 pm, enjoy unlimited sushi, sashimi and teppanyaki. Adult packages start from 149AED and kids are 75AED.
For further discounts on the Saturday brunch, go to Groupon where there are occasional deals.
Call: 026565630
Location: Al Forsan International Sports Village
Timings: Monday to Sunday 12 pm to 23:00 pm
7.Cho Gao Marina Walk
Cho Gao is a multi-award-winning pan-Asian eatery. The contemporary interior is sleek, particularly the outdoor terrace which is perfect for al fresco dining overlooking the marina.
There are not many venues offering Sushi buffet in Abu Dhabi. However, Cho Gao's is well known in the city for its excellent sushi buffet!
Impressive displays of maki, sashimi and nigiri stretch along the restaurant, accompanied by many other delicious Japanese dishes.
The price is 169 AED every Thursday from 19:00 to 23:00.
Occasionally, there are deals on Groupon with up to 25% off the sushi buffet in Abu Dhabi.
On Thursdays and Fridays, get 50% off selected food and beverages between 16:00 to 19:00.
Call: 800423463
Location: Intercontinental Abu Dhabi
Timings: Sunday to Wednesday closed. Thursday to Saturday 16:00pm to 01:00am
8.Aquarium
Aquarium is a luxury Sushi restaurant in Abu Dhabi offering an underwater experience.
As the name says the restaurant is home to hundreds of tropical fish and is essentially an aquarium making it a relaxing and unique experience.
Aquarium has fantastic indoor and outdoor seating areas with a lively atmosphere. Mondays are sushi night!
The unlimited sushi deal costs 149AED and includes other seafood dishes. Guests can opt for a beverage package for 99 AED.
Call: 0506969357
Location: Yas Marina Abu Dhabi
Timings: Monday to Sunday 13:00 to 02:00am
9. Niri Restaurant & Bar
The turquoise waterfront of Saadiyat Island gives Niri Restaurant one of the best outdoor terraces in town with views of the boats passing by!
The fresh sea breeze meets a simplistic but modern Japanese interior. The exquisite sushi counter and selection of incredible food give Niri a deserving spot among the best sushi restaurants in Abu Dhabi.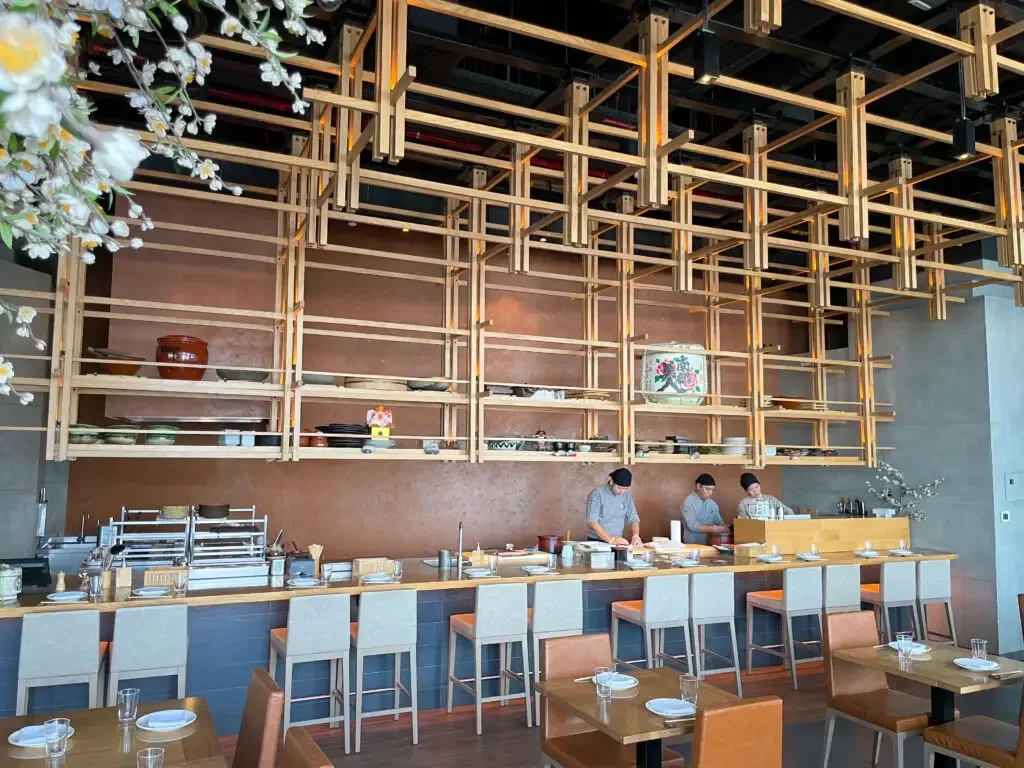 The head chef Yasuyuki Takemoto is a sushi master and has curated one of the finest Japanese dining experiences in the Emirate. The restaurant prides itself in doing things differently.
Needless to say, the sushi and sashimi options are supreme!
Call:025468886
Location: Mamsha Al Saadiyat Abu Dhabi
Timings: Sunday to Thursday 12:00 pm to 23:00 pm
Friday & Saturday 12:00pm to 12:00am


10. Sushi Story
Sushi story Abu Dhabi is a budget-friendly restaurant that prides itself on an unparalleled menu with a true taste of Japanese cuisine.
Expect to be greeted by a very friendly itamae chef who will prepare some of the best sushi in Abu Dhabi.
Sit at the bar to see the chef preparing maki, nigiri and sashimi. For a more intimate experience, request a private booth which is partitioned by the traditional Japanese walls called shoji blinds.
The decadent sashimi and sushi platters are the perfect feast to share with friends. Make sure to try the wagyu Tapuri, volcano roll and dynamite roll which are the restaurants most popular dishes.
Call: 026391888
Location: Al Hisn Al Markaziyah Corniche-Abu Dhabi
Timings: Saturday to Wednesday: 11:30am to 12:00am
Thursday & Friday 11:30am to 12:30am
11.Sushi Art
The best fast-food sushi in Abu Dhabi most certainly has to be Sushi Art. There are two branches one is in the Galleria Mall food court and the other is in Al Masdar. It is the perfect spot for a quick lunch and their delivery is super quick!
One of the things setting Sushi Art apart is the atheistically crafted rolls and dishes. The instagrammable rolls are almost too beautiful to eat!
From vibrant rolls to elegantly garnished platters, it is hard to believe Sushi Art is a fast food restaurant.
The sushi Art menu offers an extensive range of sushi options, from classic nigiri and sashimi to more creative and innovative rolls.
The sushi boxes are a popular choice and range from a lunch box for one to options more suitable for a cosy date night at home.
Sushi art has some of the freshest sushi in Abu Dhabi and has other options including poke bowls and salads.
The eatery offers delivery through online platforms such as Deliveroo and Talabat. In 2022 they received an award for best Japanese restaurant from Deliveroo.
Overall, Sushi Art is a top choice for people looking for an artistic twist in a relaxed environment.
Call: 800220
Locations: Galleria Mall & My City Centre Madsar City-Abu Dhabi
Timings: Galleria Monday to Sunday 11:00am to 23:00pm
Madsar City Saturday to Wednesday 11:00am to 23:00pm
Thursday to Monday 11:00am to 12:00am
12.Sushi Counter
Sushi Counter is another popular chain in the Emirate offering both dine-in and delivery services.
It makes a popular choice amongst students as it is situated at New York University on Saadiyat Island. Much to the student's delight, it's affordable and quick, making it an ideal express lunch.
Sushi Counter Abu Dhabi are committed to serving delicious and presentable sushi rolls with the freshest ingredients.
The restaurant offers delivery through online platforms such as Deliveroo and Talabat. Not to mention catering services such as platters and a chef who can set up a live cooking station at a party.
Call: 025831301
Location: New York University Saadiyat Island Abu Dhabi
Timings: Monday to Friday 11:00am to 22:00pm, Saturday to Sunday 11:00am to 12:00am
13. Smoking Doll
Smoking Doll is an Asian Fusion restaurant well known for its unusual take on Sushi. Based inside Boutik Mall, it is much better to enjoy the food dining in rather than take out.
The food is fantastic but they don't always get delivered right. Highlights of the sushi Abu Dhabi menu include the California Roll, Spicy Tuna Roll, and Rainbow Roll.
For a more unique taste, check out the own Green Dragon Roll, which combines tempura prawn, eel unagi, cucumber pickle, fresh cucumber, avocado and orange tobiko smothered in teriyaki and signature sauce.
The Fuji Volcano Roll offers a caramelised smoky taste with scallops, smoked salmon, avocado, breadcrumbs, orange tobiko and signature sauce.
The smoking doll platters are a top recommended choice which has sushi, nigiri and sashimi. Ranging from 12 to 24 pieces, big appetites will certainly be satisfied.
Smoking Doll has one of the most extensive menus in Abu Dhabi featuring everything from sushi to Chinese and Thai to Vietnamese.
The menu can be a little overwhelming with choices, however, it is safe to say the sushi is pretty good!
Call: 600560603
Location: Boutik Mall
Timings: Monday to Sunday 11:00am to 12:45am
You may also like:
Best shawarma in Abu Dhabi
The best pizza in Abu Dhabi
Disclaimer: This post may contain affiliate links, by using them it will not cost you any extra, we will receive a small commission to keep us writing.