With Halloween in Abu Dhabi just around the corner, there are many spooky activities for kids, exciting brunches, and haunted parties.
Halloween is officially on October 31st. However, it seems as though most countries that celebrate make a month of it!
Halloween has evolved into a worldwide event with roots in the ancient Celtic Festival of Samhain. There has been a growth in Halloween celebrations among expat communities in the United Arab Emirates over the past few years.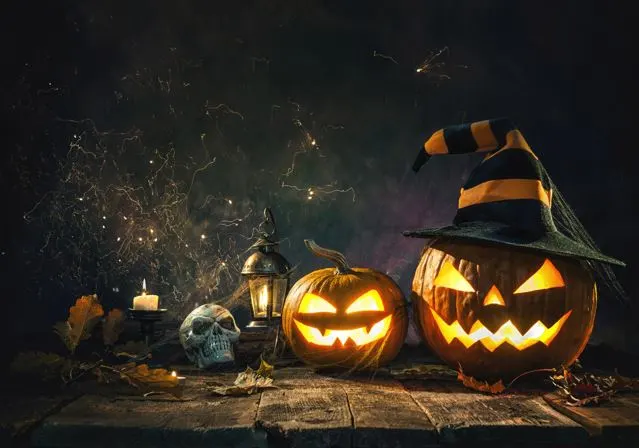 Around this time of year, Abu Dhabi weather starts getting cooler. So if you are in the Emirate for a visit, check out some of the places you could visit.
Watch for Halloween in Abu Dhabi events during the last weekend of October. Here are some of the best events to make this 'spooktacular' season even more fun!
SOME EVENTS LISTED BELOW ARE FROM LAST YEAR AND ARE ANTICIPATED TO TAKE PLACE AGAIN. WE WILL UPDATE THE INFORMATION AS WE RECEIVE IT.
Halloween in Abu Dhabi
1. Warner Bros World Abu Dhabi
If you are looking for one of the best Halloween events in Abu Dhabi for the kids, Warner Bros World Is a good starting point with this years Spooktober!
Get ready for a spooktacular experience at Warner Bros. World Abu Dhabi this Halloween season, running from September 30th to October 31st!
This family-friendly event promises wicked fun times for all ages. With over 60 spooky characters, frightful rides, and immersive experiences, there's something for everyone to enjoy.
In 2023, brace yourselves for a thrilling addition: Scooby-Doo and the Mystery INC. Gang will take the stage for live entertainment on the Warner Bros. Live Stage!
Whether you opt for a Single Day Ticket, a Single Day Ticket with a meal voucher, or the fantastic 4 Tickets at the Price of 3 offer exclusively for UAE residents, you're in for a treat.
Cartoon Junction comes alive with Trickety Treat adventures, Daffy's Spooky Dance Party, and a chance to meet your favorite cartoon characters in their Halloween best.
Don't forget to Trickety Treat yourself with a special bag and map for a sweet
Plus, meet The Flintstones and The Rubbles, who are all dressed up for some skele-fun and spooky snapshots.
Indulge in wickedly delicious Spooktober-themed creations to satisfy your sweet tooth.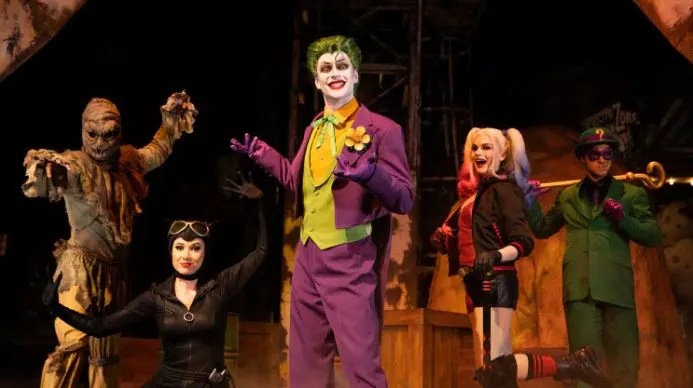 Purchase tickets here to Warner Bros World.
Dates: September 30 to October 31
Location: Yas Island, Abu Dhabi
2. Monster Village
The Monster Village at Al Maryah Island offers fun for the whole family this Halloween. The Lawn (near the Galleria entrance) will be transformed into a family-friendly spooky event in October.
At the Monster Village, children of all ages are encouraged to wear their most fabulous and spooky costumes.
The children can have fun making monster masks & silly eye slime. Not to mention Wizards and Witches wand making, mummy wraps, lanterns crafts and much more.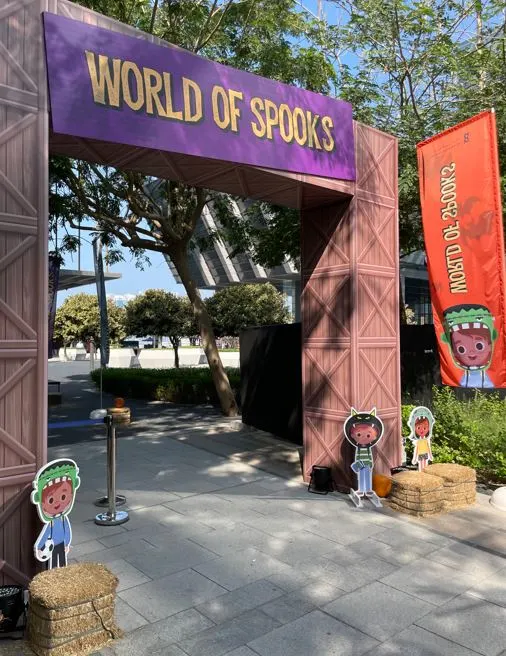 The village will offer ghostly games to frighten and delight visitors. There are exciting prizes to be won in the Monster Eyeballs search hidden throughout the venue.
If your children dress up in Halloween attire, the team at The Galleria will be giving out treats.
Dates: October 28 and 29 TBC !!!
Timings: 4 PM to 10 PM
Location: The Lawn, Outside The Galleria Al Maryah Island entrance – Abu Dhabi Global Market Square
3. Cabdoodle
Caboodle usually hosts Halloween-themed activities and entertainment at The Galleria Al Maryah Island on ,DATE TBC for 2023 exclusively for kids.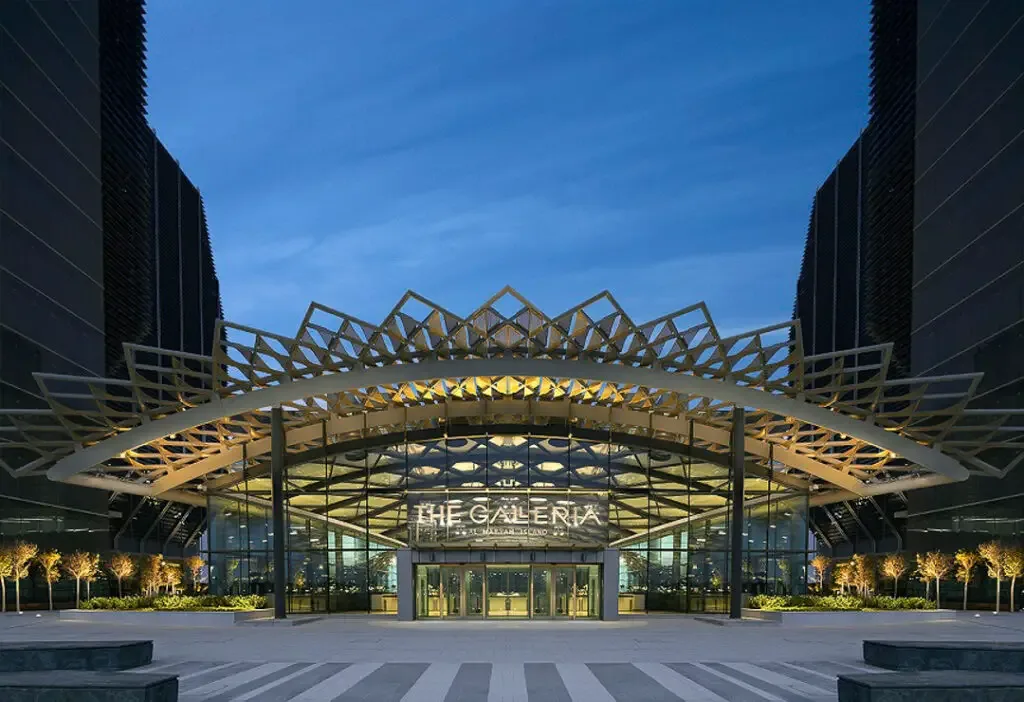 A wide range of Halloween-themed activities are available for children aged six and under, including hand painting, crafts, music & dance!
All kids have a chance to win multiple prizes by dressing up in their Halloween costume.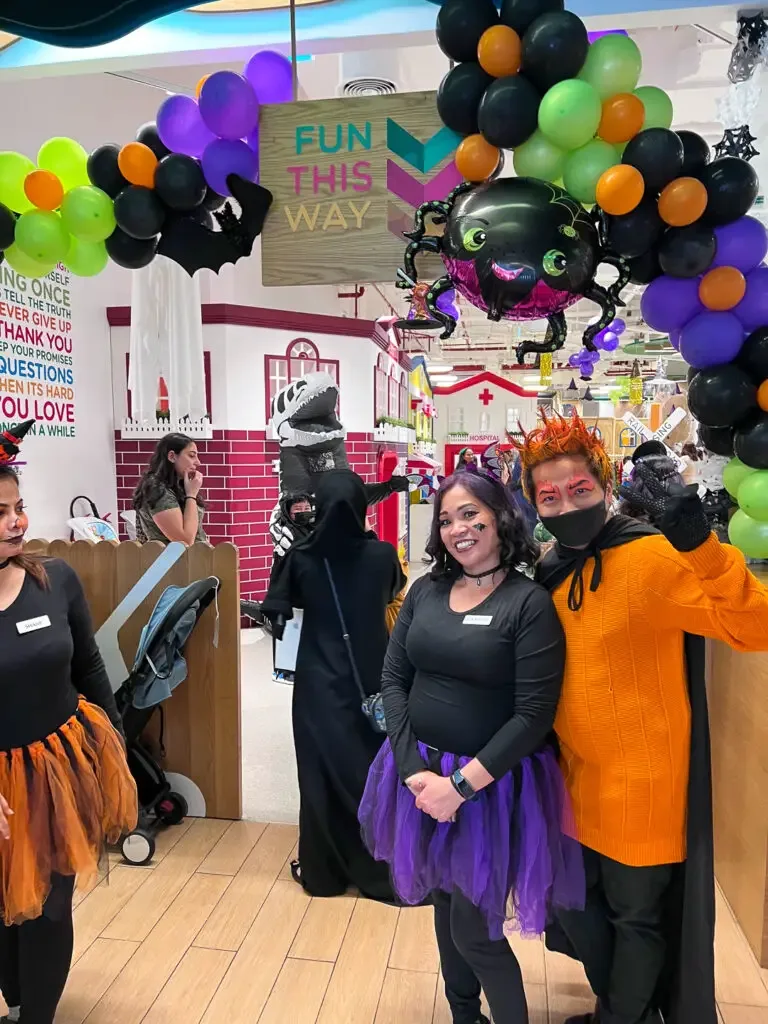 Tickets tend to sell fast so keep an eye out for their information, it has not been released for 2023 just yet.
Tickets: AED 99 for two hours per child last year, price for this year TBC.
Location: Level L2, The Galleria Al Maryah Island, Abu Dhabi
4. Bounce
Enjoy a spook-tactic day out at Bounce-After Dark in Abu Dhabi with the whole family. There are 80 wall-to-wall interconnected trampolines where you and your little monsters can bounce, flip, and slam dunk your way through the centre.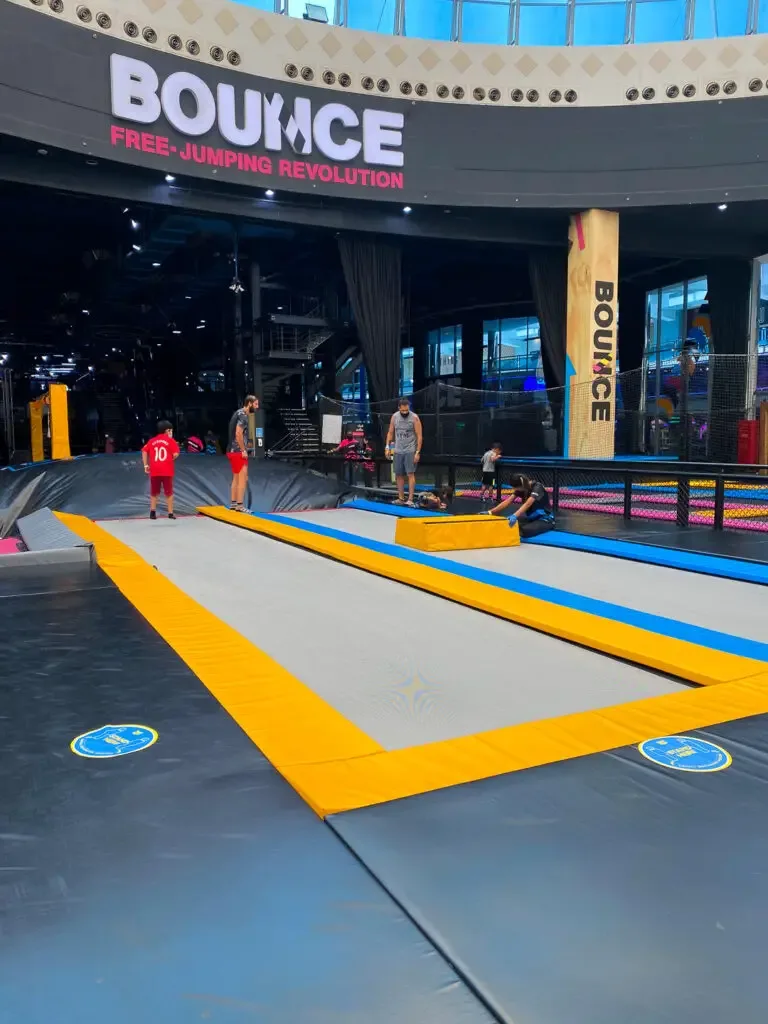 Not to mention, a bunch of fun games and competitions where you can win prizes as well as special surprises and gifts for the best dressed.
Date: October 27th, 2023
Location: Ground Floor – Marina Mall – Al Marina – Abu Dhabi
5. The Louvre Abu Dhabi
Book your spot to kayak around The Louvre, Abu Dhabi on October 31 for some active and spooky fun. Those kayaking are encouraged to dress in their scariest outfits.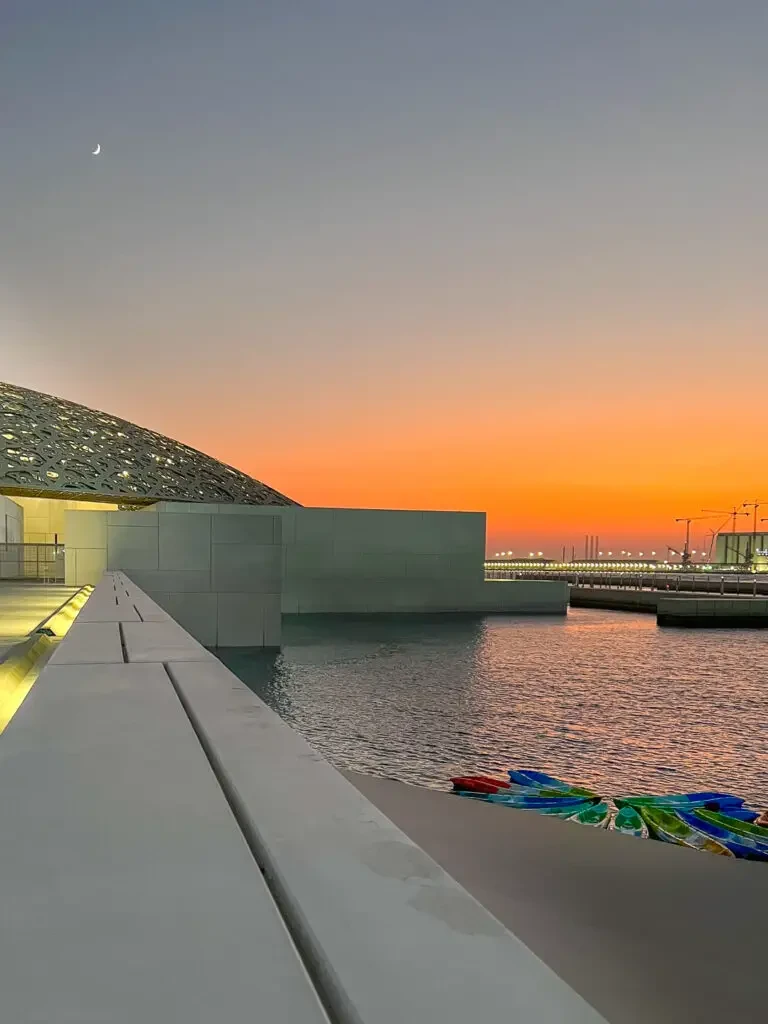 Only 25 people are allowed to attend per session, so book as soon as possible.
Dates: 2023 dates tbc
Location: Saadiyat Island -Abu Dhabi
6. Yas Waterworld
Spooky Splash and a Wicked Bash!
Yas Waterworld offers 45 rides, slides and attractions, as well as seasonal events and shows. Yas screams Halloween, from eerie cabanas to grave diggers and bandits performing.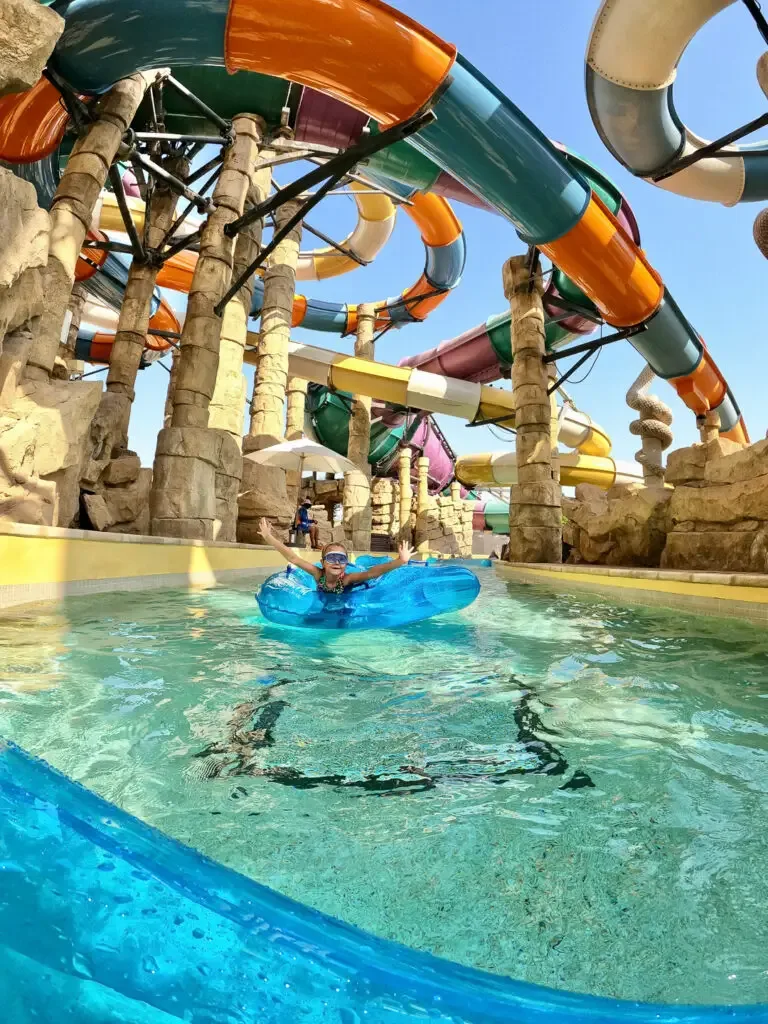 The little ones can participate in trick-or-treating and collect candy from the spooky cabana trail. Characters at Yas Waterworld will be dressed in spooky garb during the eerie evening festivities.
Dates: October 29
Tickets: From AED 200, book online for 10% off
Location: Yas Island – Abu Dhabi
7. BlackOut Horror Escape Game Room
A visit to Abu Dhabi's biggest horror and escape game set in a villa is a perfect way to celebrate Halloween.
There is a little something for everyone at BlackOut Escape Game Room. It is packed with thrills and adventures, with only 60 minutes to escape.
Guests can choose from five different environments, all equally terrifying! The Circus, Hotel 666, Exorcism, Dungeon or Psychiatric.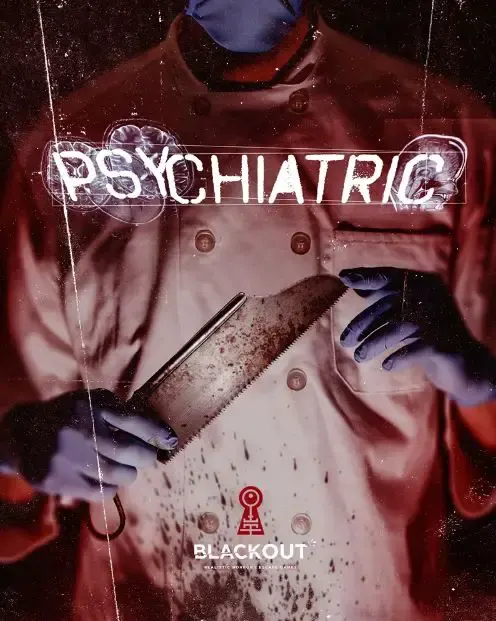 We warn you the escape rooms aren't for the faint-hearted. It is filled with a genuinely creepy atmosphere where you will feel like someone's always watching.
It has gained its reputation as being the biggest and scariest escape room in the Middle East, perfect for Halloween.
For more information on BlackOut Escape Game Room.
Tickets: AED 210 per person
Timings: 10 AM to 12 AM (Monday to Sunday)
Location: Al Rihab Tower – Abu Dhabi – United Arab Emirates
8. Halloween Spooky Nights At Circuit X
Al Hudayriyat Island's adventure park invites guests to experience its SPOOKTACULAR glow-in-the-dark events at Ropes Park.
A spooky collection of creatures awaits you at scary heights, zipline, climb, and Free Fall amidst ominous music and glowing lights.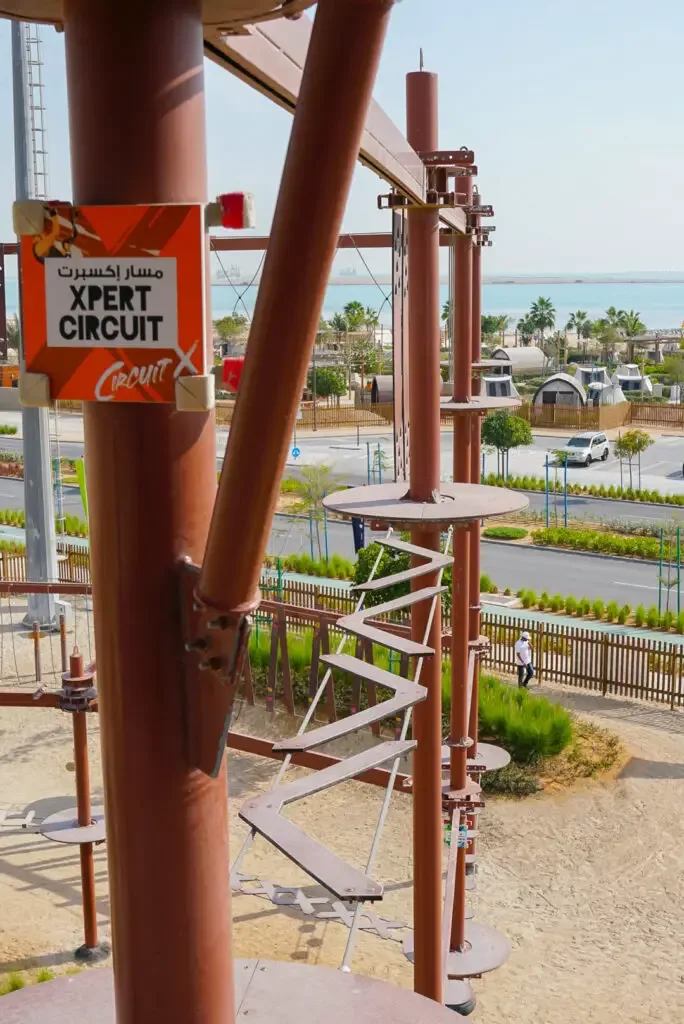 Trick-or-treating around the park, Halloween-themed decorations, glow sticks, and more will delight the kids.
For booking details and information
Dates: October 28 to October 30
Prices: From AED 60
Timings: 7 PM to 10 PM
Location: Al Hudayriyat Island, Circuit X Park, Abu Dhabi
Halloween Cakes & Decorations
Halloween Brunches and Parties in Abu Dhabi
In addition to all the Halloween activities for children, there are also places catering for adults. Listed below are places hosting Halloween brunches, parties and dining specials in Abu Dhabi.
9. Coopers Halloween Party
Halloween is always fun in Abu Dhabi with brunches, parties and celebrations. Coopers in Park Rotana is holding itsvery own Halloween celebration on the 27th Of October from 8pm onwards.
The evening is set to be filled with live entertainment and some fantastic offers.
Not to mention, Coopers have concocted specially themed Halloween cocktails available for just AED 35 each.
Make sure to attend dressed in your spookiest costume for a FREE drink to keep the spooky spirits high. Plus, there's a special grand prize for the night's best-dressed guest.
For additional details or reservations, please call Cooper's +9712657 3325.
Check out the full list of Park Rotana events and offers here.
10. Vakava
This Abu Dhabi Halloween party will be celebrated at the Latin-American restaurant with a "Dia de los Muertos" (Day of the Dead) 3-hour brunch.
It is an adults-only event and will include live entertainment and spooky decor. Costumes are encouraged for a chance to win exciting prizes.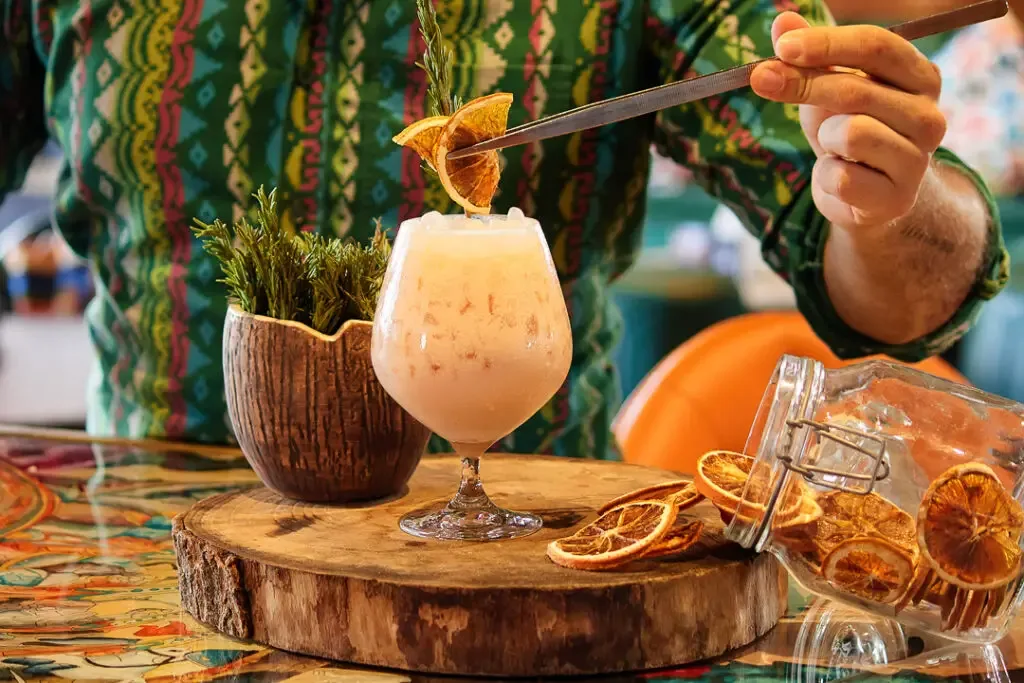 With brunch, you will enjoy a variety of hot and cold starters, followed by a choice of signature mains and a classic dessert to finish off your meal.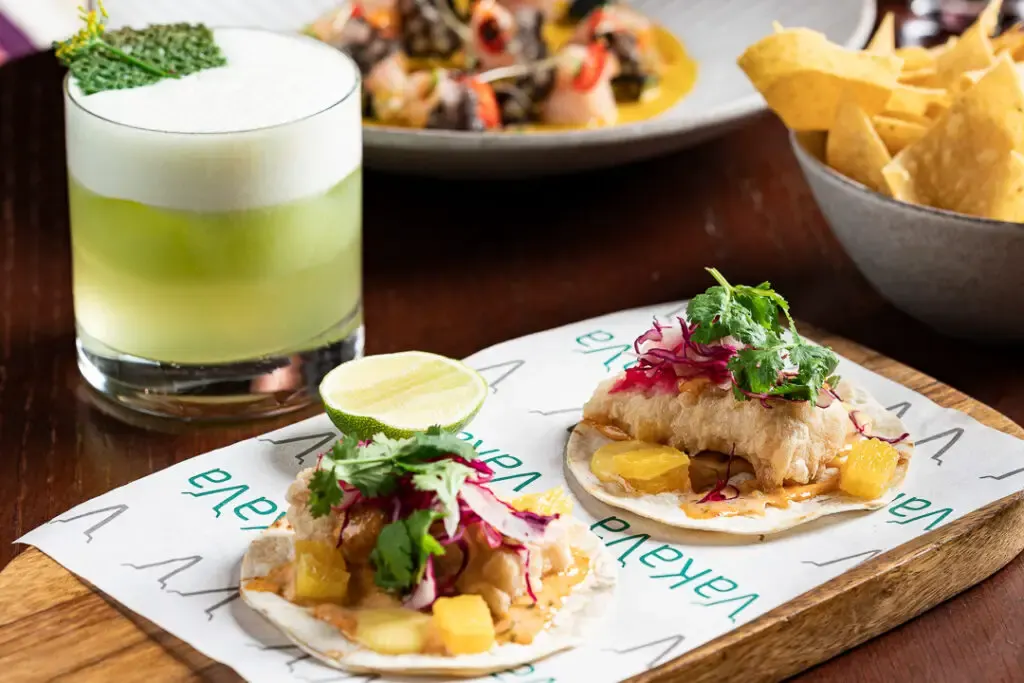 From 5 PM to 7 PM, VaKaVa's terrace lounge will feature sundowners with a view as the party continues into the night.
Date: November 4
Price: Ladies will receive 2 hours of free flow from 8 PM to 10 PM
Timing: 8 PM to 1 AM
Location: Conrad Abu Dhabi, Etihad Towers, Corniche, Abu Dhabi
11. Glo
Head over to GLO for the most spooktacular night of the year. The laid-back lounge will be transformed into the "Haunted Halls of Hallgloween" with a black and orange coloured theme.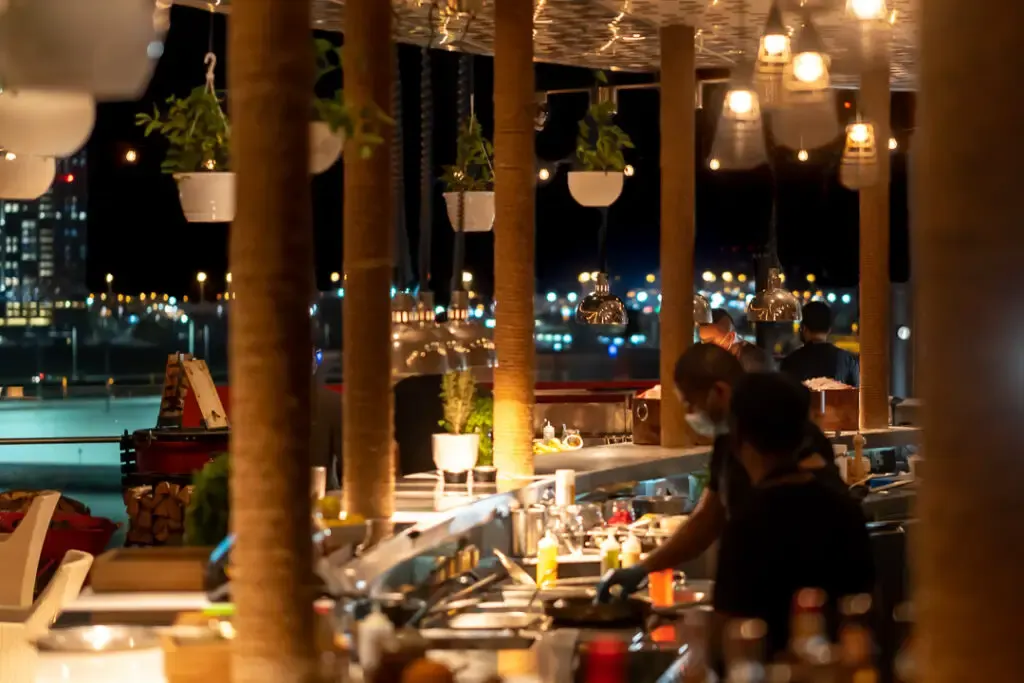 Along with the extensive menu consisting of monster popcorn, Frankenstein nachos and spooky pizza, a contest will be held for the best-dressed and most creative Halloween costume.
The evening will be one you won't want to miss as Milan will perform live on the saxophone that evening. You're in for a genuinely spooky experience.
Date: October 29
Timing: 6 PM to late
Location: Rosewood Hotel – Al Maryah Island – Abu Dhabi
12. Stars and Bars
As one of Abu Dhabi's best party spots, Yas Marina is the perfect choice for a spooky night out at Stars N Bars. Get ready for the Netflix series, Stranger Things, 6-hour Brunch at the Tex-Mex eatery.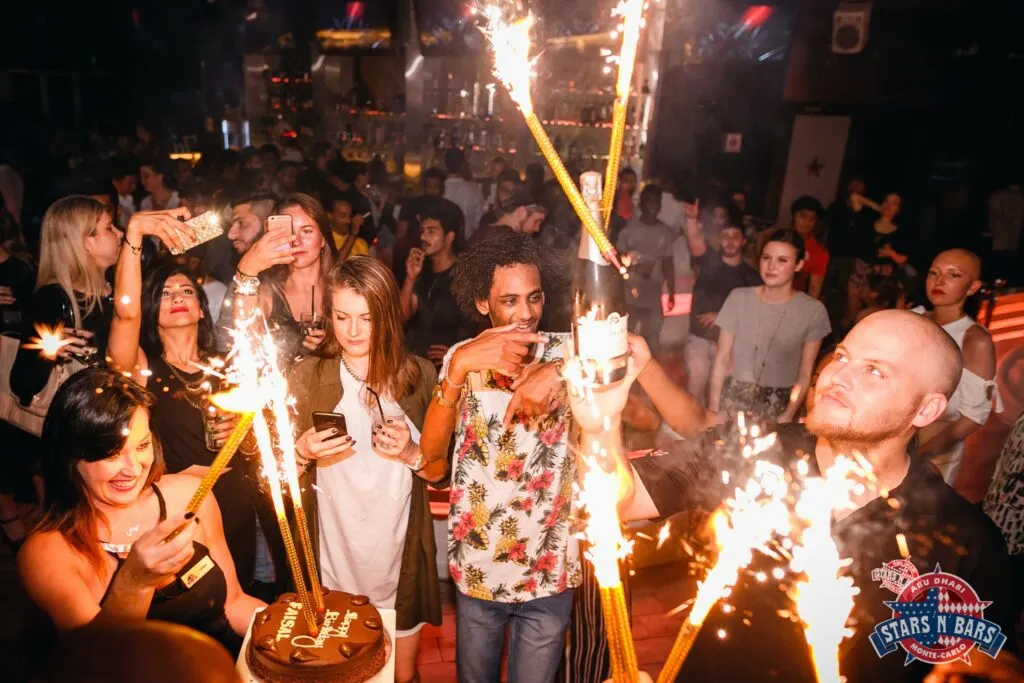 The six-hour brunch will be followed by a 3-hour drunch! The best-dressed guest will have a chance to take home a grand cash prize of AED 2000 at their fancy dress competition.
Dates: October 29
Price: AED299 per person
Timing: 12 PM to 6 PM
Location: Yas Marina – Yas Island – Abu Dhabi
13. Lock Stock and Barrel
Known for bangin' vibes, live music and finger-licking food, Lock Stock & Barrel is the most loved party bar in UAE.
Dress-to-scare for the Toxic Waste Halloween Brunch, and blend in with the eerie and spooky atmosphere.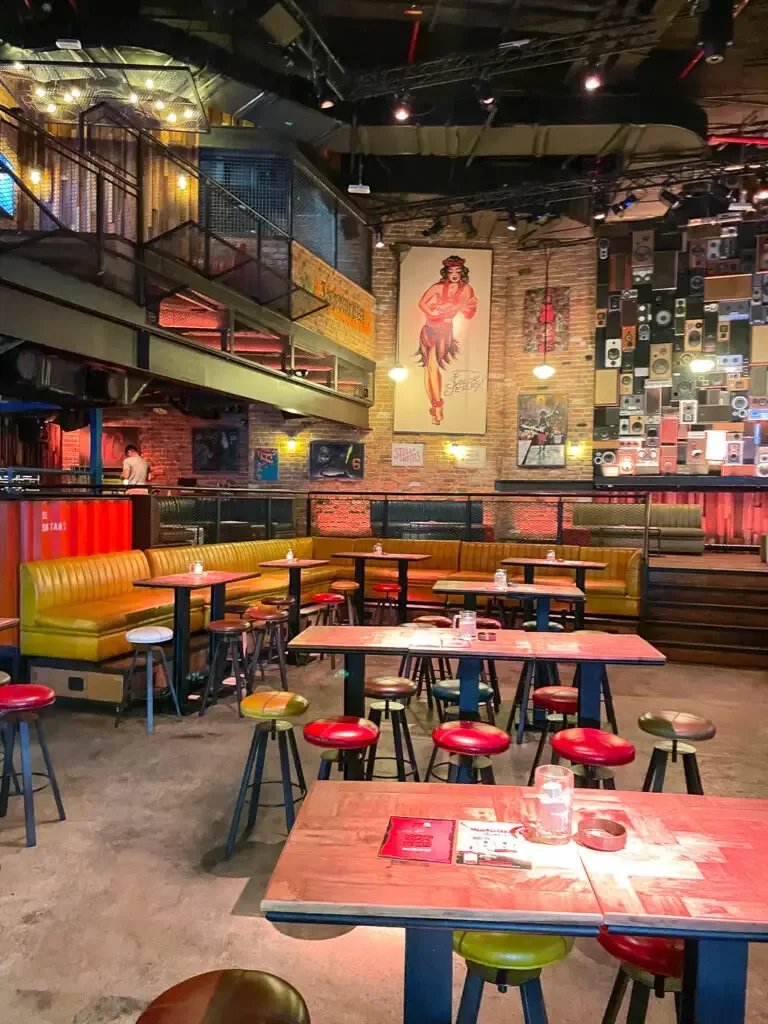 Pricing: AED 250 per person
Timing: 1 PM to 4 PM
Location: Yas Bay – Abu Dhabi
14. Saadiyat Beach Club
Saadiyat Beach Club is the perfect spot to be on Halloween weekend if you're looking for a festive party in Abu Dhabi.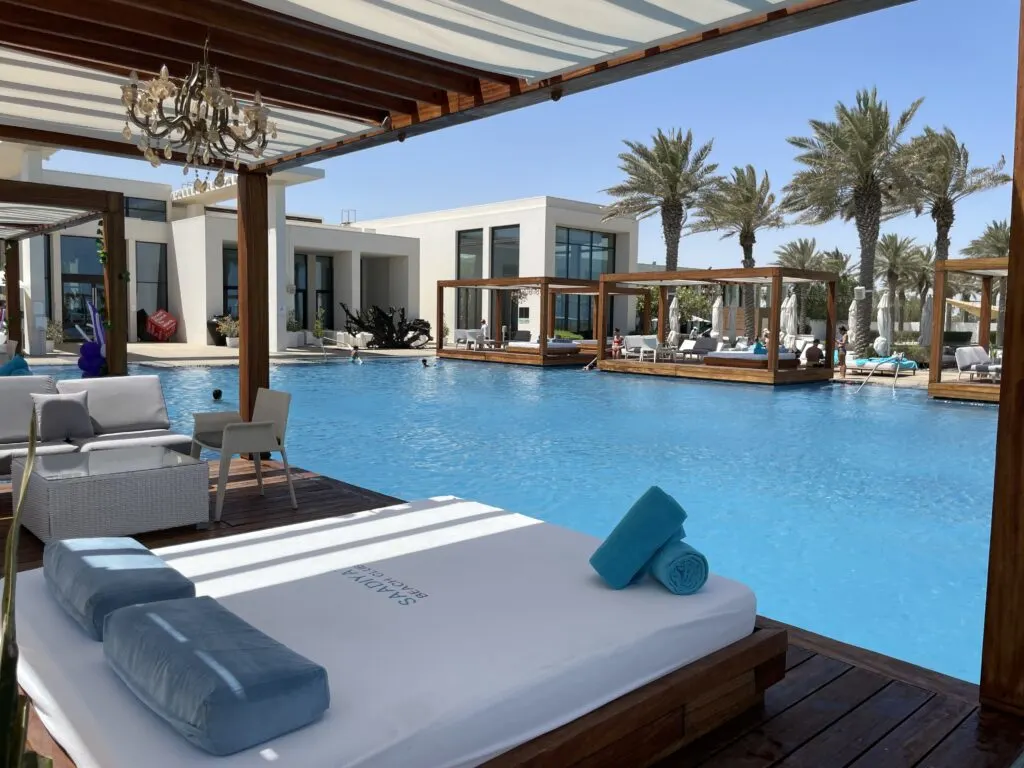 Everyone is welcome to the Supper Club special Halloween Edition.⁠ with prizes awarded for the best dressed. Unlimited drinks and bites for everyone until 3 AM! Expect top tunes all night long from some of the finest local DJs.
Dates: October 28
Pricing: AED 249 per person for unlimited bites and beverages
Timing: 8 PM to 3 AM
Location: Saadiyat Island – Exit 14 – Abu Dhabi
15. La Terraza
La Terrazza has organised a weekend Family-friendly Halloween dinner complete with an international buffet piled high with spooktacular treats, and an eerie selection of drinks.
The kids will be delighted as they'll be able to get their faces painted in their favourite Halloween characters or perhaps a superhero and save the city from ghosts and ghouls this Halloween in Abu Dhabi.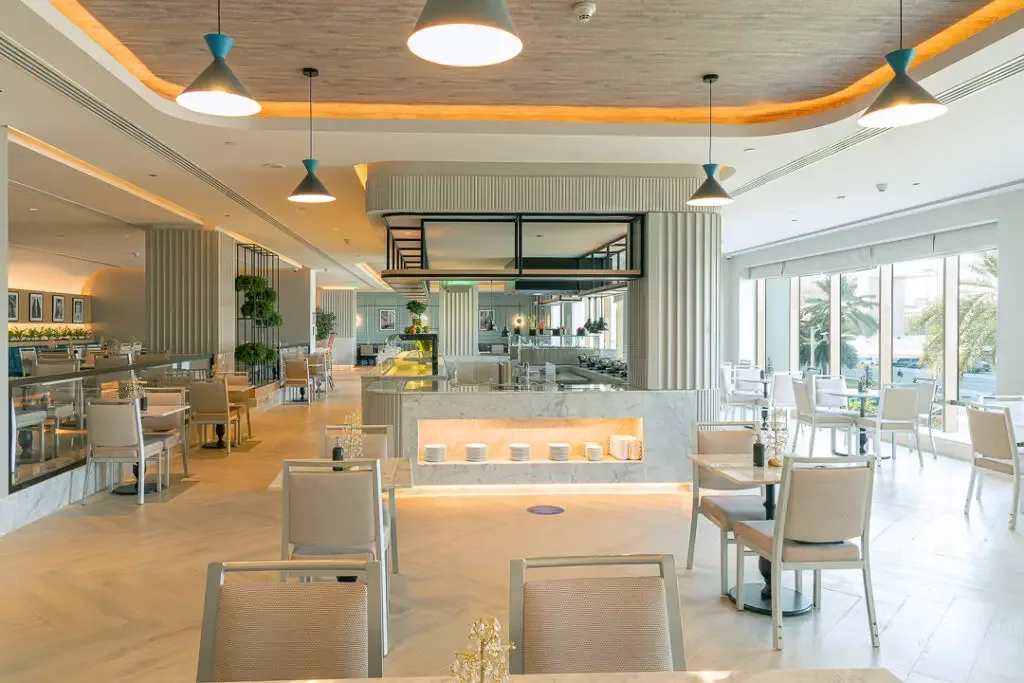 Dates: October 26 to October 30
Timings: 7pm to 10pm
Pricing: AED149 for the soft drinks package
AED199 for the house package
AED75 for Kids 6 to 11 (Kids under 6 dine for free)
Location: Radisson Blu, Abu Dhabi
16. Porters
At Porters there will be a two-day celebration over the Halloween weekend in Abu Dhabi. Starting with a party on Friday, followed by an epic Saturday brunch.
Featuring a resident band and DJ, enjoy delicious grub and beverages while enjoying an exciting weekend.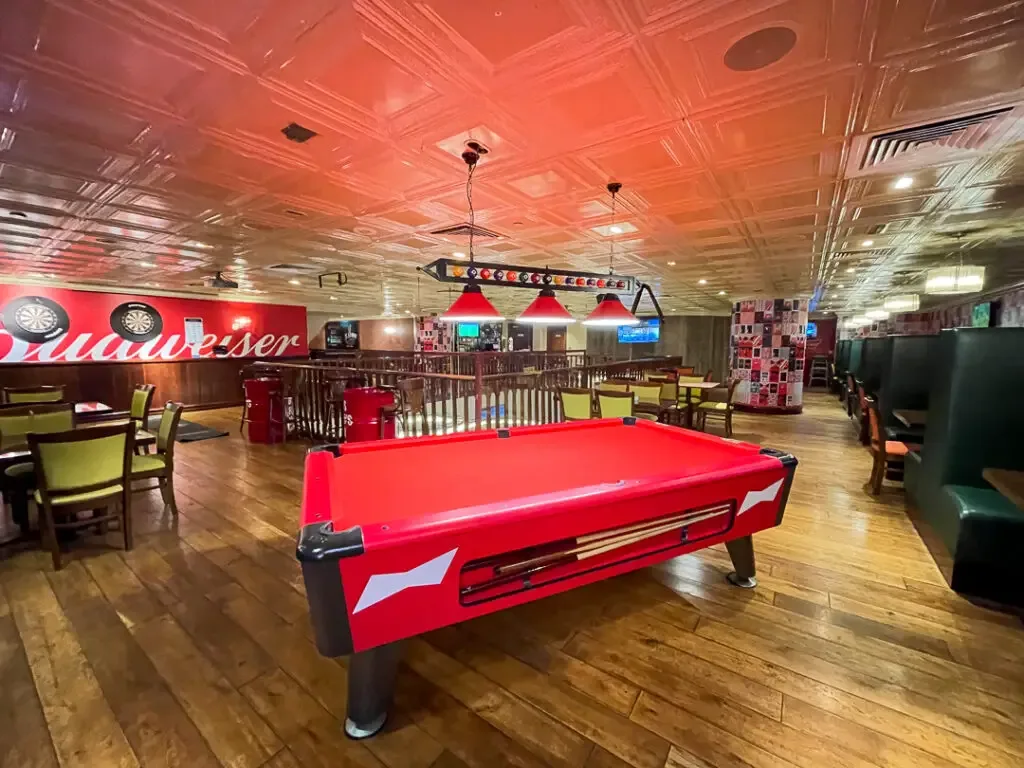 Don't forget to look the part in your best Halloween attire on the big night. There will be prizes for the best costumes. You can enjoy happy hour between 12 p.m and midnight.
Dates: October 29
Pricing: AED 149 with soft beverages
AED 199 with house beverages
Post Brunch Pricing: AED165 with House Beverages
Timing: 12:30 PM to 4 PM
Post Brunch Karaoke: 5 PM to 8 PM
Location: Grand Millenium Hotel, Al Wahda, Abu Dhabi
17. Back Yard Bistro
Back Yard Bistro is a young contemporary and eco-friendly restaurant in the heart of Abu Dhabi City and will be throwing a "Crime Scenes Halloween" brunch Abu Dhabi style!
You can look forward to hunting clues for an unsolved crime mystery and an afternoon of candy, lip-smacking food and unlimited drinks! The resident DJ's will be supplying the nineties and noughties vibes.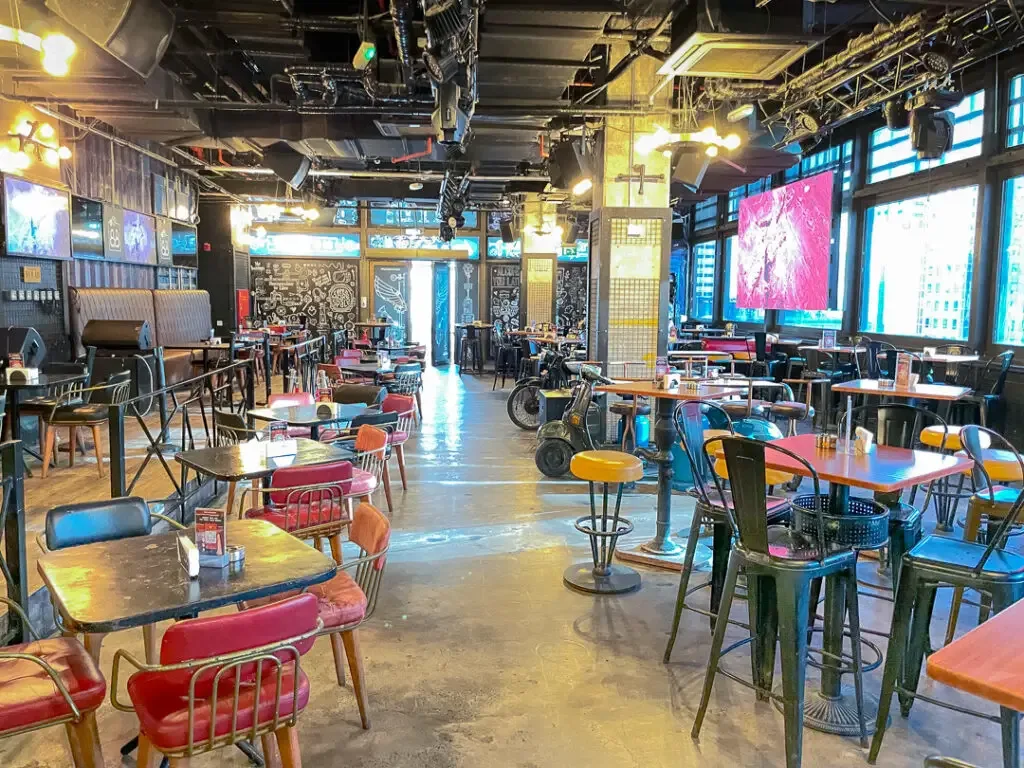 Make sure to wear your Halloween makeup and make your costume as creative as possible.
Dates: October 28 and October 29
Pricing: AED 129 per person for regular package
AED 149 per person for the bubbly package
Timing: 5 PM to 8 PM
Location: The HUB, World Trade Centre Mall, Abu Dhabi
18. Bambu
Inspired by the Amazonian jungle, Bambu brings the jungle indoors with a great line-up of food, drinks, and entertainment with the Dia De Los Muertos celebration this Halloween in Abu Dhabi.
Be sure to dress the part and party the night away at this mysterious and chic urban jungle serving tropical cocktails and slithering hand-crafted drink specials.
Date: October 29
Timings: 8 PM to 11 PM followed by Afterparty
Price: AED 250 per person
Location: 17th Floor, Cristal Hotel, Abu Dhabi
19. The Irish Vickers
Another new entrant to the Abu Dhabi party scene is Irish Vickers. Guests will be able to experience the authenticity of an Irish pub with a very different Halloween-inspired twist, The "Anti-Halloween" party at Abu Dhabi's largest Irish bar.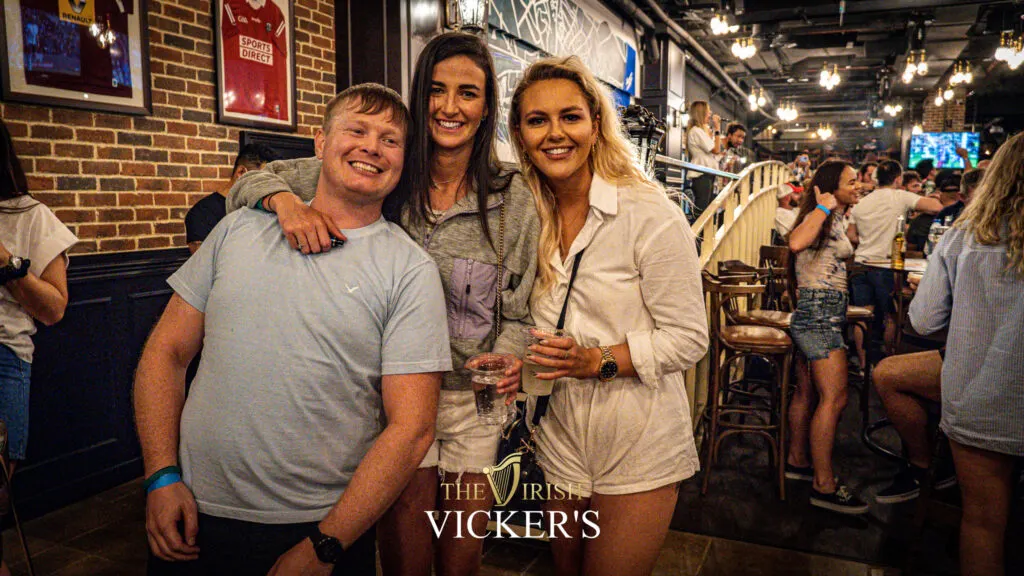 In addition to the two huge indoor spaces, the venue offers a separate 'Games Room' where you can play pool, darts, bowling and play golf! Guests can enjoy a classic night out without the stress of having to dress up in costume.
Dates: October 28
Pricing: AED 119 for ladies and AED 199 for gents (unlimited 3-hours house beverages and shared platter)
Timing: 8 PM to 11 PM
Location: The HUB, Level 6, World Trade Centre Mall, Abu Dhabi
20. PJ O'Reilly's
Get your friends together, wear your spookiest costumes, eat and drink until you're stuffed and help solve a murder.
Join in the fun and show off your detective skills at PJ O'Reilly's for their Haunted Halloween Murder Mystery Brunch.
Diners will be treated to an engaging experience with free-flow beverages, PJ's staples, and platters of BBQ burgers and nibbles. Join forces and figure out the culprit.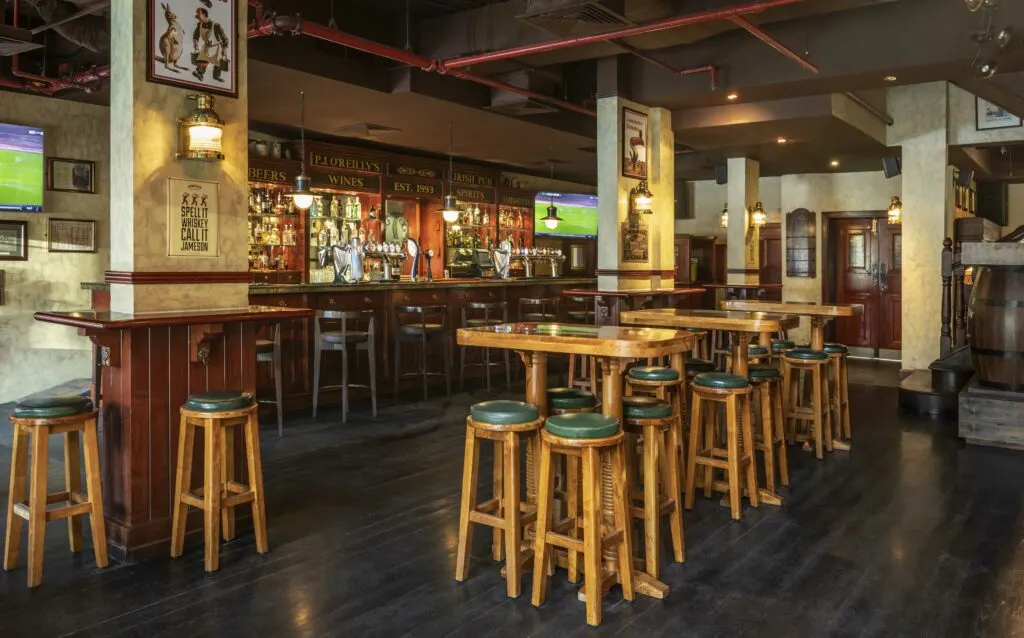 There's even a prize for the best costumes and the quickest detective who solves the mystery.
Be sure to dress up, get into the Halloween spirit and dance away to the catchy tunes with resident DJ and live vocals.
Dates: October 28
Prices: AED295 per person all inclusive
Timing: 7 PM to 10 PM
Location: Khalifa Street, Abu Dhabi
21. Coya
Kickstart your Halloween at COYA, this Peruvian restaurant will be presenting a spooky " The Wild Wolf" brunch with a grand entrance.
Dress in your most eccentric and creative ensemble and enjoy elegant house beats, spooky cocktails, and some delicious and expertly crafted Peruvian cuisine. while overlooking Al Maryah Islands waterfront.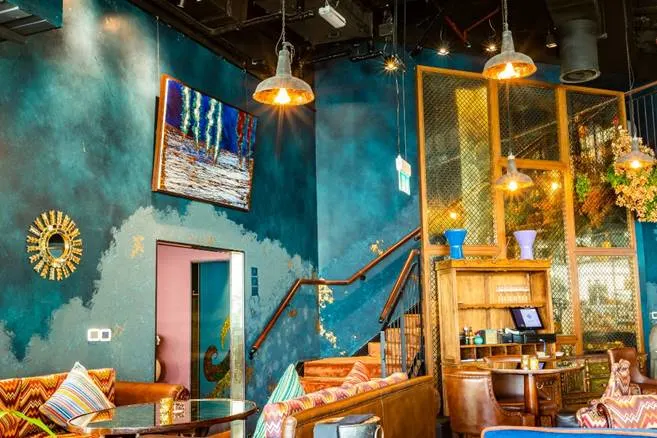 You can expect tribal beats and signature music from their resident DJ, so be sure to wear your dancing shoes.
Date: October 29
Prices: Reservation at the main restaurant will have no minimum spending requirement.
Diners in the Pisco Bar and enclosed terrace will have a minimum spend requirement from the second seating at 8.30 PM onwards.
Seatings between two and five guests, the high tables have a minimum spend of AED 1,000, and the sofas have a minimum spend of AED 3,500.
On the terrace, tables of two guests have a minimum spend of AED 1,000, tables of three to four guests have a minimum spend of AED 2,000 and tables of five to eight guests have a minimum spend of AED 3,000.
Timing: 7 PM until late
To make a booking, call +971 02 306 7000.
Location: Four Seasons Hotel, Al Maryah Island, Abu Dhabi
22. Corniche All-Day Dining
Corniche All Day Dining offers a Halloween themed family-friendly brunch this Hallows Eve. Diners will be treated to a "magic potion" as soon as they step into this spooky-styled venue while being escorted to your table.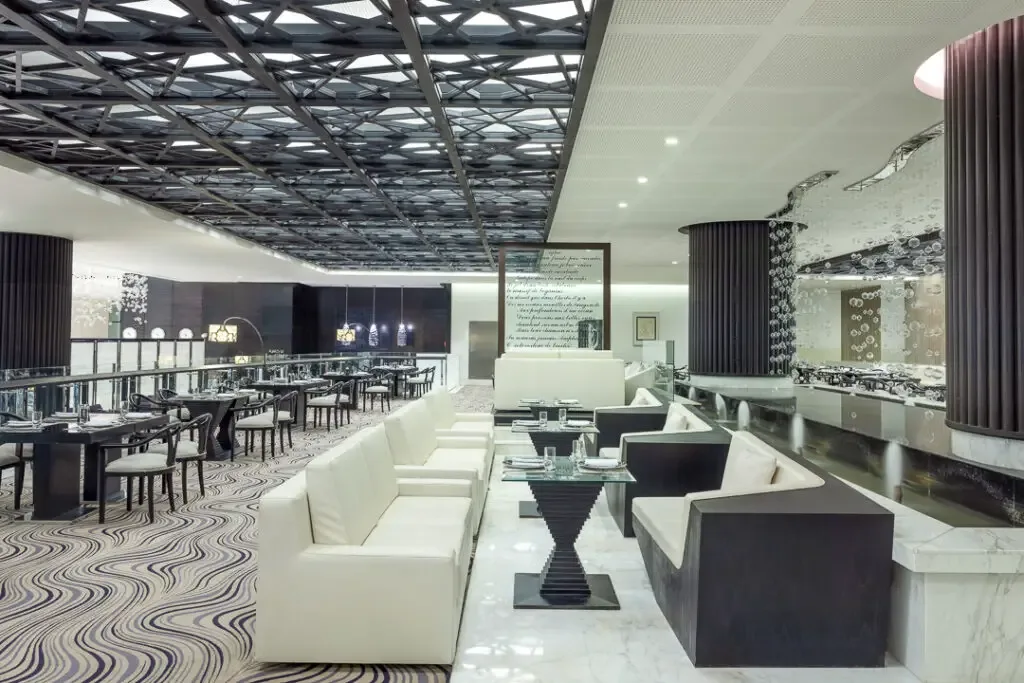 You can also engage your kids in various trick-or-treat activities while you dig into the vast brunch menu offerings.
Throughout the evening, their resident band will play to keep you entertained. Also, be sure to dress the part and blend in with the Halloween theme.
Dates: October 29
Prices: AED255 for the soft drink package
AED380 for the house package
Timings: 1pm to 4pm
Location: Sofitel Hotel, Corniche, Abu Dhabi
23. Sing Galing
Sing Galing, a new entrant to the Abu Dhabi party scene, will showcase spirits and spells, thrills and chills, along with Karaoke at their "Crawl-O-ween" from 10 PM onwards.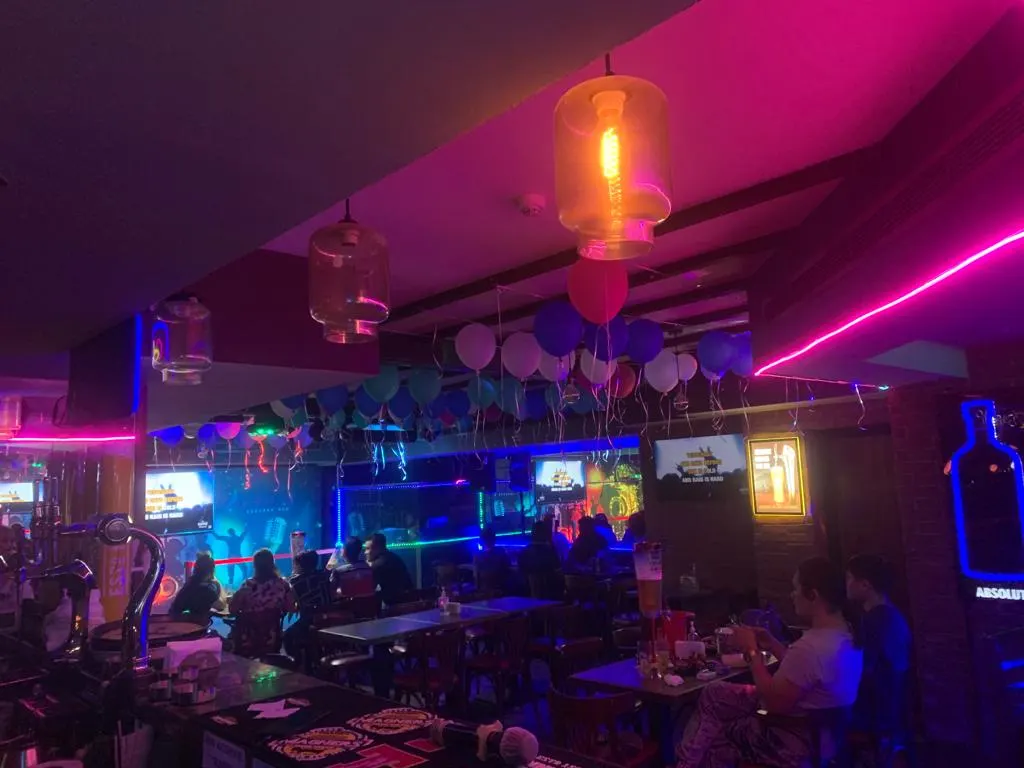 Dress up in your spookiest costumes and karaoke away to win some exciting prizes.
Dates: October 28 and October 29
Timings: 5 PM to 5 AM
Location: Hawthorn Suites Hotel, 15th Floors, Abu Dhabi
24. Mykonos
Guests at Mykonos can enjoy all-time favourites from the Halloween-themed brunch menu, including Graveyard nachos, spicy bat wings, and zombie brain cake.
Get in the Halloween spirit for some outdoor or indoor Halloween fright at this decked-out venue.
Dress up in your scariest outfit for a chance to win best-dressed with live entertainment and tunes from the in-house DJ.
Dates: October 29
Prices: Brunch packages start from AED 199.
Timings: 3 PM to 7 PM
Location: Le Meridien, Al Zahiya, Abu Dhabi
25. Prison Island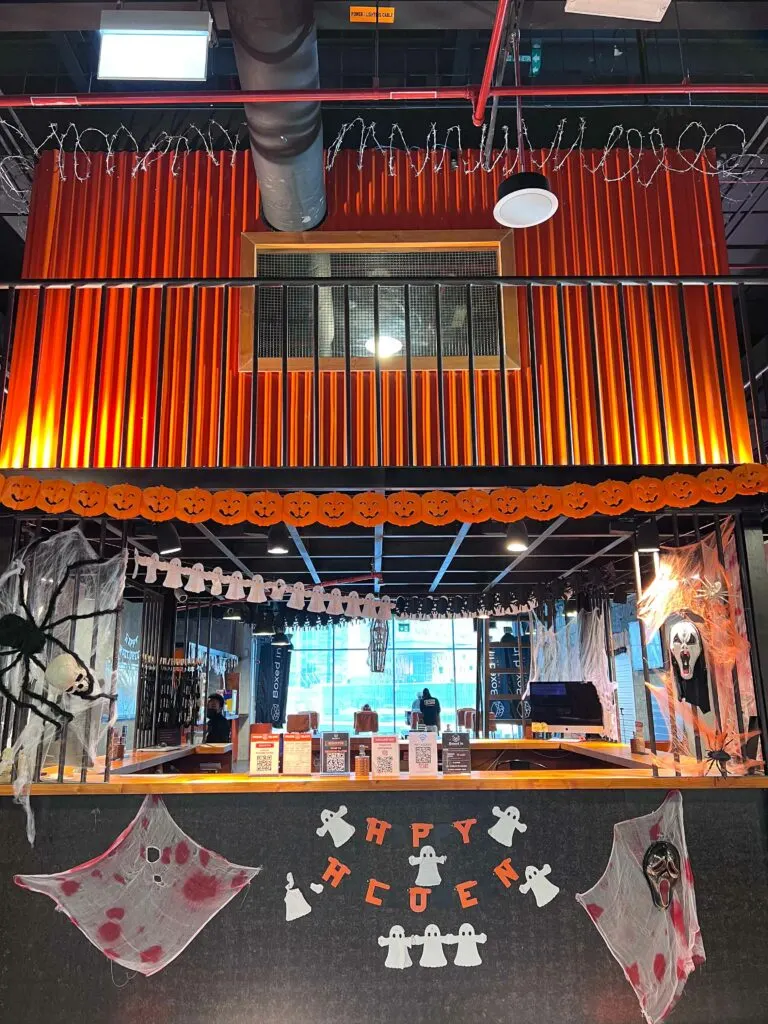 26. Ghost Land At Yas Marina Circuit
The Capital's biggest ladies' horror night, " Ghost Land", is set to take place right at the Yas Marina Circuit in Abu Dhabi on Halloween night.
Make an impression with your finest spooky attire and get ready to engage the strange and the unknown and let loose of the weird and wild in you.
Live DJ Music, art, the stage, and overall event production will contribute to amplifying the spirit of the event.
LADIES ONLY
For reservations, call +971 56 44 517 74
Dates: October 29
Timings: 7 PM until Midnight
Location: Yas Marina Circuit – Main Grandstand, Gate 8, Yas Island, Abu Dhabi
Halloween Cakes & Decorations
FNP.ae has curated mouthwatering Halloween cakes for those with a sweet tooth. These scrumptious confectionsare with spooky designs are sure to delight both kids and adults alike.
Also available exclusively for Halloween are FNP's Treat Boxes that are filled with an assortment of candies, chocolates, and treats. These boxes are perfect for sharing the spirit of Halloween with family and friends.
Transform any space into a haunted mansion with FNP's Halloween decor. From spooky pumpkins and
hauntingly beautiful flower arrangements to eerie candleholders and ghoulish wreaths.
FNP's Halloween decor collection has everything you need to create a chillingly eerie ambiance for any Halloween party.
All products within the Halloween Collection.
Frequently Asked Questions
Is Halloween celebrated in Abu Dhabi?
Abu Dhabi is an international city with a large expat community, so Halloween is celebrated widely.
There are spook-tacular decorations in Abu Dhabi's hotels and malls, as well as special menus and parties at local restaurants and bars.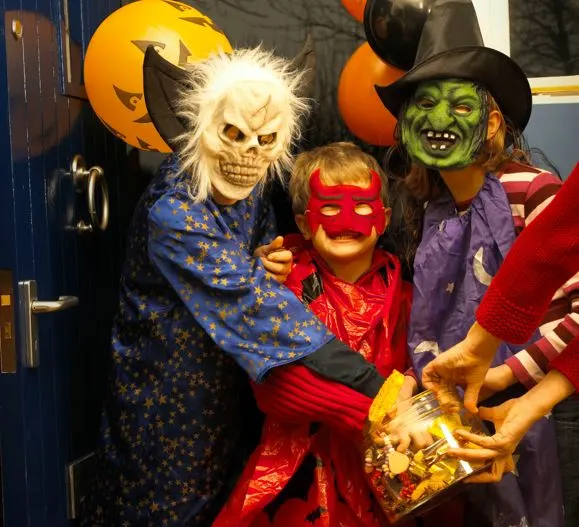 What are the best stores to buy Halloween costumes in Abu Dhabi?
Whatever your Halloween costume is going to be, you'll need to hit the shops to put together a great outfit.
These top Halloween costume stores can help you find the most suitable costume.
Posters
Posters is the perfect place to find a outfit for Halloween. All types of costumes and make-up sets are available at this store. You can also place an order online.
Party Centre
The Party Centre at Al Wahda Mall and Al Raha Mall is a great place to find Halloween decor, costumes, and other Halloween accessories. If you're looking for costumes in any category, stop by one of their stores or browse online.
Party Zone
Whether you're looking for make-up, terrifying masks, adult / kids costumes, colourful wigs or other Halloween accessories, there's something for everyone at Party Zone.
Mystique Costumes
Despite the shop's location in Dubai, you can order your Halloween costume online and have it delivered to Abu Dhabi.
At Mystique Costumes, you'll find everything from fake blood to funky wigs and halloween make up Abu Dhabi.
While costumes at Mystique Costumes are more on the expensive side, they can vary depending on what you choose, the outcome is well worth your time and effort.
Shopping for Halloween doesn't have to be an expensive affair. You can also be artistic and use items from around your home.
Halloween Ideas at Home With The Family
Whether it's pumpkin-decorating contests, scary movie marathons, or scavenger hunts, there are so many activities your family can do together for Halloween. Find out what we think are the best Halloween activities for your little ones.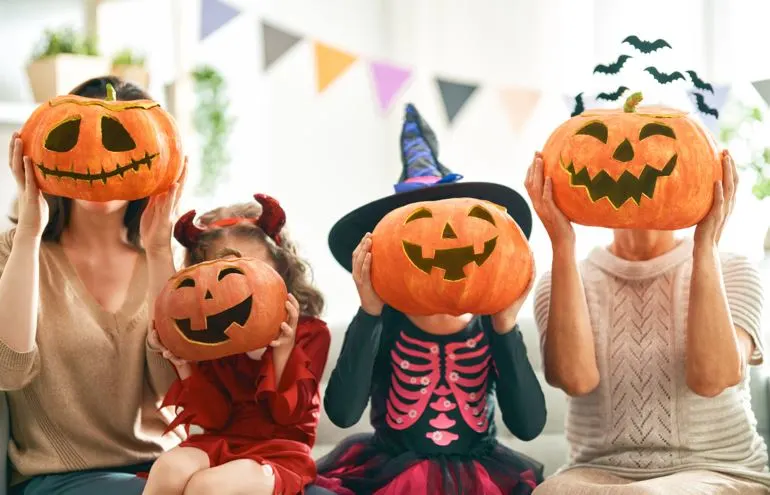 Pumpkin Decorating
Pumpkin decorating is a helpful activity for fine motor skill development. Paint or carve pumpkins with your family and friends!
It would be worthwhile to save the seeds and innards for later use, such as toasting pumpkin seeds or baking pumpkin bread.
Having kids plan and run their own haunted house can be a lot of fun. Allow kids to create their own "spooky" experience by setting rules about props, using equipment and clearing up afterwards.
Let the kids plan their route and lay out spooky elements along the way.
Haunted Houses
In case the thought of constructing a haunted house scares your child, you can create a Fall fun house where pumpkins, scarecrows, and other Fall-themed decorations are displayed.
Lantern Making
Lantern making is a fun craft idea and a great party decoration. Take some brown or white paper lunch bags and cut fun designs and shapes. Fill the bottom of the bag with sand and place a battery-operated candle on top.
Scavenger Hunts
Children can have a great time on a scavenger hunt. Make up a scavenger hunt for your kids. Hide and leave clues so the kids can find you.
The Best Halloween Movies For Kids
Here's our list of Halloween movies for kids so that you don't have to search through the Internet for something fun.
So wear your costumes, grab some snacks and sit back. As a matter of fact, most of these movies tend to be funny rather than creepy.
Hocus Pocus- 1993
CASPER the friendly ghost- 1995
Harry Potter (Movie series)
Monsters,Inc.- 2001
Scooby Doo- 2002
The Haunted Mansion- 2003
Tim Burton's Corpse Bride- 2005
Monster house- 2006
Coraline- 2009
The dog who saved Halloween- 2011
Hotel Transylvania- 2012
Frankenweenie- 2012
Paranorman- 2012
Toy story of terror- 2013
Goosebumps- 2015
Ghostbusters- 2016
Gnome Alone- 2017
Escape from Mr.Lemoncello's Library- 2017
The house with a Clock in its walls- 2018
Super monsters save Halloween- 2018
The Addams Family- 2019
Scary stories to tell in the dark- 2019
Scoob!- 2020
Bigfoot Family- 2020
Monster Family 2- 2021
Muppets Haunted Mansion- 2021
Under Wraps- 2021
What is Halloween?
All Hallows Eve, or Halloween, is a holiday celebrated on October 31, the evening before All Saints' (or All Hallows') Day.
In Western Christianity, Allhallowtide begins the day before All Saints' Day, which lasts three days and concludes with All Souls Day.
The observance of Halloween is largely nonreligious in much of Europe and North America.
Origins of Halloween
The origins of Halloween can be traced back to the Celtic Festival of Samhain (pronounced sow-in). 2,000 years ago, the Celts, mostly living in what is now Ireland, the United Kingdom and Northern France celebrated their New Year on November 1st.
In the past, this day marked the harvest and the beginning of the dark cold winter. It was believed by the Celts that the boundary between the living and the dead blurred on the night before the New Year.
On the night of October 31, they celebrated Samhain when it was believed the ghosts of the dead returned to earth.
History of Trick-or-Treating
Taking after European traditions, Americans began dressing up in costumes and asking for food and money from house to house. As a result, this practice eventually became the trick-or-treat tradition we know today.
It was in the late 1800s Halloween began to shift from a night of ghosts, pranks and witchcraft to a day of community and neighbourhood gatherings.
Halloween parties for children and adults became the most common way to celebrate the holiday around the turn of the century. It was a time for games, food of the season and festive costumes at the parties.
It was recommended parents refrain from displaying anything "frightening" or "grotesque" during Halloween celebrations.
It was because of these efforts Halloween lost most of its superstitious and religious overtones by the turn of the twentieth century.
History of Halloween Parties
As Halloween evolved into a secular holiday in the 1920s and 1930s, its main attractions were parades and towns' Halloween parties.
In spite of many schools and communities best efforts, vandalism plagued some celebrations in many communities during this time.
As the 1950s approached, town leaders had successfully limited vandalism and Halloween was becoming a holiday mostly for the young.
Because of the high number of children during the fifties baby boom, parties were held in classrooms and homes rather than town civic centers.
It was also during these decades trick-or-treating was revived. Halloween was a relatively inexpensive way for communities to celebrate together.
By providing small treats to the neighbourhood children, families could also prevent tricks from being played on them.
As a result, a new American tradition was born and it has continued to flourish. Halloween is now the second most popular commercial holiday in the country, after Christmas, spending an estimated $6 billion each year.
Halloween, The Movie
The box office success of scary Halloween movies has a long history. There are a number of classic Halloween movies, including the "Halloween" franchise, based on the 1978 original film directed by John Carpenter and starring Donald Pleasance, Nick Castle, Jamie Lee Curtis, and Tony Moran.
The story of Halloween revolves around a young boy named Michael Myers who murders his 17-year-old sister and is sent to jail, only to escape over Halloween night and look for his old home and a new target.
The direct sequel to the original "Halloween" was released in 2018. Halloween Kills, the twelfth installment in the franchise, was released in 2021.
With its spooky soundtrack, "Halloween" is considered a classic horror film that inspired other iconic "slasher films" like "Scream," "Nightmare on Elm Street" and "Friday the 13." Families can enjoy Halloween movies like "Hocus Pocus," "The Nightmare Before Christmas," "Beetlejuice" and "It's The Great Pumpkin, Charlie Brown."
Disclaimer: This post may contain affiliate links. By using them it will not cost you any extra, we will receive a small percentage of the sale.