There are quite a few incredible Mexican restaurants in Abu Dhabi for those tacos, guacamole and fajita fixes!
Mexican cuisine is loved by so many worldwide and has quite the story. The origins of the rich and bold flavours are fascinating.
Spain invaded Mexico in the 16th Century and what we see today is a fusion of indigenous and Spanish cuisine.
Maya, Aztec, and Toltec civilizations thrived off beans, corn, squash, and chillies, much to what is seen in Mexican dishes today.
Today, Mexican cuisine has indulged in a new age of influences. The food is rich in herbs, spices, and chilli peppers.
Many dishes are versatile as chilli can range from mild to intense spice which is not for the faint-hearted.
This guide to the best Mexican restaurants in Abu Dhabi uncovers the best spots serving up burritos, chimichangas, fajitas, guacamole, nachos, tacos and much more!
Some Mexican restaurants in Abu Dhabi have unlimited deals, brunches and dine-in options. Whilst a couple of outlets are fast food or delivery only.
Whether it's a mid-week snack, date night, or a place to celebrate Cinco De Mayo, we have got it covered!
Foodies, why not check out our Abu Dhabi sushi, fine dining, best burgers and Italian food guides?
Best Mexican Food In Abu Dhabi
1. Loca
First on the list of the best Mexican restaurants in Abu Dhabi is Loca in Galleria Mall. The popular restaurant is situated on the waterfront promenade offering stunning views of the area.
The restaurant faces West making it the perfect spot to eat some of the best Mexican food in Abu Dhabi as the sun sets on the Arabian waters.
Inside, has a spacious layout with a bar area and a lot of seating. The venue gets super busy at some of the special events held throughout the week. It's a prime spot to watch the fireworks on National Day and NYE.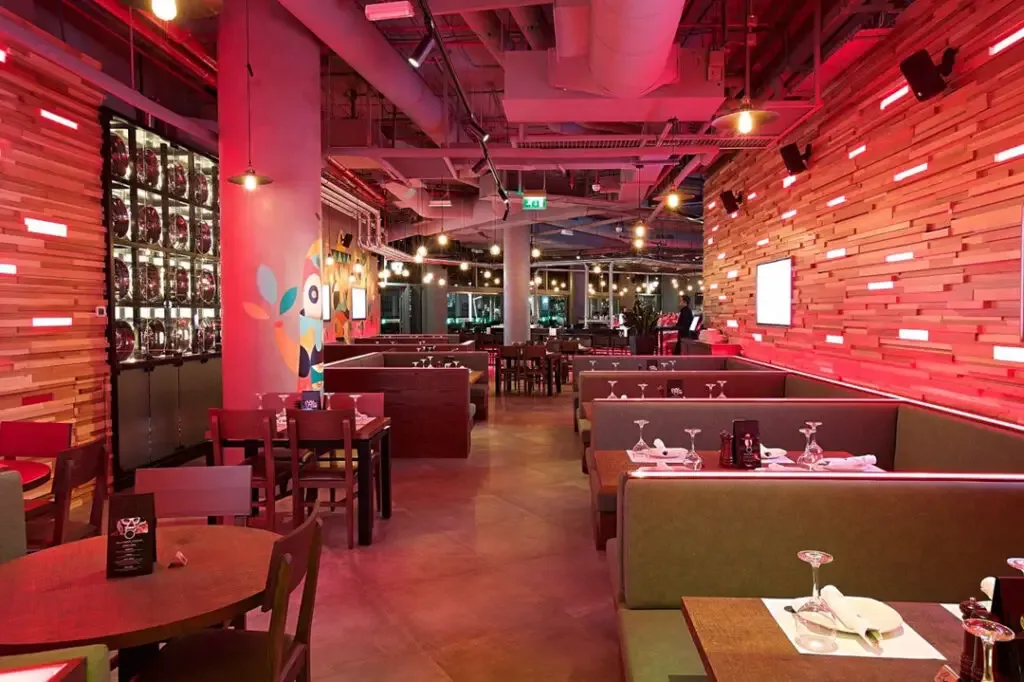 Loca quickly recognized a gap in the market in Abu Dhabi back in 2009. They were fully aware most Mexican restaurants outside Mexico fall into the trap of becoming 'Tex-Mex'.
Loca didn't want the status quo and set up a fully authentic experience by hiring Mexican chefs. It always makes a difference when food is prepared by those who know it inside out.
Loca serves breakfast all day, allowing Mexican food lovers to start the day off with huevos rancheros and many other Mexican breakfast delights.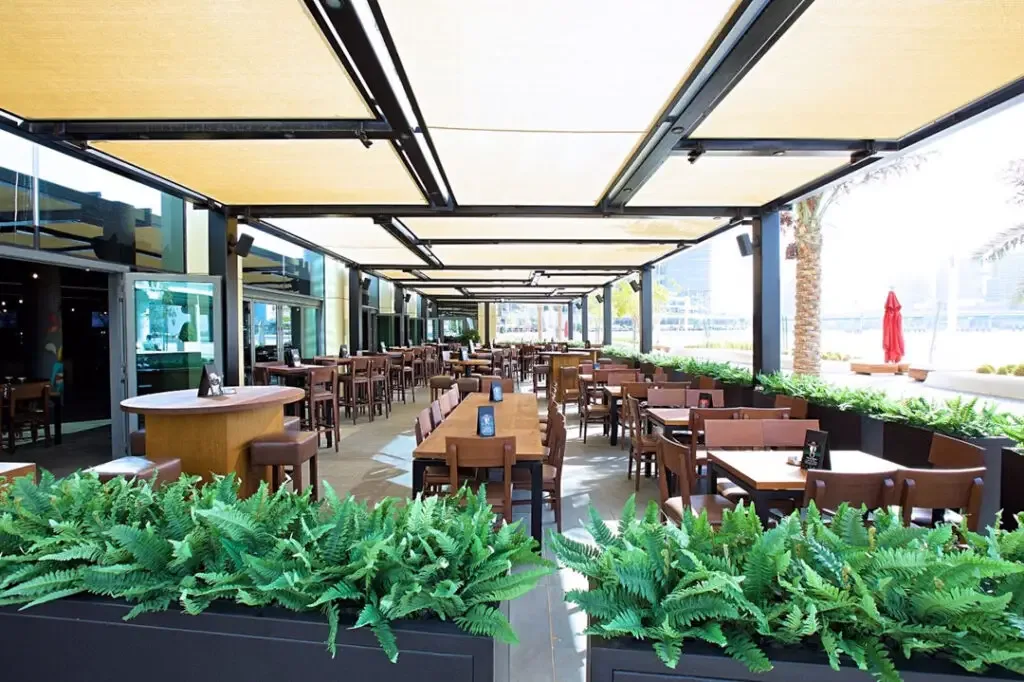 Fajitas are served on a piping stone, and tender meat, poultry, seafood, and vegetables can be heard sizzling from afar. The perfect fajita can be constructed with warm wraps, sour cream, guacamole, rice, and salsa.
Other popular dishes at this restaurant include slow-roasted beef short ribs in Locas chipotle guajillo barbeque sauce, burritos packed full of Mexican goodness and enchiladas.
Loca Deals
The Tuesday night brunch brings the Loca (craziness) to the start of the week. The Mexican brunch feast costs 195 AED for food plus unlimited bottled hops and margaritas.
The soft drinks packages cost 125 AED and it runs from 19:00 pm to 22:00 pm
On Wednesday it's ladies' night with an offer of unlimited margaritas from 19:00 onwards. We can tell you first hand the frozen margaritas are delicious and go down a little too easily, beware!
A Mexican feast is on offer every Friday with unlimited tacos plus two margaritas or two bottled beers. The cost is 165 AED.
The unlimited taco deal leads into the 80's & 90's night from 20:30 pm. Dj Eldar Stuff brings a blast from the past with groovy beats at one of the best Mexican restaurants in Abu Dhabi.
Loca Saturday Mexican Brunch Abu Dhabi
Loca Saturday brunch is the flagship event of the week. The brunch kicks off with four varieties of traditional breakfast.
Expect appetizers served in tapas-styled Mexican dishes after breakfast. The freshest guacamole in town is prepared in a mortar and pestle tableside and served with crispy warm nachos.
The brunch continues into the main course when guests can choose slow-roasted ribs, fajitas, burritos, tacos or a tostada salad.
Make sure to leave room for the delicious Mexican desserts. The chocolate sponge marinated in patron café served with vanilla ice cream was our favourite!
Soft drink packages cost 155 AED and beverages cost 245 AED.
The event is between 12:00 pm to 17:00 pm, with the option to extend the stay between 17:00 pm to 19:00 pm for beverages only.
Loca, brings the week to a close on Sundays with get your 'guac' on. Choose from beef, chicken, shrimp or vegan fajita with two hops or grape for 129 AED.
From Monday to Thursday, a business lunch deal is available between 12:00 pm to 16:00pm for 95 AED.
A selection of appetizers and one main course brings a Mexican fiesta to mid-week afternoons. The lunch pairs well with the happy hour drinks offer.
Happy hours are on Monday to Thursday, 12:00 pm to 19:00 pm.
Location: Galleria Mall Abu Dhabi
Timings: Monday to Sunday, 12:00 pm to 02:00 am
Call: 971-25823639
2. Amerigos
The vibrant interior and food bring Latino heat to the Emirate. Amerigo's is well known and sits firmly on the best Mexican restaurant in Abu Dhabi list.
The Yas Island branch is decorated in vibrant Mexican artwork and the outdoor area makes for an epic al fresco dining experience with views of Yas Acres Golf course.
The top recommended starters are guacamole, nachos and fried calamari. Authentic melt-in-the-mouth ceviche is on offer with an option to try an assortment of three or, AKA, the tres amigos.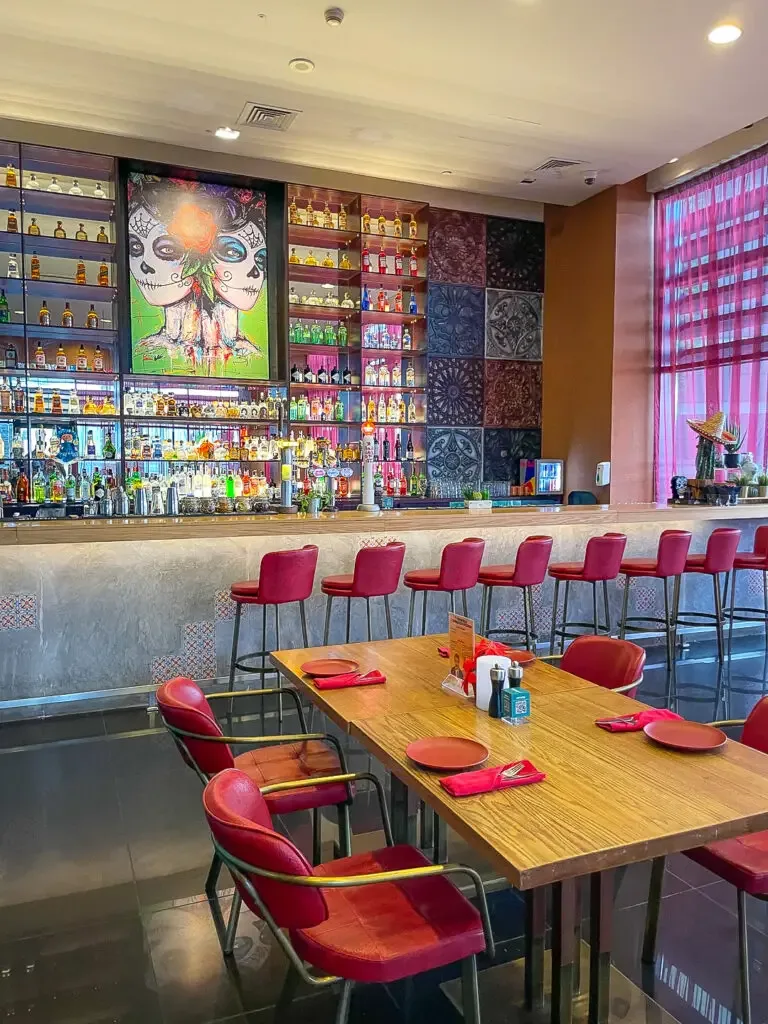 The speciality menu brings an interesting twist to classic pub meals. Whilst the tequila ribs glazed in hoisin-tequila sauce are a one-of-a-kind meal that can't be found anywhere else in the city.
Tacos, enchiladas, fajitas and burritos have a multitude of options. A meat cut section offers tenderloin, rib eye, and striploin cuts of meat.
Amerigo Deals
Taco Tuesday is one of the most popular mid-week deals in the city. The price of one taco gets customers four delicious tacos and two bottles of hops.
The 2 for 1 offer is available every Tuesday from 17:00 pm onwards.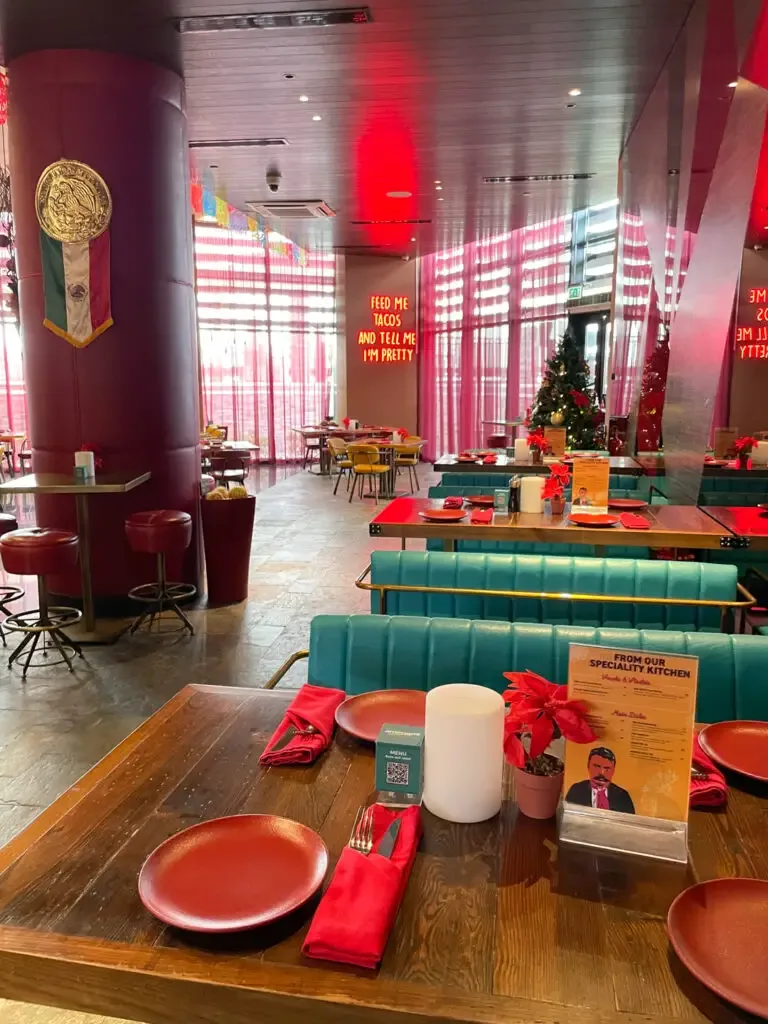 The ladies night offer on a Thursday is free-flowing margaritas with 50% off food for 99 AED.
Start Friday evening off with a bang at the mercadito evening brunch. Amerigos pride themselves on delivering true Mexican flavours to the table at the fun Friday night brunch.
Packages start from 169 AED and are on offer from 19:00 pm onwards.
The brunch offers rollover into Saturday afternoon. The Acapulco brunch is a popular family-friendly outing with the option to add access to the pool. There is entertainment for the kids, keep an eye out for Jose, the resident mascot!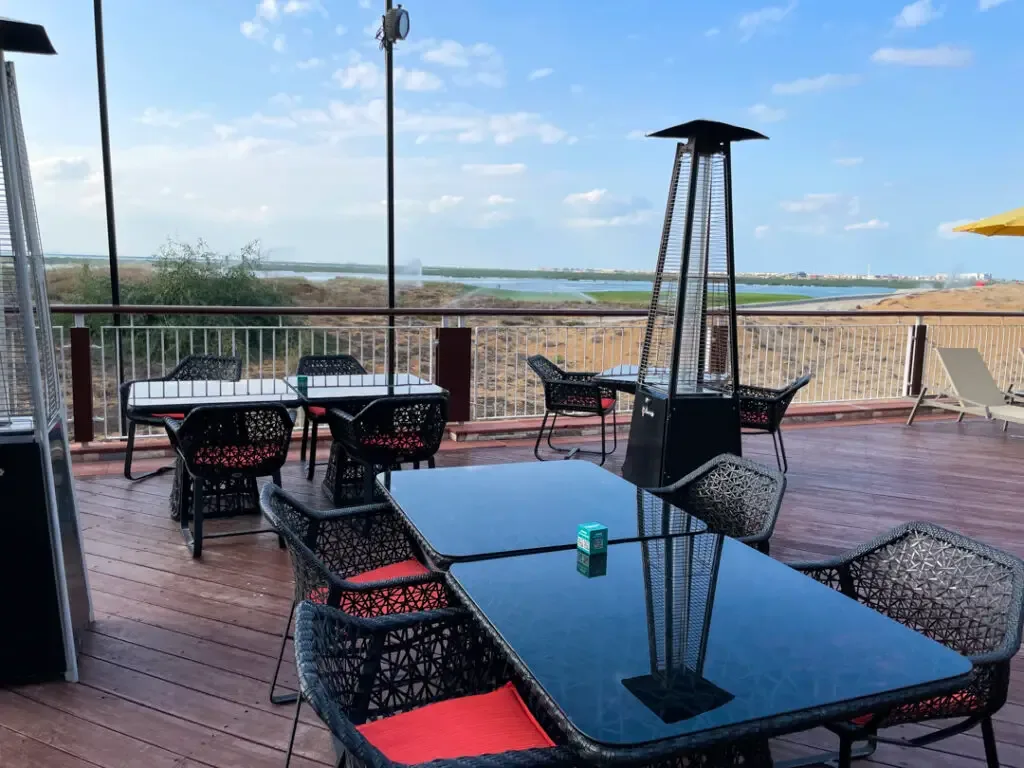 The brunch is between 12:30 pm to 15:30 pm and costs 199AED.
Pool passes cost 49AED and 29AED for kids.
Happy hour is available daily from 17:00 pm to 18:30 pm with 50% off beverages.
To maximize the Mexican vibe, visit when the live duo band Jose & Flavia play.
Sing along with the talented duo on Tuesdays and Fridays at 19:30pm
Thursdays at 18:30 pm or Saturdays at 13:00 pm.
Location: Park Inn Radisson Blu Abu Dhabi, Yas Island.
Timings: Monday to Friday, 17:00pm to 01:00 am
Saturday 12:30 pm to 15:30pm, 17:00pm to 01:00 am
Sundays 11:00 am to 01:00 am
Call: 971-6562000
3. La Patrona
Hands down the best tacos in Abu Dhabi are at La Patrona! The restaurants are not only found at the hidden Al Nakheel Hotel Apartments, they are also seen at festivals and outdoor events in their very own food truck serving up Mexican street food.
Don't be fooled by the simplicity of the restaurant, as the tacos are supreme. The food is quite authentic since some of the ingredients used are shipped from Mexico.
The hand-crafted tortillas are made with Mexican corn, homemade salsa and spices flown in from Mexico.
La Patrona Deals
There are some amazing options on the menu. The best time to visit is on Taco Tuesdays between 12:00 pm to 22:00 pm
Six tacos with 3 fillings and soft drinks cost 69 AED for two people. The deal comes with unlimited nacho chips and beans.
Highlights of the menu include baja shrimp tacos which come with, refried beans, melted cheese, fresh chopped salad and pico de gallo and are topped with homemade salsa.
Another top choice is the brisket suadero tacos. The delicious tortillas are packed with pulled beef brisket marinated in La Patrona's signature recipe and garnished with onion and coriander.
Each taco is packed with high-quality ingredients, and it can be noticed on each bite.
Good news for our vegan friends as La Patrona offers some delicious vegan tacos with fillings such as jackfruit pastor, guacamole, beans and much more.
The restaurant has some starter menu options, such as guacamole, chips with salsa, Mexican nachos, and mini quesadillas.
Other main menu options include quesadillas, cheese crust tacos and taco boxes.
Taco boxes are a great dining option for a group of friends or family. Build your own box or just one type of taco.
La Patrona offers delivery on Talabat.
Location: Al Nakheel Hotel Apartments – Muroor Rd – opp. Al Falah Plaza – Al Dhafrah – Zone 1 – Abu Dhabi – United Arab Emirates
Timings: Monday to Sunday, 11:00 am to 23:00 pm
Call: 971528370824
4. El Chico Tex-Mex Restaurant
El Chico is an affordable Tex-Mex restaurant right in the heart of the city. The restaurant is decorated in the cliché sombreros and the main emphasis is on good quality, affordable food with guacamole prepared tableside.
The hidden gem is well known for its brisket beef tacos and tender smoked barbeque ribs. El Chico is a worthwhile visit to satisfy any Mexican food craving at an affordable price.
Location: World Trade Centre Mall – F9P4+XWJ – Al Danah – Zone 1 – Abu Dhabi – United Arab Emirates
Timings: Monday to Sunday, 10:00am to 22:00 pm
Call: 97127059760
5. Tortilla
When it comes to Mexican fast food in Abu Dhabi, Tortilla in Galleria Mall have some incredibly tasty food.
Tortilla makes epic burritos and tacos quickly, perfect for a lunch break. They deliver on all the major apps too!
Tortilla offers chicken, shrimp, beef or a veggie option in either a taco or burrito. Choose from large or regular sizes, not to mention guacamole comes at an additional cost. However no burrito is complete without guac, right?
Another option is to have all the fillings in a salad bowl without the bread or taco, perfect for those watching calories
There is a range of sauces to choose from, watch out some options are super spicy. They also do mini burritos for kids with fillings of choice.
Location: Galleria Mall, Al Maryah Island
Timings: 08:00am to 12:00am
Call: 971-800-8678
6. Burro Blanco
Burro Blanco is another great Mexican food delivery option in Abu Dhabi. There is an option to pick it up from the tiny hatch in the wall.
The exterior is decorated with the menu on a chalkboard making it look like a fully authentic Mexican street food.
There is a tiny table and chairs to enjoy the food outside the hatch in the cooler months such as November or December for the full Mexican street food experience.
Burro Blanco is best known for its burritos and burrito bowls. Pulled beef, grilled adobo chicken, crispy Mexican falafel and vegan beyond-meat fillings make a burrito option for everyone.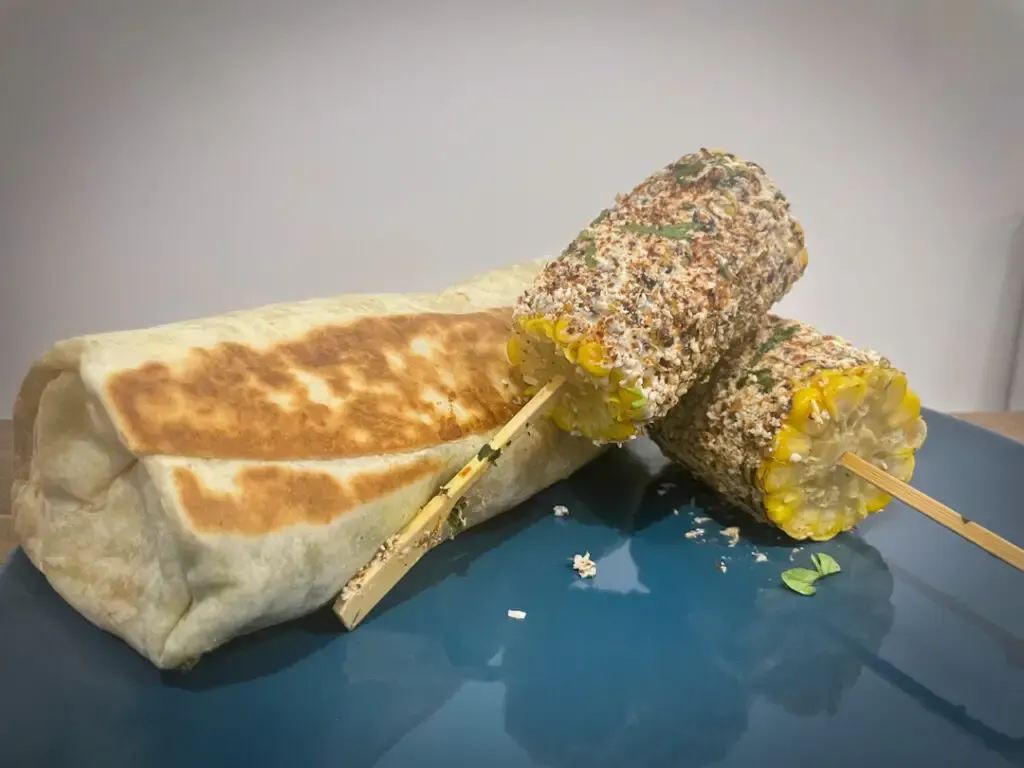 Tacos, street bites such as crispy avocado fries, quesadillas, Mexican street corn, loaded nachos, loaded fries and much more are available to order from this Mexican street food spot in Abu Dhabi.
For our Canadian friends, check out Burro Blanco's very own twist on poutine. The dish comes with crispy fries, cotija cheese, veg-based gravy and a Mexican flair.
Shops: Masdar City, Mohammed Bin Zayed City-Abu Dhabi
First Zayed Road, next to the ADNOC station, Al Khalidiyah-Abu Dhabi.
Timings: Monday, Tuesday, Wednesday, Thursday, Sunday 11:00 am to 22:00 pm
Friday & Saturday 11:00am to 23:59 pm
Call: 971-585822672-Masdar City
Call: 971-585828776-Al Khalidiyah
You may also like:
Best pizza in Abu Dhabi
The Best Italian in Abu Dhabi
Best Shawarma in Abu Dhabi
The Best Thai in Abu Dhabi