There are plenty of places to pick up a festive turkey takeaway in Abu Dhabi this Thanksgiving and Christmas and New Year period.
Many hotels source, pick, marinade, stuff and perfectly cook turkeys with all the trimmings to make life as easy as possible for their customers.
Most services offer different-sized turkeys based on weight with advice on how many individuals it can serve. Some outlets offer tonnes of delicious festive side dishes!
Offerings also include different centrepieces such as beef wellington and lamb shank as an alternative to turkey. It is the perfect opportunity to entertain at home over the festive period without the stress of cooking.
Making a festive meal can be consuming so having everything to hand is the ideal answer to spend time with family and friends. Here is our complete list of delicious festive turkey takeaways Abu Dhabi this year!
Make sure to check out this Thanksgiving or Christmas in Abu Dhabi for events, brunches, dinners and activities in the Emirate.
The Best Takeaway Turkey Abu Dhabi This Festive Season
1. Abu Dhabi Golf Club
Abu Dhabi Golf Club are doing a takeaway service for the entire festive season from Thanksgiving to Christmas and New Year in Abu Dhabi. The service is available from the 20th of November until the 2nd of January.
Having a takeaway turkey is the perfect opportunity to make a Thanksgiving or Christmas meal at home. Shussshhh, your guests will never know!
The culinary team at ADGC source, cook and prepare the turkey. It comes with all trimmings freeing up lots of time to enjoy the festivities.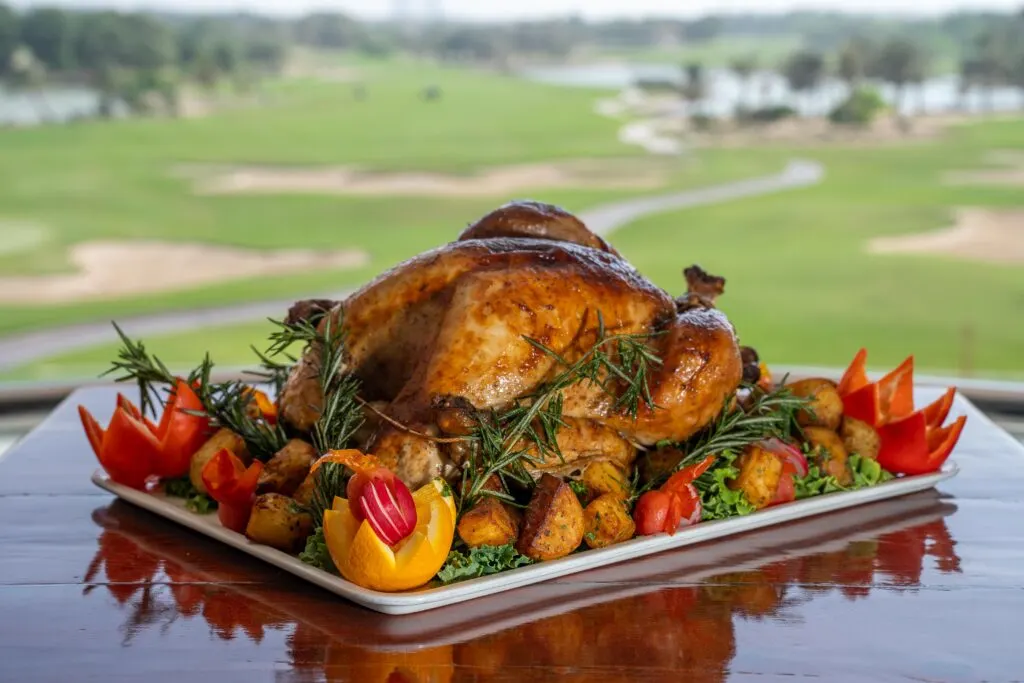 The turkey takeaway is marinated overnight with a special sauce by the talented chef and stuffed with chestnuts as well as dried fruits, assuring a juicy turkey full of aroma in every bite.
The delectable dish comes with a variety of trimmings such as rosemary roasted potatoes, braised red cabbage, roasted seasonal vegetables, and freshly prepared bread rolls, with traditional cranberry sauce and gravy enhancing the exquisite flavours.
Dates: 20th of November to 2nd of January
Prices: 680 AED for 6kg turkey (serves 6 to 8 people)
AED 780 for 8kg turkey (serves 8 to 10 people) 160 AED for roasted chicken (serves 2 people)
Booking: Please call +971 56 536 2230 to book.
2. The Rosewood
To create your own dining masterpiece, order Thanksgiving turkey with a wide range of tantalizing ingredients from Majlis Lobby Lounge.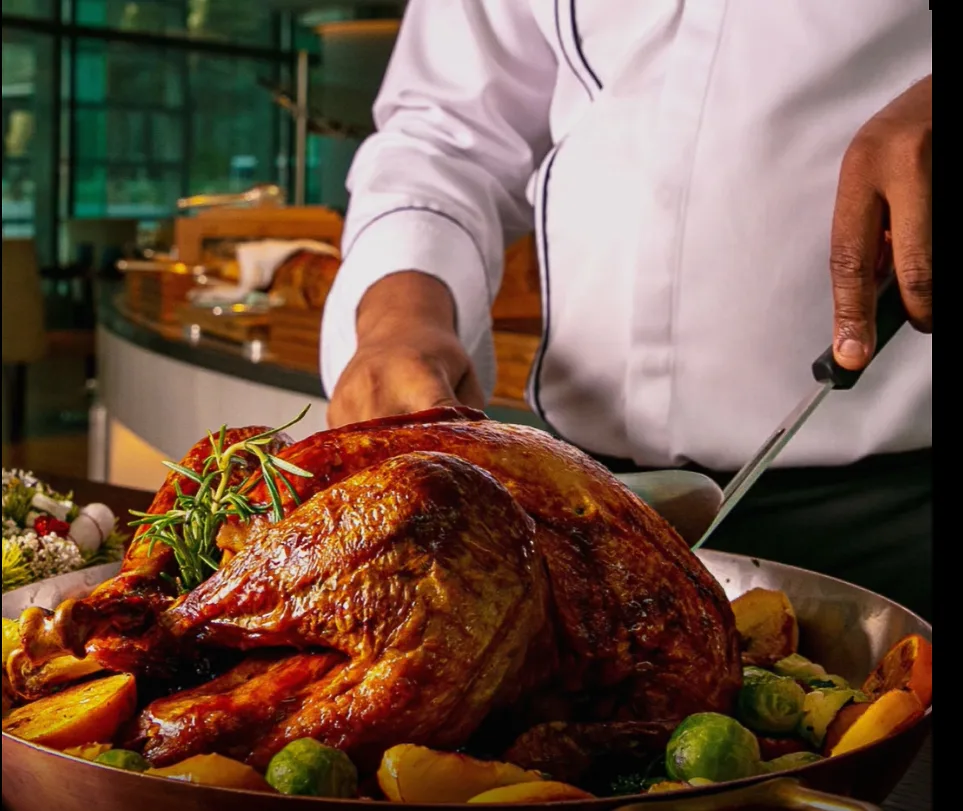 Dates: 24th November to 28th December
Offering Christmas turkey Abu Dhabi as well as Thanksgiving turkey Abu Dhabi.
Prices: 625 AED per box, additional sides & sauces AED 55 per serving
Booking: Required 24 hours in advance – abudhabi.festive@rosewoodhotels.com
3. Conrad Abu Dhabi Etihad Tower
Conrad Abu Dhabi Etihad Towers is offering a decadent, ready-prepared feast. The majestic festive Turkey Takeaway hamper comes overflowing with favourite seasonal comfort foods.
With a traditional roast turkey taking centre stage, the perfectly prepared meat is served with colourful and tasty trimmings such as golden herb-roasted potatoes, fresh parsnips and carrots, aromatic turkey gravy, and more delectable delicacies.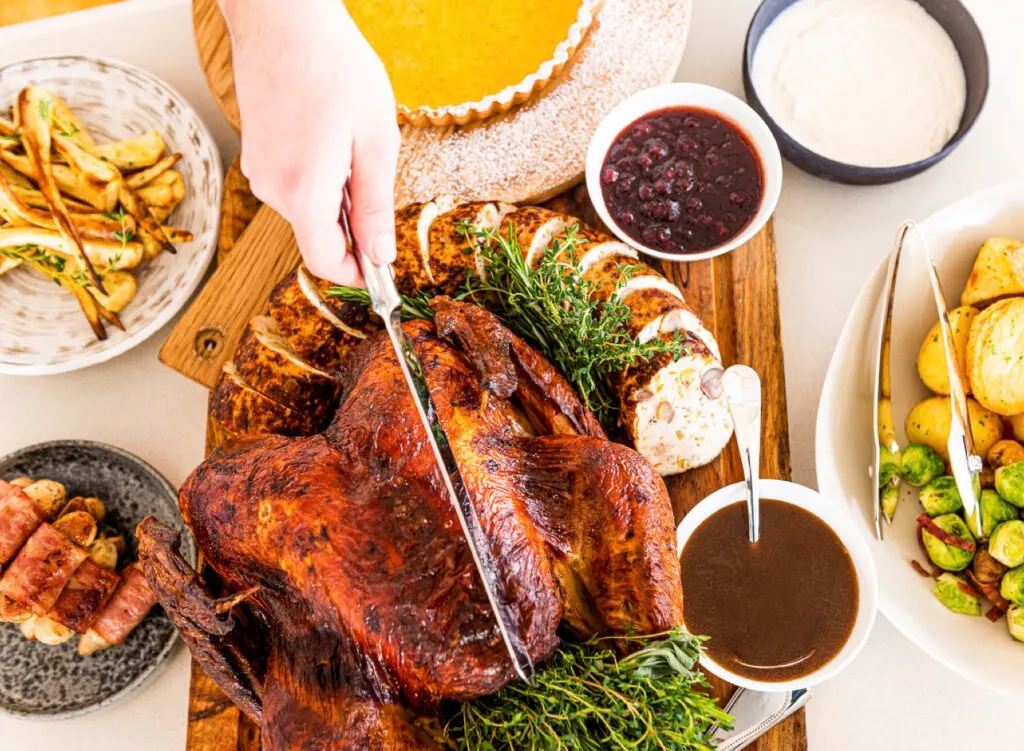 Big enough to feed large families and hungry groups of friends, the Turkey Takeaway hamper takes all the stress and hassle out of preparing a spectacular Festive feast.
Dates: November 24 – 9th of January
Prices: 900AED inclusive of trimmings
Booking: 02 811 5555
4. Vienna Plaza Radisson Blu Abu Dhabi
The Vienna Plaza takeaway turkey is marinated with fresh herbs and slow-roasted to perfection.
Delicious condiments of rock-salted potatoes, honey-mustard-glazed carrots, and buttered pan-sautéed brussels sprouts compliment every turkey bite with the roasted buttered chestnuts, cranberry sauce, roasted turkey jus with fresh rosemary.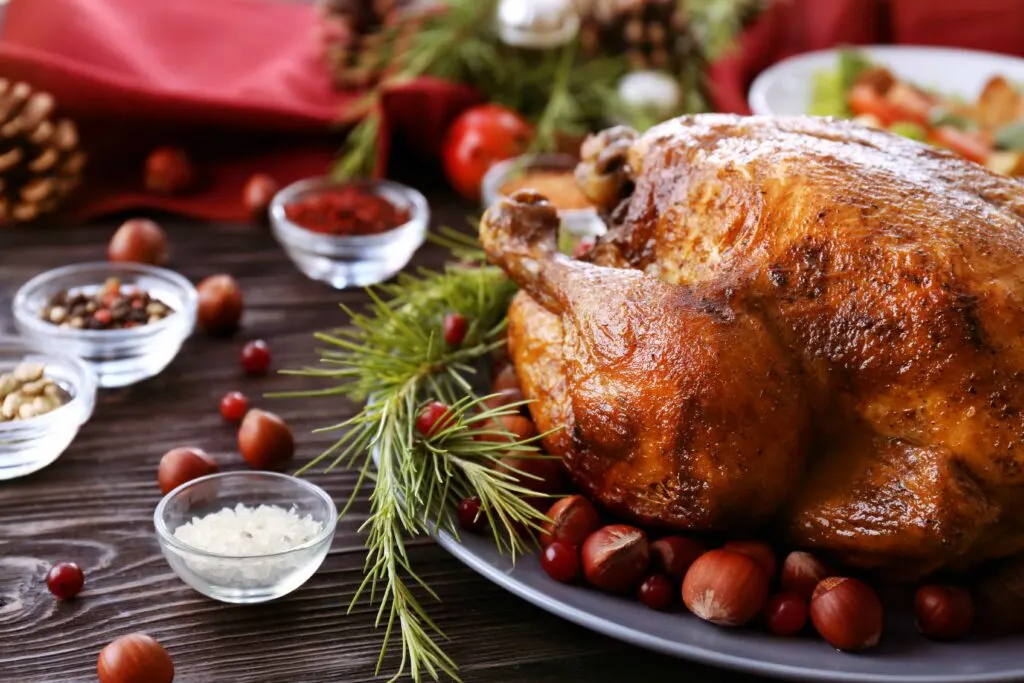 Dates: From: 20th November – 30th December
Price: From 221 AED, From 3.2kg turkey, side dishes 30 AED each
Booking: Vienna Plaza, order to be placed 48 hours in advance with a down payment or + 971 2 692 4999
5. Le Bistrot, Sheraton Abu Dhabi
Le Bistrot at Sheraton Abu Dhabi turkey takeaway is served with all trimmings, a medley of roasted vegetables, and an assortment of side dishes.
Order early and unwrap the juicy meat on the dining table this festive season. Early Bird 20% discount applies for orders before 20th December.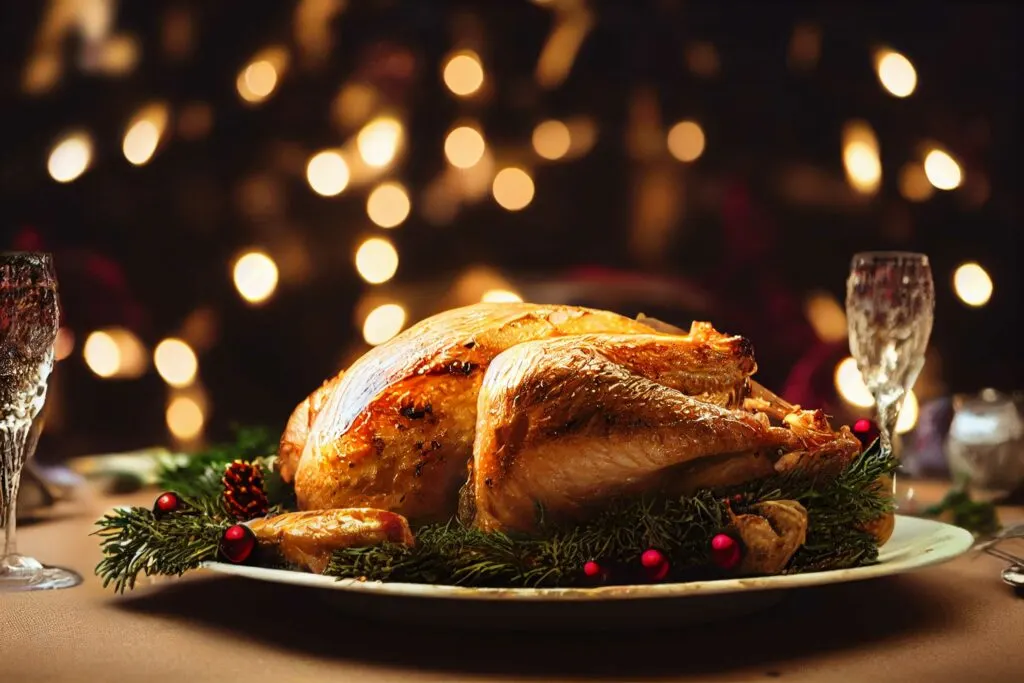 Dates: Orders can be placed starting December 1st until 29
Price: AED 550 (serves 4 to 6 people) AED 950 (serves 12-15 people). Free delivery within a 7 km radius, 75 AED delivery charge if beyond 7 Km.
Booking: At least 48 hours in advance. +971 55 367 5083

6. Le Meridien Abu Dhabi
The irresistible lavish spread of perfect roasted meat is served with lots of sides from Le Meridien.
Included is sourdough bread stuffing with sausages, autumn roasted vegetables, brussel sprouts with veal bacon, wild mushroom, sautéed drunken shallot, baby potatoes, glazed chestnut, cranberry sauce, and traditional gravy.
A sweet treat of tempting desserts which include apple pie, lemon meringue, and white chocolate Christmas yule log comes with the order.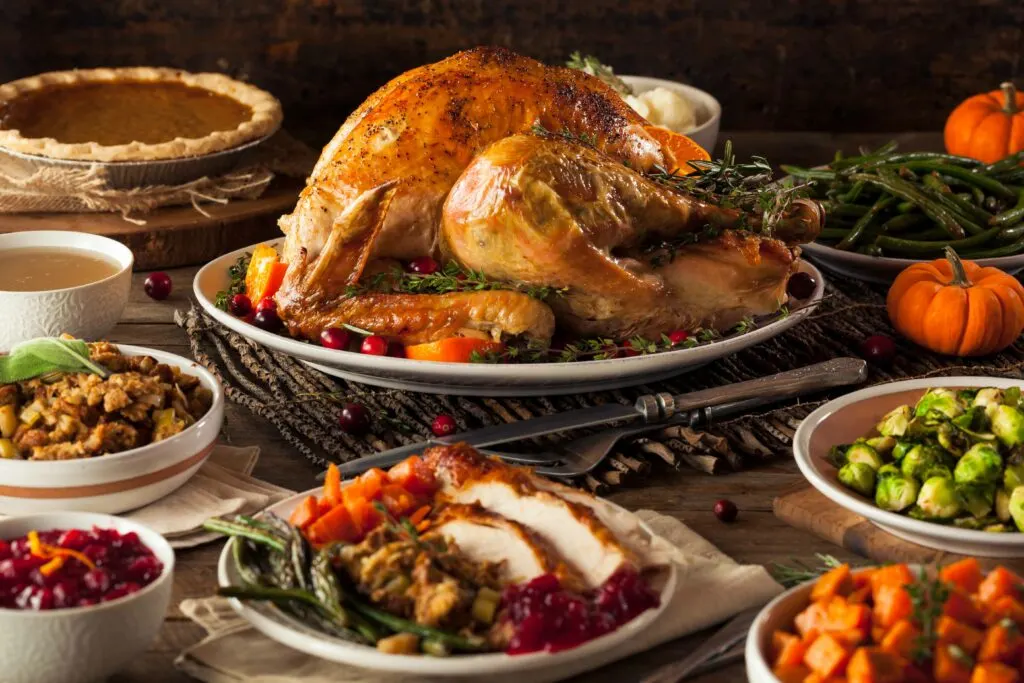 Christmas turkey takeaway Abu Dhabi dates: Available from 15th December until 30th December –
Price: AED 699 (6-7 KG), additional AED 300 for choice of dessert (Apple Pie, Lemon Meringue or White Chocolate Christmas Yule Log)
Booking: +971 56 688 5361 order 72 hours in advance with down payment.

7. Palm Court, Radisson Blu Al Ain
Offering a generous serving of turkey and all the trimmings, Palm Court at Radisson Blu Al Ain will be serving up two weeks of turkey takeaway from December 14 to 31.
It comes with a starter, all the trimmings, roast potatoes, roasted vegetables, sauces, and homemade mince pies to finish off.
Dates: December 14 to 31. 7:00 am to 10:00 pm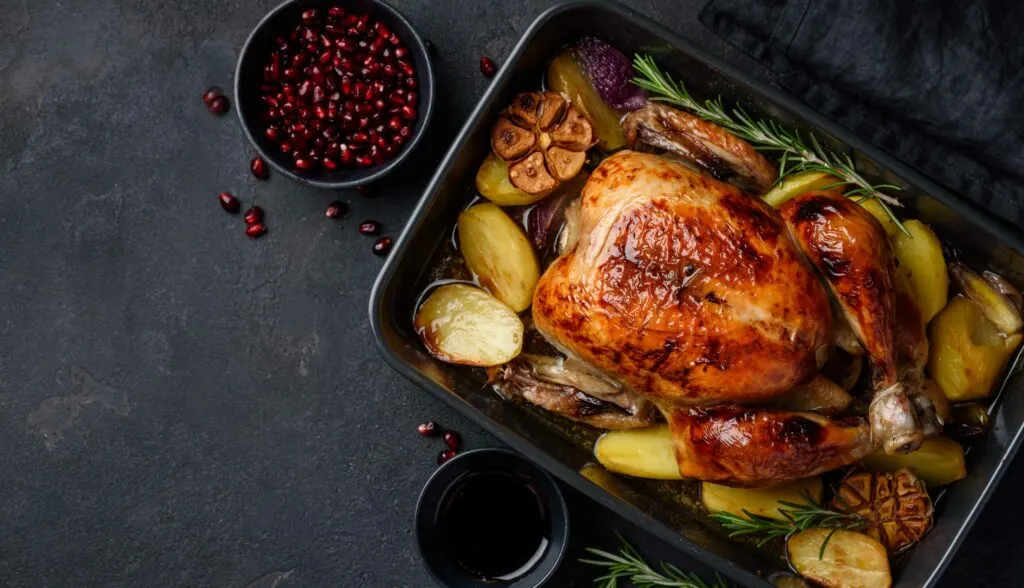 Price: AED 259 for (4 to 5 kg)
Booking: 24 hours prior to booking is required
+971 566853832
8 Lobby Lounge, Mariott Al Forsan
Savour a hassle-free Thanksgiving or Festive dinner at home with Lobby Lounges' perfectly prepared pre-ordered turkey and traditional meats, served with all the trimmings including sautéed butternut, sweet potatoes, honey-glazed carrots, and sauces to match.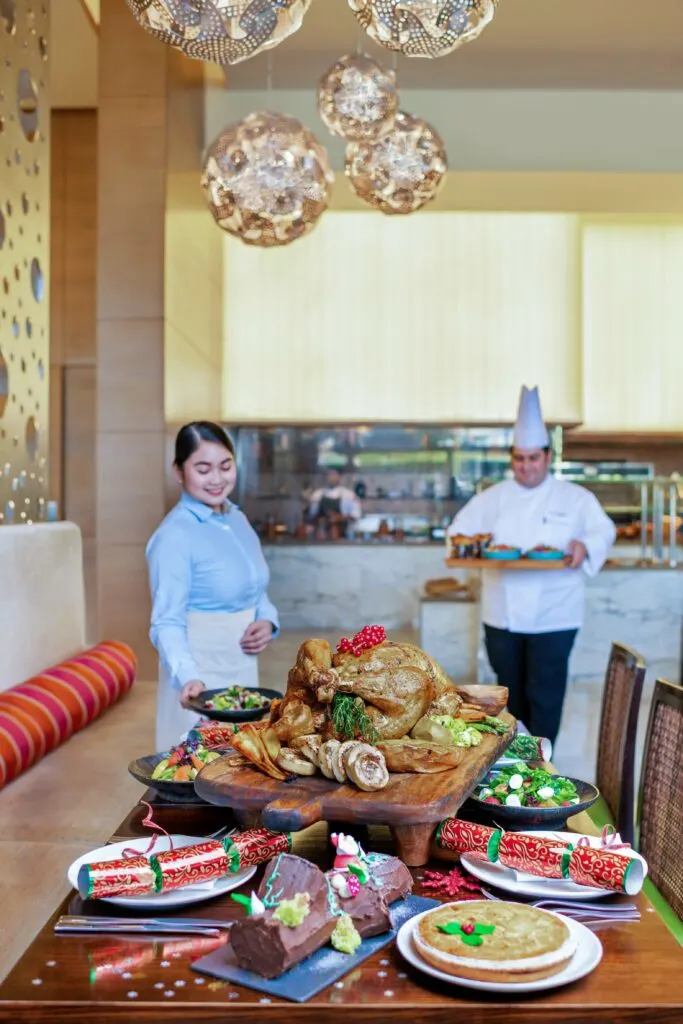 Dates:
Price: Turkey 5-6kg AED 749 | 6-7kg AED 849 | 8-9 kg AED 949
949 AED for 5kg Crackling Belly
AED 1,459 for 6-8kg Crispy Skin Baby Suckling
1,499 AED for 6-8kg Gammon-style Whole Leg
Contact: The Lobby Lounge, Marriott Hotel Al ForsanCall 02 201 4131
Orders must be placed two days in advance and can be collected from the Lobby Lounge
9. Olea, St Regis Abu Dhabi
Celebrate the festive season with a majestic banquet in the comfort of your home.
Olea's slow-roasted herb turkey with chestnut and sage stuffing features a wide range of tasty trimmings and sides, including roast baby potatoes, roast root vegetables, chipolata sausages, gravy and cranberry compote.
Adding further magic to the festivities, guests can also purchase The St. Regis Festive Cake Tin, featuring a traditional Christmas fruitcake inspired by the legacy of the St. Regis brand.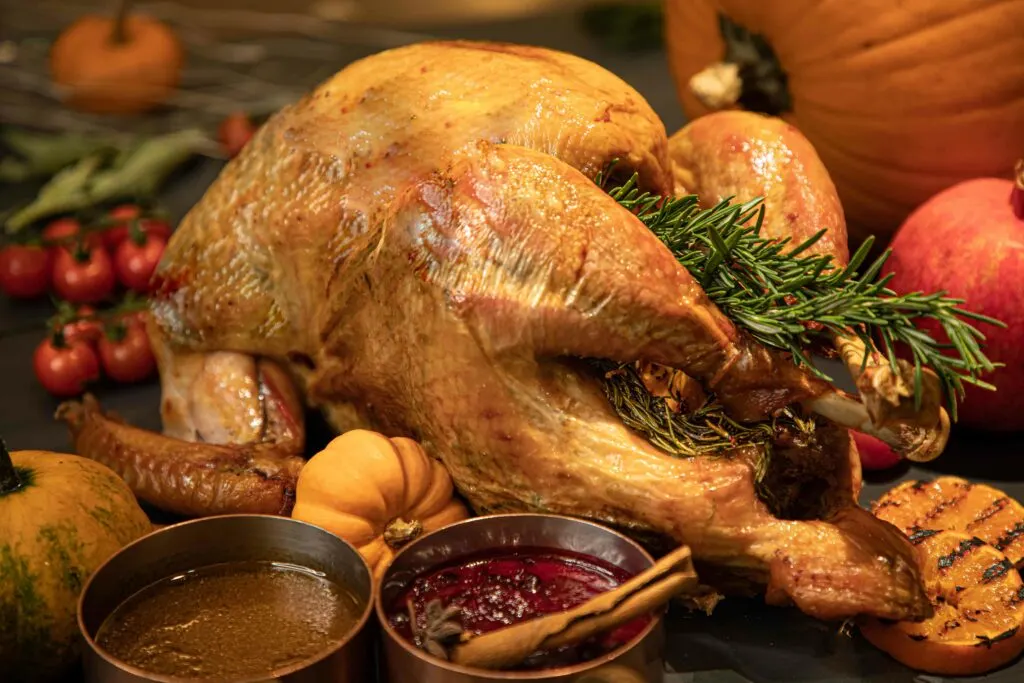 The cake tin includes scrumptious gingerbread biscuits, orange cherry compote, mascarpone cream, almond crumble, and 75% dark chocolate and can be purchased for AED 180.
Dates: November 20th to December 30th
Prices: The 'Turkey Takeaway' experience is priced AED 550 for the 6-7kg turkey (serves 6-8 persons), and The St. Regis Festive Cake Tin is priced AED 180 and is recommended for 4 persons
Bookings: Orders can be collected from the hotel between 9 am and 9 pm and must be booked at least 24 hours in advance. Email or call +971 2 498 8888.
10. Sama Lobby Lounge
Choose from a variety of turkey roasts with all the traditional trimmings for feast at home from Sama Lobby Lounge at Saadiyat Rotana.
• AED 585 for 5-6kgs
• AED 760 for 8-9kgs
Orders to be placed 24 hours in advance.

5th of December until 8th of January | 12 PM – 10 PM
11. Filaments
For an intimate dinner celebration at home, the masterful chefs at Filaments at Southern Sun Hotel ensure an unforgettable yuletide feast from delicious take-away turkey with all its traditional trimmings and sauces, to traditional cakes & sweets.
Price: AED 590 Turkey (5-6kg)
AED 700 Turkey (7-8kg)
AED 375 Beef Wellington (1kg)
AED 700 Beef Wellington (2kg)
AED 20 Mince Pie (9cm)
AED 140 Christmas Cake (1kg)
AED 90 Christmas Stollen (500g)
AED 130 Chocolate Yule Log (1 kg)
Order 48 hrs in advance between 0900-2100hrs and collections is between 0900hrs and 2300hrs
Contact: +971 2 818 4888
12. Jones The Grocer
Jones The Grocer are joining in on the festivities this year with a takeaway turkey and probably one of the most extensive list of festive sides.
They have a tonne of different offers and variations, not just turkey. They also have lamb shank, cheese boards, pies and quiches.
Here are the variations of the main hamper:
roast turkey with festive stuffing, cranberry sauce, rosemary and juniper infused gravy
slow cooked lamb shank with garlic and rosemary and rosemary juniper infused gravy
roast lamb shank with rosemary juniper gravy and 5 sides* (+ AED254.00 )
roast turkey with stuffing, sauce, gravy and 5 sides* (+ AED254.00 )
silver 1 – roast turkey, stuffing, sauce, gravy, 5 sides* and apple cinnamon pie (+ AED394.00 )
silver 2 – roast turkey, stuffing, sauce, gravy, 5 sides* and pumpkin pie (+ AED394.00 )
gold 1 – roast turkey, stuffing, sauce, gravy, 5 sides and festive fromager board (+ AED654.00 )
gold 2 – roast turkey, stuffing, sauce, gravy, 5 sides mentioned below and meat the maker board (+ AED654.00 )
diamond 1 – roast turkey, stuffing, sauce, gravy, 5 sides, fromager board and apple cinnamon pie (+ AED764.00 )
diamond 2 – roast turkey, stuffing, sauce, gravy, 5 sides mentioned below, meat the maker board and pumpkin pie (+AED764.00 )
Festive Sides
duck fat roast potatoes (+ AED75.00 )
broccoli and cauliflower cheese (+ AED75.00 )
sauteed brussels sprouts and chestnuts (+ AED75.00 )
honey glazed parsnips and carrots (+ AED75.00 )
roasted red onions and 8 beef bacon wrapped sausages (+ AED95.00 )
truffled brie mashed potatoes (+ AED95.00 )
sweet potato parmesan gratin (+ AED95.00 )
cranberry sauce (360 gms) (+ AED60.00 )
rosemary and juniper infused gravy (360 gms) (+ AED40.00 )
Desserts
jones orange & almond wheat-free cake (+ AED140.00 )
jones fruit cake (+ AED140.00 )
jones mince pie (pack of 4) (+ AED22.00 )
jones gingerbread house (+ AED95.00 )
jones gingerbread house self-assembly kit (+ AED145.00 )
jones snowman macaron (pack of 3) (+ AED12.00 )
jones reindeer brownies (pack of 3) (+ AED12.00 )
jones gingerbread men (pack of 3) (+ AED14.00 )
jones gingerbread santa claus (pack of 3) (+ AED16.00
Festive Pies
pumpkin pie (+ AED180.00 )
apple cinnamon pie (+ AED180.00 )
pecan pie (+ AED295.00 )
potato and onion quiche (+ AED180.00
Dates: 18th of November to 1st of January
Prices: Starting from 795 AED
Bookings: Online
Different Locations: Al Mamoura Abu Dhabi, Al Muneera Abu Dhabi, Khalidiah Abu Dhabi, Al Raha Abu Dhabi, Holiday Inn Abu Dhabi, Al Tawia Al Ain.
Have you found this post about where to find the best turkey takeaway Abu Dhabi this festive season helpful? Please leave a comment we love to hear from our readers.
You may also like:
Best Burger Joints in Abu Dhabi
Best Monthly Car Rentals In Abu Dhabi
Disclaimer: Some of this post may contain affiliate links. If you use them, we will receive a small percentage of the sale to help us continue to write!