Eid Al Fitr, or the 'festival of sweets' marks the end of Ramadan and is a national holiday in the UAE.
Many residents take advantage of the break and book a holiday or staycation with family over Eid in Abu Dhabi.
Eid in Abu Dhabi is marked with fireworks and concerts across the Emirate, much like NYE and National Day. There will be celebrations in all corners of Abu Dhabi from Al Ain to Al Dhafra, and the city of Abu Dhabi.
There are a number of confirmed Eid firework displays, including the Corniche, Yas Bay, Al Ain, Madinat Zayed, Hazza Stadium and Al Marfa Beach. Read on as we uncover the best things to do this Eid in Abu Dhabi.
Eid Celebrations In Abu Dhabi
Eid Celebration At Saadiyat Beachclub
Make way to one of Abu Dhabi's most loved beach clubs this Eid. The celebrations will kick off as the sun sets on Saadiyat's pristine white sand and turquoise water. The luxury club encourages everyone to join in on this diverse event.
A DJ will be on the turn table mixing groovy beats and a live saxophonist will bellow out classy tunes to the crowd. Enjoy delicious food with family and friends on this joyous occasion. After a feed, relax in a heated pool and sip on refreshing beverages as the party goes into the night.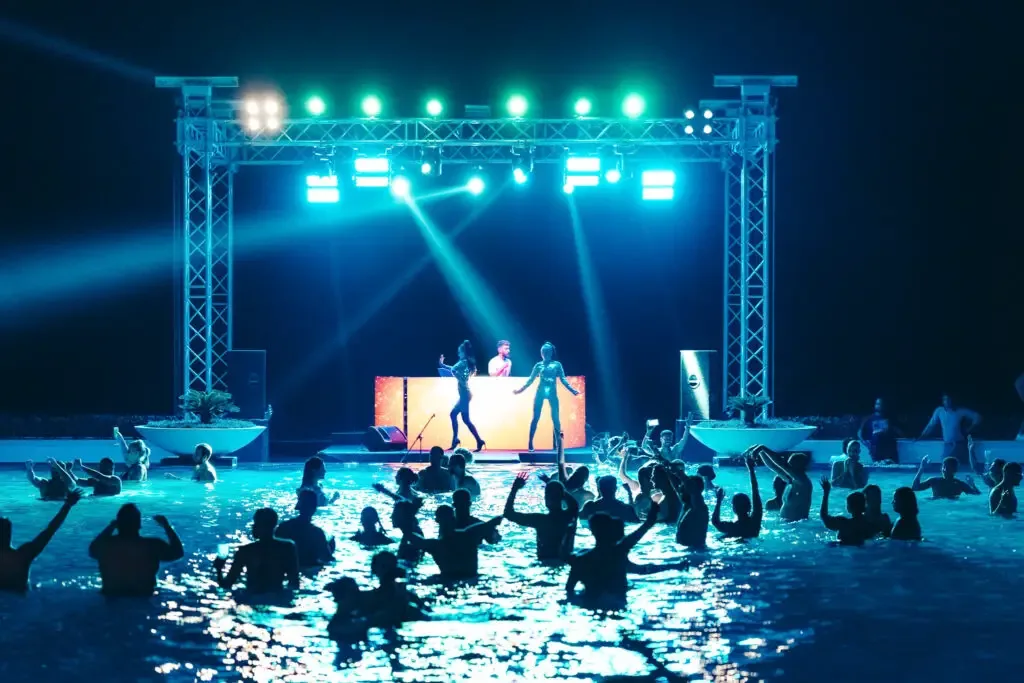 Email:info.sbc@aldarleisure.com
Call: 9126563501, 97126563500
Timings April 21st to 23rd, 18:00 pm until late.
Price: 180AED inclusive of admission and one beverage.
Eid Al Fitr Concert 22nd Of April
Intercontinental Hotel and The Department of Culture & Tourism present an evening with Haifa Wehbe and Nassif Zeytoun. The Arabic duo are set to create an incredible Eid concert in the capital.
They will be singing into the night and a superb atmosphere is guaranteed at this live concert.
Timings: Saturday 22nd of April, 20:30 PM
Prices: Start from 630AED
Ph: 971506881090
Location: Intercontinental Hotel Abu Dhabi – King Abdullah Bin Abdulaziz Al Saud St – Al Bateen – Abu Dhabi – United Arab Emirates
Eid Al Fitr Concert 23rd of April
The Department of Culture & Tourism Abu Dhabi, Yas Island, and Abu Dhabi Media bring Live Nation to the stage at Etihad Arena this Eid Al Fitr.
Abdel Majeed Abdallah, one of Saudia Arabia's most well-known singers will take to the stage to perform catchy hits.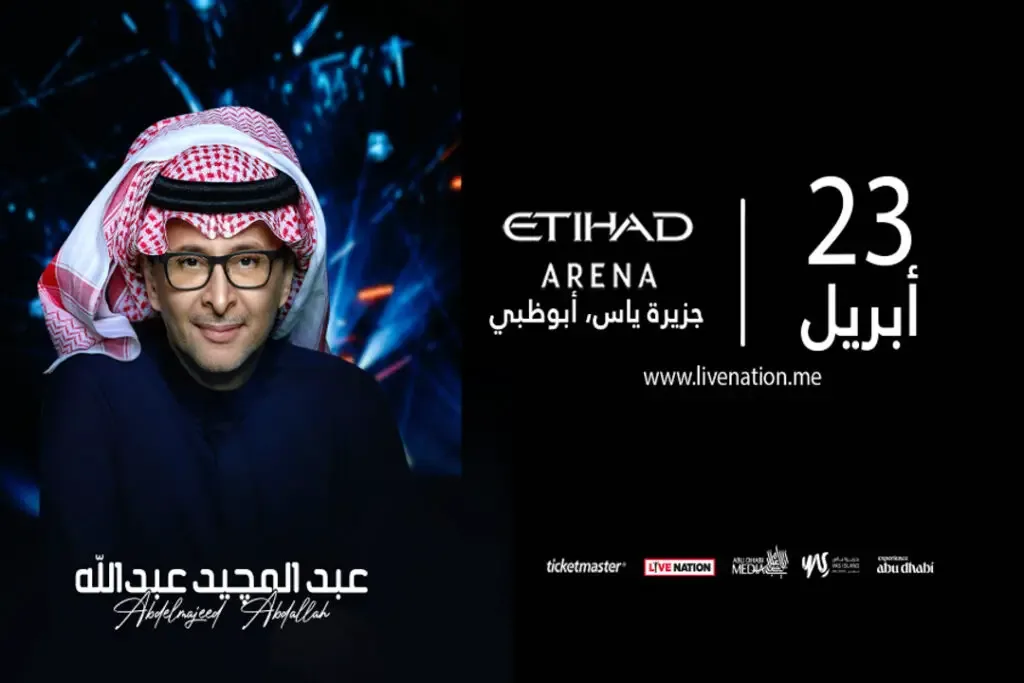 Hits like 'Tetnafasek Denyaay', 'Tanakud and 'Yabn Elawadem' will be echoing throughout the arena this Eid in Abu Dhabi.
The event will be start at 8pm and go on until 11pm
Location: Etihad Arena – Yas Dr – Yas Island – Abu Dhabi – United Arab Emirates
Bait Mohammed bin Khalifa Event
Bait Mohammed bin Khalifa community centre was once the home of the late Sheikh Zayed's father-in-law. It is now a cultural landmark where Emirati heritage is celebrated.
The Al Ain spectacle is set to be an incredible evening. Head to this music festival, to enjoy Emirati and Khaleeji music performances.
The event promise to bring the vibes from the past of Jalsaat from the nineties and early noughties.
Location: Al Mu'tarid Al Ain Abu Dhabi
Timings: April 21st 12:00PM to Saturday 22nd 11:59PM
Call: 97137118335
Eid al Fitr at Al Ain Oasis
The oasis will be an epicentre of Abu Dhabi Eid celebrations with traditional performances, henna tattoos, and gifts for children.
Al Ain Oasis has to be one of the most special places in the whole Emirate. The lush green oasis spreads over 1200 hectares of land and is home to over 147,000 date palms. It is one of the largest working oases in the world.
The site is also a UNESCO World Heritage Site, dating back over 3000 years. It is rich agricultural history and culture.
Location: Al Tuhaf St – Central District – Abu Dhabi – United Arab Emirates
Timings: Friday 21st of April to Sunday 23rd of April
Eid at Qasr Al Muwaiji
Qasr Al Muwiji will be another place for Abu Dhabi Eid celebrations with traditional performances, henna tattoos, and gifts for children.
The historical landmark dates back to 1897 and was used to distribute aid when the economic depression took place in 1928.
Sheikh Zayed Bin Sultan made Qasr Al Muwaiji his family home. His Highness, Sheikh Zayed Bin Sultan Al Nahyans' birthplace was at Qasr Al Muwaiji, making it a place of significant interest.
Location: Khalifa Bin Zayed St – Al Muwaij'i – Abu Dhabi
Call:971 37118222
Timings: Thursday 20th to Friday 21st of April
Eid Al Fitr at Al Ain Palace Museum
Much the same as the other heritage sites, Al Ain Palace will be among the places for Eid activities in Abu Dhabi. The palace will host authentic performances, workshops, henna tattooists and gifts for children.
Al Ain Palace Museum is located in the centre of the city and is the former home of the Founder of the UAE.
The rooms within the palace have been preserved to showcase the life of the most important person in UAE's history. Al Ain museum provides insight into the design and furnishings of a royal home.
Similar to many places across Al Ain, the museum has traditional art and crafts, including weaving and pottery from across the region.
There are often live craft demonstrations and plenty of traditional souvenirs.
The museum is right next to the Al Ain Oasis, so it is ideal for visiting both together.
Location: Hessa Bint Mohamed St – Central District – Al Mutawaa – Abu Dhabi – United Arab Emirates
Call: 97137118388
Eid Al Fitr Fireworks In Abu Dhabi
Eid Fireworks, Hazza Bin Zayed Stadium
Hazza Bin Zayed Stadium is set to hold a firework display this Eid in Abu Dhabi's garden city.
The stadium is home to the Al Ain football club, and it has a capacity of 25,000 people. Al Ain is the perfect destination for a staycation this Eid when it comes to celebrations. There are lots of events going on!
Check out this complete guide to Al Ain with places to stay and activity recommendations.
Eid Fireworks, Yas Bay
Yas bay is the central hub for entertainment in Abu Dhabi, and it is no different this Eid. With tens of fantastic restaurants on the waterfront, Yas Bay makes for the perfect outing this Eid.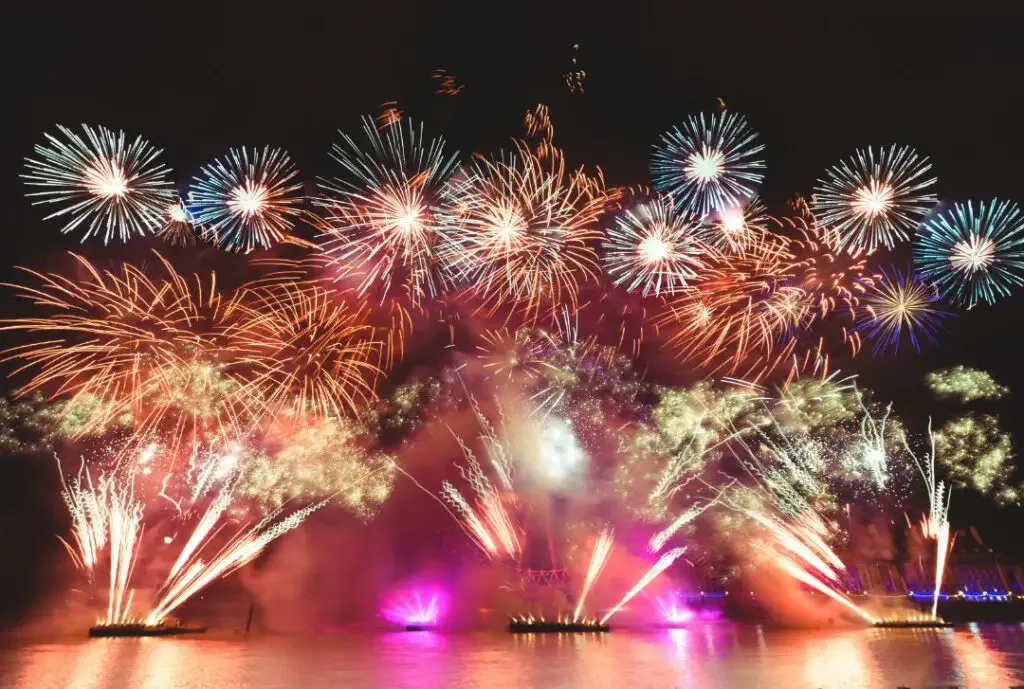 Thousands of people are set to line the waterfront to watch this magnificent firework display.
Location: Yas Bay Waterfront
Timings: 21:00 PM to 21:05 PM Saturday 22nd of April
Eid Fireworks, Corniche
The Corniche skyline is iconic in Abu Dhabi. With an 8-kilometre stretch of waterfront, there are many great vantage points to watch the Abu Dhabi Eid fireworks.
Hotels such as the Sofitel, St Regis, Grand Hyatt and Conrad Towers are ideal spots to catch the display.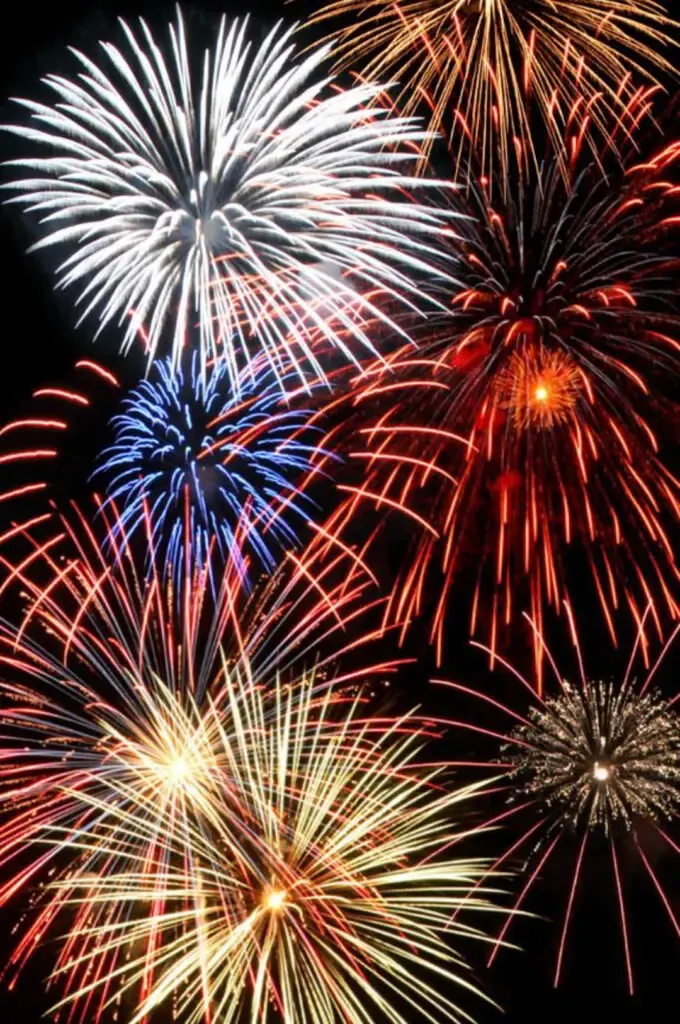 Alternatively, finding a spot along the waterfront will be equally as good to watch the Eid celebrations in Abu Dhabi. Watch in awe as the city's skyline lights up with colourful displays.
Location: Corniche Waterfront
Timings: 21:00 PM to 21:10 PM Friday 21st of April
Eid Fireworks, Al Marfaa
Watch the pitch-dark Arabian skies erupt with a magnificent firework display in Al Marfa.
Al Marfa, also known as Al Mifra is a small coastal village in the Al Dhafra region of Abu Dhabi. The town is famous for its past in fishing and pearl diving.
The main road from Abu Dhabi to Al Mirfa is the Sheikh Khalifa Bin Zayed International Road.
With a distance of 172 km from Abu Dhabi to Al Mirfa, it takes roughly an hour and a half to reach the coastal village.
There are a couple of options for accommodation. There is a luxury camping site called Bab Al Nojoum Al Mugheirah or Mirfa Hotel.
The firework spectacle is set to be a fantastic evening for residents and visitors.
Location: Al Marfa Beach
Timings: Friday 21st of April 2023, 21:00 pm to 21:10 pm
Eid Afternoon Tea, St Regis Helipad
Eid Afternoon Tea on the Helipad is exclusively available to enjoy on Saturday, April 22nd, from 5.30 pm to 7 pm and is priced at AED 550 per person.
The helipad afternoon tea is a unique and unforgettable experience with opulent views of the Arabian Gulf.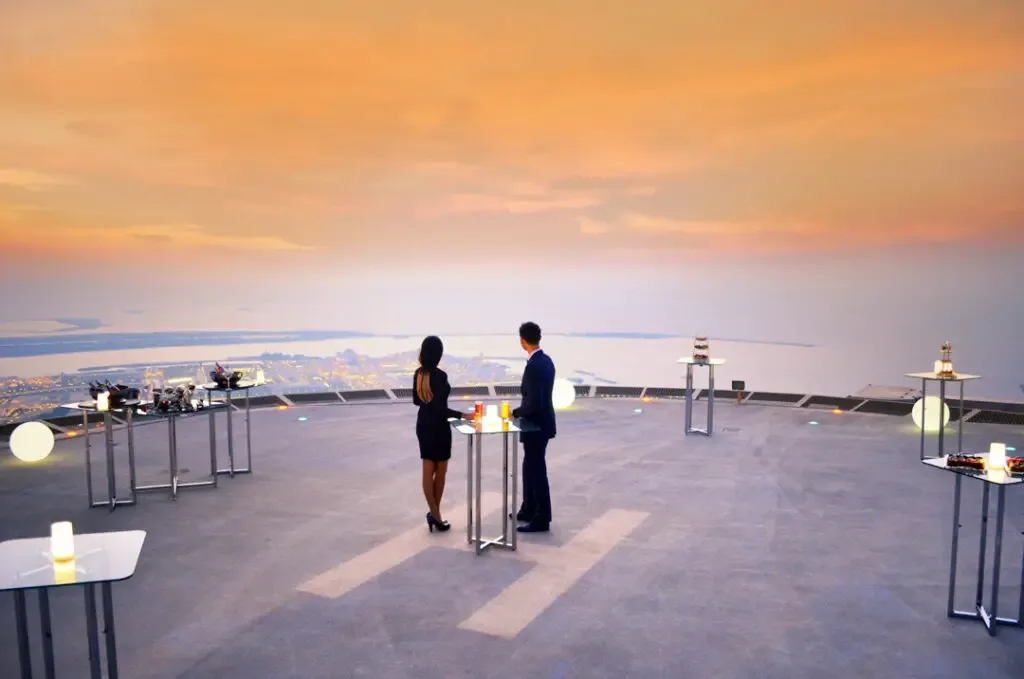 An altitude of 255 meters above sea level gives a perfect vantage point for panoramic views, which are equally as impressive as the afternoon tea spread.
The pastries, sandwiches, cakes and scones taste as good as they look.
For more information and to book your space, please call 02 694 4553
Eid Rooftop Brunch, Sofitel Corniche
Grills and Chills restaurant is set to serve magnificent food and entertainment this Eid on Sofitel's rooftop terrace with the backdrop of amazing views of the Corniche.
Take a plunge in the rooftop pool to relax under the sun's rays after a feast of delicious food.
Succulent lamb, beef, Sushi and ouzi are some of the most talked about dishes from the iftars throughout Ramadan which will be served at the wonderful Eid brunch.
There will be extensive options of traditional Arabic food throughout the buffet to try!
They have a special kid's buffet with a range of activities and entertainment. Not to mention, there will be live music at the venue by Qband to keep the atmosphere alive.
AED 285 per person, inclusive of soft beverages and juices
Early bird offer (AED 180 per person) inclusive of soft beverages
Complimentary Pool Access for Children
April 21st & 22nd | 1:00 pm – 4:00 pm
For reservations, contact us on:
+971 56 9977408
About Eid Al Fitr
The breaking of the fast at Eid Al-Fitr brings Ramadan to an end when communities come together to mark the occasion.
Worshippers congregate at mosques and wish each other "Eid Mubarak", which means blessed festival.
Eid Al Fitr is a public holiday in the UAE and the amount of days off depends on the sighting of the moon.
The fast is usually broken with traditional foods such as dates, biryani, sweet vermicelli, baklava, kunafa, Arabic coffee, tea and much more.
Emiratis have a tradition where they typically visit the eldest person's household in the family to celebrate. Children often receive gifts and cash to mark the occasion.
As Ramadan in Abu Dhabi started on the 23rd of March, Eid Al Fitr is expected to start on Friday the 21st of April, which would mean a four-day weekend.
Once the Saudi government makes the official announcement, Eid celebrations in Abu Dhabi ignite with entertainment, special events, activities, traditional music, and firework displays.
The city, households and businesses will be decorated with traditional lighting for the festive period. Local people dress in beautiful abayas and kandoras.
Shopping malls have many discounted sales throughout the festive occasion, which can be a great time to get a bargain.
As well as enjoyment, giving back is a special part of Eid al Fitr. Charitable work, donations and helping those most in need is a cornerstone of Eid in Abu Dhabi.
Disclaimer: This post may contain affiliate links. By using them, it will not cost you any extra, we may receive a commission to keep us writing.