In the mid-1800s, over 2.1 million Irish people emigrated during the great famine in the hope of a better life. The great famine was the biggest migration of people from an island in history.
As a result, Irish culture was dispersed around the globe by the migrants, and some created public houses or pubs in their communities. There are approximately 7000 Irish pubs worldwide, and the UAE capital is home to seven Irish Abu Dhabi pubs.
Irish pubs are often named after the owner, previous owner, or a reference to Irish culture. Many Irish Abu Dhabi pubs are labelled with Irish surnames.
The brewer Guinness and the Irish pub company partnered in the 1990s to launch a scheme to ensure Irish pubs were created with authenticity, and it helped design over 2000 pubs worldwide!
The vision was to create a gateway to Ireland through carefully thought-out interior design. The pubs were crafted in Ireland and exported to over 56 countries worldwide.
The collaboration emphasised the importance of pubs worldwide hiring Irish ex-pats.
Locals in Abu Dhabi can expect an authentic Irish bar experience. The Irish Pub Abu Dhabi experience consists of hearty food, live music, traditional folk music, late nights, a friendly atmosphere, dancefloors, a sense of community, conversations with strangers and a whole lot of fun.
The Irish in Abu Dhabi will no doubt choose one of the pubs in this list as their local nights out and a place to celebrate their national day which is St Patrick's Day.
As Irish ex-pats tend to congregate in the pubs, guests can expect an authentic Irish Society Abu Dhabi atmosphere.
Irish Pub in Abu Dhabi
1. The Irish Vickers
First on the list is the biggest venue in the city, The Irish Vickers, hailed as an Irish super-pub due to its enormous space!
With a capacity of 500 people, the pub is known to host major parties and fly in some household names to perform to an Irish Abu Dhabi crowd.
The two separate sections in the super pub can make for a totally different experience. In one section, there is a two-lane bowling alley, pool tables, dart boards and a golf simulator.
On the other side, an epic Irish pub Abu Dhabi experience! A model of the iconic Ha'penny Bridge is embedded into the interior, where guests can see live bands perform with a top-notch sound system.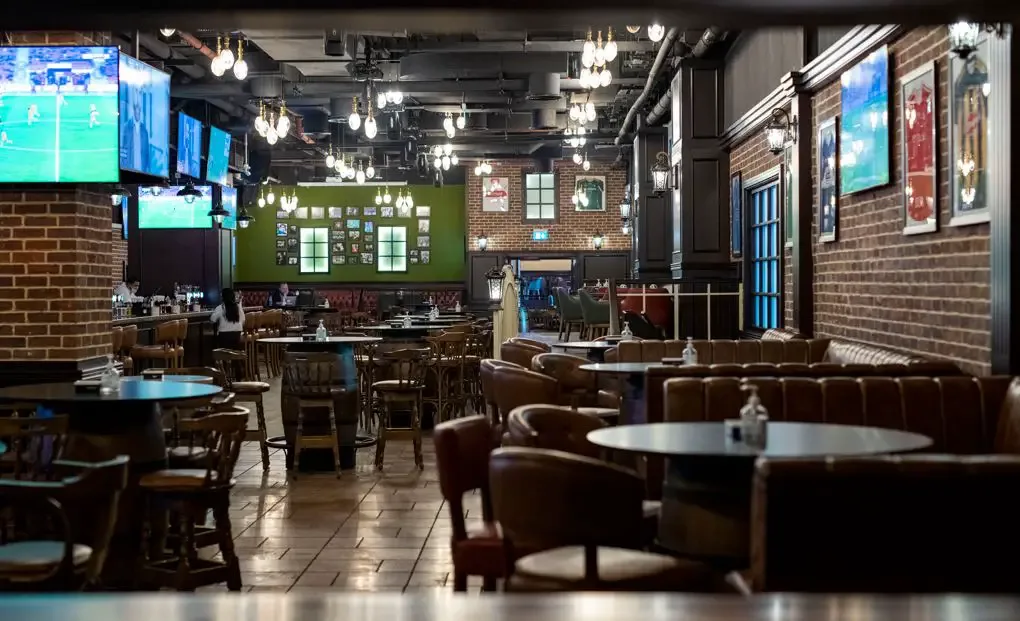 The barrel-high tabletops, red brick interior and wide-open industrial space give a modern twist to the super pub whilst maintaining authenticity through references to Ireland.
There are 35 wide screens airing Gaelic football, hurling, rugby, soccer and many more sports making it a perfect venue to tune in on all the action.
For a more classic vibe, a grape bar and sit-in cellar called Vintage 79 is available. The alcove cellar is a more intimate experience, and the impressive display has over 100 wines hand-selected globally.
Throughout the week, The Irish Vickers has various offers for guests to taste Irish cuisine, quench a thirst, have some fun and save a few dirhams.
The Monday offer is called the Monday club, which is 99 AED for 4 hours of selected beverages. There is also an all-day happy hour with live music.
For a more action-packed experience, guests can opt for 5 house drinks and a game of bowling for 99 AED, available Monday to Thursday.
Taste of Tuesday is on from 7 pm to 4 am with unlimited BBQ treats, a bucket of 5 Hops or a bottle of grape for 99 AED. Jam away to this great deal and beats by DJ Joe.
Wednesday is Wings & Bingo night. Join in on the fun and get a bargain on unlimited wings and 3 drinks for only 109 AED.
Live music is played by a DJ throughout. The bingo host maintains a lively atmosphere with jokes and jeers aimed at the guests in typical Irish fashion.
Thursday is ladies' night from 6 pm onwards. The gals can get a great deal with 5 free selected house drinks, 50% off food and dance the night away to live music played by a Dj.
Ned Flanders isn't the only one to say "hello neighbourino". The Irish Vickers offers residents of the WTC 50% off the bill between 12 pm-6 pm with a welcome drink on arrival.
The Irish in Abu Dhabi rave about the home-inspired brunch on Saturdays between 12 pm to 5 pm.
Soft drink packages are 199 AED, and house packages are 299 AED. The brunch is a meat lover's dream as it serves up flame-grilled BBQ beef burgers, ribs, chicken breasts, pizza and much more.
At the brunch, kids can enjoy the games room and a bouncy castle.
For the second half of Saturday, avail of the 'drunch' from 6 pm-9 pm, allowing unlimited house drinks for 169 AED.
Late-night happy hours are available from Sunday to Thursday, 11 pm-3 am, allowing selected drinks for 30 AED, bucket deals and late-night entertainment.
An Irish pub in Abu Dhabi must have a Sunday roast on offer, and The Irish Vickers certainly knows how to serve one up.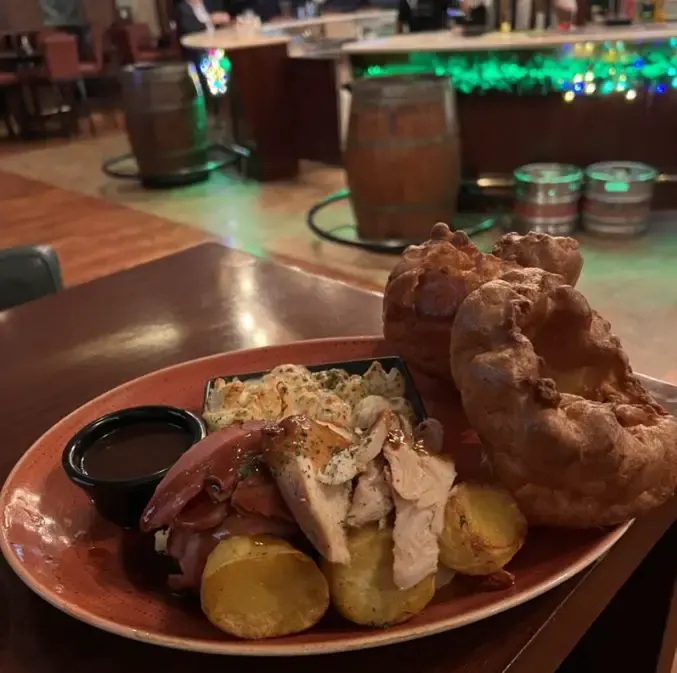 Every Sunday between 1 pm to 8 pm, guests can choose from unlimited roast chicken, beef or their famous glazed pork ham.
Accompanied by mashed potatoes, roast potatoes, cauliflower cheese, garlic beans, roasted carrots and Yorkshire pudding. The roast comes with homemade soup, soda bread and a dessert to finish.
Work off the roast with a few golf swings, or check out the golf simulator deal for 99 AED with 5 house beverages, available all day.
For a salubrious evening, guests can hit the Cheese & Grape night, which includes cold cuts & a cheese board for 59 AED at Vintage 79. Available Sunday to Thursday, 5 pm to 9 pm.
Throughout the week, enjoy the à la carte menu, which has classics like chicken curry with Mac Donald's sauce, all-day breakfast with all the pork, chicken fillet rolls and much more.
The Irish Vickers has been known to host some epic pop-up Irish bar Abu Dhabi events around the city.
They include collaborations with Conor McGregor during F1 Abu Dhabi and wild St Patrick's day celebrations at Abu Dhabi Golf Club.
For more information, call +971 2 886 9636.
Opening Hours: Monday to Sunday, 12 pm to 4 am
Location: WTC MALL – The Hub, 6th Floor – Abu Dhabi – United Arab Emirates
2. Victor's Pub, Abu Dhabi
Victor's Pub Abu Dhabi is the sister pub of The Irish Vickers, and the chain extends the Irish Pub Abu Dhabi scene to another catchment area of the city.
The Irish in Abu Dhabi and others flock to the bar for its lively atmosphere. The venue has 21 screens meaning there is not a bad seat in the venue to catch favourite sports.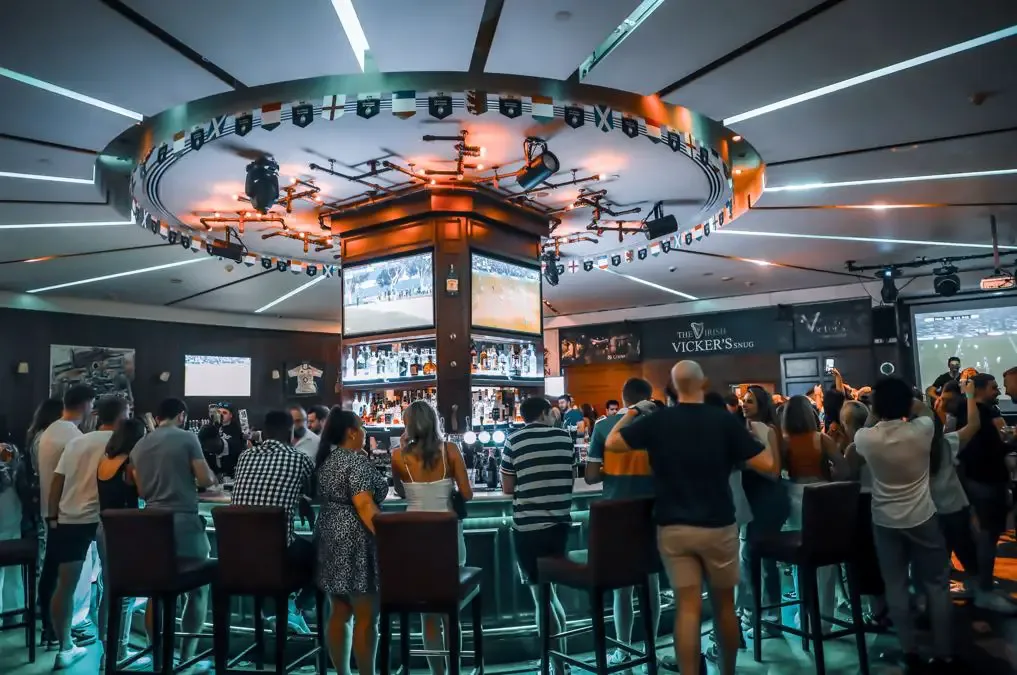 It's another Abu Dhabi Irish pub with a week full of offers. Monday has an all-day happy hour!
Tuesday night is Hoteliers night. Between 7 pm and closing, hotel staff throughout the city can have 3 house drinks and one starter from the menu.
Wednesday is Victor's secret night. On offer are 3 free drinks and 50% off starters whilst guests groove away to beats played by a resident DJ. Pick any three hours from 6 pm until 12 am!
The Irish Abu Dhabi pub hosts a bingo night every Thursday with unlimited wings and three house drinks for 109 AED.
When the working week is over and everyone has put their tools down, "Friday Night Lights" is the event to be at!
Five selected House drinks are on offer for only 100 AED, the perfect deal to forget about that annoying work colleague. Available 8 pm to 11 pm!
For the brains of Abu Dhabi, there is also a quiz on every Friday between 8 pm-11 pm. The brunch deal runs between 6 pm-9 pm, which is unlimited drinks for 169 AED.
Be careful not to soak too many neurons as the quiz nights get competitive amongst the craic.
There is a rollover of the drunch deal into Saturdays from 6 pm to 9 pm. Avail of unlimited house drinks for 169 AED.
The Irish pub in Abu Dhabi is well known for its CDC breakfast and Roast dinner every Sunday.
On Sunday, guests can opt for a full Irish breakfast with 3 house drinks or a Sunday roast with 1 house drink for 109 AED between 12 pm – 6 pm.
For reservations and more information, call +971 50 393 5529.
Opening hours: 12 pm to 3 am (Monday to Sunday)
Location: Millenium Al Rawdah Hotel – Abu Dhabi – United Arab Emirates
3. Culann Aries
The youngest sibling of The Irish Vickers, Culann Aries, opened its doors in late 2022 on Yas Island. Bringing a new dynamic to Irish bars in Abu Dhabi.
The Irish restaurant focuses is the food and offers an upmarket Irish Abu Dhabi experience.
The trendy café styled restaurant serves all the Irish delicacies on its menu and a wide range of beverages.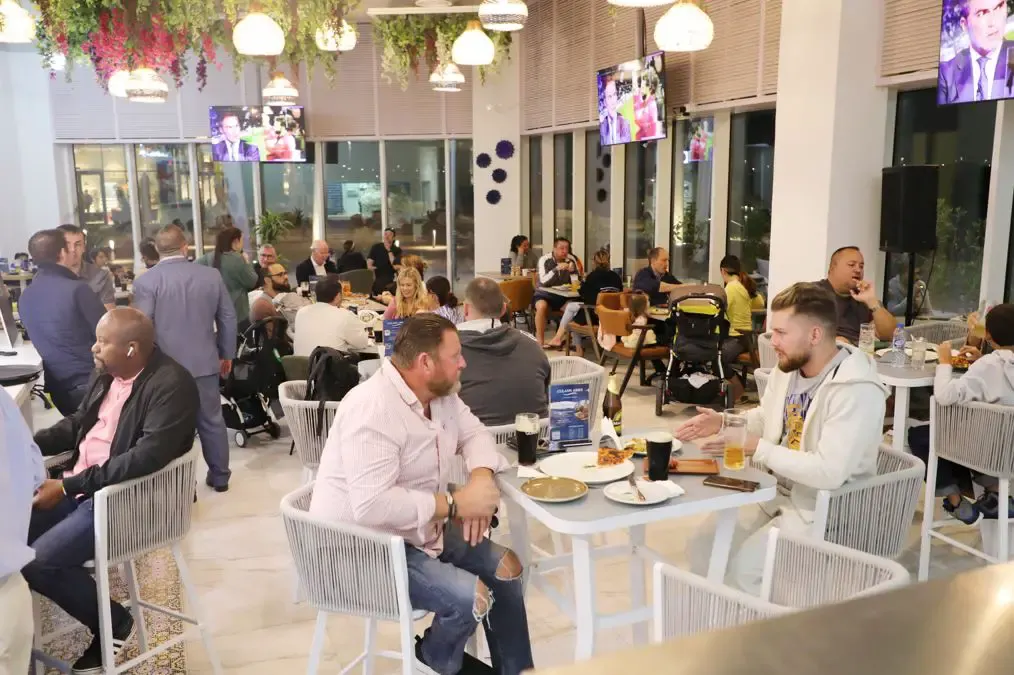 Monday madness is available to buy one pizza and get another free. Available all day, and select any three hours as a sitting!
Tuesdays and Thursdays are residents' nights. Join the most giving neighbour in the community and buy one get one free on selected beverages. From 6 pm to 1 am.
On Wednesdays, from 6 pm to closing, buy a glass of grapes and receive the whole bottle, the perfect way to break the back of hump day.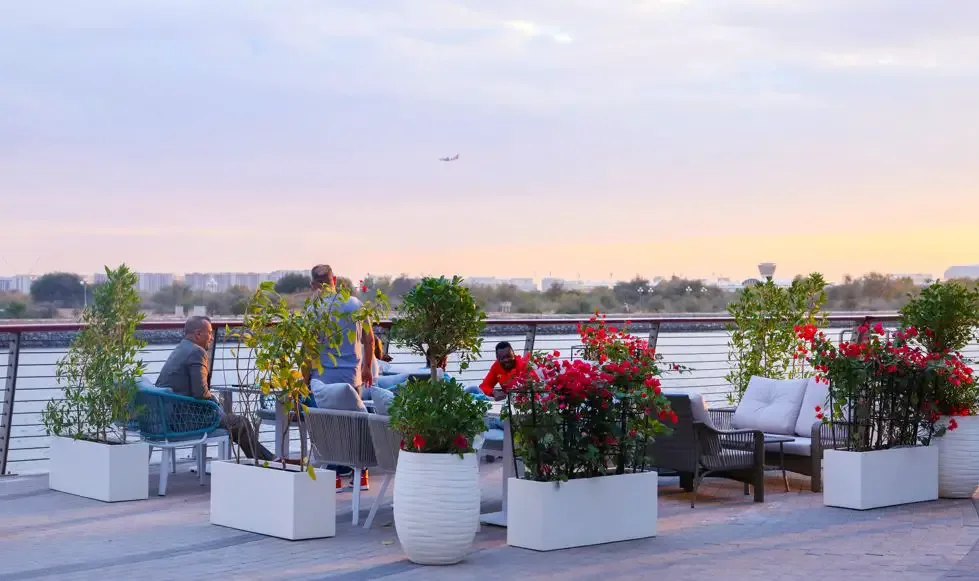 Friday Fiesta is another popular event! Between 12 pm to 6 pm, grab 3 mixed beverages or a jug of traditional Spanish fruit mixed grapes for 49 AED.
On Saturdays and Sundays between 9 am-6 pm, enjoy an all-day breakfast for 99 AED. Included are a full Irish breakfast and three house beverages.
On Saturdays and Sundays, grab a traditional Irish roast, Yorkshire pudding and all the trimmings, plus one house beverage for 99 AED. Timings are between 12 pm-6 pm.
Annexed to the restaurant is a grapes and hop store packed full of bargains.
Store goers can create an Irish Pub Abu Dhabi experience in the comfort of their own homes with popular beverages.
For more information, call +971 2 632 9252.
Timings: 12 pm-1 am (Monday to Friday)
10 am to 1 am (Saturday and Sunday)
Location: FJJ9+9M – Yas Island – Abu Dhabi – United Arab Emirates
4. PJ O'Reilly's Irish Pub
PJ O'Reillys is one the oldest Irish Abu Dhabi pubs around. The quaint Irish pub in Abu Dhabi has walls decorated in the Gaelic language and impressive decorations linked to an Irish malt.
The outdoor area is poolside and one of the coolest areas to hang out with friends with live music.
The pub grub and free-flowing drinks are a talking point amongst the Irish in Abu Dhabi. There are some great deals throughout the week, especially the 2-for-1 deals on the entertainer.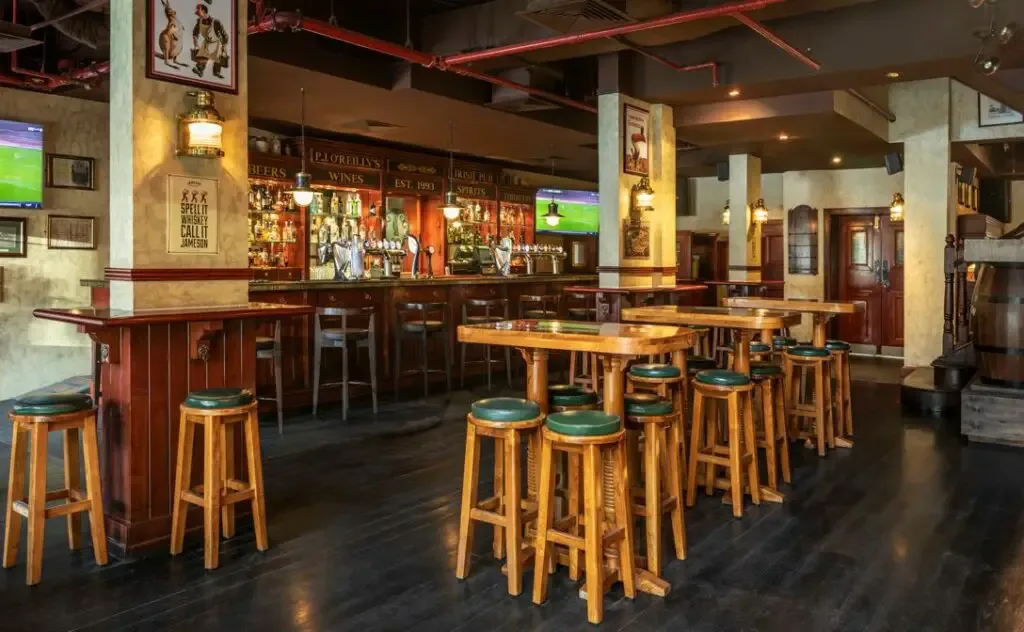 Pj O'Reillys cure Monday blues with one of the longest happy hours in the city. The cost is 32 AED and is between 12 pm-3 am.
Liquid lunch is always top of the list for bargains in Abu Dhabi. From Saturday to Thursday, 12 pm-3 pm, select 2 house beverages and a main course for 99 AED inclusive of the striploin steak.
This Irish Pub in Abu Dhabi accommodates for the ladies multiple nights. Moonflower 2.0 Ladies night is on from Sunday to Thursday, 5 pm-10 pm, for 100 AED. Selected drinks and unlimited bar bites are on offer.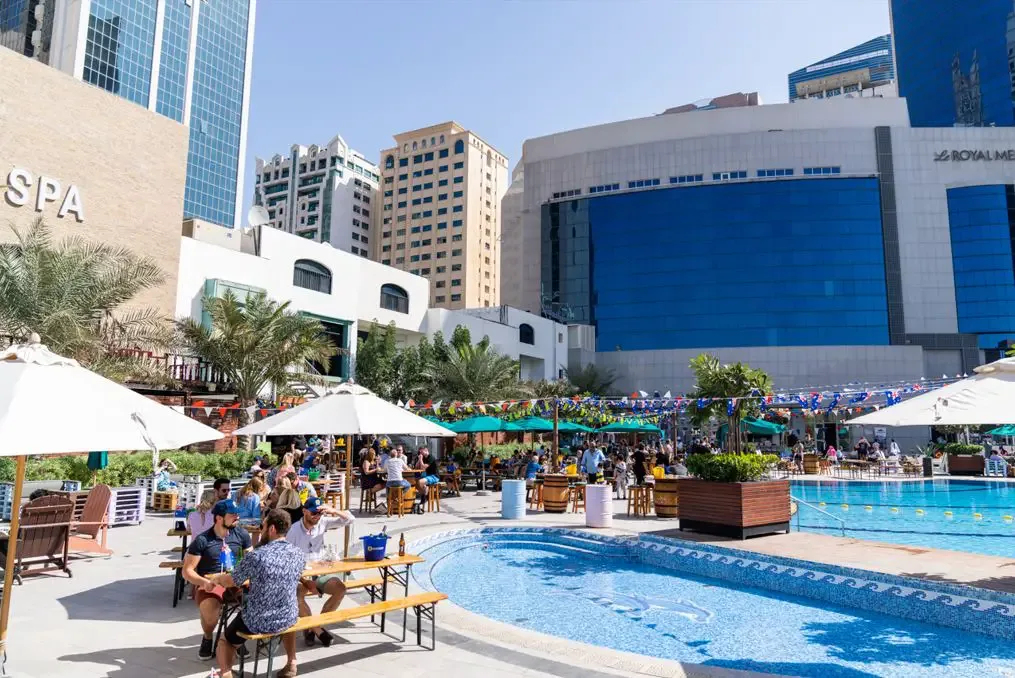 Taking centre stage at the Irish pub in Abu Dhabi is the hog fest brunch. Bask in the sun every Saturday from 1 pm-4 pm for 225 AED.
Included are wurst, bar bite platters, and meat boards with homemade sauces and rubs. Live entertainment is on hand for an excellent party vibe.
For more information, call +971 2 695 0515.
Timings: Monday to Sunday, 12 pm-1 am
Location: Le Royal Meridien, Sheikh Khalifa Street – Abu Dhabi – United Arab Emirates
5. Fado Irish Pub Abu Dhabi
Bringing contrast to the previously mentioned venues, Fado Irish Pub Abu Dhabi is reminiscent of a sleepy rural Irish pub where folklore stories are told.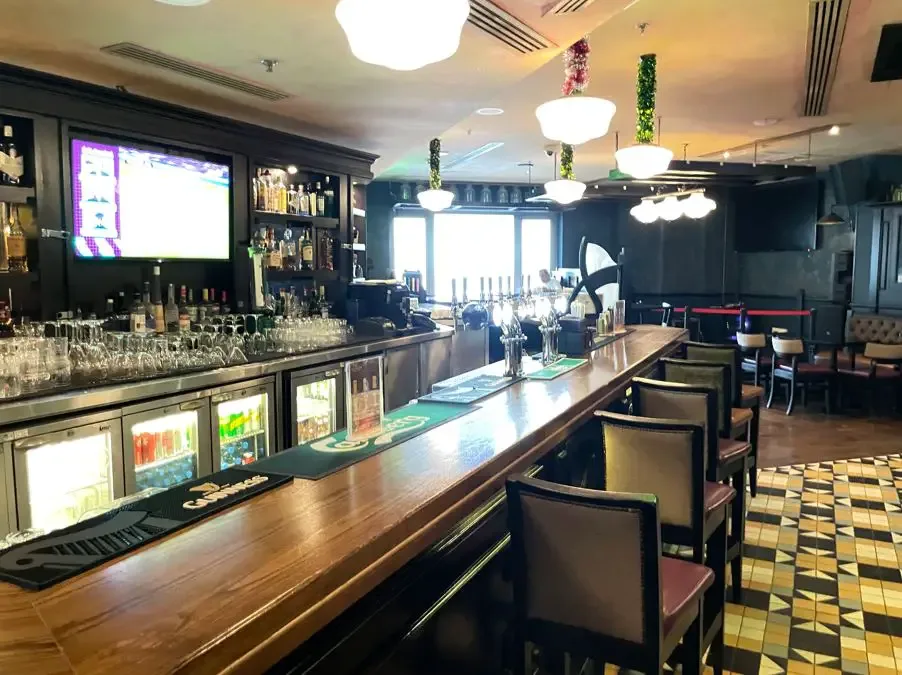 The pub in Abu Dhabi comes to life with live music and daily happy hours when the punters come in for a deal. Happy hours are available from 12 pm to 8 pm.
The cosy pub serves up delicious pub classic food, and it is known for some of the best nachos in town.
For more information, call +971 2 692 2218
Timings: Monday to Thursday, 12 pm – 2 am
Friday to Sunday, 12 pm – 3 am
Location: Oryx Hotel Corniche Road – Zayed The First St – Abu Dhabi – United Arab Emirates
6. McGettigan's, Dusit Thani
Mcgettigans, Dusit Thani is known for a fun, upbeat atmosphere, delicious food and daily offers on drinks. It's an Irish American pub chain that has been in the UAE for years.
Happy hour runs daily from 3 pm to 8 pm on selected beverages. Mc Gettigans is known for the longest weekend 'drunch' as far as Irish bars in Abu Dhabi go!
Lots of prizes are up for grabs on Wednesday quiz night from 8 pm onwards. Lots of offers are on between 6 pm to 11 pm with their Mcgettogether offer on Wednesdays.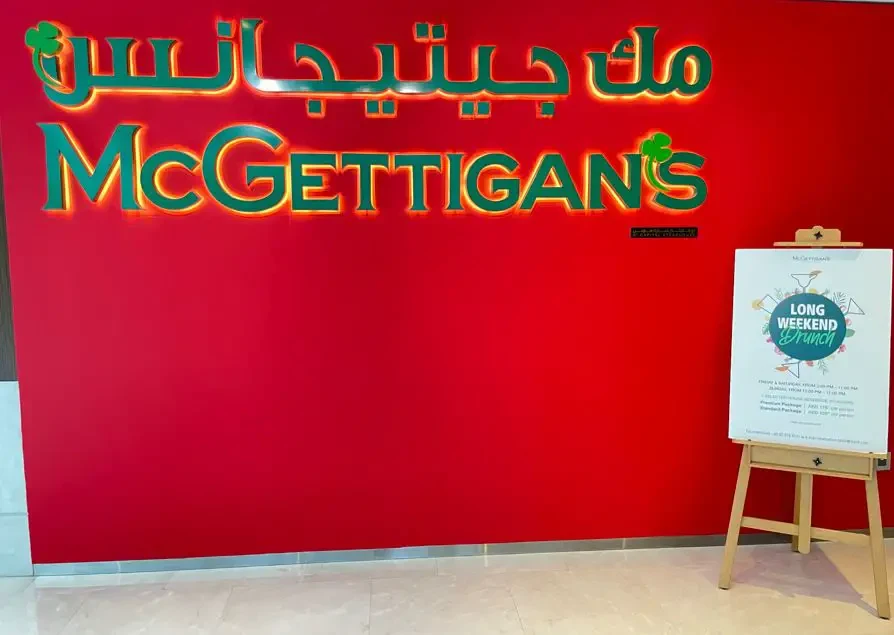 Buy anything on the food menu and get two beverages for free. The perfect way to fuel the brain for a fun and sociable quiz!
The long weekend drunch is available Friday to Saturday, 2 pm to 11 pm and Sunday from 12 pm to 11 pm.
The Abu Dhabi brunch includes 5 selected house beverages for 125 AED, or guests can opt for the premium package for 175 AED.
The big table brunch on Saturdays is the flagship event every week. The Irish pub Abu Dhabi venue offers a sharing-style brunch with bottomless drinks between 12:30 pm-16:00 pm.
Pricing is 199 AED for soft drink packages or 319 AED for premium drinks packages.
Location: Dusit Thani – Muroor Rd – Abu Dhabi – United Arab Emirates
7. Murphy's Sports Bar
The lush green grass of the emerald isle is a million miles away from Murphy's Irish Sports Bar. It is situated in a golf club that has a desert golf course.
Murphy's restaurant serves up delicious pub grub, and the burger is one not to be missed as it is stacked high with beef patties and fillers!
There are a lot of pub games like snooker-pool, darts, and arcade machines to enjoy.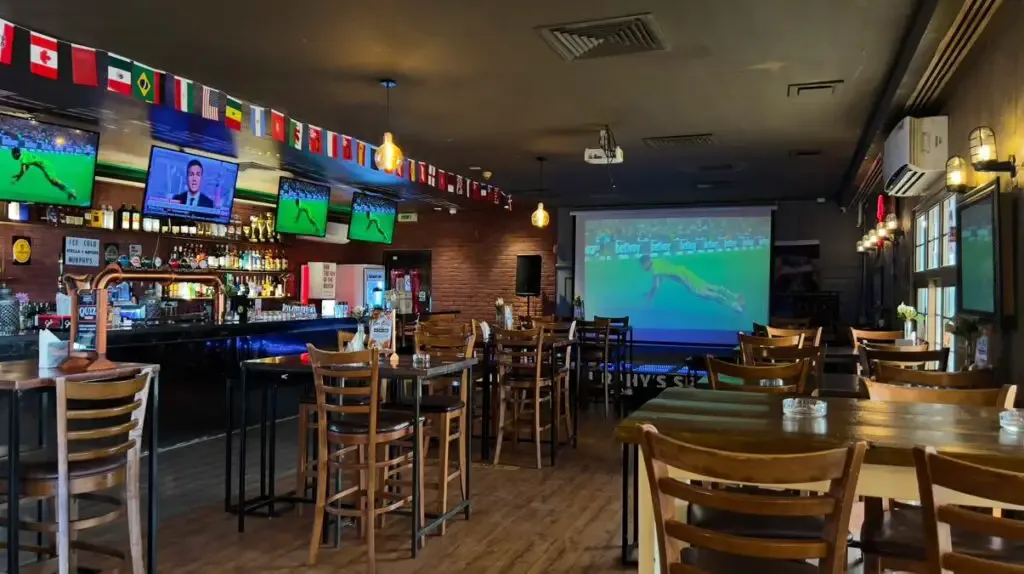 The Irish pub Abu Dhabi venue is full of deals throughout the week. Tunes are pumping throughout the week, played by a resident DJ.
Enjoy live sets on weekdays from 7 pm to 12 am and weekends from 10 pm to 3 am.
Happy hours every day between 12 pm to 8 pm, which includes 25 per cent off selected house beverages. The food deal is to buy 2, get 1 free all day on certain items.
The Irish Abu Dhabi pub offers ladies a great deal on Friday, Saturday, and Sunday, with 40% off the menu and 2 free cocktails.
Teachers and ADNOC staff can bag 25% off the bill throughout the week.
For more information, call +971 2 505 5023.
Timings: Sunday to Thursday, 10 am to 2 am; Friday and Saturday, 10 am to 3 am.
Location: Al Ghazal Golf Club Airport Freezone Area – Abu Dhabi – United Arab Emirates
Irish Bars In Abu Dhabi – Map
You may also like,
Fine Dining Experiences In Abu Dhabi
Best Barbershops In The Capital
12+ Best Camping In Abu Dhabi Sites
Top Ladies-Only Gyms In Abu Dhabi
Disclaimer: This post about Irish Bars in Abu Dhabi may contain affiliate links. By using them, it does not cost you any extra, we get a teeny commission to keep us writing. Thank you in advance for your support.