There are many Chinese restaurants in Abu Dhabi, and we all know the city is full of foodies who love to try different cuisines.
Chinese food is one of those cuisines that everyone loves! Be it Peking duck, scrumptious dim sum or black bean, Chinese dishes are very well known.
From a no-frills authentic experience to a Michelin-star Chinese restaurant in Abu Dhabi, the city has something for every budget.
Throughout the year, some of the Chinese restaurants in Abu Dhabi offer fine dining options, fabulous Saturday brunches, Sunday brunches, mid-week business lunches, and so much more!
Not to mention, Chinese New Year is one of the best times to go and experience the culture and celebrate with incredible food.
Be prepared to be dazzled by the beautiful decor and delicious food at the best Chinese restaurants in Abu Dhabi.
Read to the end to discover our most authentic hidden gem in the city's heart!
Best Chinese Restaurant In Abu Dhabi
1. Dai Pai Dong, The Rosewood
Dai Pai Dong is a multi-award-winning and Michelin-recommended Chinese restaurant in Abu Dhabi. The open kitchen and sophisticated decor combine an upmarket dining experience with Cantonese street food ambience elements.
The dim lighting adds a sense of zen and tranquillity to the chic Chinese wall designs. Dim sum, noodle dishes, hot pot options and barbequed meats are some of the unique Chinese dishes.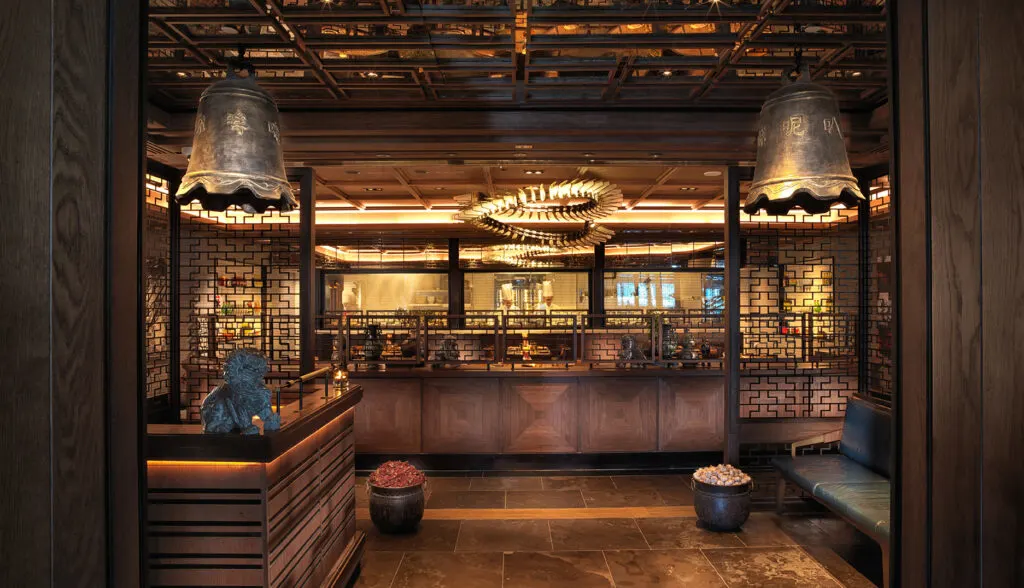 When a stack of bamboo dim sum dishes is towering on the table, it is time to get excited to share some of the most delicious Chinese food in Abu Dhabi!
First, an authentic Chinese dim sum experience. There are twelve steamed, baked and fried options. Our favourites were the crispy shrimp roll, beef dumpling, and barbequed chicken puff.
A La Carte has several fantastic options. Starters include crushed cucumber, crispy fried squid and crispy duck salad, with many more.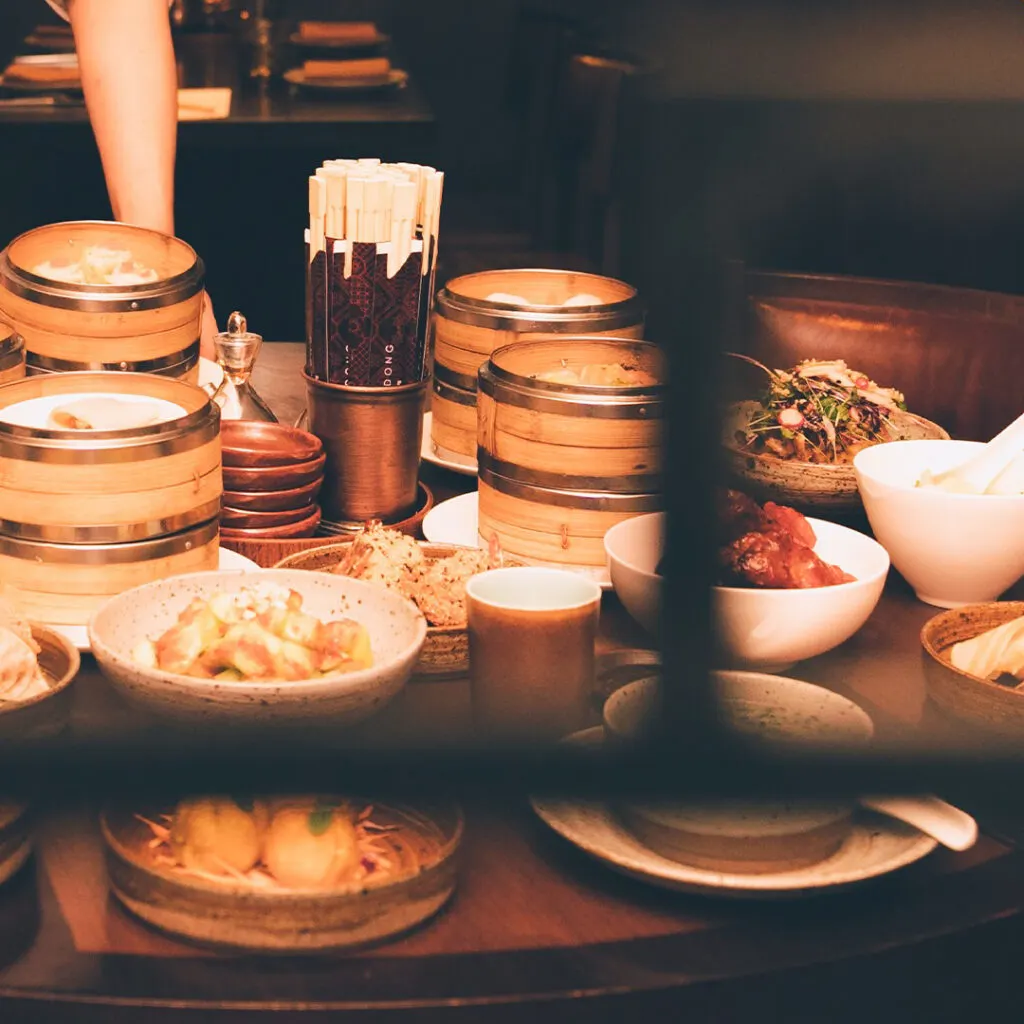 The barbecue section has some of China's most loved dishes. The Cantonese roasted duck is supreme and a great sharing option. Pack Chinese pancakes with roast duck hoisin sauce for a delicious mouthful.
The soup section offers Szechuan hot & sour soup, wonton-styled soups, and other options.
The most popular seafood options are steamed scallops, soy-roasted black cod, and wok-fried Szechuan prawns.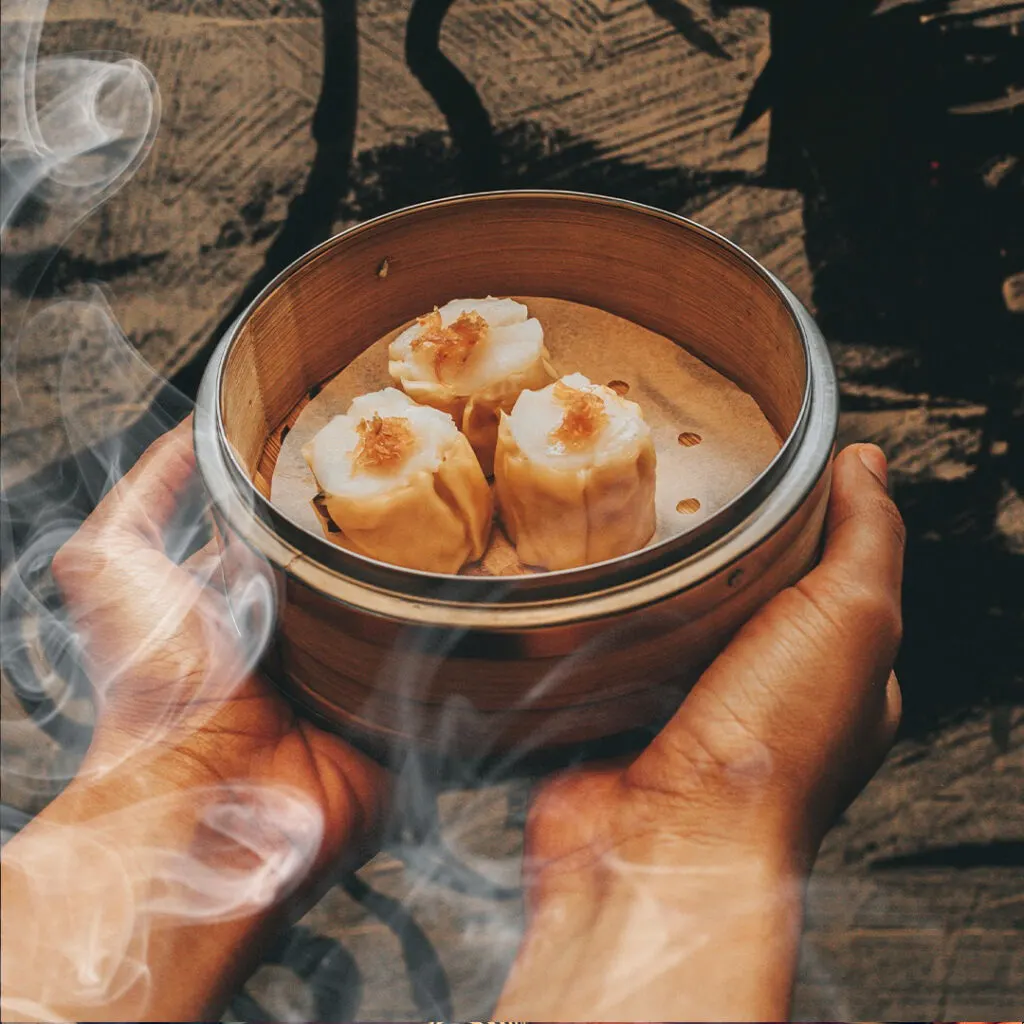 Enjoy kung pao chicken, wok-fried wagyu 5+ and braised beef brisket in the meat section.
Go green in the veggie section with clay pot tofu, daily Chinese vegetables and wok-fried asparagus. Dai Pai Dong offers several delicious rice and noodle-based dishes.
Friday to Sunday offers
Go check out the Friday night hot pot brunch at Dai Pai Dong. Packages start from AED 298, and pork can be added for an additional AED 32.
Pick a soup base, mix a dipping sauce and cook vegetables & tofu, seafood, meat and noodles hotspots on the table.
Abu Dhabi has a select few Sunday brunches, and the Yum Cha Brunch is one to try!
Soft drink packages start from AED 298 with the option to upgrade to the house beverage or bubble package.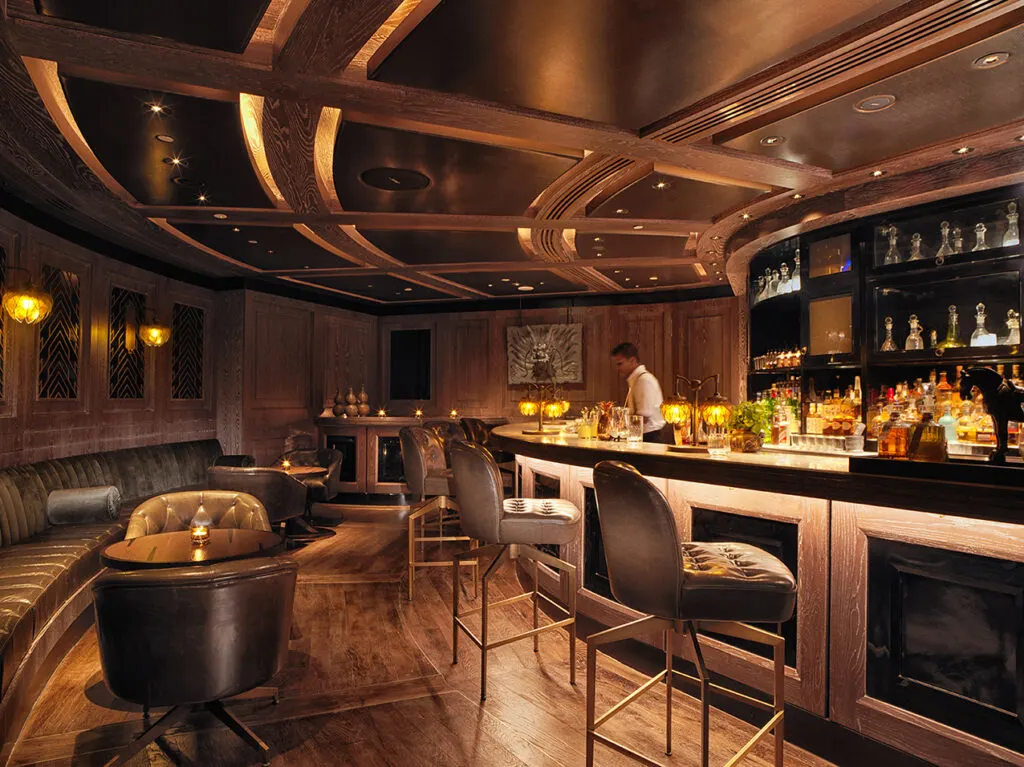 Go on a Cantonese Chinese culinary journey with appetizers, starters, salads, soups, dim sum, Cantonese roasted duck, pork, BBQ live stations, main courses and desserts.
Call: +9712813558
Timings: Sunday to Thursday, 12 pm to 11 pm. Friday to Saturday, 12 pm to 12 am
Location: Rosewood Abu Dhabi-Level B3-Galleria Shopping Mall-Abu Dhabi-United Arab Emirates
2. Li Jiang Ritz Chinese Restaurant In Abu Dhabi
Dine with one of the best views amongst Chinese restaurants in Abu Dhabi. The majestic grand mosque takes up the backdrop at this incredible restaurant.
The modern décor is authentic, with references to China throughout. We loved how the kitchen is open-style, and the chef can be seen preparing some of the most delicious Chinese food Abu Dhabi offers.
Deep-fried vegetable spring rolls were the go-to starter choice. The crispy batter was light and flaky with button mushrooms, white onion, white cabbage leak and truffle.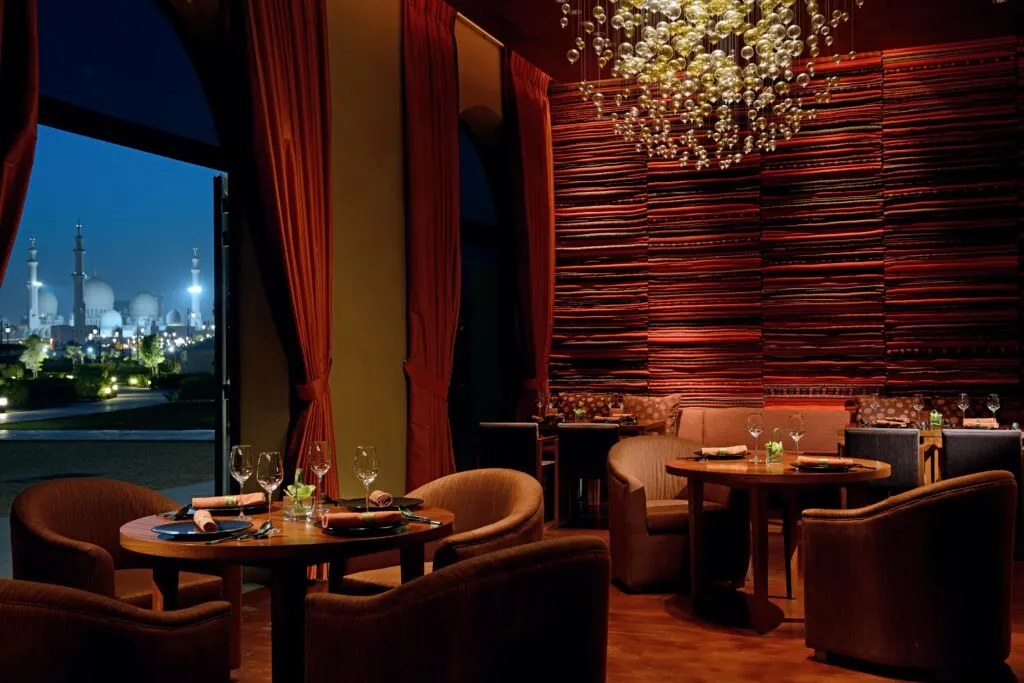 We followed up with assorted steamed dumplings, which included a trio of chicken siew mai, prawn har gao and vegetable mushrooms. Sushi rolls are available, but we opted to keep it a Chinese affair.
The wok fried hokkaido scallops with XO sauce were supreme. The chef was generous with the number of meaty scallops, and the fresh veg maintained a slight crispiness.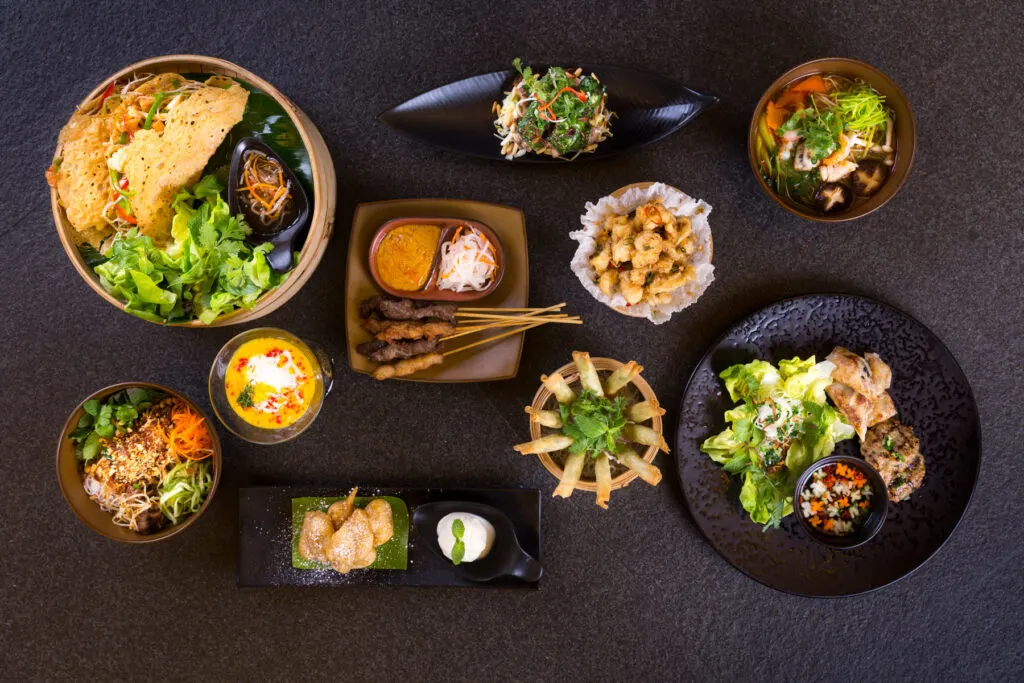 Desserts include Asian classics such as deep-fried banana rolls with coconut sauce drizzled in caramel and pineapple sauce. Other exciting options include ice cream, sorbet, sticky rice mango, and matcha bavarois.
Call: +97128188203
Opening Hours: 5 pm to 11 pm
Location: The Ritz Carlton Abu Dhabi, Grand Canal- Abu Dhabi- United Arab Emirates
3. Hakkasan, Emirates Palace Mandarin Oriental
Hakkasan is the proud owner of one of Abu Dhabi's first Michelin stars. The sleek contemporary design boasts wooden crafted structures and oriental lighting features.
The balcony terrace is one of the most impressive in the city, as it overlooks the iconic gardens of the landmark Emirates Palace.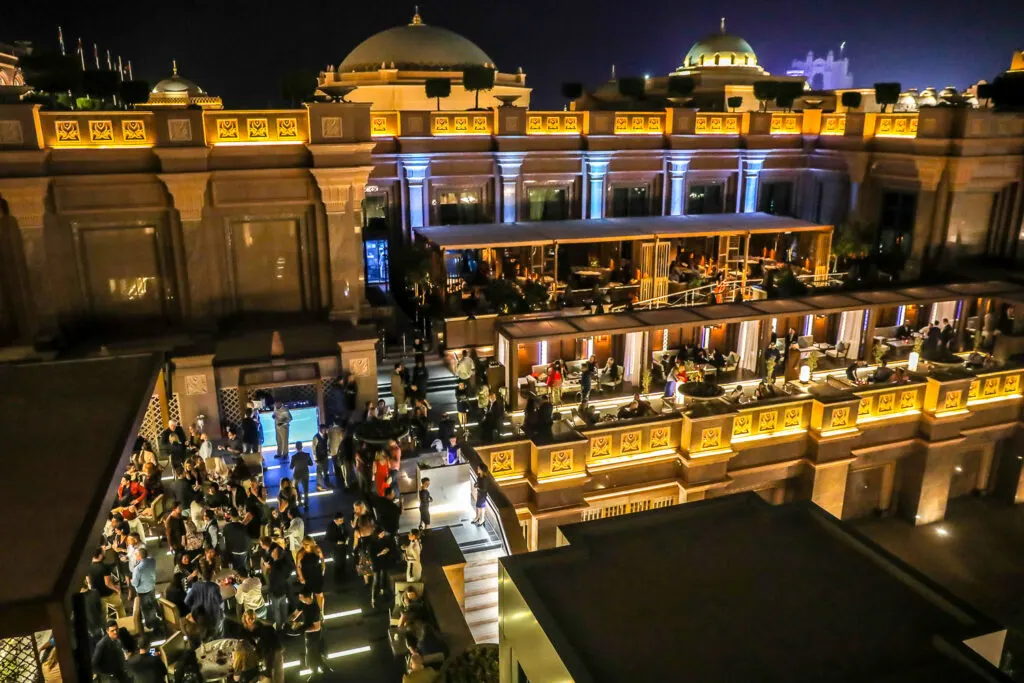 The a la carte section is just as impressive. The Hakkasan Peking duck comes in half or whole servings with the option to boss it out entirely and add kaviari caviar.
Start with soups, dim sum, salads and small eats. Hakkasan is world-renowned for its dim sum!
Taste lychee lobster, abalone puff and wagyu beef truffle in fried dim sum.
Vegan Option
This supreme dining restaurant offers vegan steamed dim sum. Inside is beetroot sweetcorn, morel mushroom yam bean peach gel and truffle eryngi mushroom.
Guests will not be disappointed with many other quirky and unique dim sum options. Enjoy soft shell crab with curry leaf and chicken floss in the small eats section.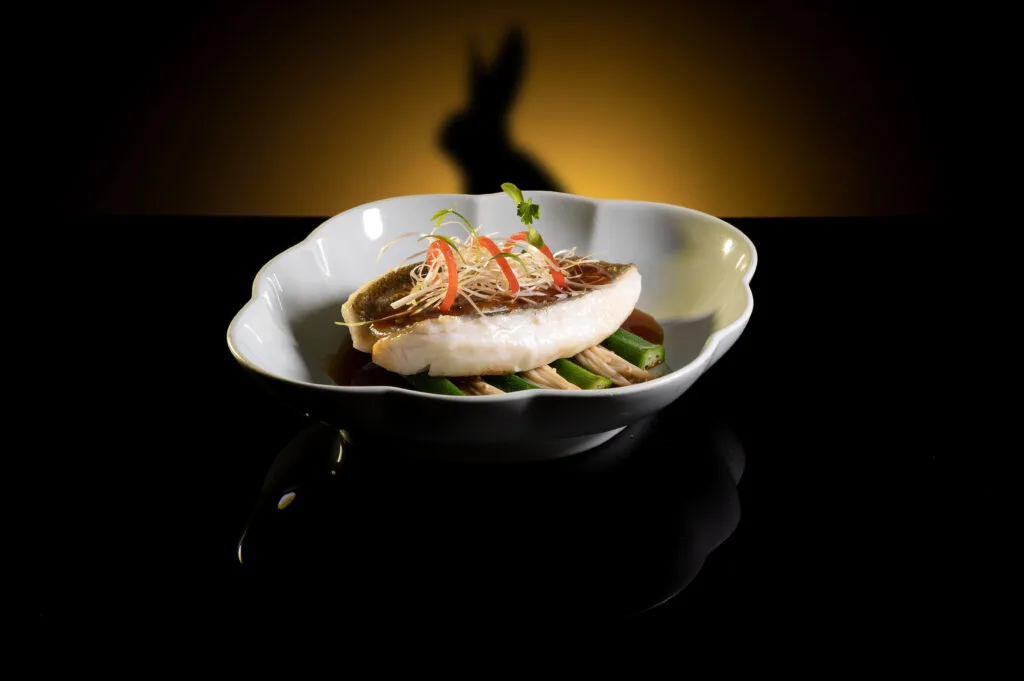 Order authentic Chinese dishes such as sweet and sour chicken with pomegranate, wok-fry XO scallops, stir-fried black pepper rib-eye beef or a Shanghai Pak Choi.
Each signature set menu comes at tiered prices, with the dragon menu costing AED 498 and the Qilin set menu coming in at AED 688.
Other key events are Friday night brunch and Saturday dim sum lunch.
Call: +971 2690 7739
Hakka Night Brunch: 6 pm to 9 pm or 8 pm to 11 pm (Last orders at 10:45 PM)
Costs: AED 488 for the house package, all-inclusive
AED 728 for the bubble package, all-inclusive.
Dinner: 6 pm to 11:30 pm, whilst the bar is open from 6 pm to 1 am.
A private dining room is also available.
Saturday lunch specials: 12 pm to 3:30 pm
Cost: 3 dim sum baskets for AED 98, 5 dim sum baskets for AED 138
Signature set menus: Starting from AED 498 per person (Minimum of 2 guests).
À la carte mains: from AED 118
Timings: 6 pm to 11:30 pm (Open daily)
Location: Emirates Palace- W Corniche Road-Al Ras Al Akhdar- Abu Dhabi- United Arab Emirates
4. Shang Palace, Shangri La
The Shangri la group couldn't reside in Abu Dhabi without bringing a top-class Chinese restaurant.
This restaurant received Michelin recommendations and multiple awards recently. The Abu Dhabi restaurant follows its sister branches in Hong Kong and Paris with Michelin recognition.
The hand-crafted flavours of Shang Palace bring in a unique and extraordinary culinary experience. Local influences fuse with oriental dishes, bringing one-of-a-kind flavours.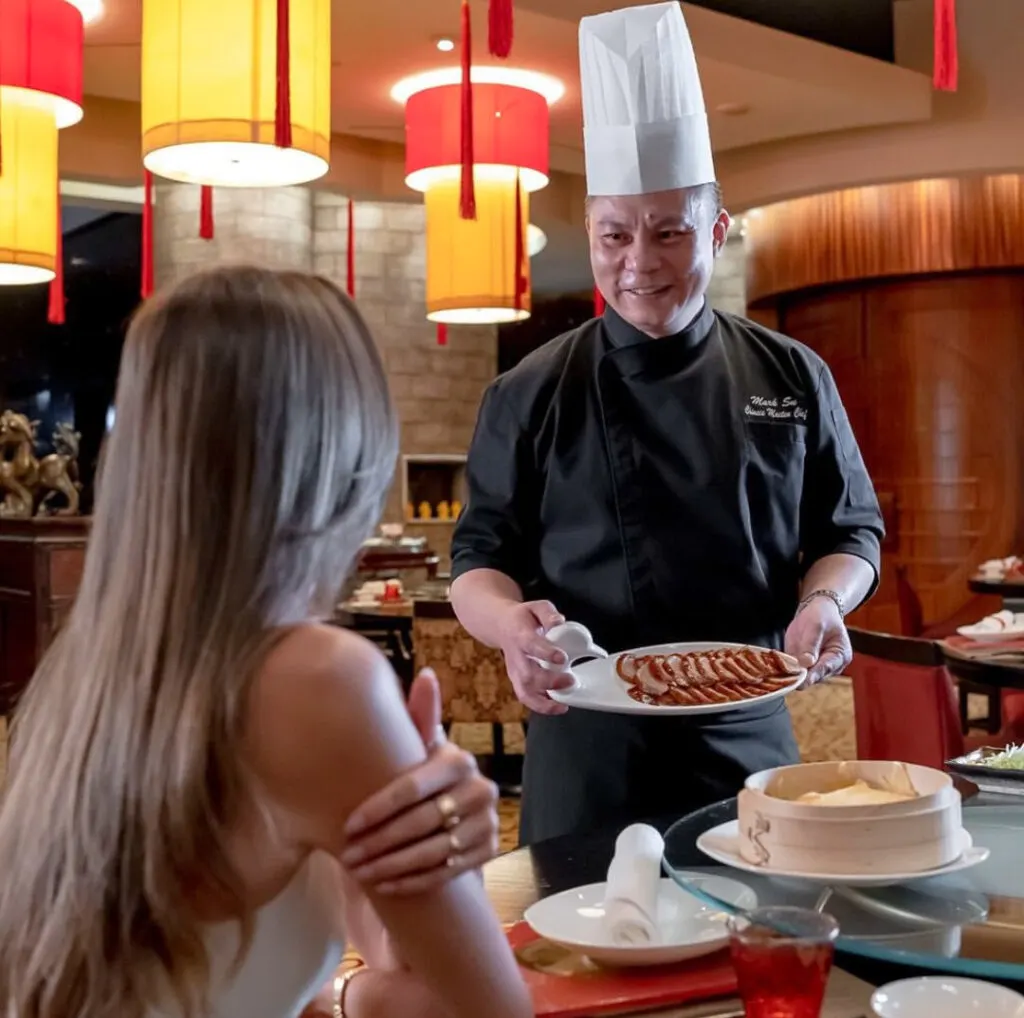 The signature seafood is equally impressive with wok-fried Boston lobster and jian nan style wok braised grouper.
There are cold and hot options for appetisers, including Sichuan spicy shredded chicken salad, crispy seabass fillet and vegetable ma po tofu.
Grab a steaming hot bowl of goodness with some Chinese soup. Shang Palace has various flavours, from sweet corn soup to wonton and Sichuan-style hot and sour soups.
The Sichuan section is always an attention grabber with kung pao chicken, Ma Po Tofu, Sichuan Kou Shui chicken and wok-fried crispy tofu with sliced beef.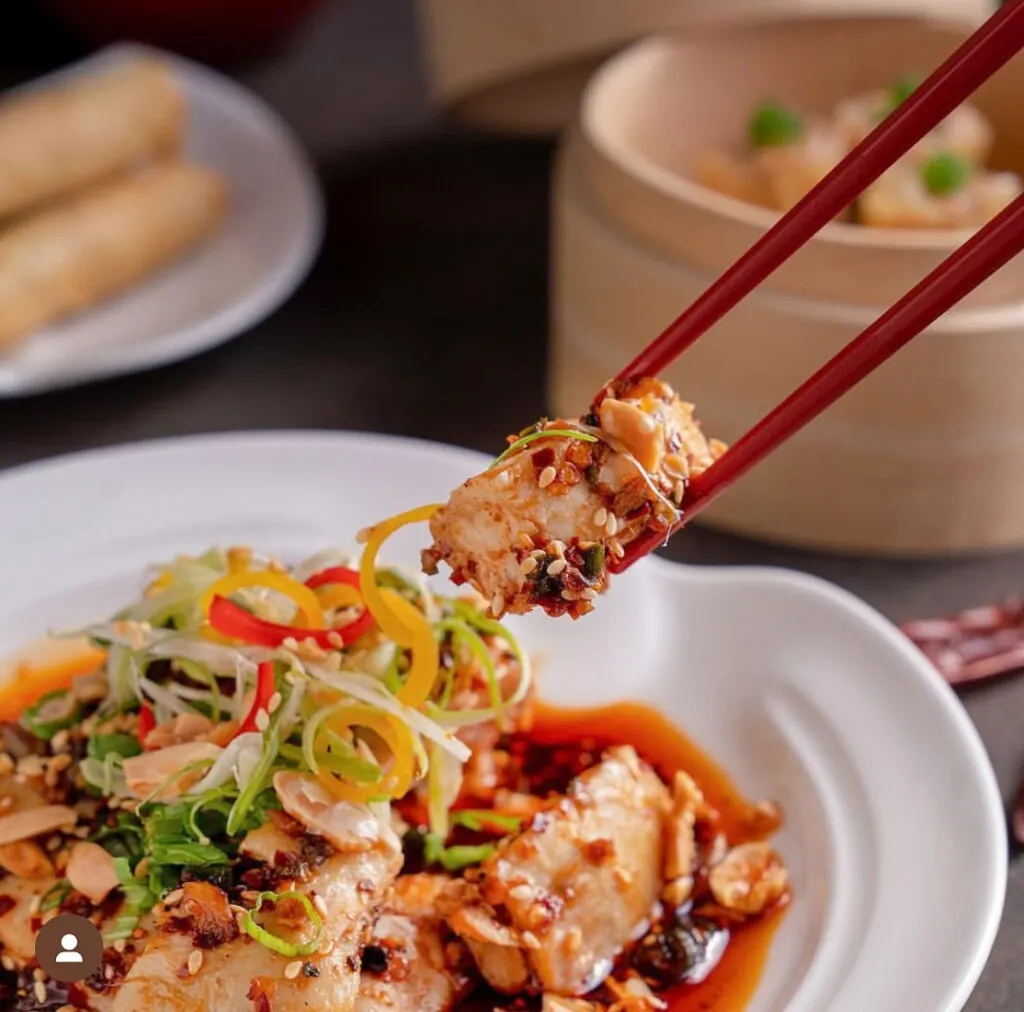 Highlights amongst the Cantonese section include sesame prawn toast with foie gras, deep-fried vegetables & mushroom spring rolls and steamed river shrimp dumplings.
Feast on delicious seafood such as stir-fried Australian scallops, steamed tiger prawns and wok-fried tiger prawns.
The stir-fried beef rib in a black pepper sauce or a deep-fried crispy shredded beef will make it a winning visit to Shang Palace.
Check out the clay pot section for more exciting options. The rice, noodle and vegetable section brings more classic dishes.
Unique Desserts
This Chinese restaurant in Abu Dhabi has delicious desserts like black sesame tofu cheesecake, chocolate dream cake, vanilla tart and chilled fresh mango soup.
These are certainly some of the more unique desserts we came across on our tour of Chinese restaurants in the Emirate.
From 12 pm onwards, unlimited dim sum is available from the yum cha menu from Monday to Friday.
Shang Palace offers two brunches across the weekend on Saturdays and Sundays.
First up is the Peking social brunch from 12 pm to 3 pm. Packages start from AED 198 for the soft drinks package. Kids between 6 to 12 years old fine dine for 99 AED and those below six dine for free.
The Szechuan dynasty brunch is from 12 pm to 3 pm, with packages starting at AED 198.
Call: +971 2509 8555
Opening hours: 12 pm to 3 pm (Lunch)
6 pm to 10:30 pm (Dinner)
Location: Level 1- ground floor, Shangri La Hotel, Qaryart Al Beri- Abu Dhabi- United Arab Emirates
5. China Restaurant, Novel Hotel (budget friendly)
In true Secret Abu Dhabi fashion, we reveal one of the city's best-kept secrets. China Restaurant has been serving Chinese dishes in the heart of Abu Dhabi for decades. This restaurant has won several awards over the years!
The Cantonese food is authentic, incredibly delicious, and no-frills, with classic red and golden decorations.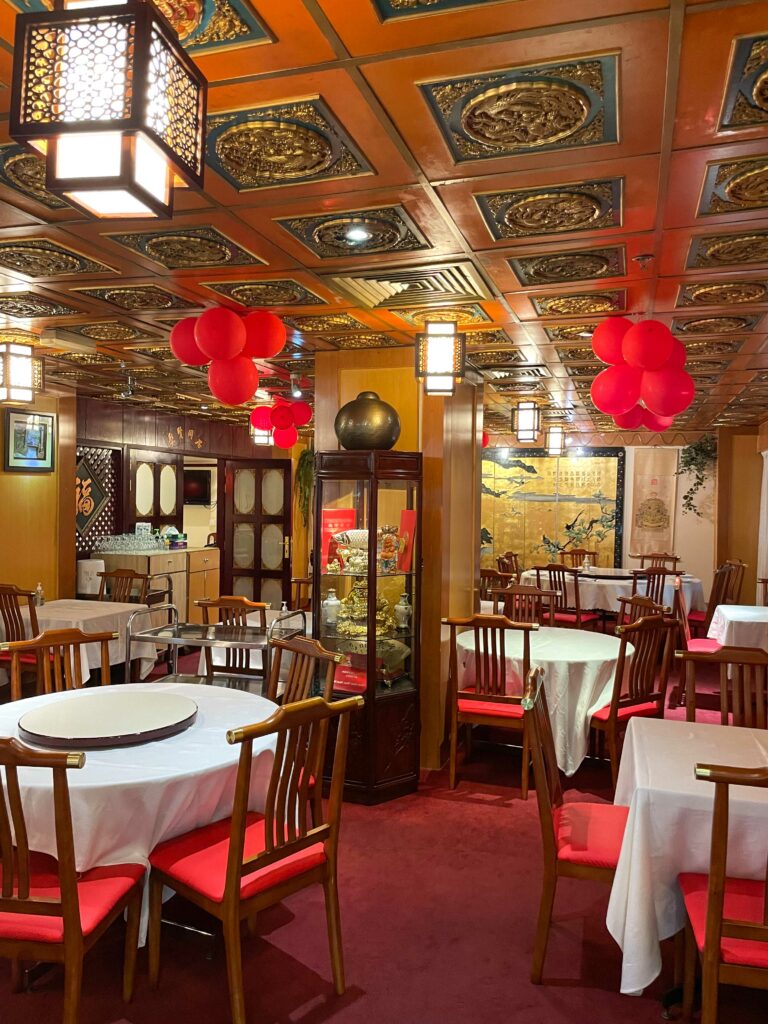 A rotating disc in the centre of the table is perfect for passing food around and sharing multiple dishes with friends or family.
The wonton soup is delicious and remains intact when soaked in the soup. Oh, and the spring rolls are extra crispy and delicious when soaked in chilli or sweet and sour sauce.
Deep-fried chicken dumplings are a must, and the servings are generous, so make sure you arrive with an empty tummy to fill up.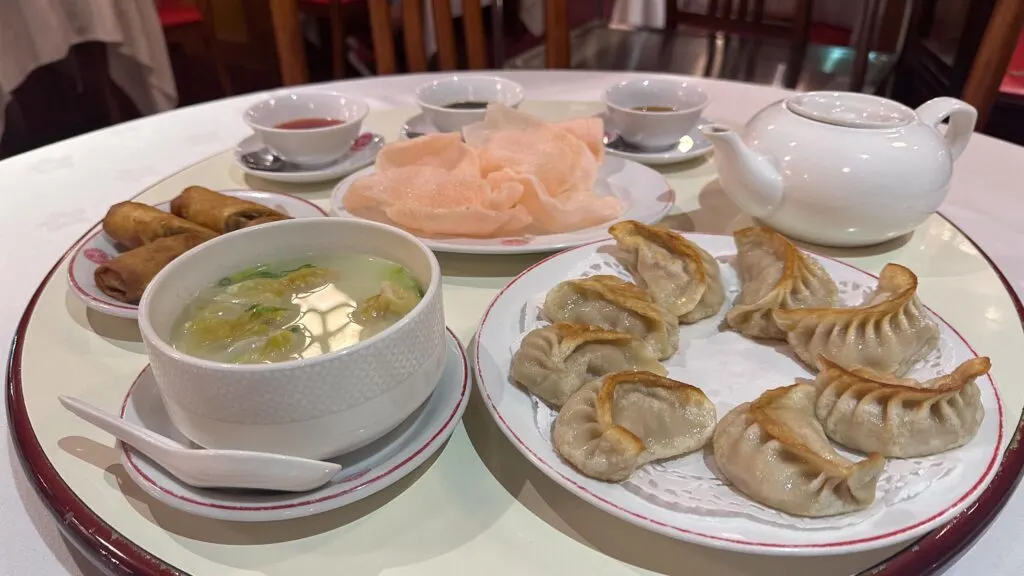 For mains, the chicken kung pao is always a winner with the perfectly roasted nuts, chicken, chilli-peppers and onions.
The dry Hofun beef and garlic noodles were delicious. House beverages are on offer.
Timings: 6 pm to 11:30 pm (Monday to Sunday )
12 pm to 3:30 pm and 6 pm to 11:30 pm (Saturday)
Location: Novel Hotel City Centre- Sheikh Hamdan Bin Mohammed Street (Hamdan Street) -Abu Dhabi- United Arab Emirates
We hope you enjoyed reading about our favourite Chinese restaurants in Abu Dhabi. The team here at Secret Abu Dhabi have personally visited each restaurant and savoured all the delicious food to come up with our favourites!
Have you visited any? We would love to hear your experience. Leave a comment. We'd love to hear from you.