Friday brunch in Abu Dhabi is on everyone's mind at the end of the working week. As the sun sets, the city comes to life with those looking to unwind after a long work week.
Luckily for residents and tourists alike, there are plenty of 'brunches' or 'drunches' for a genuinely spectacular Friday evening.
Foodies will be delighted to know the capital city offers mouth-watering dishes, good vibes and plenty of opportunities to have a great time.
From fine dining oriental cuisine to laid-back bar food and just about everything in between, the options are endless!
Whether it's a post-work get-together, a catch-up with friends or a night out with that special someone, we've been searching for the best Friday evening brunch in Abu Dhabi, so you don't have to!
From classy 1920s-inspired evenings to something more budget-friendly, we've covered all the bases in this ultimate guide to Friday evening brunch Abu Dhabi style!
Best Friday Brunch Abu Dhabi
1. The Gatsby Brunch, Ray's Bar
The 1920s was a transformative era nicknamed the 'Roaring 20s' due to the cultural revolution in music with Jazz and Swing.
Jump into a Time Machine on the 62nd floor of the Conrad Abu Dhabi Etihad Towers and be teleported back to good times with the ultimate glitz and glamour.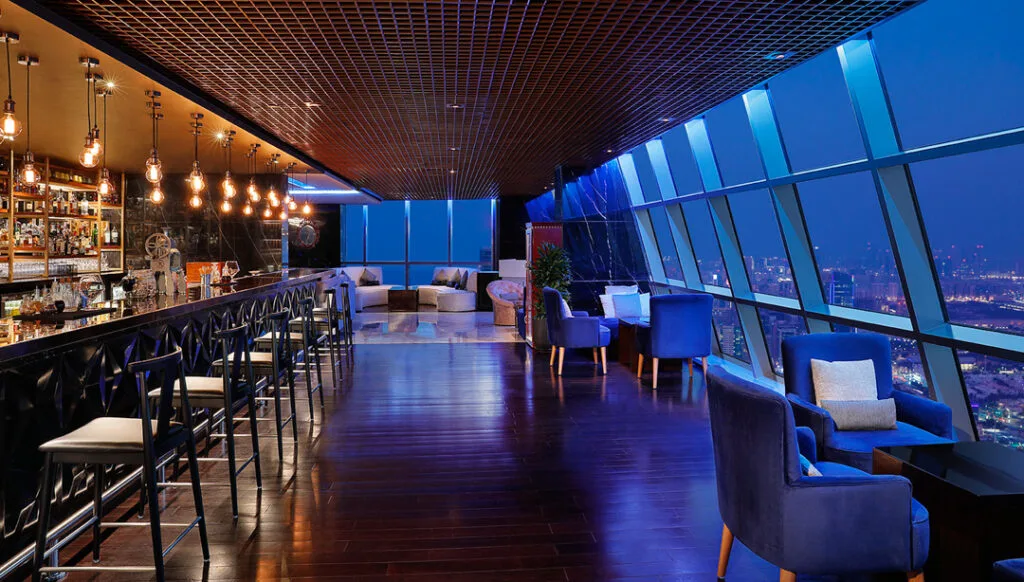 The brunch oozes sophistication and extravagance as it seeks inspiration from Fitzgeralds' novel, The Great Gatsby.
As beverages flow freely, mouthwatering dishes are savoured, and the night is danced away. Guests are guaranteed a night to remember in this time capsule within one of the city's landmarks, Conrad Etihad Towers.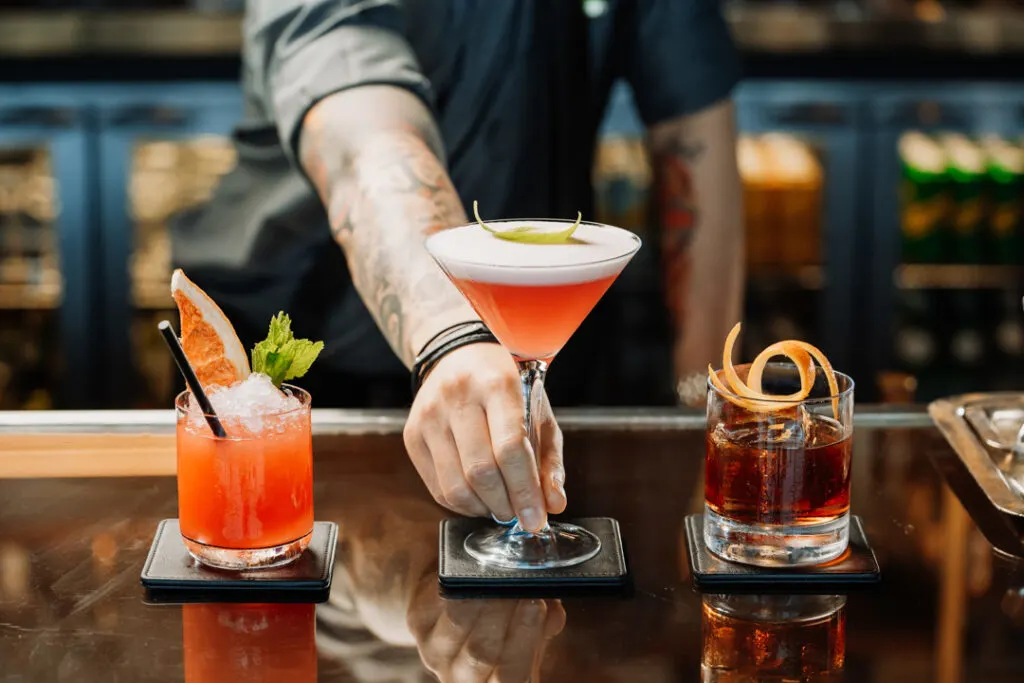 Enjoy drinks and all the hallmarks of Gatsby at the glitter bar every Friday night.
Gatsby brunch at Rays Bar owns a deserving place on the list of the best Friday brunch in Abu Dhabi.
Timings: Fridays 8 pm to 11 pm
Pricing: AED 299 for cocktails & house beverages. AED 399 cocktails, house beverages & Italian bubbles.
Location: Rays Bar, 62nd Floor, Conrad Abu Dhabi Etihad Towers, Corniche Road, Al Bateen, Abu Dhabi.
Call: +97128115555
2. Rat Pack Supper Club, Stratos
Friday nights just got better with Stratos' Friday brunch in Abu Dhabi.
Stratos is known for its spectacular panoramic view of the city with the backdrop of the Arabian Gulf. That's not all; this particular restaurant revolves around the top of the Le Royal Meridien Abu Dhabi.
Yes, you heard it correctly! 360-degree views of the city and the ocean slowly changing as you enjoy supper club.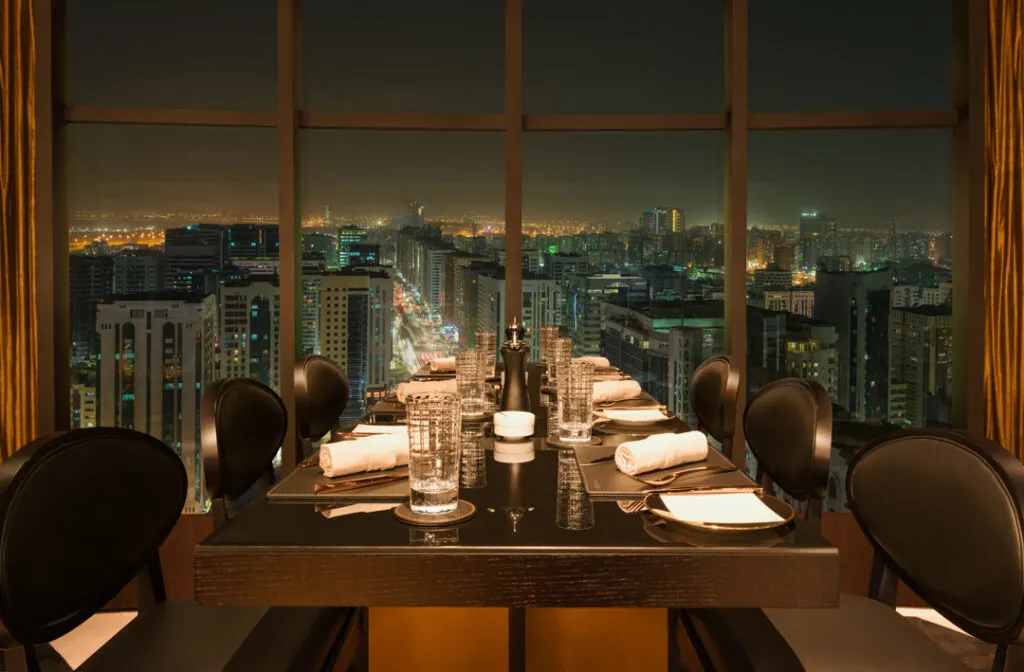 Make it a magnificent evening and catch the sunset before it becomes the twinkling city skyline.
Stratos has a soave interior. Coupled with exceptional views, it makes for one of the most romantic spots in Abu Dhabi.
3. Hakkasan Friday Night Brunch
Another deserving spot on this list is the supreme brunch at Michelin-star restaurant Hakkasan, which is based inside the landmark Emirates Palace.
It is a little pricier, and for good reason! The fine-dining Chinese restaurant holds multiple awards for its delectable food.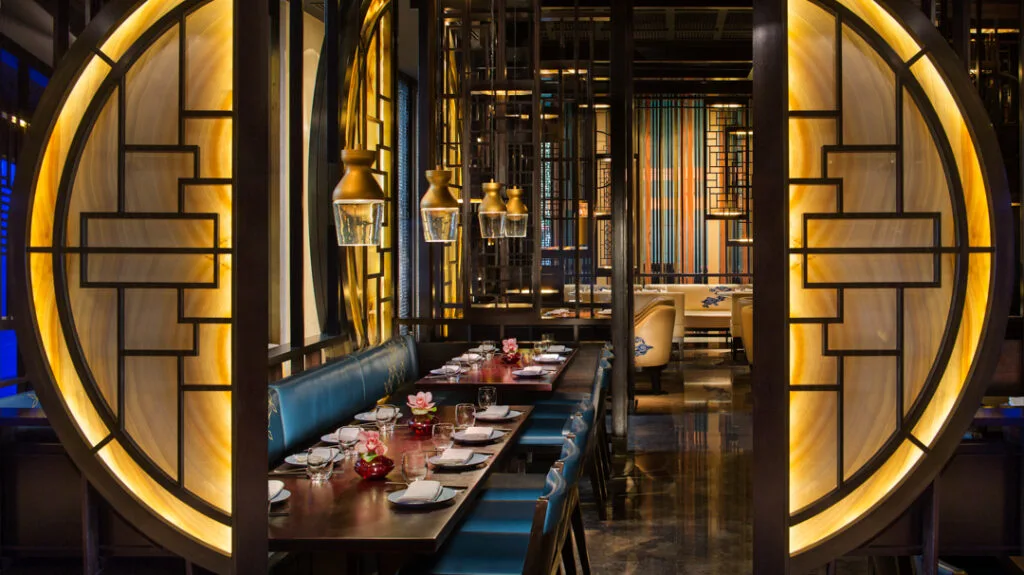 Start the night and enjoy a delicious beverage at the sophisticated bar. Thereafter, indulge in signature small bites with free-flowing drinks. Savour each mouthful of the culinary journey poised to wow guests.
Kick-off brunch with XO edamame and Peking duck. Dim sum takes centre stage at this Friday night affair. The lineup includes lobster lychee yuzu pearl, mango chicken puff, har tau and truffle eryngii mushrooms.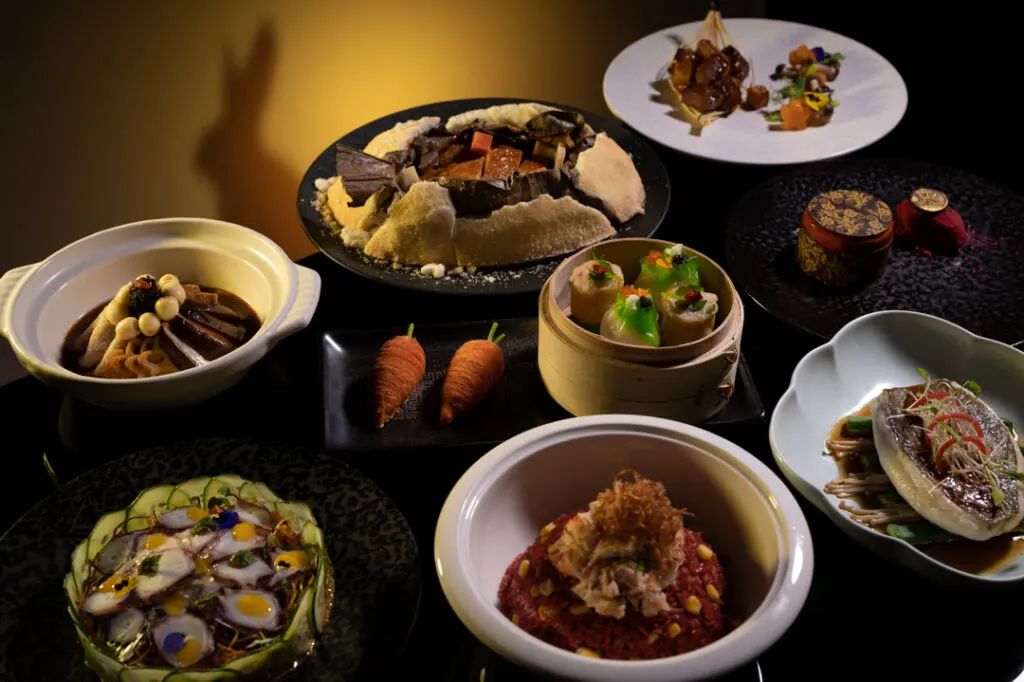 The exquisite brunch impresses further with jasmine tea smoked wagyu beef ribs, Szechuan style wonton, almond soft shell crab, taro prawn and stir fry roasted duck lettuce wrap.
The chefs' selection of delicious desserts rounds off the perfect evening at this Friday brunch in Abu Dhabi.
Timings: Fridays 8 pm until 11 pm
Pricing: AED 488 for a set menu and unlimited beverages
Location: Hakkasan Emirates Palace Mandarin Oriental- West Corniche Road-Al Rat Al Akhdar- Abu Dhabi
Book: +97126907739
4. Cyan Brasserie, Andaz Capital Gate
The iconic landmark of Abu Dhabi has a few fantastic events and happenings including Friday night 'Bubble Drunch at Cyan Brasserie'. The fantastic Franco-Arab-inspired restaurant is on the 18th floor, providing magnificent views of the Emirate.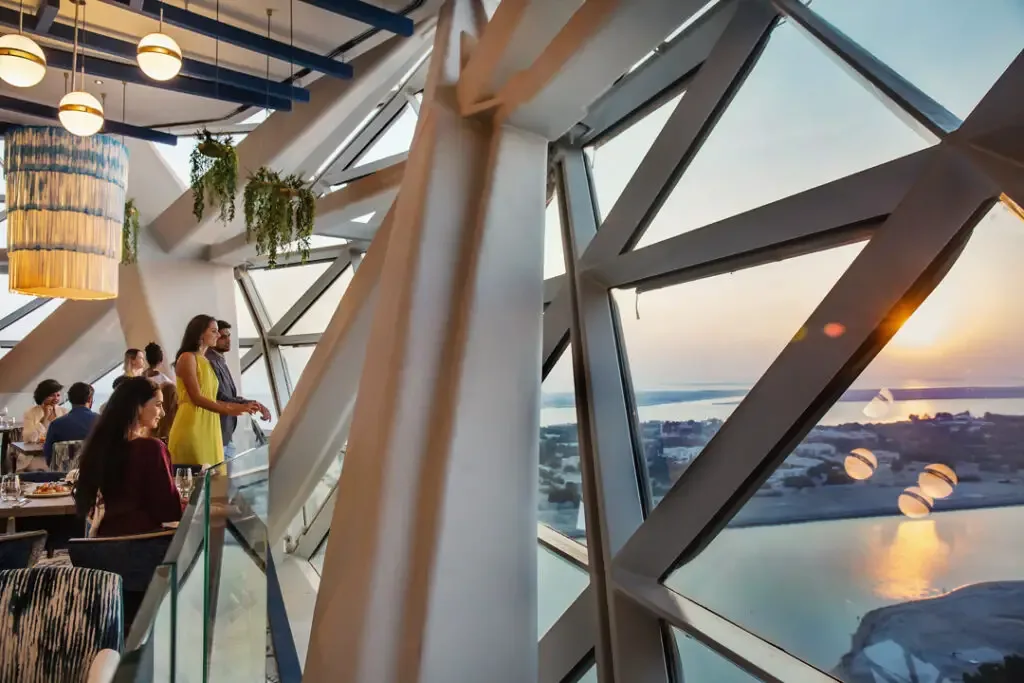 The Bubble Drunch event features indulgent dishes such as lobster, freshly shucked oysters, artisan Seabass en Papillote, and Veal and foie Gras Pithivier.
Live raclette and crepe stations will also serve delicious dishes that pair perfectly with the finest champagne and sparkling wines.
Being Friday evening, 'Bubble Drunch' will also feature live music and entertainment to ring in the weekend!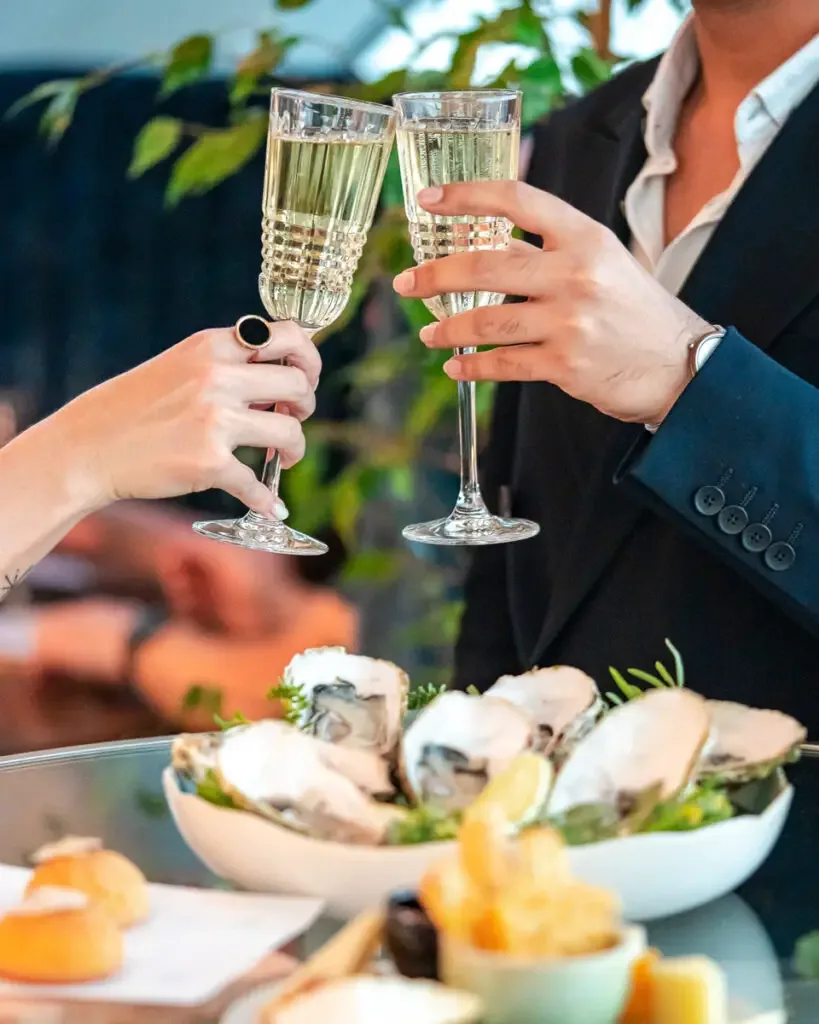 This event will occur between 630 PM and 9 PM on Friday, starting from the 15th of September. Prices range from 200 AED to 350 AED with non-alcoholic, house beverages and champagne add-ons.
Find out more about Bubbly Drunch here.
5. Replay Fridays, Annex Lounge
ANNEX Lounge is one of the most fantastic venues in the city. The trendy lounge offers three hours of free-flowing selected house beverages and three delicious bites.
Fantastic beats and a sophisticated interior set the tone at this venue for a fun-filled evening.
In the cooler months, the roof terrace is open, making it one of the best outdoor Friday events in the city.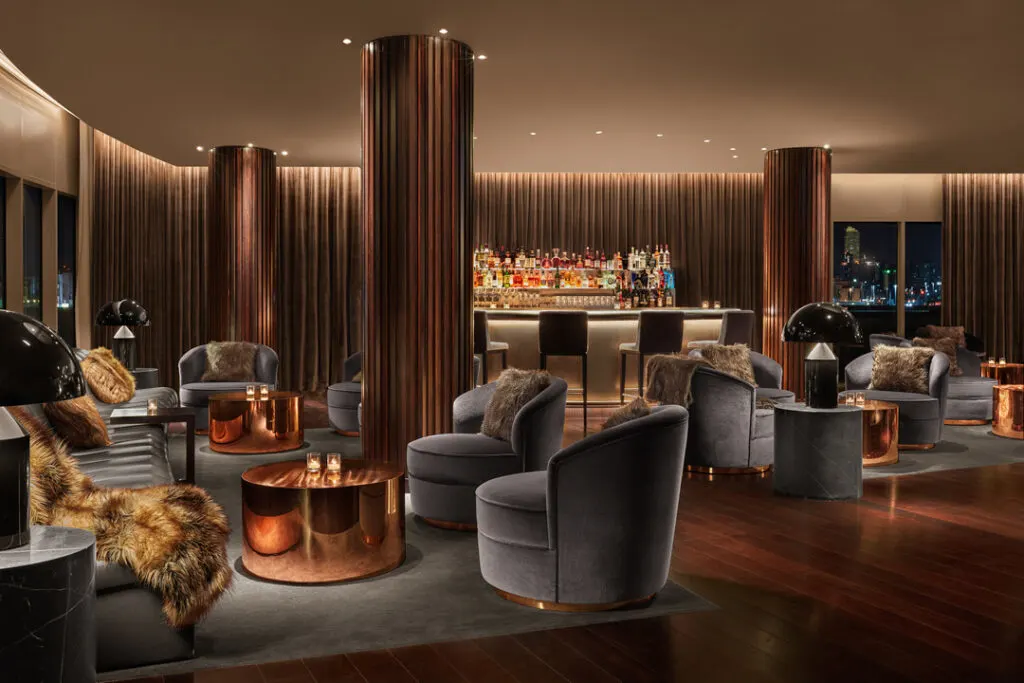 ANNEX club hosts another event after brunch from 11:30 pm to 4 am, allowing the party to continue into the small hours of the morning.
Timings: Friday, 7 pm to 12 am
Pricing: AED 199 Ladies 3 hours of free-flowing beverages and three bites from a selected menu. AED 250 for gents.
Location: The Abu Dhabi Edition, Al Bateen Marina, Abu Dhabi.
Call: +97122080000
6. Throwback Friday Night Brunch
Atlon Bar & Bistro
One of the most well-known and fun nightlife venues in the city has to be Atlon. Friday brunch in Abu Dhabi doesn't get much more fun than this.
Get a blast from the past with tunes belted out from the '80s & '90s.
A duet DJ act takes centre stage, turning out sing-along anthems. There are a number of options at this brunch. Go liquid only and get the drinks package for AED 99. For the food-only package, it is also only AED 99.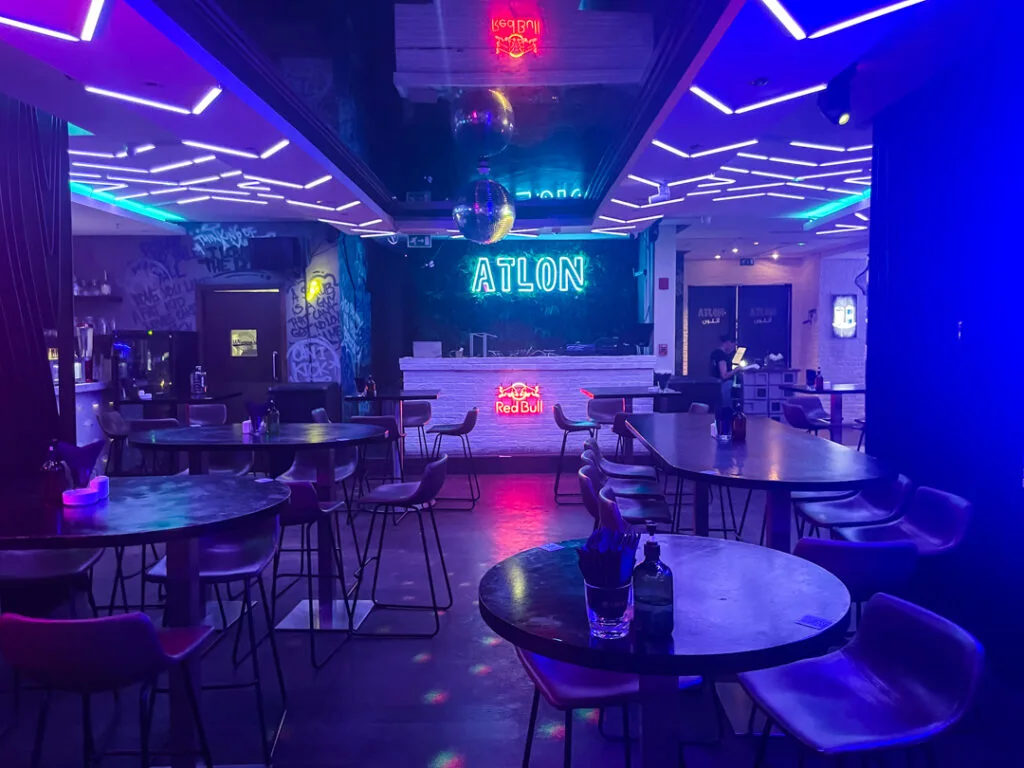 Whilst the food and drinks costs AED 189. Beverages include house hop, grape and spirits with mixers.
The delicious menu brings wiseguy pizzas, beef sliders, chicken wings, cauliflower wings and salt & pepper fries.
Alton is guaranteed to be a night to remember and is open until 6 am with the addition of the after-party.
Timings: Fridays 8 pm until 11 pm
Location: Atlon Bar & Bistro Souq Qaryat Al Beri- Abu Dhabi
Phone: +971585753414
7. Mykonos Restaurant & Lounge
Mykonos is the perfect Friday evening getaway from the hustle & bustle. It's tucked away in the Le Meridien Village on the waterfront. Mykonos is renowned throughout the city for its outstanding fresh seafood.
The buffet-style brunch has a variety of delicious food. The salad section is scrumptious, along with hummus, muttabal and other Arabic dips.
Live cooking stations include grilled seafood, koftas, lamb and other succulent meats. The Greek-inspired brunch fuses with Arabic cuisine. An impressive sushi display with crustaceans and other shellfish is on offer.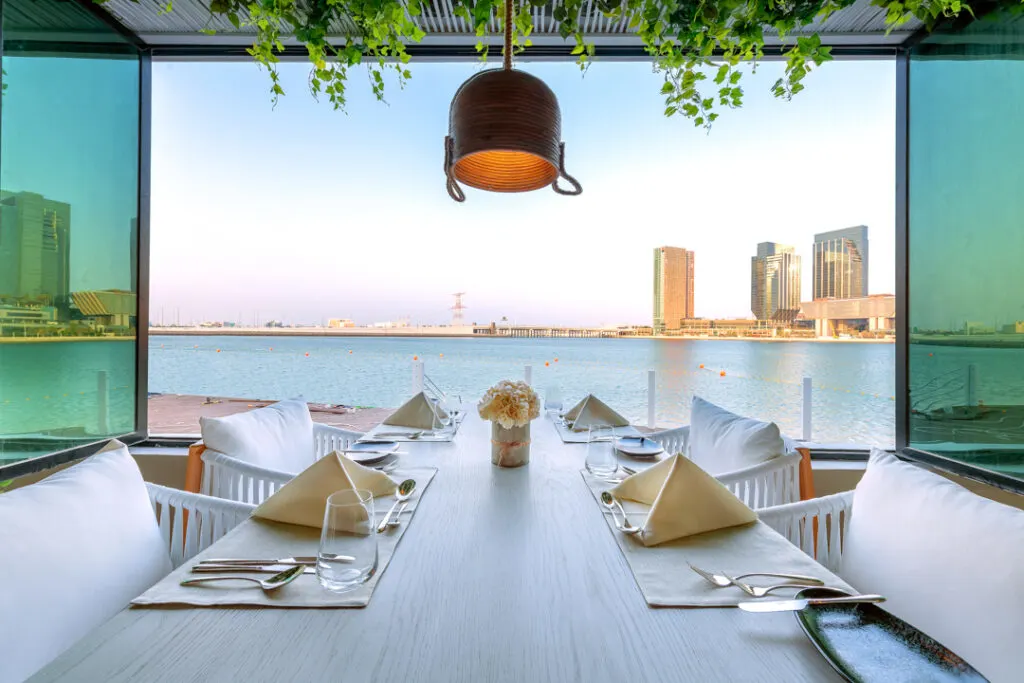 This brunch has fun beats and attracts a crowd looking to unwind to mark the weekend.
Don't forget to grab a photo at the iconic flower arc outside by the waterfront. It's undoubtedly one of the most instagrammable spots in the city.
Prices: House packages start at AED 90 and house beverages at AED 150.
Timings: Fridays, 7 pm to 11 pm
Location: Le Méridien– Al Zahyiah Street- Abu Dhabi- UAE
8. The Skylit Brunch, Brick Rooftop Kitchen & Bar
Head to one of the best rooftop bars for a Friday brunch in Abu Dhabi. The Aloft Hotel by Marriott Bonvoy boasts impressive panoramic city views.
The vibe is laid-back and is in the heart of the capital centre. Unsurprisingly, it attracts many working in the area looking to start the weekend with a bang.
Aloft is known for the famous 800-degree ovens that flame grill most food in cedarwood. From brick oven to table, there are a number of delicious dishes at this Friday brunch in Abu Dhabi.
The sourdough bread is smothered in caramelised roasted onion butter and makes for a great starter to share.
Brick prawns come in garlic, lemon and piri flavours. Order the mixed platter and indulge in shish tawook, beef kebab, lamb kofta and roasted vegetables.
Cedar plank Norwegian salmon with garlic aioli, caramelized lemon, and mixed greens is a highly recommended dish.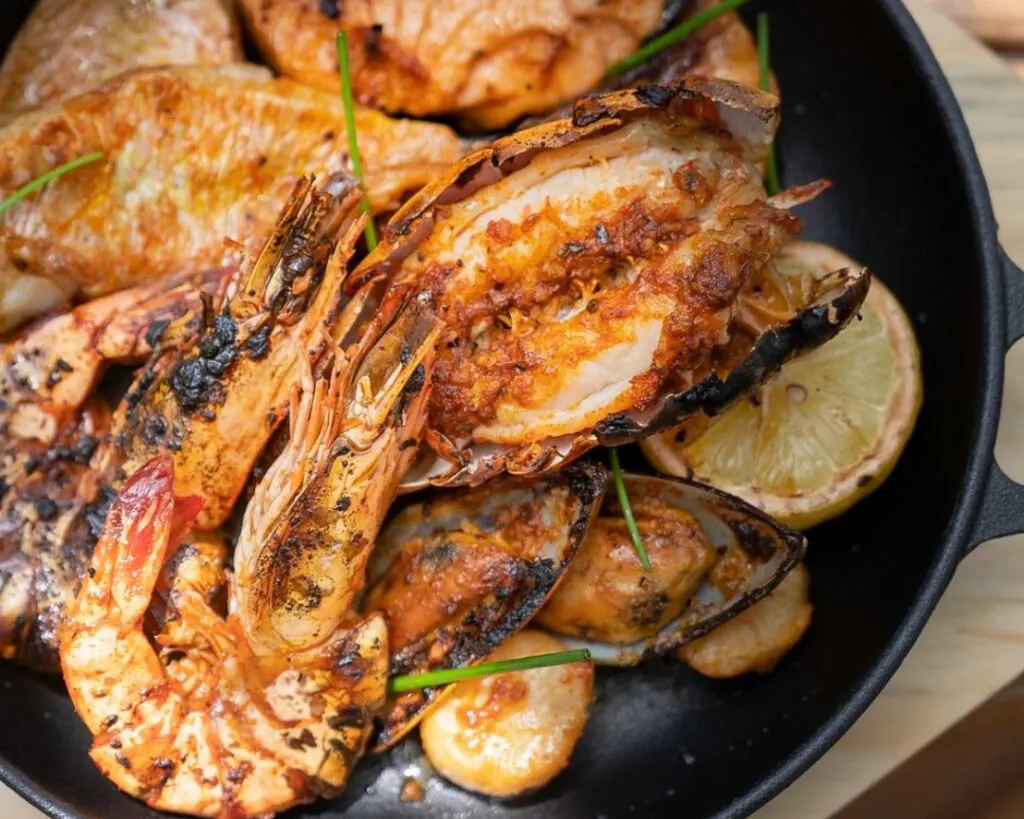 Check out the sweet section if all that savoury goodness was not enough. Fudge brownies and smores with baked chocolate, Graham biscuits and marshmallows round off a perfect evening at this brunch.
Not to mention, an impressive range of house beverages!
Pricing: Soft Drinks AED 255, House Beverages AED 325
Timings: Fridays, 7 pm to 10 pm.
Location: Abu Dhabi National Exhibition Centre- Aloft Hotel-Abu Dhabi-UAE
Book: +97126545000
9. Dai Pai Dong, Rosewood
Dai Pai Dong is one of the best Chinese restaurants in Abu Dhabi. The Chinese restaurant lets one taste many of the best-known dishes at this oriental Friday brunch in Abu Dhabi.
Featuring hot pots, dim sum, salads, barbeque meats and pork dishes, it is a Chinese feast to remember.
You can choose a soup base and dipping sauces. The two options include Sichuan spicy soup or superior chicken soup.
Mix it with a dipping sauce such as red bean curd, sesame paste, garlic, chilli oil, peanuts, chilli bean, soya, garlic chilli or sesame oil.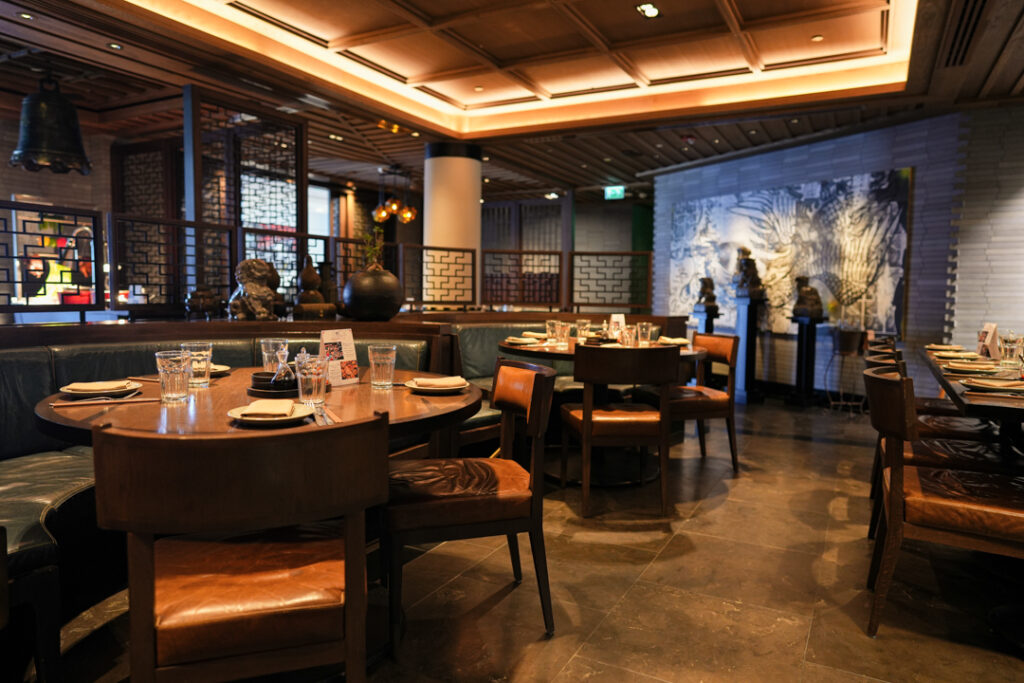 Next, it's time to pick a hotpot. Options include vegetables & tofu, seafood, meat or noodles. Each sub-section has a number of options. The tofu is perfect for those wanting a vegan option.
Check out the seafood options, as sea bass, mussels, prawns, fish balls and crab sticks are available.
Mixed green vegetables, mushrooms, and tofu & bean curd make up the veggie hotpots.
Most love a good meat hotpot at Dai Pai Dong, and it's no surprise, considering there are so many choices.
Beef tenderloin, beef ribeye, lamb shoulder, chicken brisket, beef tripe, chicken feet and beef balls offer diverse options.
Pay an extra AED 32 surcharge for pork dishes.
The Friday brunch in Abu Dhabi includes soft drink packages or hops & grapes.
Pricing: Soft drinks AED 298, Hops& Grapes AED 428
Timings: Friday 6 pm to 11:30 pm
Location: Rosewood Abu Dhabi- Level B3- Galleria Mall– Al Maryah Island- Abu Dhabi-UAE
Book: +97128135588
10. Supper Club, Filini Garden
Filini Garden is among the most popular venues on Yas Island for Friday brunch in Abu Dhabi.
The open-air Italian restaurant is always a winner.
Inside the venue, the walls are decorated in lush greenery and have a conservatory feel to them, with large windows framing the view of Yas Links Golf Course.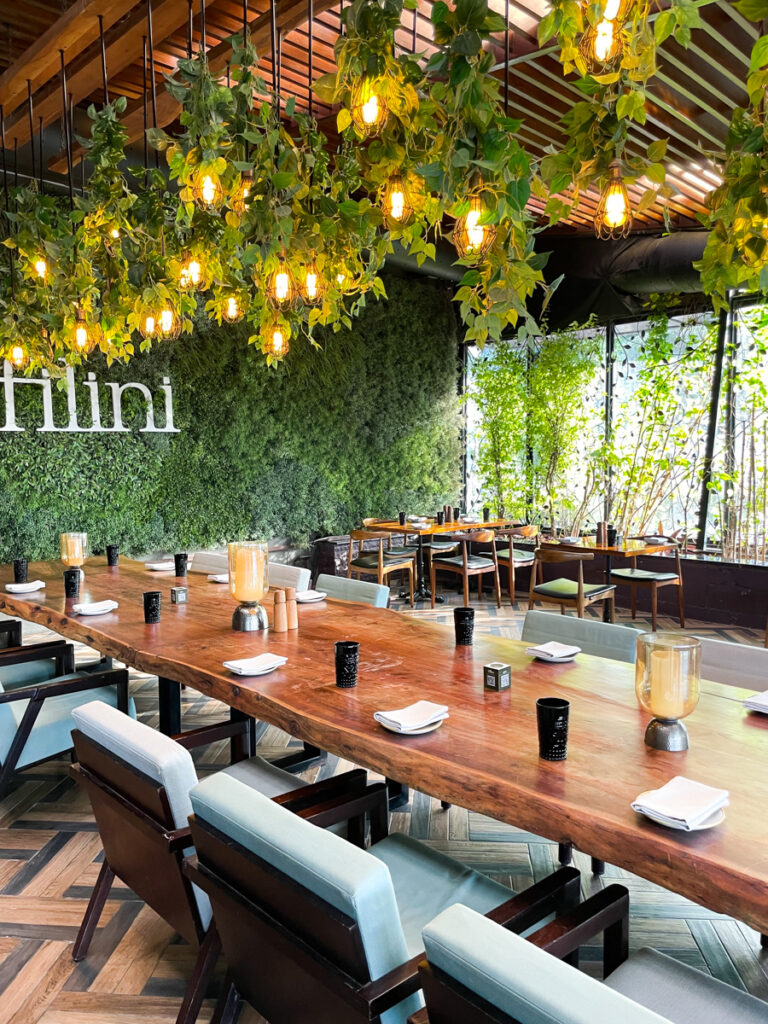 Live music and impressive performances go hand in hand with a great atmosphere.
The outdoor terrace is one of the best in the Emirate, and the sunset is magical. The brunch includes unlimited Italian bites and drinks. The table service brunch means guests can sit back, relax and enjoy the evening
Timings: Choose a three-hour package from 5 pm onwards on Fridays
Pricing: Packages start from AED 169
Location: Raddison Blu- Yas Island- Yas Plaza- Abu Dhabi- UAE
Book: +97126562000
11. De 'Vine' Table Brunch
Le Royal Méridien is home to the stunning 'Market Kitchen' in the heart of Abu Dhabi. The modern American farm-to-table concept is a popular Friday brunch in Abu Dhabi.
Start the evening with deep-fried mac and cheese balls in black pepper cream sauce, wild mushroom pizza and kale salad.
Grilled asparagus in edamame coriander cream, pickled mustard and parsley oil is an attractive vegetarian option. Sweet potato fries and chargrilled broccolini accompany the main courses.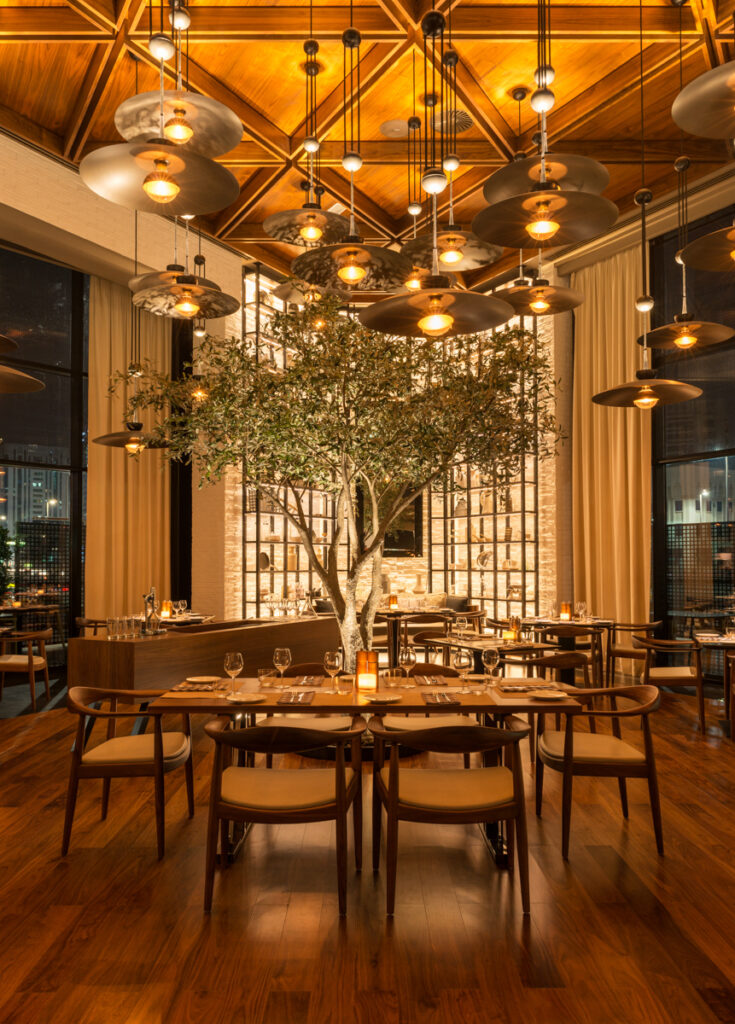 Salted caramel sundaes, five-spice apple, and pumpkin fritters sweeten the taste buds to finish off at this Friday brunch in Abu Dhabi.
Timings: Friday, 7 pm to 10 pm
Pricing: Soft drinks beverages AED 250, AED 350 House beverages, Bubbles package AED 450
Location: Le Royal Méridien Abu Dhabi- Khalifa Street Al Markaziyah Area- Abu Dhabi- UAE
Book: +971800101101
12. Writers Block, Library Bar
The library bar has all the hallmarks of class. The chef and barman have studied at this library, so the guests don't have to.
This upmarket spot serves literature-inspired drinks and four scrumptious bites to share. Kick off the evening with cold cuts and cheese. Lobster tacos, beef tartar cones, and Ceasar salad are some of the most incredible dishes served at this Friday brunch in Abu Dhabi.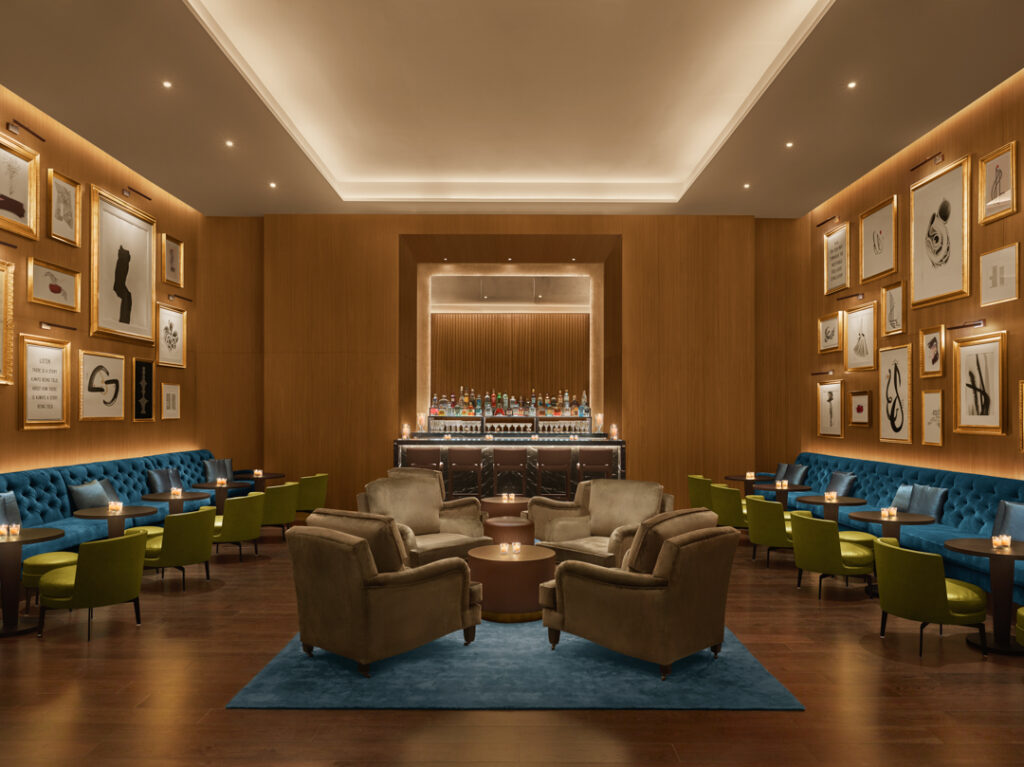 Beef burger sliders, wagyu skewers, and spicy beef pizza close the chapter of savoury treats. The final chapter brings smoked chocolate truffles to round off a brilliant night.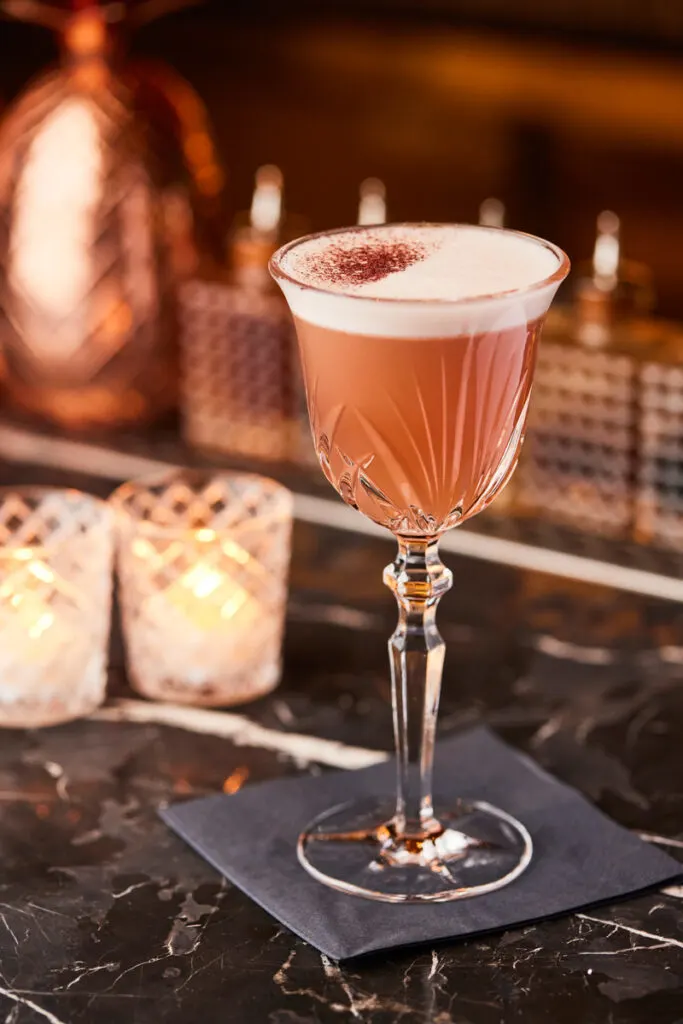 Choose any three hours between 7 pm to 12 pm.
Timings: Every Friday
Pricing: Soft beverages AED 175, Cocktails & House beverages AED 275, Bubbly AED 395
Location: The Abu Dhabi Edition-Al Bateen Marina- Abu Dhabi- UAE
Book: +9712080000
Frequently asked questions about brunch on Fridays in Abu Dhabi
Is brunch still on Friday in Abu Dhabi?
On January 1st 2022, UAE decided to change the weekend from Friday & Saturday to Saturday & Sunday.
As a result, daytime brunches on Friday were moved to Saturday as most people would be in the workplace during the day on Fridays.
That being said, Friday evening brunch has since become a thing in the Emirate.
What time does brunch start in Abu Dhabi?
The earliest brunch kicks off at 5 pm in Fillini Garden Yas Island, but don't worry, as it is a brunch that can be booked for any three hours in the evening.
Many brunches have a start time on Fridays in Abu Dhabi, but that doesn't mean you have to start at that time.
Check with each outlet, but some offer three hours of experience throughout the evening. This can be perfect for those finishing work later or people who like to have later evening plans.
It would be best to call ahead and check the last ordering time for these kinds of brunches.
Some brunches do have fixed times and typically start from 7 pm onwards.
How much is brunch in Abu Dhabi?
Some brunches in Abu Dhabi have very reasonable prices. There are a few variables that will determine how much it will cost. The main factor is whether it will include soft drinks or house beverages.
Packages at most brunches are typically tiered in three price brackets. The most affordable package is the soft drinks, followed by the house beverages package, and premium packages tend to include bubbly.
The cheapest soft drinks package we could find was AED90. The cheapest house drinks package we could find was AED 150. The most expensive package we could find was AED 488.
Check out hotel loyalty programs and the Entertainer App for 2 for 1 offer or percentage discounts off the bill. Groupon is another great option to find deals.
What day is brunch in Abu Dhabi?
Typically, brunches occur on Fridays, Saturdays and Sundays in the capital. Friday brunches are on throughout the evening in Abu Dhabi as the working week comes to an end.
There are tonnes of Saturday brunches in Abu Dhabi. There is so much to choose from, from pool party brunches to buffet-style table service.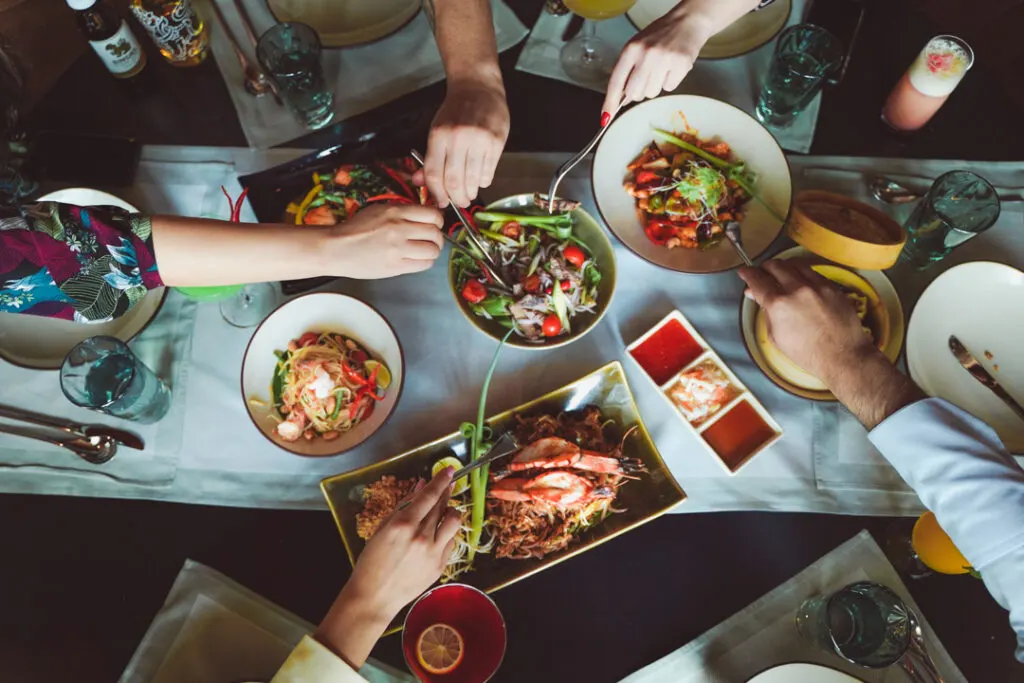 Brunches can be found at most hotels, beach clubs and stand-alone restaurants throughout the city.
On a Saturday, brunches typically start at 1 pm. There are many family-style brunches with entertainment for children, meaning the adults can relax a little. Some brunches include pool access.
Sunday in Abu Dhabi has some brunches to choose from. Typically, they start at 1 pm. Some of the most popular brunches on Sunday include roast dinner, barbeque, Italian and Chinese-styled brunches.
What is Brunch in Abu Dhabi?
If you are new to the city or are a tourist visiting, it is worth knowing brunch may not be what you are used to back home!
In Abu Dhabi and the broader Middle East region, the concept of brunch may differ from the traditional Western idea of combining breakfast and lunch.
Instead, brunch in Abu Dhabi is often a leisurely, extended meal that takes place later in the day and is more focused on a social gathering and indulgence in a wide variety of foods and beverages. Here's a description of brunch in Abu Dhabi with this understanding:
Brunch in Abu Dhabi
Timing: Brunch in Abu Dhabi typically occurs on the first day of the weekend in the UAE. It usually begins around midday or in the early afternoon and can extend well into the late afternoon or early evening.
Social Gathering: Brunch in Abu Dhabi is where friends and family gather to relax, enjoy each other's company, and savour delicious food and drinks. It's a time for leisure and conversation.
Food Variety: Similar to the Western concept of brunch, a wide variety of food options are available at Abu Dhabi brunches. However, these brunches often feature an array of Middle Eastern and international dishes, including Arabic mezze, grilled meats, seafood, and more.
Buffet Style: Many brunches in Abu Dhabi are buffet-style, allowing guests to sample diverse dishes. These can range from traditional Middle Eastern cuisine to global culinary offerings.
Beverage Packages: Like in the previous description, many brunches offer beverage packages, which may include alcoholic drinks like wine, champagne, and cocktails, and non-alcoholic options.
Entertainment: Live music, DJs, and other forms of entertainment are often featured at brunch venues in Abu Dhabi, enhancing the overall experience.
Family-Friendly: Some brunches are family-friendly and may offer activities for children to ensure that everyone in the family can enjoy the occasion. These brunches sometimes offer table service, making it a little easier for parents.
Casual Atmosphere: While there may be dress codes at some upscale venues, brunch in Abu Dhabi generally has a relaxed and informal atmosphere, encouraging guests to unwind and enjoy themselves.
In summary ….
In summary, brunch in Abu Dhabi is more about a relaxed, social gathering with a diverse culinary spread, often featuring Middle Eastern and international dishes. It's a popular weekend activity for residents and visitors, allowing them to savour good food and/or drinks.
Friday night brunch is a relatively new concept since the change of the weekend in the UAE and tends to have a slight party vibe.
The term brunch has been somewhat changed into 'drunch' sometimes, a combination of the words lunch and dinner. It is probably more appropriate given the time of day.
We hope you enjoyed reading about the Friday evening brunches in Abu Dhabi. Did you try any? Leave a comment. We would love to hear from you!