The long-awaited search for the best kunafa in Abu Dhabi is over! Every region of the world has its own unique sweet delights.
The Middle East's favourite dessert dish is most certainly kunafa, also known as knafeh or kanafeh.
Kunufa is rich in history and many nations claim to be the creators of the much-loved dish. Each country has its own interpretation of the dish.
As there are many Arab ex-pats in Abu Dhabi, we will mitigate any debates and stick to the narrative that it originated in the Levant region, which included Lebanon, Palestine, and Syria.
The dish is full of flavour with a combination of simple ingredients. A white unsalted cheese is sandwiched between two layers of shredded pylo or semolina dough.
Typically, the cheese is a nabulsi or akkawi variety, giving it a soft and gooey texture. Kunafa is often topped with pistachio nuts and a side serving of sugar syrup flavoured with rose water or orange blossom water.
Kunafa is typically baked in large round dishes until it is crispy and golden brown. It is best enjoyed once it has cooled down a little. Kunafa lovers tend to drench the dessert in sugar syrup!
Each mouthful of good kunufa consists of perfectly baked crispy dough, warm gooey cheese and a burst of sweet flavour from the sugary syrup.
Get ready to feel hungry as we unveil the best kunufa in Abu Dhabi with options to dine in or takeaway!
Best Kunafa Abu Dhabi
1. Ibsais Sweets, Khalifia City
Ibsais is a household name and deserves a top spot on the best kunafa in Abu Dhabi list. They serve a whole host of Arabic sweets and variations of kunafa.
Pick up the phone and order some kunafa to satisfy that sweet craving with a cheese or cream kunafa.
In the cheese section, fine kunafa, rough kunafa, kunafa bain narain, kunafa mabromeh, kunafa kaeek, cheese kulaji and kunafa warbat. They come in small, large and kilogram servings.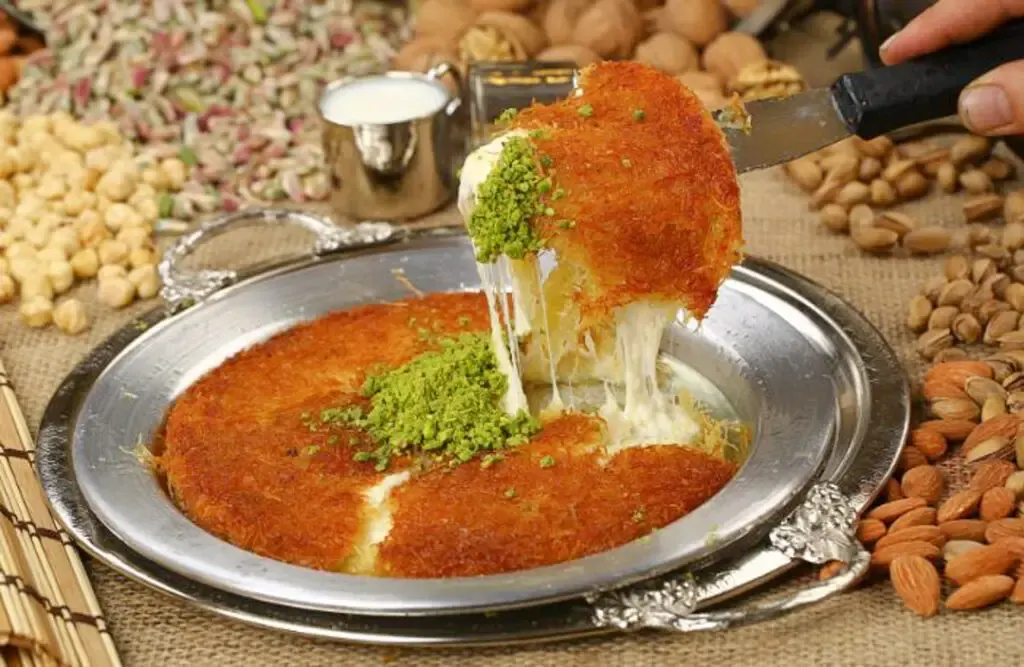 Not to mention, the mini kunafah is the perfect bite-sized treat to share at parties.
In the cream section they serve kunafa istanblia, khdood elset, othamalyeh with cream and madlouqa.
Ibsais certainly has various kunafa dishes, they pretty much have it covered whatever the region.
Timings: 10 am to 11 pm daily
Phone: 97124455091 for kunufa delivery Abu Dhabi
Location: Opposite to Ministry of Finance- Old Passport Road- Al Danah- Zone 1- Abu Dhabi
2. Feras Al Diyafa Sweets
Feras Al Diyafa is another top contender for the best kunufa in Abu Dhabi. Kunafa comes in portions of half a kilo or full-kilo servings!
Feras's specialities include kunafa naama, special kunafa kheshna and kunafa ben naren. They only come in one-kilo servings, so grab the squad for a sweet feast.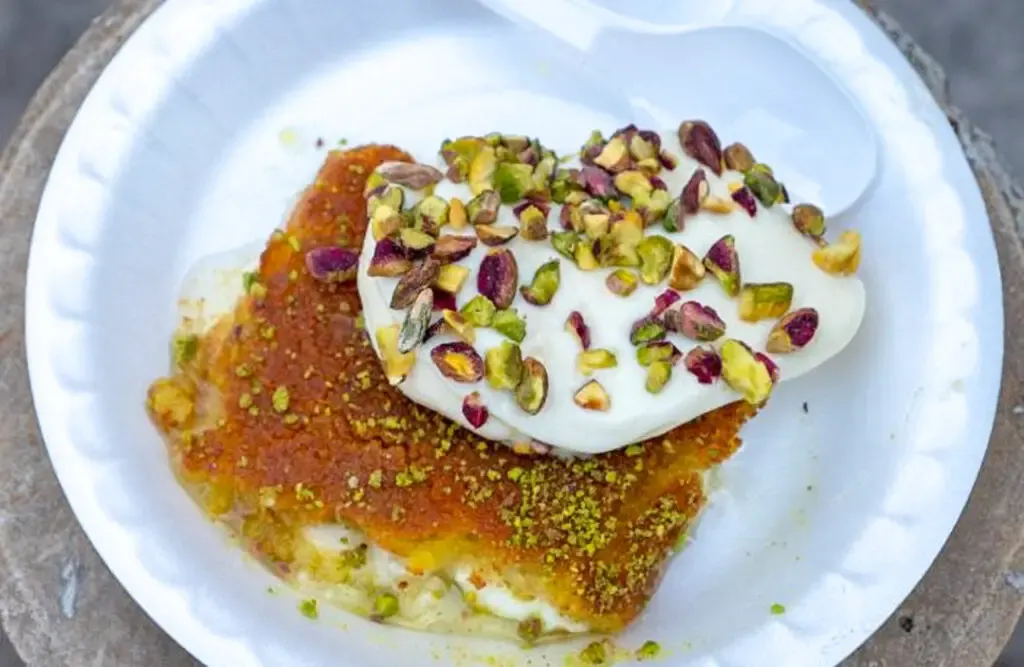 Other kunafa's include kunafa ben naren cheese and mabroma with cream. Our particular favourite and top recommendation is the special kunafa kheshna!
Timings: Monday to Saturday, 08:30 to midnight
Sunday 08:30am to 11:30 pm.
Location: Khalidiyah Street Al Hisn W4 Abu Dhabi
Phone: 97126260002
3. Al Aqssa Sweets
Al Aqssa is a tourist club bakery bringing kunafa goodness to the heart of the city. it is a Palestinian restaurant founded in 1980.
Named after the mosque in Jerusalem, the bakery has a lot of heritage pinned to its name. The Department of Culture and Tourism has previously recognised the bakery as an urban treasure due to its magnificent treats.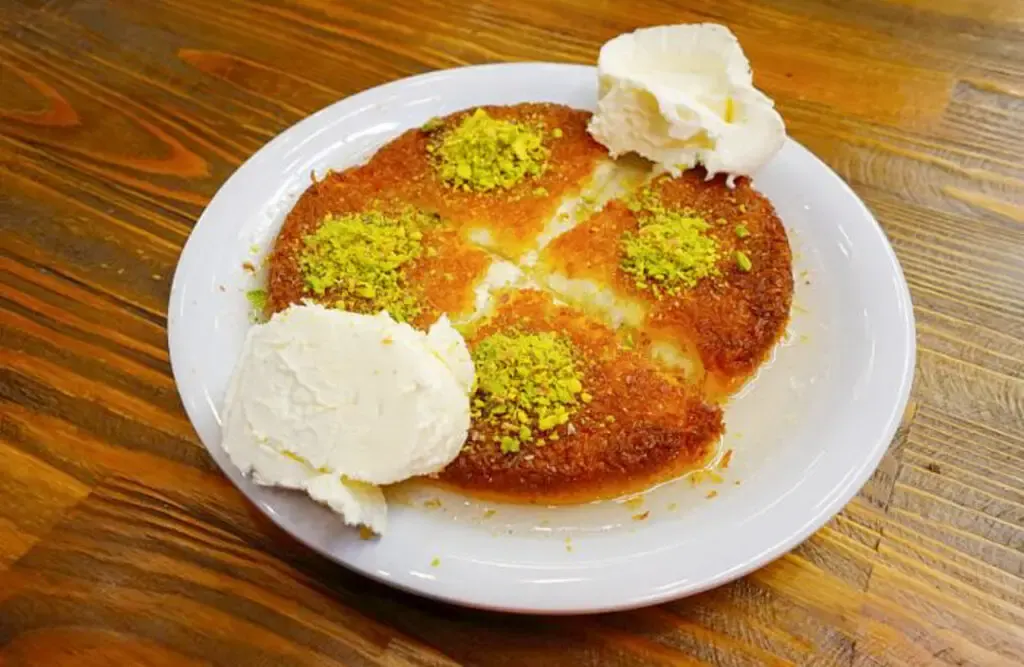 For decades, the restaurant has brought sweet delights to the people of Abu Dhabi. From fine kunafa to rough kunafa to mulukiyeh kunafa, Al Aqssa certainly knows how to whip up a delicious sweet treat in question.
Of course, with Palestinian roots, they specialize in kunafa nabulisi. The restaurant sells the dough so kunufa lovers can make the treat in the comfort of their own homes.
Timings: Monday to Sunday, 09:00 am to midnight
Contact: 97126442159
Location: Salam street Tourist Club Al Zahiyah Abu Dhabi
4. Papa Kanafa, Al Wahda
Papa Kanafa certainly has a quirky and wonderful selection of kunafas with a modern twist as well as all the classics.
Check out the molten kunafa balls with rich cream or melted cheese covered in pistachio. Each of the nine balls bursts with kunafa flavour.
Kanfa naamah is a smooth dish with melted cheese or cream. Kanafa osmalieh cream has rice cream sandwiched between two layers of kunafa topped with pistachio.
Grab some Turkish kanafa! Papa Kanafa soaks rough kunafa in rose water and pistachio. Opt for rice cream or melted cheese!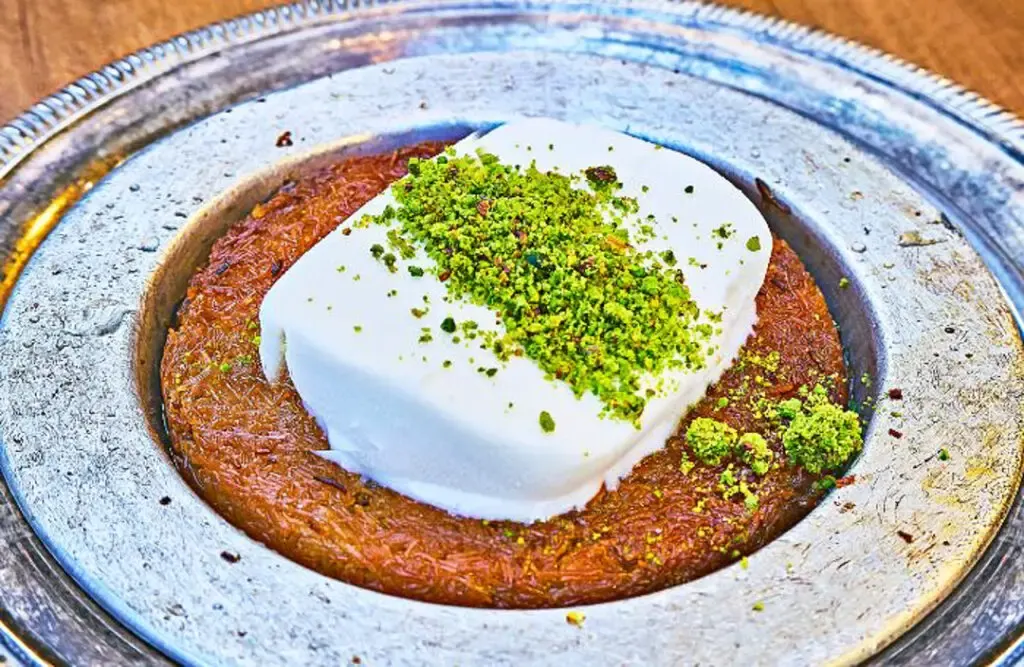 Kanafa bin nareen is always a favourite, with two layers of kanafa stuffed with melted cheese or cream.
A nutella lover's dream has come through at this restaurant. They have an option of stuffed nutella kunafa with a drizzle of chocolate sauce on top.
Lotus-flavored dessert's popularity has soared in the Middle East and Papa Kanafa recognized the trend. You guessed it, they stuff kunufa with the delicious biscuit-flavoured sauce!
Get a rough kanafa favourite with kanafa sit al kul and choose from melted cheese or cream.
Check out the kunafa ice cream section, which has some unique choices. Kanafa mango is an oriental-inspired dish covered with fresh mango and topped with crushed pistachio.
Kunafa ice cream is a dish stuffed with ice cream topped with a sauce of choice.
With all the unique and wonderful choices, this restaurant owns a deserving spot on the list of best kunafa in Abu Dhabi.
Timings: Monday to Thursday, 12 pm to 1 am
Friday to Sunday, 12 pm to 2 am.
Phone: 971509719595
Location: 735 Mohammed Bin Khalifa Street- Al Nahyan- Zone 1- Abu Dhabi
5. Qwaider Nabulsi
Qwaider Nabulis is a Palestinian restaurant and its mission is to bring the best Middle Eastern sweets to the UAE.
There are three branches across Abu Dhabi so everyone can have a slice of the kunufa action!
Make sure to try the mixed rough and soft kunafa option. Kunafa mabrouma cheese or cream rolls are also divine!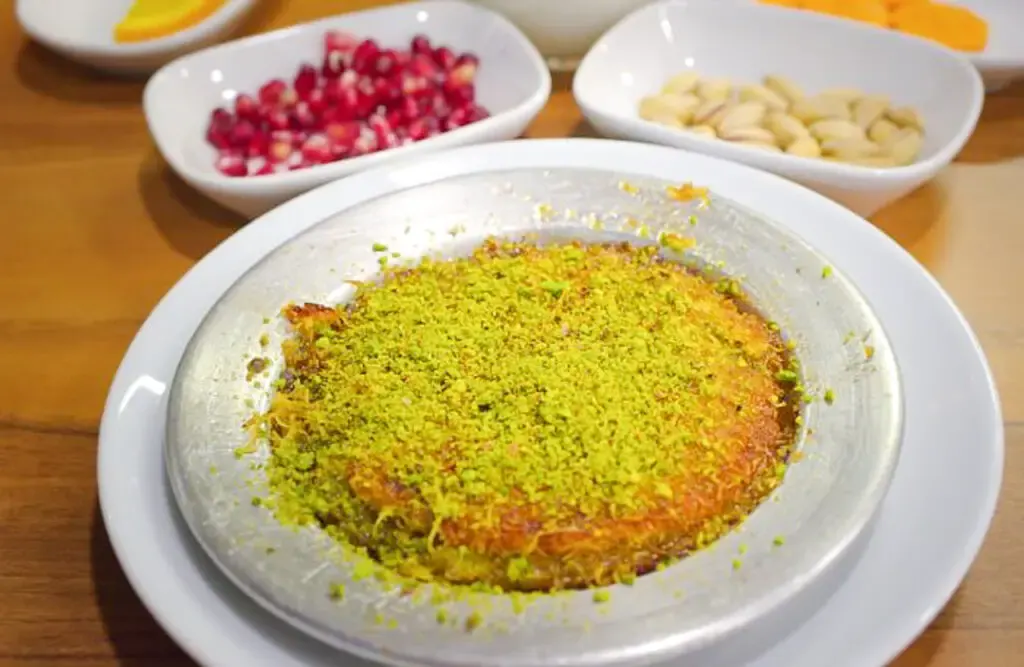 Get a mini kunafa sandwich and satisfy the craving in a couple of bites. Bayn narin kunafa cream is another popular choice.
Locations:
Al Nahyan, 8am to 12am daily – 97126506663
Mohammed Bin Zayed City, 8 30 am to 12:30 am daily – 97125545531
Zayed The First Street-Al Hisn. 8 am to 12 am daily – 97126669481
6. Kunafti Sweets
Kunafti Sweets is another bakery bringing some variations and twists to the ancient dessert. The most popular dishes include bain narain cheese, mabroma cheese and kunafa nutella.
Other options include bain narain cream, naema cream, naema cheese, moheirah cream and cheese, khalijia cheese, khalijia cream, khashna cream, khashna cheese, sit al kul cream, sit al kul cheese, faisaliya cheese and faisaliya cream.
The bakery has fused some treats into the kunafas, such as kinder bueno, lotus, nutella and pistachio. Grab some dough in a kilo serving to make a homemade kunafa!
Timings: 8 am to 12 am
Phone: 97124468446
Location: Al Nahyan Zone 1 Abu Dhabi
7. Al Samadi
Al Samadi bakery offers plenty of Arabic sweets but we are here to talk about kunafa and kunafa only! Choose from a half-kilo or kilo serving of cheese kunafa.
Another special treat is a unique kunafa in kaak bread which is delicious.
Timings: Tuesday 08:30 am to 11 pm
Wednesday to Monday 08:00 am to 11 pm
Phone: 97126663665
Location: Zayed 1st Street Electra Road- Al Khalidiyah-W8- Abu Dhabi
8. Café Otanik
Café Otanik teleports guests to the Mediterranean villages of Turkey. The cafe is proud of the traditional cooking methods used.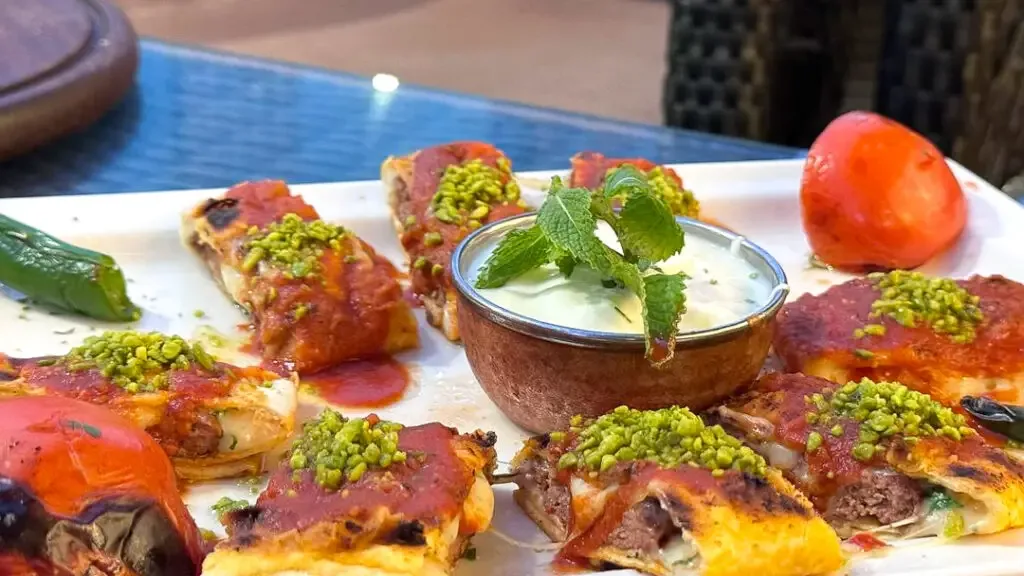 Eating kunafa is the perfect way to finish off a visit to this Turkish restaurant. The kunafa is rough with shredded dough and stringing cheese.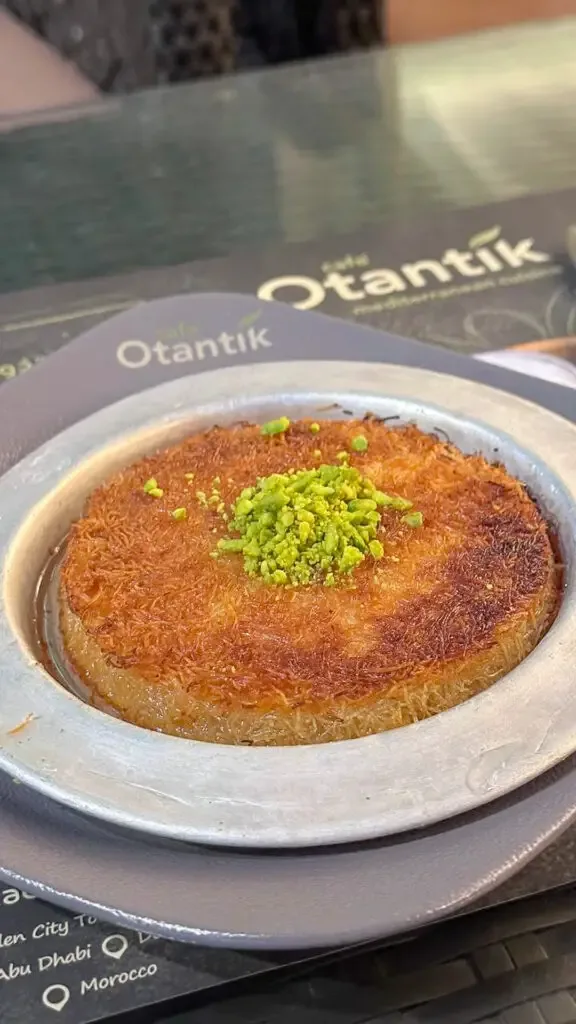 Whilst the pistachio-topped dessert has a layer of syrup firmly cemented under the dough. Otantik is the perfect dine-in option on the best kunafa in Abu Dhabi list!
Call: 97126812294
Timings: Open 24/7
Location: 10th St – Al Zahiyah – E16-01 – Abu Dhabi
9. Grand Beirut
Grand Beirut is certainly the most Instagramable venue on the list. The Lebanese restaurant is situated in Galleria Mall and is well known for its delicious food within a beautiful setting.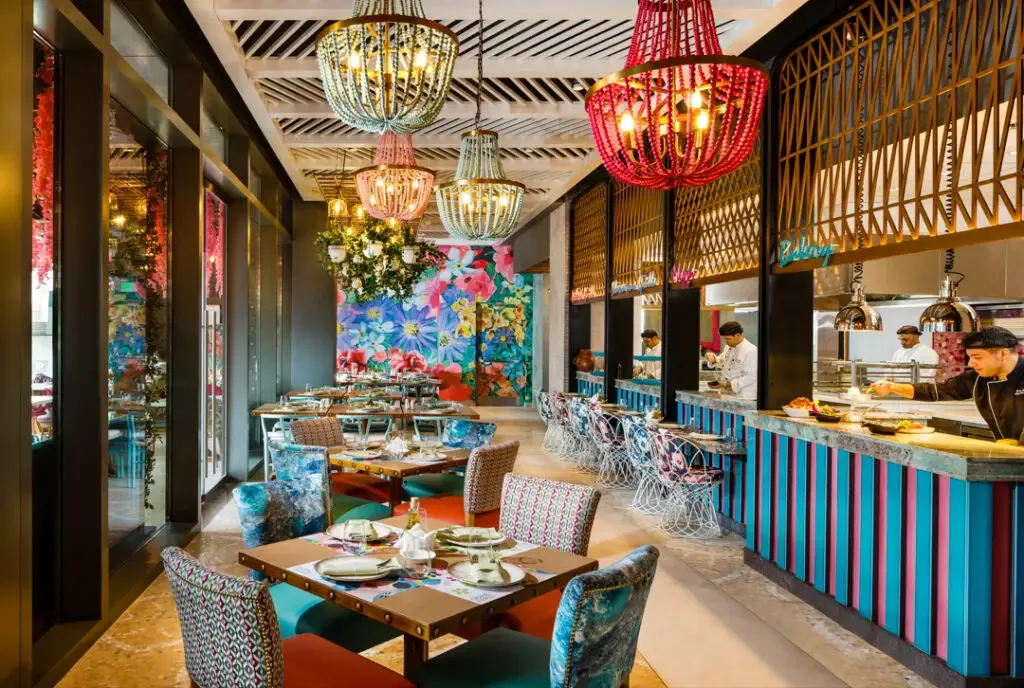 The restaurant is shrouded in pink flowers as well as bright and colourful accents in the plush furnishing.
Grand Beirut serves kunafa with baked cheese, ithamileyh pudding, sugar syrup and pashmak.
The kunafa bil markouk is oven baked in markouk bread, topped with dotted ashta cream and honey. Needless to say, this kunafa will fix all those cravings!
Phone: 971562161001
Timings: Saturday to Wednesday 10 am to 10 pm
Thursday to Friday, 10 am to 12 am
Location: The Galleria-Level 2 – Al Maryah Island- Abu Dhabi
10. Kunafat Doma
Kunafat Doma is a bakery that is all about kunafa goodness! The sweet treat comes in small, medium, large, extra large and majlis servings.
Not to mention, the menu includes a doma special, kishnah with cheese, naamah nabulsian with cream, bain narain with cream, cheese, and kunafa osmaileh.Kunafa rolled up in cheese and cream is another interesting option.
Check out the kunafa with nuts section. It includes halabu pistachio or walnuts kunafa which are delicious.
The fruit section includes kunafa with mango, strawberry or dates. Modern flavours include nutella, kinder bueno, pistachio and lotus kunafas!
Combine ice cream and kunafa which are two of the worlds most loved desserts. Flavours include vanilla and chocolate!
Branch: Khalidiyah Street- Al Khalidiyah- W9- Abu Dhabi open 2 pm to 12 am
Phone: 97124911910
Branch: Al Shahamah- New Shahamah- Abu Dhabi open 11am to 12am
Phone: 971505556707
History Of Kunafa
We have already touched on the regional sensitivities of kunafa – many countries claim it as its own creation!
Greece, Turkey and some Balkan states have their own variations of kunafa. Needless to say, it's quite clear the dish is hugely popular amongst many countries.
Kunafa goes way back to the 7th century of the Byzantine Empire. It is believed the art of cheese and pastry-based dishes made an introduction to the region.
The dish evolved throughout the centuries, and it rose to popularity during the Islamic Empire. Some theories suggest that Egyptian doctors fed hungry caliphs during Ramadan with kunafa.
As previously mentioned, kunafa varies amongst the Arab Nations. In Palestine, they have a popular dish called kunafa nabulsi which has sweet white cheese from the city of Nablus.
In Egypt, a filling made with cream or milk custard is called kunafa bil ashta.
Today kunafa is found worldwide in Middle Eastern restaurants and is a centrepiece of Arabic family gatherings or special occasions.
Interestingly, some nations attempt to create a world record for the biggest kunafa in the world.
In 2017, Turkey baked a kunafa weighing a whopping 1550 kilograms and measuring 75 metres.
Although not officially recognized, there was certainly enough kunafa to go around on that occasion.
We hope you enjoyed this post about the best kunafa in Abu Dhabi. Did you try any of the above? Let us know in the comments, we love to hear from our readers.