Snow Abu Dhabi is one of the newest indoor attractions in the Emirate, which everyone wants to visit!
Abu Dhabi is known for its hot desert climate, particularly in the summer months, where temperatures can reach as high as forty-plus degrees.
It's crazy to think about going from 40 degrees outside to sub-zero temperatures in Snow Abu Dhabi. It sits at a chilly minus two degrees which is a welcome relief from the hot desert climate, particularly from June through September.
However, its not only for summer, we think it will be pretty magical at Christmas time and we expect to see the Christmas Tree up in December.
There has never been natural Snow in Abu Dhabi. However this venue has 500mm of powder white snow all year round!
Snow Abu Dhabi is a sister company of the well-know Snow Dubai. If you are familiar with Snow Dubai you may be expecting to see a ski slope at Snow Abu Dhabi but this is not the case.
Nonetheless, the dazzling 9732 square meter facility boasts twenty rides, three dining outlets, a party room and a VIP room.
We are so excited to share the ultimare guide to visiting the enchanted forest-themed snow park. From ticket options to rides and dress code to dining options and facilities, we have covered all the basis to make sure your trip to Snow Abu Dhabi is perfect!
It is worth noting, children under the age of 2 are not suitable to visit Snow Abu Dhabi due to attraction height restrictions. Not to mention snow suit sizing is not available for small children.
Snow Park Abu Dhabi
Snow Abu Dhabi Tickets
The golden question is always how much does it cost to enter? There is a range of tickets which come with different perks and accessibility.
Firstly, tickets are the same price regardless of age. An adult must accompany children between the ages of three to fourteen.
To summarise, lockers, entrance to the park, fleece gloves, socks, snowsuits, safety helmets, snow boots and unlimited access to all the rides are included in all tickets. Everything except the gloves and socks needs to be returned.
However, there are few intricacies to each ticket below worth noting.
Standard Entrance
Firstly there is the snow park ticket costing 215 AED. This ticket does not come with food and beverage perks, and it may make sense to buy the snow premium ticket if there is a plan to dine, especially if it is a one off visit.
Hot chocolates start from 25 AED and meals in the lodge start from 39 AED. Kids' meals start from 35 AED. So it's worth doing the maths!
Premium Ticket
Secondly, there is a snow premium ticket which costs 295AED. With the premium ticket, guests get a hot chocolate, a meal at the lodge and waterproof gloves, as opposed to fleece gloves. More about the food later!
Family Ticket
The family ticket costs 860 AED, which allows up to five people for the price of four. Food and drink are not included.
Two Day Ticket
The two-day ticket costs 295AED pp which gives two days of entry to the park, and it must be used within 30 days of purchase. The days must be consecutive. Food and drink are not included.
Since it is a relatively new attraction, it will be some time before it makes its way onto some of the well-known discount programmes such as Groupon and The Entertainer.
However Snow Abu Dhabi is currently listed on Fazaa with a reasonable discount as prices start at 175 AED.
Annual Tickets
If you are a resident of Abu Dhabi, especially on Al Reem Island, it may be worth investing in a Snow Abu Dhabi annual ticket.
The annual ticket to Snow Abu Dhabi costs 795 AED per person for access and gear only. However, it comes with 10% off hot chocolates, 15% off retail and 20% off dining.
Admission Process
Remember, Snow Abu Dhabi sits at a chilly minus two degrees, so we recommend wearing a pair of tracksuit bottoms and a long sleeve top before arrival.
It takes up to thirty minutes to get tickets, find a locker and get a snowsuit and boots fitted. Therefore, it is best to book online.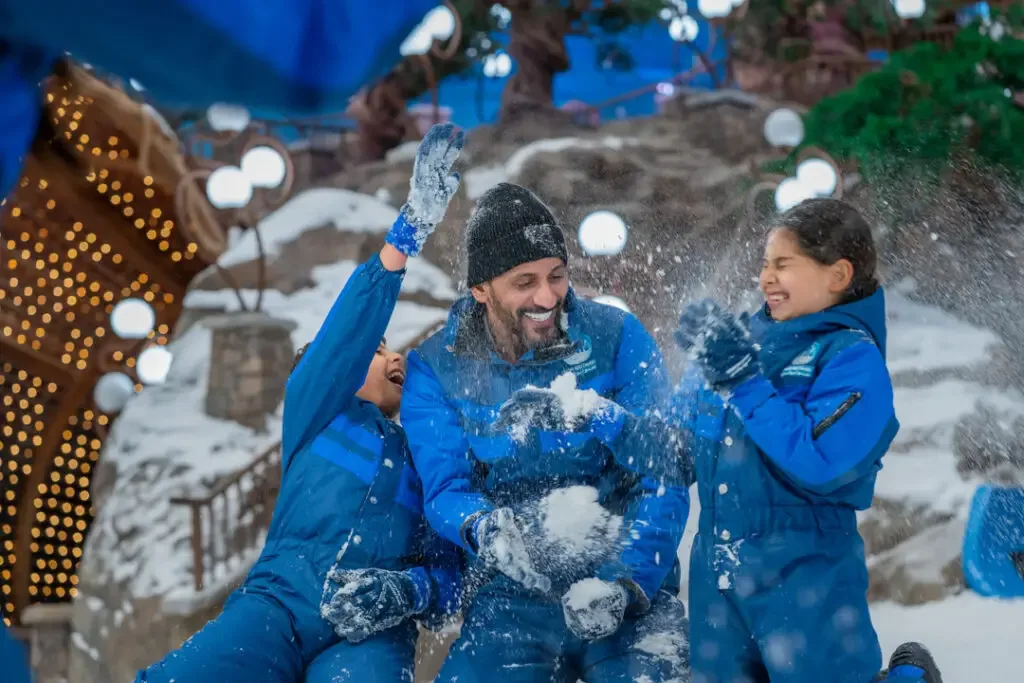 Purchasing tickets online can reduce the time spent preparing to go into Snow Abu Dhabi.
There are Lockers in the communal area and ladies and male changing rooms which are ideal for storing personal belongings such as shoes, clothing and bags.
During the admissions process, guests are provided with a digital wristband which opens and closes the locker. Make sure to take note of the locker you intend to use.
Photography At Snow Abu Dhabi
There are professional photographers at Snow Abu Dhabi to capture the moment. It can be a little challenging to capture photos and video with gloves.
The photos are high resolution and come out really nice. When buying tickets, its possible to add in a waterproof landyard specifically for phones to avoid it getting wet or damaged in the snow.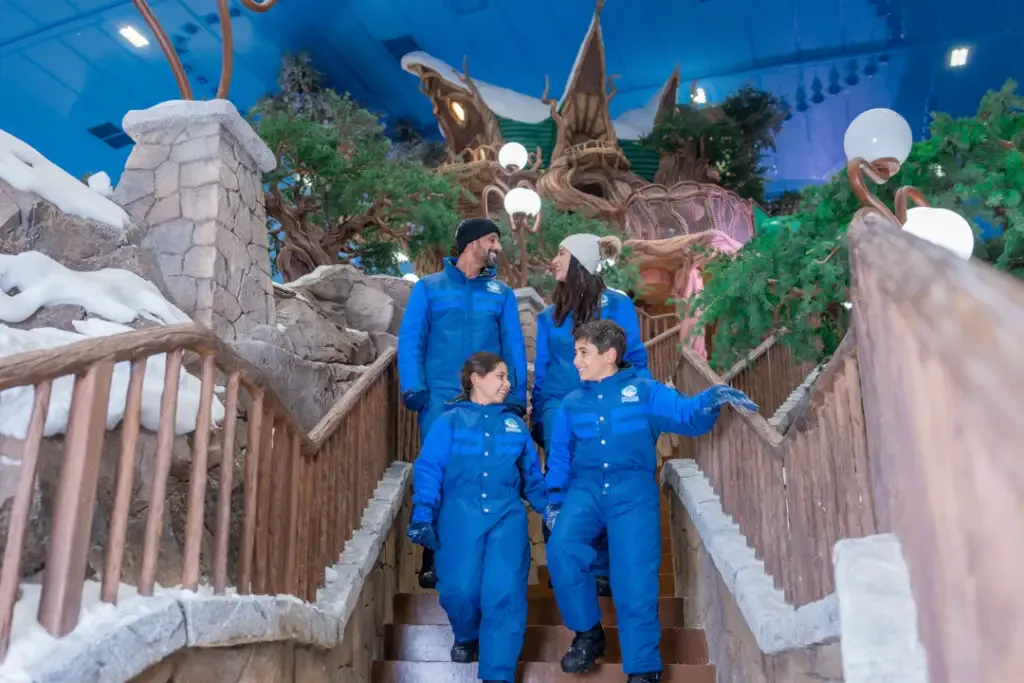 Otherwise, we are big fans of the GoPro which is ideal for an environment like Snow Abu Dhabi. They are durable and waterproof and capture great footage. Consider taking a mount or clip to stay hands free!
If you fancy checking out the professional photos and forgot to take a look, it's possible to view them on My Snapps.
Snow Abu Dhabi Opening Times
Snow Abu Dhabi is open from Sunday to Thursday, 10 am to 10 pm. It is open slightly later on Friday and Saturday, from 10 am to Midnight. Be sure to check during holidays, especailly Ramadan periods as timings may differ.
Snow Abu Dhabi Rides
Snow Abu Dhabi has a range of rides from slides, carousels, zip lines, train rides, zorbing, bumper cars, magic carpet rides and tubing.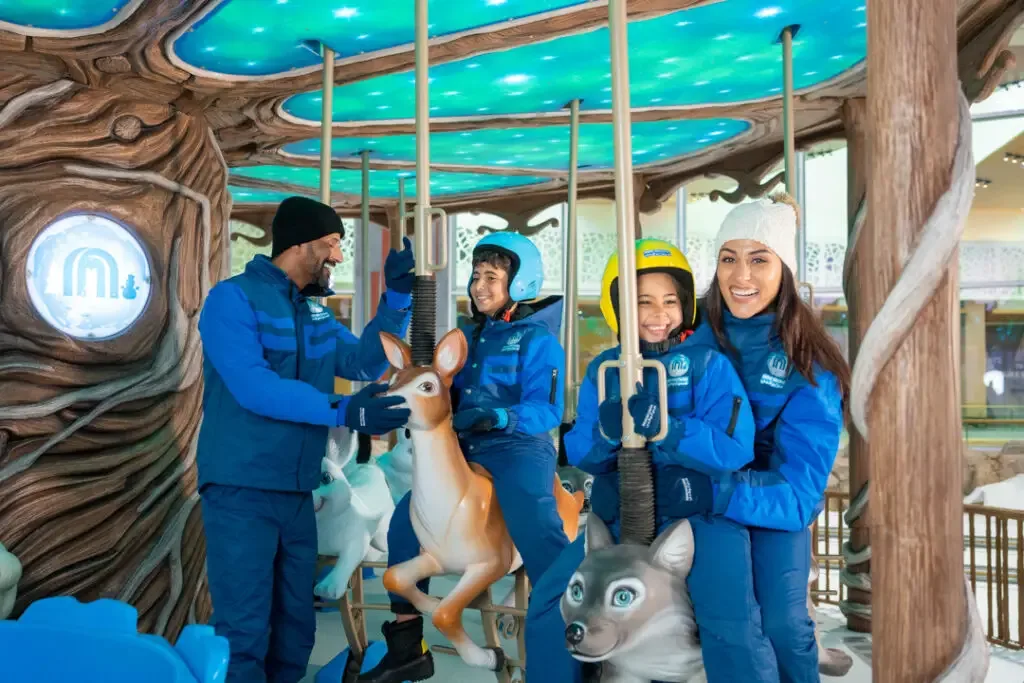 Each attraction has a height restriction. Similarly, some rides are unsuitable for pregnant women, so it is best to ask the staff which ones are appropriate.
Ice & Floes Bumper Tubes
Jump into the bumper bowl and prepare for some dash and bash action. Situated on the side of a cave is the Ice & Floes bumper tubes. Snow Abu Dhabi has a classic bumper car concept with the addition of ice for good measure!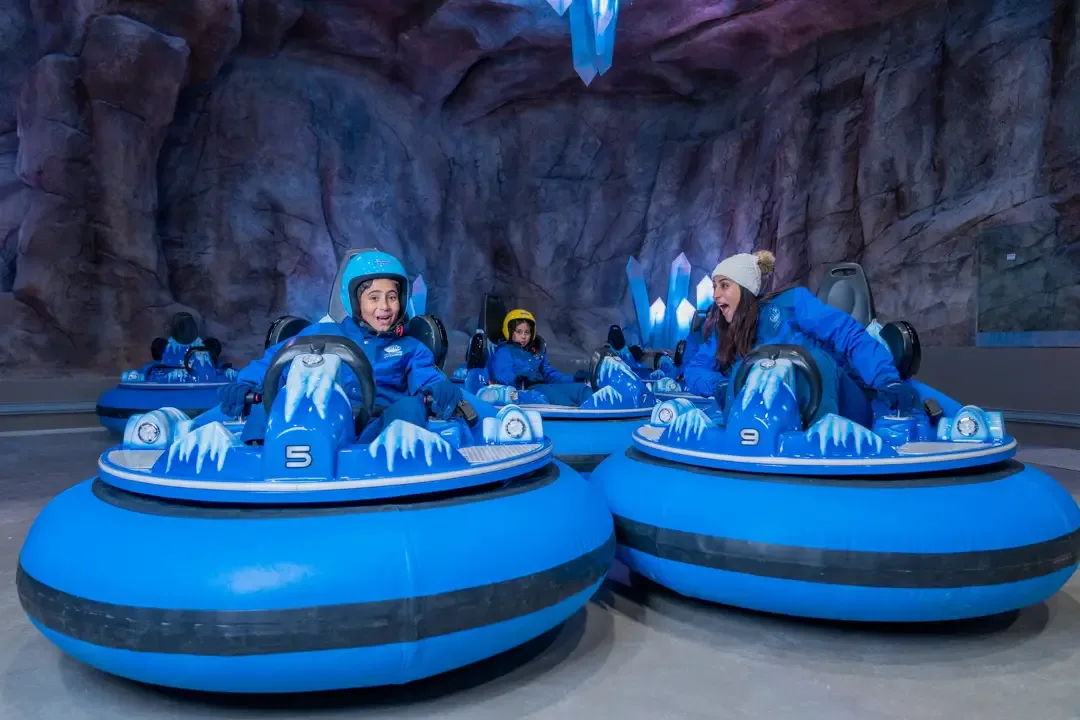 Minimum Height: 120cm
Graupels Summit Escape
Climb to the dizzying heights of Graupels summit and prepare for some high-speed descents down the mountainside.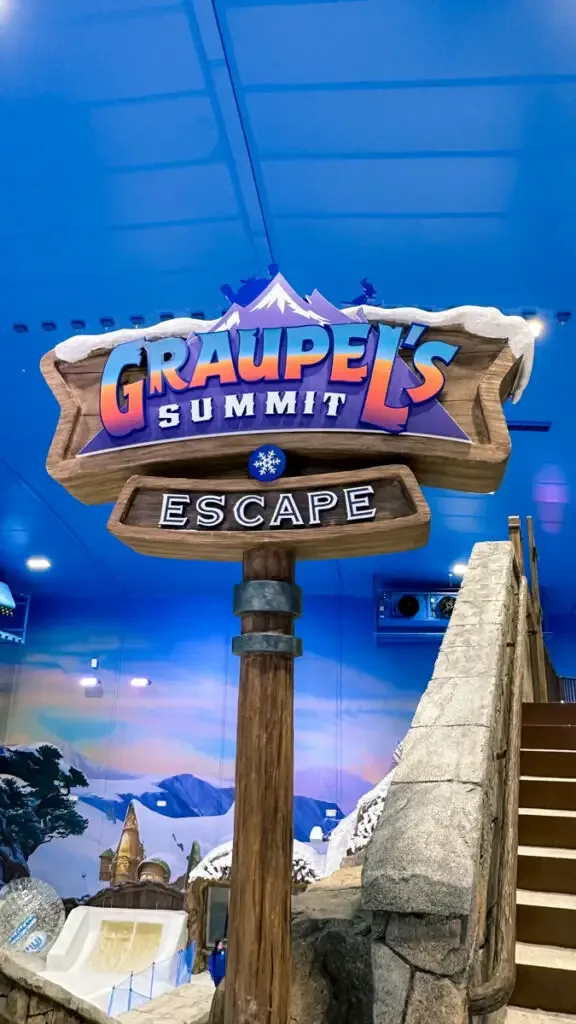 Sit on the toboggan-style ride and prepare for the lift to hoist the sledge onto the slope. Once the trap door releases, the sledge speeds around the course's bends and descend to the mountain's foot.
Minimum height: 125cm
Maximum weight: 100kg
Trolls Bowl
Tumbling down the slopes of Reem Mall Abu Dhabi Snow Park in a massive snow globe is a lot of fun to say the least. Climb through the hole and roll down the slope in this zorb-like ball.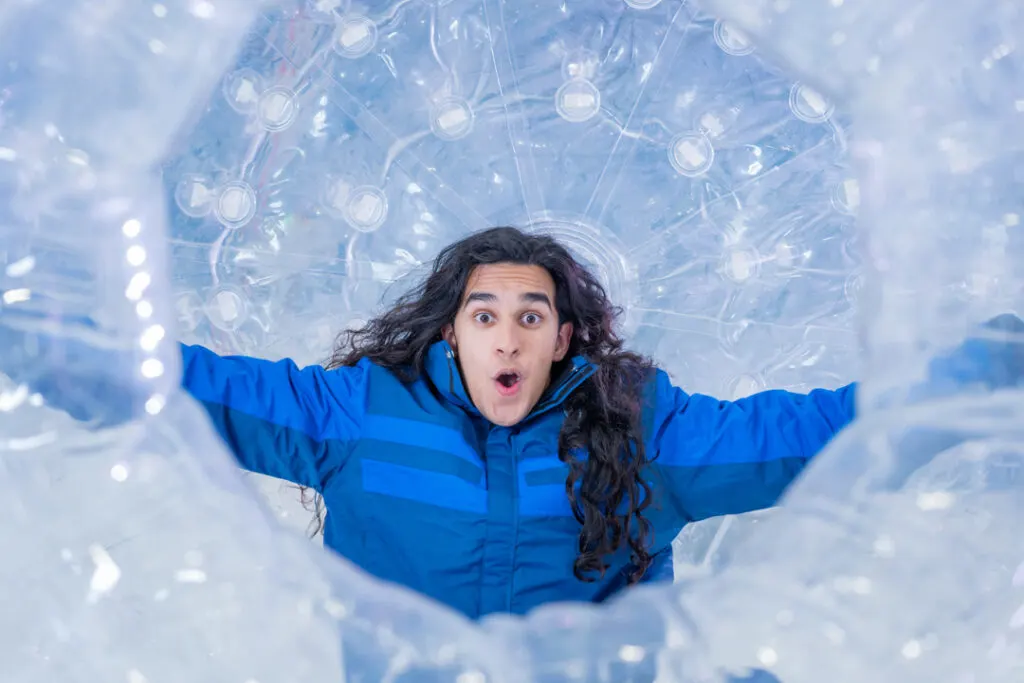 Minimum height: 125cm
The Flight Of The Snowy Owl
Fly in the stratosphere above Snow Abu Dhabi on the zip line called the 'Flight Of The Snowy Owl'. The first step is to put on a harness and buckle up!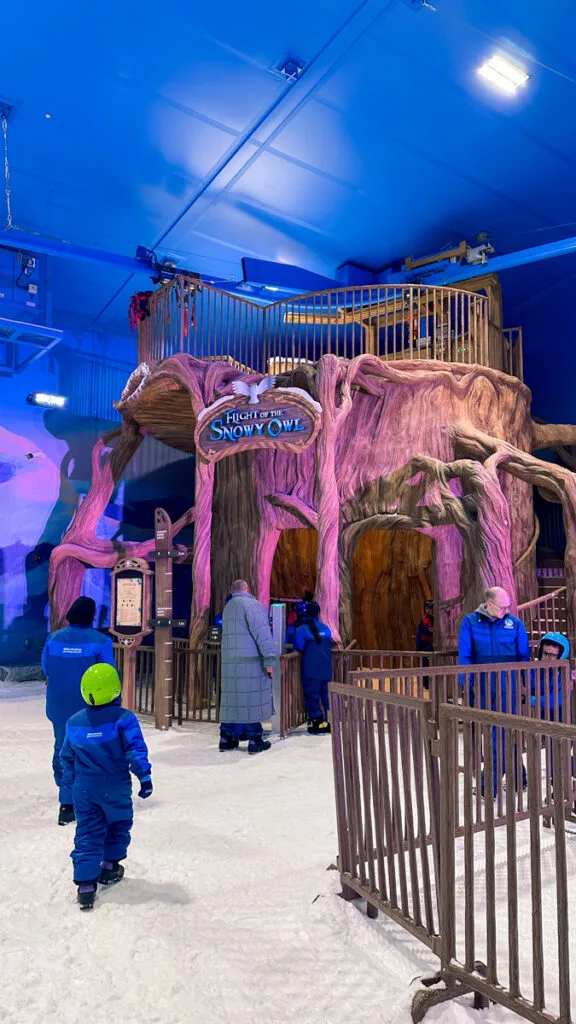 Get the safety checks done and grab onto the handles to zip above the winter wonderland.
Spread those wings and zoom past the enchanted tree!
Minimum height: 120cm
Enchanted Tree
Explore the magical Enchanted Tree. Seek refuge under this massive tree and get a feeling of a magical winter wonderland. Kids absolutely love exploring the Enchanted Tree, it looks like something straight out of a fairy tale!
Flurries Tree Tower
Climb the wonderful Flurries Tree Tower and walk across the suspended rope tower. The next step is to slide down the tunnels that wrap around the famous enchanted tree.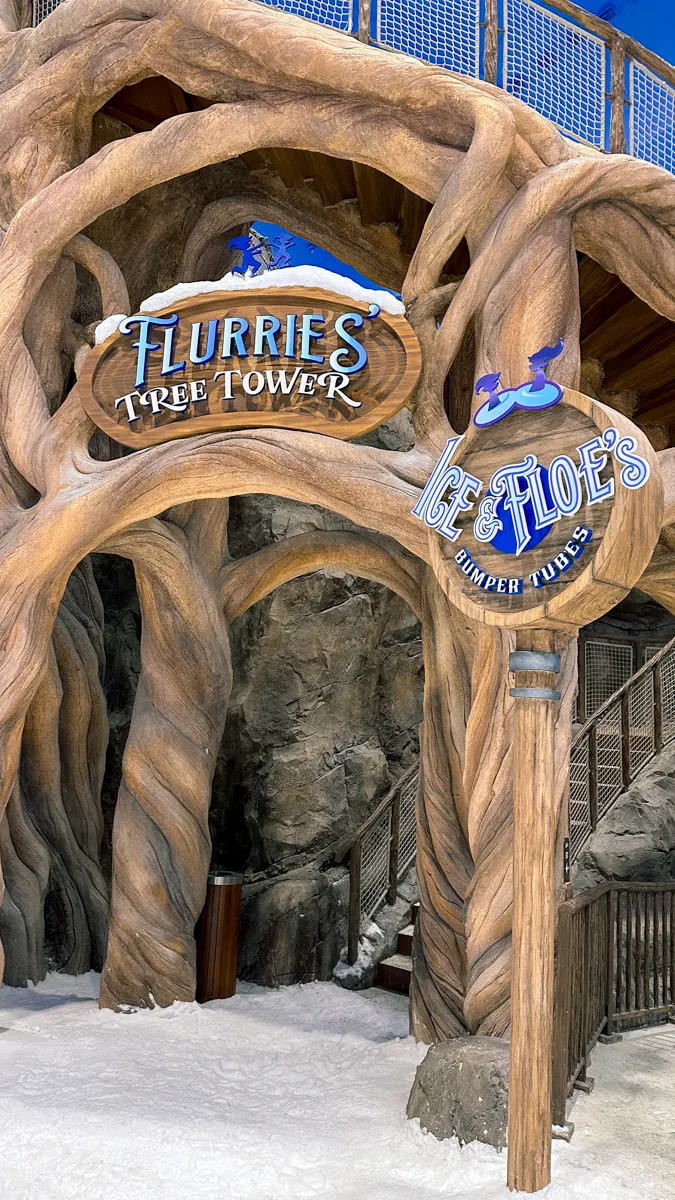 Polar Express Train
Hop on board the Polar Express! Don't forget to wave to some of the north pole's favourite animals like the polar bears, walrus and the family of snowmen.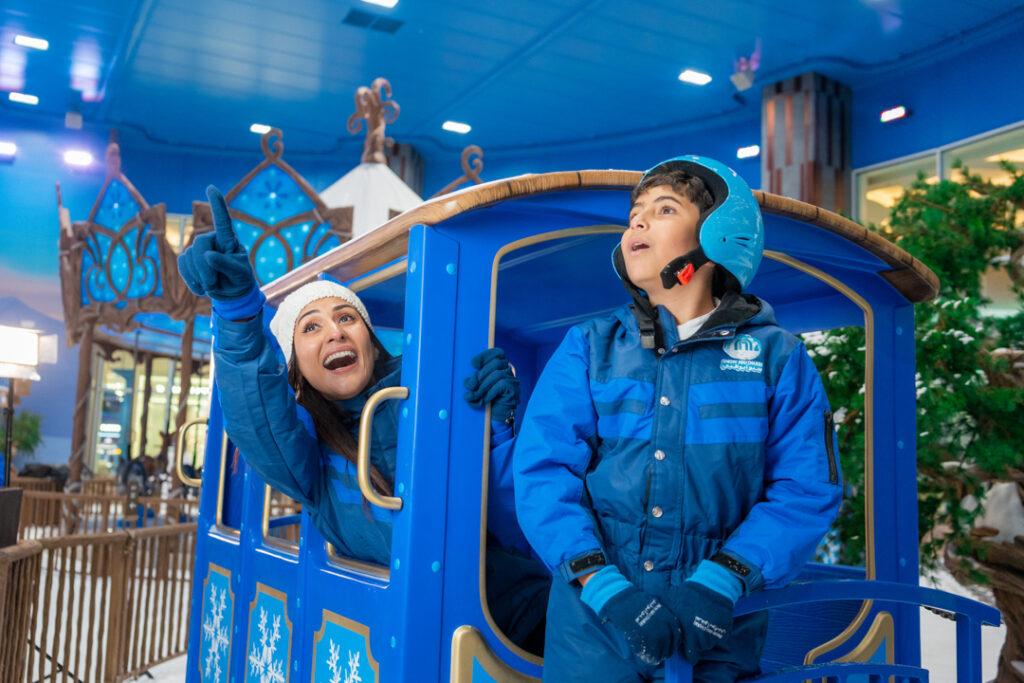 Minimum height: 105cm
Drifts Downhill Run
Take a convenient vertical escalator to the top of Abu Dhabi Snow Park before riding back down lightning fast in a tube.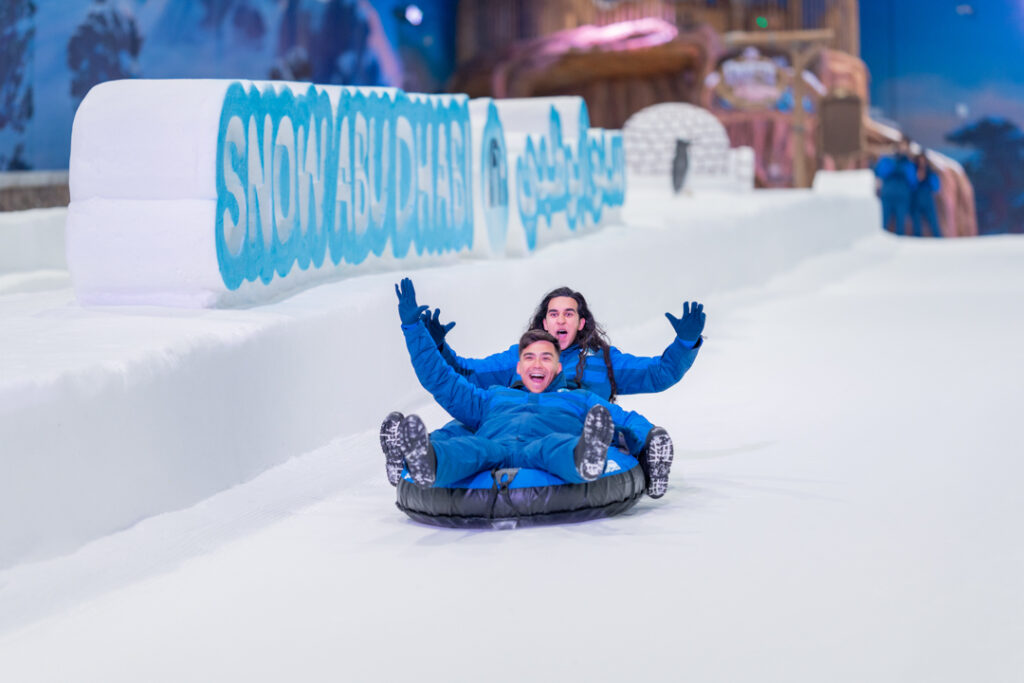 There are single or double tubes which are ideal for families. Take a seat, sit back and get ready to be launched down the slope. One of the staff releases the rope before you start the descent.
Minimum height: 90cm
Bunny Hill
Bunny Hill is for the little ones. Kids will use a small board to slide down the gentle slope. It is the perfect way to prepare kids for the larger attractions at Snow Abu Dhabi.
Minimum height: 90cm
Crystal Carousel
Hop on the bunnies or reindeer back and spin on the magnificent artic blue Crystal Carousel. Carousels are classic, and Snow Abu Dhabi's carousel does not disappoint.
Special Events
Like many of the large attractions around the Emirate, Snow Abu Dhabi can hold special events.
If you fancy holding a birthday party at Snow Abu Dhabi for your kids, there are packages available.

The 'Snow Go Party; package is for up to 10 guests with two hours of access to the private party room. Additional guests are chargeable at a cost of 195AED for children and Adults will be 100AED.
The package includes access to the Abu Dhabi Snow Park rides, a kid's meal at the lodge restaurant, hot chocolate, complimentary juice or water, party décor, e-invitation cards, party bags, winter clothing rental and fleece gloves.
There is another package which includes a cake worth 400 AED for up to 15 guests. Additional children to this package costs 225 AED, and adults will be 100 AED.
Snow Abu Dhabi has a professional photographer to capture all the special moments. The package costs 400 AED, with 15 minutes of exclusive photos in the snow park and 15 minutes in the party room!
Deliverables include ten photos with 6 x 8 dimensions plus all digital images.
Some terms and conditions include that no minimum amount of children is needed to make the booking, but the set price of the packages must be paid as a minimum.
The maximum capacity of the party room is for up to 30 people. Adults are given wristbands which gives access to the party room and restaurants, not the snow park rides.
Summer Camps Snow Abu Dhabi
Finding ways to keep kids entertained during the summer breaks can be tricky in the scorching heat. Many residents take off for the summer, however there are always some families in need of a summer camp.
Snow Abu Dhabi offers daily, weekly and monthly passes. The camp is for kids between four to ten, and the camp operates from 9 am to 5 pm. All passes are valid from Monday to Friday.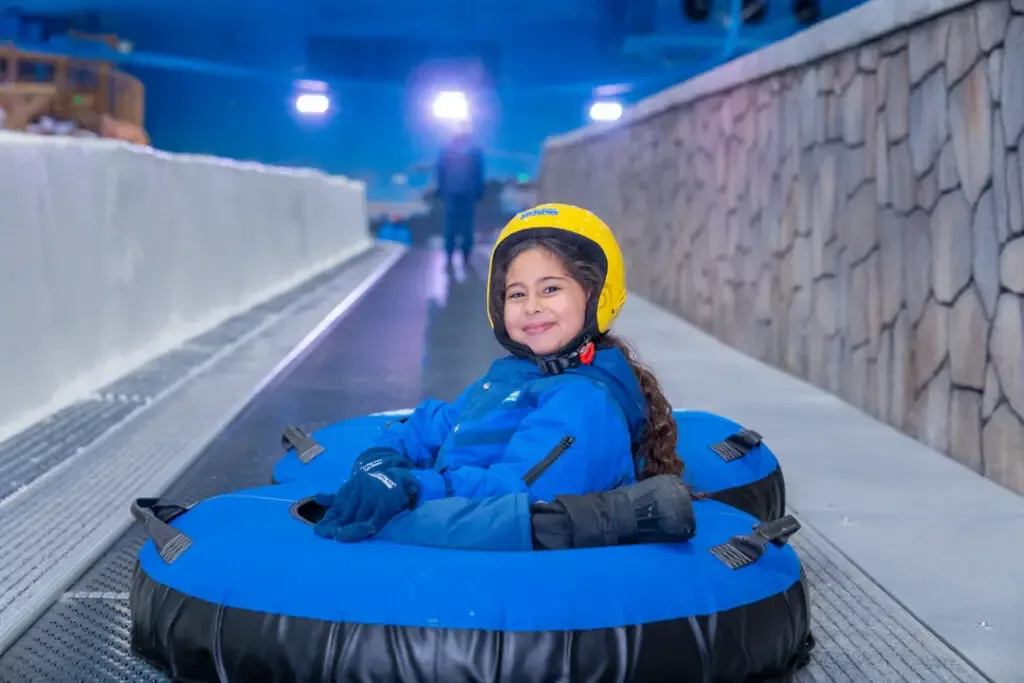 The weekly pass is valid for five week days during, and the monthly pass is for twenty days.
Activities include snow park rides, snowman building, face painting, team building exercises, a treasure hunt, an arts & crafts workshop, a magic show, lunch and two snacks and a movie at VOX cinemas.
Activities vary daily, depending on the day of the booking.
An Emirates ID is required to pick up the child at the end of the day. Tickets are non-refundable, non-chargeable, and non-transferable.
Cost of summer camp:
Day pass 350 AED
Week pass 1500 AED
Monthly Pass 4000 AED
Restaurants
There are many fantastic food choices at Snow Abu Dhabi. The chocolate cart is one of the first things in sight in the snow.
Grab a steamy cup of hot chocolate and don't forget to try some of the delicious Dutch mini pancakes. Pancake choices include Nutella, Nutella & strawberry, Nutella & banana or lotus sauce & biscuits.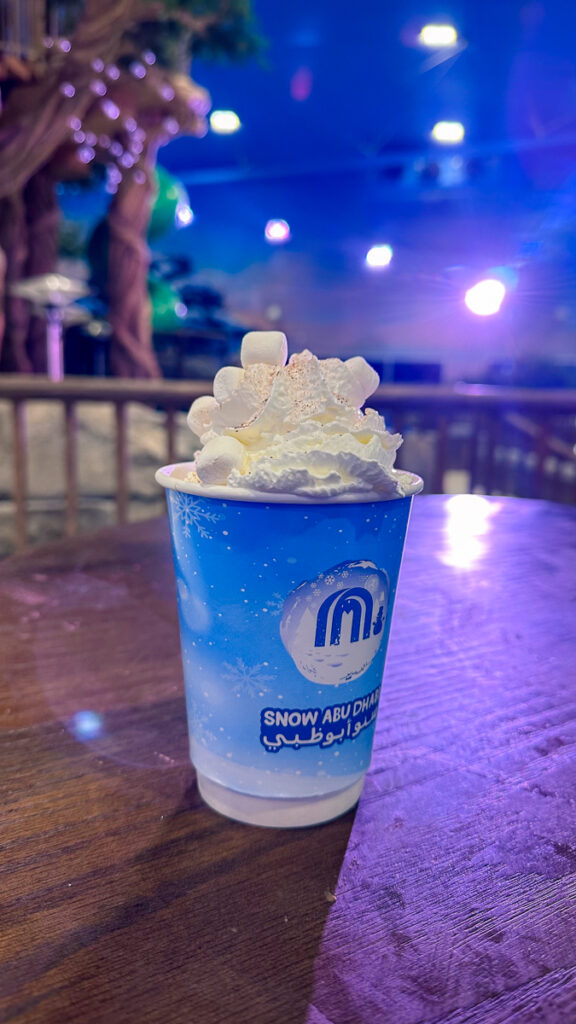 Head to the enchanted cafe, which is situated under the Enchanted Tree. It's a perfect pitstop which serves hot snacks such as pizzas, crepes, waffles, coffees and other beverages.
The Lodge is situated on the third floor of Snow Abu Dhabi and has elevator access. They Serve all-day breakfast, soups, salads, burgers, pasta dishes, curries, salmon, steak, shish-tawook desserts, coffees and beverages.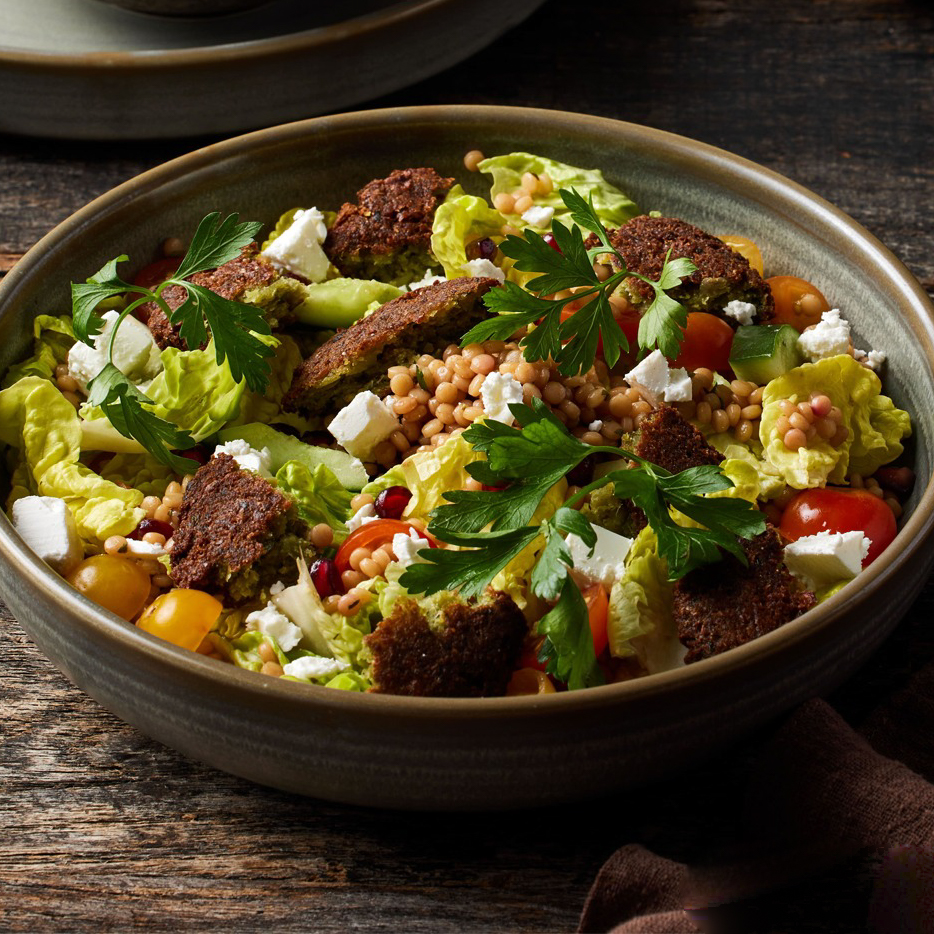 Whether it's a sit-down meal or a quick grab-and-go beverage, Snow Abu Dhabi has a good variety of options.
How To Get To Snow Abu Dhabi
For those guests who are driving, take the E10 motorway and turn off on Hazza' Bin Zayed The First Street. Take the Al Zawiyah Street exit to Reem Mall.
For those coming further afield from Yas direction, turning off onto Um Yifeenah Street at Eastern Mangroves is a quick and accessible way to Reem Island.
Turn left onto Al Shaheed Ali Khalifa Al Mesmari Street and then right onto Abdullah Omran Taryam Street.
The best parking is in basement one at section C3B, right next to the elevator that takes visitors to level two, where the venue is situated. There is an abundance of parking spots.
The Abu Dhabi Snow Park is easily accessible by taxi or private transportation.
Buses 63 and 7 stop nearby at Marina Sq which is just a short distance from Reem Mall.
Did you visit Snow Abu Dhabi? Leave a comment, we'd love to hear about your experience!
Disclaimer: This post contains affiliate links. Using them will not cost you any extra. We will receive a small commission to keep us writing.