Warner Bros World Abu Dhabi is an incredible indoor theme park in the city's entertainment district.
An interesting fact about WB Abu Dhabi is it holds the Guinness World Record for the largest indoor theme park in the world.
It is the ideal spot for those looking for things to do in Abu Dhabi during the hot summer months when the desert weather is extreme.
It's a full day out at this immersive experience, featuring adrenaline-fuelled rides, performances and characters.
Warner Bros World is not just for children, the rides are fantastic for adults too. There are also plenty for small children since some larger rides have height restrictions.
For many adults, Warner Bros World Abu Dhabi is reminiscent of their childhood with recognisable cartoon characters.
Warner Bros Abu Dhabi Zones

Warner Bros. Abu Dhabi is divided into several immersive zones. Each area has a different experience inspired by the iconic Warner Bros. franchises.
Warner Bros. Plaza is the central hub of the park. It serves as the gateway to all the themed zones and has interesting Warner Brothers-style architecture.
The bedrock zone is the first area as you enter to the right. It is like stepping into the prehistoric world of The Flintstones.
Encounter beloved characters like Fred, Wilma, and Barney, and explore iconic landmarks such as the Flintstone home and the Bedrock police station.
Dynamite Gulch is the next zone after Bedrock and is a little on the whacky side as Looney Tunes characters inspire the area with a Wild West angle. We all know who the road runner is, right?
Cartoon Junction is a vibrant world where classic animated characters come to life. Bugs Bunny, Scooby-Doo, and Tom and Jerry are some of the characters that can be seen around this zone.
Gotham City is dark and a little more eery than other zones. It's common to see heroes and villains collide around iconic locations such as Wayne Manor and Arkham Asylum. Batman may also make an appearance on the streets of Gotham City.
Metropolis is like being immersed in the bustling cityscape, the home of Superman. It features famous locations such as the Daily Planet building.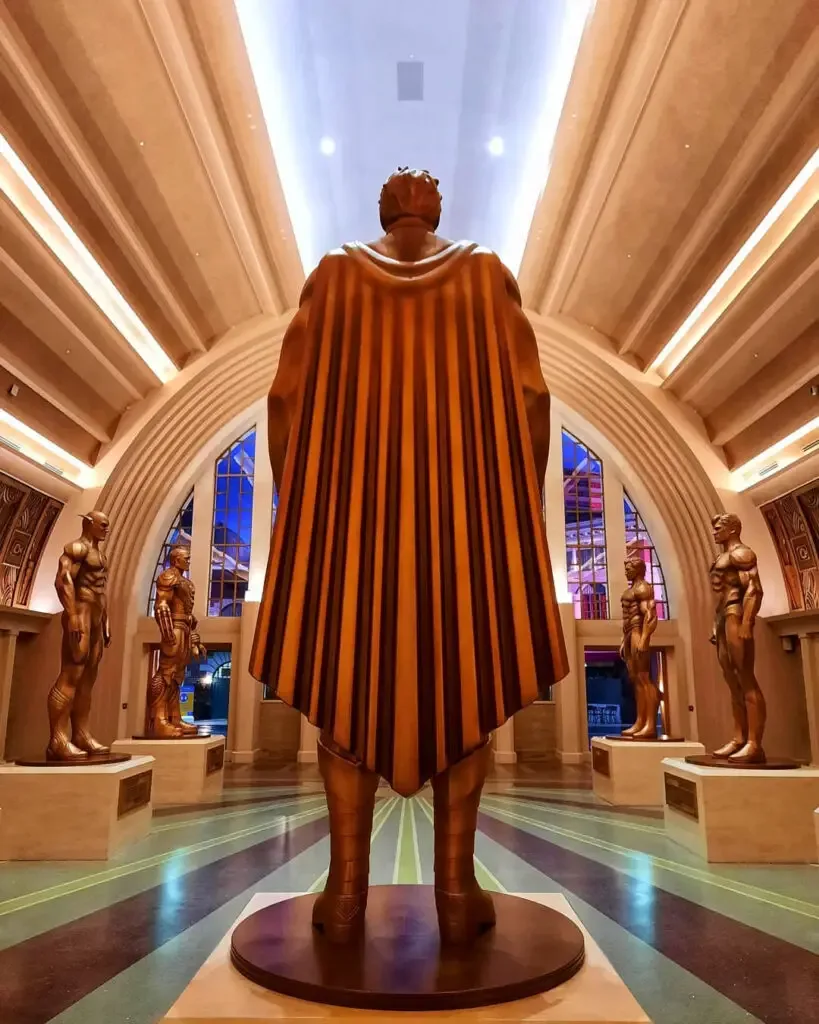 As you pass through the different zones, each ride has a wait time displayed for the regular and fast lanes. It goes without saying, the park gets busier as the day goes on, so if you prefer fewer queues, head out early!
Best Route Around Warner Bros World
If you are visiting Warner Bros World Abu Dhabi with young children, it is best to swing to the right first and head through Bedrock. If you are travelling with teens or if it's just adults, swing to the left on entering and go straight to Metropolis.
Warner Bros Abu Dhabi Tickets
Regarding entry, a single-day ticket costs 345 AED for adults, whilst children below 1.1 metres in height cost 265 AED.
There is an option to add a 'Flash Pass' to skip queues which may be worth it, especially during peak times. It costs 150 AED.
These flash passes are sold under a variety of names on several platforms. For example, Get Your Guide refers to it as 'skip the queue'.
Offer & Deals
There are, however, many deals and offers when purchasing a Warner Bros Abu Dhabi ticket. Directly from the site, a family and friends offer allows 3-year-olds to enter for free when paying for three tickets or more.
It also includes one complimentary pass and 25% off any additional tickets purchased together.
Not to mention, WB World is a partner in the Yas Island theme park offers. They offer deals with 2,3, or 4 park passes, including Yas Waterworld, Ferrari World and SeaWorld Abu Dhabi.
There is a 14-day period to visit the parks, with free shuttles and parking.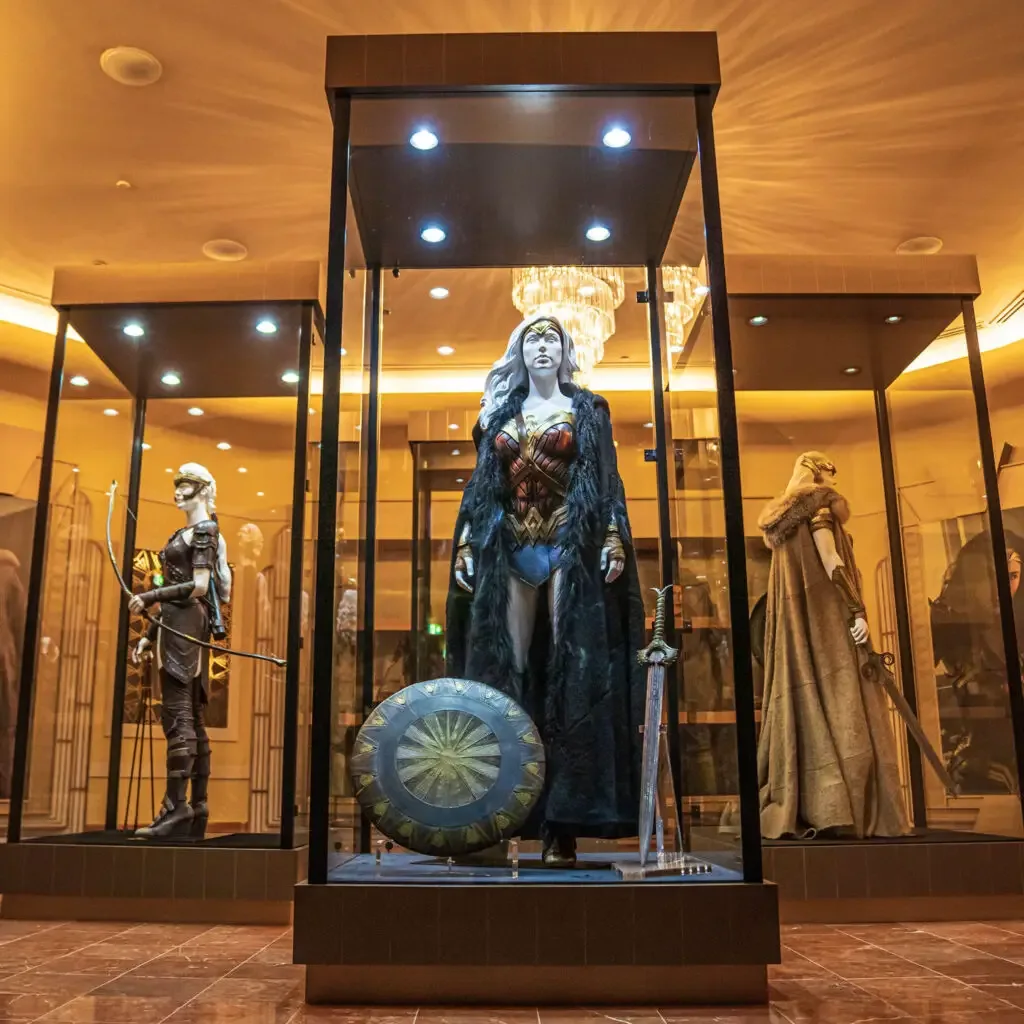 Aside from the main website, there are often offers on Groupon and The Entertainer App. Groupon is more appropriate for tourists, whereas The Entertainer is a subscription-based app.
It's important to note, the entry needs to be booked at least one day in advance to avail of the offer.
These deals are not always available, so it is worth watching. Sometimes the discount can be up to 50% off.
For locals, you'll be glad to know you can use ADCB touchpoints and Etihad guest miles to pay. An Etihad card is always helpful, especially when passing through the airport, since it can often provide lounge access to gold tiers.
Deals For Residents
Annual passes are another excellent option for residents of Abu Dhabi or Dubai. The passes come in gold, silver and diamond, with varying deals attached to each membership.
The annual pass provides access to many of the Yas attractions, it is not only for WB World Abu Dhabi.
Four companies are involved in this offer, including Yas Waterworld, Ferrari World and SeaWorld.
The Gold Pass has unlimited access year-round with 25% off family and friends, 25% off dining, shopping and paid experiences, and some additional Yas Island benefits.
Silver Pass is the most affordable option, however, there are blackout dates on this membership which need to be considered.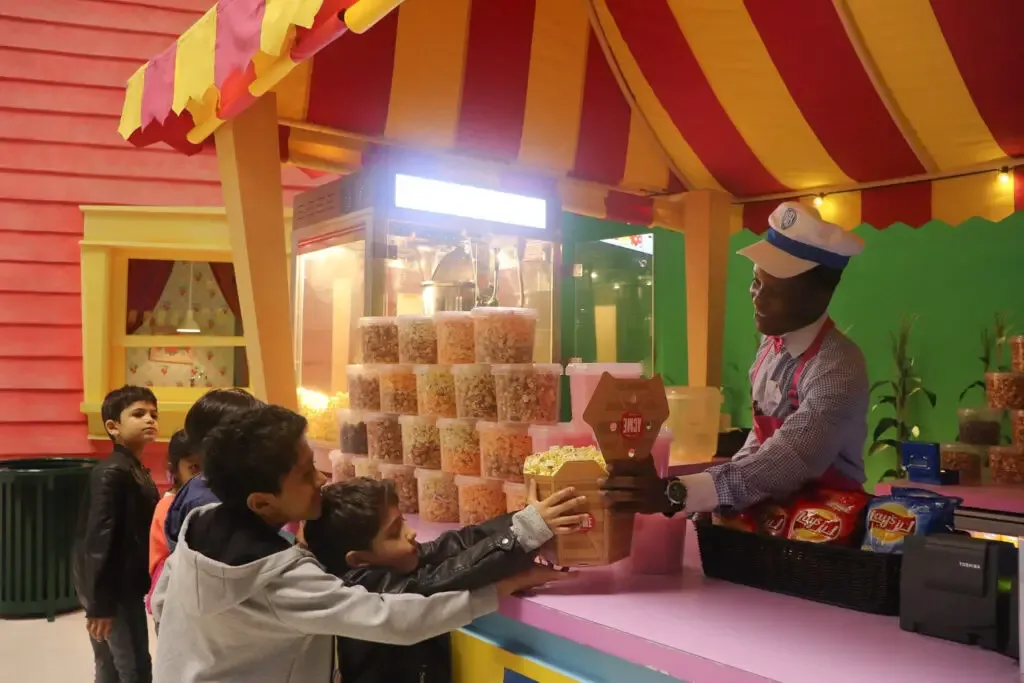 These often include half-term periods. This membership also has perks with 15% off dining, shopping and paid experiences. It also includes 15% off for family and friends.
Diamond Pass is the top-tier membership which has the most additional benefits. Access is unlimited annually and includes a quick pass ( skip the line) for all attractions. It also includes 25% off dining, shopping and paid experiences.
Map Of Warner Bros. World Abu Dhabi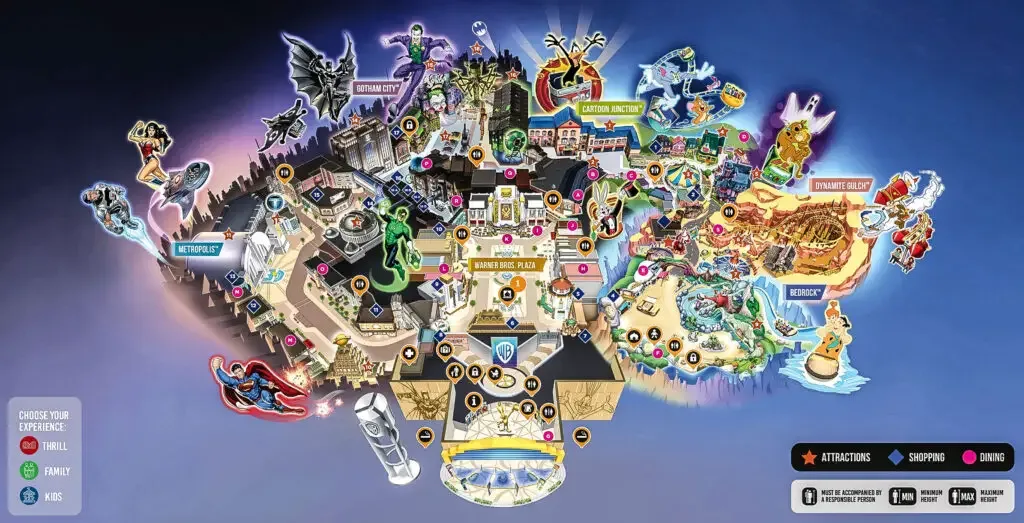 Warner Bros Abu Dhabi Rides

There are 29 rides at Warner Bros World Abu Dhabi, six considered 'thrilling'. Eight of the rides can be enjoyed by the whole family, while seven rides are for smaller children.
Here is an overview of each ride with the height restriction information. It is always worth measuring children before heading to Warner Bros World Abu Dhabi and making a route based on suitable attractions for your child's height.
Bedrock
Flinstone Bedrock Adventure – 105cm height required
The Flinstone Bedrock Adventure is one of the first rides and a perfect starting point for kids over 105cm tall.
Visitors embark on boat adventures and are immersed in Bedrock alongside the beloved modern Stone Age family.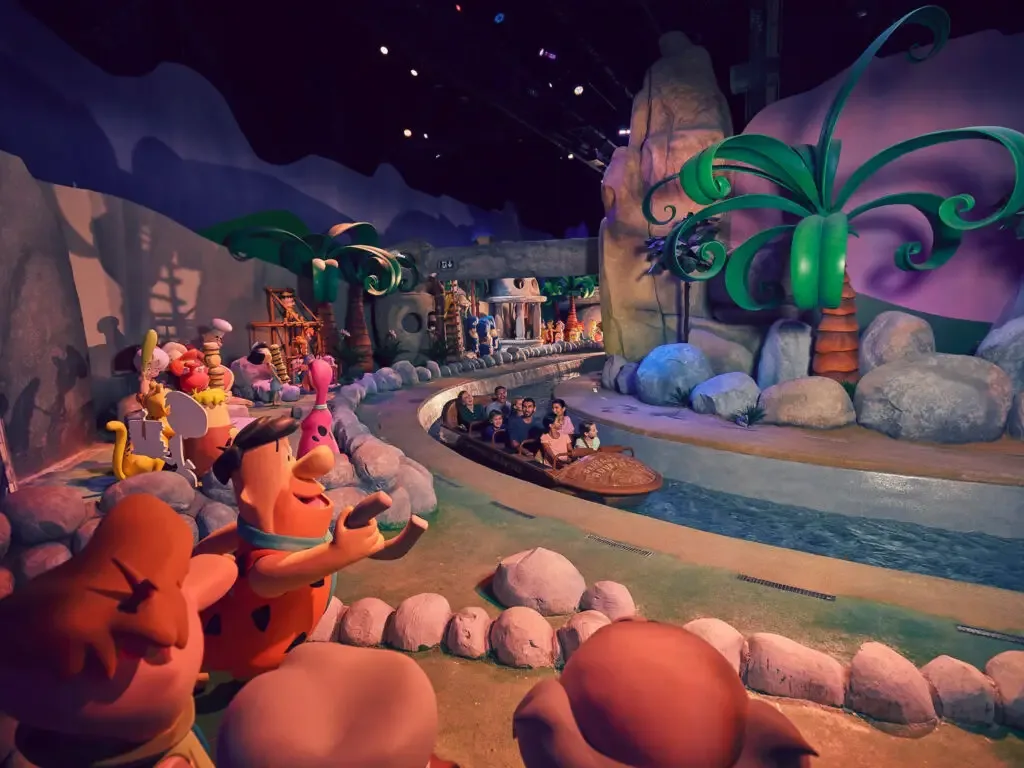 It cruises through landscapes with Fred, Wilma, and the rest of the clan. The sights and sounds feel like the prehistoric era.
A dinosaur goes rogue, causing mayhem at the live parade. Be prepared for the surprise splash at the end! Wilma and Fred can be seen around this area too!
Dynamite Gulch
Fast and Furry-ous – 110cm height required
Fast and Furry-ous is for those wondering when the first adrenaline ride might be! It has a height restriction of 110cm.
The adrenaline-pumping adventure at Warner Bros World Abu Dhabi is similar to stepping inside the wild world of Wile E. Coyote.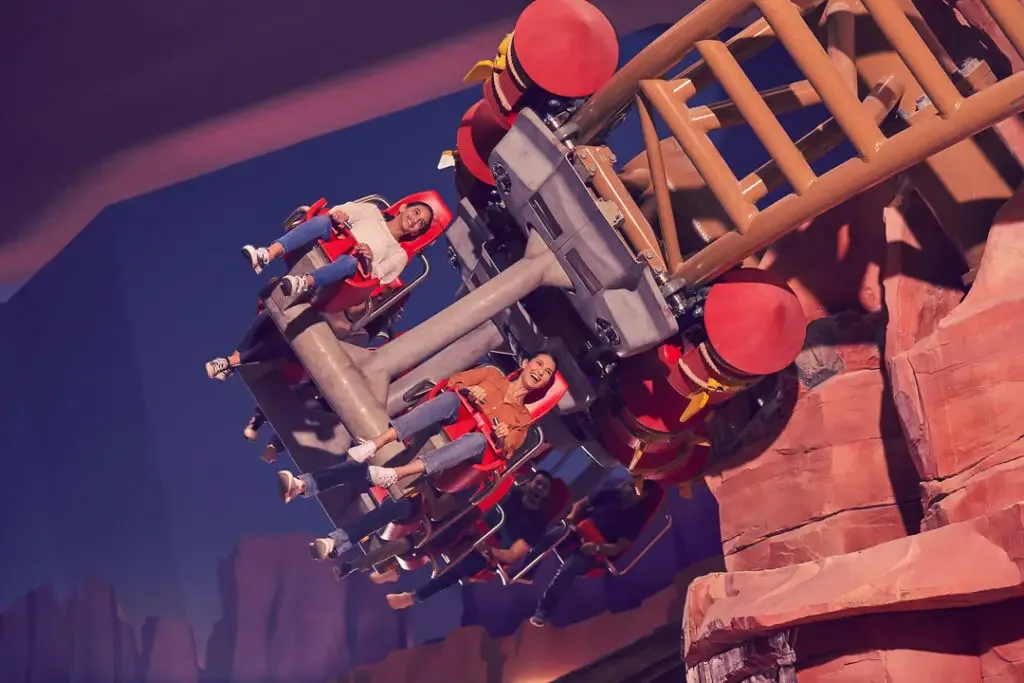 It's a high-speed race through a southwest American desert with classic visual humour and nostalgia from the show.
The inverted rollercoaster relentlessly pursues the well-known Roadrunner as it soars above the sand dunes, down thrilling hills, and navigates banked turns at lightening speed!
The Jetsons Comit Orbiter – 90 cm height required
The Jetsons Comit Orbiter is perfect for younger children with a height restriction of 90 cm. Parents can join their little ones on a journey on a spacecraft!
Get ready to be lifted into the sky for a high-energy spin before landing at the Jetsons' landing side.
Marvin The Martian Crater – 105 cm
Visitors can engage in a cosmic collision course, where they can bump and smash into each other's drivable space pods in a galactic bumper car experience.
The mission is to generate enough kinetic energy to propel Marvin's rocket ship back into orbit.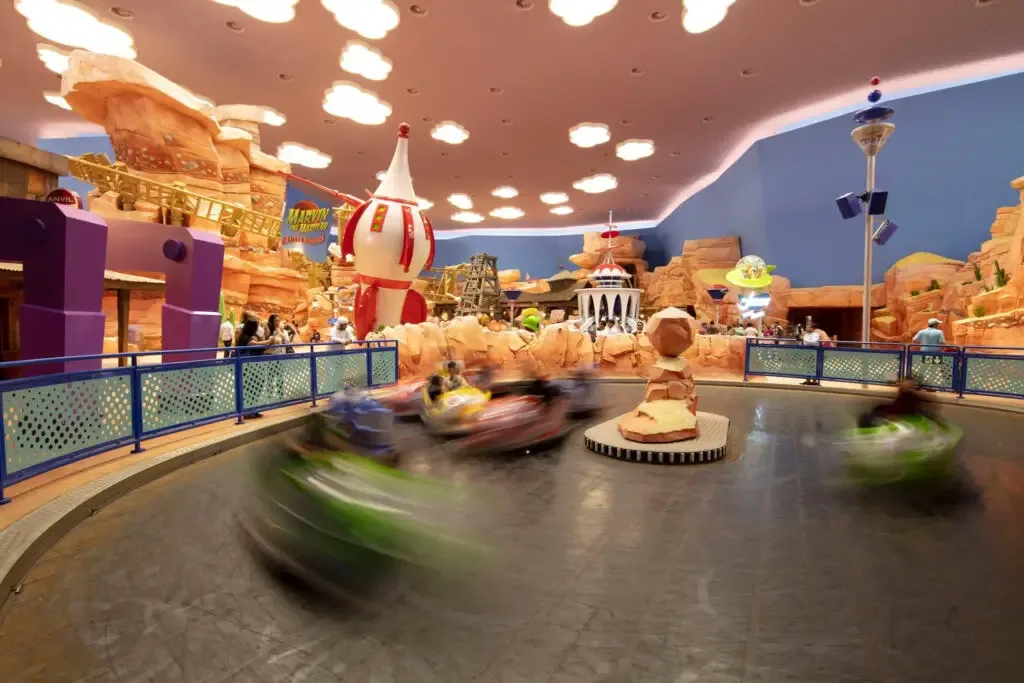 As you navigate the interstellar chaos, watch for Marvin, who leans out of his rocket to observe your progress.
With puffs of smoke billowing from the engine, Marvin monitors your efforts, ensuring you are on track to achieve the ultimate goal of sending his rocket soaring through the cosmos again.
Cartoon Junction
Cartoon Junction is one of the largest zones with rides, attractions, shows, shops and dining outlets. Here are the rides within this zone.
Tom and Jerry Swiss Cheese Spin -110cm height required
Jerry Swiss Cheese Spin is considered a 'thrilling' ride in Cartoon Junction. Tom and Jerry pursue each other over a large piece of cheese!
The ride takes visitors through the life-sized house whilst dodging obstacles and swiftly diving into mouseholes as Tom continues to chase Jerry.
Scooby Doo Museum Of Mysteries – 90 cm required
The Scooby-Doo Museum of Mysteries is a family attraction journeying through Cartoon Junction.
Scooby, Shaggy, Fred, Daphne, and Velma navigate through secret passages and eerie corridors, each splitting up to search for clues, meddling in the mysterious occurrences, and ultimately solving the puzzling mystery.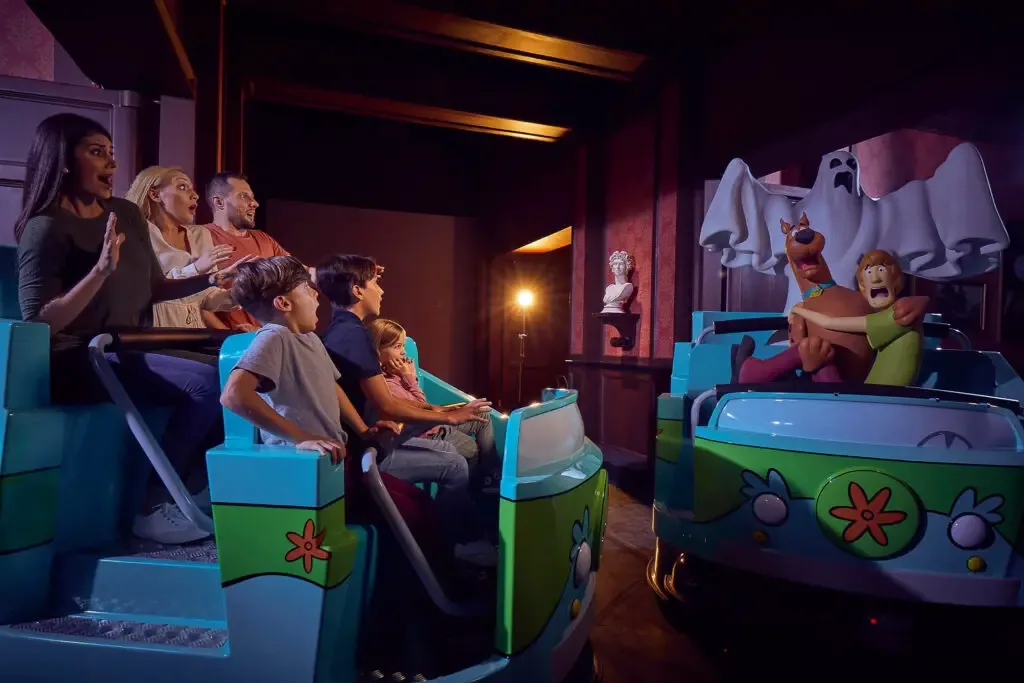 This family-friendly adventure will take you on a journey, where you'll experience the excitement of being part of the gang and helping them bring the case to a satisfying conclusion.
Cartoon Junction Carousel – 80 cm
Precisely as the name suggests, the Cartoon Junction Carousel brings a different dynamic to the traditional carousel.
Hop on board famous cartoon vehicles with characters from Loony Tunes and Hanna-Barbera! It is perfect for younger children as it slowly spins in the heart of Cartoon Junction's town square.
Daffy Jet Propelled Pogo Stick – 100 cm height required
The Daffy Jet-Propelled Pogo Stick is a vertical jump tower that bounces you up and down! Adults and kids of the necessary height can enjoy this ride.
Tweet Wild Wockets – 90 cm height required
The Tweety Wild Wockets ride soars through the air on a collection of whimsical Tweety-themed vehicles. Stay clear of Sylvester as you enjoy this thrilling aerial carousel experience. This ride is perfect for little ones.
Ricochet Racin With Taz – 90 cm height required
Anything related to Tasmanian Devil is going to be a little fast! Experience the excitement of Ricochet Racin' With Taz, a fun-filled car ride designed for children who zip around the track at speed, just like Taz himself.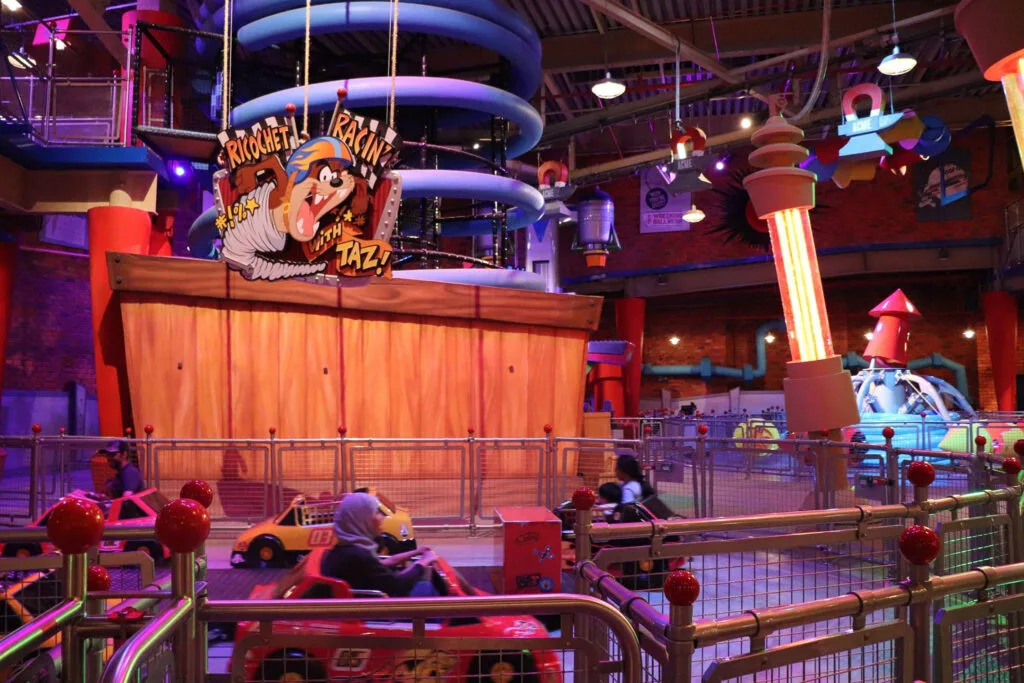 Ani Mayhem – 90 cm height required
Grab the barcode scanner, hop into the delivery vehicle, and embark on this exciting multi-dimensional interactive ride. Show off your skills and compete for the highest score wearing special effects glasses.
Go on a thrilling delivery mission through six iconic Loony Tunes scenes. Get ready to create cartoon chaos as you navigate the wild and wacky world of Loony Tunes.
Scores are counted on the vehicle for each passenger so everyone can see who the winner is at the end. It is undoubtedly one of the more competitive experiences at Warner Bros Abu Dhabi.
Acme Factory – no height restriction
Acme is ideal for kids to run around and burn off energy! Since there is no height restriction, even the smaller kids who may have been trailing along will absolutely love this area!
It features many fun obstacles, including slides, climbing ropes and suspended bridges, tunnels, mazes, and more.
Gotham City
If you are ready for more action after Cartoon Junction, the next zone is Gotham City, the home of Batman!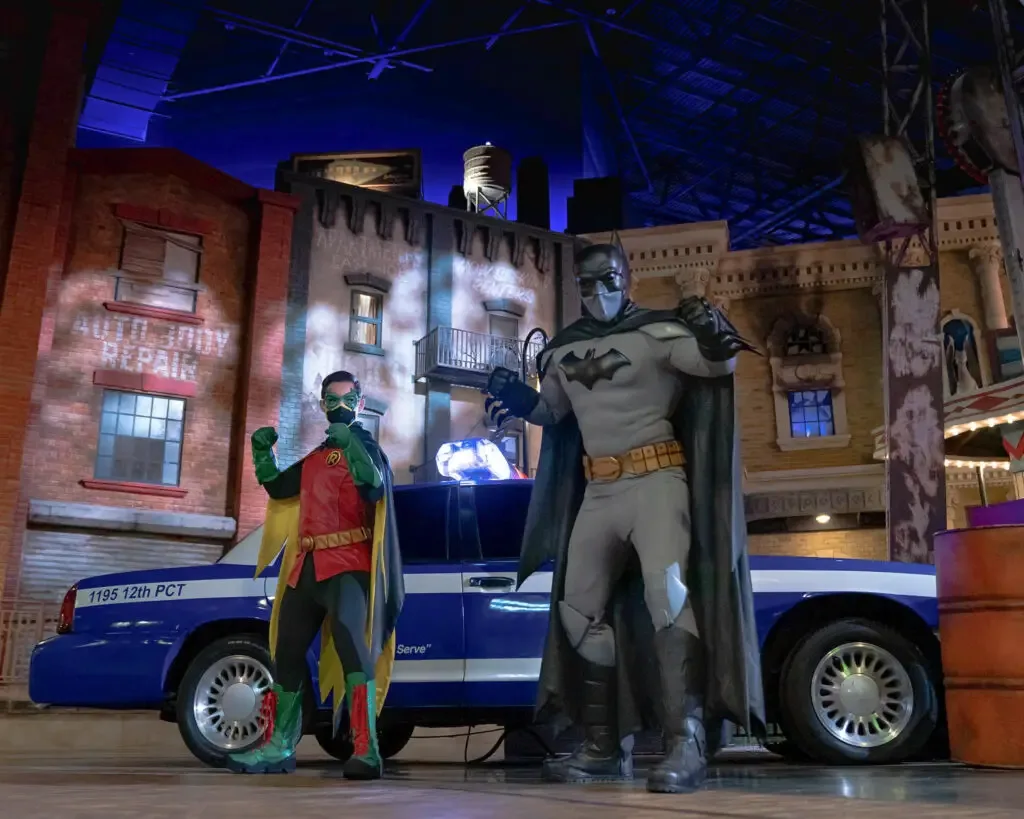 Batman Knight Flight -120-200 cm height restriction
Knight Flight is a high-speed ride through the dark skies of Gotham City. The mission is to protect the city and keep it safe from harm.
Enter through the secret panel at Wayne Tech headquarters and find yourself enlisted as a test pilot for the cutting-edge prototype of Gotham City's ultimate urban patrol vehicle.
Expect extreme climbs, drops, spins, and rolls. Launch from the Batcave and soar above the streets, evading the traps of notorious Super-Villains.
This ride is mostly for older children and adults since the height restriction is 120 cm.
Scarecrow Scare Raid – 120 cm height restriction
Scarecrow is notorious for bringing nightmares to life! The flight goes on a wild journey filled with daring aerobatics.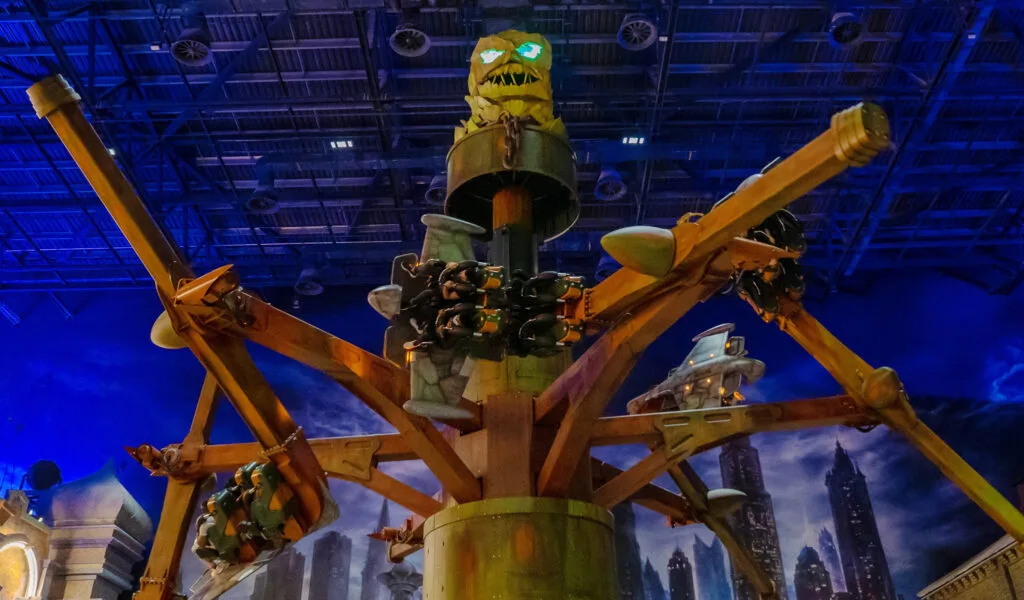 Prepare for spins, barrel rolls, and other intense manoeuvres as part of Scarecrow's most terrifying and psychologically immersive experiment.
The Riddler Revolution – 120 cm height restriction
The Riddler Revolution is a thrilling coaster experience that will leave you spinning, rocking, and puzzled. Brace for heart-stopping and mind-bending movements, like The Riddler's devious nature.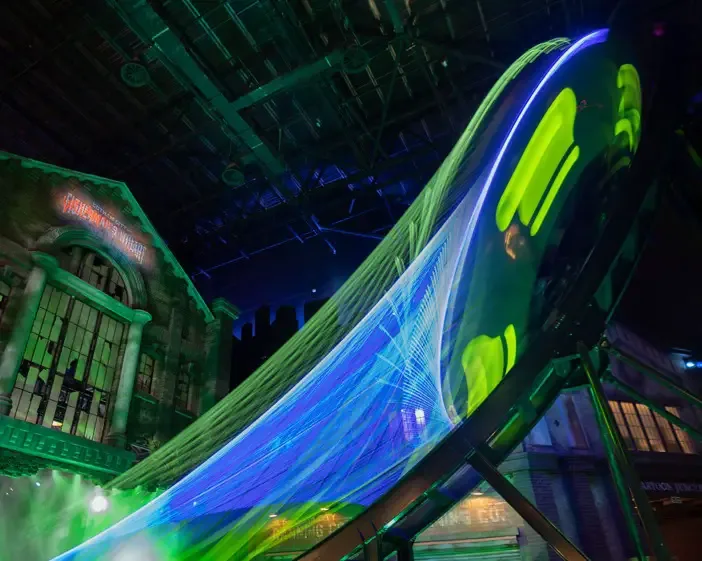 The Joker Funhouse – 105 cm height restriction
The Joker Funhouse is an interactive experience filled with an array of mind-bending tricks, tests, and surprises meticulously devised by the enigmatic Clown Prince of Crime.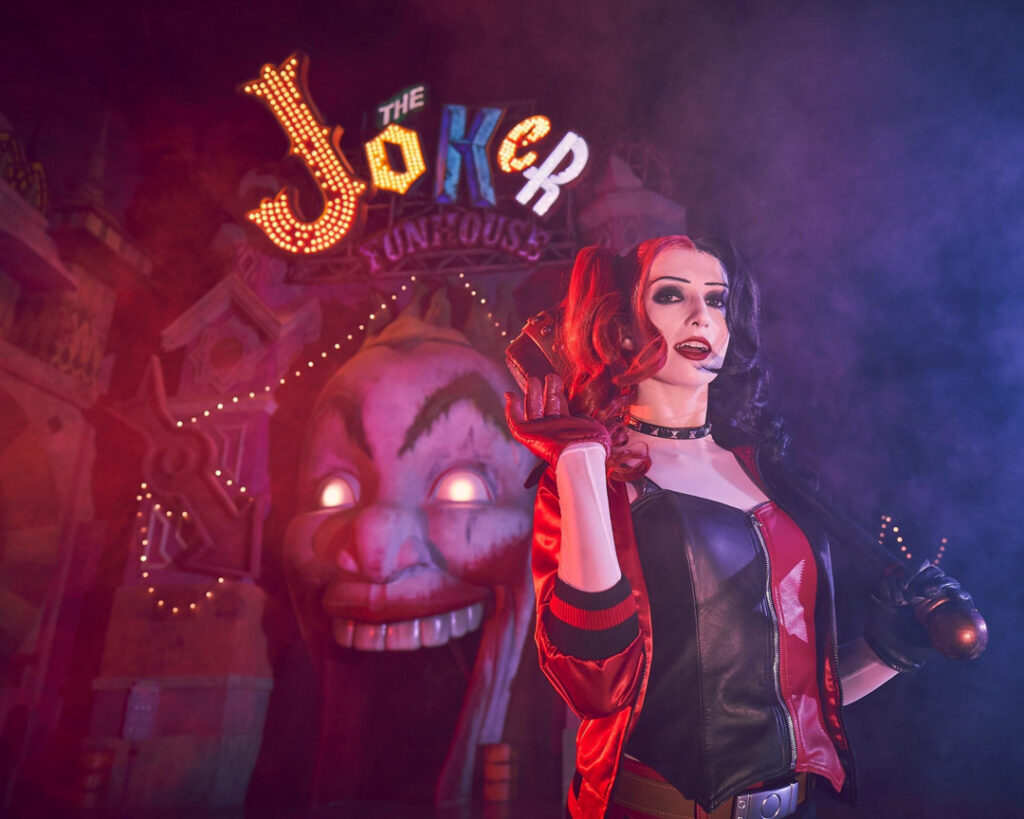 Brace yourself for a twisted journey that challenges your physical and mental prowess.
Metropolis
Justice League: Warworld Attack -110 cm height restriction
The journey of the Justice League features Superman, Batman, Wonder Woman, and Earth's Super Heroes. It's a showdown against their archenemies on this exhilarating 5D ride.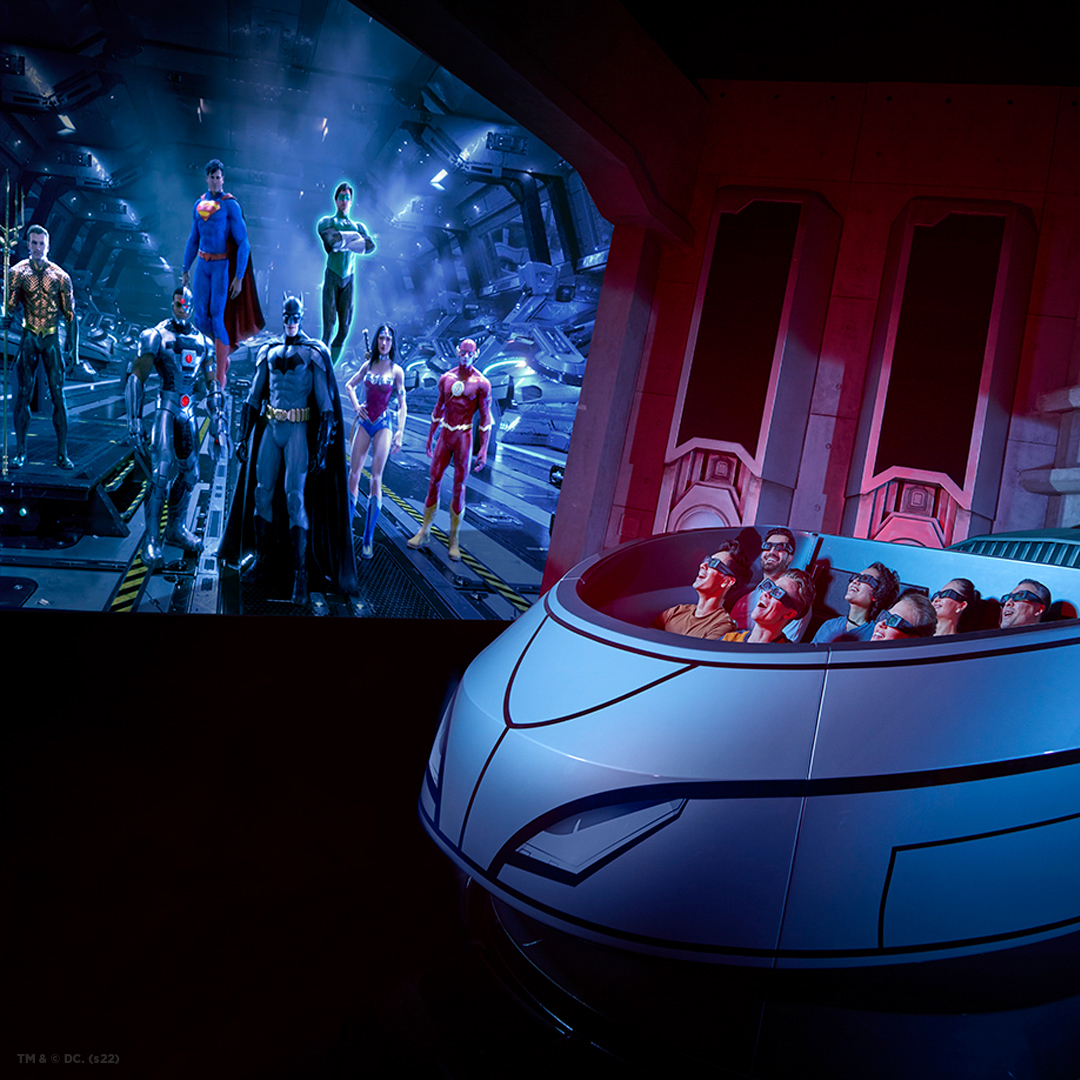 It's fully immersive and navigates through iconic DC locations. Cyborg leads the battle for justice.
Feel the rush as you dart, swoop, and spin through these renowned settings under the menacing siege of the intergalactic tyrant Mongul and his formidable extraterrestrial warrior army.
Green Lantern Galactic Odyssey – 110 cm
Prepare to be whisked away on a remarkable journey across the cosmos, visiting extraordinary worlds in this 4D flying theatre experience. Like a real Super Hero battle, this adventure is not intended for the faint-hearted.
Superman 360: Battle For Metropolis – no restriction
The Battle For Metropolis is an immersive 360 3D projection with no height restriction.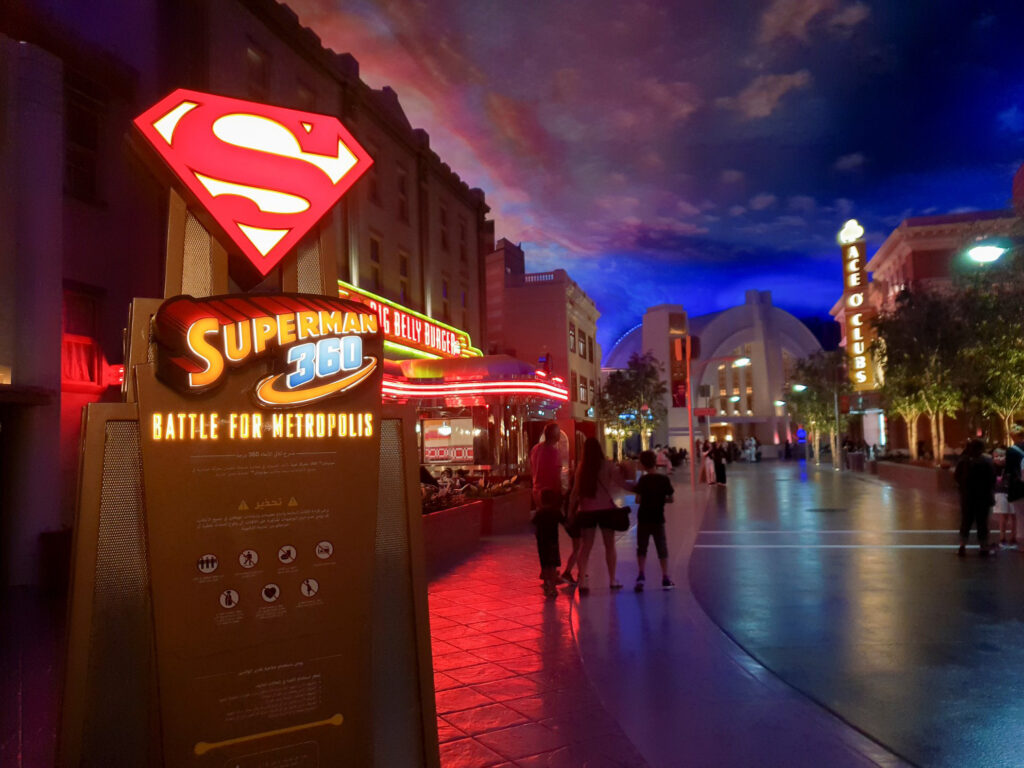 During the high-tech ride, the fate of Metropolis hangs in the balance during an epic clash between good and evil.
Teen Titans: Training Academy -122 cm
Teen Titans are similar to Acme Factory, only for older children, as the name suggests. Kids can take on zip coasters, net climbs, rope bridges, and wall climbs at the multi-level play area.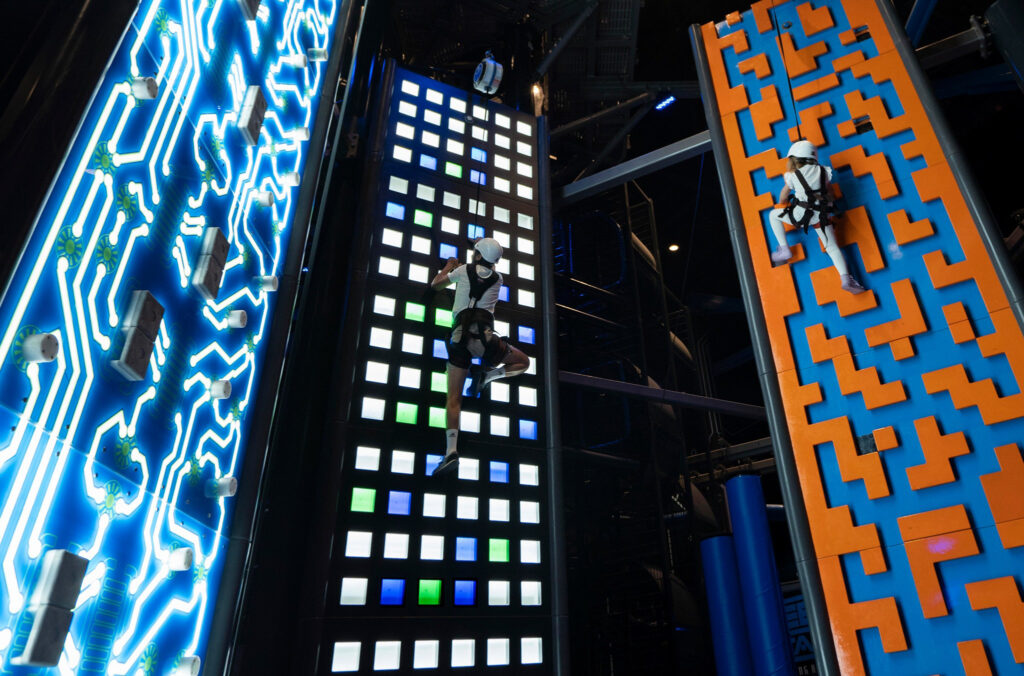 It's worth having a bottle of water at the ready as there is no doubt it will exert lots of energy.
Characters at Warner Bros World Abu Dhabi
There are many characters around Warner Bros World Abu Dhabi. Here is the list you may be able to spot on your journey through the theme park.
Bedrock – Fred & Wilma Flintstone, as well as Pebbles.
Cartoon Junction – Bugs Bunny, Daffy Duck, Scooby-Doo, Shaggy, Tom & Jerry, Taz, Tweety, Sylvester & Elmer Fudd.
Dynamite Gulch – Road Runner, Marvin The Martian, Wild E. Coyote, Yosemite Sam & The Jetsons.
Gotham City – Batman, Catwoman, The Joker, Harley Quinn, The Riddler, Scarecrow, Mr Freeze, Penguin, Poison Ivy and Two-Face.
Metropolis – Superman, Wonder Woman, The Flash, Green Lantern, Cyborg, Aquaman and Supergirl.
Shows At WB World
There are shows at different times of the day featuring the characters named above. Check out the times of the shows on the day of your visit to ensure you can incorporate them into your journey.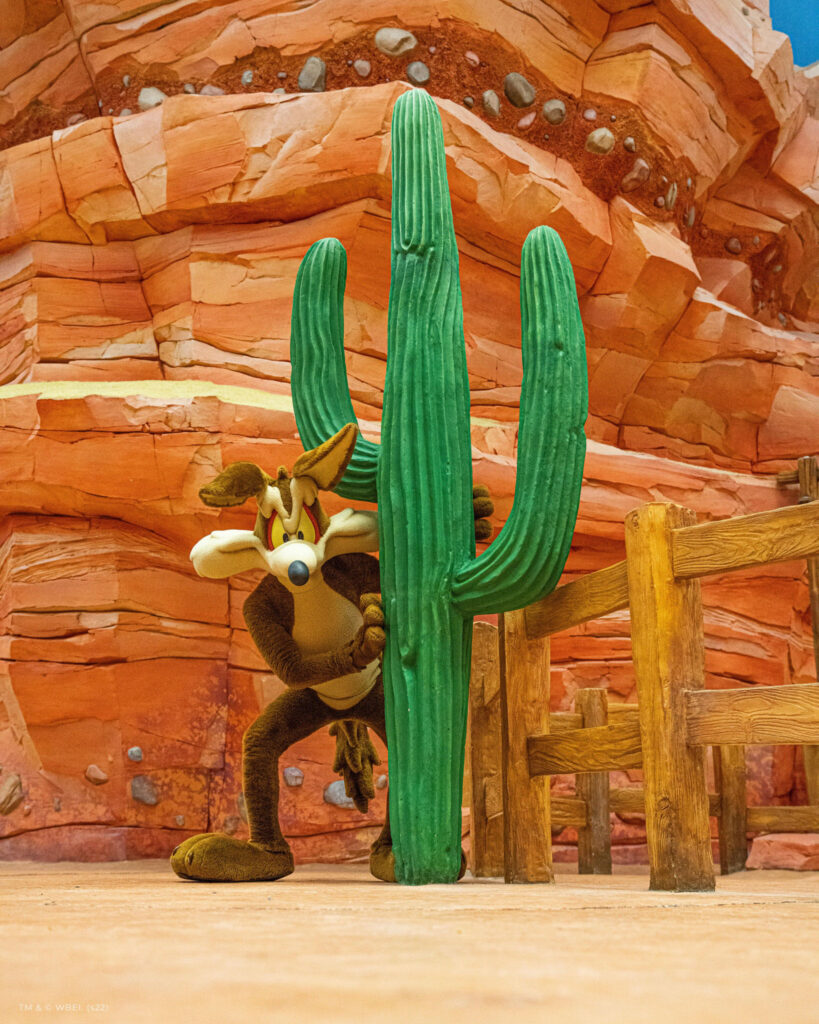 Kids especially love the immersive experience of the performances. The Plaza transforms into a magnificent world premiere setting for the Warner Bros. Cinema Spectacular.
This captivating showcase highlights the very best from the illustrious entertainment library of Warner Bros.
Food & Beverage
As previously mentioned, a ticket option is appropriately named the 'tasty ticket', which provides a meal at one of the outlets as part of the price. The voucher is redeemable at all restaurants.
Sixteen outlets serve a variety of food, from burgers, ribs, and Italian food such as pasta and pizzas to, coffee, pastries and sandwiches.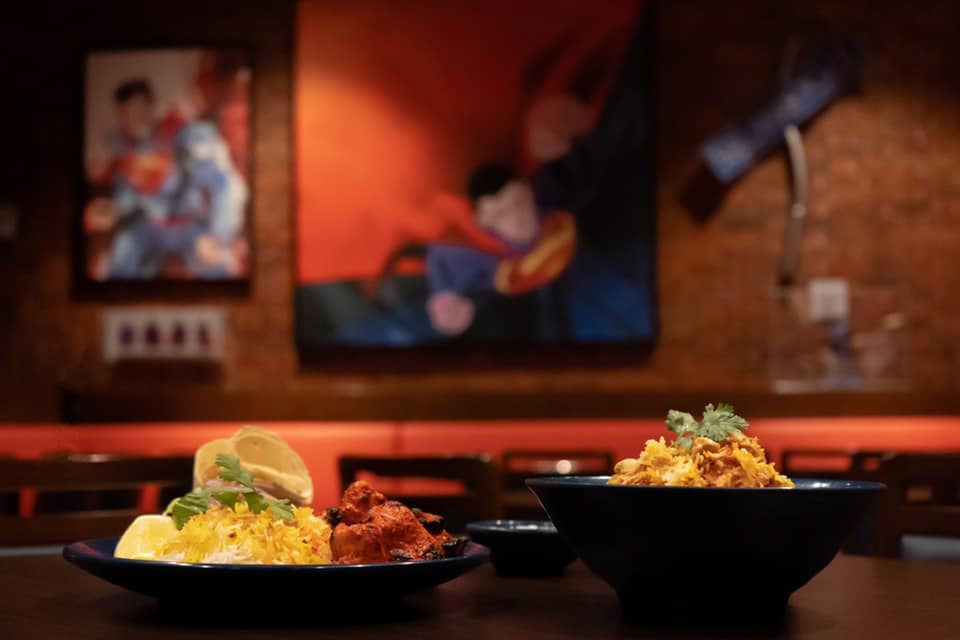 Some outlets offer table service in a lovely setting, whilst others offer fast food or grab-and-go coffee.
There is even a restaurant with a healthy menu to avoid the calorific options. Here is an overview of each outlet and its location.
The Starlight Restaurant
The Starlights has a delicious menu and is a sit-down restaurant which is quite different from the fast food spots in WB World.
The restaurant's interior is classic 1930s style with plenty of Hollywood memorabilia.
The Starlights menu is relatively varied, with options such as steaks, lamb chops and skewers with sides. Not to mention, the cheesecake to finish off a perfect meal!
Location: Warner Bros. Plaza
Hollywood Trattoria
If you're in the mood for Italian cuisine, head to Hollywood Trattoria. It's a sit-down restaurant where you can enjoy the traditional flavours of Italy.
The menu features classic dishes such as pizza, pasta, lasagna, and delectable cannoli for dessert.
Location: Warner Bros. Plaza
Celebrity Scoop
Celebrity Scoop is like a traditional Hollywood soda shop, perfect for a cheeky sundae or malt shake.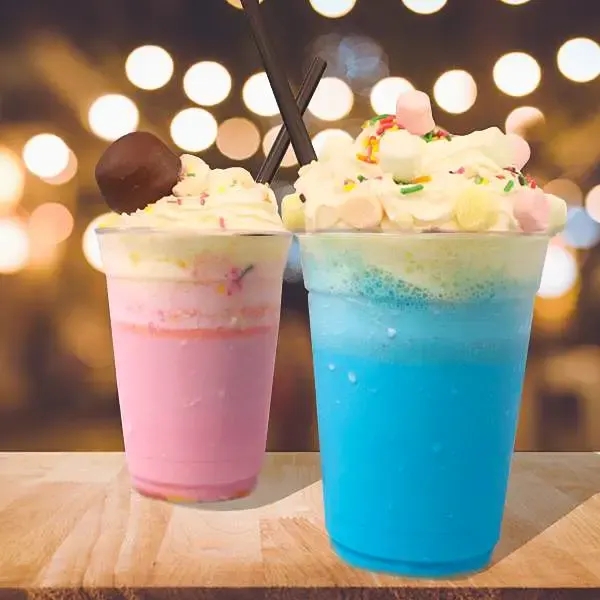 They also serve pittas, sandwiches and good old American hot dogs! They offer grab-and-go from their window, or you can sit in the traditional diner.
Location: Warner Bros. Plaza
Beverly Hills Boulangerie
Emiratis love coffee, and Beverly Hills Boulangerie is the perfect place for a caffeine hit with delicious pastry goods!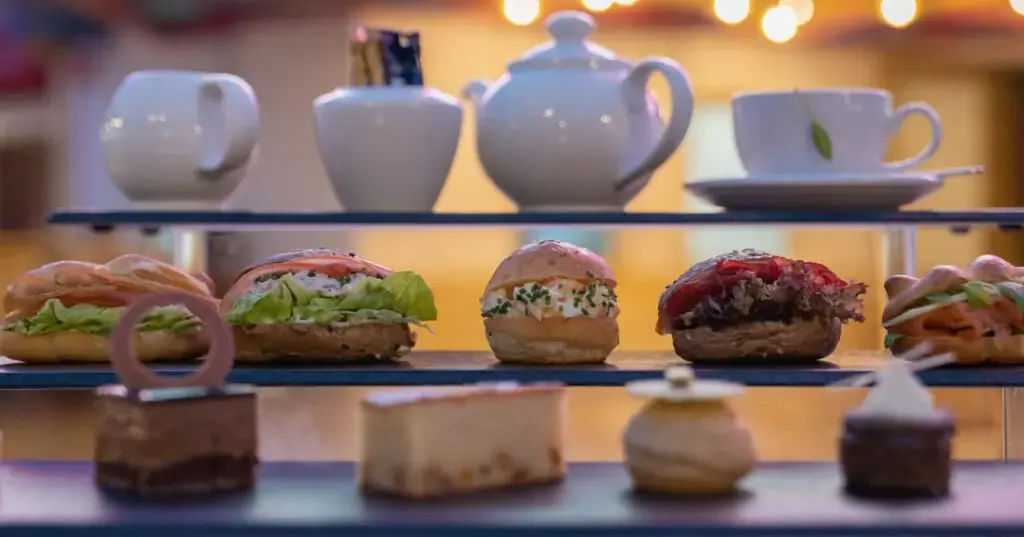 Aside from the pastries, they also serve sandwiches and salads. Stepping into this boulangerie is just like being in California's very own Beverly Hills!
Location: Warner Bros. Plaza
Brontos Burgers & Ribs
Brontos Burgers & Ribs is another fast food outlet in the park. As the name suggests, they serve burgers and ribs.
It's a great place to grab a hearty and filling meal. Although it is a fast food outlet, the interior is cool, as it feels like a prehistoric cave!
If you are feeling hungry before starting your journey around Warner Bros Abu Dhabi, this is one of the first outlets on entering Bedrock.
Location: Bedrock
Mammoth Munchies
Another spot very close to Brontos Burgers & Ribs is Mammoth Munchies. We love the name of this quick snack spot. It's a grab-and-go where you can find items like popcorn, nachos, pretzels, and other tasty snacks.
Location: Bedrock
ACME Commissary
ACME Commissary is a outlet offering fastfood. Enjoy quick bites such as pizzas, empanadas, manakish, and shawarma. This is the perfect spot for locals to pick up some of their traditional favourites.
Location: Cartoon Junction
Huckleberry Hound Pies
Huckleberry Hound Pies is an outlet specialising in berry pies. Aside from the trademark pies, they also have a selection of sweet treats. This outlet is grab and go!
Location: Cartoon Junction
Yogi Bear and Boo Boo Ice Cream
Another snack spot within cartoon junction named after the beloved characters is Yogi Bear and Boo Boo ice cream. It serves a range of flavours and treats. Aside from ice cream you can try various sorbets, slushies or cookies.
Grabbing a cold snack from here is ideal for the kids who work up a sweat in ACME Factory.
Location: Cartoon Junction
Penelope Pitstop Cotton Candy
Have you even been to a theme park if you haven't had cotton candy?
Penelope Pitstop Cotton Candy offers fluffy and colourful cotton candy. It's a fun treat perfect for enjoying while exploring the park.
Location: Cartoon Junction
Hall of Doom
Hall of Doom is the first outlet in Gotham City and is a little different from the many fast food spots in Cartoon Junction.
It's a quick service diner serving up delicious Asian food such as Pad Thai noodles and much more. The decor inside feels like an abandoned subway station!
Location: Gotham City
Mr Freeze Ice Scream Truck
Mr Freeze Ice Scream Truck looks like a roving battle tank right in Gotham City. It has soft serve ice-cream and many other sweet treets to enjoy.
Location: Gotham City
Gotham City Finest
Gotham City Finest is a quick service outlet offering salads and sandwiches with various fillings. This is where to go if you are looking for something a little healthier than the typical fast food and sweet treats on offer.
Location: Gotham City
Jitters Coffee & Snacks
Jitters Coffee & Snacks is the place for a caffeine fix or a quick snack in Metropolis zone.
They offer a range of coffee options and light snacks like sandwiches, pastries, and other options.
Location: Metropolis
Ace O' Clubs
Bo 'Bibbo' Bibbowski is the proud owner of this quick-service restaurant located near the League's Hall of Justice. The restaurant offers outdoor seating with views of downtown Metropolis.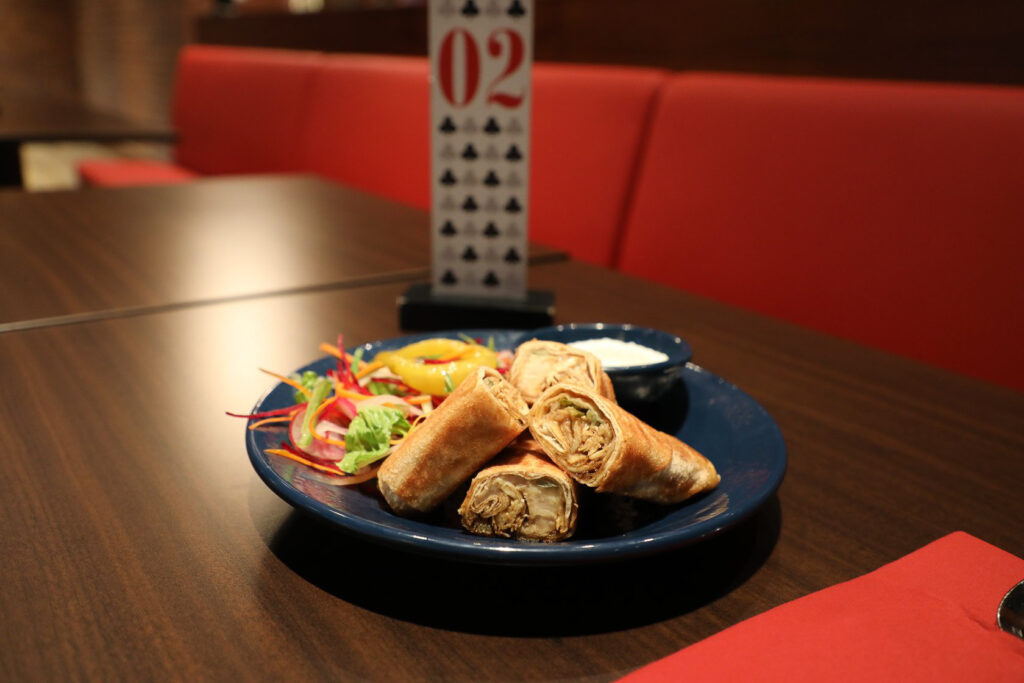 Inside, you'll find walls adorned with memorabilia and collectibles, adding to the restaurant's unique atmosphere. The menu is diverse, featuring flavors from around the world and India.
Location: Metropolis
Big Belly Burger
Big Belly Burger is a fast food restaurant and a convenient spot for a quick bite, serving delicious burgers and other classic fast food items. You can enjoy a juicy burger, hot dogs, fries, shakes and more.
Location: Metropolis Zone
Hotels With WB World Abu Dhabi Access
If you are a tourist visiting Abu Dhabi or maybe a UAE resident looking for a staycay, there are quite a few hotels offering packages which include a stay and WB World park entry.
It is worth noting, such deals may change at any time, so make sure to do a little research to ensure the deal is still available.
W Abu Dhabi is a hotel renowned for having a view over the Formula 1 track. This hotel is in a prime position to enjoy all of the theme parks on Yas Island.
It is one of the only pet-friendly hotels in the Emirate and features a spa, a gym and several dining venues, including one of the best brunch spots. Packages inclusive of theme park tickets can be found on the Yas Island website.
WB World Hotel guests can enjoy access to Yas Waterworld, Ferrari World or WB World. Some packages include all three, whilst others only include one theme park of your choice.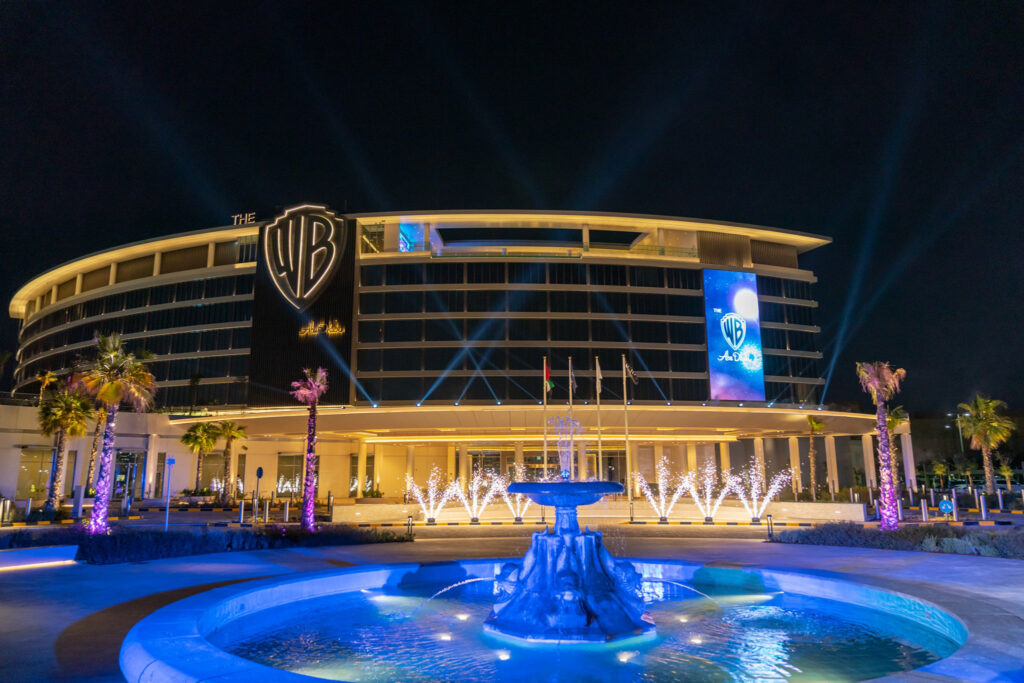 This particular hotel is incredible and in an ideal location, just a few steps from the front door of WB World. It features a floating cinema, splash pads, a kids club and several restaurants.
Deals to this particular hotel which include theme park access, can be found on a variety of platforms.
Double Tree By Hilton Abu Dhabi Yas Island is ideal for any family looking for an aparthotel, perfect for those travelling with young children and needing a little space. Packages can be found on the Yas Island website.
Three Star Hotels
Yas Island Rotana is part of a famous hotel chain in the UAE, just a few minutes from the F1 track. This hotel features, twin rooms, family rooms and suites. Deals can be picked up with beach or theme pack access here.
Crown Plaza Abu Dhabi is set alongside the stunning Yas Island golf course. The green view is something unique in this desert location. The hotel has standard twin or king rooms with deals inclusive of theme park access.
Park Inn By Radisson Abu Dhabi is another hotel with twin and king rooms and is budget-friendly. This hotel features two swimming pools, a fitness centre, and fantastic elevated views. Theme park access and stay packages can be found here.
Centro Yas Island is a 3-star hotel with a pool. Some packages include beach access, and some include theme park access. It also has a spa and wellness centre and three restaurants onsite.
How To Get To Warner Bros World
Yas Express is a complimentary shuttle bus service on Abu Dhabi's Yas Island, operating daily on multiple routes.
This service provides convenient access to the attractions and landmarks of the island, including Warner Bros. World. It is perfect for tourists staying on the island and wanting to get from one park to the next.
Y1 Route
The Y1 route commences at the Yas Plaza hotel and includes stops at W Abu Dhabi – Yas Island, Ferrari World Abu Dhabi, Yas Mall, Clymb, Yas Waterworld Abu Dhabi, and Warner Bros. World Abu Dhabi. This bus operates from 9 am to 11:35 pm, seven days a week.
Y2 Route
The Y2 route begins at the Hilton Yas Island hotel and stops at Ferrari World Abu Dhabi, Yas Mall, Clymb, Yas Waterworld Abu Dhabi, and Warner Bros. World Abu Dhabi. The bus service operates from 9 am to 11:35 pm, seven days a week.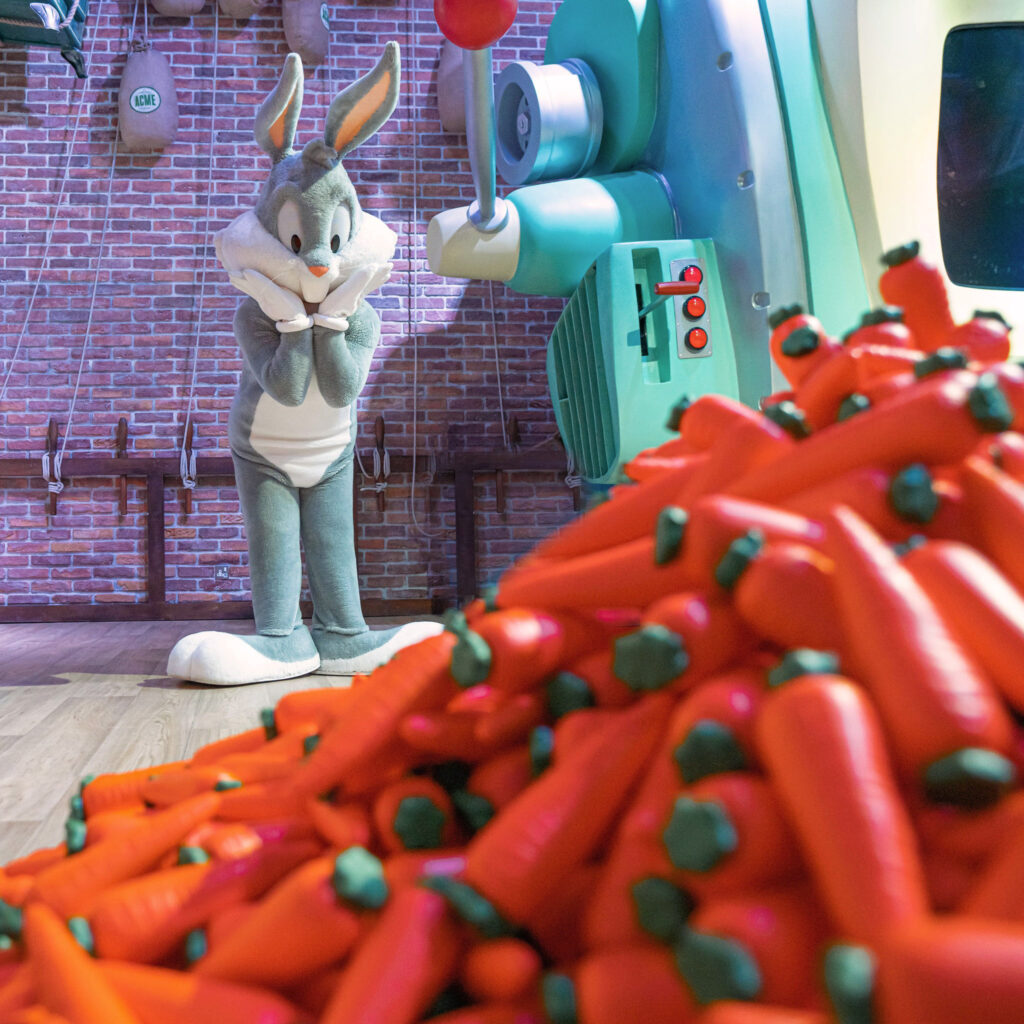 Y3 Route
The Y3 route starts at the Yas Plaza hotels and includes stops at W Abu Dhabi – Yas Island, Hilton Yas Island Hotel, Yas Beach, Yas Marina, and Yas Marina Circuit. This bus runs seven days a week from 9:30 am to 11:30 pm.
There is also a free shuttle bus from Dubai to Yas Island for those who have purchased a ticket to the theme park. The Y7 bus departs from the Mall of the Emirates. It takes 1.5 hours to arrive at WB World.
For those driving, there is covered parking above ground. The walk to the theme park is shaded in parts with mist fans to keep cool, especially helpful on those hot summer days in June, July and August.
The car park can get busy, especially during peak times.
Arriving by taxi is a fantastic option to get dropped right at the door! Abu Dhabi taxis in general, are very affordable. Download the Abu Dhabi official taxi app. Alternatively, Uber is also available.
Facilities
There are tonnes of facilites aside from the attractions and dining options to make any visit to the park easy.
From photo services to souvenirs and personalized candy to apparel. Here is an overview of some of the facilities at Warner Bros World Abu Dhabi.
Stores At Warner Bros Abu Dhabi
Warner Bros. Studio Store
The Warner Bros. Studio Store is the perfect place to pick up a gift or souvenir. It offers a wide range of merchandise including fashion, jewellery, collectables, homewares, candy and stationary!
Location: Warner Bros. Plaza
Super Star Souvenirs
Super Star Souvenirs has a tonne of Looney Toon fashion including hats and t-shirts to make up some funky new outfits.
Location: Warner Bros. Plaza
DC Super Heroes Store
As the name suggests, the DC Super Heroes Store is a haven for fans of DC Comics.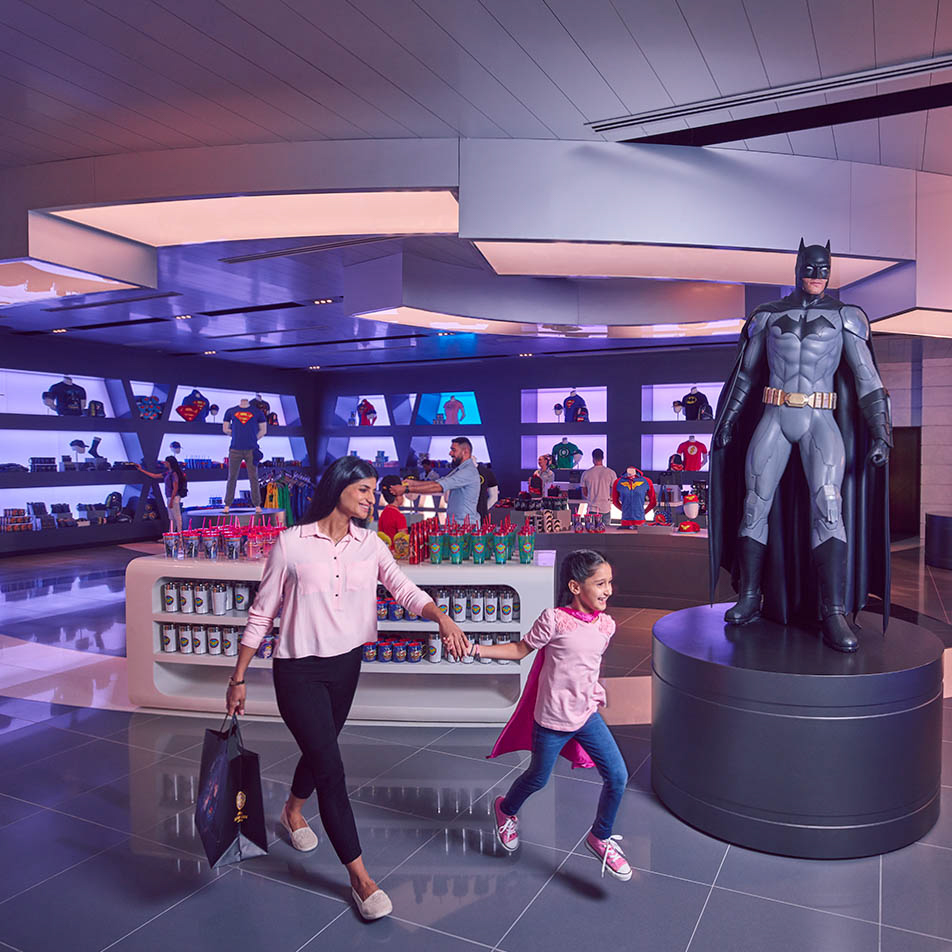 Step into the world of superheroes and browse through a wide selection of apparel, accessories, featuring iconic characters like Batman, Superman, Wonder Woman, and more.
Location: Warner Bros. Plaza
Treasures Of Hollywood
Treasures Of Hollywood is a store that pays homage to the glitz and glamour of Hollywood. Explore a collection of Hollywood-themed merchandise, including watches, jewellery and more.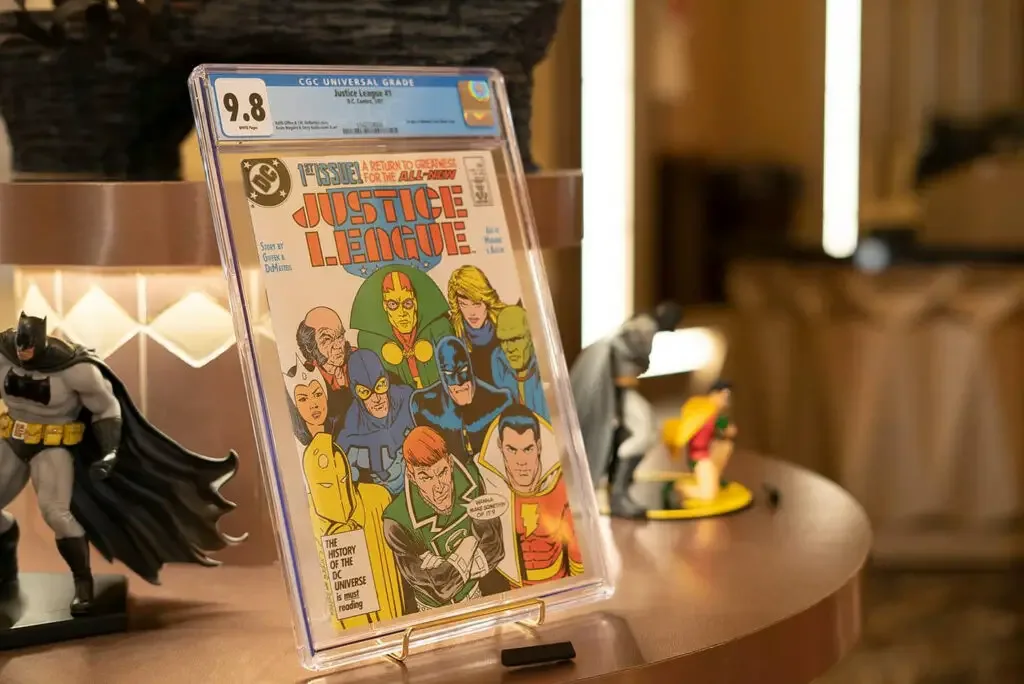 Location: Warner Bros. Plaza
Bugs Bunny & Co.
Kids love Bugs Bunny & Co. since it is essentially a toy store dedicated to the Looney Tunes.
From candy to plush toys and everything in between, these items are super cute featuring Bugs Bunny, Daffy Duck, Tweety Bird, and other classic characters.
Location: Warner Bros. Plaza
Bedrock Boutique
Bedrock Boutique takes you back in time to the Stone Age. This store offers merchandise inspired by The Flintstones, including apparel, accessories, and collectibles featuring Fred, Wilma, Barney, and the gang.
Location: Bedrock
Yosemite Sam Rootin Tootin Gas
Yosemite Sam Rootin Tootin Gas is a unique store with a wild-west theme.
Browse through a range of merchandise inspired by the wild west, including cowboy hats, apparel, novelty items, and souvenirs featuring Yosemite Sam and other iconic western characters.
Location: Dynamite Gulch
C.J. Mercantile
Stepping inside CJ Mercanitle is like bygone era. This unique outlet is a haven for Looney Tunes enthusiasts, with an array of merchandise that will take you back to the golden age of cartoons.
Browse through a selection of apparel for both adults and children. There are also some tempting snacks and candy which make a perfect gift.
Gifts and collectibles that will remind you of the fun-filled adventures at attractions like Cartoon Junction Carousel, Scooby-Doo: The Museum Of Mysteries, and Ani-Mayhem.
Location: Cartoon Junction
Fudd Hardware
Fudd Hardware is like stepping inside a small-town hardware store at Cartoon Junction. This unique shop is dedicated to Elmer Fudd and his lovable gang of Looney Tunes friends.
Browse through a variety of construction toys, including trucks, bricks, and tools, all inspired by Elmer Fudd's personal collection.
Location: Cartoon Junction
Daffy Snacks
Daffy Snacks is a charming candy store with a nostalgic soda shop theme. Explore a variety of hand-crafted, vibrant lollipops and treat yourself to classic Looney Tunes character sweets.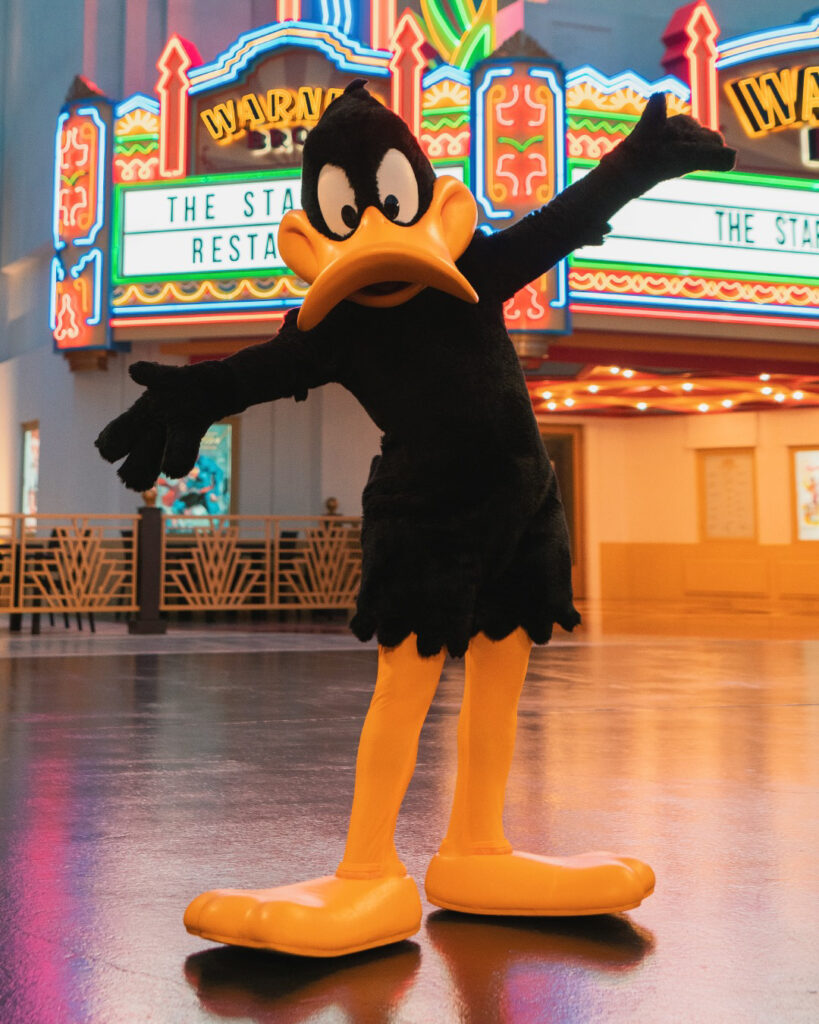 Experience the magic of our state-of-the-art ACME-worthy 3D candy printer, which allows you to create your very own personalised gummy candies. Watch as your unique design comes to life, making for a truly unforgettable sweet treat.
Location: Cartoon Junction
Celebrity Photo Studio
Feel like a true star at this fantastic photo studio! The magic of green screen technology make it so much fun posing with a variety of props to add a playful touch to pictures.
Location: Warner Bros. Plaza
Hare Salon
Explore a unique collection of personal adornments curated by Bugs Bunny himself!
Visit this whimsical barber shop and discover wacky wigs and disguises that Bugs Bunny has sported throughout his iconic shows. You'll find an array of hats and hair accessories.
Location: Cartoon Junction
ACME Company Store
Explore a selection of products that cater to the creative minds of junior inventors. From imaginative playsets to innovative gadgets, you'll find something to inspire curiosity and imagination.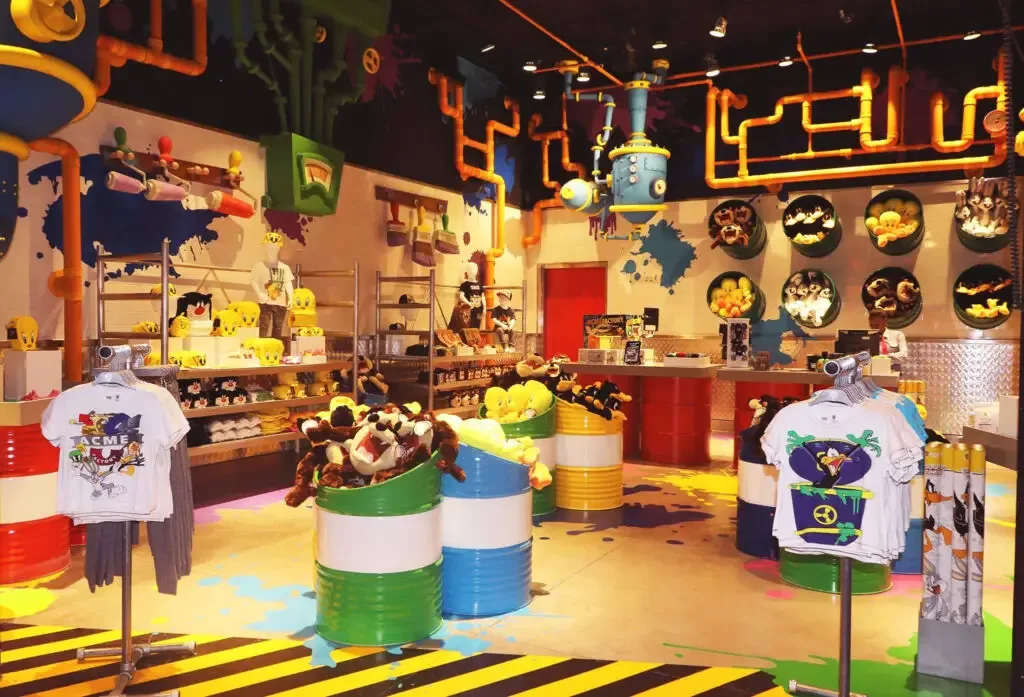 Location: Cartoon Junction
Park Row Pawn Shop
Step into this old-style pawn shop, located at the end of the thrilling Batman Knight Flight ride, to pick up a memento of a visit to Gotham City.
You'll find everything Batman-related, from Arkham Asylum and Wayne Tech prop replicas to Gotham City accessories, toys, souvenirs and more.
Location: Gotham City
Monarch Theatre Gifts
The grand lobby of Gotham City's renowned movie palace is a charming boutique offering a selection of treats and souvenirs.
Enjoy freshly popped popcorn, candy, and other mouthwatering goodies while you browse through an array of mementos inspired by the attractions of The Joker Funhouse, Scarecrow Scare Raid, and The Riddler Revolution.
Location: Gotham City
Cat's Eye Jewellery
Explore a collection of trinkets, jewellery, and stylish small leather items at this boutique. From exquisite accessories to fashionable handbags, you'll find a range of items that are super stylish.
Location: Gotham City
Harlequins Confections
There is a wide assortment of sweet treats, ranging from chocolates to sour candies, not to mention scrumptious cookies.
Don't miss the cute packaged Harlequin confections, available in collectible tins and boxes, designed by the mischievous Harley Quinn.
Location: Gotham City
Cobblepot Formal Wear
Cobblepot Formal Wear has a collection of black-and-white attire tailored exclusively for the city's most distinguished gentlemen.
Browse through the curated selection of men's fashion, personally chosen by the stylish Oswald.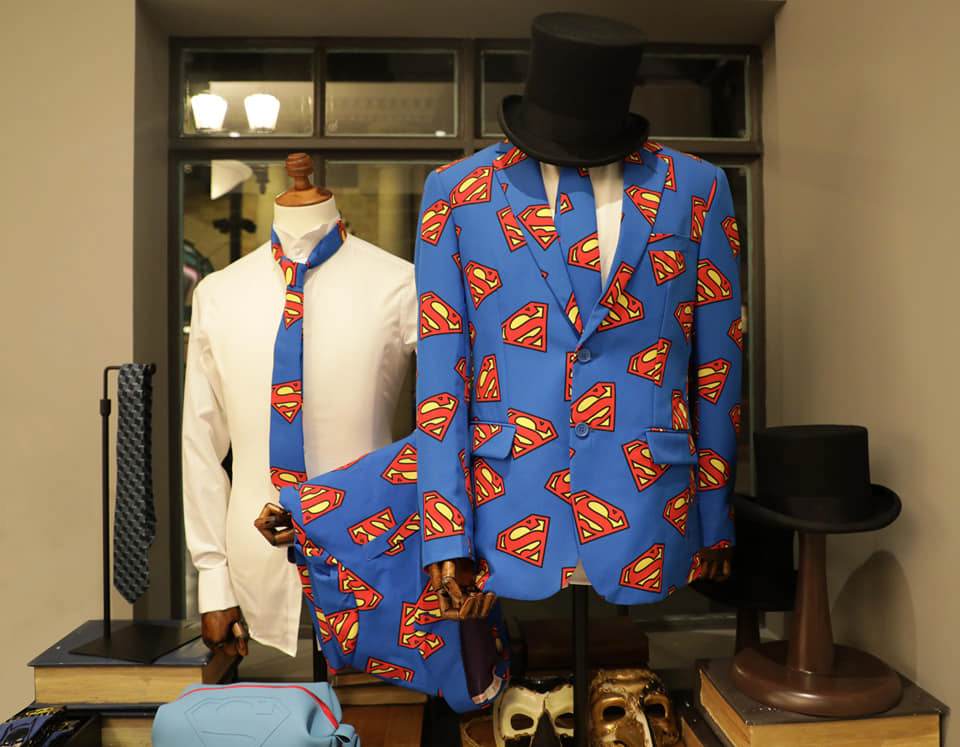 Alongside the sophisticated clothing, you'll find a range of men's accessories, including sleek bags, grooming kits, cufflinks, hats, ties, and umbrellas. This sure is one of the most unqiue stores in Warner Bros. Abu Dhabi.
Location: Gotham City
Justice League Hero Supply Co
Make a pit stop at the Hero Supply Co and unleash your inner Super Hero with an array of DC apparel, including masks and capes! Not to mention, action figures, statuettes, mugs, and tees.
Location: Metropolis
Zatanna Books & Magical Curiosities
Explore the enchanting realm of a vintage 1930s corner bookstore. There is plenty of merchandise celebrating the iconic Wonder Woman and other empowering Superhero women from the DC Comics universe.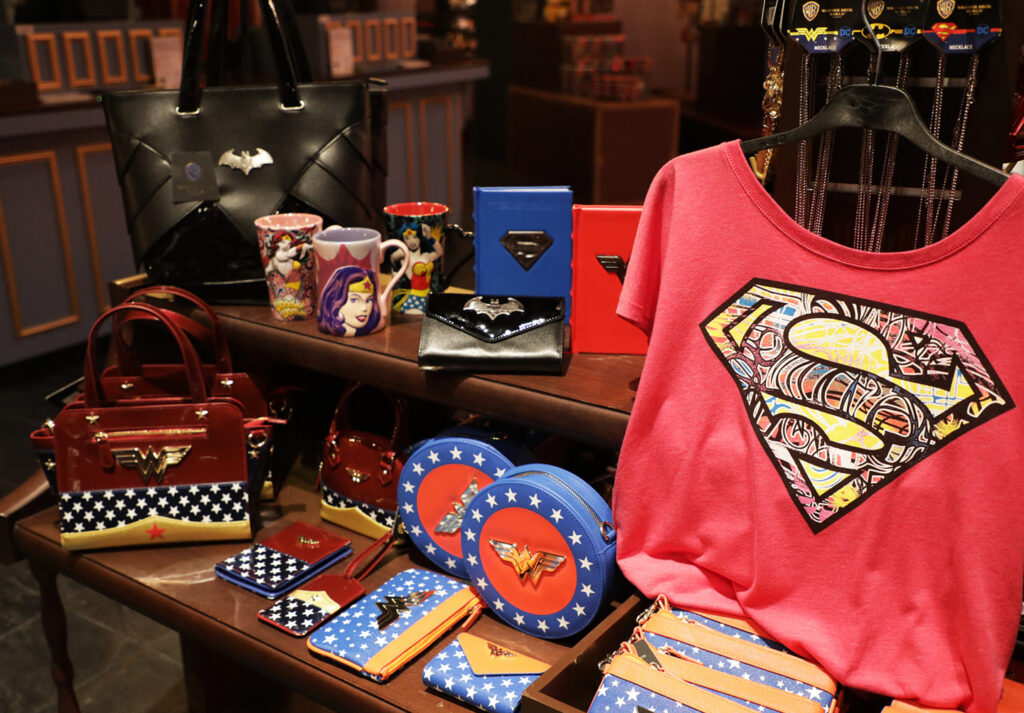 Not to mention an assortment of products dedicated to the dynamic DC Superhero Girls.
Location: Metropolis
Front Page Photos
Experience the thrill of being in the spotlight at this timeless photo studio. Step into action-packed scenes alongside DC characters and capture the moment.
Unleash your inner journalist and craft your own headlines and articles to create a personalized edition of The Daily Planet Special. This unique keepsake is a lovely souvenir from the theme park.
Location: Metropolis
Daily Planet Newsstand
Daily Planet has collectible newspapers which make for perfect keepsakes and souvenirs from Warner Bros. Abu Dhabi.
In addition to the special editions, browse through a selection of merchandise and souvenirs that celebrate the Daily Planet. From confectionery to stylish stationery, you'll discover a variety of items.
Guest Services
Guest service offer strollers and wheelchair rentals within Warner Bros Abu Dhabi. Near each attraction and ride there is a space to safely store strollers and wheelchairs whilst enjoying the park.
There are also lockers available to rent from Guest Services to store any belongings. This could be quite handy for anyone on a quick layover from the airport.
First Aid
There are two first aid clinics in the park. One is between Gotham City and Cartoon Junction whilst the other is based near the lost and found area. These clinics are run by professional paramedics
Parking
There is parking a short walk from the main building which has shaded walkways and mist fans that lead to the front door of Warner Bros. There is also accessible parking for people of determination.
People of Determination
As mentioned, there is accessible parking and wheelchairs available to rent from guest services. There is also a discounter rate available for those with a special government ID and it also allows guest to avail of a companion discount.
Certain rides and attractions require guests to independently walk and descend stairs as part of the evacuation protocols.
It is essential that all guests possess the ability to maintain their balance, support themselves against the forces experienced during the ride, and successfully transfer into the ride seat, aided by their companion.
There are designated desks at the entry for guests and the staff are more than helpful for those who cannot stand in long queues.
Warner Bros World Opening Hours
Opening hours are subject to change. Sometimes the park opens at 11 am and closes at 8 pm. Other days it opens at 12 pm and closes at 8 pm. It is always best to monitor the official calendar for timings.
It is likely that Ramadan and other special events will impact the park's timings.
What To Wear To Warner Bros World
You may be wondering what to wear to the theme park. Abu Dhabi is a conservative destination, more so than Dubai.
With that in mind, it is essential to dress modestly and comfortably. You will undoubtedly do thousands of steps at Warner Bros Abu Dhabi.
Wear comfortable footwear to walk through the various zones. It's also worth noting the AC can be pretty chilly throughout this indoor theme park. For example, you may want a light layer when sitting and eating a meal.
Trousers or knee-length shorts and a T-shirt covering shoulders with trainers are ideal for adults and children.
Keep in mind the climbing and play areas for little ones. Children will need to have a pair of grip socks to enter.
Special Events At Warner Bros World
There are quite often several special events at Warner Bros in Abu Dhabi. It goes without saying Halloween is a pretty fun time to visit the 'Spooktober' event.

Other special events include a 'Winter Spectacular' that runs through Christmas. Warner Bros put up the Christmas Trees and celebrate in a proper Warner Bros way!
Some restaurants serve festive treats whilst some characters may be decked out in festive outfits whilst singing Jingle Bells.
Not to mention the 'Superhero' event which features special shows.
There are also Chinese New Year celebrations, and a new addition to the ladies-only scene will be an entirely female staff team for a particular day. Keep an eye on the official calendar for date announcements.
Having A Birthday Or Event At Warner Bros World

Children can celebrate their birthday at Warner Bros World Abu Dhabi! For 500 AED per child (minimum 12 required, maximum 40 people), the park put on an epic party for kids.
The celebration includes access to a dedicated party space where you can enjoy a private area.
Guests of the party are given a Flash Pass which provides priority access to select rides and attractions, Each child will receive a special party bag filled with surprises to make their day even more special.
The package also includes 1kg 2D Cake in your choice of theme. Whether it's The Flintstones, Justice League/Superman, or any other theme, they can customize the cake to match the child's preferences.
You can also choose from a variety of flavours including vanilla, chocolate, red velvet, or opt for a customised 3-D cake.
When it comes to food and beverage, there are two menus to choose from. Treat the kids to Mini Pizzas, Mini Burgers (Chicken or Beef), or Mini Hotdogs served with French fries.
They also provide a selection of refreshing beverages including juice, water, and soft drinks, not to mention a serving of ice-cream.
Choose your preferred time slot for the celebration from either 12:00 pm to 2:00 pm or 4:00 pm to 6:00 pm. For every 12 children, guests will receive two complimentary adult passes.
Aside from birthdays, Warner Bros. World Abu Dhabi also host corporate events in the form of gala dinner evenings, meetings and conferences. There is also school programmes for field trips!
Frequently Asked Questions
How much time do you need at Warner Bros Abu Dhabi?
Warner Bros World Abu Dhabi is a full day out if you want to go on every ride and attraction.
If you are time-strapped, making a plan for your 'must-do' is a good idea. Browse the list of rides above with consideration of the height restriction. Make your route.
If you are visiting with children, it is pretty easy to rule out several attractions based on suitability to age.
Always head right into Bedrock first when travelling with kids. Head left with teens and adults to make the most of the age-appropriate / height-appropriate rides.
What should I not miss in Warner Bros. Abu Dhabi?
One of the best rides is The Riddler Revolution, however, this is very much a matter of opinion.
Is WB Abu Dhabi worth it?
WB World Abu Dhabi is worth visiting, especially on a hot summer's day. It offers relief from the outside weather whilst having fun.
There are plenty of rides to enjoy for all ages, and often deals are available to make the ticket more affordable. See above for more details.
What to expect at Warner Bros. Abu Dhabi?
Warner Bros Abu Dhabi is a fully immersive experience for adults and children. Adults tend to feel nostalgic about their childhood with the recognisable characters at this theme park.
Terms & Conditions of WB World
It is always important to check the terms and conditions of WB World Abu Dhabi on the official site. Here is a condensed overview of the terms and conditions of entry.
Ticketing

For General Admission Tickets, refunds or date changes can be requested before the date of your Park visit. Notify Yas Concierge at 600 511115 or contact@yasconcierge.com by 7 pm on the day of your visit. No refunds or changes will be processed after this time.
Tickets must be obtained from the official website, or an authorized third party. Tickets are non-refundable, non-transferable, and void if altered.
An adult with a valid ticket must accompany children under 12. Tickets are not valid for special events or resale.
Entry is subject to compliance with terms and conditions, park rules and regulations, and specific product terms.
Non-dated tickets do not guarantee entry. Present the original ticket or online e-ticket for entry. Tickets are personal and non-transferable.
Rules
Follow the park rules and regulations of Warner Bros World Abu Dhabi displayed at the entrance.
Prohibited items include outside food and beverage, fighting or abusive language, smoking outside designated areas, unruly behaviour, running, intoxication, queue jumping, weapons, coolers with wheels, offensive clothing, and more.
By entering Warner Bros World Abu Dhabi you consent to searches, screenings, and security checks. Follow safety signs and instructions from the staff. Keep your belongings secure, and use lockers for valuable items.
Read and follow eligibility criteria and safety rules for each ride at Warner Bros World Abu Dhabi. Some rides have restrictions, and parental discretion may be required.
Smoking, eating, and drinking are not allowed on rides. Specific experiences may require an additional cost or a signed disclaimer.
FacePass services for contactless access and payment may be available. Enrol online or offline, providing necessary consent and information. You are responsible for the accuracy of the data provided.
Rides, attractions, shows, or outlets may be temporarily unavailable. Operating hours are subject to change. Check the Park website for updates.
Parking facilities are for guest use only. Vehicles should not be left overnight and are parked at the owner's risk.
Monitoring
CCTV monitors park areas. Inappropriate material may be confiscated. WB World may film, record, or photograph public areas, and by visiting the park, you agree to potential users on social media or other media platforms.
Did you visit Warner Bros World Abu Dhabi? Leave a comment, we'd love to hear about your experience!
Disclaimer: This post about Warner Bros World Abu Dhabi contains affiliate links. Using them will not cost you any extra. We will receive a small commission to keep us writing.