With the Fifa world cup just a short distance away in the Gulf, it is going to be a super exciting time in Abu Dhabi. As we know, quite a few of the fans are going to be staying in Dubai or Abu Dhabi, taking shuttles to Qatar for the games.
Fifa World Cup Abu Dhabi is set to be full of atmosphere in the sports bars, pop-up screens and fan zones. With so much going on, we've done the leg work pulling all of the Fifa World Cup Abu Dhabi events, screens, zones and deals into one article!
The World Cup is such a great time when nations come together to enjoy the game. It only takes place every four years so its always highly anticipated by football fans whether their home country is in the tournament or not.
Whilst it is always disappointing if your country is not in the World Cup, there is a great sense of togetherness with fans taking the side of their next favourite team or simply being neutral.
Either way, there are plenty of fun times for making new friends and coming together. So with that in mind, here is our complete list of all the Fifa World Cup Abu Dhabi events!
1. Fifa Abu Dhabi Yas Island Fan Zone
Yas Island is the hub for entertainment in Abu Dhabi and the FIFA World cup is no different. The fan zone has been set up in Yas Links Golf Course by the government and is considered the flagship event for FIFA Abu Dhabi fans.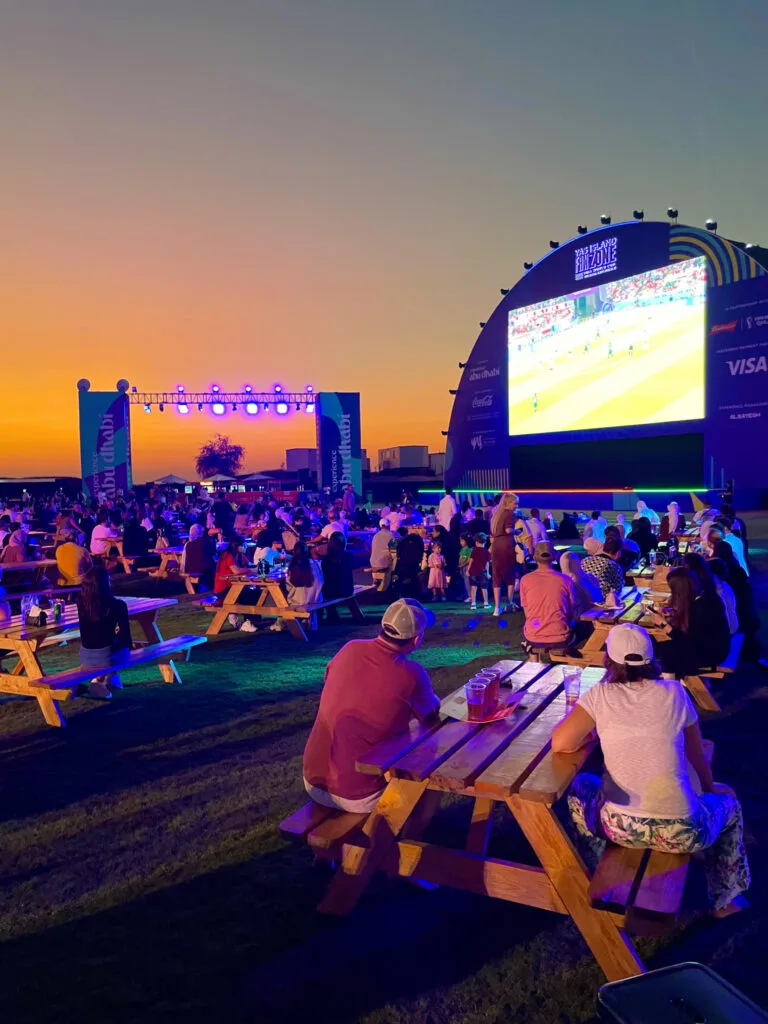 As Abu Dhabi is a melting pot of nationalities, expect the fan zone to be a multicultural affair celebrating their nation and the sport. The venue can hold up to 2000 people and tickets start from 50 AED.
The Yas Island Fan Zone is divided up into four fun-filled sections. The main viewing area, food & beverage, VIP and a section decorated in neon lights. There are various seating options throughout and retail stalls selling world cup memrophilla.
The outdoor screen in the main viewing zone is one of the largest throughout the Emirates. The entertainment is child friendly, making it a perfect opportunity for a family outing.
There is entertainment before and after the games. Not to mention daily & weekly FIFA 2023 Play Station 5 tournaments for punters and avid gamers. The VIP lounge offers a more intimate experience with a private screen and shisha lounge.
2. Abu Dhabi Golf Club
Abu Dhabi Golf Club are renowned for hosting sporting events and the Falcon Terrace is geared up to be an epic venue for screening the Fifa World Cup Abu Dhabi.
Throughout the tournament, watch the fixture list daily whilst soaking up the electric atmosphere. At half time, Fifa fans can enjoy DJ entertainment at the Golf Club. The games are shown on giant LED screens.
With the backdrop of the pristine golf course, it is a great place to watch the game. Particularly in the evening time as the sun sets over the Arabian Gulf. Fifa Abu Dhabi fans are encouraged to join in on the atmosphere and wear their jersey.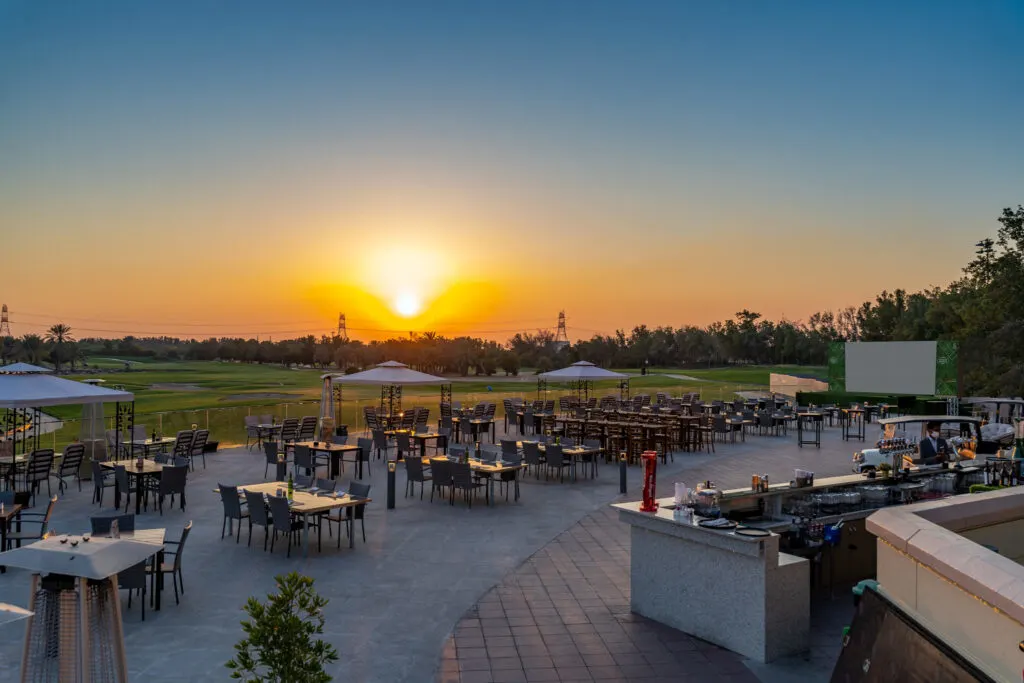 Check out the special edition of the Fifa menu and pair it with a selection of international hops or beverages. Featuring live cooking, chicken wings, hot dogs and a nachos station there are lots of great dishes to enjoyl
Not to mention a selection of nibbles such as Spanish prawns, mini chicken quesadillas and beef sliders. Pair unlimited hops or cider packages accompanied with overflowing nibbles.
For reservations and more information, please call +971 56 536 2230
3. Emirates Palace
The most luxurious FIFA World cup Abu Dhabi fan zone in the capital is based in Emirates Palace. The outdoor fan zone at Oriental Cafe comes equipped with a mega-sized LED screen for FIFA Abu Dhabi fans to watch the games.
The Emirates fan zone minimum spend is 150 AED and there are VIP seating areas available. Larger groups can opt for a set menu.
Fans can dine from four self-serve gastronomic food stations and grab a beverage from one of the two bars.
This is a child-friendly FIFA World cup Abu Dhabi fan zone with entertainers on hand to paint the little ones' faces in the play area.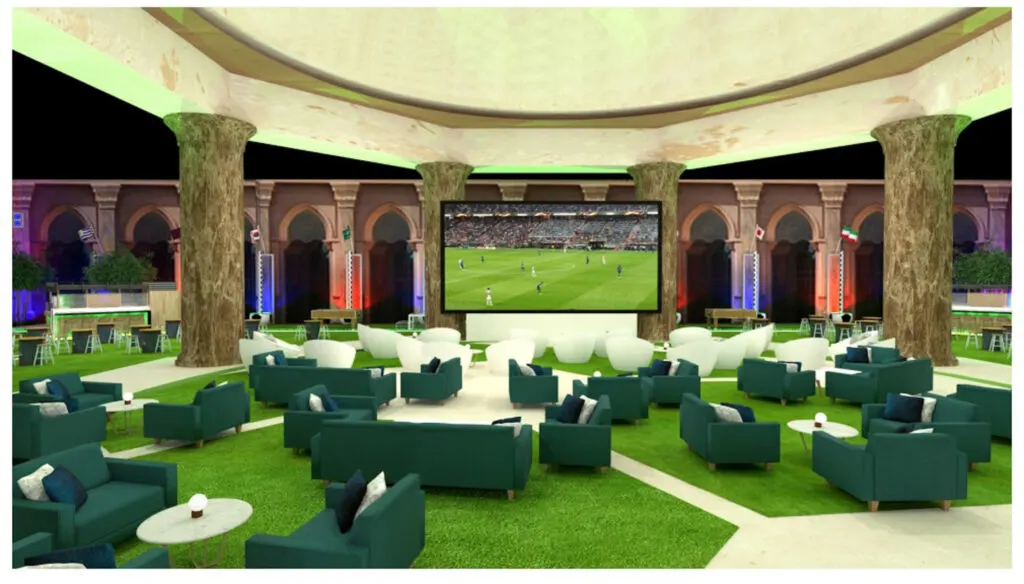 If you want to go all out and fully immerse yourself in one of the most luxurious hotels in the city, the "Stay like a champion" package is the perfect option.
The hotel faces out onto the Arabian Gulf and his package includes a room with a sea view.
FIFA Abu Dhabi fans start the day off at Vendõme with breakfast for two followed by access to the FIFA World Cup Abu Dhabi fan zone with 200AED credit to spend on food or drink of their choice.
This package offers a 60-minute spa treatment for two people at the Hideaway by Emirates Palace Spa. Not to mention access to nearby Qasr Al Watan.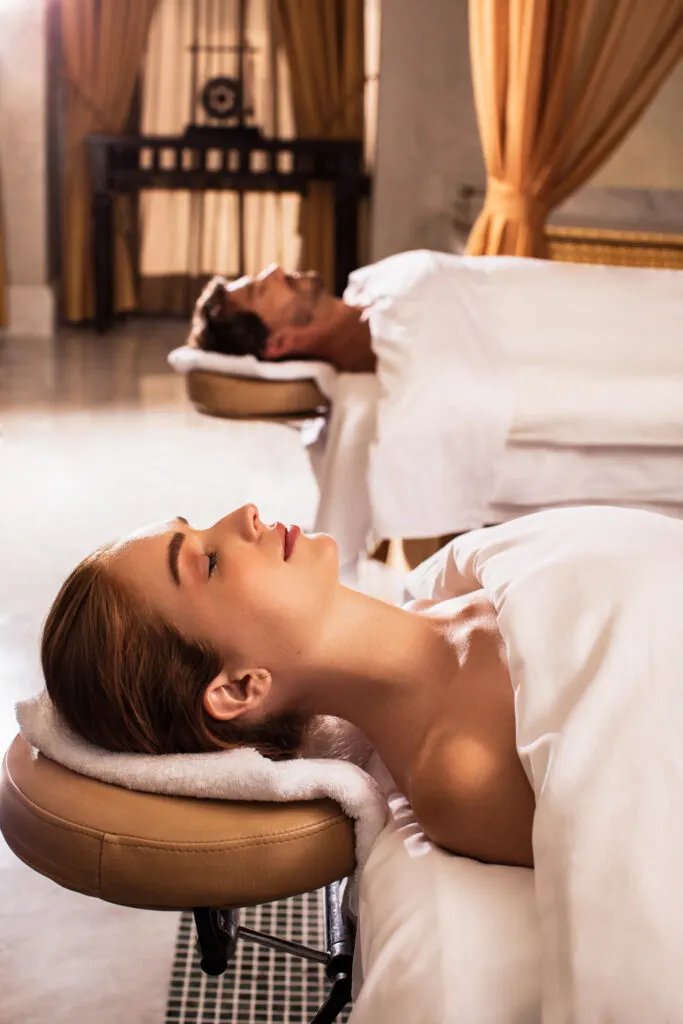 4. Galleria Mall Screen
Watch FIFA World Cup games on the Big Screen and the Waterfront Promenade at The Galleria Al Maryah Island.
The most prestigious football tournament is considered a blockbuster at the Galleria over the coming weeks and the mall is offering a unique experience for Fifa Abu Dhabi fans.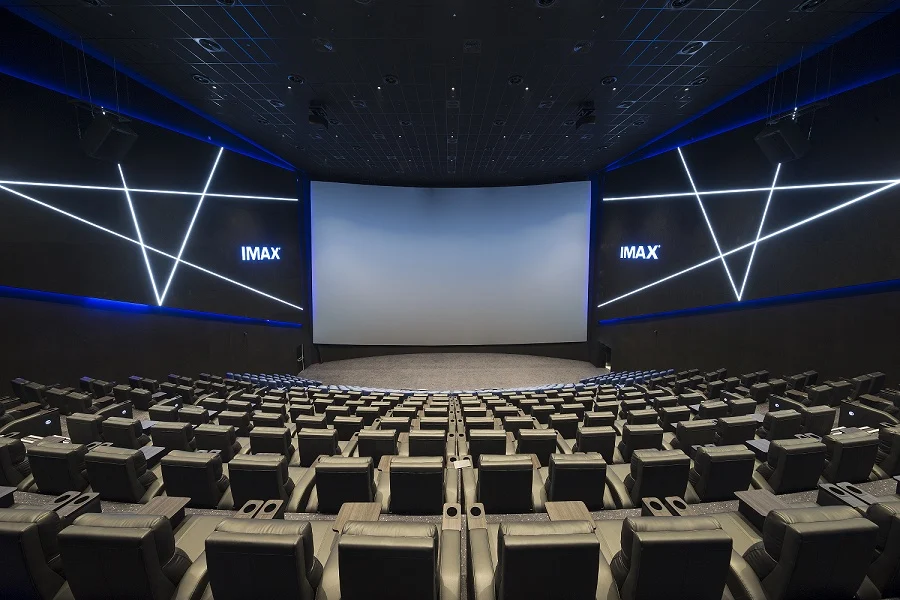 There are two venues to enjoy in the world cup frenzy. First up, the IMAX screen at VOX cinemas. Hollywood stars are sidelined and the limelight is on the World Cup in Doha, Qatar.
Relax in comfy chairs and order classic cinema treats. This is guaranteed to be an unforgettable experience for Fifa Abu Dhabi Fans.
5. Loca
Next up, for Fifa World Cup Abu Dhabi at Galleria Mall is the popular Mexican restaurant Loca, situated on the waterfront promenade.
The restaurant faces West making it the perfect spot to watch the Fifa World Cup Abu Dhabi as the sun sets on the Arabian waters.
Fifa Abu Dhabi fans can book a table in front of the giant screens on the terrace or book a booth indoors to watch the players battle it out.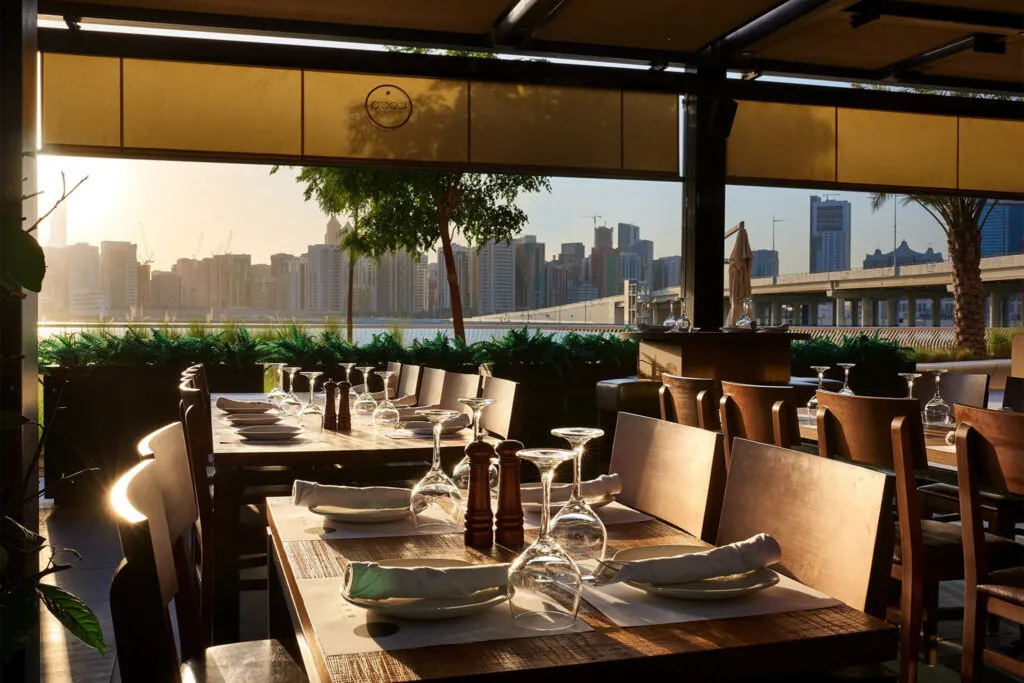 With a minimum spend of 150AED, Loca offers a special football menu allowing fans to feast on Mexican classes such as fajitas, tacos, special burgers and appetisers.
6. The Irish Vickers
The Irish Vickers is well equipped to host the ultimate Fifa World Cup Abu Dhabi event. There are thirty-five big screens throughout the venue.
Fifa Abu Dhabi fans can congregate in The Irish Vickers fan zone for world cup entertainment. There will be an opportunity to win free drinks in a "Keepie uppies" competition.
Punters can guess the score of the match to be in with a chance to win a beverage. Make sure to check out the Fifa World Cup Abu Dhabi Hop tower deal or a Hop bucket deal.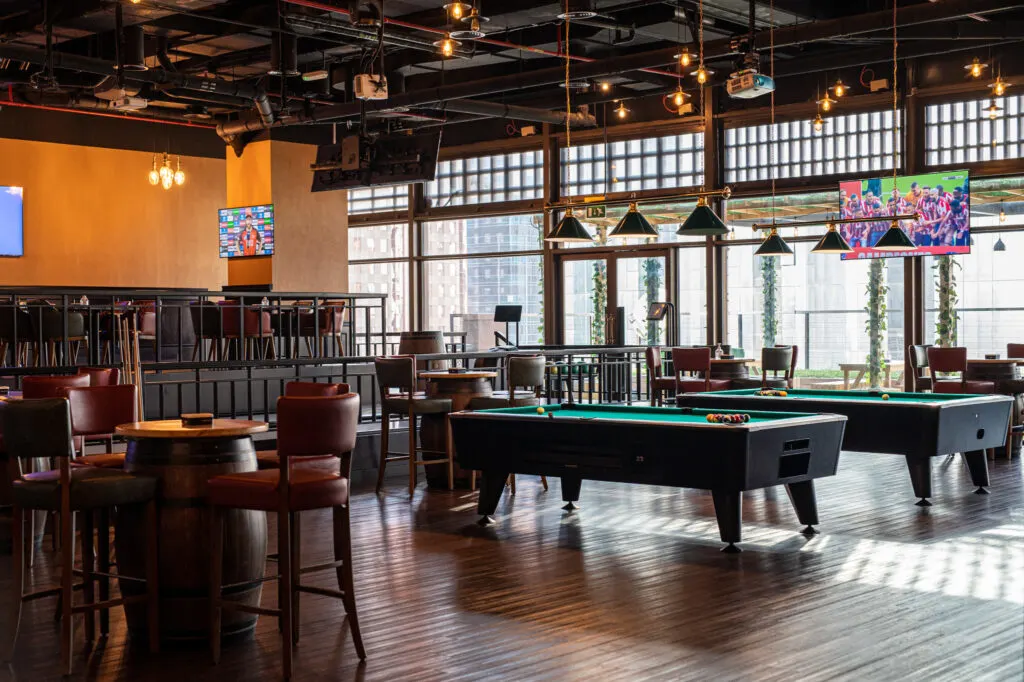 The Irish Vickers is set to kick off the Fifa world cup Abu Dhabi by showing the group stage games daily at 2 pm, 5 pm, 8 pm & 11 pm from Sunday, 20th to Monday, 28th November.
The final group stage game decides the qualifiers for the knockout stage game which will be shown at 7 pm & 11 pm.
Fifa Abu Dhabi fans can head to The Irish Vickers to watch the knockout stages live until the grand finale.
Large groups can opt for a more VIP experience and book a private room with a large screen. "The Snug" has a capacity of twenty people. Drinks are served efficiently as the room comes with its own private bartender.
7. Victors
Victors is another popular Irish Bar & Restaurant in the capital. The venue boasts 21 screens meaning there won't be a bad seat in the venue.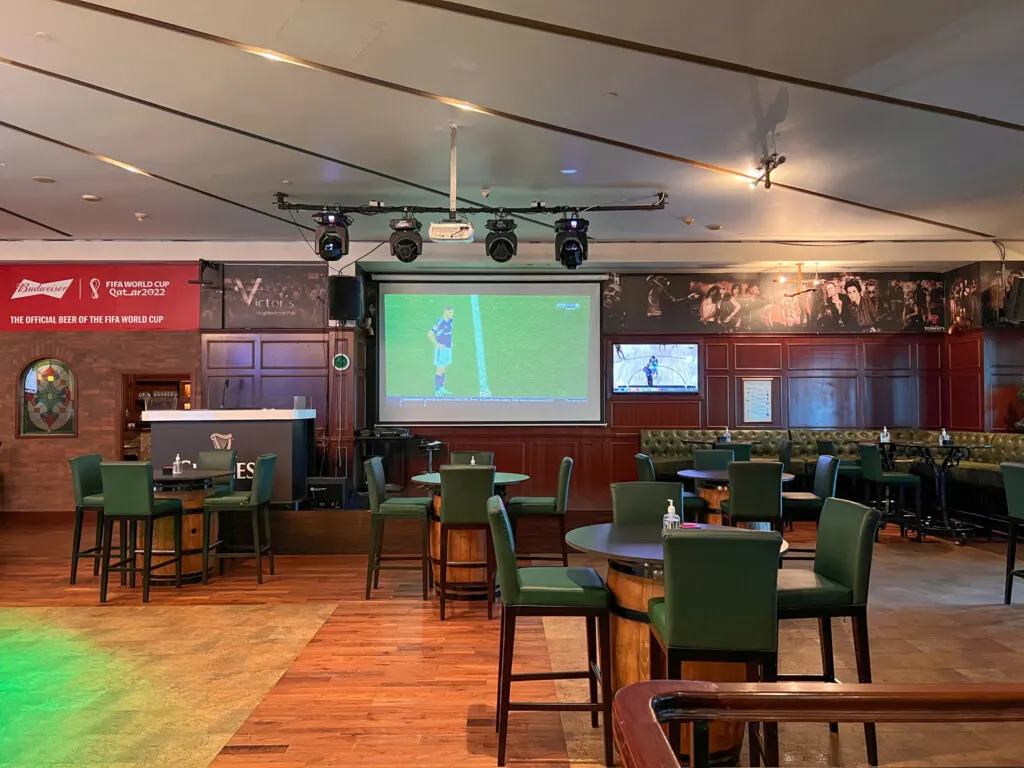 There are promotions such as hop tower deal or a hop bucket deal. By guessing the correct score in their competition, punters can win a beverage!
Victors will kick the Fifa world cup Abu Dhabi off by showing the group stage games daily at 2 pm, 5 pm, 8 pm & 11 pm from Sunday, 20th to Monday, 28th November. Qualifier games will be shown at 7 pm & 11 pm.
Fifa Abu Dhabi fans can head to Vickers to watch all of the knockout stages live until the final. Similar to Vickers, there will be a Snug available with a private bartender.
8. Radisson Blu Abu Dhabi West Bay
The Radisson Blu Abu Dhabi beach club is situated on the Corniche. It offers a party vibe to FIFA Abu Dhabi fans with numerous pools and a giant outdoor LED screen. The screen is visible from in the pool so you won't miss any of the game!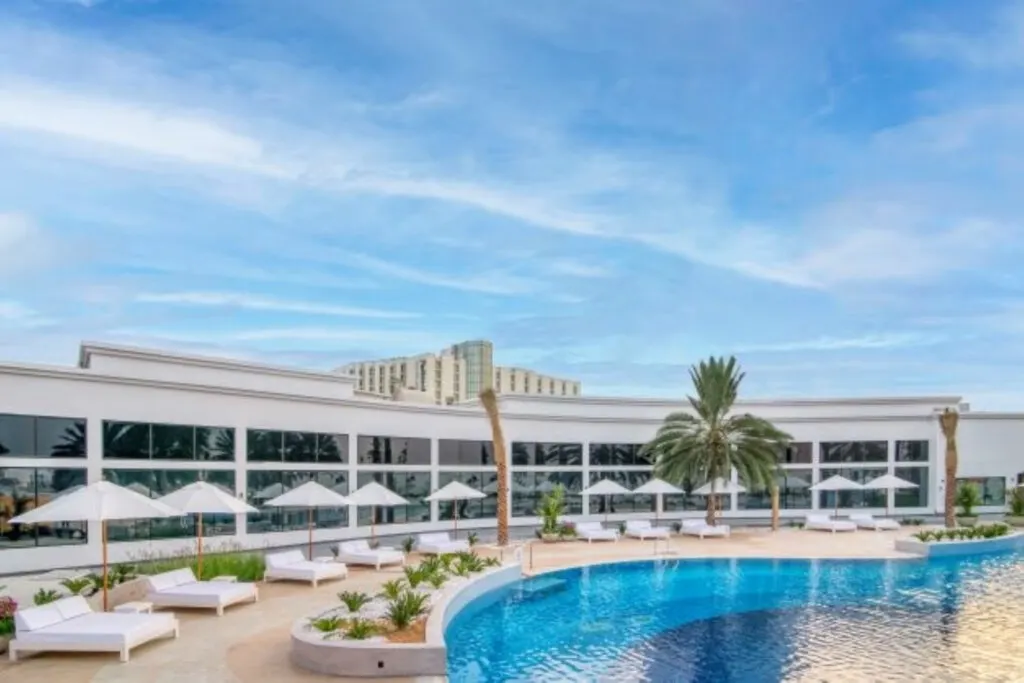 Option 1: AED 100 admission with 2 free drinks
Option 2: AED 299 admission with 2 hours on the bottomless house beverages
Intra Game offers
Special cocktails from 50 AED
House Grape bottle from 150 AED
Hops Bucket from 150AED
Food Stations start from 50AED
Avail of VIP seating for optimal views, a minimum spend of 1000AED is required with a maximum of 6 people per table.
Contact: 054 586 4442.
9. Le Meridien
Le Meridien Village are creating their own fan zone offfering an authentic football experience with one of the largest LED screens in the Emirate.
FIFA Abu Dhabi fans are spoilt for choice with a classic tavern, pizza and Greek restaurant for diners.
The One Duo band will keep the vibe alive before and after games with live entertainment. Check out their FIFA World Cup Abu Dhabi menu for classic football food and beverages.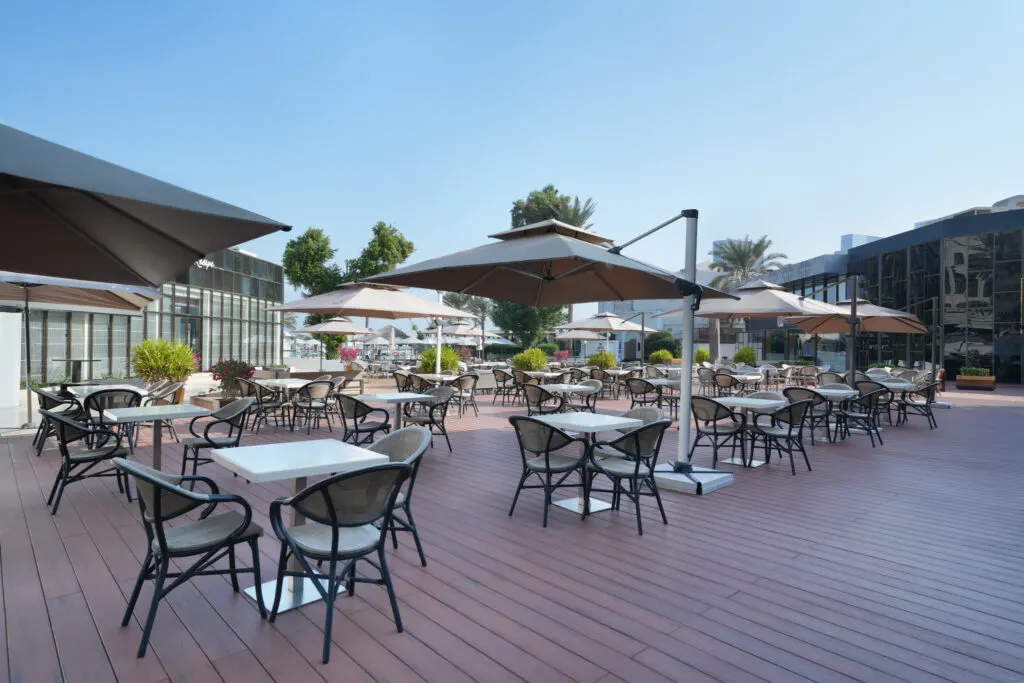 A minimum spend of 800 AED is required for a bench seat arrangement. This is subject to review after group stage games.
Contact: 056 688 5361.
10. B Lounge, The Sheraton
Another prime location for FIFA Abu Dhabi fans is the B-Lounge at Sheraton Abu Dhabi Hotel & Resort. The amphitheatre makes it feel just like the stadium! Fans can opt for beachside cabanas or lounges to watch the games.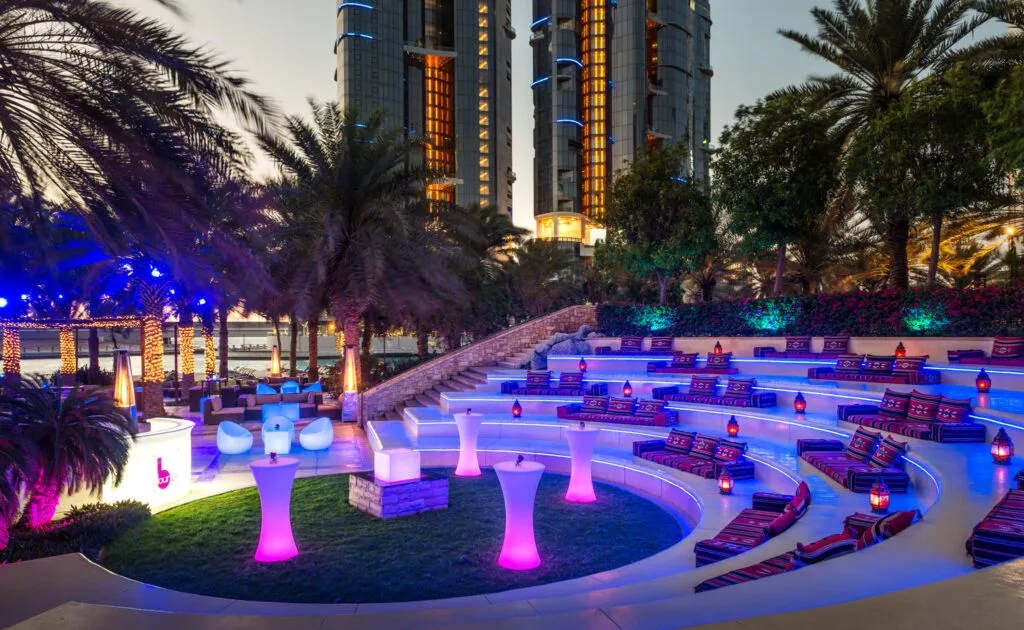 For a more traditional pub setting, head to the Sheratons Tavern for indoor seating. There is a delicious menu specifically for FIFA Abu Dhabi World Cup fans.
Package: AED 199 unlimited house beverages for 2hrs
Bucket of 5 hops for AED 175
The Minimum spent of AED 100 per person
B-Lounge football A La Carte menu from AED 30 -85
The Tavern will serve its regular menu.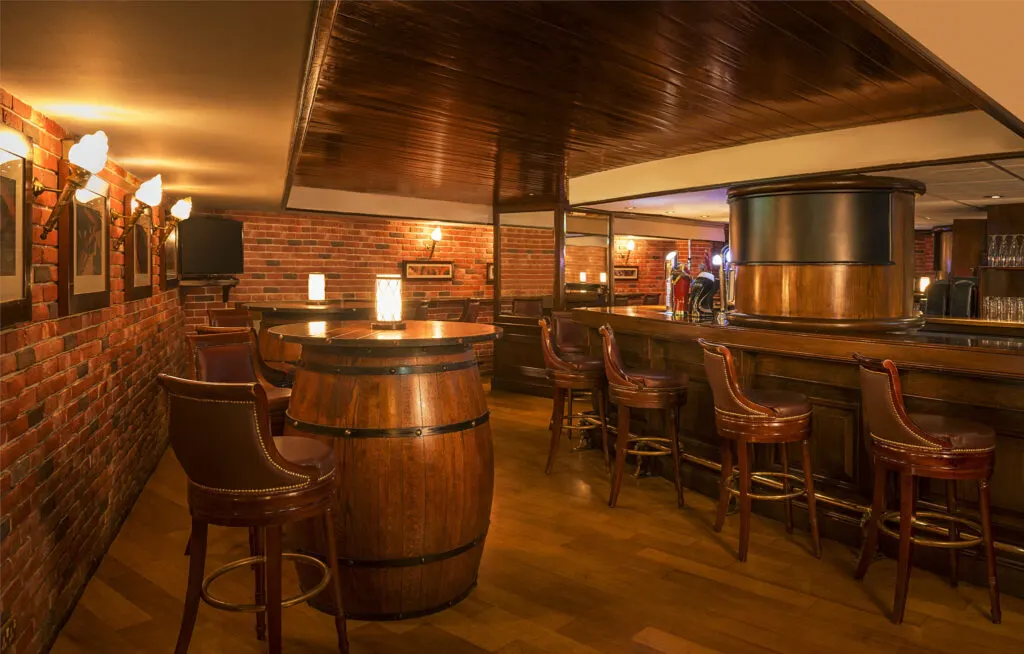 For more information: 02 677 3333.
11. Radisson Blu, Al Ain
Watch the FIFA World Cup Abu Dhabi in the lush greenery of Al Ain. Makani at the Radisson Blu Hotel & Resort Al Ain has installed a huge LED outdoor screen.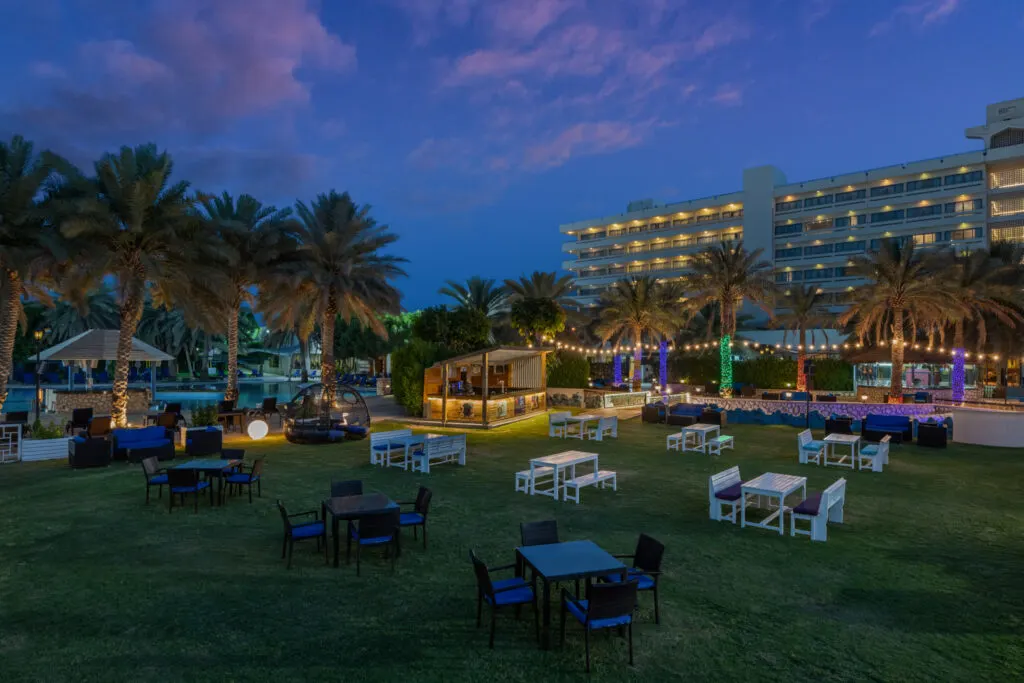 Intra game offers:
Hop Bucket (5 bottles) for AED 120
10% discount on the total bill when wearing the playing team's jersey
Ala carte menu with choices starting from AED 10 – AED 35
More information at 056 685 3832.
12. W Hotel Abu Dhabi
The F1 and Fifa World Cup kick-off simultaneously on the same weekend. However, W Hotel will be showing the football despite it being in the heart of the F1. Perfect for fans who feel torn betweeen both sports.
Amici offers an upmarket outdoor experience for FIFA Abu Dhabi fans. The menu has the perfect array of delicious food during the FIFA world cup. Fans can enjoy pizzas, wings, sliders and various other bar bites.
The W hotel will have DJ performances, foosball tables and competitions to win a day pass to WET DECK or a Brunch for 2 at B.I.G in Garage. Punters may be lucky enough to win a free round of drinks.
When:
November 21st to December 18th
6PM – 1AM
Where:
Amici Terrace
Deal:
Individual Entry – minimum spend AED200
Beverage Package – 3 hours of house beverage flow AED250
Food Package – 3 hours of canapés flow AED175
For group bookings and reservations, call +971 2 656 0000
13. The Sportsmans Arms
The Sportsmans Arms is situated in Zayed sports city beside the tennis stadium. The bar has 7 large LED screens ! The outside patio terrace has a large creen for the FIFA Abu Dhabi fans to watch the games.
The pub serves all the classic dishes and has happy hour bucket deals for 115AED between 12 pm-8 pm.
For information or reservations Call 024471066. Whatsapp-0543495352.
14. Cafe Del Mar
Café del Mar has installed a mega screen! Watch the football in a beach club setting. There will be half-time entertainment with DJs and dancers.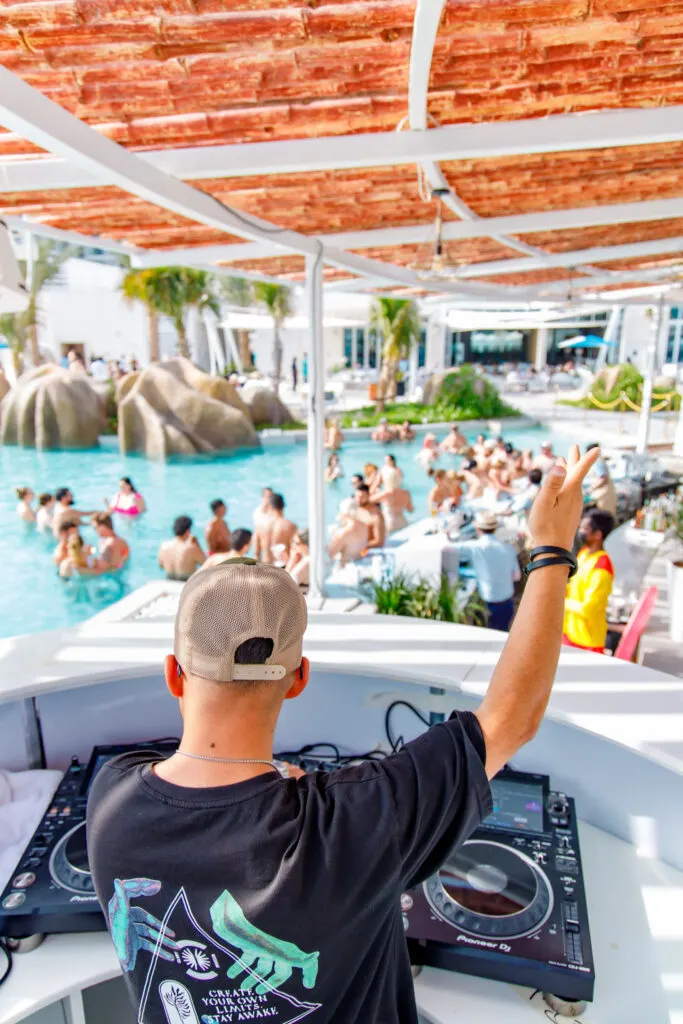 Details: TBC
15.Mc Gettigans
Mcgettigans is based in the Dusit Thani Hotel. They will be showing the games in this Irish-American bar. Guess the score of the game to win a beverage!
Details: TBC
16. Murphys Al Ghazal Golf Club
FIFA World cup Abu Dhabi fans can watch the game on the outdoor big screen at Murphy's Bar. Get Two free drinks by wearing the football shirt of a team playing on the day.
Get two further free drinks and 40% off the total bill if you are wearing the winning team's jersey.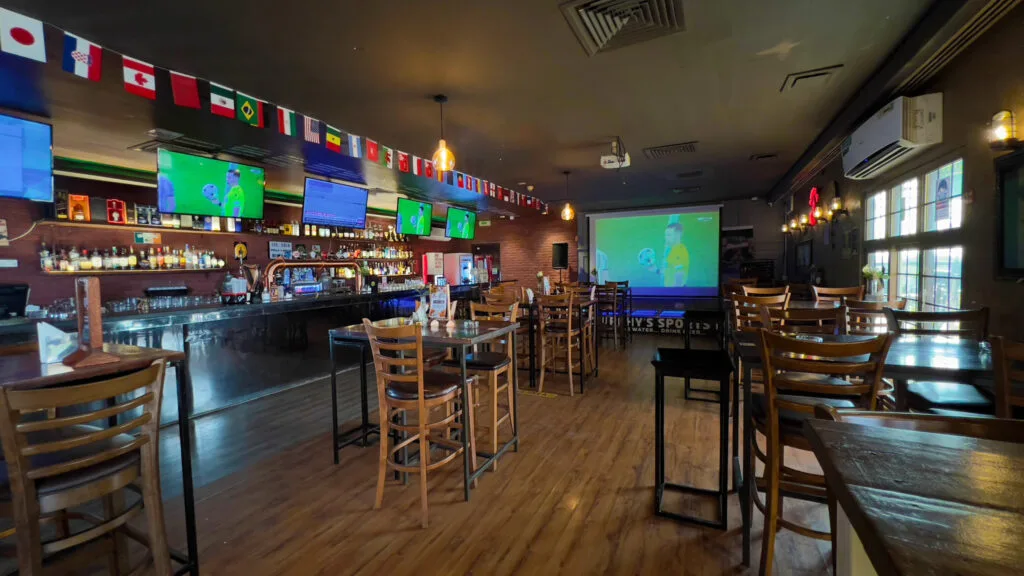 Matchday offers
Hop Tower combo +30 chicken wings – 199 DHS
* 2 Bottles of Hops and HotDog – 59 DHS
* Draft Hop – 25DHS
Weekdays 10:00 am to 2am
Weekends 10:00am to 3AM
For more info or reservations, call 971 025055023
17. PJ O Reilly;s
Situated in the Le Royal Meridien Abu Dhabi, PJ O Reilly's has a poolside seating area with one of the biggest outdoor screens for FIFA Abu Dhabi fans. The quaint Irish bar has doors opening onto the pool.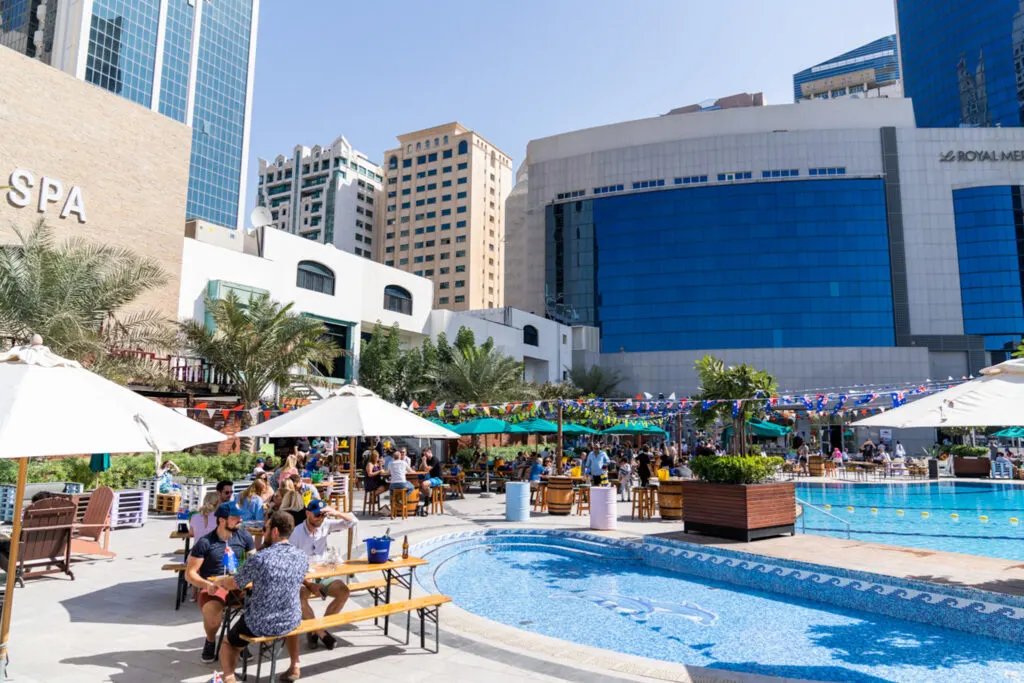 They have daily food and beverage combo deals. Join in on the fun and participate in games such as the dribble challenge, corn holding and foosball.
There will be daily raffles. Live entertainment will be on before and after the matches.
Opening hours/timings: Daily 12 noon – 2:00am
Price: From AED 100
Telephone: 800 101 101
18. Hamiltons
Based in Saadiyat Beach Rotana, Hamiltons Gastropub has purposely extended the outdoor terrace to host the FIFA World cup Abu Dhabi fans.
Watch the games on the newly installed outdoor big screen. There are also screens indoors for warmer days.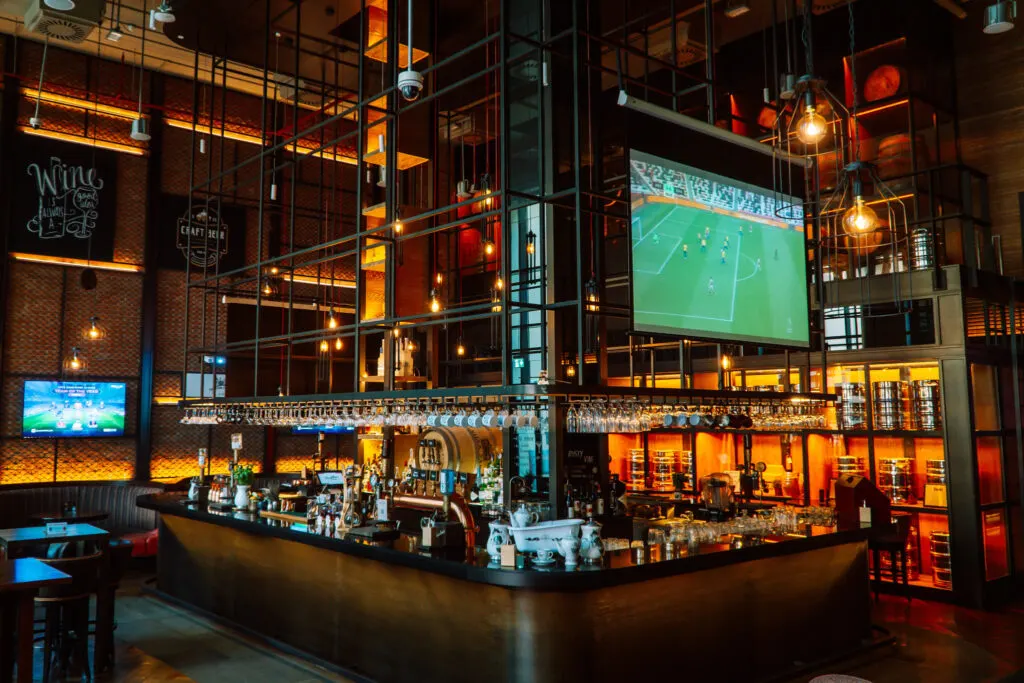 The Gastro pub has created a promotional menu with bites including sliders, hot dogs, nachos and various other options. They have platters for group-sharing options. Keep an eye out for the raffle draw for every game.
19. Appaloosa Bar
Appaloosa bar offers a quality World Cup experience with 30 indoor screens and a large outdoor screen. Groups can avail of sharing platters, bottomless hops and football A La Carte menu.
Win a prize if you guess the right score of the game!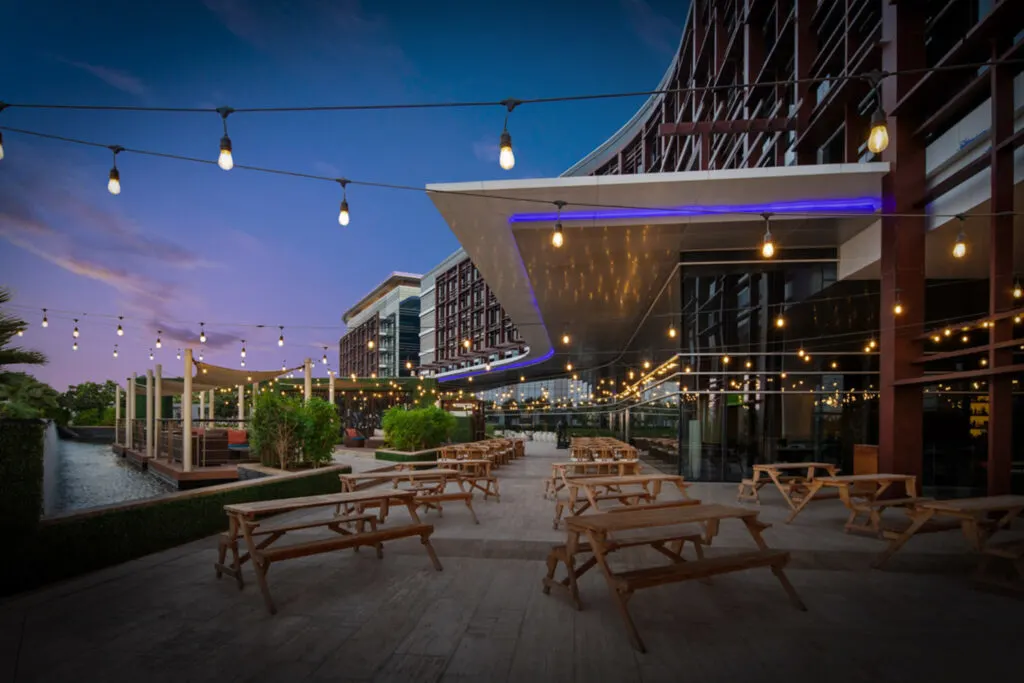 Don't forget to ask for an Appaloosa rewards card, the more stamps accrued from spending on food and beverages will get fans a discount.
Use the Appaloosa scorecard to track your spending, more stamps equals more discounts.
Appaloosa Sports Bar, Marriott Hotel Al Forsan Abu Dhabi
21st of November to 18th of December,
AED 99 for the sharing large match platter; Bottomless hops for 145 AED; hop beverage for 25AED, Call 02 201 4131
20. Pearl Rotana
C.mondo Sports Bar is broadcasting the FIFA World cup on large screens. they are giving away some of the best prizes to Fifa Abu Dhabi fans.
• 1st Prize: Two lucky Fifa Abu Dhabi fans will go to Qatar to watch a World cup Quarterfinal with 2 flights and transfers to the stadium. (Raffled at a partner fan zone)
• 2nd Prize: If you like gaming, you are in for a treat, as the second prize is a Playstation 5 gaming console.
• Look out for their scratchcards on purchasing a bucket of hops for a chance to win World Cup merchandise and jerseys.
• Guess the correct score to be in with a chance to win a free drink.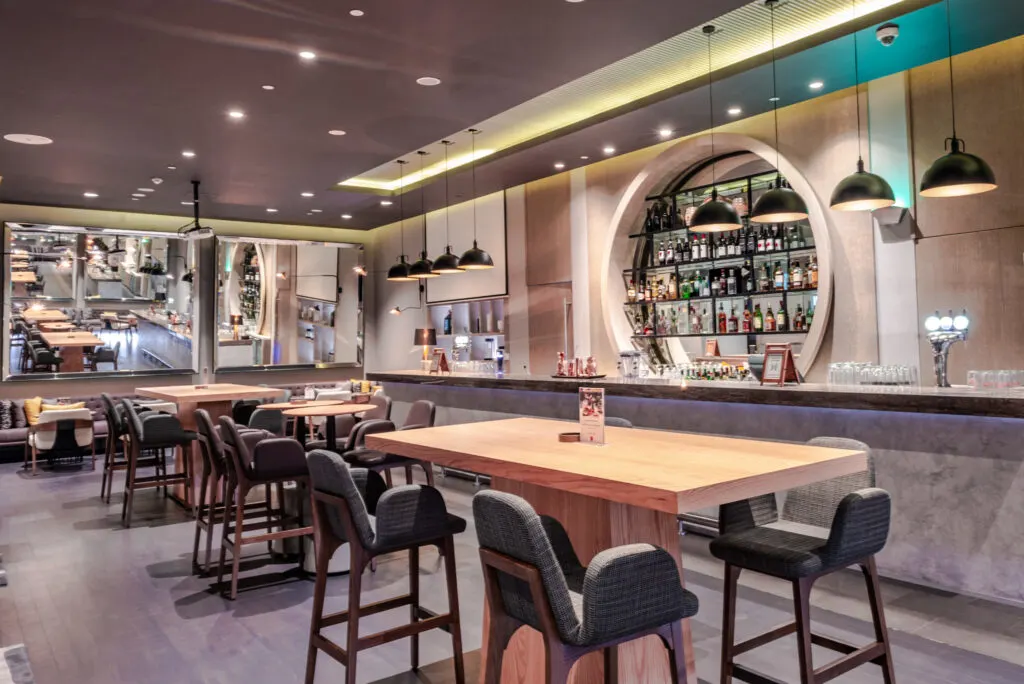 Happy Hours – ALL DAY
All house-selected beverages 25 AED
House beverages hop draughts & bottles, white & red grape
BUCKET DEALS
ANY 1 SNACK BUCKET + 2 Pints for 90 AED
5 bottled hops 95-110 AED depending on the brands on offer
Contact: fb.centrocapital@rotana.com or call 02409 6514
21. OLA BRASIL RESTAURANT Al Ghazal Golf Club
Ola Brasil is a premium restaurant situated in the unique golf club with sand courses. It is well known for its unlimited tender Churrasco BBQ and unlimited drink packages.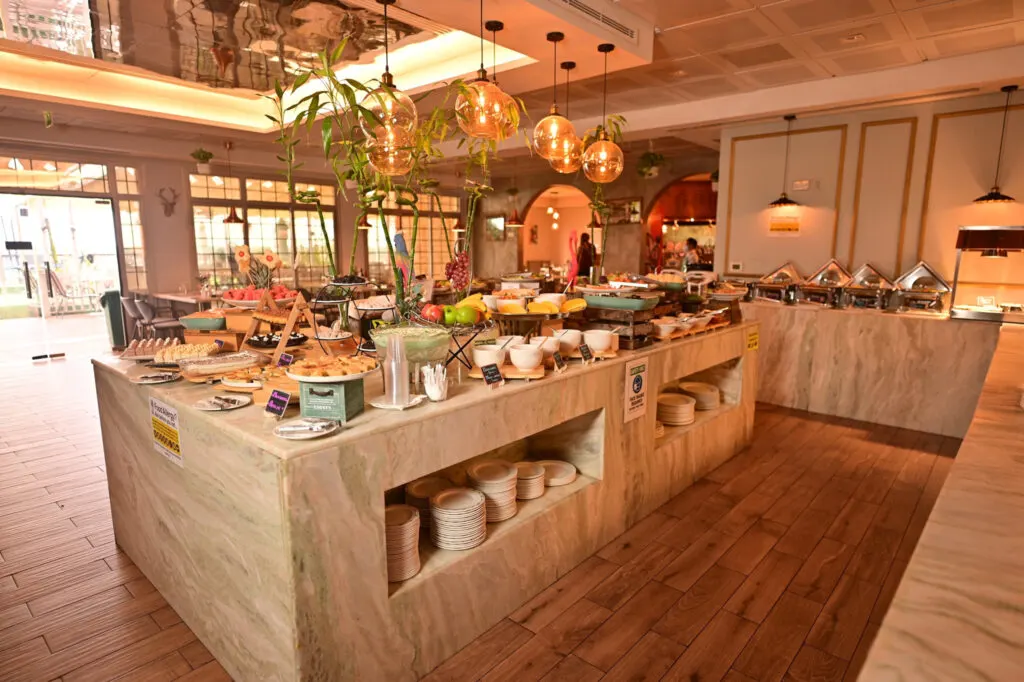 During the FIFA World cup, Abu Dhabi customers can receive a free pint if they wear the jersey of a team playing on the day. If fans are wearing the shirt of a winning team, they can get 20% off their bill!

22. MADANG KOREAN RESTAURANT AL GHAZAL GOLF CLUB
A quintessential Korean restaurant well-known across the City for its delicious food is hosting FIFA Abu Dhabi fans this World Cup.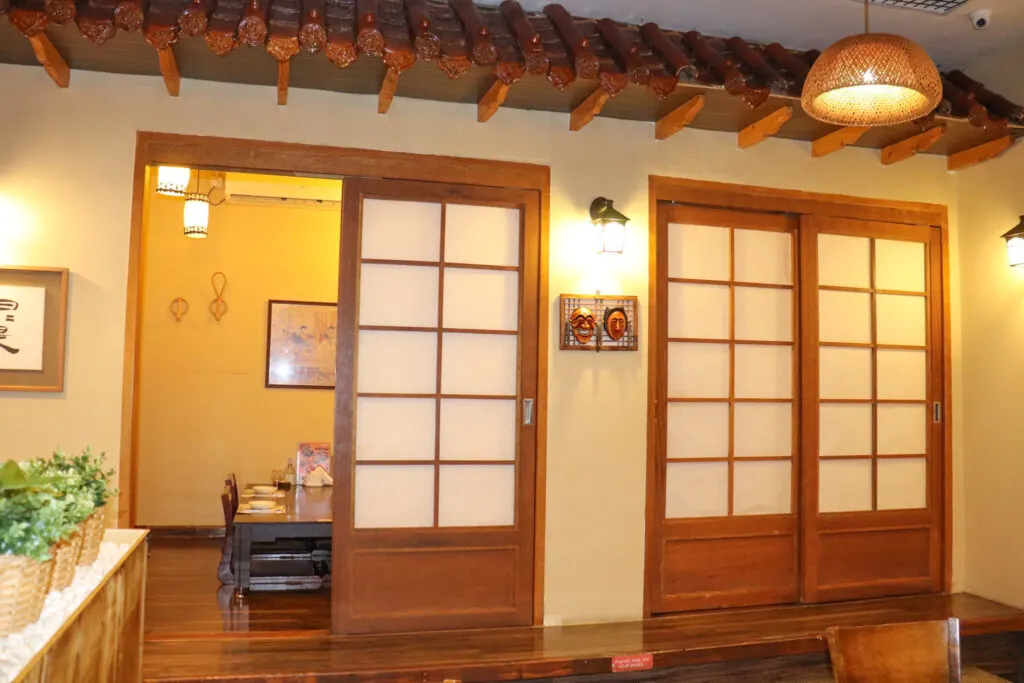 During the FIFA World cup, Abu Dhabi customers can receive a free drink if they wear the jersey of a team playing on the day. If fans are wearing the shirt of a winning team, they can get 20% off their bill.
23. Ramsa
A quirky bar in Erth military base brings the Fifa World cup Abu Dhabi to its big screen. They have a premium menu and an epic terrace for FIFA Abu Dhabi fans.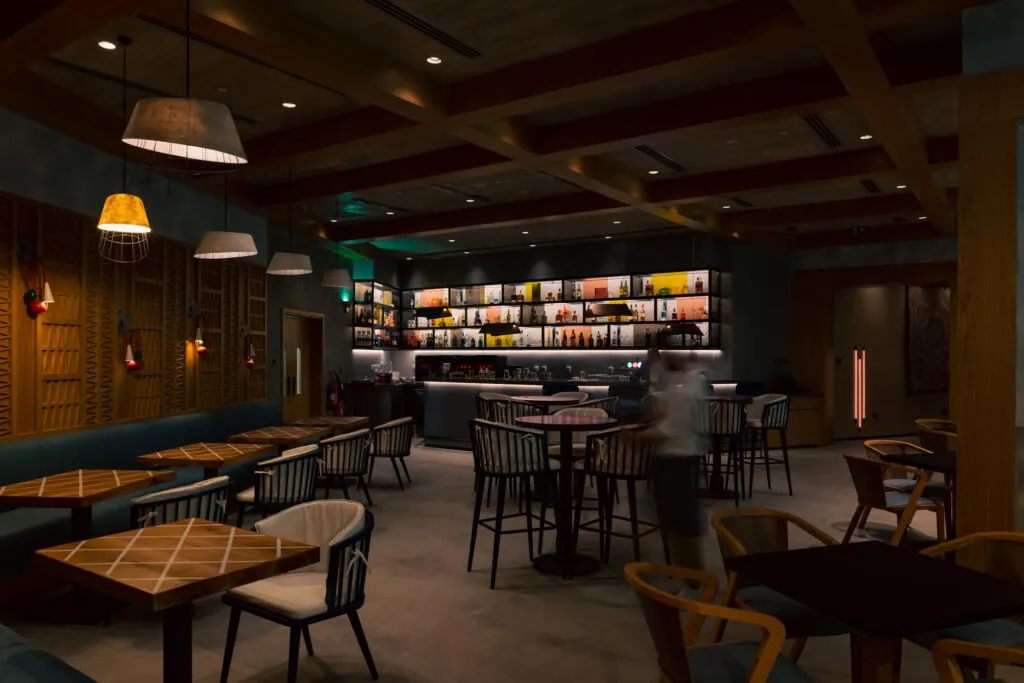 Bucket deals from AED 99 ( 4 bottles)
Draft hops from AED 33

20% discount on the bar bites menu

Weekdays from 4.00 PM to 12.00 AM and Weekends from 4.00 PM to 8.00 PM
For all booking and inquiries, please contact us on :
Phone: +971 52 821 6000
24. Blu Sky Lounge And Grill
With a prime location alongside the corniche, guests can enjoy watching the World Cup on 14 giant screens throughout Blu Sky Lounge and Grill's venue.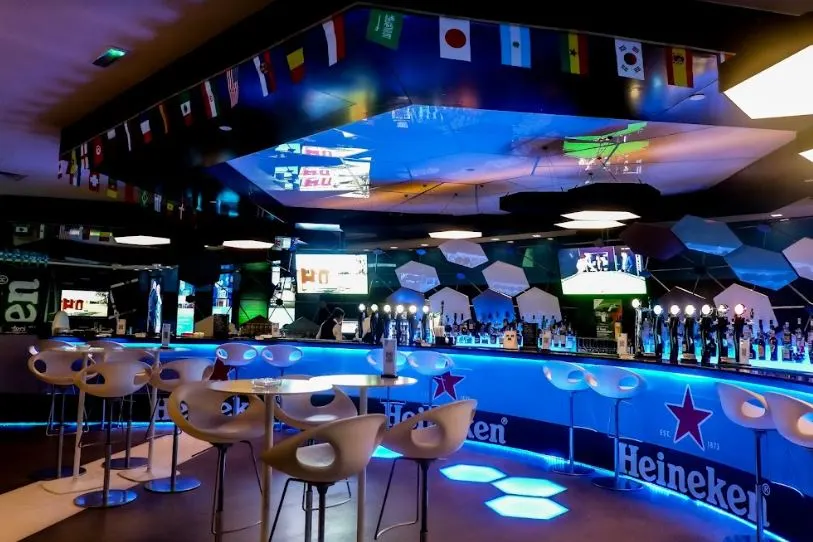 The vibe is unmatched, especially with drink prices starting at AED 25 combined with ongoing promotions and flash sales during half-time.
In addition to that, patrons can play the "Guess the score" game for a chance to win prizes.
For reservations and more information, please reach out to us on:
Phone: +971 818 4888
25. Balcon Terrace
Catch the excitement of the FIFA World Cup at Balcon Terrace.
This lounge features an exciting food, drink, shisha menu and promotions that guests can take advantage of during the game season.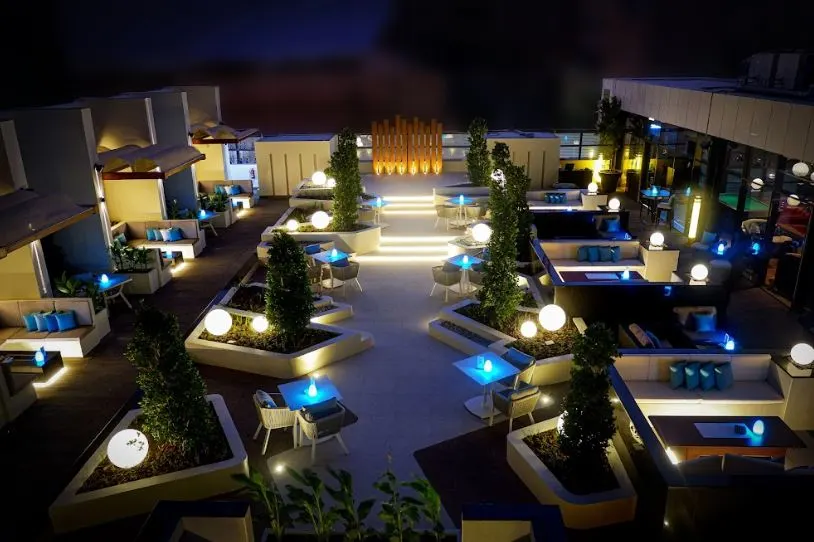 Show support for your favourite team while enjoying the cooler weather outdoors under the stars and with tasty offerings from the A la carte menu.
These are offers you don't want to miss.
For bookings and inquiries, please connect with us,
Contact: +971 818 4888 or email abudhabi.dine@southernsun.com
Frequently Asked Questions About The Fifa World Cup
Where to watch the football in Abu Dhabi
There are many fan zones and big screens to watch the Fifa World Cup Abu Dhabi. We recommend Abu Dhabi Golf Club, Emirates Palace, VOX cinemas Galleria Mall, Loca, Vickers, Victors and The W Hotel.
Is the world cup in Abu Dhabi?
No, the world cup is not in Abu Dhabi. It is in a neighbouring country Qatar. However many fans will overspill into Abu Dhabi, taking shuttles to the games throughout the tournament.
How much does it cost to go to the Qatar 2022 world cup?
Tickets to a game cost anywhere between $10 to $1600. This all depends on the category of the ticket. For example, the location of the seats and the game being played. Qualifiers are always more expensive.
Is UAE in FIFA world cup?
Unfortunately, the UAE did not qualify for the Fifa World Cup in Qatar 2022.
Is the 2022 world cup in Dubai?
No, the world cup is in Qatar, a Neighbouring country to UAE. However many fans are overspilling into Dubai and taking shuttles to the games throughout the tournament.
Is the FIFA club world cup every year?
The Fifa world cup is every four years, much like the Olympics.
Which country won the last fifa cup?
France won the last Fifa world cup in 2018.
How do I buy FIFA world cup 2022 tickets?
Fans can buy tickets directly from the FIFA website in their last-minute sales phase. This is based on a first-come, first-served basis.
The sales will run throughout the tournament until December 18th, and fans can snap tickets up if they are still available. Once tickets are purchased, confirmation should be received instantly.
For those already in Qatar, visit the FIFA Main Ticketing Centre (MTC) located at the Doha Exhibition and Convention Center (DECC).
From the 30th of October 2022 onwards, the Ticketing Centre (TCX) located in Ali Bin Hamad Al Attiyah Arena (ABHA Arena in Al Sadd) will be open for ticket purchases.
There are many third-party platforms to buy tickets from, such as Viagogo, Ticombo and Football TicketNet. The tickets may be more expensive here.
Always look for signs of legitimacy and never agree to transfer cash online without seeing the tickets first.
Which country will host the 2038 FIFA World Cup?
This has not been announced yet. Rumours have it Belgium and Netherlands will bid to host the 2038 World Cup. Other nations mentioned are Ghana co-hosting with West African nations Togo, Nigeria and Cameroon.
What is the importance of the FIFA World Cup
The FIFA world cup is the most prestigious football tournament in the history of the sport. It is held once every four years, and whoever wins the tournament is declared the best nation in the world at football.
It offers the opportunity for many countries to come together and celebrate different cultures and the sport.
How many days is the FIFA World Cup held usually
This year's world cup will last 29 days, previously in 2018, it lasted 32 days, so it can vary.
What are the negatives of the FIFA world cup
This year Qatar came under the microscope for not welcoming the LGBTQ community to the world cup. It is well documented in the media and some players will wear a rainbow armband in a show of solidarity with the LGBTQ community.
In previous world cups, some fans considered 'football hooligans' have had violent clashes resulting in riot police being called to break up the fights.
Which was the best ever FIFA World Cup
Many football pundits tip Mexico 1970 as the greatest world cup of all time. The array of talent in the Brazil team, and the greatest player of all time, Pelé spearheaded the team to victory crushing every opponent along the way.
The other great players were Carlos Alberto, Gérson, Jairzinho and Rivelino. The lead-up to Carlos Albertos' goal was considered one of the greatest pieces of team play ever and Brazil bet Italy 4-1 to secure the trophy.
Are FIFA World Cup games fixed
It is illegal to fix matches! Countries, players or individuals involved in match-fixing face life-long bans, imprisonment or heavy fines.
How are groups and matches decided in the FIFA World Cup
The teams play a 90-minute match with any extra minutes added on for disruptions. The team with the most amount of goals win.
Each team will play 3 games, as there are 4 teams in each group, and everyone needs to play each other once.
If a team wins a match, they receive 3 points. If two teams draw on scores, they receive 1 point and losing teams receive 0 points.
The two teams that accumulate the most points throughout the three games progress to the final 16 knockout stages.
How does FIFA and UEFA differ
UEFA stands for Union of European Football Associations and is the governing body of European clubs, countries and tournaments. FIFA stands for Fédération Internationale de Football Association and is the governing body for football worldwide, they are responsible for developing the sport.
Which country has won the World Cup twice
The countries that won the world cup twice are Uruguay, Argentina, and France. Those who have won it more than twice are Brazil, West Germany and Italy.
We hope you found this post about the Fifa world cup Abu Dhabi events useful. Leave us a comment.
You may also like:
50+ Best Things To Do In Abu Dhabi
10+ Monthly Car Rentals In Abu Dhabi
Best Coffee Shops In Abu Dhabi
Disclaimer: This post FIFA world cup Abu Dhabi may contain affiliate links, by using them it will not cost you any extra, we will receive a small proportion of the sale to keep us writing!