Conrad Abu Dhabi Etihad Towers is one of the city's most beloved iconic buildings, which dominates the skyline! Unsurprisingly, there are many incredible events and offers to mark the end of the hot summer months.
From 1920s-inspired evening brunches to staycation deals and pool passes to sky-high afternoon tea, there are plenty of things to enjoy at Conrad Abu Dhabi Etihad Towers this September.
Conrad Abu Dhabi Etihad Towers Offers & Events
VaKaVa

The popular culinary gem VaKaVa, known for its tantalizing Latin American flavours, is making a much-anticipated comeback from September 14th to December 2nd.
After earning the prestigious Michelin Selected status in 2023, VaKaVa is reopening its doors!
Led by Chef Eber, the team promises a delightful journey through Latin American tastes. As they prepare to unveil an exciting new venture in 2024, Conrad Abu Dhabi Etihad Towers aims to redefine the dining experience.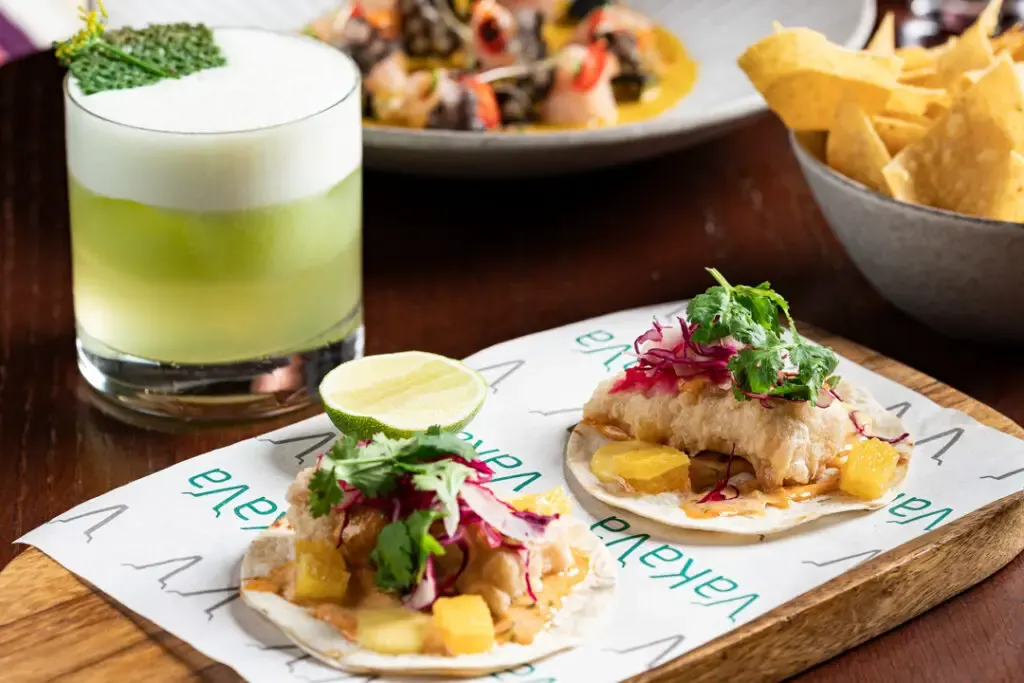 Making early reservations to secure a table is recommended, as VaKaVa is open from Tuesday to Sunday, 7:00 p.m. to 11:00 p.m., and offers a Saturday Brunch from 2:00 p.m. to 7:00 p.m.
Brunch at VaKaVa is an adult-only affair featuring tribal beats serving delicious Peruvian bites, free-flowing hops, grapes & selected cocktails.
Ray's Grill
Step into the charm of the 1920s at Ray's Bar as they recreate the glitz and glam with captivating entertainment. Located on the 62nd floor, the brunch event encourages guests to don 1920s attire for a nostalgic experience.
This brunch embodies the sophistication of Fitzgerald's masterpiece, capturing themes of love, success, and extravagance.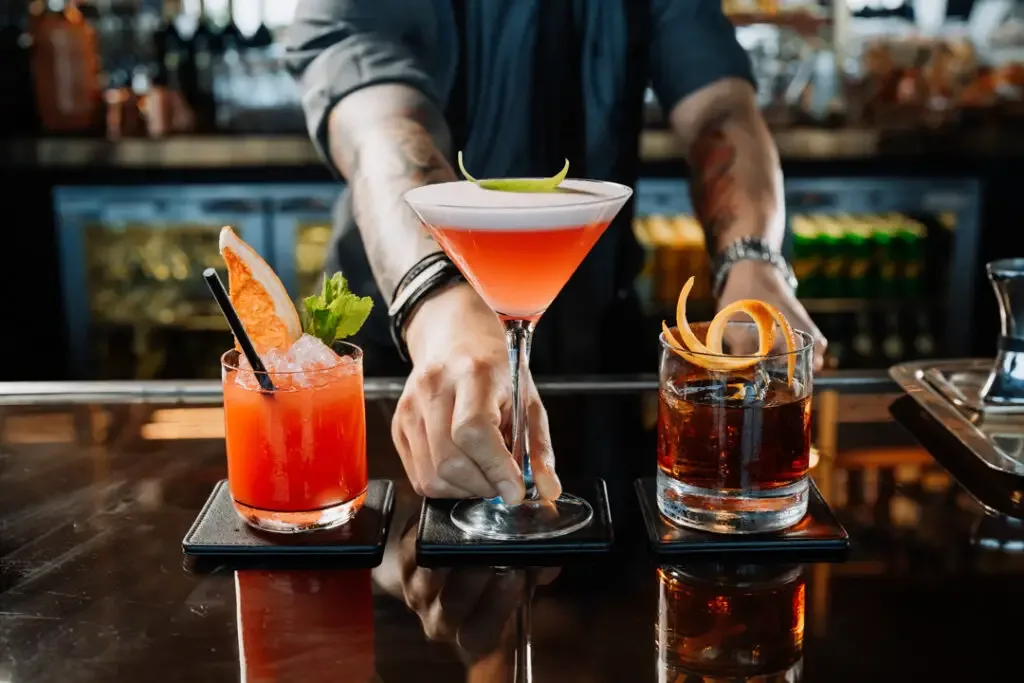 Enjoy delightful dishes, timeless cocktails, wines, champagne, and dance to live music with a glitter bar to add sparkle.
The Gatsby Evening Brunch at Ray's Bar every Friday, 8 p.m to 11 p.m with packages starting from AED 299 for cocktails and house beverages or AED 399 for cocktails, house beverages, and prosecco.
Tempo & Tapas At Jose by Pizarro
Jose by Pizarro offers an opportunity to relish authentic Spanish cuisine, featuring a delightful array of small tapas and delectable main dishes crafted from premium local sources.
Enhancing the dining experience, German Cova, a skilled Flamenco/Classical Guitarist with over three decades of concert expertise, enchants diners with captivating melodies.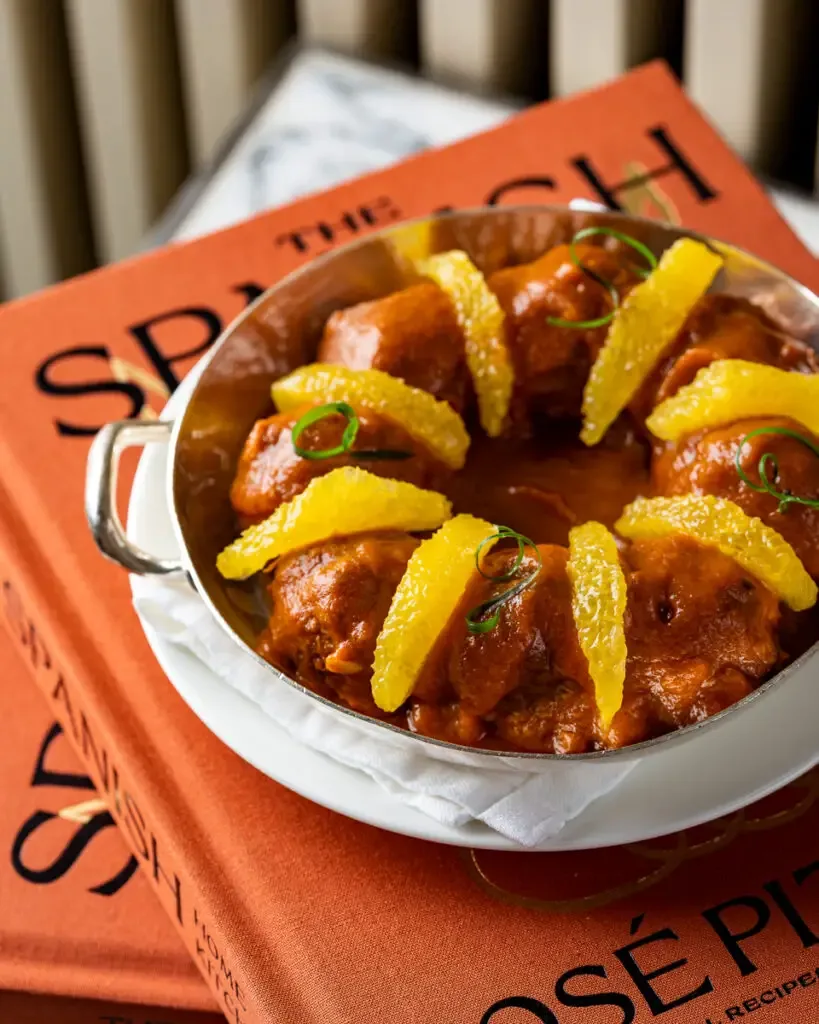 German music resonates throughout the venue, intertwining soulful tunes with the flavours, resulting in an unforgettable blend of music and culinary delights.
From Tuesday to Sunday, the restaurant welcomes guests between 5:00 p.m. and 11:30 p.m., with live music starting at 7:00 p.m.
SOLE & Sips at SOLE
Enjoy an authentic Italian experience at SOLE & Sips. Enjoy live piano music as you savour the essence of Italy. Indulge in two Espresso Martinis, carefully crafted for an Italian charm.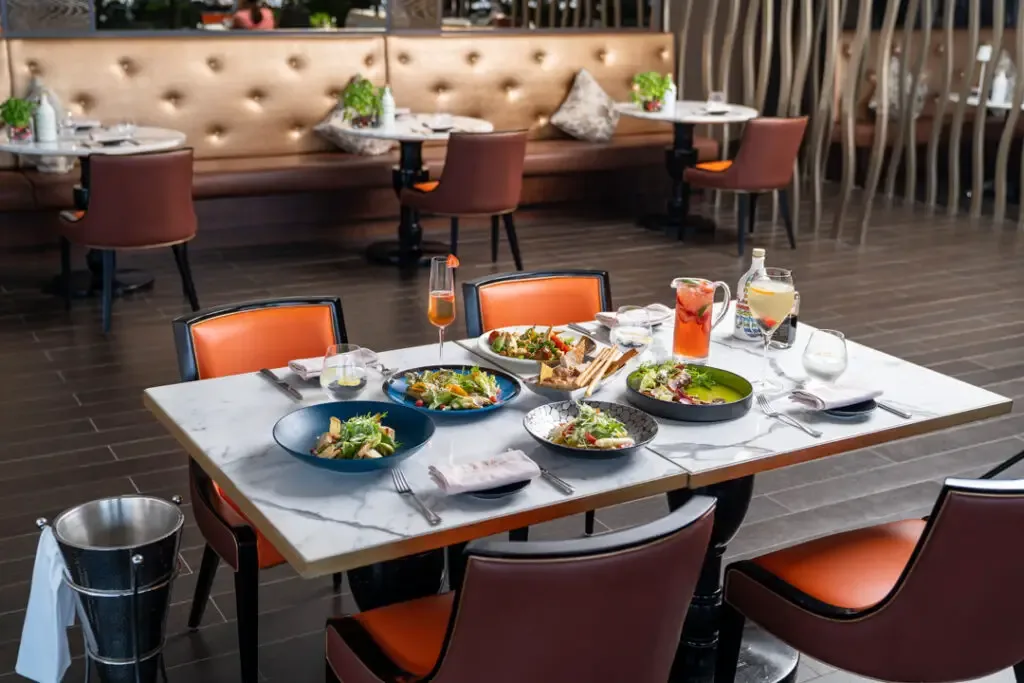 Available every Thursday to Saturday, priced at AED 99.
Little Pool Pass
Enjoy unrestricted access to Conrad Abu Dhabi Etihad Towers' stunning infinity pool and pristine private beach if you want to escape the intense summer heat.
For an affordable AED 150 per person on weekdays (Monday to Friday), you can dive into the pool as much as you'd like and bask under the sun.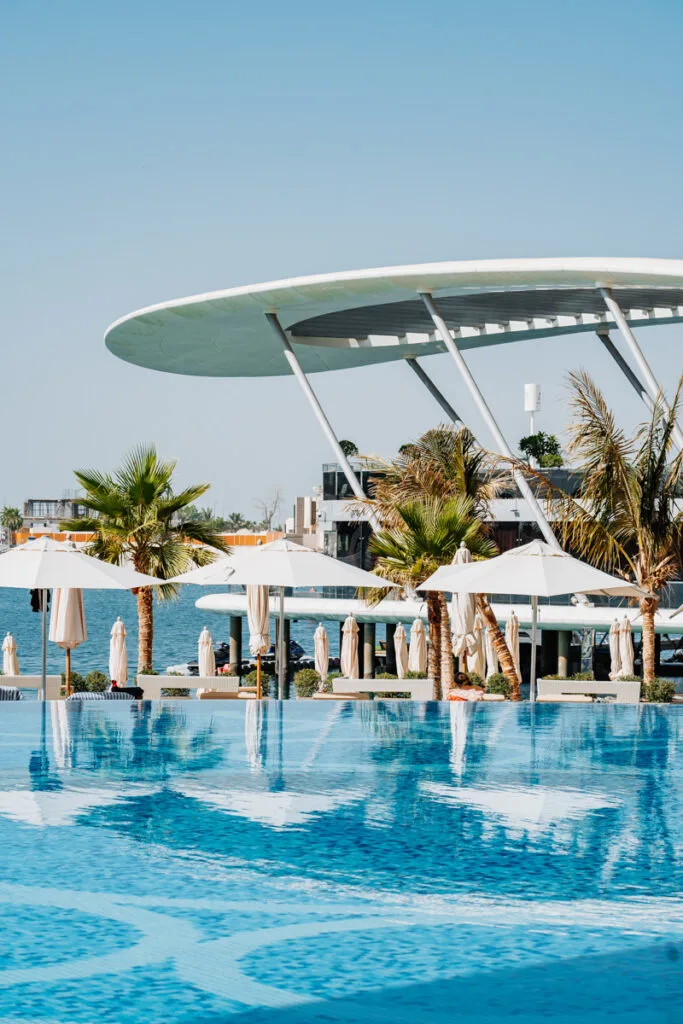 Indulge in the à la carte snacks, refreshing beverages, and satisfying meals served right to your sunbed.
The 150 AED entry fee is redeemable on food and beverage!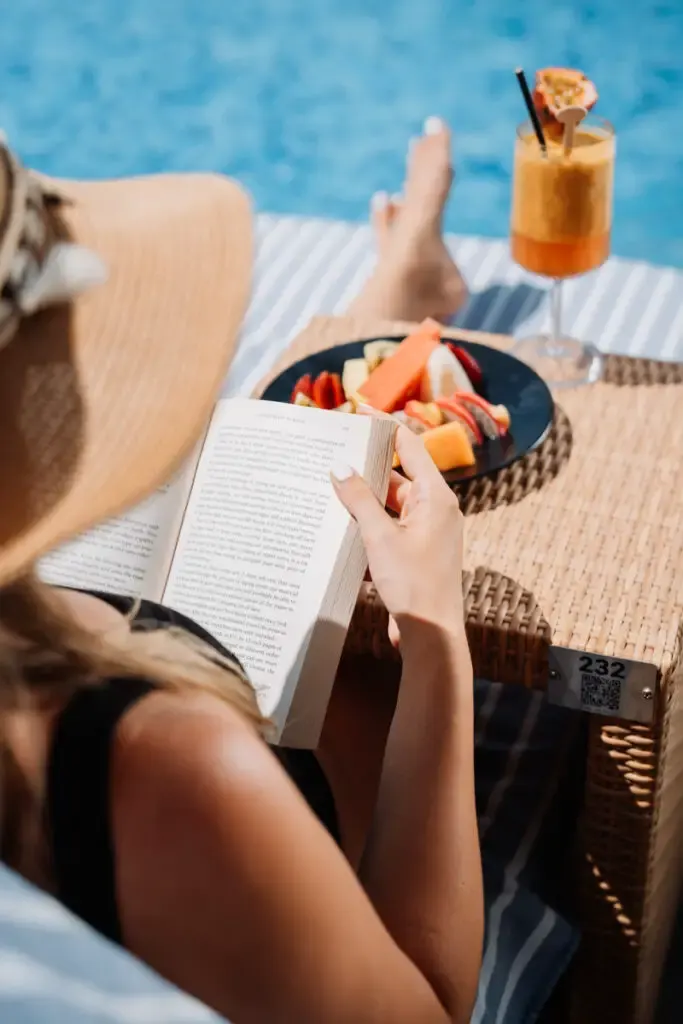 Weekends cost 200 AED per person, again fully redeemable on food and beverage, making it a fantastic offer to enjoy the luxurious facilities of Conrad Abu Dhabi Etihad Towers.
Brunch Staycation
Conrad Abu Dhabi Etihad Towers has a new and exciting brunch format at Nahaam, and they're inviting guests to indulge in an enticing Brunch Staycation experience.
This experience offers a chance to enjoy the new delectable dishes, refreshing drinks, and relaxing atmosphere of the Nahaam brunch. Additionally, guests can enjoy the hotel's modern amenities.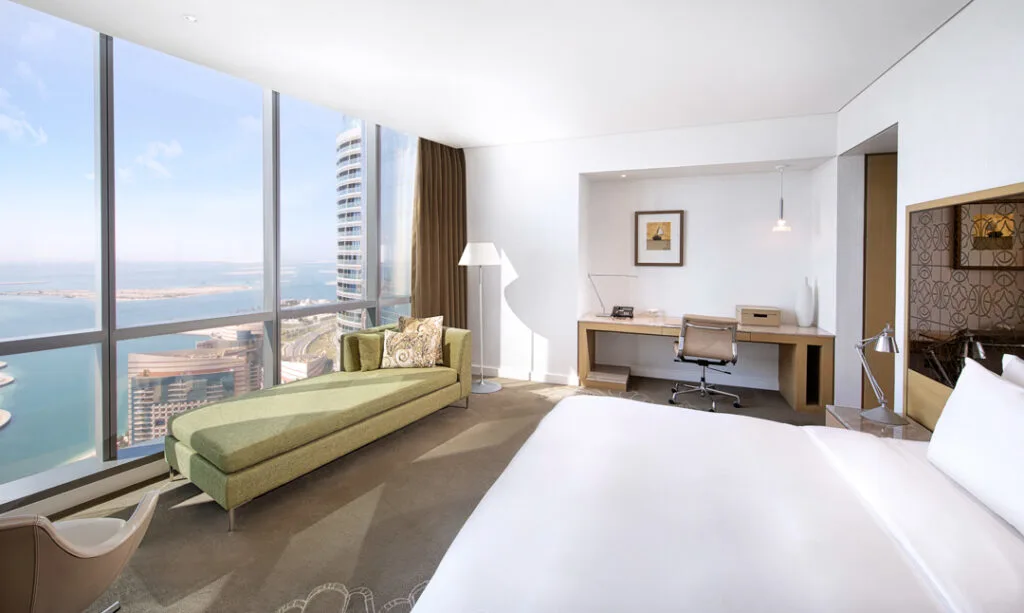 The Brunch Staycation package includes access to the hotel's luxurious private beach, indoor and outdoor pools, and fitness suite.
Guests can also take advantage of early check-in at noon and late check-out at 3 p.m. (based on availability).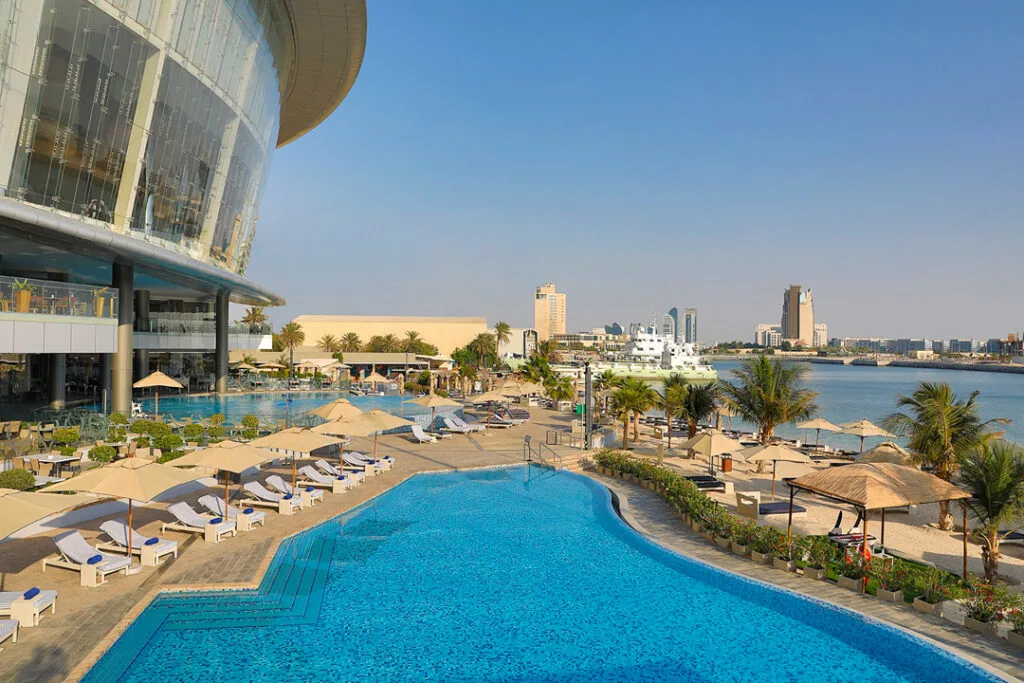 Starting from AED 999 for two people, the Brunch Staycation covers accommodation, breakfast, brunch with house beverages, a 20% discount on Conrad Spa treatments, and a 20% discount on food & beverages.
To reserve your stay, contact +9712 811 5555.
Summer Adventure Staycation
Make the most of the end of the summer by experiencing the Summer Adventure Staycation package at Conrad Abu Dhabi Etihad Towers.
This offer includes a deluxe guestroom with accommodation for two, as well as breakfast at Rosewater Restaurant. Guests can make full use of the fantastic pool and private beach at Conrad.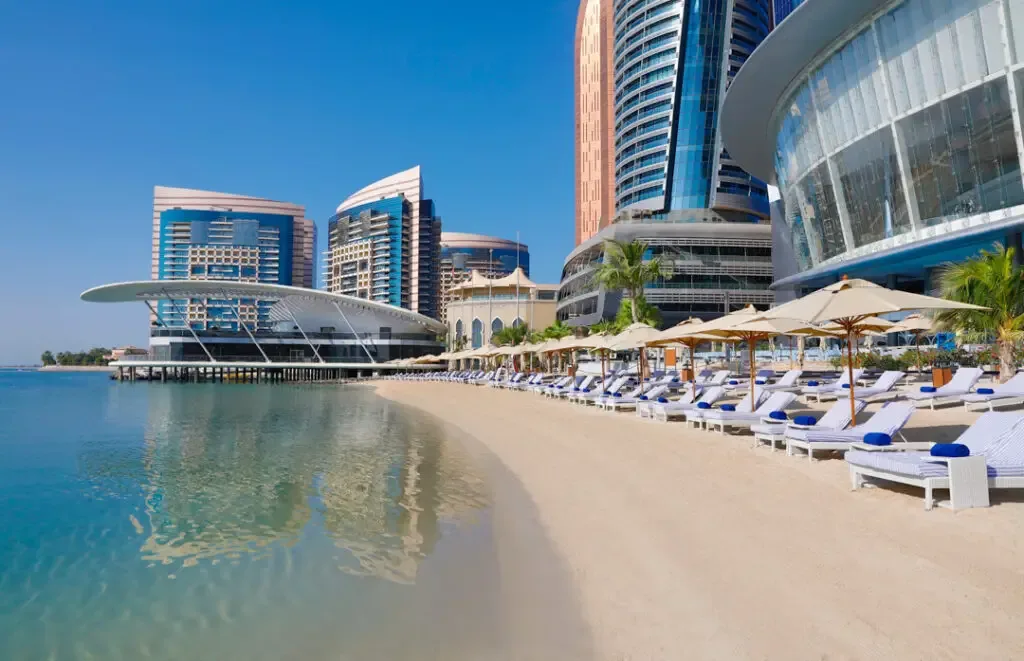 Not to mention entry for two adults to designated theme parks. Children under four can join in on the pass for free.
In addition to the park pass, guests will receive 20% off Conrad spa treatments and 20% off food and beverage services.
Summer Adventure Staycation price starts from 1000 AED for two guests.
To secure your stay, kindly contact 02 811 5555.
Ladies Night
Experience Ladies' Night at one of the city's most elegant bars, elevated to impressive heights, where you can revel in the evening's offerings.
Enjoy Free-flowing prosecco and handpicked cocktails, complemented by a delicious food platter. Immerse in stunning panoramic views while enjoying live entertainment.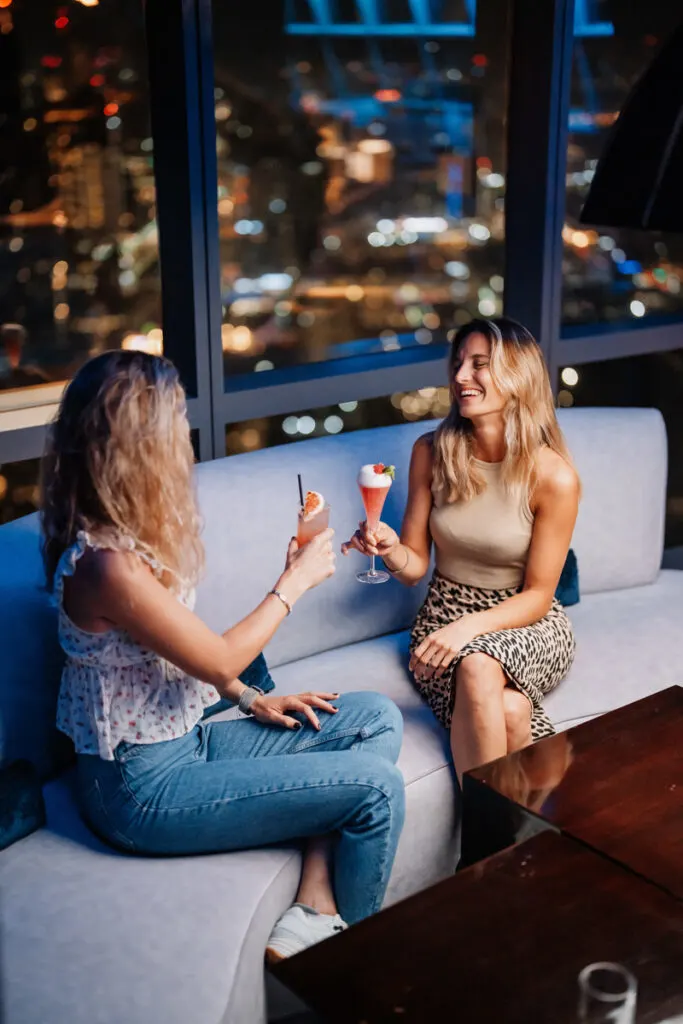 Every Thursday, from 7 p.m to 11 p.m, you can enjoy Ladies Night at Ray's Bar. Choose between two options:
AED 99 for a 3-hour Free Flow of selected Cocktails, Mocktails & Spirits.
OR
AED 149 for a 3-hour Flow of selected Cocktails, Mocktails, Wine & Spirits.
Afternoon Tea
Indulge in the artistic elegance of the Lobby Lounge or opt for stunning 360° vistas from the 74th floor for a truly delightful afternoon tea experience, accompanied by the soothing melodies of a live pianist.
Abu Dhabi provides no finer way to mark special occasions like birthdays, baby showers, or anniversaries than this elegantly sophisticated afternoon tea.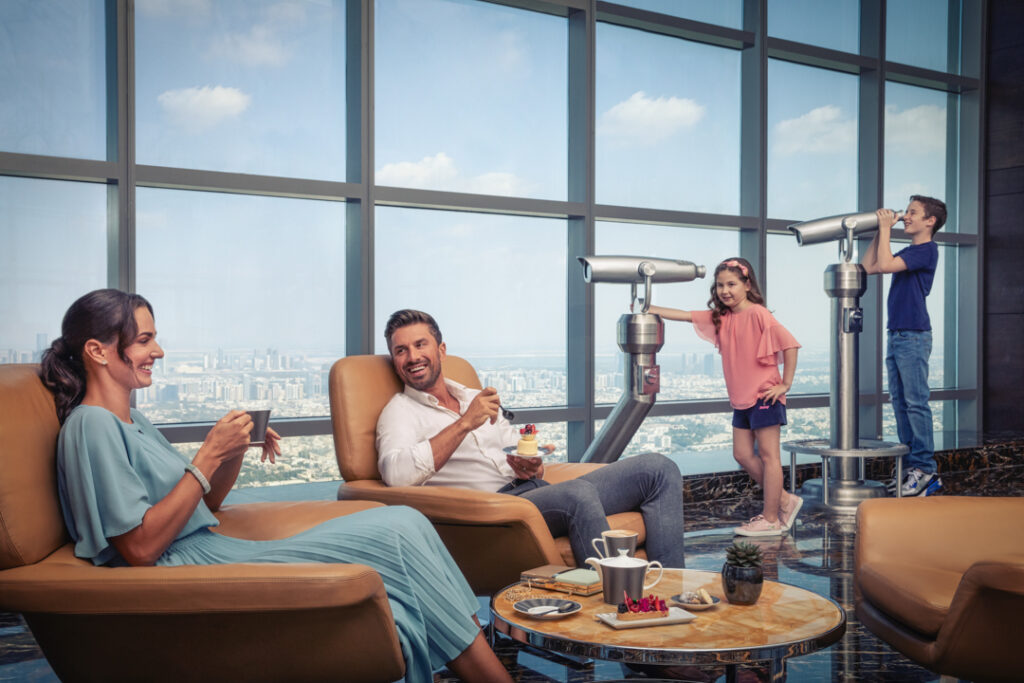 The Street Food Inspired Afternoon Tea offers guests a captivating culinary expedition in luxurious surroundings, a dining journey that celebrates naturally sweet and fresh flavours.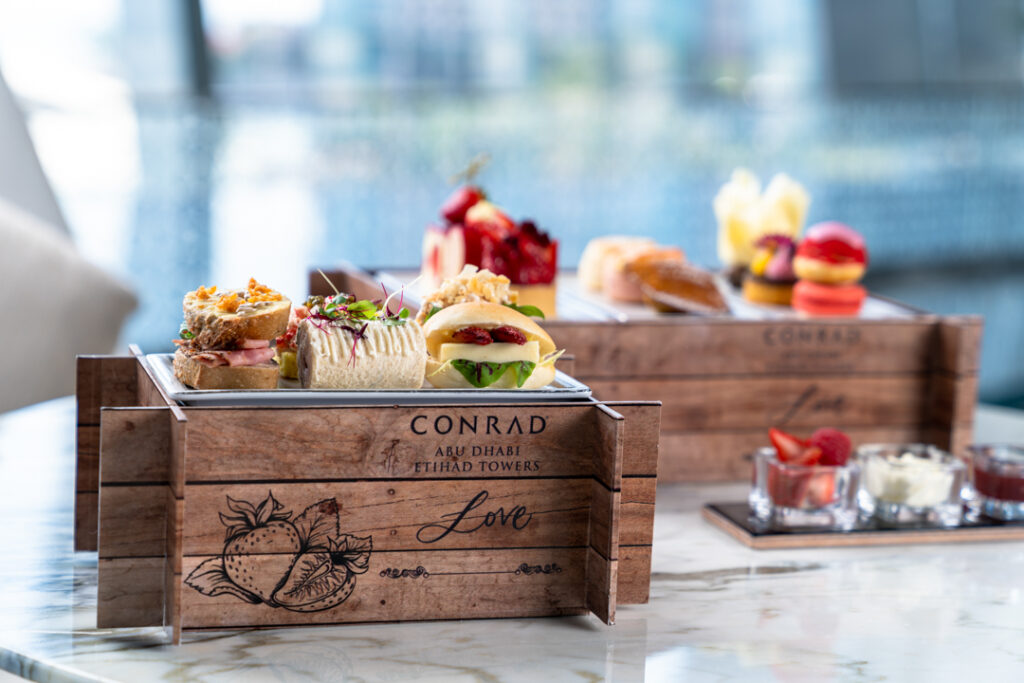 Available daily from 2 p.m to 6 p.m, priced at AED 260 per person at Observation Deck 300 and AED 230 per person at Lobby Lounge.
While relishing the Lobby Lounge experience, enjoy live music from Tuesday to Sunday, between 3 p.m and 5:45 p.m, enhancing the ambience further.
A MICHELIN Seafood Affair at Li Beirut
Experience the culinary delights of September at Li Beirut, where an exquisite journey of flavours awaits. Immerse yourself in the essence of the sea with our exclusive Seafood set menu, meticulously crafted by Chef Achref.
Delight in the ocean's freshness as you savour dishes like the Seafood Salad, a medley of marine treasures that refreshes the palate.
Indulge in the innovative blend of tastes in the Crab Baba Ghanouj, an exciting twist on a beloved traditional dish.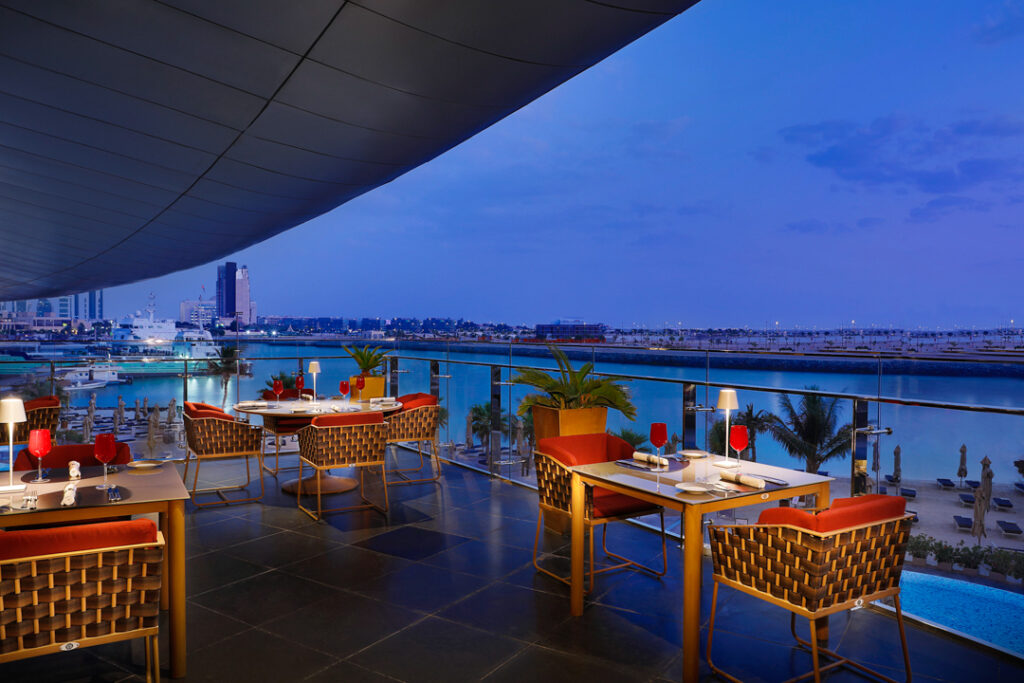 The highlight of your dining experience, the Seafood Mixed Grill, promises an array of grilled seafood perfection. Elevate your meal with the finest seafood ingredients, each masterfully prepared to captivate your taste buds.
Visit us from Thursday to Tuesday, between 7:00 p.m. and 11:30 pm, to enjoy this special menu. Priced at AED 220, including a soft drink, or AED 245, with the added option of a glass of wine per person, this experience is bound to leave a lasting impression.
Where to find more information on Conrad Etihad Towers.